Recruiting Q&A: Michigan's Brady Hoke
February, 6, 2013
2/06/13
2:50
PM ET
Brady Hoke's recruiting has followed a pattern at Michigan. The Wolverines start extremely fast, pile up elite prospects, sprinkle in a few later in the cycle and finish with a nationally decorated class. This year's crop seems to be no different as Michigan, along with archrival Ohio State, has
secured a spot among the nation's top classes
. Hoke and his staff targeted both lines, especially the offensive line, and signed five offensive linemen ranked in the ESPN 300. Michigan made arguably its biggest splash in late January by adding standout
Derrick Green
, rated as the nation's No. 5 running back by ESPN Recruiting.
ESPN.com caught up with Hoke to discuss Michigan's 27-man 2013 class.
What were your primary objectives with this class and the top needs for Michigan, and how did you do in terms of meeting them?
Brady Hoke:
Well, No. 1, both of our fronts, offensively and defensively, when we came in a couple years ago, we only had eight scholarship offensive linemen. So the last two years, we've been trying to built that. I think the coaches did a tremendous job. And then that was the same way on defense. We needed to make sure we were doing our job. A year ago, we took six defensive linemen, and this year, we took three. We really wanted to help ourselves up front. We had to find some tight ends in both years [2012 and 2013], because this [had been] a spread team that had only played minimally with a tight end. We were fortunate enough to have Kevin Koger our first year, who did a tremendous job. So those really were what the needs were. We wanted to get a quarterback, big running backs in this class, that was very important, and try to get some more length at the corner position, guys with a lot of range to them.
[+] Enlarge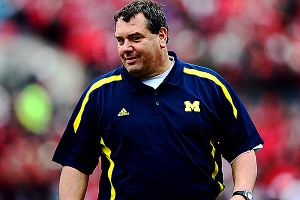 Andrew Weber/USA TODAY SportsWith only 11 returning starters, Michigan coach Brady Hoke said he's excited about the competition this spring.
You mentioned the offensive line and it seems like you really loaded up in the interior. What stood out to you about that group?
BH:
The biggest thing is we wanted guys who could really control the line of scrimmage from a run-blocking standpoint. Those guys who could really dominate at the point of attack, the guys who would really finish well on their blocks. Having
Taylor [Lewan
] around with this group and the group from last year for another year, it's a big part of it.
What's the significance of Derrick Green's signing at running back?
BH:
The significance will be that it's a big back. He was a nationally rated guy, obviously, which is always exciting. But we needed some big backs, and Derrick is a guy who fits that mold. He can break tackles, he runs hard, he's a downhill runner and with what we want to do in the two-back sets, it's something that we thought him and
Deveon Smith
and
Wyatt Shallman
could bring to us.
What was your reaction when you found out Derrick had committed?
BH:
We were excited, obviously. That's always exciting when you compete for a young man who you really believe in your heart that this is the best place for him. And then he decides that's where he needs to go.
You've mentioned the linemen, but who are some of the guys who can help you out on the perimeter?
BH:
When you look at the secondary,
Ross Douglas
and
Dymonte Thomas
both being in school now, that helps them with their development.
Jourdan Lewis
is an exceptional athlete that we've been able to see do a lot of things.
Delano Hill
will be one of those safeties who will shock you when he tackles you. And
Channing Stribling
and
Reon Dawson
are both big corners. So I think we'll have great competition, and that always makes you better.
You haven't been afraid to play young players on defense at Michigan. Do you see some of these defenders you signed today helping you as freshmen?
BH:
I think that's to be seen, but there's no doubt that those guys who have that innate ability from an athleticism point of view, the mental makeup and so forth, they can possibly do that.
What type of quarterback is Shane Morris and what are you getting from a leadership standpoint?
BH:
We're getting a lot as a leader. He was our first [verbal] commitment of this class. He did a tremendous job of recruiting guys and really trying to get close to potential classmates and guys who did come within the class. From a football standpoint, his demeanor on the field, his arm strength, his intelligence, his vision, we all think is very good.
You've done well in Michigan and in the Midwest. Are you looking to expand the recruiting reach more in the future?
BH:
We're always going to take that 300-mile, 400-mile radius and try to do the best possible job there, but being the national brand Michigan is, when you look at it from the standpoint of the academic reputation and the history and the tradition of the football here, we're real excited about going wherever we need to and find those guys that fit the mold of what we're looking for at Michigan.
Defensive line is always top of mind for you. What do you think about the guys you brought in there?
BH:
Henry Poggi
is going to be a very good player here. He's got that ability, that quickness, loose in the hips. Maurice Hurst is a very powerful, great-first-step inside player. When you look at
Taco Charlton
, he's a 6-6 defensive end, he's got a lot of range and can create a lot of havoc. He's a very good athlete, good basketball player. We have three guys I think will be pretty good players for us.
You and Ohio State are big rivals on the field. How intense is the rivalry between you two in recruiting?
BH:
You're recruiting and you're competitive, which you have to be in this business. It's always a competitive situation. Do you want to win? Yeah. We've taken nine guys out of the state [of Ohio] who we feel very good about.
What stands out to you most about this recruiting cycle at Michigan?
BH:
It was a different year to some degree. Possibly having a lot of commitments early was part of it. When Shane committed early, it kind of snowballed. When Taco Charlton was here on an unofficial [visit], he committed after a basketball game. Some of it's shocking, as quickly as things went, but it was a very good year for us.