ANN ARBOR, Mich. -- After losing several national award winners, Ohio State's defense adopted the motto of, "No names, no blame, no worries" for the 2009 season.
The Buckeyes left Michigan Stadium on Saturday with absolutely nothing to worry about, having clinched their sixth consecutive victory against their archrival and their third outright Big Ten title in the last four years. They had Michigan blaming itself for five turnovers and other missed opportunities in plus territory.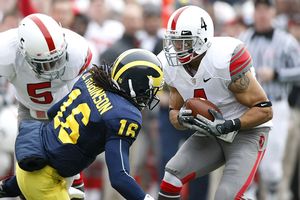 Gregory Shamus/Getty Images
Ohio State safety Kurt Coleman caught two crucial interceptions in the Buckeyes win over rival Michigan.
And several Ohio State defenders definitely made names for themselves in the process.
The Buckeyes rode big plays on defense to a 21-10 victory, filling up the box score with tackles for loss, pass breakups, interceptions and a forced fumble that started it off in the first quarter. From safety Kurt Coleman to cornerback Devon Torrence to defensive end Cameron Heyward to linebackers Brian Rolle and Ross Homan, Ohio State won thanks to its cast of stars on defense.
"Every time we get in the red zone, we've had a higher awareness," said Coleman, who had two interceptions, both in Ohio State territory, to go along with two pass breakups. "We've just been fortunate enough to make the plays when we need it. We've been wanting to get after the ball, and it's showing out on the field."
Last year, Ohio State ranked 14th nationally in total defense and tied for 20th in takeaways with 29. Though the Buckeyes have maintained their overall toughness on D, they've been more opportunistic this season.
They now have 33 takeaways on the season, which might lead the nation after Saturday's games (Ohio State came into the day ranked sixth nationally). Ohio State now has five players with multiple interceptions, led by Coleman (5), and seven players with at least one fumble recovery.
"The first thing we said all week was, 'You can't turn the ball over,'" Michigan offensive coordinator Calvin Magee said. "And we turned it over. You can't win like that."
Young quarterbacks had given Ohio State a bit of trouble in a loss to USC (Matt Barkley) and last week's overtime win against Iowa (James Vandenberg). Michigan freshman Tate Forcier moved the ball at times Saturday, but his five turnovers (4 interceptions, 1 fumble) were the difference.
"We just came up with more plays," Coleman said. "Against USC, we just couldn't come up with the plays that we needed to, and this time, we did."