The big goals are off the table for Arrelious Benn and Illinois, but all is not lost.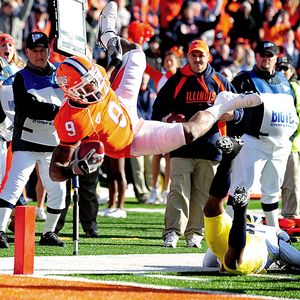 Andrew Weber-US PRESSWIRE
Illinois wide receiver Arrelious Benn's season has fallen short of expectations.Illinois won't be going bowling, as virtually everyone predicted before the season. Benn won't be earning All-America honors or contending for national awards, a virtual certainty entering the fall. Most casual fans have forgotten about the Illini and their star wide receiver, who slipped off the radar following a 1-6 start.
But on Friday afternoon at Nippert Stadium, Illinois will be on the national stage one final time. And while most will tune in (ABC, noon ET) to watch No. 5 Cincinnati, the Illini recognize what's at stake.
"This is where certain players show their true colors, as far as whether they're going to finish strong or not," Benn said. "You see the real, true people. I look around, I see my teammates here, and they're still going strong. The coaches still rally up and we're going to band together and finish out this season."
It has been a rough year for everyone at Illinois, Benn included. Things went downhill from the start, as Benn injured his ankle on Illinois' third play from scrimmage in the opener against Missouri.
Benn didn't return, and Illinois was spanked 37-9.
The junior from Washington D.C. is still looking for his first 100-yard receiving performance. He has only one touchdown reception this year and just two games of five or more receptions. Benn still leads Illinois with 33 receptions, more than twice as many as any other player, but the offense lacks the firepower it showed in his first two seasons.
Despite boasting the Big Ten's most experienced quarterback in Juice Williams and a seemingly stacked wide receiving corps, Illinois ranks last in the league in scoring (20.2 ppg) and 10th in passing (179.3 ypg).
For Benn and Williams, close friends who share an awards promotional Web site, the season never got on track. But they still have time to put it all together.
Williams is expected to start Friday after missing Illinois' last game with an ankle injury.
"It's pretty tough, the circumstances that we've had throughout the season, but that type of game is still looked for," Benn said. "It's still out there. Everything is out there because we're in control of executing the plays. If we execute the plays right as far as blocking, running our routes, the passing, all that stuff, we're going to be OK."
Benn hasn't lost focus despite the struggles. Asked what areas of his game can be improved in Illinois' final two contests, he said, "Everything."
NFL scouts will undoubtedly be tracking Benn down the stretch. While Benn is undecided about whether he'll return to Illinois for his senior season, he still projects well for the NFL draft despite the struggles this fall.
ESPN's Mel Kiper ranks Benn as the nation's No. 2 junior wide receiver (ESPN Insider) behind Oklahoma State's Dez Bryant.
Decision time is coming, but Benn remains focused on the next two weeks and helping Illinois generate momentum for 2010.
"We didn't meet the expectations as a whole," he said. "But there are going to be great players next year, so if we come out and showcase what we can do, next year, the other guys are going to pick it up and have that winning mentality."
After falling well short of expectations, Illinois now heads to Cincinnati as a major underdog. But Benn remembers the last time Illinois faced a top 5 opponent in the state of Ohio, back on Nov. 10, 2007.
"No one thought we could go into Ohio State and beat them," he said, referring to a 28-21 win against the top-ranked Buckeyes that propelled Illinois to the Rose Bowl. "That's the type of thing that we look at and we can accomplish in this upcoming game."