Spring QB race breakdown: Illinois
March, 7, 2014
Mar 7
9:00
AM ET
Nine Big Ten programs will feature true quarterback competitions this spring, and we're taking a closer look at the candidates, the circumstances and the stakes of each race. Up next: Illinois.
Bill Cubit doesn't have a favorite, and in the end the Illinois offensive coordinator isn't planning on needing to make the decision about his starting quarterback.
Any of the three guys competing for that job can operate Cubit's system, which both eliminates any preference and allows him to simply sit back, sort through the mountain of data he'll acquire this spring and allow those numbers to make up his mind.
That doesn't mean the heated competition between
Wes Lunt
,
Aaron Bailey
and
Reilly O'Toole
won't command Cubit's attention as the Fighting Illini try to name a starter by the end of spring practice, particularly given how much production must be replaced now that
Nathan Scheelhaase
is gone. But in the end, Cubit's approach allows him to be a neutral observer, putting all the pressure, the decision and ultimately, the offense in the hands of the guys on the field.
[+] Enlarge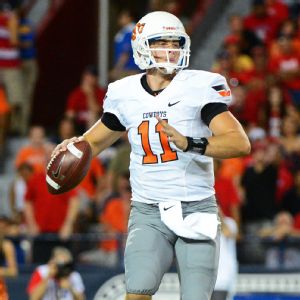 Matt Kartozian/USA TODAY SportsWes Lunt is ready to show his stuff at Illinois after sitting out last season following a transfer from Oklahoma State.
"I pointed it out to them already," Cubit said before camp opened on Wednesday. "This is how you're going to be graded, this is what I'm going to be looking for and it's up to you. I really won't make the decision, you'll make the decision.
"There are no preconceived ideas or wanting this guy to win it or that guy to win it. I've told the guys, it doesn't make a difference to me who wins it, the best guy is going to win it and give us the best chance of winning. It really doesn't make that big of a difference to us."
For the Illini, that's more a reflection of confidence in the pool of candidates than actual indifference about the leader of the offense, because Cubit has heaped praise on all three guys and isn't opposed to tweaking his attack based on the strengths of the one who claims the job.
The faith he has in both the depth and talent Illinois has at the most important position on the field takes some of the pressure off this spring, and Cubit joked that "quarterbacks are the least of my worries right now" even while trying to fill the void left by the loss of the multitalented Scheelhaase. But the goal is still to settle on a leader by the end of camp, which will require an in-depth analysis of grades on every single play, throw and decision Lunt, Bailey and O'Toole make to ensure the process works itself out as fairly as possible.
That starts before the snap with making checks in terms of pass protection and the run game. It obviously continues with the read during the play with where the ball is thrown, and it's picked part and assessed for accuracy after that. Turnovers will be factored in, and Cubit even will grade on a curve based on the number of easy and difficult throws that can skew a completion percentage.
The goal of it all is to have enough evidence after 15 practices that the winner is clear on paper. But the tricky part is making sure that the playing field is as even as possible along the way.
"They're all going to get equal reps, so the issue is you look at them with the ones and twos and threes and see how they handle the reps," Cubit said. "Put them in different situations and make it as equal as it can possibly be with the reps. Maybe they'll be with the ones facing the blitz, the next day they'll be with the twos. We're going to put a lot of pressure on these kids, and if it was up to me I would have people blitz us every single down.
"We'll see how these guys react. I think the kid that goes out there and wins this position has a chance to be a really great player in this offense."
Cubit only needed one season with the program to show what his offense is capable of doing with the right guy at quarterback, putting up nearly 30 points per game last season, as Scheelhaase led the Big Ten in passing with more than 3,200 yards.
The more pressing concern for Cubit might be finding enough receivers for his next quarterback to throw to, and Illinois is probably more interested in repairing a leaky defense that allowed 35 points per game a year ago this spring than monitoring a three-man race at quarterback.
But maybe it would have more reason to watch closely if it didn't have a highly-recruited transfer from Oklahoma State now eligible to play this fall in Lunt; or a veteran in O'Toole who has the intangibles that could make him a worthy leader; or another former four-star recruit in Bailey who possesses dual-threat skills.
"We've got three guys out there I really believe in," Cubit said. "They're all three great kids, and I think they all deserve a shot."
It will be up to them to figure out who will make the most of it.