Big Ten:

060112 BigTen-SEC debate
June, 1, 2012
6/01/12
1:30
PM ET
They still don't get it.
As the pivotal month for college football's postseason structure kicks off, the Big Ten's position on a four-team playoff remains a mystery for many. The
SEC folks don't understand it
, and it clearly hasn't sunk in for others. Colleague Chris Low of the SEC blog
fired up his base and fired back at me
and all "city slickers" Thursday, while ignoring my main point that folks aren't understanding the Big Ten's actual playoff preference -- a hybrid model featuring the top three rated conference champions and one wild card for a deserving non-champion or independent.
[+] Enlarge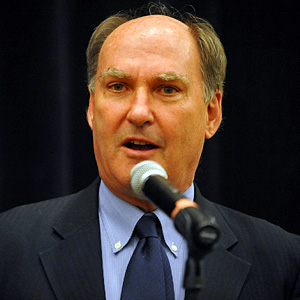 AP Photo/Dave WeaverJim Delany and the Big Ten want a playoff featuring the top three rated conference champs and a wild card for a deserving non-champion or independent.
Many are setting the stage for an SEC-Big Ten playoff proposal showdown -- Slive vs. Delany! South vs. North! Right vs. Wrong! -- while only getting one side of the story correct. One national columnist wrote Thursday night that the Big Ten still is adamant about having conference champions only and having semifinals at campus sites.
To be fair, a lot of the continued confusion about the Big Ten stems from the league sending mixed messages throughout the process.
First, the Big Ten was all about campus sites and conference champions. Then, league brass talked about preserving the Rose Bowl at all costs and seemed to give up on the campus sites push, citing weak support nationally.
We hear about how the Big Ten plays virtual road games in bowls. Then you get
Ohio State athletic director Gene Smith
saying "good weather is important" for playoff games, and Michigan AD
Dave Brandon saying he opposes playoff games at indoor venues in the Midwest
, which would make travel easier for Big Ten fans. The comments came at the same meetings where Delany confirmed the
Big Ten is interested in playing a bowl game at New York's Yankee Stadium
.
The Big Ten's shift from "campus sites are awesome!" to "save the Rose Bowl!" left many shaking their heads. Even though campus sites likely was a losing battle, the Big Ten would have earned more points by standing its ground and keeping the fight going longer. The league's Rose Bowl love isn't new, but it resonates with fewer and fewer people nationally. It's a tired argument and a hard sell.
Then you had
Delany's infamous "that team" comment to the Associated Press
, when he appeared to take a shot at non-division winners in a playoff -- and specifically reigning national champion Alabama. The next week, Delany said he wasn't targeting the Tide and preferred a system that rewarded the best conference champions but also had room for a team like Alabama. But the damage was done.
You also had Nebraska chancellor Harvey Perlman, a member of the BCS Presidential Oversight Committee, telling me he and many of his colleagues in the Big Ten and Pac-12
favor a plus-one playoff format
. But the plus-one was barely mentioned at the Big Ten spring meetings.
The Big Ten hasn't remained on message throughout this process, and its position has suffered as a result.
The SEC, meanwhile, has had a clear position that it repeats whenever possible: best four teams, bowl sites for the semifinals. End of story.
And the SEC isn't budging.
"We won't compromise on that," University of Florida president Bernie Machen said this week at the league's spring meetings. "I think the public wants the top four. I think almost everybody wants the top four."
Machen also
took a shot at the Big Ten
, telling the St. Louis Post-Dispatch, "The group that's got to get real, the Big Ten's got to realize that the world is going in a different direction."
The Big Ten presidents and chancellors meet Sunday at league headquarters. They need to emerge from the meeting with a clear consensus of what they want for a playoff. Important meetings take place June 13 and June 20 in Chicago, and the Big Ten needs its voice to be heard with no confusion.
The Big Ten doesn't appear to be in a position of strength, and the biggest reason is the continued failure of its teams to win national championships. But there's still time to influence the playoff model.
No more mixed messages. It's time for a united front.
May, 30, 2012
5/30/12
2:00
PM ET
For a league that prides itself on superior on-field speed, the SEC seems pretty slow in grasping the Big Ten's playoff position.
Then again, SEC folks seem to bristle at anyone who doesn't pay homage to their greatness, kiss their feet and fall in line with their view.
[+] Enlarge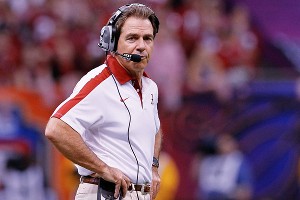 Kevin C. Cox/Getty ImagesIt's safe to say that perhaps Alabama coach Nick Saban and his SEC brethren don't fully grasp the Big Ten's proposed playoff model.
Not surprisingly, the SEC brass spent Day 1 of its
spring meetings in Florida
reiterating the need to have the best four teams selected for a college football playoff. Given the SEC's dominance in the sport, the probability of the league placing multiple teams among the "best four" seems strong in most seasons. This plan makes total sense for the SEC, despite the potential difficulties of truly separating the nation's No. 4 team from the No. 5 team (more on this later).
What puzzles me are the claims by SEC coaches -- and some of the pom-pon-toting media in Destin, Fla. -- that the evil Big Ten continues to cling to a plan that would send only conference champions to a playoff.
Alabama coach Nick Saban had this to say Tuesday:
"There's no question that we're even doing the top four because fans and the people who are interested in college football are interested in seeing the best four teams play in a playoff. Now, we're going to mess that up by saying you have to be a conference champion. I think somebody's a bit self-absorbed and worrying about how it affects them and how they can best get somebody in the [national championship] all the time, rather than getting the best four teams. I don't think that's fair to the fans and the people who really have made it known that they want to see the four best teams play in a playoff."
It's amusing to see Saban taking shots at a self-absorbed person, and he's obviously talking about Big Ten commissioner Jim Delany. And while fans obviously want to see a compelling playoff, many of them still value conference titles and what they mean.
It's easy and quite frankly a bit lazy to place the Big Ten and Delany in the antagonist role, the counter to all things good and just about the SEC's plan.
Plus, it's simply not true and shows Saban and others haven't been paying attention.
Yes, the Big Ten favors playoff access for conference champions. Yes, Delany has made some silly comments in recent weeks, including
his recent remark to the Associated Press
about teams that don't win their divisions having playoff access.
But at the Big Ten spring meetings just two weeks ago in Chicago, Delany and the league's athletic directors were very clear in favoring a mix of conference champions and wild-card teams (or an independent like Notre Dame) in a four-team playoff. Delany reiterated this several times, but it's clearly not registering in SEC country.
Pay attention
, please ...
Delany favors a "hybrid model" with a "quality-control cap" for selections: where the best conference champions are "honored" but allowances are made for elite teams that haven't won their leagues and/or divisions, as well as top independents like Notre Dame.
Here's what Delany said May 15 in Chicago:
"I don't want to adopt a model that any way belittles the regular-season championship process, whether it entails or doesn't entail a [conference] championship game. I also don't want to create a structure that doesn't reward highly regarded teams, whether they're independents or whether they're non-champions from other conferences. ... What is the right balance between champions, who have won it on the field, teams that are highly regarded but haven't won a conference championship and independents who should have a fair opportunity to play their way in as well?"
The Big Ten's view is spelled out pretty clearly. Athletic directors in Chicago discussed a playoff model that would include the top three-rated conference champions -- as long as they met a certain rankings threshold -- and a wild-card spot.
That wild-card spot obviously would have gone to Alabama last season. There's no way a team like the Tide should be left out, and I really think there's no way a team like Alabama will be left out in whatever model gets adopted. The Sporting News reports Wednesday that the
two main models being discussed
are top-four teams and top-three league champs/one wild card, and that the latter could be the likely pick.
So just breathe, SEC people.
As for the "best four teams" argument, I think it sounds nice and simple, but it brings more problems that people acknowledge. In most seasons, there's a much bigger difference between No. 2 and No. 4 than between No. 4 and No. 5. As Ohio State athletic director
Gene Smith said at the Big Ten meetings
, "You're going to be able to put a piece of paper between those teams." The ultimate decision will be subjective and controversial, no matter what selection method is used.
Count me among those who can live with a No. 5 conference champion being in a playoff ahead of a No. 4 non-champion. No. 5 Oregon over No. 4 Stanford in 2011? No problem. No. 5 USC over No. 4 Alabama in 2008? No problem. Again, it's not the same as leaving the No. 2 team out in favor of the No. 7 team.
I don't expect the SEC to waver on its "best four" plan. But it'd be nice if there was some actual understanding of the Big Ten's playoff position.