May, 20, 2010
5/20/10
1:00
PM ET
CHICAGO -- Three days of meetings at the Hotel Sofitel didn't provide many major revelations about the Big Ten's expansion study, which is a little more than five months old.
League sources said there's little doubt the Big Ten will go through with some sort of expansion, but the questions about candidates and the size and scope of an expansion remain largely unanswered.
"Eastern Illinois and Toledo State," one Big Ten athletic director jokingly told a small group of reporters as he left the hotel Wednesday.
[+] Enlarge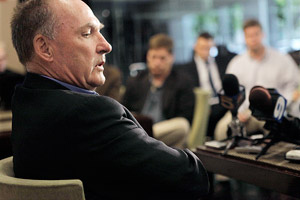 AP Photo/M. Spencer GreenBig Ten commissioner Jim Delany will have plenty to decide when it comes to basketball scheduling.
Expansion wasn't on the official agenda at the Big Ten's spring meetings, but commissioner Jim Delany brought the league's athletic directors and coaches up to speed on the process. Delany insists the Big Ten is still in the information-gathering stage of the study, and the formal invitation/application process is "months away," if and when it happens.
Meanwhile, speculation will continue as everyone asks: Who will end up joining the Big Ten?
"There's not a person in the world," Michigan athletic director Dave Brandon said, "who knows the answer to that question."
The week still provided some takeaways about the expansion study, and here are five lessons learned:
1. The Big Ten still wants to land a big fish
It would be tough to see the Big Ten being satisfied with an expansion that didn't include Notre Dame, Texas or Nebraska.
Several Big Ten athletic directors said that Notre Dame makes a lot of sense for the league both athletically and academically. One league source told ESPN.com that Nebraska would be a great fit for the league. Texas brings some challenges because of its location, but the Big Ten is well aware of UT's obvious strengths.
Ohio State AD Gene Smith, a former Notre Dame player and coach, made some interesting comments about how
times have changed in South Bend
and how players miss out on the chance to play for conference championships.
The Big Ten knows it can add some smaller-name programs, but the league isn't going to give up on the big boys.