Big Ten:

2010 Capital One Bowl
December, 29, 2010
12/29/10
8:00
AM ET
Here's the second half of my interview with Michigan State coach Mark Dantonio, whose team faces Alabama on Jan. 1 in the Capital One Bowl.
Check out
Part I
as well.
Linebackers Greg Jones and Eric Gordon have been so good for you over the years. How important is their performance in a game like this?
Mark Dantonio:
Our great players have to play great. Our players who are outstanding in their own right need to play at that level for us to be successful in this game. We can't have a substandard or an average performance by Greg Jones or Eric Gordon and expect to win. So this is about offense vs. defense, this is about individual matchups at times, this is about us measuring up. It's about the focus and us being emotionally ready.
Kirk [Cousins] was dealing with some injury issues late in the season. How is he health wise and how has he looked in practice?
MD:
He looks very crisp, very healthy. Our offense has had great preparation, just like our defense. He looks very confident, and our offense, we'll see if we're clicking when game time comes.
B.J. Cunningham is out at receiver. Who do you look to fill that void in the game?
MD:
Receiver has been a position of depth for us. When
Keshawn Martin
was out at one point,
Bennie Fowler
came on and had an outstanding game against Northwestern and has played himself into a pretty important role on our football team. Bennie Fowler will be the guy who will pick up the slack there with
Keith Nichol
. Keshawn Martin is fully healthy and
Mark Dell
is fully healthy. Those four guys will really handle it, and then
Donald Spencer
's had an excellent bowl preparation. We'll still go three deep at that position, so we're fine there, although we will miss B.J.'s leadership and his ability to catch the ball at the high point and make big plays. You're going to miss that, but somebody else is going to have to step up. I think you'll see big-play ability from Bennie Fowler.
Special teams has been such a big part of your season. How big of a factor is the kicking game in the bowl?
MD:
Any time you look at a bowl game, it's much like any first game of the season. Special teams can win it for you or lose it for you, so we've got to be fundamentally sound there. Tackling in space and those things show up on special teams as well as defense, so we've got to be perfect in all phases. When you look at it, I can think of four games where special teams have won it for us, with the fake field goal [against Notre Dame], the situation at Northwestern, the blocked punt [against Purdue], the punt return [against Wisconsin]. There's four games right there. A fifth game would be when [kicker] Dan Conroy's 4-for-4 [on field goals] against Illinois. So they've been very, very important to us. We put a premium on our special teams, and our guys are going to have to come and play because Alabama does much of the same.
Is there anything you can take away from being in this game a couple of years ago? You played pretty well but didn't get it done against Georgia.
MD:
We probably have about 30 guys on our team that were from our '08 football season. That carried us in the Penn State game, the final game of this year. We played in a championship-type setting in '08 where if we win, we're co-champions. In 2010, we played much better [at Penn State] and we win the football game. A lot can be said for that experience breeding success. We've had the experience of being down here before. Many of our players being in positions of leadership have been here, played in this game. We played pretty well against Georgia, we had opportunities to win the football game but faded away a little bit in the fourth quarter. We can't afford to do that. We need to play this game close. Again, emotionally measure up, emotionally be ready, and physically, we're going to have to play at the height of our game.
What would it mean as a coach to finish this season off with a win?
MD:
I don't really look at things as a coach, I look at things collectively. This has been a special football season for us. Whenever we've needed to play, someone different has stepped up. Whenever we've needed someone to step in when leadership was thrust upon someone else, an assistant coach would step up. Don Treadwell stepped up, Pat Narduzzi, whoever was asked. That's the kind of the season it's been. So collectively, we're an 11-1 group of people that will remember this season for the rest of their lives because of the way it's shaken out. This would certainly put the icing on the cake if we could win this football game. This has been a special season, and now we'll have an opportunity to compete with what I think is one of the finest football teams and most well-coached football teams in this country. It'll be a challenge, but again, it'll be an opportunity, too.
December, 28, 2010
12/28/10
6:00
PM ET
It has been an unforgettable year for Mark Dantonio both on and off the field. Michigan State's fourth-year coach guided the Spartans to an 11-1 record and their first Big Ten championship since 1990. He also worked his way back from a heart attack in mid September and made several of the season's most memorable play calls.
Dantonio and the Spartans wrap up their season Jan. 1 in the Capital One Bowl against defending national champion Alabama. The game serves as a reunion of sorts for Dantonio, who opposes Nick Saban, his former boss at Michigan State. But most of all, Michigan State has a chance to "measure up," Dantonio said.
[+] Enlarge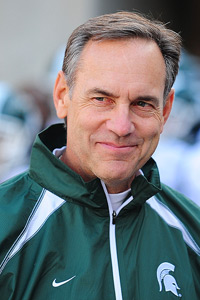 Andrew Weber/US PresswireMark Dantonio sees facing Alabama in the Capital One Bowl as both a great challenge and a great opportunity for his program.
I caught up with Dantonio earlier today.
Here's the first part of my interview. Part II will appear Wednesday morning.
What has been the focus of your preparation for this game?
Mark Dantonio:
We try to have a different focus every day, and our first focus when we got down [to Orlando] was to refocus and get back to work. We've got to measure up, we've got to measure up to Alabama. In a lot of ways, we're a football team that has come on this year. Alabama's a football team that had come on a couple years ago and was the No. 1-ranked team and the defending champion and [had] the defending Heisman Trophy winner. And we're a team that wasn't in the Top 25 early on. We're a team that has raised our play as the season went along. So we've got to be able to measure up to that football team that we're playing. It's a great challenge, a great opportunity as well.
It seemed like your players had no letdown about not making a BCS bowl. Was that you reinforcing it to them or the players realizing on their own what's at stake?
MD:
I think it was mutual. We talked all year long about how our focus was to win the Big Ten championship. In a normal year, an 11-1 [overall record], a 7-1 [conference record] is going to win the Big Ten championship outright. From my perspective, from our players' perspective, the main thing is we are champions of this conference and we want to represent. That's why we talk about how we've got to measure up. We have to be emotionally ready coming into this football game. It's so important that you not be flat, that you not let Disney World and everything else around us have us fall asleep and the next thing you know, it's New Year's Day and we're not ready to play emotionally. That was the focus today.
What has it been like for you to spend time with Coach Saban leading up to this game?
MD:
It's been good. When you have an opportunity to step back and see someone who's had a direct impact on your career, it's always good to spend time together again. I spent five years of my life as his secondary coach, so we worked very closely in that area. It was good just to talk to him, whether it's about recruiting or about the families or whether it's just about things. I had an opportunity on Sunday morning to spend about 20 minutes with him, so that's been a big positive for me personally.
He's been a mentor to me as a football coach. When I look at what we do and how we do things, organizationally, recruiting, defensively -- even though they may have a different defense now and we may play a different one than we played when we were both at Michigan State -- there's still some common threads there. He has had a direct impact on my career.
Has he had a stronger influence on you as a defensive coach or as a head coach?
MD:
I would say as a defensive coach. I worked with Coach Saban from '95-99, so you're going back 11-15 years ago when I was an assistant. As I moved forward in coaching, it was to become a better defensive coach, then a defensive coordinator and then a head coach. So even though we follow a lot of the same things that we did at Michigan State, the biggest impact he's had on me is as a defensive coach and the fundamentals that were really instilled in me and the philosophy. The X's and O's may be a little bit different, but the philosophy in how to do things and the teaching progression and the importance of technique, all those things he influenced me greatly.
You mention defense. What are some of the biggest challenges for your team defensively in this game?
MD:
Alabama presents so many different problems for you. Outstanding wide receiver in
Julio Jones
, 75 catches made. [Marquis] Maze is equally as impressive. They've got a couple other guys who can play very well also. Their running backs, [Trent] Richardson and [Mark] Ingram are outstanding running backs. A little mirror type seasons. Last year, Richardson was hurt early. This year, Ingram was hurt early, but they're both tremendous backs and have game-breaking ability. And then you look at their offensive line: big, physical, a little young in places. And then their quarterback, [Greg] McElroy, throws the ball very effectively, 70 percent completion ratio, and an outstanding leader. He does a great job leading his football team offensively. They'll be a challenge to stop. We've got to eliminate the big plays and force some turnovers and play well in certain situations.
December, 22, 2010
12/22/10
9:00
AM ET
Michigan State's secondary had a big-play problem in 2009. The Spartans gave up too many and made too few of their own.
Consequently, Michigan State ranked last in the Big Ten in pass defense (267.6 ypg), pass touchdowns allowed (32) and fewest takeaways (14). The Spartans ranked second to last in the league in interceptions with just six.
[+] Enlarge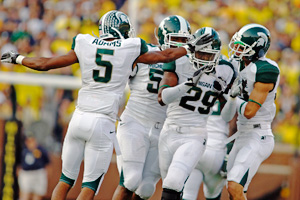 AP Photo/Tony DingCornerbacks Johnny Adams (5) and Chris Rucker (29) combined to make 11 interceptions in 2010.
When the players started preparing for the 2010 camp, they didn't take long to find a group motto.
"We came up with MAP," safety Trenton Robinson said.
It translates easily: Make. A. Play.
"In our heads going into the season and everything, it was like, 'We've got to make a play,'" Robinson said. "If one guy in camp or during spring ball would make a play, everybody would be like, 'MAP. Make a play. Somebody make a play.'
"That was our biggest focus, just making plays."
The Spartans' defensive backs made plenty of plays this fall as Michigan State surged to 11-1 and a share of the Big Ten championship.
Michigan State ranked second in the Big Ten and tied for 11th nationally in interceptions with 17, nearly tripling its total from 2009. The Spartans had four games with multiple interceptions, including a four-pick performance against Northern Colorado and three picks against both Michigan and Illinois.
All four starting defensive backs -- safeties Robinson and Marcus Hyde, and cornerbacks Chris L. Rucker and Johnny Adams -- finished the regular season nationally ranked in passes defended. They combined for 12 interceptions and 30 passes defended.
Arguably no position group in the Big Ten had a bigger one-year turnaround than Michigan State's secondary, as all four starters received second-team all-conference honors from either the coaches or media.
"Last year, we would get in position to make a play, but we just couldn't come down with it or break it up," Robinson said. "This year, we're making plays on the ball. When the ball goes up, we're trying to turn into wide receivers, getting interceptions, knocking the ball down. That's the biggest difference."
Spartans quarterback
Kirk Cousins
saw an attitude change among the defensive backs this fall.
"They felt like they didn't live up to expectations last year and that wouldn't happen again," Cousins said. "They simply made a decision to play at a higher level and play with confidence. At the same time, coverage can be a result of pressure from the D-line. When the whole defensive steps up, including the defensive line, they're able to pressure a quarterback and force them to make poor decisions.
"That's going to help the secondary."
Michigan State will need every area of its defense to be clicking against Alabama in the Capital One Bowl. The Tide boast a veteran quarterback in
Greg McElroy
, two outstanding running backs in former Heisman Trophy winner
Mark Ingram
and
Trent Richardson
, and an elite receiver in
Julio Jones
.
"They're going to throw the ball deep on us, and I feel like Chris Rucker and Johnny will be in position on those wide receivers," Robinson said. "It's just going to come down to who's going to make that play. Hopefully, it's us."