December, 4, 2011
12/04/11
11:34
PM ET
Wisconsin Badgers (11-2) vs. Oregon Ducks (11-2)
Jan. 2, 5 p.m. ET (ESPN)

Wisconsin take from Big Ten blogger Brian Bennett:
The memory of last year's 21-19 loss to TCU in the Rose Bowl helped motivate Wisconsin this offseason.
The Badgers made it their mission to get back to the BCS and change the outcome this year, a plan that was nearly derailed by two straight dispiriting October losses. But they battled back to clinch consecutive trips to Pasadena for the first time since the 1998-99 seasons. And the players say they're not satisfied just to get there.
"We didn't finish it right last year," safety Aaron Henry said. "To have a chance to go out there and finish off something is a truly amazing, special feeling."
It won't be easy. Oregon is one of only three teams in the country that scored more points than Wisconsin this season, and the Ducks' speed could cause major problems for a defense that struggled against swiftness in space at times this year.
The Badgers' best defense, though, could be its offense. Their imposing offensive line could wear on the smaller Ducks, and the ground game led by
Montee Ball
-- who needs just two more touchdowns to set the single-season FBS record -- will help keep Oregon's offense off the field. Quarterback
Russell Wilson
should thrive against a less physical defense than he faced in the Big Ten, and he embraces the big stage.
An NC State transfer, Wilson will be making his first BCS appearance. The rest of his teammates know the Rose Bowl well. They hope to find out what a Rose Bowl victory feels like.
---

Oregon take from Pac-12 blogger Ted Miller:
Oregon is headed to its third consecutive BCS bowl game and second Rose Bowl in three years. That's great, but the Ducks are 0-2 in those games, so the program is no longer just happy to be there. They need to win to climb another rung in the national pecking order.
The Ducks are not unlike previous varieties. They are again an offensive juggernaut, ranking third in the nation in scoring, fifth in rushing and sixth in total offense. Their relentless, up-tempo offense wears opposing defenses down and causes them to lose concentration and gap integrity. The perceived Achilles' heel that will be tested, however, is this: Coach Chip Kelly has lost six times. In five of those losses, high-quality teams had extra time to prepare their defenses. Your turn, Wisconsin.
That's one take of the Ducks' opener against LSU in Cowboys Stadium. They lost 40-27 in large part because their rebuilt offensive line struggled with the Tigers' front seven. Of course, Oregon fans will point to losing the turnover battle 4-1. And it's worth noting no other team scored as many points against the Tigers this year. Only West Virginia had more total yards against LSU.
After the LSU loss, Oregon mostly cruised. The marquee showdown at Stanford was underwhelming, as the Ducks' defense controlled Cardinal QB
Andrew Luck
and the offense just looked too fast for Stanford.
The win at Stanford put the Ducks back into the national title discussion. A week later, however, they were out with a 38-35 loss to USC, missing a late field goal for the tie as time expired. They bounced back with easy wins over Oregon State and UCLA in the Pac-12 championship game.
The Ducks' chief star is running back
LaMichael James
, the 2010 Doak Walker Award winner and the first back in conference history to rush for more than 1,500 yards three consecutive seasons. But there are plenty of weapons on offense, including multipurpose true freshman
De'Anthony Thomas
, backup running back
Kenjon Barner
and tight end
David Paulson
. The defense produced three first-team All-Pac-12 players and a second-teamer, so it's not a nameless bunch in conference circles. It's solid in most areas and ranks third in the nation with 3.3 sacks per game.
January, 1, 2011
1/01/11
2:00
PM ET

Does TCU or Wisconsin have the edge in the Rose Bowl? Brian Bennett and Adam Rittenberg preview the game and make their picks from Pasadena.
December, 31, 2010
12/31/10
9:30
AM ET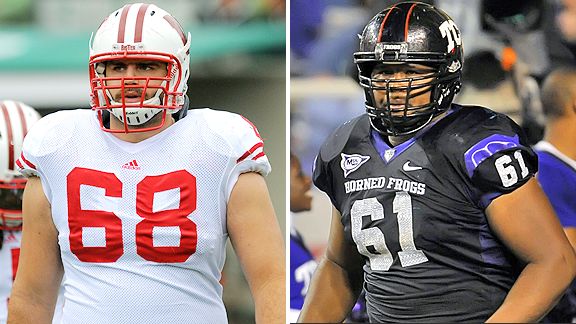 Getty Images, Icon SMIWhich left tackle will have a bigger impact: Wisconsin's Gabe Carimi or TCU's Marcus Cannon?
LOS ANGELES -- The Grandaddy of Them All has something to entertain the whole family this year. The matchup between No. 3 TCU and No. 5 Wisconsin features many fascinating subplots, intriguing individual matchups and -- to take the macro view -- two really, really good teams. Bloggers Adam Rittenberg and Brian Bennett are ready for their close-up in this Rose Bowl Game presented by VIZIO debate:
Brian Bennett:
OK, Adam. Time for you to take a break from getting starlets' phone numbers and shopping on Rodeo Drive. Let's talk about a very interesting Rose Bowl. Wisconsin has won the eyeball test this week and may have cracked the foundation of the Los Angeles Downtown Marriott on Media Day with all that bulk in one place. But TCU has seemed focused and has a ton of athletes. Of all the contrasts and matchups in this game, which one do you think is most important to the outcome?
[+] Enlarge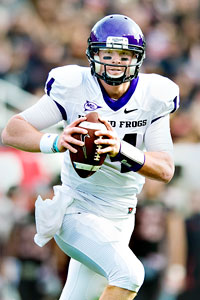 Douglas C. Pizac/US PresswireTCU's offensive line has kept Andy Dalton's jersey pretty clean this season, allowing just nine sacks.
Adam Rittenberg:
Easy, Bennett, don't tell my wife. Actually, I was planning to meet up with Suge Knight later. You know how I roll. I think this game comes down to the line of scrimmage, an area where there might be more similarities than differences. Both teams have outstanding left tackles (Wisconsin's Gabe Carimi, TCU's Marcus Cannon) and outstanding defensive ends (Wisconsin's J.J. Watt, TCU's Wayne Daniels). TCU's size along its offensive line is overlooked next to Wisconsin's, and Wisconsin's speed along its defensive line is overlooked next to TCU's. The team that controls the line of scrimmage wins the game. Can TCU's defense endure Wisconsin's power game? Can Wisconsin's defense find a way to get to Horned Frogs veteran quarterback
Andy Dalton
?
BB:
The line of scrimmage will be critical, but I think TCU's defensive linemen are good enough to hold their own. I wonder about the safeties who will need to help out against the run. They're going to be physically outmatched by linemen, tight ends and
John Clay
. They had better tackle well and be extremely sound in their technique, though the Horned Frogs excel at that. And then of course you worry about play-action if you're Gary Patterson and Dick Bumpas.
On the other side, TCU's offensive line has given up just nine sacks all year. Watt versus Cannon is going to be fun to watch, but I think Dalton will stay pretty clean. I wouldn't expect Wisconsin to come after him too hard because of the threat of the zone-read and the Horned Frogs' tendency to throw those underneath routes. I would think Dave Doeren would want to keep his linebackers covering those areas against speedsters like
Jeremy Kerley
and
Jimmy Young
.
Another question I have is how the layoff will affect these teams. We've seen some spread teams struggle with timing in bowls. That might bother TCU, which never found its rhythm last year in the Fiesta Bowl, more than a ground-based attack like Wisconsin. Agree?
AR:
It could, Brian, but Wisconsin was so hot at the end of the regular season, scoring 201 points in its final three games. It might take some time to re-establish the confidence and the rhythm, which could prove costly against a defense like TCU's. The Badgers really tried to maintain the intensity in bowl practice, having the first-team offense and first-team defense practice a lot against one another. But I would expect a little lull on game day. Wisconsin will benefit from having running back John Clay at near 100 percent for the game. Tackling Clay isn't a lot of fun, and he might be able to wear down TCU's defense and create lanes for
James White
and
Montee Ball
.
One area that really intrigues me about this game is special teams. Both teams have strong returners, especially TCU with Kerley. How big of a factor will the kicking game be for the Frogs?
BB:
Well, Frogs fans surely understand the importance of special teams after last year's Fiesta Bowl loss, in which a Boise State fake punt made the difference. Kerley is electrifying and could single-handedly change the game; Wisconsin did surrender a punt return touchdown in its only loss, against Michigan State. TCU's punting is mediocre, and kicker Ross Evans has made only one field goal longer than 40 yards this season.
Another hidden area could be red-zone efficiency. Both teams were great at punching it in during the year, and in a potentially close game between two high-scoring teams, a red-zone stop could be huge. Any other under-the-radar factors jump out at you?
[+] Enlarge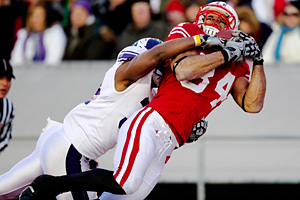 Jeff Hanisch/US PRESSWIREWisconsin tight end Lance Kendricks (39 catches for 627 yards and 5 TDs) is a future NFL prospect.
AR:
Great call on the red-zone effectiveness. Wisconsin is tied for fifth nationally in red-zone offense, while TCU is tied for 16th. TCU is much better than the Badgers in red-zone defense, though (51st nationally vs. 95th). One area I've thought a lot about is the play-action game for both teams. TCU is an extremely disciplined defense, but
Scott Tolzien
runs the play-action very well and usually has tight end
Lance Kendricks
or a wide receiver open for a pass. Kendricks is a future NFL prospect, and receiver
Nick Toon
might be as well. Wisconsin needs its linebackers to tackle well in this game, but the Badgers can't lose sight of Dalton, who has underrated mobility and can attack down the field.
OK, Bennett, prediction time. You first.
BB:
Wisconsin is awfully good, and I fear that TCU will eventually succumb to all that size. But these Horned Frogs know how to win, and I get the feeling they're very motivated to prove something on this stage. The TCU defense comes up with some key turnovers, speed trumps strength and the Horned Frogs make the Rose Bowl a non-AQ house, 30-27.
AR:
This should be a great game, and it could go either way. I just don't think TCU has seen anything like Wisconsin this season. The Badgers' power and style of play is unique in college football, and ultimately, Wisconsin will wear down the frogs. Dalton keeps TCU in the game and makes several big plays with both his arm and his feet, but Wisconsin uses a big fourth quarter to secure the win. Badgers 30, Frogs 27.
December, 30, 2010
12/30/10
9:30
AM ET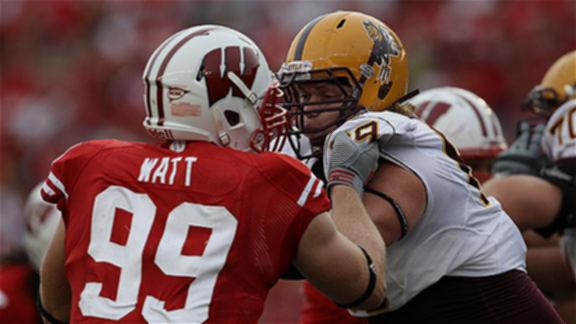 LOS ANGELES -- When the time came for J.J. Watt to provide a senior quote for his high school yearbook, he started to search for the perfect words.
Watt studied several possibilities, including famous quotes from legendary Green Bay Packers coach Vince Lombardi. But the most meaningful words had to come from within.
"I came up with dream big, work hard," Watt said.
Anyone who has followed Watt's career at Wisconsin knows the phrase well. The Badgers' All-American junior defensive end ends many posts on his
popular Twitter page
with those four words or the acronym DBWH.
[+] Enlarge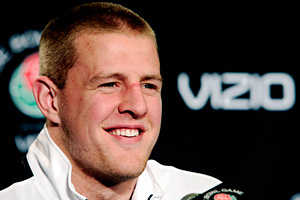 AP Photo/Nick Ut"Dream big, work hard" is the motto of Wisconsin's J.J. Watt, who is projected to be an early-round NFL draft pick as a defensive end just a few years removed from playing tight end in the MAC.
The motto carries Watt through everything he does.
"It really exemplifies what I am as a person," he said. "I want to get the message out that if you dream big, you can do anything you want in the world. But that's only half of it. If you're not willing to work hard, put in the time and the effort that it takes, you're just going to be dreaming."
Watt is living the dream this week in California as he and his Wisconsin teammates prepare to face TCU in the Rose Bowl Game presented by VIZIO.
Watt blossomed for the Badgers this season, earning consensus first-team All-Big Ten honors and appearing on several All-America squads. He ranks third nationally in tackles for loss with 21 and is arguably the Big Ten's most versatile defender, recording every defensive statistic except safety this fall, and blocking three kicks on special teams.
College football fans know J.J. Watt, the finished product. He's a 6-6, 292-pound force projected to be an early-round pick in the 2011 NFL draft if he chooses to forgo his senior season.
It's hard to believe the same guy was a tight end in the MAC in 2007.
"I've never heard of it before," Badgers defensive coordinator Dave Doeren said. "His journey, it's unreal. To think that he was 6-4, 210 in high school and nobody recruited him, and now he's 6-6, 290, and everyone is telling him he should leave college early.
"What he's done is tremendous."
Badgers linebacker Blake Sorensen remembers the first time he saw Watt.
Both attended a football camp at the University of Minnesota as high school players. Sorensen was "Mr. Football" in Minnesota; a two-time all-state selection who led his team to back-to-back state championships.
And Watt?
"He's was this lanky, awkward-looking, random kid," Sorensen said.
Doeren, who served as Wisconsin's recruiting coordinator at the time, remembers discussing Watt. But Wisconsin didn't offer a scholarship.
Watt initially committed to Central Michigan, switched to Minnesota when Brian Kelly left CMU and then switched back to the Chippewas after Minnesota fired Glen Mason.
Although Watt appeared in every game for Central Michigan in 2007, he didn't feel right there. He returned home for six months, delivered pizzas and took classes at a local community college before transferring to Wisconsin and walking onto the team.
"Obviously, we didn't look very good when he transferred back and became our best player," Doeren said. "But it all worked out in the end."
[+] Enlarge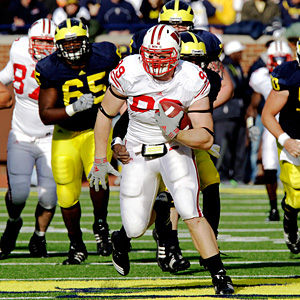 AP Photo/Carlos OsorioJ.J. Watt, seen here returning an interception, recorded every defensive statistic except for safety this season. He had 21 tackles for loss.
The coaches didn't have high expectations for their new walk-on transfer, and Watt had to ask head coach Bret Bielema if he could try out at defensive end.
"I don't know if they really thought I was going to be much of a football player when I came here," he said. "I tried to make the most of it."
He began by transforming his body.
"It took a lot of hard work in the weight room, a lot of hard work in the kitchen, eating," Watt said. "It was tough to put on as much weight as I put on."
Watt left high school at 228 pounds. When he started his first game at Wisconsin in 2009, he weighed 286 pounds.
"It'd be like telling you," Sorensen said, looking at me, "that you'll look like Arnold Schwarzenegger."
In addition to super-sizing himself, Watt also faced the mental challenge of mastering a new position at the college level. After earning Defensive Scout Team Player of the Year honors in 2008, Watt started all 13 games last season and finished second on team in tackles for loss (15.5), pass breakups (5) and fumble recoveries (2) and third in sacks (4.5).
He ended the season strong, recording five tackles for loss, three sacks and two quarterback hurries in the final two games.
"If you look up a quote from last season, someone asked me who is going to be the unnamed guy who is going to be a good player, and I said J.J.," Badgers star left tackle Gabe Carimi said. "He's the one that I said. So it's not surprising. He's big, strong, powerful.
"There was no question that he was going to be a good player here."
Watt took his game to another level this fall, especially in Big Ten play. He recorded multiple tackles for loss in six of eight conference games and made more game-changing plays than any defender in the league.
Despite his size and ability to play both line positions -- there was some talk Watt would play defensive tackle this season-- he grew his pass-rushing repertoire.
"I've seen more finesse out of him than anything," said TCU tackle Marcus Cannon, who will oppose Watt in the Rose Bowl. "He has some really nice moves. I think power would be probably second to his speed."
The combination could prompt Watt to enter the NFL draft in April. He boasts an impressive college résumé, both on and off the field.
Watt this year established the Justin J. Watt Foundation, which raises money for local elementary and middle schools that lack funding for athletics. Like several of his teammates, he's a regular visitor at American Family Children's Hospital in Madison.
Few were surprised when Watt won the Lott IMPACT Trophy, which recognizes both on-field performance and personal character.
It has been a long and unusual journey to Pasadena, but Watt wouldn't change a thing.
"I wouldn't have the work ethic I have," he said. "I wouldn't have the outlook on life that I have right now if it wasn't for everything that I had to go through to get here. So being in the Rose Bowl right now means that much more to me. ...
"I've seen everything," Watt continued. "I've seen the bottom, I've seen being out of college football, and now I'm seeing the top of college football. I was talking to my high school coach the other day. He told me, 'You've reached the Mecca of college football.' That's essentially what it is. The Rose Bowl is the biggest thing you can really do in the Big Ten.
"I'm just taking it all in and having a blast."
December, 28, 2010
12/28/10
7:00
PM ET
LOS ANGELES -- TCU's complex and effective 4-2-5 defense provides a unique look for opposing offenses.
So has Wisconsin seen anything like the scheme the nation's No. 1 defense will use in the Rose Bowl Game presented by VIZIO? It's hard to tell.
Tight end
Lance Kendricks
and running back
Montee Ball
both see shades of Michigan's defense in TCU's scheme. The Wolverines often operate from a 3-3-5 alignment.
"[TCU is] a little smaller but obviously more athletic and faster," Kendricks said Tuesday.
When Wisconsin guard John Moffitt studies the Horned Frogs' defensive front, it reminds him of a different Big Ten foe.
"In their defensive line front, I saw more Ohio State," Moffitt said. "Just the way they move out the tackle toward the defensive end and the way they give a lot of looks. They can start down there with two tight techniques over the center, a 'dogg' front we call it. It's a two-linebacker set and their linebackers are talented and they come downhill hard, which reminds me of Ohio State."
So which is it: Michigan or Ohio State? Neither, according to Badgers quarterback
Scott Tolzien
.
"I see a completely separate deal," Tolzien said. "I'm not trying to be politically correct, but they're different. They do some different stuff and obviously, it works. They're 13-0."
Tolzien paused, realizing he'd already given TCU a win in the Rose Bowl.
"13-0? What am I saying?" the signal caller said.
Sounds like the Badgers are a bit confused by the situation.
But Tolzien, whose preparation methods are legendary, enjoys the challenge.
"That's what makes it fun," he said. "Quite frankly, I'd get a little bit bored if we were spending three or four weeks preparing to play a defense that we'd seen all year long. Each Big Ten team's got their own flavor on defense, and the same goes for TCU."
December, 28, 2010
12/28/10
4:00
PM ET

Adam Rittenberg talks with Wisconsin QB Scott Tolzien at the Rose Bowl.
December, 28, 2010
12/28/10
2:15
PM ET

Adam Rittenberg talks with Wisconsin OL John Moffitt.