Big Ten:

2011 TicketCity Bowl
December, 4, 2011
12/04/11
11:32
PM ET
Houston Cougars (12-1) vs. Penn State Nittany Lions (9-3)
Jan. 2, noon ET (ESPNU)

Houston take from Nation blogger Andrea Adelson:
It was all right there for Houston.
All the Cougars had to do was beat Southern Miss in the Conference USA championship game to make the first BCS appearance in school history. But they had their worst performance of the season, losing 49-28, dashing any hopes of getting up on the big stage. Now they have to settle for a lower-tier bowl game as they wonder about what could have been.
The loss puts a damper on what has been a special season. The 12 wins are the most in school history, and quarterback
Case Keenum
shattered virtually every NCAA passing mark -- career yards, career touchdown passes and total offense came tumbling down in a torrent of scoreboards that were lit up every single week. He threw for more than 5,000 yards for the third time in his career, along with a career-high 45 touchdown passes.
Patrick Edwards
had a terrific season as well, with more than 1,500 yards receiving. Linebacker Sammy Brown anchored the defense with his standout play. But this has been a program with a reputation of dropping a game it is favored to win every season. Just go back to 2009. After beating Oklahoma State and Texas Tech to open the season 3-0, Houston lost to UTEP. Later that season, the Cougars lost to UCF and in the Conference USA championship game. They managed to make it through this season unscathed until the very moment it mattered most. Perhaps the gravity of the situation overwhelmed the players. Perhaps distractions surrounding coach Kevin Sumlin and future coaching destinations were too much to bear. In any case, what has been one of the best seasons in school history may not be remembered that way.
---

Penn State take from Big Ten blogger Brian Bennett:
Penn State's players deserve a bigger bowl game than this.
The Nittany Lions finished 9-3, tied for a share of the Big Ten Leaders Division lead and are ranked in the Top 25. In any other year, that would all but guarantee a spot in Florida or some other traditional locale.
But this was far from any other year at Penn State. The Jerry Sandusky sex-abuse scandal enveloped the entire university in November and led to the firing of legendary head coach Joe Paterno. Bowls do not like negative publicity, so the Nittany Lions tumbled down the Big Ten postseason pecking order -- all the way to the second-year TicketCity Bowl in Dallas against a non-AQ team.
At least it's an intriguing battle of offense versus defense. Penn State, led by Big Ten defensive player of the year Devon Still, finished fifth nationally in scoring defense and 10th in yards allowed. That defense will get a major challenge from record-breaking quarterback Case Keenum and a Houston offense that averaged an FBS-best 50.8 points per game this season.
Both teams could have new head coaches by the time the game kicks off, as the Lions are being led by interim coach Tom Bradley, while Houston coach Kevin Sumlin is a candidate for several current openings. We already know at least one winner from this bowl: Penn State has pledged to donate $1.5 million of its postseason proceeds to sex-crime advocacy organizations.
January, 1, 2011
1/01/11
3:46
PM ET
Well, that was entertaining. Despite an exciting comeback, Northwestern couldn't draw even with Texas Tech and its bowl drought continues for at least another year.


Here's a quick look at the Wildcats'
45-38 loss
to Texas Tech in the TicketCity Bowl.
How the game was won:
Northwestern mounted a spirited second-half comeback behind true freshman quarterback
Kain Colter
, but it couldn't overcome season-long defensive woes against the powerful Texas Tech offense. The Wildcats rallied from a 31-9 third-quarter deficit to close within a touchdown, but they couldn't get the defensive stops they needed. Colter and the offense did enough to give the Wildcats a chance, but a defense that allowed 118 points in its final two regular-season games didn't make any strides during bowl practice.
Turning point:
Northwestern twice cut its second-half deficit to seven points, but couldn't make a defensive stop to give the offense a chance to tie. After drawing to within 38-31 early in the fourth quarter, Northwestern let Texas Tech march 69 yards in 10 plays to the end zone. Then, after a pick-six by cornerback Jordan Mabin, the Wildcats couldn't get off of the field on third-and-short as Texas Tech bled the clock.
Player of the game:
Texas Tech's
Taylor Potts
. The senior seemed locked in from the get-go and shredded Northwestern's defense with his complement of pass-catchers. Potts finished the game 43-for-56 passing for 369 yards and four touchdowns with an interception. He took advantage of holes in the Wildcats' secondary and, aside from one throw in the fourth quarter, made sound decisions.
Stat of the game:
Northwestern ranked third in the Big Ten in pass offense in the regular season, averaging 242.6 yards per game. The Wildcats had just 145 pass yards against Texas Tech.
Unsung hero of the game:
Colter made major strides during bowl practices and spurred Northwestern's second-half comeback. The true freshman eclipsed 100 rushing yards and scored two touchdowns, running mainly the option attack. He likely will challenge
Evan Watkins
for the backup quarterback job next fall.
What it means:
Northwestern just can't get over the hump in a bowl game, although the Wildcats avoided what looked to be an embarrassing performance with the second-half rally. The defense simply had too many problems this season, from tackling to discipline to lack of leadership, and Texas Tech's offense posed a bad matchup. Things could have been different had starting quarerback
Dan Persa
remained healthy, but the warts on defense showed up all fall. Northwestern has high expectations for 2011 and returns a good core, but it needs to make major upgrades on defense. It's still hard for folks to see Northwestern as a legit program until it wins a bowl game.
December, 31, 2010
12/31/10
2:00
PM ET
Pat Fitzgerald has taken Northwestern to a school-record three consecutive bowl games. But he's still looking for that elusive bowl victory after overtime losses in the 2008 Alamo Bowl and 2010 Outback Bowl. Northwestern's drought in bowl wins -- stretching back to the 1949 Rose Bowl -- remains one of few links to the program's dark days.
Most project Northwestern's postseason woes to continue Saturday in the TicketCity Bowl against Texas Tech. The Wildcats looked lost without star quarterback
Dan Persa
in their final two regular-season games, and Persa remains out following Achilles' surgery.
I caught up with Fitzgerald earlier this week to discuss the bowl game.
What part of the team has improved the most between the end of the regular season and now?
[+] Enlarge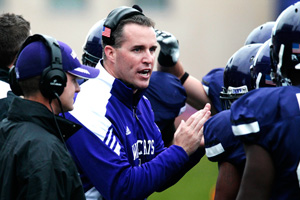 AP Photo/Nam Y. HuhPat Fitzgerald's Wildcats are looking for the school's first bowl win in more than 60 years.
Pat Fitzgerald:
We re-established our chemistry. About a month and a half ago, we were ranked in the Top 25 and feeling really good about ourselves. Obviously, we lost a little bit of that mojo, a little bit of that magic, with the way we performed. We really wanted to re-establish that chemistry, and we've improved that over the last month.
How have you done that?
PF:
We talked about it at length as a leadership council going into bowl season. The guys have done a lot together being out of school. With us being in Chicago, we were able to have a lot of fun together, going to a Blackhawks game, going to a Bulls game, just spending time and having camaraderie. We do some things at practice that are fun. Just tried to build that chemistry, and hopefully we'll show that on Saturday.
Dan was such a huge leader for you guys. How much does it have to be on the other guys to step up and share the leadership?
PF:
I think that just happens naturally. Unfortunately, when one guy gets hurt and that next man's opportunity presents itself, new leaders are going to evolve, new guys are going to step up. We talked about it with the captains and the leadership council. Everybody just needs to do their job to the best of their ability and be who they are. Let's not have somebody go out and try to be Dan Persa. That's not going to work. For the most part, we've accomplished that.
What have you seen out of [quarterback] Evan Watkins heading into the game?
PF:
Obviously, he had more time to prepare. Feels much more comfortable, him and Kain [Colter], in their roles, grasping the system from the standpoint of what we're asking him to do. I've been pleased with his development. I just want him to go trust himself and have some fun on Saturday.
Is Kain a bigger part of the play now?
PF:
We're going to get all of our playmakers involved, so we think he's one of those guys that's pretty dynamic. We'll see on Saturday.
What's Mike Trumpy's status heading into the game?
PF:
He'll be a game-time decision.
What concerns you most looking at Texas Tech?
PF:
They can run, they're very well coached, [Tommy Tuberville] and his staff have done a great job here this first year offensively. They're up-tempo, we've got to be able to match that. The good news is we're more similar than different in that aspect. Defensively, they've got an advantage, their coordinator is no longer going to be calling the plays. We're going to have to adjust to that early and figure out how they're going to defend us. And they've got great weapons in the kicking game. So it's going to be a challenge, there's no question about that. You couple that with a lot of graduates they have here in the [Dallas-Fort Worth] metroplex, it's going to be like a road game for us.
You mention the defensive coordinator leaving as an advantage for Texas Tech. Can you really make many changes when you've done it one way the whole year?
PF:
I don't know if you're going to change, but the situations of the game -- third down, red zone, tight zone, goal line -- could you change a little bit? Yeah. Absolutely. Maybe a little bit different personality, maybe a little more or a little less aggressive. We don't know. We're going to find out on game day. It's a little bit of that unknown that makes you paranoid as a coach.
Defensively, your guys talked about getting back to the basics. How important was that and how has that developed this month?
PF:
Number one, we needed to get healthy. We were pretty beat up on defense at the end of the year, and it showed. Our inability to fit the right way, our inability to be physical at the point of attack and come downhill really hurt us. We're going to have to hope to continue to stay healthy through the game. And then the fundamental time we were able to spend and get back to almost a camp mode was what's important. Now we need to go use that, the way we've prepared and go play with it.
The Big Ten is off to a good start in the bowl season. How important is it for you to contribute to that?
PF:
You know me, I'm a Big Ten man. I was so fired up for the Hawkeyes and for the Illini. I sent coach [Ron] Zook a text [Wednesday] night, congratulating him and his staff and his family and his players. Hopefully, we can continue this going. You talk to every coach in our league, we root for our brothers and obviously, it's our turn coming up. I wish the challenge was going to be less. It's going to be a big one for us, but we're excited to represent our conference.
I know the bowl losing streak has been brought up a lot, but how important is it for this program to take that step?
PF:
I could stop answering the question [laughs], but it also builds momentum for the offseason. You get a chance to get the first win of 2011, get things rolling the right way. You see all the guys we've got coming back next year. We have a chance to have a really special team. For our 13 seniors, this is their last go-round and a chance for them to leave a legacy of success in the bowl season. It's a real special opportunity for us.
Can the bowl be even more of a springboard with what you have coming back?
PF:
It really could be. But just because you win doesn't guarantee you anything. Look at what happened unfortunately to a couple teams this year, not only in our league but across the country, they had big bowl wins. Injuries and off-the-field things happen. For us, it'll make everybody feel a lot better about New Year's Day than the alternative.
December, 30, 2010
12/30/10
2:45
PM ET
Here are three keys for Northwestern heading into its TicketCity Bowl matchup against Texas Tech.

1. Help out Evan Watkins:
I think Northwestern got a little too comfortable letting
Dan Persa
work his magic on offense. Then when Persa got hurt, the Wildcats didn't have enough options to contribute around backup quarterback Evan Watkins. Northwestern needs a big game from its veteran offensive line and must establish the rushing attack with
Adonis Smith
,
Stephen Simmons
or, if cleared to play,
Mike Trumpy
. Players like wideout
Jeremy Ebert
and superback
Drake Dunsmore
also must help out Watkins in the pass game.
2. Tackle in space:
The Wildcats' tackling left much to be desired at times this season, especially in blowout losses to Illinois and Wisconsin to end the regular season. The pre-bowl layoff allowed Northwestern to get healthy and refocus on its fundamentals, but Texas Tech's dynamic spread offense will test the Wildcats' tackling ability. NU needs veterans like linebackers Quentin Davie and Nate Williams and safety
Brian Peters
to prevent explosion plays.
3. Avoid special teams miscues:
Northwestern's perfect ending Saturday calls for kicker Stefan Demos to end the team's 62-year bowl drought with a game-winning field goal. Demos missed a game-winning kick in the 2010 Outback Bowl and had a punt returned for a touchdown in the 2008 Alamo Bowl. Special teams have cost Northwestern too often at critical times, and the Wildcats need strong performances from Demos, return man
Venric Mark
and others on Saturday.