Big Ten:

2012-Meineke-Car-Care-Bowl
December, 28, 2012
12/28/12
1:30
PM ET
Three keys for Minnesota in tonight's Meineke Car Care Bowl of Texas game against Texas Tech:


1. Get creative offensively:
The Gophers had major trouble finding the end zone for large parts of the season. Injuries at quarterback, receiver and on the offensive line kept the Minnesota offense stuck in neutral; it averaged just 13.3 points per game in every Big Ten game except an outlying 44-point outburst against Purdue. The month off has given time for those nicks and bruises to heal and should help senior quarterback/receiver
MarQueis Gray
be as effective as he was early in the season. Offensive coordinator Matt Limegrover needs to maximize ways to use the 6-foot-4, 250-pound Gray along with true freshman quarterback
Philip Nelson
and lead tailback
Donnell Kirkwood
. The Gophers are still limited at receiver, with
A.J. Barker
quitting and
Andre McDonald
suspended. Limegrover must be creative in finding ways to move the ball and somehow keep up with Texas Tech's wide-open offense.
2. Control the skies:
Texas Tech had the No. 2 passing attack in the country, averaging 362 yards per game in the air this season. That's no surprise, given the recent history in Lubbock. The good news for Minnesota is that defending the pass is the Gophers' strength -- they had the No. 11 pass defense in the country this season. Cornerbacks
Michael Carter
and
Troy Stoudermire
must turn in great games, along with safety
Derrick Wells
, against standout receivers
Eric Ward
and
Darrin Moore
. That won't be enough against a team likely to line up four and five wide receivers every snap, so defensive lineman
Ra'Shede Hageman
and
D.L. Wilhite
will have to get pressure on
Seth Doege
and find ways to disrupt his rhythm. At the very least, the Gophers must take a bend-but-don't-break attitude and force the Red Raiders to settle for field goals instead of touchdowns.
3. Do all the little things right:
Let's be honest: Minnesota is a huge underdog in this game and would probably be playing a much easier opponent if Ohio State and Penn State were bowl eligible. It's a tough matchup for a team that doesn't score a whole lot in what is almost a road game. But the Gophers still have a chance against a Texas Tech squad that lost four of its final five and saw its head coach bolt for Cincinnati after the season. They just have very little margin for error. Special teams have to come up big. They can't afford many penalties. And they absolutely must win the turnover battle and keep the Red Raiders offense off the field as much as possible. They're going to need some luck and to play nearly a perfect game. The good news: Minnesota should be far more excited to be in this game than the Red Raiders.
December, 26, 2012
12/26/12
9:00
AM ET
Tyrone Carter flew into Minneapolis last winter for an emergency rescue mission.
The mission was his cousin, Michael, a talented but troubled defensive back for the Minnesota Golden Gophers. As they walked around campus together, they were stopped by fans who wanted to talk about Tyrone's star-studded days at the school more than a decade earlier. No one seemed to even recognize Michael.
"I remember telling him, 'Look, they don't even know who you are,'" Tyrone Carter told ESPN.com. "'What are you doing here? You're wasting your talent.'"
Michael Carter
could easily have finished his Minnesota career not being known for anything but disappointment if not for the intervention of his cousin, a second chance given to him by coach Jerry Kill and, at long last, his own maturation and focus. He turned in one of the great redemption stories in the Big Ten this season, developing into one of the top cornerbacks in the league as a senior and helping the Gophers revive their passing defense.
[+] Enlarge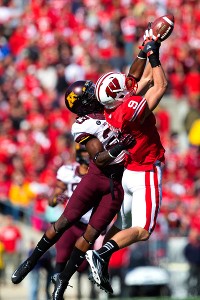 Jeff Hanisch/USA TODAY Sports Michael Carter finsihed the season with 14 passes defensed, tied for 14th-most in the country.
He'll be a key figure when Minnesota takes on Texas Tech in the Meineke Car Care Bowl of Texas on Friday. A little more than a year ago, however, Kill very nearly kicked him off the team for repeated transgressions.
"Oh, man, it was close," Carter told ESPN.com this month. "Very, very close."
Carter was one of the top defensive back recruits in the country and played in the same high school secondary as former LSU star Patrick Peterson at Blanche Ely High School in Pompano Beach, Fla. But he arrived at Minnesota as if he, well, had already arrived.
There was an alcohol-related arrest as a freshman. A three-game academic suspension as a sophomore. He played only five games in 2010 for Kill, who made Carter go to study hall instead of practice. Carter said he was never one to skip class, but he wasn't exactly a great student. He didn't work hard in practice and showed up late for meetings.
"I kind of felt like I had it all wrong coming out of high school," he said. "I just had to get more mature and leave all the other things alone and focus more on school and football."
Kill enlisted Tyrone Carter for help late last year. The two cousins have always been close, and Tyrone could speak with the authority of success. He was a two-time All-American at Minnesota who won the 1999 Jim Thorpe Award as the nation's best defensive back. He also set an NCAA record for tackles and played 11 years in the NFL. As soon as he heard from Kill, Tyrone snapped into action, flying up from his home in Palm Beach, Fla., to confront his cousin.
"I cussed him out," he said. "I got in his face. I told him what he was doing wrong."
You're disgracing the Carter name, he told Michael. If you don't shape up, you'll end up back home in Pompano Beach with nothing to do, just another former Florida high school star talking about how he could have played in the NFL.
To Michael's credit, he received the message and did something about it. He shored up his school work. Then he took Tyrone up on his offer to come train at his house during the summer. Tyrone made him run wind sprints with parachutes and do other drills to get into shape. Then he taught him the fundamentals of playing cornerback, from pad level to footwork to route recognition. The rule was Michael had to train in Palm Beach all week in order to go home to Pompano on the weekend.
"I know nobody in the country worked harder than we did," Tyrone said.
The cousins still talk several times per week on the phone. Every game week this season, Tyrone would quiz Michael on the upcoming opponent. What's their favorite formation? Their favorite route? Who's their go-to receiver? Tyrone said Michael had trouble answering some of those questions early on. But when they talked the night before the Oct. 27 Purdue game, something was different. Michael was finishing Tyrone's sentences before he could even get the words out of his mouth.
"I told him, 'OK. You ready,'" Tyrone said.
The next day, Carter tied a school record with six pass breakups in the 44-28 win over the Boilermakers. Included in that was one virtuoso, five-play sequence where he knocked away three passes and intercepted the final one for a touchdown. Kill said he'd never before seen a cornerback have a series like that.
Carter ended the season ranked third in the Big Ten in both passes defended and broken up. He had a large hand in improving Minnesota's pass defense from a total liability last year to No. 11 in the nation in 2012.
He and the secondary will be put to the test Friday against one of the top passing offenses in the country. Texas Tech threw for more than 361 yards per game this season and boasts a pair of top-flight receivers in
Eric Ward
(75 catches, 974 yards, 11 touchdowns) and
Darrin Moore
(81, 948 and 13). This could serve as an NFL audition for the 5-foot-11, 189-pound Carter.
"It's a great showcase for him," Kill told ESPN.com. "They've got great, big, tall receivers. It's a very important game for our program, but for a young man like him, who had a great year, there will be a lot of people watching, and it will be a great opportunity."
It's an opportunity that Carter nearly threw away. Luckily, he turned out to be a mission worth rescuing.