Big Ten:

2012 Penn State transfers
August, 20, 2012
8/20/12
9:30
AM ET
Before leaving Penn State for a new home at USC, running back
Silas Redd
left
Bill Belton
with a simple message.
"He said, 'It's your time now. You've got to move forward and prepare yourself for the big games coming up this year,'" Belton recalled.
Belton has done just that.
Football is a game of opportunity, whether it comes by virtue of injury, academic missteps or, in Penn State's case, historic NCAA sanctions that prompted a wave of transfers. Redd, a second-team All-Big Ten selection in 2011, was among those to depart Happy Valley, leaving Penn State with a sizable void in the backfield.
Belton is working to fill it for the 2012 season. Despite little experience as a primary running back, Belton locked up the starting job in preseason camp.
"He's definitely cemented himself as a starter at this point," coach Bill O'Brien said last week. "Other guys will play, but Billy will start the game. ... Billy's a good football player."
[+] Enlarge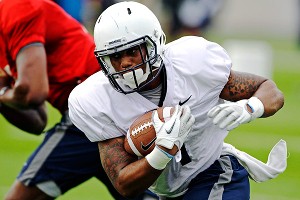 AP Photo/Gene J. PuskarBill Belton saw time as a receiver and Wildcat quarterback last season but will start at tailback as a sophomore for Penn State this fall.
After playing wide receiver and some Wildcat quarterback as a true freshman in 2011, Belton transitioned to running back this spring. Little did he know how much his move would mean. Redd's departure, along with the losses of Stephfon Green and Brandon Beachum, leave Penn State without a back who recorded more than 50 carries in 2011.
Curtis Dukes
, who missed spring practice because of academic issues, logged 41 carries for 237 yards last fall. Penn State's next-most-productive ball-carrier? Belton, with 13 carries for 65 yards, many as the speedy triggerman for the Wildcat offense.
Regardless of his inexperience as a primary running back -- Belton played quarterback for Winslow Township High School in Atco, N.J. -- he impressed O'Brien this spring and continued to do so after
Redd's departure July 31
.
"Sy was big here," Belton said of Redd, who rushed for 1,241 yards and seven touchdowns last fall. "Silas is a great friend of mine and I wish him the best of luck. But I'm definitely ready for the opportunity moving forward."
Belton prepared himself in the weight room this summer with new strength and conditioning coach Craig Fitzgerald. Running backs coach Charles London told Belton about the physical toll pass protection takes on running backs. Like Redd, who transformed his body between the 2010 and 2011 seasons to take the pounding, Belton "leaned up" and added muscle mass.
Although he actually was a bit heavier in 2011 and hopes to play around 203 pounds this season, Belton is confident in his progress.
"I feel like I'm in the best shape of my life right now," he said.
Penn State will lean on Belton for carries behind a potentially improved offensive line, but the sophomore's versatility could be his biggest asset for the offense. The receiver position returns almost no experience, and while Belton recorded only one reception in 2011, he can help the passing game.
"That adds a dimension to the game," Belton said. "You've got to account for the backs, too."
O'Brien said Belton recorded an 80-yard touchdown run in a scrimmage early in camp and has improved his pass protection. Asked how many carries he can handle, Belton said as many as the coaches give him.
"You strive to be the best," he said. "That's basically what I'm trying to do this year. I'm definitely looking forward to September 1st "
August, 4, 2012
8/04/12
9:44
PM ET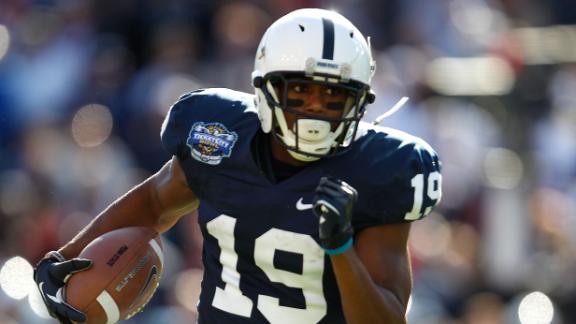 Penn State started 8-1 in 2011 because of a ferocious defense. The Lions rotated quarterbacks, failed to generate much of a passing attack and got a bunch of yards but not many touchdowns from
Silas Redd
.

They won four games without scoring more than 16 points, three in Big Ten play.
It's a blueprint the Blue and White likely must follow again in 2012 to have success in Bill O'Brien's first season. Although O'Brien is an offensive guru, the line should be better and new contributors should emerge, the Penn State offense, at present, simply doesn't look like it can score many points.
Wide receiver
Justin Brown
's
departure to Oklahoma
, as colleague Joe Schad first reported, is the latest blow for Penn State's offense. Make no mistake: The biggest came when All-Big Ten running back Redd transferred to USC. But Brown, the team's leading returning receiver with 35 receptions and 517 receiving yards, is a significant loss as well.
Brown is the ninth player to transfer from Penn State since the NCAA leveled heavy sanctions against the program July 23.
His departure leaves Penn State with no players who recorded more than five receptions in 2011. There's some talent at receiver and running back -- don't be surprised if
Alex Kenney
and
Bill Belton
take big steps this season. The tight end position will be featured more in O'Brien's offense. But Penn State undoubtedly is relying more on potential than proven track records.
Several Penn State fans who responded to me on Twitter tonight pointed out Brown's dropped passes and inconsistent play last season. That's true to an extent, but the team still would have benefited from having a senior with 19 career starts. He was the only Lions player to record at least one reception in every game last season.
Losing only Brown wouldn't sting Penn State too much. But the cumulative effect of losing Brown, Redd and standout kicker/punter
Anthony Fera
could cripple a unit that already had question marks before the sanctions hit, including a giant one at quarterback.
Redd, Fera and Brown accounted for 116 of Penn State's 251 points in 2011. No returnee accounted for more than 12 points last year.
The good news: Penn State's defense still should be very, very good, and the unit hasn't suffered a crucial departure (
Khairi Fortt
might have started at linebacker, but the Lions still should be fine there). This team has won without a dynamic offense recently, and it could again in 2012.
But there will be times when the offense must deliver. Penn State needs some mystery men to answer the bell.
August, 2, 2012
8/02/12
5:05
PM ET
Our first game featuring a Big Ten team is four weeks from today (and sorry, Minnesota fans, for forgetting this week that the UNLV game was moved to Thursday night). More importantly, today brings the first fall practice for a Big Ten team (Indiana), and everyone will be on the field by Monday.
August is a time for optimism -- and a lot of repetitive storylines. Here are five story angles/quotes that I guarantee you will not read this month:
"Our summer workouts weren't very good. Hardly anyone participated. It was the worst summer since I've been here."
"The new strength coach is average at best. He didn't really push us very hard. We're in poor shape right now."
"Player X had a disappointing season/got hurt/got arrested/forgot how to play football last year, but he says that 2012 will be either the same or worse."
"Player Y is replacing star Player Z this season. His teammates and coaches have little confidence that he can get the job done."
"Team A is getting a lot of preseason hype. But instead of blocking it out and focusing on the little things, team members are openly celebrating and feeling extremely cocky."
Enough silliness. Let's get to your e-mails:
Brett from Conshohocken, Pa., writes:
Question for you regarding the transfers out of PSU. Do those transfers count against the 40 reduced scholarships, or is it only 40 brand new scholarships that count against that total? Since six scholarship athletes have left, do we now have 34 reduced scholarships left, or because some of those scholarships were partially used, do they not count against the total? What about Jamil Pollard? He didn't play a down at PSU, so does his scholarship count as a reduced one?
Brian Bennett:
Brett, I understand the scholarship reductions can be confusing. The players who have transferred this summer have little bearing on the sanctions. Penn State can only offer 15 scholarships in each of the 2013, '14, '15 and '16 classes, and it will have to play with 65 total scholarship players from 2014-17. So none of the current transfers make much of a difference, though I guess you could say losing Pollard means one less player toward the 65 total in 2014.
---
Ryan from Chicago writes:
Brian, the normal transfer rules have supposedly been lifted for PSU players due to the sanctions laid down by the NCAA, however the players that have decided to leave have done so for reasons not directly related to a loss of a bowl/scholarships. Aside from
Silas Redd
aiming for a National Championship, these players are leaving in order to get more playing time at another school, to be closer to home, or to get into a program they couldn't get into during their normal recruitment. Is this really what the NCAA wants to happen?
Brian Bennett:
I'm not sure I'd agree with your assessment there, Ryan.
Khairi Fortt
went to Cal; he's from Connecticut and was listed as a co-starter at linebacker for Penn State.
Anthony Fera
was the Nittany Lions' punter and kicker and opted to go to Texas. Pollard's high school said the sanctions were the reason he decided to go to Rutgers. So clearly, some of these players have left because of the bowl ban/scholarship sanctions, though other transfers like
Rob Bolden
and
Tim Buckley
had little to do with it.
---
FFX Lion from Washington, DC writes:
I was thinking about the Penn State sanctions, and I think there is something about the math surrounding the scholarship reductions that doesn't quite add up. Beginning next year, 2013, and each year since, till 2016, no more than 15 scholarships per year can be awarded. Beginning in 2014, and through 2017, there is an overall limit of 65. However, if you do the math, and add 15 awarded in '13, 15 in '14, 15 in '15, and 15 in '16, that adds to 60. So, by my calculation, they are really subject to a 60 scholarship limitation for 2016 only. This wouldn't be the case in 2015, because that would include 2012 scholarships which can be more than 15. Am I mistaken, or did the NCAA fail to check their math properly?
Brian Bennett:
You forgot to include any possible redshirts. While the school can only take 15 players in each of those four years, there could be some leftover players because of voluntary or injury-related redshirts. A freshman this season who redshirts would be a fifth-year senior in 2016. Though that does bring up an interesting question of whether Bill O'Brien can afford to redshirt any players when the 65-scholarship limit sets in -- or even now, given the personnel losses. (P.S. I give your question a C-minus -- little lunch link message humor for you there).
---
James McKenzie from Bloomington, Ind., writes:
So, you've covered that the NCAA only vacates wins to the offending team, but that does not 'give' the opponent the win. How does this effect the opponents loss column? Does the losing team get to erase the 'loss'?
Brian Bennett:
Nope, it has no effect at all on the other team. Sorry, hopeful Hoosiers fans. By the way, remember that 2010 game between Ohio State and Penn State, which the Buckeyes won 38-14? No, you don't. The NCAA says it never happened and neither team won. A Buckeyes fan waking up and remembering that game is, I believe, the plot to the new "Total Recall" remake.
---
Mike from Wixom, Mich., writes:
You guys listed
MarQueis Gray
as a better player than
Taylor Martinez
, yet only a few weeks ago had Martinez listed as the better QB in your position rankings. Do you guys even pay attention to what you are writing or do you just draw names from a hat?
Brian Bennett:
I would insist it be a St. Louis Cardinals hat if Adam and I did that. Wouldn't put my hand near a Cubs hat. Anyway, it's a good question, Mike, but careful, reading explains the discrepancy. As we mentioned in each of those posts, our position rankings were based most heavily on last year's production, while our preseason Top 25 weighs potential for this season a lot more. That's why Gray jumped Martinez, because we feel Gray -- though he had a slightly worse overall 2011 than Martinez -- has enormous potential because of his physical gifts. On the other hand, Martinez does have more experience and better weapons around him. It's a close call.
---
Max W. from Andover, Minn., writes:
Your article on big ten players on the
Hornung watch list
, at the end of it you suggested that a Purdue player may make the list before the year is up. I'm only writing to ask if you think the Gopher's Troy Stoudermire could make that list also since he gets to come back for another year?
Brian Bennett:
Good point on Stoudermire, who probably slipped out of voters' minds because he was injured last season. When healthy, he's an excellent cornerback and is the Big Ten's career leader in kick return yards. It will be interesting to see if the Gophers try to protect him a little bit this season by not using him as much on returns.
---
Charles from Phoenix writes:
My condolences for adding 10 strokes to your handicap, I mean, congrats on the marriage! How balanced do you think UW will be on offense this season? I don't think it gets much better than 234 passing and 235 rushing per game in 2011 but can they still have enough balance to keep defenses honest? I'm hoping for around 180-200 passing and 200+ on the ground each game, does that seem far fetched to you?
Brian Bennett:
Thanks, Charles. There isn't much that could make my golf game worse. As far as the balance, I think the Badgers will still be able to have good splits, but not as remarkably even as last season. People quickly forget just how great Russell Wilson was last season, and it won't be easy to replace him. Plus, I think Wisconsin will feel the loss of Nick Toon more than a lot of people expect. The Badgers might lean on that running game a bit more this season. But the running game is so good that it will open up easy passing lanes for
Danny O'Brien
, and with
Jared Abbrederis
and some excellent tight ends, Wisconsin should easily be able to generate 180-200 passing yards per game.
---
John Koenig from Austin, Texas writes:
Looking at your schedule analysis, I find it interesting that Michigan/Michigan State both have to play Nebraska as their next game. State has a bye. Michigan could have a problem there, a week after State and on the road.
Brian Bennett:
Not sure what schedule you're looking at, John. Michigan hosts Michigan State on Oct. 20, then plays Nebraska on the road the following week. The Spartans go to Wisconsin the week after the Michigan game, and then have Nebraska at home. But those three Legends Division games have a chance to be epic. There's little doubt in my mind that Michigan State was emotionally and physically spent from a brutal schedule stretch when it lost in Lincoln last year. Take nothing away from the Huskers, who played a terrific game that day, but the Spartans were very flat and oddly listless offensively in the loss. Same could happen for the Wolverines, who are going to be sky high for Michigan State's visit to the Big House the previous week. Of the three, I'd rather have Nebraska's schedule.
---
Mochila from Grand Rapids, Mich., writes:
Brian, did you know that it's theoretically possible that a 3-10 B1G team advances to the Rose Bowl? In the scenario, the four eligible Leaders teams lose their nonconference, cross-divisional, and Ohio State/Penn State games. The remaining 3 games between the four teams could be split 2-1, 2-1, 1-2, and 1-2, with one of the 2-1 teams advancing with a head-to-head tie breaker and a 2-10 record. Then suspend your disbelief one more moment and imagine that team (we'll say Indiana for hilarity's sake) beating the Legends Division team. Would the Rose Bowl be forced to take that 3-10 Indiana team? Would it be the worst thing to ever happen to the B1G, or the most hilarious in hindsight?
Brian Bennett:
I love it. You don't even have to go that hilarious extreme to imagine a 5-7 team winning the division and then upsetting the Legends champ for the Rose Bowl bid. As far as I know, there would be nothing stopping the Leaders team from going to the Rose Bowl, though the team might need a special waiver a la last year's 6-7 UCLA team to play in the postseason. It would be a tremendous black eye for the Big Ten, and the subject of endless scorn by the rest of the country. And imagine if you're a 10-2, second-place Legends team watching that happen. Or imagine the look on Jim Delany's face handing out that trophy. That's why Pat Fitzgerald's idea of a selection committee picking the second Big Ten title game participant this year wasn't outlandish. He could turn out to look like a genius on that one.
August, 2, 2012
8/02/12
3:55
PM ET
Illinois made waves last week by sending eight assistant coaches to State College to try to lure Penn State players. The aggressive and controversial approach has yielded at least one Nittany Lion.
Offensive lineman
Ryan Nowicki
, a redshirt freshman guard, is
transferring from Penn State to Illinois
, colleague Scott Powers and others are reporting. Nowicki's departure from Penn State has been in the works for a little while, and the 6-foot-5, 280-pound Glendale, Ariz., native, reportedly was deciding between Illinois, Washington and Arizona State.
The Big Ten has waived its intra-conference transfer rule for current Penn State players wishing to leave, Chad Hawley, the league's associate commissioner for compliance, told ESPN.com. So Nowicki will be eligible to play immediately for the Fighting Illini. A three-star recruit who redshirted during the 2011 season, Nowicki adds depth to an Illinois offensive line looking to replace two starters.
Nowicki is the eighth Penn State player to transfer since NCAA sanctions against the program came down last week. He's not a significant loss for the Lions at this point, but you have to wonder how many more will follow. One player Penn State can't afford to lose is wide receiver
Justin Brown
, who is considering an offer from Oklahoma.
Illinois would like to add more Lions to its roster, which features just 80 scholarship players (not counting Nowicki), first-year coach Tim Beckman said last week.
Penn State and Illinois face one another in the Big Ten opener Sept. 29 in Champaign.
August, 2, 2012
8/02/12
9:45
AM ET
Penn State has absorbed personnel hits on both offense and defense since the NCAA handed down major sanctions against the program last week.
The Nittany Lions' special-teams units won't be spared, either.
Junior
Anthony Fera
, who handled both punting and place-kicking duties in 2011, will transfer to Texas, colleague Joe Schad and others are reporting. Fera earned second-team All-Big Ten honors (media) as a punter last season, averaging 42 yards per punt with 18 punts inside opponents' 20-yard line. He also connected on 14 of 17 field goal attempts and was a semifinalist for the Lou Groza Award.
Fera, a native of Cypress, Texas, earned three Big Ten Special Teams Player of the Week honors in 2011 and became the first Nittany Lions specialist since Chris Bahr in 1975 to be the starter for field goals, kickoffs and punts.
Next to starting running back
Silas Redd
, Fera is the most significant departure for Penn State so far. The Lions likely will turn to sophomore
Sam Ficken
for place-kicking duties and junior
Alex Butterworth
to handle the punting, but Fera certainly will be missed, especially for an offense that could have some significant struggles.
Fera is the seventh Penn State player to confirm a transfer elsewhere, joining Redd (USC), linebacker
Khairi Fortt
(Cal), tight end
Kevin Haplea
(Florida State), quarterback
Rob Bolden
(LSU), safety Tim Buckley (NC State) and defensive lineman Jamil Pollard (Rutgers). There likely will be more to come, including
possibly top wide receiver Justin Brown
, who would be another significant loss for the offense.
There was a lot of excitement in Nittany Nation about the pledges of loyalty made last week by a group of Penn State's upperclassmen as well as several top 2013 recruits. In reality, most of the seniors wouldn't have benefited from leaving State College. Who expected guys like
Matthew McGloin
or
Michael Mauti
to leave? All along, the key players to watch were those with multiple years of eligibility remaining.
So far, those are the individuals heading elsewhere.
August, 1, 2012
8/01/12
9:25
PM ET
Senior wide receiver
Justin Brown
said he was still mulling a transfer Wednesday night and wasn't sure whether he would remain at Penn State.
"I haven't made a decision yet," he said in a brief telephone interview. "I just don't know."
Brown said he doesn't have a timetable for his decision, although preseason practice starts Monday. His high school coach, George Kosanovich of Concord (Del.), said Brown fielded calls from about three or four schools, including Cincinnati, Illinois and Oklahoma.
As the Nittany Lions' top returning wideout, Brown's decision could prove critical to Penn State's offensive success -- especially without starting tailback
Silas Redd
, who announced his transfer to USC on Tuesday.
If Brown leaves, unproven receivers
Shawney Kersey
, a redshirt junior, and sophomore
Allen Robinson
-- who combined for just eight catches last season -- would battle for the top spot.
Brown finished last season with 35 receptions, 517 yards and two touchdowns.
Five Penn State players have already announced their intent to transfer since the sanctions: Redd, linebacker
Khairi Fortt
, safety
Tim Buckley
, defensive lineman
Jamil Pollard
and tight end
Kevin Haplea
. Quaterback
Rob Bolden
was released from his scholarship prior to the sanctions, according to a source.
August, 1, 2012
8/01/12
10:00
AM ET
The hits keep coming for Penn State, as linebacker
Khairi Fortt
and incoming freshman Jamil Pollard have decided to go elsewhere.
Fortt, a junior from Stamford, Conn., is
transferring to Cal
. He was a highly-decorated recruit who played as a true freshman in 2010 and was a member of the linebacker rotation last season. He finished 2011 with 33 tackles, including six for loss, and 2.5 sacks.
He missed some time this spring with a sprained knee but was listed as the co-starter at middle linebacker going into fall practice, along with
Glenn Carson
.
"Basically I wanted to take a leap of faith and trust in God," Fortt told the Stamford Advocate this morning. "This is what's right for me and my family. ... The way you go through life is the way you handle adversity. The friends I've made here are friends."
Penn State should still be fine with its starting linebackers -- this is Linebacker U., after all -- considering that it boasts first-team All-Big Ten performer
Gerald Hodges
, fifth-year senior
Michael Mauti
and Carson, who started every game last season. But Mauti has had recurring knee problems and is no lock to stay healthy. Losing Fortt definitely hurts the depth at the position.
There was a lot of talk at Big Ten media days about who in the league was recruiting Penn State players. But it turns out that the Nittany Lions should have been worried about the Pac-12 more, as Fortt's teammate and fellow Connecticut native
Silas Redd
moved on to USC on Tuesday.
Pollard, an incoming defensive tackle, has
decided to go to Rutgers
instead of Penn State. He was rated a three-star prospect by ESPN.com and the No. 37 defensive tackle in his class.
His high school coach, Clyde Folsom, told The News of Cumberland County (N.J. ) that the NCAA sanctions against Penn State were the reason for Pollard's departure.
"We spoke last week when the penalties became public at Penn State," Folsom told the newspaper. "He wasn't sure what he wanted to do; he wasn't in the right state of mind at the time to really make a decision. But over a 48-hour period there were six or seven Division I schools that were interested in bringing him in on scholarship."
If you're scoring at home, five players on the active roster -- Fortt, Redd, quarterback
Rob Bolden
(LSU), tight end
Kevin Haplea
(Florida State) and walk-on safety
Tim Buckley
(NC State) -- have officially transferred thus far. There will likely be more to come. Penn State, which begins practice on Monday, will have to hope the hits stop coming soon.
August, 1, 2012
8/01/12
8:00
AM ET
Rob Bolden
's long, strange journey has led him to the Bayou.
Bolden, Penn State's opening-game starter at quarterback the past two seasons, will
officially join LSU's fall camp Wednesday
, according to a report in the New Orleans Times-Picayune. Bolden's exit has been in the works for a while. He asked to be released from his scholarship before the NCAA sanctions against Penn State's football program came down, a source tells ESPN. Bolden was removed from Penn State's official roster earlier this week.
[+] Enlarge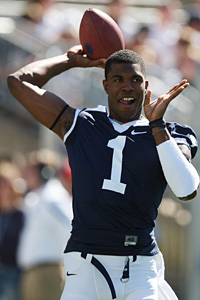 Rob Christy/US PresswireRob Bolden reportedly asked to be released from his scholarship before Penn State was sanctioned.
The signal caller had an odd career at Penn State, to say the least. He claimed the starting job in preseason camp two summers ago and became the first true freshman quarterback to start the opener for Penn State in 100 years. He had mixed results in the first half of the 2010 season, but seemed to be improving before suffering a concussion in a win at Minnesota. Bolden recovered, but was bypassed by
Matthew McGloin
, a decision that didn't sit well with Bolden or his family. Bolden tried to transfer after the 2011 Outback Bowl, but then-coach Joe Paterno refused to grant him his release. He ended up remaining at Penn State and earned the starting nod for the 2011 season but struggled, eventually giving way to McGloin.
Bolden and McGloin competed for the starting job this spring alongside
Paul Jones
, but Bolden ended up third on the depth chart. He finishes his Penn State career having completed 165 of 328 passes for 2,045 yards with seven touchdowns and 14 interceptions.
Bolden clearly has talent, but he couldn't find the consistency needed to lead a Big Ten offense. It'll be interesting to see how he fares at LSU, which had its own quarterback troubles last season.
While Penn State fans lament
Silas Redd
's departure to USC, they likely won't miss Bolden too much after his recent struggles. Still, he's another player to capitalize on the liberal transfer policy, joining Redd, tight end
Kevin Haplea
(Florida State) and safety
Tim Buckley
(NC State). Linebacker
Khairi Fortt
could be the next to depart as he recently visited Cal, and offensive lineman
Ryan Nowicki
will transfer to Illinois, Washington or Arizona State.
McGloin and Jones enter the 2012 season as Penn State's top two quarterbacks.
July, 31, 2012
7/31/12
10:59
PM ET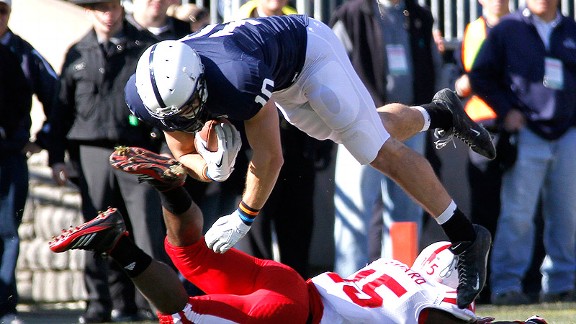 Justin K Aller/Getty ImagesPenn State tight end Kevin Haplea is expected to be transferring to Florida State, a source says.
Penn State junior tight end
Kevin Haplea
intends to transfer to Florida State, said a source close to the situation, in the wake of NCAA sanctions handed down against the Nittany Lions.
Haplea, 6-foot-4, 248 pounds, played in every game last season and filled a big role in blocking for running back
Silas Redd
, who ran for 1,241 yards and seven touchdowns during 2011 and is transferring to USC.
Haplea caught three passes for 21 yards and a touchdown last season. The No. 18 tight end in the 2010 recruiting class, Haplea (Annandale, N.J./North Hunterdon) was a three-star prospect.
The junior will be eligible immediately upon joining the Seminoles. Haplea had not redshirted and will have three years to play two seasons for Florida State.
FSU lost two senior tight ends after last season.
Nick O'Leary
caught 12 passes for 164 yards as a freshman. Defensive lineman
Dan Hicks
moved to tight end during the offseason. The Seminoles have passed to tight ends more since Jimbo Fisher took over as head coach, with 12 catches by tight ends in 2009 and 21 last season.
July, 31, 2012
7/31/12
6:30
PM ET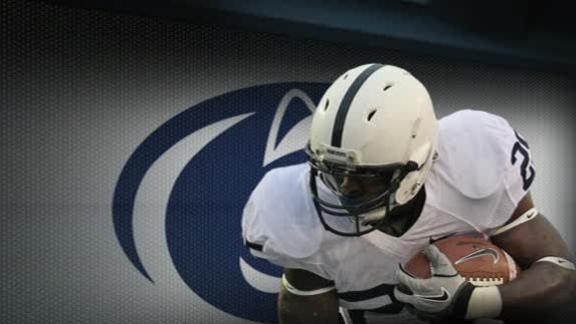 Go ahead and mount that dartboard with Lane Kiffin's (usually) smug mug on it.
Place it next to the one of NCAA president Mark Emmert or any others considered villains in the fallout from the severe sanctions placed on Penn State's football program. Ask how and why the NCAA cleared the way for a star player to transfer from one program on probation to another.
But don't blame
Silas Redd
. He's no Benedict Arnold or Brutus. He's an extremely talented football player who had to make the best decision for his future.
As expected, Redd confirmed Tuesday that
he's transferring from Penn State to USC
. The second-team All-Big Ten running back in 2011, who ran for 1,241 yards and seven touchdowns, will be eligible to play immediately for the Trojans, who, like Penn State, have quite a tradition at running back. While Penn State is just beginning its penalty phase, which includes no postseason play for the next four years, USC is emerging from some of its own sanctions and will be eligible to compete for a national title for the first time since 2009.
[+] Enlarge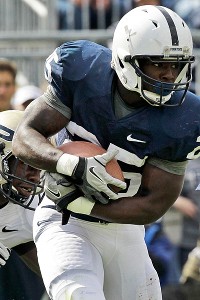 AP Photo/Gene J. PuskarSilas Redd, who rushed for 1,241 yards and seven touchdowns at Penn State last season, is transferring to USC.
The NCAA made it as easy as possible for Penn State players to transfer without penalty. Kiffin came calling, and Redd, after visiting USC's campus during the weekend, accepted the invitation.
Redd ultimately had two good options.
1.
Stay at Penn State, play in an NFL-style offense under new head coach Bill O'Brien, be the clear-cut featured back and have an excellent chance to turn pro after the season.
2.
Go to USC, compete for the starting job, play behind the nation's top quarterback in
Matt Barkley
and compete for a Pac-12 title and quite possibly a national championship.
You can't fault a guy for wanting to play for a championship. Redd has that opportunity at USC, which likely will be the preseason No. 1 team in the polls.
This isn't a case of a cocky kid looking for the next best thing. Any Penn State fan who knows Redd or has read about him knows he's humble, hardworking and extremely classy. He comes from a terrific family and has earned everything that has come his way. His decision was extremely difficult, and he's leaving behind many close friends in State College.
Here's the full statement
Redd issued about his decision
, and here's an excerpt:
"Playing football at Penn State has been a dream of mine since I was seven years old, and I will be forever grateful that this dream became a reality," Redd's statement reads. "This is the reason that the decision I have made is so difficult for me: I will transfer to USC to complete my education and my college football career, beginning in the 2012-2013 year. Penn State gave me a phenomenal opportunity to become part of a legendary football program. My teammates, my coaches -- past and present -- and the staff have provided me with a tremendous amount of guidance and support since I arrived on campus, and I can't thank them enough for their time, their advice, and their friendship. They have given me such a strong foundation from which I can continue to grow."
Sure, he could have echoed the pledge made by several of Penn State's older players last week. He could have stuck it out in State College. But the NCAA sanctions changed things at Penn State, and the liberal transfer policies opened doors everywhere, even to other programs on probation, like USC. Is that debatable? Highly.
"I think it is important to say that this situation is not something that I wished for myself, but it has happened, nonetheless," Redd's statement reads.
Redd also finds himself in a different situation from most Lions players. He has two years of eligibility left, and likely will face an NFL decision after the season. He also plays a position where a transition to a new team, even just a month before the opener, shouldn't be overly dramatic.
His departure certainly stings. If Redd isn't Penn State's best player, he's a close second behind first-team All-Big Ten linebacker
Gerald Hodges
.
Who takes over at running back for the Lions?
Bill Belton
will be a key player to watch in preseason camp. He ran the "Wild Lion" offense at times last season and possesses good speed.
Curtis Dukes
, a big back who missed spring ball because of academics, is
weighing whether or not to stay in State College
. Redd's decision could impact that of incoming running back recruit
Akeel Lynch
, who is considering Iowa as a possible transfer destination.
Running back suddenly has become a compelling position battle for Penn State, which kicks off fall practice Monday.
It'll be interesting to see the reaction to Redd's transfer. His exit is another setback for a program and a fan base dealing with plenty of them. More departures likely will come, including the possibility of linebacker
Khairi Fortt
heading to Cal.
But if you're looking for someone to blame, Redd isn't the answer.
July, 30, 2012
7/30/12
6:30
PM ET
We now have our first player to take advantage of liberal transfer rules and leave Penn State. Nittany Lions fans can hope the first transfer is the only kind they will have to endure.
Safety
Tim Buckley
, a walk-on who redshirted last season, has transferred to NC State. Buckley was not expected to be much of a contributor to the Nittany Lions this season.
He's also a native of Raleigh, N.C., so the move to the Wolfpack makes total sense. In fact, it's not too much of a stretch to think he might have transferred without the NCAA sanctions. Either way, this is the type of player who seems most likely to transfer -- one who has more of a chance for playing time somewhere else.
It's a whole other planet when you're talking about
Silas Redd
,
Khairi Fortt
or even
Anthony Fera
transferring. This is one bit of transfer news that Penn State fans won't sweat over, though it remains somewhat noteworthy because it's the first one.
July, 26, 2012
7/26/12
1:52
PM ET
Penn State junior kicker
Anthony Fera
has contacted the Longhorns about joining their program, his father told ESPN.com, and he's returning home this weekend to consider a visit to Texas.
Tony Fera confirmed that his son is planning to visit his family in Cypress, Texas, on Saturday to discuss his potential transfer options.
"There's a lot of rumors flying around about if he's going to Texas or all these schools," Tony Fera said. "I can say he's coming home to his parents this weekend and that he's going to consider a visit while he's down here."
Fera, a Houston St. Piux X product, has heard from more than a dozen schools this week. He's still contemplating staying at Penn State, where he's on track to graduate in December. If he does leave the Nittany Lions in the wake of the program's severe NCAA sanctions, it will most likely be for a chance to play closer to home.
"We're certainly considering that, and UT is one of the schools that we'd consider hearing what they have to say," Tony Fera said.
As a redshirt sophomore, Fera became the first Nittany Lion since Chirs Bahr in 1975 to be the starter for field goals, kickoffs and punts a season ago.