Big Ten:

2013 big ten bye to-do list
September, 27, 2013
9/27/13
11:00
AM ET
At 3-1, Penn State is feeling relatively good during the bye week. Sure, its record could be better -- but the Nittany Lions lost to a good UCF team and already are ahead of where they were last season.
This is the perfect time to shore up some weak spots, heal up and regroup before the Big Ten season begins. Here are a few things Penn State needs to work on to take a step forward:
[+] Enlarge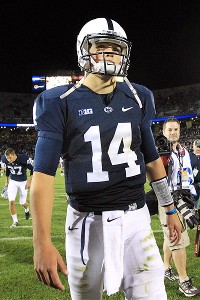 Matthew O'Haren/USA TODAY SportsFreshman quarterback Christian Hackenberg needs more pass catchers to step up.
1. Find a solid No. 2 receiving target.
Allen Robinson
is the most dangerous receiver in the Big Ten, but the Nittany Lions' passing attack can't rely just on him. When Kent State shut him down in the final three quarters,
Christian Hackenberg
went just 6-of-25 with an interception. And Big Ten opponents undoubtedly will focus on the receiver come passing downs. That means someone else -- anyone else -- needs to step up.
Brandon Moseby-Felder
had six catches in each of the first two weeks but had 39 yards combined in the last two weeks. Only one other target has caught more than three balls in a game, and that's true freshman
Adam Breneman
-- who has just five catches total this season but had four for 22 yards vs. UCF. Penn State has to hope
Kyle Carter
returns to his old self in a hurry,
Eugene Lewis
takes a giant step forward or Moseby-Felder can form more consistency. A-Rob can't do it all.
2. Tighten up the secondary.
OK, sure, PSU shut out Kent State and limited
Colin Reardon
to a QBR of 9.4. But PSU's next opponent, Indiana, has a high-powered passing attack that more closely resembles UCF -- and the Lions did not fare well against the Knights. Wideout-turned-cornerback
Trevor Williams
was targeted repeatedly early in that game, as UCF threw short when he played off receivers and threw longer when he played tight. Defensive coordinator John Butler eventually benched Williams and slid safety
Adrian Amos
to his spot, and Butler again will have to gameplan around another good offense in Indiana. Williams isn't the only issue here -- the young corner certainly has had bright spots this season -- but the secondary as a whole has issues that need to be ironed out during the bye.
3. Continue to improve on third downs.
For the first three weeks of the season, no team in college football was worse on third down than Penn State. The Lions converted just four of 34 third downs, and nothing they did seemed to work. Bill O'Brien played it conservative by mostly calling run plays in Week 1, and the third downs didn't go well. Then he passed on eight straight third downs in Week 2, and it didn't go well. And then he mixed it up in Week 3, and it still didn't go well. PSU did better against Kent State by converting 7-of-18 ... but the opponent was Kent State. Penn State still ranks 120 out of 123 teams in the third-down department, and it can't expect to live off big offensive plays in the conference season.
September, 26, 2013
9/26/13
5:00
PM ET
Northwestern's record is a perfect 4-0, but the Wildcats haven't exactly been perfect. They enter the bye week after an unconvincing 35-21 win over FCS school Maine, and they'll try to regroup in time for their next big test -- against No. 4 Ohio State on Oct. 5. Here are a few things they'll have to focus on to improve in time for the conference season:
[+] Enlarge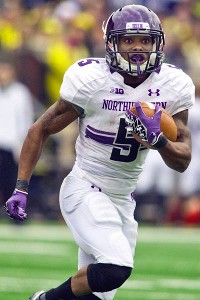 Tony Ding/AP PhotoNorthwestern running back Venric Mark hasn't played since making 11 carries in the Wildcats' opener at Cal.
1. Get tailback Venric Mark up to speed.
Northwestern's option just hasn't been the same without Mark, who hasn't played since Week 1 because of a leg injury. He returned to practice Tuesday, however, and Pat Fitzgerald labeled him "day to day." The Wildcats' rushing attack has fared well in his absence, but Northwestern sure could use the running back who rushed for 1,366 yards and a dozen scores last season. Northwestern needs its best players for its best opponents, so Mark's progress here is paramount. This bye week is crucial to him healing.
2. Shore up the secondary.
Pat Fitzgerald was thrown a curveball when cornerback
Daniel Jones
suffered a season-ending injury in Week 1, and the Wildcats' secondary just hasn't been able to rebound. Teams are targeting Jones' replacement,
Dwight White
, and Northwestern will have to find a way to neutralize opponents' passing games. The numbers just haven't been pretty so far. Northwestern ranks No. 115 in pass defense, allowing 308 yards a game, and that issue has caused problems elsewhere. Opponents are converting more than 44 percent of their third downs, which puts NU at No. 94 in that area. And their red-zone defense has been atrocious. Opponents, which include the likes of Maine and Western Michigan, have combined to score on all but one of their 14 trips to the red zone. Those aren't numbers expected of a Big Ten title contender.
3. Limit the turnovers.
It's difficult to point too many fingers at an offense that's scored at least 35 points in four consecutive games. But turnovers have stalled too many Wildcats drives. They've committed seven turnovers already -- four interceptions, six fumbles (three lost) -- when they had just 15 all last season. In just the last three games,
Kain Colter
fumbled twice (neither lost) and threw two interceptions on 35 passing attempts. He has to protect the ball better or this trend could turn into a bigger problem. Northwestern was ranked within the top 15 last season when it came to limiting turnovers. This season? Tied for 82nd.
September, 25, 2013
9/25/13
3:00
PM ET
The bye week for Nebraska comes at an opportune time, allowing the Huskers to assess problem areas after a roller-coaster ride of a non-conference season. Additionally, the extra week benefits quarterback
Taylor Martinez
, who missed his first start last week because of a turf-toe injury after a streak of 32 in a row.
As the Huskers (3-1) turn their attention to Illinois and the Big Ten opener on Oct. 5, here's a look at the internal areas on which they're likely to focus.
[+] Enlarge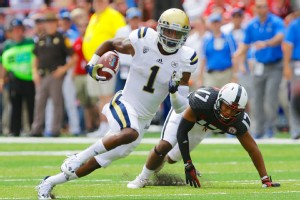 AP Photo/Nati HarnikOnly winless New Mexico State has allowed more plays of 10 yards or more than Nebraska.
1. Identify the leaders
: Interesting that in the year coach Bo Pelini assigned captains months ahead of schedule and distributed Blackshirt practice jerseys before the season opener for the first time in his six seasons, the Huskers enter Big Ten play without a clearly defined core of leaders. Yes, offensive guard
Spencer Long
, receiver
Quincy Enunwa
, Martinez and cornerback
Ciante Evans
have all done a nice job in their own ways, but look what has happened when adversity struck. Against UCLA, no one stepped up. Against Wyoming, the clock may have saved the Huskers. Against South Dakota State, youngsters like
David Santos
and
Randy Gregory
on defense made big plays.
Ameer Abdullah
has the personality of a leader, but he's still working to cut his fumbles. Look for the usual suspects to take on a bigger leadership role over the next eight games but also for some of the youngsters to assert themselves.
2. Determine a cause of the defensive woes
: The poor play of Nebraska's young defense has hindered the overall progress of the team. It impacts everything. When the defense can't get off the field, the offensive players feel the negative energy. It permeated the stadium on Sept. 14, aiding the Bruins' 38 unanswered points after Nebraska took a 21-3 lead. Defensively, the stats look bad. The Huskers are 106
th
in total yardage allowed and 109
th
in yards allowed per play. Only winless New Mexico State has allowed more plays of 10 yards or more than the Huskers' 79. More than that, the defensive mindset is lacking. Pelini noticed it against UCLA and South Dakota State. Nebraska's defense lacks a killer instinct. It leads to tentative play and missed assignments. The coach said this week he thinks his players are embarrassed. Best way to cure that is to play better.
3. Clean up the special teams, penalties and turnovers
: It has been better this year, but problems still exist. Nebraska has fumbled 11 times; only Auburn, Florida and Idaho have dropped the football more often. Nebraska ranks 119
th
nationally in yards per opponent punt at 46.1. Some of that is a result of unlucky bounces, but the Huskers – notably
Jamal Turner
-- have shown a tendency to pick the wrong moments to act aggressively and passively. It has cost the Huskers field position and cost Turner his role as the top return man. On the bright side, Nebraska ranks 16
th
in turnover margin. Penalties continue to be a problem as the Huskers' 28 rank as more than all but 19 teams nationally.
September, 24, 2013
9/24/13
5:00
PM ET
Michigan State enters its bye week following a 17-13 loss at Notre Dame, the Spartans' first defeat of the season. They will resume play Oct. 5 at Iowa, which starts a run of eight consecutive Big Ten games for the 3-1 squad. Here are a few things the Spartans need to do in order to make the most of their conference season:
[+] Enlarge
Brian Spurlock/USA TODAY SportsDarqueze Dennard and the defense have been the strength of the Spartans.
1) Figure out the QB situation
.
Connor Cook
appeared to take over for good with his strong Week 3 showing against Youngstown State, as he threw four first-half touchdown passes. But Cook quickly found out that an FCS school wasn't the same as Notre Dame, which held him to just 16-of-32 passing for 135 yards.
Andrew Maxwell
replaced Cook on the Spartans' final drive, with the Irish leading by four. Coach Mark Dantonio said Tuesday that Cook remains his starter moving forward. But Cook getting taken out during the biggest moment of this young season might speak louder than anything a coach says. Sparty has to find a guy under center to get this offense at least into some sort of rhythm, as it simply cannot lag so far behind what has been another great Dantonio defense.
2) Capitalize on prime opportunities
. This might sound a bit harsh considering the defense forced eight turnovers through the season's first three games. This really applies to only one game, against the one good opponent Michigan State faced, in the one game Michigan State lost. But Notre Dame fumbled two punt returns, and the Spartans recovered neither of them. The Irish had their first punt of the game blocked, and the Spartans responded by missing a 30-yard field goal. Michigan State had just completed an eight-plus minute drive that resulted in a field goal to tie the game, and had just gained a first down on its ensuing drive, and some offensive momentum … and then threw it away by running a halfback pass with a true freshman that Notre Dame picked off for the game's only takeaway. Michigan State outgained Notre Dame and probably should have won. And while it is the lone blemish through the first third of the Spartans' season, it looked awfully familiar to Michigan State losses of the past, and everyone would be singing a much different tune about this squad had it entered the bye week 4-0 with a big road win going into Big Ten play.
3) Find offensive playmakers
. This applies to the man under center, too, whomever it may be. The Spartans have lacked big plays through four games, and a questionable halfback pass is not going to change that. Maxwell taking off and running on fourth-and-20 with the game on the line pretty much speaks to that. So, too, does Michigan State punting it on a fourth-and-7 from its own 35 while down four with 3:12 left and two timeouts at its disposal.
Nick Hill
's 35-yard touchdown run against the Penguins marked the Spartans' longest offensive play of the season, and
Aaron Burbridge
and
Keith Mumphery
have suffered their share of drops so far. As Adam Rittenberg
wrote last week
, a small boost to this offense could go a long, long way — especially with a very favorable schedule in what is a wide open Legends Division of the Big Ten. Running for 119 yards at Notre Dame is a start, but the offense simply needs more big plays.
September, 24, 2013
9/24/13
10:00
AM ET
The Michigan football team needs to thank the football gods for sending the Wolverines a bye week this week, just before its conference schedule begins. The past two weekends the Wolverines have been on the decline, with an offense that seems to be making more and more mistakes and a defense that bends (a lot) but manages not to break. Or at least not yet. So, in the meantime, here's a to-do list for the Wolverines this week:
[+] Enlarge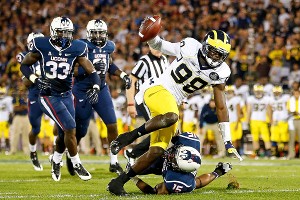 Jim Rogash/Getty ImagesMichigan signal-caller Devin Gardner has thrown for seven touchdowns and eight interceptions this season.
1. Get Devin Gardner's groove back.
The junior just had two of his worst career performances in back-to-back games against mediocre competition. Clearly he's not feeling great about his game right now, nor should he be. Gardner is a very confident kid, but he just hasn't appeared that way on the field the last two weeks. Time away from the spotlight and cameras might be exactly what he needs to refocus on the game. But he needs to get back in the film room with Al Borges and back out on the field with his receivers. With two weeks to prepare for the Big Ten season, Gardner should be able to find some semblance of a groove before taking the field against Minnesota.
2. Figure out the offensive line.
Michigan's tackles have done well, and generally speaking, so has right guard
Kyle Kalis
. However, left guard
Graham Glasgow
and center
Jack Miller
have looked in over their heads way too often for Michigan to feel confident about it's O-line going forward. If the interior line can get its act together that will only help Gardner. It will also help the Wolverines' run game, so really, this might be the biggest issue Michigan needs to fix this week. Fans can't expect Gardner to work miracles when there's no consistent run game and no protection in front of him. It was hinted at that a few guys were banged up and since we really haven't seen much rotation on the offensive line, we can likely assume that a few of those guys are offensive linemen. Maybe with two weeks to get better, they can compete better for spots in the interior line.
3. Shore up its secondary.
Senior captain
Courtney Avery
returned to the starting lineup in Michigan's game against UConn, but he really didn't add that much to an already struggling secondary. The defensive backs' motto is to keep everything "inside and in front," but they haven't done that so far. The Wolverines have played pretty soft coverage so far this season and Michigan doesn't really seem to have a very good reason for that. It has allowed big-play potential for opponents. Through four games, Michigan has allowed 15 plays of 20 or more yards, including three of 40 or more yards. And all 15 of those plays were passing plays. Michigan defensive backs need to defend those receivers better, but also, the defensive line needs to get a better pass rush to help out its defensive backs.
September, 23, 2013
9/23/13
5:00
PM ET
For the last few years, whenever anyone spoke of Indiana sports, it was assumed they meant basketball. However, the Hoosiers football team burst onto the scene early this season with an exciting offense. However, it hasn't always been pretty and with a 2-2 record in non-conference play it now goes into its bye week before it begins the Big Ten football season. Here's IU's to-do list for the week:
[+] Enlarge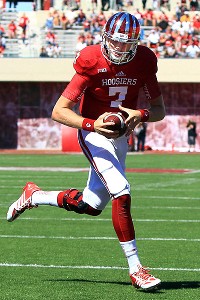 Pat Lovell/USA TODAY SportsNate Sudfeld played well through three games, but did he lose his hold on the QB job in the loss to Missouri?
1. Pull its defense together.
The fact the Hoosiers were averaging more than 50 points per game going into its match up with Missouri helped to mask the fact its huge deficiencies on the defensive side. But the Tigers exposed those, putting up 623 yards of offense and 45 points. The Hoosiers have this bye week to try and pull it together as their first conference test will be Penn State, which is averaging 264 passing yards and 197 rushing yards per game. Freshman QB
Christian Hackenberg
has been impressive in reading defenses and with the Nittany Lions on a bye week this week as well, he'll have extra time to prepare in the film room for the IU defense.
2. Figure out the QB situation.
The Hoosiers are going into their Big Ten season without a true defined starting quarterback, which really doesn't benefit anyone (unless you're Northwestern, and you have two). A week ago it seemed as though sophomore
Nate Sudfeld
would be the likely starter all season. But after he threw three picks and completed just 21 of 39 passes against Missouri, coach Kevin Wilson pulled him in the third quarter and put in sophomore
Tre Roberson
, who tallied one passing and one rushing touchdown and completed 8 of 14 passes for 148 yards. Wilson needs to figure out what happened with Sudfeld and whether it might be better for his team down the stretch to have more of the dual-threat skill set of Roberson.
3. Restore its confidence.
It sounds obvious, but a week off before the conference season to regain some ego lost in the loss to Missouri will be crucial for this team. Now, the Hoosiers need to win at least four games in conference play to be bowl eligible, and that might be too tall of an order for this group (especially if it can't fix Nos. 1 and 2). The Hoosiers have Illinois, Minnesota and Purdue at home, which could all be favorable situations for wins but that'd still put them one short. The conference opener against Penn State is not quite as welcoming, but is a possibility for a win. But if they drop the game to the Nittany Lions then they must pick up a win on the road, which isn't too friendly (Michigan State, Michigan, Wisconsin and Ohio State). That six-point loss to Navy earlier this month might come back to haunt the Hoosiiers. If Wilson can't bring back some of that early season confidence, it could be the difference-maker in a bowl-bound or almost-but-not-quite season.