June, 1, 2011
6/01/11
11:00
AM ET
It feels like I've done this post 50 times in the past few days, but the Ohio State situation continues to dominate the national sports headlines. Pretty much everyone -- even LeBron James -- is weighing in on Jim Tressel, Terrelle Pryor and the Buckeyes.
Here are some of the reactionary nuggets that caught my eye:
Former Ohio State coach John Cooper told WBNS-TV in Columbus: "Compliance is not doing their job when this kind of stuff happens and they act like they don't know about it. When I was coaching over there, compliance was around everywhere. It's almost like they were trying to find us violating a rule."
An Ohio State offensive starter told colleague Joe Schad: "I haven't spoken with Terrelle and I don't care to. It really sucks coach Tress had to take the fall for a couple idiots' mistakes."
Pryor's grandmother also told Schad of her grandson: "He'd be better if people would leave him alone. Pray for him."
Michigan coach Brady Hoke issued the following statement: "I have great respect for Jim Tressel and what he has accomplished during his coaching career. We enjoy competing in 'The Game' and have great respect for our rivals in Ohio. Our program looks forward to the last weekend of November."
Golfer Jack Nicklaus had this to say at The Memorial tournament: "Obviously, the cover-up was far worse than the act. And once you got the cover-up, it became a situation where Jim had to say some things that weren't exactly truthful. That's where he got himself in trouble. I feel very bad for Jim. He's a nice man."
LeBron James on Tressel: "It's unfortunate. He's done some great things for the university. It's unfortunate what allegations and things have come out in the past year, not only with the players. Everyone in Columbus and Ohio knows how important, how great he was for the university. … The university will come back. It's one of the greatest universities we have in America. They will figure something out."
Former Ohio State star Eddie George on Pryor: "Now that Tressel is gone and Luke Fickell takes over, you've got to ask yourself the questions, do you really want [Pryor] to come back with all the baggage with him when you're trying to move on from that? So I don't think he'll be back with the Buckeyes this season, and I don't think he'll be remembered by the Buckeye faithful the same way."
Several SEC coaches weighed in on Tressel at the league's spring meetings, including Alabama's Nick Saban: "I guess if you were in the military you would say we lost a fine comrade in this whole thing. He's a good friend. He's been somebody I've had a tremendous amount of respect for, for a very, very good number of years in terms of the job he did at Youngstown State. ... I don't know the details of this whole circumstance and the situation there and certainly don't want to comment on that, but obviously there were mistakes made and there are going to be consequences for it."
Also here's Ole Miss coach Houston Nutt: "I went to Iraq with him and spent nine days [with him for the second annual Coaches Tour to the Middle East]. He's one of the finest men I know. I don't know everything that happened at Ohio State, I'm just now reading it, but I just know his core, what he's about, and I think he's a good man."
Former Youngstown State quarterback Ray Isaac: "Jim Tressel is as good a man as you'll ever meet. It's almost to the point where it's hokey; you would think he is phony. Jim Tressel is like the person you want to be when you grow up. … He's always treated me like a son, always got on my case. I'm just appalled by the lack of facts in the article concerning me and him. … It almost looked like he read 50 articles of the Jim Tressel/Ray Isaac situation and mixed them all together and then wrote a paragraph because he could not get any words out of my mouth."
Former Ohio State linebacker A.J. Hawk on ESPN's "First Take": "He was trying to protect his guys, and I think what people always say, he was loyal to a fault. He wanted what was best for his players and for his team and in the end, he's being the fall guy when in truth, at some point, you've got to put some of this on the players. They have to take responsibility for their actions, and obviously they are with the guys that are suspended."
A lot of interesting comments, and more to come.
April, 22, 2011
4/22/11
9:00
AM ET
Four more Big Ten spring games are on tap Saturday, and I'll be previewing all of them throughout the day.

Let's kick things off with Ohio State, which will pit the offense against the defense in the Jesse Owens Spring Game.
The vitals:
1:30 p.m. ET Saturday at Ohio Stadium, tickets are $7 in advance and $15 on the day of the game, parking is free.
More details:
Fans can attend Ohio State's lacrosse game at 11 a.m. ET, and the FanFest starts at 10:30 a.m. outside St. John Arena. You can find out more information
here
.
Three things to watch
1. The quarterbacks:
Terrelle Pryor
remains sidelined as he recovers from offseason foot surgery, and Ohio State must identify who will replace the three-year starter during his five-game suspension to begin the season. Fans can get a glimpse of the four candidates --
Joe Bauserman
,
Kenny Guiton
,
Taylor Graham
and
Braxton Miller
-- on Saturday at The Shoe. Bauserman has backed up Pryor the past two seasons, and Guiton has a bit of game experience, but Graham has drawn favorable reviews this spring and Miller, an early enrollee, likely is the most talented of the bunch. Ohio State likely won't name a "starter" until preseason camp, but the spring game provides a showcase opportunity for all four players.
2. The running backs:
While the quarterback situation understandably makes some Buckeyes fans nervous, the running back group gets them excited, and for good reason. Although senior Dan "Boom" Herron will miss the first five games, Ohio State boasts talent and depth behind him. Sophomore
Jaamal Berry
and freshman
Rod Smith
stood out in the first spring scrimmage, and
Jordan Hall
and
Carlos Hyde
also are in the mix. The Buckeyes have variety at the position and likely will need multiple backs early in the season, given the lack of depth at receiver. This is a very healthy competition and it will be interesting to see how the carries are dispersed Saturday and who steps up.
3. New faces on defense:
OK, not exactly new faces, but several players will be stepping into more featured roles as Ohio State must replace seven starters on defense. It's the most production the Buckeyes have lost on defense since A.J. Hawk, Bobby Carpenter and others departed after the 2005 season. Who fills in for standouts like Cameron Heyward, Brian Rolle, Ross Homan, Chimdi Chekwa and Jermale Hines? Andrew Sweat and Etienne Sabino look like the leaders at linebacker. Travis Howard and Dominic Clarke have worked as the first-team cornerbacks this spring, but Bradley Roby and Dionte Allen also are in the mix. C.J. Barnett is in line to fill Hines' starting spot. Johnathan Hankins should help the situation up front. I'll be watching these players to see how they perform in a game setting.
January, 28, 2010
1/28/10
5:00
PM ET


Penn State's sports information department took a look at defensive statistics from 2004 to 2009 and found that only two teams rank among the top 5 nationally in rushing defense, scoring defense and total defense (cumulative averages). The teams? Ohio State and Penn State, which have combined for seven Big Ten championships since 2004.

Both teams have boasted outstanding defensive players during the span, including national award winners like Paul Posluszny, James Laurinaitis, A.J. Hawk, Malcolm Jenkins and Dan Connor. Both teams also are always solid up front, no matter if they generate a lot of sacks or not.

The continuity of coordinators and position coaches like Tom Bradley (Penn State), Larry Johnson (Penn State) and Jim Heacock (Ohio State) also plays a major role.
It's no secret that the Big Ten is typically a defense-oriented league, a theme that starts at the top and trickles down.
January, 22, 2010
1/22/10
5:00
PM ET
We'll start off with some of your thoughts on
Michigan State's new proposed logo
, and move on from there.
Adam from Baltimore writes:
Hey Adam,Love the blog! As a life-long Spartan fan, just figured I'd respond about the new logo. It looks as though the new logo is trying very hard to replicate the look of the helmets in "300," which was kind of an inspiration during the '07 football season if I remember correctly. Maybe I'm a traditionalist, but I like the old logo better and it just doesn't seem right change a logo essentially for the sake of change. The helmets look cool in the movie, but as a 2D green and white version, it loses its appeal, in my opinion.
Brent from Westland, Mich., writes:
Hey Adam,Spartan logo comment - I do not like the new one. For what Nike could do, or what MSU could do if they were that set on a new logo, this is embarrassing. It does not look like a professionally done design to me, just a sketch - it doesn't look finished. hopefully, it's not. I can wait until April, but for MSU to change to the logo that is circling the web is just ridiculous. Of course, I guess this is what happens when you sign on with Nike - you give them power to do what they want! It is shaping up to MSU being the next team they bring their Combat line too... Maybe they will do something cool like they did to TCU's uni's, but we will have to wait and see!! Thanks for all the info you keep posting, Adam!
Dustin from Clive, Iowa, writes:
On the subject of the new MSU logo, maybe Nike legally needed a new logo before they could pursue the whole uniform upgrade and what-not. With such minor tweaks to the logo, it seems like it was done for legal reasons (new patent) rather than trying to "upgrade the logo" itself. Unless there is some sort of underlying meaning behind the subtle changes to the logo, this is the only scenario that makes any sense to me.
Ryan from Marion, Iowa, writes:
Great Blog- don't know what I'd do at work without it.Obviously, the intent of the new MSU helmet design is to look more realistic. When I compare the two designs, the first thing I noticed was the realism/practicality upgrade in the eye shield. The old helmet has the appearance of being one piece with impact vibrations spreading throughout the apparatus and most likely disabling the Spartan for a considerable amount of fighting time. The eye shield on the new helmet has the look of an "add-on" that would isolate and contain the vibrations to that single piece, thus limiting injury. So this is my question: Is it MSU's real intent to accept and address the problem that they will ALWAYS be getting hit in the face?
Adam Rittenberg: Thanks for the great responses, guys, especially Ryan from Iowa. Very funny stuff. There's obviously much more to Michigan State's presentation (I hope!), and we'll learn a lot more about it in April. As I wrote earlier, I'm a fan of the current Spartans logo, which is one of the better ones in the Big Ten. I'm struck by how much power Nike has in college sports, as teams are bucking tradition (Ohio State) and changing logos in collaboration with The Swoosh. Pretty soon I'll be dressed head-to-toe in Nike apparel for my video posts.
---
Steve from Fort Wayne, Ind., writes:
What's this nonsense about Tressel retiring this decade???? Say it ain't so....
Adam Rittenberg: It's certainly possible that Jim Tressel will be coaching Ohio State in 2020, but he doesn't strike me as a guy who wants to do this another 10 years. Tressel just turned 58, yet I don't see him coaching that far into his sixties. The guy clearly has other interests and could pursue politics or athletics administration. I could see him doing some of the things Tony Dungy does these days when he's through at Ohio State. Again, it's just a prediction, but I think you'll see someone else on the sideline at The Shoe in 10 years.
---
Eric from Newport Beach, Calif., writes:
Adam,How do you leave Drew Brees off the All Decade Team. His last season was 2000 and you said players with one outstanding season made the list. He is the best QB the Big Ten has ever seen and with one game to win you would rather have Troy Smith on your team?
Adam Rittenberg: Tough call on Brees, but I'm not going to vote Smith as the No. 1 player in the Big Ten for the decade and then leave him off of the all-decade team. That doesn't make any sense. Brees won the Maxwell Award in 2000, but he had arguably a better season in 1999 and went nuts statistically in 1998. He's still a guy I'd associate more with the 1990s. It's funny how Smith and Michigan's Mike Hart created by far the most negative backlash from you folks. Smith was pretty darn good in 2005 and 2006, and Hart really had tremendous career numbers, despite some struggles in big games. I don't think Hart is a guy you just write off as overrated because you hate Michigan guys.
---
Craig from Des Moines, Iowa, writes:
I understand that in putting together an all-decade team and things of that sort it is impossible to not leave people out, but with that said:Chad Greenway>>Paul Posluzsny>James Laurinaitis>>>A.J. HawkHawk is clearly being exposed in the NFL while Greenway is standing out.
Adam Rittenberg: Unlike others, I didn't base my All-Big Ten lists on how a guy did at the next level. While Greenway was a great player, those other guys all accomplished a little bit more in college. The Big Ten was absolutely stacked at the linebacker position this decade, so it's very hard to narrow it down to only three guys.

---
Brian from Goshen, Ind., writes:
I've been enjoying your Top 10 of the decade lists. As you begin looking towards the next decade, which of your bottom six teams (Purdue, NW, Minn, MSU, IL, IU) if any, do you see being in the top tier for the 10's? Which of the Top 5 do you see moving down? Obviously a lot of unknowns but that's why its fun.
Adam Rittenberg: Northwestern and Michigan State are the likeliest candidates to move up, Brian. Northwestern has been on the edge of the top tier in each of the last two seasons, finishing fourth in the Big Ten. Michigan State had a third-place finish in 2008 before slipping a bit this fall. Both of those programs look extremely stable with their coaching staffs as well. Illinois and Indiana are already at the bottom, while Minnesota seems to be slipping a bit. Purdue is also a team I could see making a jump up to the top tier. As for who will move down from the upper tier, Michigan is already declining.

January, 22, 2010
1/22/10
1:30
PM ET
I hope you enjoyed the decade recap series. We had a lot of fun researching and putting it together. Not surprisingly, my
top players list
generated a ton of feedback -- mostly negative, but that's cool -- from the Big Ten faithful.
Because there were so many deserving players left off the list, I decided to put together an all-decade team to recognize some of the other standouts in the Big Ten from 2000-09. I made the offensive line a bit more general to acknowledge the best players there.
Unlike the top 10, I was a bit more lenient about players who had only one outstanding season during this decade.
Enjoy.
OFFENSE
QB:
Troy Smith, Ohio State
RB:
Mike Hart, Michigan
RB:
Larry Johnson, Penn State
WR:
Braylon Edwards, Michigan
WR:
Charles Rogers, Michigan State
TE:
Dallas Clark, Iowa
C:
Greg Eslinger, Minnesota
OL:
Joe Thomas, Wisconsin
OL:
Robert Gallery, Iowa
OL:
Jake Long, Michigan
OL:
Eric Steinbach, Iowa
DEFENSE
DE:
LaMarr Woodley, Michigan
DT:
Wendell Bryant, Wisconsin
DT:
Jared Odrick, Penn State
DE:
Tamba Hali, Penn State
LB:
Paul Posluzsny, Penn State
LB:
A.J. Hawk, Ohio Sate
LB:
James Laurinaitis, Ohio State
CB:
Jamar Fletcher, Wisconsin
CB:
Malcolm Jenkins, Ohio State
S:
Bob Sanders, Iowa
S:
Mike Doss, Ohio State
SPECIALISTS
K:
Mike Nugent, Ohio State
P:
Travis Dorsch, Purdue
Returners:
Ted Ginn Jr., Ohio State and Steve Breaston, Michigan
January, 19, 2010
1/19/10
9:00
AM ET
Our decade recap continues with a look at the top players in the Big Ten from 2000-09. The league produced just one Heisman Trophy winner, Ohio State quarterback Troy Smith in 2006, but many other national award recipients on both sides of the ball.
We saw outstanding one-year performances from players like Brad Banks (2002), Larry Johnson (2002), James Hardy (2007) and Shonn Greene (2008), and impressive four-year career efforts from Paul Posluszny, James Laurinaitis, Mike Hart, Javon Ringer, Taylor Stubblefield and others.
[+] Enlarge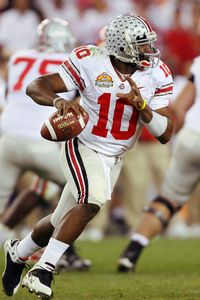 Jason Parkhurst/US PresswireOhio State's Troy Smith was the runaway winner of the Heisman Trophy in 2006.
The league produced solid linemen and linebackers the entire decade, while star quarterbacks and running backs were sprinkled throughout.
Believe me, it wasn't easy to get this list down to 10 players, but here goes.
I put more weight on players who had multiple outstanding seasons. Also, players who had most of their production in the 1990s didn't make the cut.
1. Troy Smith, QB, Ohio State:
The league's lone Heisman Trophy winner tops the list. Smith took home the Heisman, the Walter Camp and the Big Ten MVP awards in 2006. He also led Ohio State to a Fiesta Bowl championship following the 2005 season.
2. Braylon Edwards, WR, Michigan:
The 2004 Biletnikoff Award winner earned consensus All-America honors that year, completing a terrific four-year run in Ann Arbor. Edwards still holds the Big Ten record for career touchdown receptions with 39, two more than fellow Wolverine Anthony Carter.
3. A.J. Hawk, LB, Ohio State:
Hawk was the face of a ferocious Buckeyes defense during the mid part of the decade. The two-time All-American (unanimous in 2005) won the Rotary Lombardi Award and helped Ohio State to a Fiesta Bowl victory.
4. Joe Thomas, T, Wisconsin:
The Thomas-Jake Long debate is a good one, but I'm giving the edge to Thomas, the 2006 Outland Trophy winner. Thomas anchored several powerful Wisconsin offensive lines, earned consensus All-America honors in 2006 and twice made the All-Big Ten squad.
5. Paul Posluszny, LB, Penn State:
Posluszny is one of only two Big Ten players to win the Bednarik Award two times. He also took home the Butkus Award in 2005 and helped restore Penn State after the program had slipped from 2000-04.
6. James Laurinaitis, LB, Ohio State:
Laurinaitis was quite possibly the most decorated Big Ten player of the decade on either side of the ball. He joined select company at Ohio State in earning All-America honors three times (unanimous in 2007). Laurinaitis won the Butkus and Nagurski awards and twice earned Big Ten Defensive Player of the Year honors.
7. Greg Eslinger, C, Minnesota:
Laurence Maroney and Marion Barber III shared the rushing load, but Eslinger was the mainstay who created rushing lanes no matter who had the ball. The 2005 Rimington Trophy winner was Minnesota's only three-time All-Big Ten selection this decade.
8. Bob Sanders, S, Iowa:
No player meant more to Iowa's renaissance this decade than Sanders, the team's only three-time All-Big Ten selection in the aughts. Nicknamed "The Hitman," Sanders epitomized a program that got the most from its players for the majority of the decade.
9. Mike Hart, RB, Michigan:
We witnessed lot of great one-year performances from Big Ten running backs, but Hart was one of the league's few mainstays this decade. Despite being plagued by injuries as a sophomore, Hart finished fourth on the Big Ten's all-time rushing list (5,040 yards) and had 28 career 100-yard rushing games.
10. Antwaan Randle El, QB, Indiana:
Randle El brought a new brand of football to the Big Ten and had a record-setting career despite never reaching a bowl game. The dual-threat star won Big Ten MVP honors in 2001 and ranks fourth on the league's career total offense list with 11,364 yards.
Also considered:
Michigan T Jake Long, Michigan State WR Charles Rogers, Michigan State RB Javon Ringer, Iowa QB Brad Banks, Iowa T Robert Gallery, Purdue WR Taylor Stubblefield, Ohio State WR Ted Ginn Jr., Michigan DE LaMarr Woodley, Illinois RB Rashard Mendenhall, Penn State QB Michael Robinson, Penn State RB Larry Johnson, Purdue WR Dorien Bryant, Purdue WR John Standeford, Ohio State S Mike Doss, Wisconsin DE Erasmus James, Iowa RB Shonn Greene, Northwestern QB Brett Basanez, Illinois LB J Leman, Penn State LB Dan Connor.
June, 26, 2009
6/26/09
11:00
AM ET
Posted by ESPN.com's Adam Rittenberg
If dues-paying was an official NCAA statistic, Austin Spitler would be among the national leaders.
Few players have remained on the runway as long as Spitler, waiting for their careers to truly take flight. He redshirted at Ohio State in 2005 and watched as James Laurinaitis stepped into a featured role following two key injuries at linebacker. For the next three years, Spitler backed up Laurinaitis, who became arguably the most decorated linebacker in Ohio State history.
| | |
| --- | --- |
| | |
| | Jeff Mills/Icon SMI |
| | Austin Spitler, right, has been stuck behind James Laurinaitis the past few seasons, but is finally getting his chance to start. |
Laurinaitis won the Nagurski and Butkus awards, twice was named Big Ten Defensive Player of the Year and appeared in all 51 games the last four seasons, starting the final 39.
"Spitler's been around forever," Ohio State defensive coordinator Jim Heacock said. "But James never came out."
Laurinaitis has finally moved on to the NFL, and Spitler will take over a starting job this fall, either at middle linebacker or strongside 'backer.
"Of course it's been tough," said Spitler, who has recorded 44 tackles (3 for loss) in his career. "There's been struggles, but then again, you've got to look at the light at the end of the tunnel and just know that your time is coming. Obviously, I always had this year in mind, that whenever James left, hopefully my time was there."
Spitler has logged only 99 minutes of field time in his career, but he'll be looked upon to help lead a Buckeyes linebacking corps that loses both Laurinaitis (993 career minutes) and Marcus Freeman (832 career minutes). The Buckeyes have reloaded at linebacker throughout coach Jim Tressel's tenure -- from Matt Wilhelm and Cie Grant to A.J. Hawk and Bobby Carpenter to Laurinaitis and Freeman -- but there's more uncertainty than usual heading into this season.
Despite his limited action in games, Spitler has seen what it takes to succeed. He worked alongside Hawk, Carpenter and Anthony Schlegel as a true freshman and competed with Laurinaitis and Freeman the last few years. Ohio State's tradition on defense isn't lost on the 6-foot-3, 234-pound fifth-year senior.
"It's not just going to continue by itself," he said. "We have to make it happen. We want to have our own identity. You never want to let those guys down that paved the way for us and made the Ohio State defense what it is today."
Spitler isn't the most vocal player, but he also recognizes the leadership role he inherits entering the fall. Laurinaitis served as a captain in each of the last two seasons, and Spitler would love to follow the same path.
"He's a senior now, and I'm really excited about his progress and his performance," Heacock said. "He's finally getting his shot, and he's taking full advantage of it. He's coming to work every day and doing a good job."
Spitler admits that transferring crossed his mind during the lengthy wait for playing time, but the coaches convinced him to stick it out in Columbus. It's a decision he doesn't regret.
"I never once had a day where I said I wasn't going to work hard because I always wanted to be the best and that's what I strive to be," he said. "There's been difficult times, but just knowing there is light and there are better things to come, it's exciting."
August, 30, 2008
8/30/08
10:33
AM ET
Posted by ESPN.com's Adam Rittenberg
ANN ARBOR, Mich. -- Game day is here and not a moment too soon.
I'll grab my hard hat and head over to under-construction Michigan Stadium in a bit for Rich Rodriguez's Wolverines coaching debut against Utah. For the first time since 1985, Michigan will open the season ranked outside of the Top 25, but a win against a very strong Utes team could change things.
There was a pretty good buzz around AA last night. I spotted a decent amount of Utah fans, who received minimal ribbing from Wolverines backers. I'm a big fan of the "Rod Rules" T-shirt with MTV's "Road Rules" logo in the background. And there was a guy wearing an A.J. Hawk Ohio State jersey working the counter at a convenience story directly across from campus. Brave or extremely stupid? You tell me.
Let's look around the league, starting with the game I'll be seeing this afternoon.