August, 16, 2013
Aug 16
12:00
PM ET
Second-to-last weekend without real football. Enjoy.
August, 14, 2013
Aug 14
10:30
AM ET
Nebraska has averaged 9.8 wins per season under Bo Pelini, but it has also lost exactly four games in each of his five seasons. Can the Huskers break the pattern this year and deliver a long-awaited championship? Let's take a look at what to expect from Big Red:
NEBRASKA CORNHUSKERS
Coach:
Bo Pelini (49-20, fifth season)
2012 record:
10-4 (7-1 Big Ten)
Key losses:
RB Rex Burkhead, LB Will Compton, DE Eric Martin, DE
Cameron Meredith
, S Daimion Stafford, TE Kyler Reed, K/P Brett Maher
Key returners:
QB
Taylor Martinez
, RB
Ameer Abdullah
, WR
Kenny Bell
, OG
Spencer Long
, DB
Ciante Evans
, OT
Jeremiah Sirles
, DE
Jason Ankrah
, WR
Jamal Turner
[+] Enlarge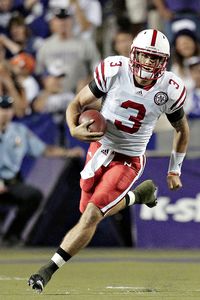 AP Photo/Charlie RiedelNebraska quarterback Taylor Martinez returns for his senior season.
Newcomer to watch:
Defensive end
Randy Gregory
was rated by some as the top junior college defensive lineman last year. Though he did not arrive on campus until recently, Gregory could at the very least provide the Huskers with a much-needed situational pass rusher, and the 6-foot-6, 230-pound athlete has the potential to do even more than that.
Biggest games in 2013
: Nebraska has it relatively easy in September and October, aside from a visit from UCLA on Sept. 14. The first three weeks of November will decide the Huskers' season and likely the Legends Division, as they open the month with Northwestern at home before going to Michigan and then hosting Michigan State.
Biggest question mark heading into 2013:
Defense, defense, defense. The Huskers got steamrolled in losses at UCLA, at Ohio State, vs. Wisconsin in the Big Ten title game and against Georgia in the Capital One Bowl, allowing 214 points combined in those defeats. Pelini and defensive coordinator John Papuchis have an extremely young defensive front seven and must replace both starting safeties. The coaching staff is optimistic that the defense will be much more athletic, especially on the perimeter and at linebacker, and that that improved speed will make up for some youthful mistakes. But there are only a handful of proven players, and the defensive line in particular must take a step forward.
Forecast:
The expectation at Nebraska is that the team wins championships, and it has been a long 13 years in Lincoln without so much as a conference title.
The Huskers have come close under Pelini, and they played in the Big Ten championship game last season (though saying they actually competed in that game -- a 70-31 Wisconsin whitewash -- might be too kind). They will be one of the top contenders again in the Legends Division this year, but they'll need a young defense to rise up if they're going to clear that last hurdle.
The good news is that Pelini doesn't need his defense to be a top-10 national unit. That's because the offense, which averaged 34.8 points per game and led the Big Ten in total yards in 2012, returns most of its key pieces, including senior quarterback Taylor Martinez, 1,100-yard back Ameer Abdullah, a deep receiving corps led by Kenny Bell and an experienced offensive line captained by All-American guard Spencer Long. Turnovers have been a problem for Martinez and the offense as a whole, but ball security was an area they emphasized heavily in the spring.
"I wouldn't trade our offense for anybody's," Pelini said at Big Ten media days. "I really like what we're doing."
With that high-powered attack, the Huskers just need their defense to play respectably, especially in the big games away from home where things have been very shaky the past two years. Luckily, Nebraska gets its first five games at home, plus two byes in the first eight weeks of the season. That should help young players, like linebackers
David Santos
and
Jared Afalava
and defensive linemen
Avery Moss
,
Aaron Curry
and
Greg McMullen
, gain some early confidence.
That schedule should allow the Huskers to come roaring out of the gate. If they can handle UCLA at home, the team has a great chance of being 7-0 by the time that key November stretch arrives. Pelini's team should once again be right in the thick of the conference race. Nebraska still needs to prove it can separate itself from the pack.
July, 23, 2013
Jul 23
9:00
AM ET
Nebraska returns senior quarterback
Taylor Martinez
and most of the firepower from the Big Ten's top offense in 2012. Most believe the Huskers' season hinges on a young, inconsistent defense under the guidance of coordinator John Papuchis and head coach Bo Pelini.
The Blackshirts finished fourth nationally in pass defense and ninth in pass efficiency defense in 2012, but they struggled against the run (90th nationally) and hemorrhaged points in Nebraska's four losses, surrendering 63 to Ohio State, 70 to Wisconsin in the Big Ten title game and 45 to Georgia in the Capital One Bowl.
Nebraska must replace all three starting linebackers and its top pass-rusher, Eric Martin, among others. The Huskers return an experienced secondary led by nickelback Ciante Evans.
ESPN.com caught up with Papuchis earlier this month to discuss the state of the Nebraska defense.
After looking at the unit during spring practices, what were some of your big takeaways from their performance?
John Papuchis:
That's an interesting question because what I've been doing the last couple weeks is going back and looking at our spring cutups. One thing that jumped out to me, after having a little bit of time away from it, was that we improved pretty significantly and steadily as the spring went on. From the first practice to the 14th practice leading up to the spring game, we were much crisper in our alignments and understanding our assignments, we played faster. There was just a lot of development that took place over the course of those 14 practices. We're a young group, and we're going to need all 29 practices before we kick it off against Wyoming.
[+] Enlarge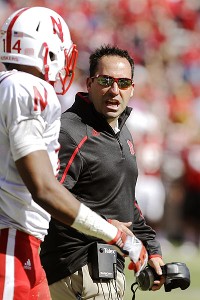 AP Photo/Nati HarnikJohn Papuchis knows his defense will need to be better against the run after finishing 90th in the nation last season.
Were there specific areas or groups where you saw the most improvement, or was it across the board?
JP:
Each position group has its own learning curve. Defensive line, we are relatively young, so for a lot of those guys, it was their first opportunity to really get coached. Where I saw the improvement had more to do with technique than it ever had to do with scheme. They had a pretty good feel of the scheme; it's a little bit simpler in terms of what they're asked to execute. Linebacker, another young group, and where I really saw their improvement was just better understanding of alignment and where they fit in the run game and the pass game. And then in the secondary, where we are a little bit more mature, Ciante Evans, Stanley Baptiste, Mo Seisay,
Harvey Jackson
,
Corey Cooper
, where I really saw those guys make a jump is just a better feel of the nuances of the defense. They were kind of a little bit ahead, the linebackers and D-line, and they showed improvement as spring went on, but it was kind of Level 2 and Level 3 improvement, as opposed to just the basics.
Who do you look for to be leaders up front and with the linebackers, and how much competition do you anticipate with those groups?
JP:
There's going to be a ton of competition, and that's going to be a good thing for us. Really since I've been here, the way things have fallen, a lot of times going into camp, you have a pretty good idea of who your core guys are going to be. And although we have an idea right now, there are some spots that need to be ironed out. In terms of leadership,
Jason Ankrah
and
Thad Randle
across the front. Both of those guys are fifth-year seniors and have been in the program a long time. Jason has started and played a lot of games for us. Thad has been a little nicked up the last two years. But both of them have done a nice job of being leaders through the offseason.
Linebacker, we're young, but the one guy who has some pretty good playing experience is
David Santos
. He's done a good job of taking that leadership role. And another guy who has been in the program for a while and has played on special teams, and has always been one play away from having a more significant role is
Trevor Roach
. He's done a nice job of being a leader and more of a veteran guy with that group.
May, 13, 2013
May 13
9:00
AM ET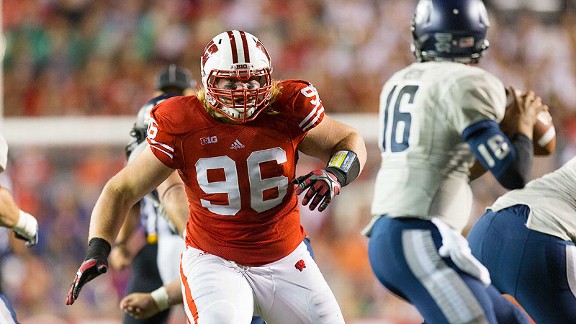 Jeff Hanisch/USA TODAY SportsWisconsin will again be counting on Beau Allen to be a force on the defensive line.
You can bemoan the Big Ten's recent lack of elite talent at some positions like quarterback and wide receiver. But one spot where the league has been traditionally strong is at defensive tackle.
That has been arguably the conference's deepest and strongest position in the past two years, filled with stars like Devon Still, Mike Martin, Jerel Worthy,
Jordan Hill
, Kawann Short and Johnathan Hankins, to name a few. In an otherwise slow NFL draft for the league, the Big Ten saw four defensive tackles get selected last month, including two underclassmen (Hankins and Akeem Spence). In 2012, the conference had five defensive tackles get drafted.
That's why it's notable that, heading into the 2013 season, the Big Ten has no established stars on the defensive interior. Several schools lost top players to either graduation or the draft, including Ohio State (both starters, Hankins and
Garrett Goebel
are gone), Penn State (Hill), Purdue (Short), Michigan (Will Campbell), Indiana (Adam Replogle and Larry Black Jr.), Illinois (Akeem Spence and Glenn Foster), Nebraska (
Baker Steinkuhler
), Northwestern (Brian Arnfelt) and Michigan State (Anthony Rashad White).
That's a big talent drain for one position. None of the returning defensive tackles in the league have ever made first- or second-team All-Big Ten. The top veteran tackles in the conference look like this (in alphabetical order):
All of those guys have been solid contributors, but hardly superstars. They're also all seniors, so maybe they'll go out with a bang.
Or maybe it's younger guys who emerge as the next wave of great Big Ten defensive tackles. Iowa's
Carl Davis
had a huge spring game and has always had talent but not health. Injuries have also held back Nebraska's
Thad Randle
and Ohio State's
Michael Bennett
. Michigan State's
Lawrence Thomas
, Michigan's
Ondre Pipkins
, Nebraska's
Aaron Curry
and Penn State's
Austin Johnson
could be on the rise. Recruiting and developing stud defensive tackles may be one of the hardest things to do in football, however.
On paper, the Big Ten defensive tackle situation looks to be down from the past couple of years. But new stars are sure to step forward in the fall. Several of them will have to do if the league's recent strong tradition at the position is to continue.
April, 16, 2013
Apr 16
3:00
PM ET
LINCOLN, Neb. --
David Santos
is what passes as a graybeard on Nebraska's defense these days.
Santos is a redshirt sophomore linebacker with one career start under his belt. Yet this spring, he was the guy many of the other Huskers linebackers were turning to for answers.
"It's kind of strange," he said. "This is only my second year, and a lot of guys helped me out last year. Now I guess I'm the veteran in the room. I don't feel old."
[+] Enlarge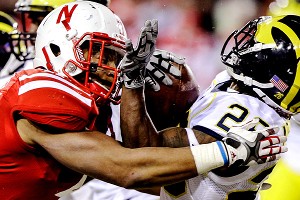 AP Photo/Nati HarnikNebraska linebacker David Santos had 10 tackles in his lone start last season, against Michigan.
Actual game-worn players are hard to find on that side of the ball, especially in the front seven. Senior defensive end
Jason Ankrah
is the only returnee with significant starting experience, as Big Red's defense will be massively green going into 2013.
So, even though Santos is still young and Ankrah is hardly a household name, both players are being asked to lead this spring and summer.
"It's been cool," Ankrah said. "I've always had somebody older than me be the vocal guy who takes control when things go wrong, and now I'm taking on that leadership. I've had some film sessions with [the other defensive linemen] one-on-one and a couple as a group. They'll ask me how to play a certain technique and other stuff."
Ankrah doesn't just want to lead with his words. The 6-foot-4, 265-pounder has shown glimpses of his ability, with six tackles for loss, a pair of sacks and two forced fumbles as a junior. He's eyeing the same kind of breakout senior season that
Eric Martin
had in 2012.
"I've been out there and I've been playing," he said. "Now, I want to be out there to make plays and change games."
Ankrah had to move down and play defensive tackle some last year as injuries hit the line. With a more set role this season and a little more freedom to get after opposing quarterbacks, he could flourish.
"Jason has played a lot of football for us the last three years, and there have been times when he's played really well," Nebraska defensive coordinator John Papuchis said. "But he feels like there's so much more in his game, and he knows he hasn't reached his potential yet. We want him to go out and have that hunger to have a great year, and I think he's set himself up to have a pretty good senior year."
The Huskers have been expecting good things out of Santos, an athletic linebacker who recorded 10 tackles in his lone start last season against Michigan. He played mostly weakside linebacker last season, but spent the bulk of the spring at the middle spot, where he helped instruct the young players around him on where to lineup. An arm injury near the end of spring practice kept Santos out of the spring game, but he's expected to be back for summer workout.
"He's pretty good at taking command of the guys and at making the calls," Papuchis said. "He's a bit ahead in terms of development from the other guys, and that means we're going to put more responsibility on him."
That responsibility includes not only learning a new position and adjusting to a full-time starting role, but also leading everyone else.
"I can't get lackadaisical, because I want to get to the next level," he said. "But while I'm doing that, I've got to help the young guys little bit."
Santos should get a little help in the leadership department when redshirt junior
Zaire Anderson
gets healthy. With Anderson at the weakside spot and Santos in the middle, Papuchis likes the speed his linebackers have. Redshirt freshman
Jared Afalava
drew rave reviews for his spring performance, and could step in at the strongside spot.
The defensive line is more of a mystery, though Papuchis liked what he saw this spring out of guys like
Greg McMullen
,
Avery Moss
and
Aaron Curry
. He thinks
Thad Randle
can be a force inside if Randle can ever stay healthy, and highly touted junior college defensive end
Randy Gregory
is coming. The Nebraska defense showed during the spring game that it has a long way to go, but there is some athleticism to work with.
"The one thing about them is they can all run, and that makes up for some inexperience," Papuchis said. "If our guys play hard and they run to the ball and be physical, I think we'll be a pretty good defense."
And Santos and Ankrah will need to lead the way for the front seven.
April, 8, 2013
Apr 8
5:00
PM ET
Answering a few e-mails before the big basketball clash ...
Joe J. from Tipp City, Ohio, writes:
Will
Tyler O'Connor
or
Connor Cook
replace
Andrew Maxwell
as the starting QB for MSU?
Brian Bennett:
Well, that's kind of the story of the offseason for the Spartans, isn't it? Adam was at Michigan State last week, where not much has been decided yet. All three quarterbacks are getting looks with the first team this spring, and Mark Dantonio is putting the pressure on the candidates by allowing the defense to hit them during practice. I don't think anyone knows for sure how this is going to play out. Maxwell still has a big, big edge in game experience, though Cook gained some momentum in the bowl game. O'Connor and incoming freshman Damion Terry present intriguing options with their athleticism and running ability. I find the idea of
a two-quarterback system
very interesting and perhaps the way to go. A bold prediction: Maxwell begins the year as the starter, but he's not the only quarterback who starts a game this year for Michigan State.
---
Jeff from Whitewater, Wis., writes:
With the videos I've seen this winter/spring about the Badgers, I feel like the players are very comfortable with Gary Andersen. That being said: do you think that this transition will be a lot better than last year's? Even though they had to replace more as a coaching staff?
Brian Bennett:
We won't really know, of course, until we see it. But I've got a feeling the transition could go more smoothly, even with completely new systems on both sides of the ball. I have two reasons for that assumption. No. 1, I think Andersen really relates well to the players, and everything I've heard out of Madison is that the players have really responded to him. And No. 2, which might be even more important, is that the Wisconsin players should be more accepting of change now. When you have the same head coach and virtually the same systems but different position coaches with different ideas of how to do things, I think that can cause some confusion and resistance. Now, the Badgers know that it's basically a clean slate and an entirely different way of doing things, and they have no choice but to get with the new program. Sometimes it's hard for players to accept change after they've had a lot of success, but I think the Badgers are used to that by now. We shall see.
---
Zach T. from Lincoln, Neb., writes:
I am absolutely sick about hearing how everything in the SEC is better than the other conferences. The SEC brags about 7 consecutive national championships when a middle of the pack Big 12 team comes into their league and drops 400 yards of offense on their unstoppable defense. Two 4/5-loss Big Ten teams play close games against 2-loss SEC teams that could have gone either way while the league's best team is home for the holidays and Wisconsin is 6-points behind Stanford despite their HC bolting for the door. Also since the Huskers' spring game is Saturday I feel like I have to ask: With much of the offense returning, who would you watch the most to step up and make plays on defense? GBR!!
Brian Bennett:
I agree that the SEC love-fest is over the top, but until somebody beats them when it matters, it won't stop anytime soon. That's the unfortunate reality. I didn't get to your question before the Huskers spring game, where defensive playmakers were a little hard to find. But I can tell you from talking to defensive coordinator John Papuchis that the guys he likes that we haven't heard a whole lot from before include: defensive linemen
Greg McMullen
,
Avery Moss
and
Aaron Curry
, linebackers
David Santos
and
Zaire Anderson
, safety
Corey Cooper
and cornerback
Josh Mitchell
. He also thinks
Thad Randle
can be a force on the defensive line if Randle can just get healthy. Papuchis also acknowledges that more playmakers have to develop for the defense to succeed.
---
JT from Newark, Del., writes:
With the recent events at Rutgers and Auburn, what do you think the NCAA will do in terms of investigation? As a lifelong Penn State fan, I can't help but think the NCAA would be incredibly hypocritical if they didn't impose some penalty on both schools, especially considering both incidents are directly related to the student athletes.
Brian Bennett:
The Auburn situation is way more likely to get the NCAA's attention, as accusations of abusive treatment of players by a coach has never seemed to be on the NCAA's radar. Rutgers broke no NCAA rules that I am aware of. Of course, the NCAA has also not shown a lot of interest in pursuing Auburn despite some pretty inflammatory accusations in the past few years. But you make a good point about the Penn State case. Mark Emmert's actions there created a precedent for the NCAA to A) punish a school without doing its own investigation and B) issue major sanctions for administrative missteps that did not break specific rules. As a Penn State fan, you're justified in asking why the NCAA would do that for one school but not others.
---
Rich from Des Moines writes:
Way back on last Monday's mail you answered a question about conference loyalty and how there seems to be less among Big Ten fans than SEC fans. I get the same sense. And I want to weigh in as a Michigan State alumnus. I will never, ever root for Michigan to win anything. The rest of the conference? I want them to win all their non-conference games. But, I wish Michigan would lose every game in every sport in perpetuity. I grew up a Buckeye fan (Dad graduated from there). I wanted badly for OSU to beat UM when they played. But, I rooted for Michigan out of conference, especially the Rose Bowl and the NCAA tournament, for the sake of conference pride. That changed when I went to MSU in the Fall of 1984. I lived in Michigan from 1976 to 1995. Michigan fans treat MSU with contempt and disrespect. Most of the media favored UM and treated MSU as a joke or a glorified MAC team. I understand why. Michigan has a better tradition of winning. But when MSU would break through and win, especially in football, it was never that MSU was better. It was ALWAYS because Michigan played below par or gave the game away.
Brian Bennett:
Some interesting points, and of course it's much harder to root for your conference brethren when they're also your biggest rival and you have live next to their fans 365 days a year. So I have to ask all of you non-Michigan fans, especially Michigan State and Ohio State supporters: Will you be pulling for the Wolverines tonight? Or does conference pride only go so far?
September, 13, 2012
9/13/12
8:15
AM ET
When Nebraska star DT Jared Crick suffered a season-ending torn pectoral muscle last October, the team turned to a young lineman named
Chase Rome
.
Just a redshirt freshman, Rome made two starts and saw action in 10 games. He started the first two games this fall alongside veteran DT
Baker Steinkuhler
.
But Rome's future with Nebraska is in doubt after coach
Bo Pelini announced Wednesday that Rome has left the program
. Pelini said Rome's "personal goals and personal perception of where he should be on this football team doesn't match the team goals." Rome won't be with the Huskers for the "foreseeable future," Pelini said, and
Pelini will make an announcement when Rome's status is finalized
.
Rome played sparingly in Nebraska's 36-30 loss to UCLA last Saturday as freshmen
Kevin Williams
and
Aaron Curry
saw increased field time. Todd Peat Jr. also could be in the mix. Although Rome's departure leaves the Huskers with only two veteran options on the interior line -- Steinkuhler and
Thad Randle
-- line coach Rick Kaczenski doesn't sound too concerned.
From the
Lincoln Journal Star
:
"I don't think it affects anybody," the coach said. "You look at last week [at UCLA], Thad Randle played 31 plays. Kevin Williams played 43 plays. Aaron Curry got in there and he's going to continue to play more. We've been trying to get him on the field more and more."
Nebraska returns to the field Saturday against Arkansas State.
February, 2, 2012
2/02/12
9:00
AM ET
The most relevant day of the year for outdated fax machines has come and gone. The ink is dry on those letters of intent, and -- with a few notable exceptions -- the recruiting classes of 2012 are complete.
There were a few surprises in the Big Ten on national signing day, but things went mostly as expected. That meant banner days in Columbus and Ann Arbor, as Ohio State and Michigan brought home what every analyst agrees were the league's top two classes. But final judgments on these recruiting efforts won't be passed until a few years from now, when the blue-chippers and the under-the-radar guys prove themselves on the field.
For now, though, we look back and hand out some awards for the Big Ten's big recruiting day:

Top class:
Ohio State
Michigan put together a terrific crew, too, but the Buckeyes take top honors. Urban Meyer secured the services of five ESPNU 150 players and 12 prospects rated at least four stars by ESPN. It's a class loaded with potential stars on the defensive and offensive lines, which should form the foundation of Meyer's program. Ohio State got pledges from six players who were originally committed to another Big Ten school, meaning Meyer weakened other teams while strengthening his own. Add in the fact that he got a late start on recruiting after his November hire, and this looks like one of the more impressive efforts in recent league history.

Player you'll see next season: Michigan LB Joe Bolden
In our recruiting roundtable discussion on Tuesday, all three ESPN.com experts picked Bolden as someone who could make an immediate impact. While Bolden just made the cut for the ESPNU 150, checking in at No. 142, he's got excellent size (6-foot-2, 225 pounds) and instincts for the game already. And Michigan will likely have playing time available as it searches for more playmakers at the linebacker spot.

Biggest surprise: Nebraska missing out on Andrus Peat
While the Huskers were never a lock to land this Top 10 overall prospect, Nebraska fans felt good about their chances with the star offensive tackle. Understandably so, since his older brother, Todd, is a defensive lineman for Bo Pelini. But the younger Peat went his own way and chose Stanford, a choice that would have seemed inconceivable 10 years ago. Nebraska still had a good signing day as defensive tackle
Aaron Curry
and athlete
Alonzo Moore
made last-minute choices to come to Lincoln. But Peat was the one who got away.

Wildest signing day: Iowa
There were few dull moments for Iowa on signing day. The Hawkeyes made some late offers and made some late additions like wide receiver
George Kittle
, whose father, Bruce, played offensive line at Iowa. There was also buzz about defensive back
Dinero Moss
switching his commitment from Minnesota to Iowa, and offensive line target
Alex Kozan
didn't show up at a signing day ceremony at his high school. Another recruiting target said
Iowa didn't have a scholarship for him
after telling him not to worry. What a day in Hawkeye Country.

Future award winner: Ohio State DE Noah Spence
The 6-foot-4, 245-pound Spence was rated as the No. 4 overall prospect in this class by ESPN.com and was the only five-star recruit to sign with a Big Ten school. He'll have a lot of competition on a now-stacked defensive line in Columbus, but Spence has all the tools to be a future star as an athletic pass-rusher for the Buckeyes.

Program on the rise: Minnesota
We're not predicting Big Ten titles in the Gophers' immediate future, but there's little question that second-year coach Jerry Kill has improved the overall talent and depth of his roster with his first full recruiting class. Minnesota needed offensive playmakers and appears to have addressed that with receivers
Jamel Harbison
and
Andre McDonald
. Four of the team's six junior-college transfers should provide some immediate help to a defense in desperate need of bodies. Kill might have found his quarterback of the future with in-state star
Philip Nelson
and a potential offensive line anchor in blue-chipper
Isaac Hayes
. This 31-man class won't rocket the Gophers to the top of the Legends Division, but it should lead to better things than 3-win seasons.

Big-splash recruit: Northwestern LB Ifeadi Odenigbo
Northwestern has landed some solid offensive recruits in recent years, but Pat Fitzgerald hadn't made a big splash on the defensive side until now. Odenigbo is an ESPNU 150 prospect who brings speed and play-making ability to the edge, where Northwestern needs a lot of help in pressuring opposing quarterbacks. The Wildcats need some game-changers on defense to take the next step, and Odenigbo helps in the process.
February, 1, 2012
2/01/12
11:30
AM ET
Most of the Big Ten recruiting classes are complete, and there haven't been too many surprises around the league. As we wait for some of the bigger names to make their selections, a few nuggets from around the league:
Michigan got a nice surprise Wednesday morning as running back Dennis Norfleet signed with the Wolverines. Norfleet, a Detroit native, had committed to Cincinnati but made the switch after receiving an offer from Michigan last week. "I've been going to Michigan for four years in a row and I still hadn't heard anything," Norfleet told the Detroit Free Press. "For it to come this way, at this time at the beginning of the signing date is a really crazy situation."
Ohio State's class is already loaded with pass-rushers and edge players, and you can add one more to the mix as Jamal Marcus signed with the Buckeyes. Marcus, a 6-foot-2, 230-pound linebacker/defensive end from North Carolina, joins a group of defensive ends and linebackers that coach Urban Meyer is calling the strength of the class. It'll be interesting to see how Ohio State manages its scholarship situation, as the team needs to have no more than 82 scholarships by August.
It could be a very big day for Nebraska, and the Huskers are off to a good start as defensive tackle Aaron Curry picked the Huskers over Iowa. Athlete Alonzo Moore soon followed by signing with Nebraska. Several other big prospects could pick Nebraska by day's end.
Cornerback Dinero Moss added some spice to the Iowa-Minnesota rivalry today. He had been committed to Minnesota but switched to Iowa at the last minute, announcing his selection on Twitter.
Much more to come throughout the day.
December, 1, 2008
12/01/08
10:33
AM ET
Posted by ESPN.com's Adam Rittenberg
Ohio State senior linebacker James Laurinaitis, the Big Ten Defensive Player of the Year, has been named one of four finalists for the Lott Trophy. Laurinaitis joins Texas defensive end Brian Orakpo, Florida State safety Myron Rolle and Wake Forest linebacker Aaron Curry on the list of finalists.
The Lott Trophy honors the defensive impact player of the year and recognizes a player's character attributes in addition to his athletic achievements.
"He's a talented yet humble young man who brings enormous credit to the game of college football," Ohio State coach Jim Tressel said of Laurinaitis. "He represents Ohio State with poise and class."
Laurinaitis led Ohio State and ranked second in the Big Ten with 121 tackles this season.
The Lott Trophy winner will be announced Dec. 14 in Newport Beach, Calif.