July, 23, 2013
7/23/13
5:00
PM ET
Send in
or
tweet
your questions for our Big Ten player chats as Nebraska CB
Ciante Evans
, Penn State G
John Urschel
, Northwestern QB
Kain Colter
and Wisconsin LB
Chris Borland
will join us during the live blog Wednesday.
For now, you'll have to deal with me. Let's go ...
Mike from Novi, Mich., writes:
Coming into last season, Michigan had to replace the interior of the offensive line. And the offensive line was mediocre in creating holes game after game. For this coming season, Michigan again has to replace the interior of the offensive line, only this time Hoke's highly rated players are the new faces. On the other side, Michigan has been mediocre in generating a pass rush the past two years.
Frank Clark
has been hyped up but he only started 4 games last year. Your prediction: will the OL or DL be better this coming season?
Adam Rittenberg:
Really good question, Mike. There are some highly rated young guys on the defensive line, too --
Taco Charlton
is a monster -- but certainly more on the offensive side of the ball. I think both units will be a bit better this season, although I wouldn't put either group among the elite of the Big Ten. Michigan's youth on the interior line will show up at times, but the line will get better as the season progresses. I definitely like Clark's potential at defensive end, and the overall pass rush should be better. But Michigan hasn't had an impact defensive tackle since
Mike Martin
, and I'm taking a wait-and-see approach with the guys occupying the interior this year.
---
Kevin from Chicago writes:
Basic Question here. What backfield do you think is the most exciting. Talking in terms of excitement. Id like to say its between Colter/Mark and Martinez/Abdullah. Just always fun to watch Colter do his thing and short
Venric Mark
just run past defenders. On the other hand Martinez is just a playmaker on the ground and Abdullah is just as good.
Adam Rittenberg:
Both are great choices, Kevin, but I'd give the edge to Northwestern's Colter and Mark when it comes to pure excitement. When they get the zone-read game going, they're nearly impossible to stop, and both are dynamic open-field runners. Martinez certainly brings more to the passing game than Colter does, and both Martinez and Abdullah have great speed. Nebraska has more overall big-play ability than Northwestern on offense, but the combination of Colter and Mark and the special things they can do when they find a rhythm gets my vote here.
---
Greg from NYC writes:
Adam my dude, the steam picking up about the power conferences splitting from the non power ones is fascinating...say the split does happen..are we about to eliminate playing outside the power conferences..say you play your 9 (just a number) conference games and then 3 from the other power conferences? or how would it work? or does anybody know?
Adam Rittenberg:
It's way too soon to tell, Greg, but it's a good question to ask. The power conferences are recognizing the value in upgrading schedules, especially from a TV perspective. We've seen the Big Ten take positive steps lately, and other conferences like the Pac-12 have done the same. I'm not sure I see the day when teams are only playing power-conference opponents because of the budgetary demand for teams to play so many home games, among other factors. But a division consisting only of power-conference teams likely would create more attractive schedules overall.
---
Chris from Monticello, Ill., writes:
Adam, What kind of impact can Illinois fans expect Bill Cubit to have? Tim Beckman and a fairly inexperienced staff stumbled on and off the field last year. Can Cubit be a calming influence when things start moving quickly?
Adam Rittenberg:
I think he can, Chris, and he'll need to be as Illinois must establish its identity on offense early this season to have any chance of real improvement. Illinois goes from two unproven coordinators (Chris Beatty and Billy Gonzales) and a
bizarre, built-to-fail play-calling system
to a veteran coordinator who had some success as Western Michigan's head coach before things went downhill. There will be no gray area with Cubit, no questions about who is really in charge of the unit. He has a plan and will try to execute the plan. Whether he has the players to do it remains to be seen, but Illinois should have an easier time establishing something that works on offense. The big challenge is how fast Cubit wants to play on offense -- quarterbacks are expected to get rid of the ball within 2.2 seconds -- and whether players can adjust to the desired tempo.
---
Cameron from Cedar Rapids, Iowa, writes:
It may seem callous for me to say this but I don't care if current or former college players get a dime from the O'Bannon lawsuit. What they fail to see is that they are college students just as much as they are athletes and personally the fact that other college students get jobs (athletic training), unpaid internships (playing football, basketball, etc.) should not go overlooked. They whine and cry and ask for a handout when any college student graduating with a mountain of debt would trade places with them leaving school debt free. They need to wake up and realize what a gift an athletic scholarship is and use it to get an education that will benefit long after their playing days are over.
Adam Rittenberg:
Cameron, thanks for your note, and you're not alone in your beliefs. The counterargument is that major college football players aren't normal college students. They generate way more money for their universities than you or I did for our alma maters, and that money is going into coaches' pockets and elsewhere rather than to the guys on the field. Sure, they're getting a free education that shouldn't be discounted, but many of them are limited in their opportunities for both education and jobs/internships while in college because of their sport demands. College football truly is a year-round deal with the training regimen, and there aren't
too many John Urschels out there
. I don't think a full-blown pay-for-play model works where individual athletes negotiate their own deals through agents, but I absolutely think the value of the scholarship should go a little further, especially when certain schools and leagues are willing to do so.
---
Kevin from Cincinnati writes:
Let's say Maryland is forced to pay the full $50 million (or as much as possible) to leave the ACC and Virginia and the N.C. teams aren't going to risk that. Does Delany just throw his hands up and move on, or would he and the B1G give an invite to teams like Old Dominion or East Carolina on very strict rules and guidelines? I'll be the first to admit it sounds very, very farfetched, but Rutgers surprised the snot out of me.
Adam Rittenberg:
Rutgers was a geographically strategic addition, plain and simple. Although Rutgers has dramatically improved its football program in recent years and has potential to be a bigger factor in the New York sports market, the Big Ten, as
I wrote last fall
, is really gambling more on its existing product resonating in a new, attractive market, than the boost it could or could not get from Rutgers. Jim Delany hasn't written off the possibility of further expansion, but the ACC's grant of rights agreement really reduces or eliminates the pool of attractive candidates from the region (East Coast) the Big Ten now covets. The Big Ten won't add East Carolina or Old Dominion for numerous reasons -- how much time do you have? -- and I'd be surprised if the league expands beyond 14 before the next TV contract, which is really what this is all about.
---
Kelle from Boulder, Colo., writes:
Hey Adam, Do you think the
Aaron Hernandez
backlash had anything to do with Urban Meyer's quick discipline of Roby and Hyde? Also, is there any chance either of them misses any relevant game action due to their arrests?
Adam Rittenberg:
No. Meyer had to act quickly no matter what as both incidents became public and, in Roby's case, an arrest was made. Meyer's response came about as quickly as you would expect, so I don't see any effect from the Hernandez case. To answer your second question, Hyde certainly could miss significant time -- he could even be dismissed from the program -- depending on how his case plays out. But if he's not charged, I don't see how he can be suspended for much or any of the season. Roby's situation also is unfolding but I'd be surprised if he misses many games.
July, 5, 2013
7/05/13
3:00
PM ET
Wishing you a great holiday weekend. I'm off next week, so direct your questions to
this guy
. My next mailblog comes your way July 16. Don't forget, follow us
on Twitter
.
Let's get started ...
Glenn from Leesburg, Fla., writes:
Adam, I'm not an Urban Meyer fan by a long shot and continue to question his recruiting football players vs college students who play football. However, in the case of his being mum about (Aaron) Hernandez, do you think there are potential legal ramifications that are influencing his silence? Considering Hernandez has not actually been accused of anything, maybe comments by Meyer could have an effect one way or the other if there is a trial.
Adam Rittenberg:
Glenn, you could be right, especially if Meyer went into any specifics about Hernandez's past at Florida, which is
very much under the microscope
. Would anyone be surprised if Meyer is called to testify during Hernandez's trial? Still, he could issue a statement with general comments about Hernandez and what has happened. I doubt such a statement would have any bearing on a future trial.
---
Jason from New York writes:
Adam,Loved your write up on the
B1G-ACC Battle For New York
. The B1G will clearly be the favorite in NYC. First, geography. If you look at a map, not only is Rutgers closer to NYC than Syracuse.......but......Maryland AND Penn State are also BOTH closer to NYC than Syracuse! That is 3 teams in the B1G that are geographically closer to NYC than Syracuse. Another point......half of the ACC is the old Big East. Syracuse and the old Big East did not take the Big Apple by storm. Just because a few schools from North Carolina are thrown in the mix, suddenly Syracuse and the ACC will take New York by storm? I think not. The ACC can't touch the B1G in football. The B1G alumni in NYC are strong. You think anyone in NY cares about a Wake Forest @ Syracuse football game? Give me the B1G football lineup any day! The B1G is also pretty strong in basketball. Sorry, Andrea, no one in the Big Apple is going to drive 3.5 - 4 hours to watch Syracuse play any of those confederate schools. Not only is NYC B1G country, but with the addition of Maryland, now Washington DC is B1G Country as well. Do you agree?
Adam Rittenberg:
Love the enthusiasm, Jason, and obviously I agree with much of what you write here. Andrea brought up ACC basketball and the value it will bring to New York. She's right, but football remains king in terms of true market share, and as you point out, having teams like Ohio State, Michigan and Penn State play in New York more often will only help the Big Ten's cause in the area. It will be interesting to see how much Syracuse helps the ACC in New York, and how much Rutgers helps the Big Ten. The Orange and the Scarlet Knights could be the deciding factors in this whole debate, but as you point out, I can't see the enthusiasm in New York for the other ACC schools match the enthusiasm for the Big Ten schools.
---
Ben from Cleveland writes:
I don't know if Meyer should weigh in on Hernandez or not, but I do know that there was no reason for him to weigh in on it at a *youth* football camp. They're kids, he doesn't need to be talking to them about a possible triple murderer.I personally don't need to hear him weigh in on it. I don't know what people want him to say. He tried to help Hernandez and be something of a father figure to him at Florida. Considering that, its probably a sensitive topic for him.
Adam Rittenberg:
That's a good point, Ben, although Meyer talked to reporters after the camp was over. Still, I don't think a news conference is the right forum for Meyer to address the Hernandez issue. It's obviously a sensitive topic and he'd want to choose his words very carefully. That's why I felt a one-time written statement that would be his only comment on the matter might be the best way to go.
---
Nate from York, Pa., writes:
At the beginning of the season PSU fans were lamenting the losses of
Silas Redd
and
Anthony Fera
as they would have helped win the first two games and made it a 10 win season. Looking back now I think the biggest transfers that affected Penn State would have been either Khari Fortt or
Jamil Pollard
as their transfers have impacted the long-term depth. Is this a correct statement?
Adam Rittenberg:
There are two different questions here, Nate. One, which transfers hurt Penn State most in 2012? Two, which transfers hurt Penn State most in the long term? To answer the first, I'd definitely go with Fera, although it's worth pointing out that he was injured for most of the season at Texas. A healthy Fera gets Penn State at least the Virginia game, which was lost on missed field goals. It's interesting how Redd's departure didn't hurt nearly as much as we thought at the time. Part of that has to do with Bill O'Brien's pass-driven offense and Matt McGloin's development at quarterback. Long term, Penn State certainly could have used Fortt at linebacker, which lacks depth right now. Pollard might become a star at Rutgers, but I'm less concerned about Penn State's ability to reload along the defensive line.
---
Jerry from Bethesda, Md., writes:
Adam, you really underestimate what Maryland will bring to the Big Ten. It may take a while for the football program to become truly competitive, but both the men's and women's basketball programs will compete for championships. Maryland's lacrosse program will dominate. Both the men's and women's soccer programs will competer for championships. Both the men's and womne's lacrosse programs will competer for championships. Trust me, Big Ten prorgams in basketball, soccer, lacrosse, field hockey, etc., will come to hate Maryland because these progams at Maryland are elite programs at the national level. Look for (Mark) Turgeon to have a very good team in 2014 with a top 5 recruiting class joinging some very talented already on board! :o) Maryland will be a force in the Big Ten.
Adam Rittenberg:
Jerry, I don't disagree with anything you write here. However, this is a football blog and that's really our focus when it comes to Maryland and the Big Ten. The Big Ten values broad-based athletic programs and Maryland should be a very good addition for the reasons you outline here. But we're all about football, a sport where Maryland has a long way to go after the first two seasons under Randy Edsall. Recruiting does appear to be on the uptick as Mike Locksley is working his magic for the Terps, but we need to see better results on the field before Maryland moves into the Big Ten East.
---
Josh from Los Angeles writes:
Not even sure why the media is brining Meyer into the picture. Sure he was his head coach and possible father figure, but you can't save people from themselves no matter how much you try. Some people are just evil, and IF Hernandez is guilty why would Meyer have to say anything about it? What about his parents or family, what about his circle of friends, what about Belichick or current teammates? Why is Meyer the only one with perceived influence on this poor young man? It just makes me sad, that people will pass buck and say oh you didn't do enough to save this man, or you used him to win games at Florida and did nothing for him. You can only do so much, it's up to that person to listen and do the right thing.
Adam Rittenberg:
Ultimately, Hernandez is responsible for his own actions and deserves what's coming to him. But Meyer reportedly went to great lengths to help Hernandez stay on track. You might not care what he says now, but others would like to hear from someone who knew Hernandez so well. There's interest in how Hernandez got to this point. If you've been following the Hernandez coverage, there are numerous stories with quotes from others who knew him. Meyer, meanwhile, has chosen to remain silent, which is his right. I also think the fact Hernandez's past at Florida is under the microscope puts the focus on Meyer, who oversaw a program with numerous off-field problems and has been portrayed by some as an enabler. That's part of his legacy, just like the national championships and the success of Tim Tebow.
---
Steve from Northville, Mich., writes:
Look, I'm a Michigan fan and I can't claim to be particularly fond of Urban Meyer, but I don't think its fair to involve the guy in the Aaron Hernandez affair and expect him to weigh in. As you addressed, he did what he could at Florida to point the kid on the right path. Hernandez hasn't been Meyer's responsibility since he went to the NFL, and I don't know whether they had kept in touch since then, but I don't feel he has any relevance to Hernandez current lifestyle and decisions.Meyer is wise to keep mum about this so as not to fan the flames by taking either position. We've seen a number of coaches this offseason make remarks, that while intended to be innocent, generated a lot of media attention and public critique because coaches occupy such a prominent role in society as representatives of many valued things. The term "coachspeak" exists for a reason, referring to the generic non-information they commonly supply in interviews so as to satisfy media desire for a quote without revealing anything. I can understand his desire to stick to that custom at this time.
Adam Rittenberg:
Some excellent points here, Steve, especially about the dangers of coaches making controversial comments during the offseason. As I mentioned in
Tuesday's post
, Meyer would have to choose his words carefully if he makes any public comment about Herndandez. That's why I felt a prepared statement would be the best way to go.
---
Nick from Indianapolis writes:
As a Badger fan I am very pleased about how Gary Andersen has handled things in madison. He seems to bring a positive attitude and I think he will do well. However I am a little concerned that fans are a little too excited about him. He has a very high bar to reach and he hasn't even coached a first game. What are your thoughts on the issue?
Adam Rittenberg:
Nick it's called an extended honeymoon, and Andersen certainly isn't the first new coach to enjoy one. We're seeing the same thing with Darrell Hazell, who has made a very positive impression so far at Purdue. But both coaches are 0-0, and as we know, they'll ultimately be judged on what happens when the games begin. Andersen is a very good defensive coach and turned around a program (Utah State) that I considered a lost cause. He now enters a much bigger stage in the Big Ten and must show he can continue the things Wisconsin does well (power run game, elite offensive linemen and running backs), while upgrading areas like athleticism at wide receiver and defensive back. Fans' emotions are always extreme, whether they're positive or negative. That's why they're fans. But I think Andersen will do well at Wisconsin.
July, 2, 2013
7/02/13
2:30
PM ET
Ohio State coach Urban Meyer was more than happy to discuss Buckeyes personnel, Tim Tebow's move to tight end, the upcoming Buckeyes season and other topics after helping coach a youth football camp Monday in northeast Ohio near his hometown of Ashtabula.
But when asked about his former player Aaron Hernandez, the former New England Patriot and Florida Gator charged with murder in the death of a 27-year-old man in Massachusetts,
Meyer clammed up
.
"I'm not going to talk about that," the coach said.
Meyer's silence about Hernandez, whom he coached at Florida from 2007-09,
made headlines
Monday
and won't make the issue disappear. Hernandez's
problematic past in Gainesville
continues to be under the microscope.
Meyer reached out to Hernandez while at Florida
, bringing the player to his home for bible study sessions and trying to help Hernandez deal with the sudden death of his father in 2006. He also vouched for Hernandez with Patriots coach Bill Belichick after many teams avoided Hernandez in the 2010 draft because of his conduct problems.
From The Gainesville Sun's Pat Dooley:
It wasn't that the Meyer family thought they had rehabbed Hernandez, but they thought he was pointed in the right direction. I have talked in the past to the Meyers about the situation and they felt like Hernandez was part of their family. They spent countless hours with him in their home with their children. Meyer played the role of the surrogate father.
Almost every coach has had players veer off track, but Meyer had a special connection with Hernandez, which undoubtedly makes the recent news even tougher to handle. One Florida columnist writes that Hernandez -- specifically Hernandez's police mug shot -- has
supplanted Tebow as the face of the Meyer era at Florida
. Some are labeling Meyer as an enabler for Hernandez. Some are going even further than that.
Meyer can't revise his past at Florida, and he wants the focus to remain on Ohio State, a promising 2013 season and the Buckeyes' future. But the Hernandez questions won't go away. Ohio State fans might not care, but this is too big of a story.
What should Meyer do? I've gone back and forth on it and consulted several colleagues for their thoughts. As a media member, of course I want to hear what Meyer has to say about Hernandez. Coaches take a degree of ownership for all of their players, not just those who have great success both on and off the football field.
On the flip side, Meyer's desire to keep the focus on his current players and his current job, especially with all the
baggage that has followed him from Florida
, is totally understandable. There's also the potential for Meyer to come off looking worse, depending on the words he chooses. If he reiterates his affection for a troubled former player, he could be viewed as vouching for a suspected murderer. If he rips Hernandez, he could be viewed as shirking accountability.
It's also worth noting that Hernandez has only been charged, not convicted. The legal process still must play out.
I understand Meyer's decision to say nothing at the moment, but I expect him to take more heat if he stays silent. The two numbers you've heard -- 25 (players arrested under Meyer's watch in Gainesville) and 31 (total arrests) -- will be rehashed.
It could benefit Meyer to issue a written statement acknowledging what has happened with Hernandez, his attempt to help his former player and his disappointment that he ultimately couldn't keep him on track. During negative situations, coaches often benefit from keeping the focus on themselves rather than their players, whether it's talking about an on-field loss or an off-field problem.
A news conference is neither necessary nor beneficial for Meyer. Issue a statement, acknowledge what has happened, express the attempt to help Hernandez, note that there will be no more comments while the case is pending and move forward.
Do you think Meyer should address the Hernandez situation? Send me your thoughts
here
.
July, 2, 2013
7/02/13
12:00
PM ET
April, 26, 2012
4/26/12
10:30
AM ET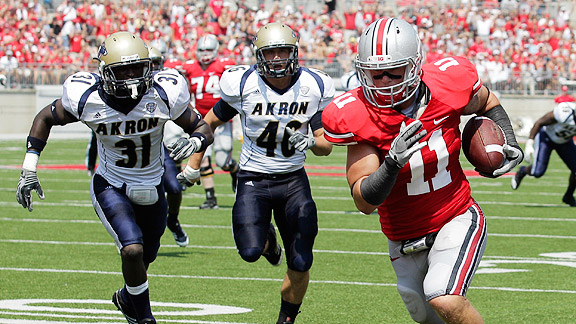 AP Photo/Amy SancettaOhio State tight end Jake Stoneburner had seven touchdowns last season -- on 14 catches.
COLUMBUS, Ohio --
Jake Stoneburner
had one of the strangest stat lines in all of college football last season.
It said as much about his potential as a tight end as it did about Ohio State's inability to maximize that potential in an offense that could kindly be described as pass averse.
"It got kind of crazy," Stoneburner told ESPN.com. "Every time I had a catch, I'd score. It's weird. Only 14 catches and seven touchdowns, but I'll take seven touchdowns any day."
The 50 percent touchdown ratio is mind-boggling when you consider Stoneburner's 14 total receptions tied for the team lead.
Stoneburner set the tone for an odd season with four receptions, three of which went for touchdowns, in Ohio State's season-opening victory against Akron. He recorded four catches the following week against Toledo, three of which amazingly didn't wind up in the end zone.
Then he went catch-less for two games. He recorded two receptions for eight yards in the Big Ten opener against Michigan State. The following week, his only reception, a 32-yarder, went for a touchdown at Nebraska.
Stoneburner finished the season with three one-catch, one-touchdown performances.
"I guess you could say I had a knack for getting in the end zone," he said, "but we also didn't really throw it that much."
Ohio State attempted only four passes in a win at Illinois. The lone completion? A 17-yard touchdown to guess who? While Stoneburner recorded only five catches in Ohio State's first seven Big Ten games, the team averaged a measly 15 attempts and 6.6 completions during the span.
Ohio State finished 115th nationally in pass offense. Only six FBS teams, including all three service academies and Georgia Tech, attempted fewer passes than the Buckeyes (245).
Those days are over. Jim Bollman has exited, Urban Meyer and Tom Herman have arrived, and Ohio State's pass offense received a spring awakening in recent weeks. The spread has come to C-Bus, and a player who never approached his ceiling in the previous system can't be happier.
"We don't huddle," Stoneburner said. "It's nonstop, fast-paced, throwing the ball everywhere, read-option, triple-option. It's something we definitely had to get used to, but I'm loving the offense."
Stoneburner should. He came to Ohio State after recording 168 receptions, including 28 touchdowns, for nearby Dublin (Ohio) Coffman High School. Unlike his predecessors, who basically served as extra offensive linemen, Stoneburner arrived at Ohio State as a big receiver who grew into the tight end spot.
He was a pass-first player who at first
expressed concern about moving positions
. The reason: "I knew they didn't get the ball," he said of the tight ends.
Former Buckeyes coach
Jim Tressel raved about Stoneburner
since the spring of 2009, but Stoneburner recorded just two receptions that fall. He followed it up with 21 in 2010 but saw the total cut by one-third last season.
[+] Enlarge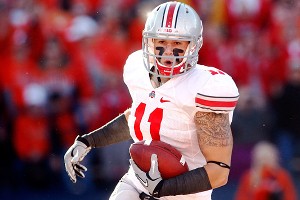 Jerry Lai/US PresswireCoaches say Jake Stoneburner needs to improve his conditioning to be an every-down player.
Meyer's hiring changes everything for the 6-foot-5, 245-pound Stoneburner.
"He's known for spreading the wealth with the ball," he said. "Having athletic tight ends and guys who can catch the ball, it gives us more opportunities in space to get open."
Stoneburner spent much of the spring watching
Aaron Hernandez
, who starred at tight end for Meyer at Florida, recording 68 catches for 850 yards as a senior before becoming a fourth-round draft pick of the New England Patriots.
"Seeing Hernandez make all those plays makes someone like me pretty happy," Stoneburner said. "It's something I've been waiting for since I graduated high school, being able to go out there knowing you're going to get the opportunity to get the ball more than once or twice a game.
"It's a pretty good feeling."
Meyer identified Stoneburner and running back
Jordan Hall
as two potential playmakers who emerged this spring. Ohio State's lack of proven depth at receiver is no secret, and Stoneburner will be featured in the passing game.
Herman, the team's offensive coordinator, also is excited about Stoneburner's potential, although he needs to see dramatic improvement in one area.
"I see a big guy with great body control, good hands, good feet, decent speed," Herman told ESPN.com. "Jake's just got to get in better shape. Jake's a much worse player on the fifth play of the drive than he is on the first play of the drive. For him to be our bell cow in the throwing game and really doing the things we want to be able to do in the running game, he needs to be a guy that we can try to run into the ground and he keeps asking for more because he's in such great shape."
The pace of the new offense shocked Stoneburner's system. In the first 7-on-7 session of the spring, he estimates Ohio State logged 40 reps in 15 minutes.
"Just nonstop, go, go, go," he said. "The first day, I was exhausted."
Stoneburner's summer will be all about conditioning. Herman doesn't want the senior to lose weight or strength, but Stoneburner has to be an every-down player.
"The kid's not used to that," Herman said. "I'm not upset at him for it, but we've identified a problem and now it's up to him and our strength staff and his coaches and myself to come up with solutions."
Stoneburner shouldn't have trouble staying motivated. The more he stays on the field, the more passes will be thrown his way.
Buckeyes quarterback
Braxton Miller
thinks Stoneburner can eclipse 40 receptions this season.
As for the touchdown trend?
"We'll keep it going," Miller said with a smile.
Don't expect another 14-and-7 season from No. 11.
"I'll take seven touchdowns again," Stoneburner said, "but as long as I can get some more catches, I'll be happy."
January, 28, 2010
1/28/10
9:00
AM ET
The postseason top 30 rankings continue with ...
No. 28

Graham
Garrett Graham, TE, Wisconsin, Sr., 6-3, 250
Preseason rank:
17
Why he's here:
When it comes to Big Ten tight ends, no player has been steadier and more reliable than Graham the last three seasons. He saw increases in receptions (30-40-51), receiving yards (328-540-624) and touchdown receptions (4-5-7) from 2007 to 2009, and helped create balance for Wisconsin's offense, which led the Big Ten in scoring. He earned first-team All-Big Ten honors from the league's media for the second straight season and should be a mid-round selection in April's NFL draft.
Players like Oregon's
Ed Dickson
and Florida's
Aaron Hernandez
generate more national hype than Graham, but the Wisconsin standout showed he could do it all this season. Graham ranks among the top 10 in team history in career receptions (121) and career touchdown catches (16). He's also a terrific blocker who helped Wisconsin lead the Big Ten in rushing in 2009.
The rundown