February, 21, 2013
2/21/13
9:00
AM ET
Iowa's
2012 recruiting class
included two Floridians in wide receiver
Greg Mabin
(Fort Lauderdale) and defensive end
Daumantas Venckus-Cucchiara
(Weston). The Hawkeyes'
most recent recruiting haul
included no players from the Sunshine State -- a first in the Kirk Ferentz era.
This is no accident.

I must have missed it from last winter, but Ferentz said he's no longer assigning an assistant coach to recruit Florida. Then Tuesday night, Iowa recruiting coordinator Eric Johnson told an I-Club gathering in Des Moines that
Florida is no longer a priority area
for the program's recruitment.
I think I just choked on some orange juice and spilled some sun screen.
We're talking about Florida, right? The state that produced four of the top six players and 22 of the top 100 players in the 2013 class, according to ESPN Recruiting? The state often grouped with Texas and California as
the nation's top recruiting hotbeds
?
Yes,
that
Florida.
All but two Big Ten teams (Iowa and Michigan) signed at least one Floridian earlier this month. Indiana and Purdue both signed five.
The Iowa coaches think the program needs to concentrate recruiting closer to campus. The (Cedar Rapids) Gazette's Marc Morehouse notes that Iowa went to St. Louis, a city that has produced recent stars like Adrian Clayborn and Marvin McNutt, for three recruits in the 2013 class. Iowa also has had recruiting success in other Midwestern cities like Chicago and Indianapolis, and signed a Detroit prospect (safety Desmond King) on Feb. 6.
There's nothing wrong with prioritizing your backyard and places where you've had success. But ignoring Florida just doesn't make a lot of sense.
Iowa did well in the Sunshine State early in Ferentz's tenure, luring players like defensive tackle Colin Cole, linebacker Abdul Hodge and wide receiver Mo Brown. Former assistant Bret Bielema was Iowa's primary recruiter in Florida and left the Hawkeyes following the 2001 season, but other Iowa assistants continued to recruit the state.
As pointed out
here
and
here
, Iowa has had many more misses than hits with Florida prospects since 2002. Several players transferred, including running backs Jeff Brinson and De'Andre Johnson. The jury is out on other Florida recruits, including quarterback
Jake Rudock
, who could start this coming season.
I'm still waiting for a good reason for Iowa to back away from Florida. Sure, Iowa has had a run of bad luck with Florida recruits. But should it stop trying? I can think of 22 reasons -- and many more from the 2013 class -- to keep investing time and money there.
Big Ten teams can't expect to compete at a national elite level by recruiting solely in the Midwest. Prioritizing states like Florida -- along with Georgia, Texas and California -- is a must for Big Ten programs.
It's great to see coaches develop talent and several Big Ten programs, including Iowa, have done that well over the years. But there's a ceiling for teams trying to win with overlooked recruits from the heartland. Too many Big Ten teams -- not just Iowa -- seem to fall into this trap. Penn State just signed its first Florida recruit (safety Neiko Robinson) in
more than a decade
. That's insane.
It still comes down to talent, and there's just more of it in the South. Big Ten teams need to compete in states like Florida. Will they get all the top players? Of course not. But with the right coaches and strategy, they can help their teams get better.
Sure, Iowa lost Bielema, who continued his Florida recruiting push as Wisconsin's head coach and will carry it on at Arkansas. Iowa lost another Florida recruiter when Rick Kaczenski left for Nebraska in 2011.
But Ferentz has had plenty of chances to hire assistants with Florida roots the past two seasons.
Iowa's staff is in an unprecedented period of flux
, and Ferentz has brought in six new assistants since the end of the 2011 season. None of them could help Iowa made inroads in Florida?
Look how Nebraska secondary coach Terry Joseph, hired last March, has helped the Huskers' recruiting efforts in the South. The same goes for new Big Ten assistants like Everett Withers at Ohio State. Wisconsin would have loved to retain assistant Charlie Partridge because of his recruiting clout in Florida.
Perhaps Iowa can build itself back into a Big Ten title contender without investing in Florida. Re-establishing itself in cities like St. Louis certainly is a good sign.
But Ohio State's coaches continue to mine the South, and
Michigan is ramping up its Southern recruiting efforts as well
.
In recruiting, you follow the talent. You flock to it. You compete for it.
You don't turn your back on it.
May, 4, 2012
5/04/12
1:00
PM ET
IOWA CITY, Iowa -- Iowa linebacker
James Morris
doesn't go along with the status quo. Unless he thinks it's 1985.
This spring, Morris conducted what he called a "social experiment," sporting a neatly cropped mustache, more Zorro than Selleck. His Hawkeyes teammates are big fans, his coaches have warmed up to it and even his girlfriend approves, "though she wants to deny it," he said.
"I'm trying it out," Morris told ESPN.com. "It's about the only time you can have a mustache like this. You won't get fired and your boss won't give you [stuff]."
[+] Enlarge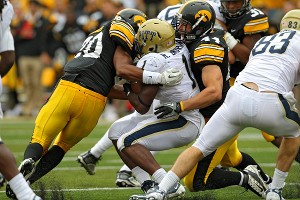 Stephen Mally/Icon SMIJames Morris (44) and Christian Kirksey (20) each had 110 tackles last season, tying for the team lead.
Iowa head coach Kirk Ferentz, who serves as Morris' football boss, has no issue with Morris' 'stache nor his career path to this point. Ferentz, who frequently consults Iowa's recent history when discussing players or teams, likened the progression this spring of Morris and fellow linebacker
Christian Kirksey
to that of former Hawkeyes stars Chad Greenway and Abdul Hodge.
Greenway and Hodge, who played alongside one another from 2002-05, occupy two of the top five spots on Iowa's career tackles chart. (Hodge is third with 453, Greenway is fifth with 416.) Hodge led Iowa in tackles in each of his final three seasons, and he and Greenway own two of the top three single-season tackles totals. (Hodge had 158 stops and Greenway had 156 in 2005.) Both were two-time first-team All-Big Ten selections before moving onto to the NFL. Greenway made his first Pro Bowl last year with the Vikings.
Ferentz isn't putting Morris and Kirksey in the Greenway-Hodge category just yet, but he notes that the linebackers have followed similar paths. Both Morris and Kirksey saw action during their freshman year -- the 6-foot-2, 230-pound Morris made six starts at middle linebacker and recorded 70 tackles -- and they shared the team tackles lead with 110 stops apiece in 2011.
"If you talk about Hodge and Greenway, both of these guys are in that same position," Ferentz said, "except we had the ability to redshirt both Chad and Abdul, whereas James and Chris hit the ground running."
Iowa would be thrilled if Morris and Kirksey could emulate what Greenway and Hodge did, but the juniors are interested in forming their own legacy.
"I wouldn't say Chris and I are trying to be like Hodge or Greenway," Morris said. "A lot of people tailor their game or they try to look at the style of players who have played before them and see what they can pick up. Chris has done that, and I've done that a little bit, but we're just trying to be the best players we can be."
Iowa needs a lot from both men this season. The defense took a step back in 2011, finishing 60th nationally in yards allowed and 46th in points allowed, and has the youngest group of linemen in recent memory.
The unit's strength, at least heading into the fall, is in the back seven and particularly at linebacker. Both Morris and Kirksey moved around a bit last season but seem pretty settled entering 2012: Morris will play middle linebacker with Kirksey on the strong side. Junior
Anthony Hitchens
is the projected starter at the weakside position.
The 6-foot-2, 220-pound Kirksey is a speed player who also can lower the boom as a hitter.
"He's really got a good pop to him," defensive coordinator Phil Parker said. "He can run well. It puts him in a position whereas guys see him being a leader, stepping up and making plays. They're expecting him to lead, and I'm sure that's what he wants to do. Same thing with James. James is no question the inside guy you want in there."
Ferentz called Kirksey a "really positive, upbeat, high-energy player." Those qualities drew Iowa to him during the recruiting process and have helped him earn the respect and admiration of his teammates.
Morris, thrust into a vital position as a true freshman, is comfortable handling responsibility, saying, "I'm hoping to be the leader of the defense, the man in the middle."
Ferentz gave both linebackers high marks during the spring.
"They're really confident, much more so than a year ago because they've had that experience," he said. "I'm not saying it's Hodge and Greenway, but they're a little bit like them. They have good personalities, and they're both really good players who have totally invested and have a good vibe with their teammates."
August, 18, 2010
8/18/10
3:30
PM ET
William Gholston and Max Bullough aren't typical freshmen, so Michigan State sees no point in treating them that way.
While a large portion of Spartans freshman can be penciled in as redshirts for 2010, head coach Mark Dantonio has made it clear that neither Gholston nor Bullough will sit out this fall. Michigan State boasts excellent depth at linebacker, led by All-American Greg Jones, but barring a snag between now and Sept. 4, both Bullough and Gholston will be part of the mix.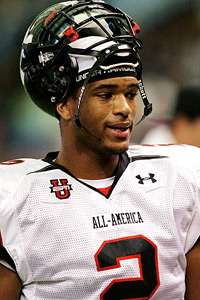 Cliff Welch/Icon SMIWilliam Gholston is the Big Ten's highest-rated recruit.
"We want to make sure that we put them into situations where they can contribute on a consistent basis because you don't want to just take away a guy's year [of eligibility]," Dantonio said after a scrimmage earlier this week. "Those guys can play and have an impact."
Dantonio's words resonate with the two freshmen.
"It's an indescribable feeling to know that I have the opportunity to play as a freshman," Gholston told me Wednesday. "That's very seldom. It was rare for a freshman to play five, six years ago, so to have an opportunity, it's great."
Why are the expectations so high for these two?
Both were decorated high school prospects with advanced physical skills and good family history. Bullough's father and two uncles played for Michigan State, and his grandfather, Hank, played for the Spartans and later served as the teams defensive coordinator. His other grandfather and another uncle played for Notre Dame. Gholston's cousin is New York Jets defensive end Vernon Gholston, the former Ohio State star who visited him this summer and provided a pass-rushing tutorial.
Gholston arrives at Michigan State as the Big Ten's highest-rated recruit, according to ESPN Recruiting, which listed him as the nation's No. 3 defensive end in the 2010 class.
A unique physical specimen who can play both end and linebacker, Gholston stands 6-foot-7 and has increased his weight to around 255 pounds in camp. He even got above 260 for a portion of practice, a major change after being listed at 237 on National Signing Day.
"I was at 265, didn't know it and I ran like an ox," Gholston said, laughing.
The 6-3, 235-pound Bullough also drew strong reviews in high school -- ESPN Recruiting rated him as the nation's No. 4 inside linebacker in 2010 -- and helped himself by enrolling this spring and going through practice.
"In the spring, everything comes faster because it's mostly veterans out there," Bullough said. "Every day, I'd be thinking, 'What do I do here? What do I do on this play?' Now everything comes second nature to me. I'm trying to learn to play fast, play more aggressive, play meaner."
The mean part shouldn't be a problem, as classmate Tony Lippett
found out in a recent practice
.
Gholston didn't practice this spring, but he was a fixture at the football complex, attending almost all of the team's 15 workouts. The many trips from Detroit to East Lansing helped him absorb the defense, which will incorporate more 3-4 elements this fall.
"It's fun having Will out here finally," Bullough said. "I feel like I've been here forever, waiting for Will to get here. We're trying to work together and teach each other."
Added Gholston: "Most of the learning, I grasp that part. It's just applying what I learned. I've got little spurts where I do the right thing. I need to do the right thing every single time."
Although they're in the same class, Bullough is doing most of the teaching so far.
"Max is a very smart player, very physical and very tough," Gholston said. "I've never seen a freshman, a football player the same age as me, have so much knowledge about the game and be so consistent in everything he does."
The Big Ten has had its share of outstanding linebacker tandems in recent years: Ohio State's James Laurinaitis and Marcus Freeman, Penn State's Paul Posluszny and Dan Connor and Iowa's Chad Greenway and Abdul Hodge, to name a few.
Michigan State hopes Gholston and Bullough mold a similar legacy together. The first steps begin this fall.
Bullough isn't taking the opportunity for granted.
"It is nice to hear," he said. "It's all based on assuming -- I can only speak for myself -- I keep getting better each and every day. It's on my shoulders right now."