October, 23, 2013
10/23/13
9:00
AM ET
It's natural to wonder about Penn State's motivation.
We're nearing the final month of the season in a physically demanding sport and the Nittany Lions' players have no possibility of a bowl game because of NCAA sanctions.
There's no reason, however, to wonder about Penn State's motivation for this week.


If any player, however, needs a reason to get excited about going to play the No. 4 team in the country, on the road, under the lights and in front of 100,000 fans, then he should return his shoulder pads and scholarship check immediately. Playing at Ohio State at the Horseshoe on Saturday night is about as good as it gets.
"No offense to the bowl system," Penn State head coach Bill O'Brien said Tuesday, " ... [but] I I don't know of too many bowl games that are better than that, other than the national championship game."
Penn State has no natural rivals in the Big Ten. At least until Maryland and Rutgers join the league next year, Ohio State remains the nearest school geographically, and of course, the Buckeyes have often presented the biggest road block for a conference or division title. While the two programs might not exactly fit the mold as rivals, this is about as close as it gets for Penn State.
"It's definitely a game that we're a little bit more into and that we're definitely excited to play," linebacker
Glenn Carson
said. "Ohio State is probably one of our biggest games that we look forward to every year and talk about every year."
It's not quite true to say Penn State has nothing to play for. The Nittany Lions can technically win the Leaders Division title and trophy, as Ohio State did last year while on probation. While they trail the Buckeyes by one game in the standings, a win in Columbus would give them the head-to-head tiebreaker going forward.
Penn State can also play the role of spoiler this season. It can ruin Ohio State's streak of perfection by finding a way to win at the 'Shoe a la 2011 and 2008. The Lions can also have a say in the Big Ten race later this season when they host Nebraska on Nov. 23, or potentially mess up a BCS at-large bid for Wisconsin in the finale at Madison.
But the players say they don't think too much about those things. In fact, the big picture rarely enters their mind since their picture is limited in scope, anyway.
[+] Enlarge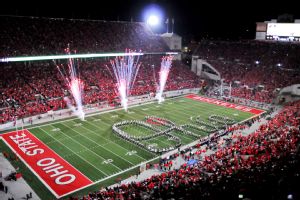 David Dermer/Getty ImagesPenn State will get a raucous, night-game crowd at Ohio State this weekend.
"We go in expecting to win every game, but we also go in embracing the underdog role," offensive lineman
Adam Gress
said. "Every game is a big game with nothing to lose, in our opinion. It's no secret that we're not going to bowl games and things like that. So every game's a big one."
O'Brien stresses that Penn State plays a dozen one-game series. Yes, it's cliché coachspeak to some degree, but O'Brien has to come up with ways to keep the team excited. While on probation last year, Ohio State could push for an unbeaten season, a carrot that's already out of reach for the Nittany Lions. And since the current bowl ban is unusually long -- Penn State is not eligible for a bowl until 2016, unless the NCAA decides to shorten that sanction -- there's no reward on the immediate horizon.
So the only choice is to look at each game as its own opportunity.
"Everyone on the team just loves to win and loves to play hard each week," Carson said. "We just come in really determined to get that win. That's really all the motivation that we need."
No one questioned Penn State's motivation last week when it beat Michigan in an emotional four-overtime game a week after a dispiriting loss at Indiana. Maybe you can wonder what the Nittany Lions are playing for next month, when they face Illinois, Minnesota and Purdue in three straight games.
But definitely not this week.
"I think our kids are very, very motivated for the challenge of playing in this conference," O'Brien said.
September, 19, 2013
9/19/13
7:00
PM ET
By
ESPN.com staff
| ESPN.com

Josh Moyer talks with Penn State right tackle Adam Gress about the offensive line's improvement, upcoming opponent Kent State -- and why teammates call him "Sasquatch."
September, 19, 2013
9/19/13
12:00
PM ET
Unlike in Cleveland, there are no white flags waving here in September.
September, 18, 2013
9/18/13
4:30
PM ET
STATE COLLEGE, Pa. -- Bill O'Brien isn't one to shower praise upon his players. The Penn State head coach is more likely to punt on fourth-and-inches than to lob compliments at a standout performer.
He tends to diffuse praise throughout the team, reiterating that wins don't come from individuals. But that exercise has become a bit trickier lately with his true freshman quarterback, whom he's been asked about at every opportunity.
[+] Enlarge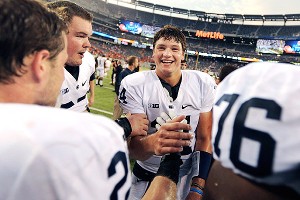 Nabil K. Mark/Centre Daily Times/Getty ImagesFreshman quarterback Christian Hackenberg has already started to become a leader for the Nittany Lions.
Is he surprised
Christian Hackenberg
is completing 71 percent of his passes? "I expect him to complete every pass," O'Brien said flippantly. What about a performance that's seen him win two Big Ten freshman of the week awards and rank third in the conference with 851 passing yards? "I'd give 'em a 'B,'" O'Brien said.
One wonders what it might take for an "A" on the O'Brien grading scale. But the coach is just trying to keep the aw-shucks kid from Virginia humble. Fans had anointed Hackenberg the quarterback of the future, the savior of the offense, before he could attend a senior prom. He was a household name in the Keystone State a year before he ever slid on his No. 14 jersey.
And he has still met lofty expectations and become a staple of the O'Brien press conference by coming a long way in just three short weeks. Against Syracuse in the season opener, O'Brien called run plays on third-and-long and steered his quarterback into short, high-percentage passes. In Week 2, against Eastern Michigan, Hackenberg aired out the ball more following his first quarter fumble that was returned for a touchdown. O'Brien chose to pass on eight straight third downs.
And, in Week 3, against Central Florida? Hackenberg ran the NASCAR no-huddle offense, checked down on some plays, didn't commit a turnover and nearly led a comeback in PSU's 34-31 loss. He finished with a QBR of 82.9; a perfect score is 100.
"There's definitely not as much anxiety," Hackenberg said Wednesday afternoon. "I've experienced pretty much everything that I could on the field at this level so, really, it just comes down to preparation and continuing to get better each week."
Ask Hackenberg's teammates about his evolution, and a theme will clearly emerge. His offensive linemen,
Ty Howle
and
Adam Gress
, used the term "confident" repeatedly, more often than they used the term "freshman." Hackenberg's leadership is even apparent on the other side of the ball.
"He's starting to help other guys come along and become a leader," linebacker
Glenn Carson
said. "He was getting fired up on the sideline and getting guys going. That was comforting to see from a quarterback, especially a young quarterback."
Hackenberg shared Wednesday that his teammates' respect wasn't handed to him just because he's the kid under center. When he enrolled in June, he knew he had something to prove in the weight room. When he stepped outside, alongside his receivers, he knew had something to prove during drills.
But he tried to build off every experience. As the respect started to come, he became more vocal. As he became more vocal, more teammates started to look upon him as a leader. After
Zach Zwinak
's fourth-quarter fumble Saturday, for example, Hackenberg turned to him and told the redshirt junior to keep his head up and that they'll keep fighting.
And when talking about
Allen Robinson
, the Big Ten receiver of the year and a man two years his senior, the 18-year-old quarterback referred to him as "kid." As in, "Kid's got a 38-inch vert, so I just gave him a shot."
Hackenberg is a calm and poised quarterback -- "which is great for me," O'Brien added, "because I'm not a calm guy" -- and has used each week as another step toward success.
O'Brien seems to dangle perfection in front of Hackenberg like a carrot on a stick. He's played well but, O'Brien's sure to add, he's making about six or seven key mistakes every game. The true freshman insists he knows what he's doing wrong and, behind the respect of his team, he's hoping there's nowhere to go but up.
Who knows? At this pace, maybe -- by the end of the year -- O'Brien might even give him an A.
April, 11, 2013
4/11/13
5:00
PM ET
On Wednesday, the head coach and one player from each Big Ten Legends Division team participated in a
spring football teleconference
with the media. On Thursday, it was the Leaders Division's turn. Here are some notes and updates from the call:

Illinois
Head coach Tim Beckman said the junior college players he brought in helped with depth and age issues on his young team. "We have 40 football players that have never been in our spring football until this year," he said. Of the juco imports, Beckman said wide receiver Martize Barr has quick hands and good playmaking skills, both in the passing game and on kick returns; Eric Finney has earned a starting job at the Star linebacker position; Abe Cajuste is adding depth by playing both defensive tackle and defensive end; and Dallas Hinkhouse is making an impact at offensive tackle.
Beckman sung the praises of offensive lineman Corey Lewis, a sixth-year senior who has battled back from five knee surgeries and has become a team leader. "Corey Lewis comes to my office probably four or five times a week, just to talk," he said. "To me, he is what college football is all about." Beckman said that Lewis has "had a special spring" and hinted that he has earned a starting job.
Quarterbacks Nathan Scheelhaase and Reilly O'Toole will take most of the snaps in Friday's spring game so they can get more experience in the new offense. Beckman said Scheelhaase has "got a step in front" because of his experience, but the competition continues.
Scheelhaase on reasons for optimism in 2013: "Establishing an identity. That's something I don't know that we necessarily had last year, on offense or defense or as a team in general.

Indiana
Like many of you, head coach Kevin Wilson would like to know the new Big Ten division alignment. The reason? It's harder to recruit without being able to tell a prospect where he'll be playing his freshman season. Wilson added that if the league does indeed go to an East/West split, he'd like to see the Hoosiers placed in the East since they're located in the Eastern Time Zone.
Wilson said run defense and takeaways are two huge priorities for the Hoosiers' defense during the offseason. He noted that the Big Ten doesn't boast a large group of elite pass offenses, so IU must prepare better for run-driven attacks. Indiana finished last in the Big Ten in both run defense (231.3 ypg) and takeaways (13). Cornerback Greg Heban said the defense is working on takeaways every day in practice. "Every time the ball touches the ground, the defense is scooping it and scoring it," Heban said, "trying to give us a feel of what it's like."
Both Wilson and Heban praised the play of junior cornerback Tim Bennett this spring. Other spring standouts include linebacker T.J. Simmons, a freshman early enrollee, and Steven Funderburk, a junior-college transfer.
Heban called this "easily the best spring I've been around." He has seen more physical play and better effort on both sides of the ball, and the team also is having more fun than in past springs.

Ohio State
Head coach Urban Meyer said running back Rod Smith won't play in Saturday's spring game because he recently suffered a concussion. Before that, Meyer said Smith was one of the five most improved players on offense this spring. Meyer listed Carlos Hyde and Smith as the team's top two running backs, while Bri'onte Dunn and Warren Ball are even for the No. 3 spot.
Although the receivers have been better this spring -- especially Corey Brown and Chris Fields -- the depth is still nowhere near where it needs to be for Meyer's spread offense. "We're way behind on quality of depth at that position," Meyer said. "That's a major, major concern." Moving Jordan Hall to H-back should help, and Meyer noted that the Buckeyes boast two good tight ends in Jeff Heuerman and Nick Vannett.
Buckeyes offensive tackle Jack Mewhort paid close attention to the way John Simon and others led in 2012. He's ready to take on a greater load this season. "I welcome that," he said. "I see that as an honor, being compared to a guy like John Simon. I also see it as a challenge. I feel the pressure to step up and get guys going in the right direction." Mewhort also has seen quarterback Braxton Miller recognize his leadership responsibilities more this spring and get after teammates when he needs to.
Meyer said he puts more emphasis on spring practice and the spring game than most coaches. He has told his players that there will be a depth chart after spring ends, and while changes are possible in the summer, they're not likely. "In spring ball, you're trying to win a spot," he said. "During the fall, we're trying to win games."

Penn State

Purdue
Head coach Darrell Hazell said the Boilermakers have made major improvements in the last three and a half weeks. "Anytime you put in three different schemes, there's a little bit of a learning curve for the first couple weeks," he said. "You could see guys start to really get comfortable the last five or six practices."
Hazell said he has "three capable guys" right now at quarterback with Rob Henry, Danny Etling and Austin Appleby. He reiterated that he would keep the competition open until two weeks before the opener at Cincinnati. Of Etling, a freshman early enrollee, Hazell said: "For a young guy, a guy that should be at his prom, I think he's got tremendous poise. He's smart and really studies the game."
Hazell said backup tight end Justin Sinz and center Robert Kugler are two guys that have really caught his eye this spring. He called Kugler a "very much a leader on the offensive line."
Cornerback Ricardo Allen said Hazell has instilled an "all is one" mentality. "If one person does something, we all have to do it. We all wear black socks. We all wear the same uniform. We all tuck our shirts in. I feel like we're becoming closer as a team, and it's helping us build."

Wisconsin
Head coach Gary Andersen confirmed Curt Phillips and Joel Stave have separated themselves in the quarterback competition. It's a "mixed bag" of who takes snaps with the first-team offense, but both will continue to rotate through the rest of the spring and into fall camp. "The way they've separated themselves is simply production," Andersen said. "They know exactly where they sit and so does the rest of the team. … If they put all their friendships aside, their depth chart would look exactly like our depth chart."
Andersen praised the offensive line for tackling another transition, as the group works with its fourth position coach (T.J. Woods) since the 2012 Rose Bowl. The line has seen varying looks from the defense in practice and had players move around to different positions, in part because of injuries. Wisconsin had only seven healthy linemen a week ago, but Andersen is hopeful the number will rise to nine or 10 by next week's spring game. "Those kids have grinded through it every single day," Andersen said. "They're a tough-minded group."
Badgers senior linebacker Chris Borland said losing defensive end David Gilbert to recurring foot problems is a blow but the team has others to step in like Tyler Dippel, Brendan Kelly and Jesse Hayes, a redshirt sophomore who has stood out this spring.
Much like his old boss Urban Meyer, Andersen believes in constant competition and declares winners and losers in each practice. Andersen also mixes in some fun with a dance-off and throwing footballs into trash cans. "Some of them are a little bit quirky, but through the years establish some things we like," he said.
Borland said the strength program has brought the biggest changes in the transition to Andersen's staff. Cardiovascular work is stressed more, as is preventative care. Head strength and conditioning coach Evan Simon operates at a faster pace and uses more of an instructional approach than Ben Herbert, who stressed motivation.
March, 29, 2013
3/29/13
11:00
AM ET
Penn State's
Deion Barnes
distinguished himself the way many young defensive linemen do: by beating tackles around the edge and putting quarterbacks on the ground.
Barnes led the Nittany Lions in both sacks (6) and tackles for loss (10) and tied for the team lead in forced fumbles (3) as a redshirt freshman in 2012. He was an easy pick for Big Ten Freshman of the Year after making eight starts and appearing in all 12 contests. In a program known for producing star defensive linemen and linebackers, Barnes looks every bit like the next man in line.
But is he a finished product? Not even close.
"I did well in pass rush, but I didn't do as well as I wanted to in the run game," Barnes told ESPN.com this week. "I still need [to make] more plays, way more plays. I missed a bunch of sacks."
[+] Enlarge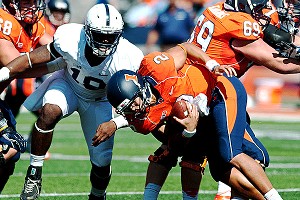 Bradley Leeb/USA TODAY SportsPenn State's Deion Barnes made his mark as a pass-rusher last season. Now he aims to be a better run stuffer and team leader.
Barnes sets high standards for himself as a pass-rusher, but he also admits it comes naturally to him. He recorded 13 sacks and 25 tackles for loss as a senior at Northeast High School in Philadelphia. The 6-foot-4, 244-pound Barnes credits longtime PSU defensive line coach Larry Johnson for helping him take another step as a rusher.
The next phase is clear: get better against the run.
"I basically had to work on my hand placement," Barnes said, "getting my hands out faster on the tackles in the run game so I could lock the tackles out and see the ball better. Coach Johnson said they don't want that to ever be a weakness for me, so [opponents say], 'Let's just run at No. 18.'"
Penn State's opponents probably are talking about running away from Barnes after his breakout season in 2012. Johnson has told Barnes that he'll be noticed after winning the Freshman of the Year honor, and Barnes "definitely" expects more double teams when the season rolls around.
Another challenge for Barnes is leadership, an area Johnson wants him to grasp this season. Senior defensive tackle
DaQuan Jones
has taken the reins so far this spring, but Barnes is expected to help.
"I'm a type of guy who leads by example," Barnes said. "I don't really do it vocally. If I make a play or something like that, it gets the team up, to want to make more plays. If you see a big hit, you're going to want to do the same thing as the person who just did it."
After delivering several big hits in 2012, Barnes hopes to play a bigger role in takeaways, an area being stressed by new defensive coordinator John Butler this spring. Although Barnes had the three forced fumbles, he wasn't much of a factor against the pass.
Penn State finished in the middle of the pack in the Big Ten and nationally in takeaways with 22.
"We had a lot of missed opportunities with interceptions and sack-fumbles," Barnes said.
Barnes appears to be capitalizing more this spring. Penn State starting tackle
Adam Gress
called the sophomore
, "one of the best defensive ends I've played against."
Barnes undoubtedly raised the bar for himself in 2012, but he also gained a greater comfort level to reach it in 2013.
"Last year, my eyes were wide open," he said. "I had never seen zone-reads and the way things were going, the power reads with the quarterbacks. Now I can see it and I'm like, 'Oh, OK, that's what they're trying to do.' I see getting more into the offensive schemes and understanding what's going on better.
"I have a lot more confidence in making plays."
August, 27, 2012
8/27/12
5:00
PM ET
It's Depth Chart Monday around the Big Ten as most teams revealed new or updated depth charts for their upcoming season openers.
Indiana
and
Iowa
released depth charts last week, while Nebraska's won't come out until later this week. A few more teams unveil new or updated depth charts Tuesday, and we'll break down those as they file in.
While we won't break down the depth charts each week of the season, the first installments always carry a bit more weight as players have jockeyed for position during camp.
Here are some notes and thoughts from what we learned today:
MICHIGAN
Depth chart
(page 13)
Suspended players Fitz Toussaint and Frank Clark both are listed -- Toussaint is the starting running back, Clark as a backup weakside defensive end -- but their status for the opener against Alabama is yet to be determined. Coach Brady Hoke will make a decision soon. While it seems highly unlikely Clark will play, Toussaint's status will be a big story this week.
Roy Roundtree is listed as a starter at receiver despite missing a chunk of camp following knee surgery. Although Michigan has some decent other options at wideout, it really needs "Tree" on the field at JerryWorld. Speaking of receivers, backup quarterback Devin Gardner is listed as a third-string receiver and should see a bit of work there against the Crimson Tide.
Depth is a bit of a concern for Michigan entering the season, and it's the main reason why the Wolverines list 12 true freshman on the depth chart, four in backup roles. Expect freshmen like linebacker Joe Bolden and safety Jarrod Wilson to see plenty of field time.
As for position battles, Quinton Washington claimed a starting defensive tackle spot, moving Jibreel Black back to the end position. Will Hagerup and Matt Wile are listed as co-starters at punter, but Hagerup will get the starting nod against Alabama.
OHIO STATE
Depth chart
Regarding position battles, Reid Fragel, a converted tight end, claimed the starting right tackle spot ahead of freshman Taylor Decker. Travis Howard maintained his starting cornerback spot ahead of Doran Grant. The team's starting wide receivers entering the fall are Corey Brown, Devin Smith and Jake Stoneburner, a converted tight end. Ohio State's only unsettled position is tight end, where freshman Nick Vannett and sophomore Jeff Heuerman are listed as co-starters.
Like Michigan, Ohio State will have plenty of youth on the field this fall. Coach Urban Meyer lists 13 freshmen on the depth chart, including highly touted defensive linemen Noah Spence and Adolphus Washington, spring game star Michael Thomas at backup receiver and backup middle linebacker Camren Williams. The Buckeyes have three freshmen listed as backup offensive linemen, underscoring the depth issues there.
With projected starting running back Jordan Hall (foot) out at least a week, Ohio State will start Carlos Hyde at running back. Freshman Bri'onte Dunn will back up Hyde.
WISCONSIN
Depth chart
(page 13)
The Badgers put out a depth chart last week but made a few changes, including junior Zac Matthias and sophomore Kyle Costigan being listed as co-starters at right guard. Costigan had been listed as the starter, but Matthias made a push late in camp.
Backup cornerback Peniel Jean will miss four to six weeks after fracturing his foot last week in practice and undergoing surgery. Redshirt freshman Darius Hillary moves into the No. 2 role behind Devin Smith and likely will be the team's primary nickel back.
Sophomore Kyle French is listed as the starter for both field goals and kickoffs (he only occupied the kickoffs role last week). Coach Bret Bielema said freshman Jack Russell (great name) also will see time as a kicker in Saturday's opener against Northern Iowa.
PENN STATE
Depth chart
ILLINOIS
Depth chart
Safeties Steve Hull and Supo Sanni, the projected starters, aren't listed on the two-deep. Earnest Thomas and Pat Nixon-Youman are listed in their places. Both Hull and Sanni are week-to-week with injuries. Coach Tim Beckman said both would practice this week and likely will be game-time decisions.
Illinois shuffled its offensive linemen between positions throughout camp, and there could be more changes before game day. But ... Graham Pocic is listed as the starting center after playing mostly guard in camp. Pocic has started the past 26 games at center. Redshirt freshman Ted Karras, who has recovered from a foot injury, is listed as the starting right guard.
Tim Kynard will start at defensive end in place of Justin Staples, who will serve a one-game suspension against Western Michigan. Offensive lineman Simon Cvijanovic also won't play Saturday for undisclosed reasons.
Illinois lists co-starters at both running back (Donovonn Young and Josh Ferguson) and tight end (Jon Davis and Eddie Viliunas). Both Young and Ferguson should get plenty of carries against Western Michigan.
NORTHWESTERN
Depth chart
(Page 7)
After a strong camp, Venric Mark will start at running back for Northwestern. The 5-foot-8, 175-pound Mark, who came to Northwestern as a return specialist, moved from wide receiver after the season. Mike Trumpy, who comes off of ACL surgery, is the backup, and Northwestern likely will spread the carries around. Treyvon Green has recovered from a scary neck injury midway through camp and will play at Syracuse.
USC transfer Kyle Prater is listed as a backup receiver. Northwestern will start Demetrius Fields, Christian Jones, Rashad Lawrence and Tony Jones at receiver against the Orange. Prater saw some time with the first-team offense in camp and will be part of the rotation, but he still seems to be lacking a step as he gets back into game shape.
The Wildcats have no unsettled starting spots, and while there are a number of young players on the depth chart, only two true freshmen, defensive end Dean Lowry and superback Dan Vitale, made the two-deep. Heralded incoming freshman defender Ifeadi Odenigbo likely will redshirt and isn't listed on the depth chart.
PURDUE
Depth chart
(Page 6)
The Boilers have four unsettled starting spots, three on the offensive side. Juniors Kevin Pamphile and Justin Kitchens are battling at the left tackle spot, while juniors Devin Smith and Cody Davis are co-starters at right guard. Junior Gabe Holmes and fifth-year senior Crosby Wright are still competing for the top tight end spot. The lone unsettled spot on defense is at end opposite Ryan Russell, as Ryan Isaac and Jalani Phillips continue to compete.
No surprises in the starting backfield as Caleb TerBush, Robert Marve and Rob Henry are listed at quarterback in that order. It'll be interesting to see how Purdue uses Henry this year. It doesn't make much sense to waste his talents on the bench. No Ralph Bolden on the depth chart as the senior running back is still working his way back from the knee injury. The Akeems (Shavers and Hunt) will carry the rock against Eastern Kentucky.
The placekicking spot is also up in the air with three players -- Sam McCartney, Paul Griggs and Thomas Meadows -- in the mix to replace standout Carson Wiggs.
More depth chart fun comes your way Tuesday, so be sure and check in.
July, 11, 2012
7/11/12
1:00
PM ET
It's not recklessly hyperbolic to label
Adam Gress
as the best story of Penn State's offseason.
When you break it down, it actually becomes rather obvious. Many would argue that the hiring of Craig Fitzgerald to revamp and lead Penn State's strength and conditioning program was the single most important move head coach Bill O'Brien has made on the job.
No position group benefited more from Fitzgerald's arrival than the Nittany Lions offensive line, which
left O'Brien "pleasantly surprised" in spring practice
. And within the offensive line,
no player generated more praise this spring
than Gress, who went from anonymous special teamer to strong candidate to start at tackle this season. Gress, a 6-6, 310-pound junior, appeared as the team's starting right tackle on the
post-spring depth chart
, although he played more left tackle as spring practice progressed.
[+] Enlarge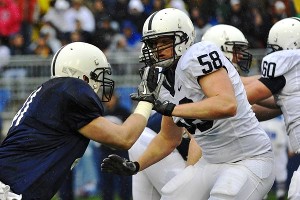 Mark Selders/Penn State Athletic CommunicationsPenn State offensive tackle Adam Gress is expected to have a big season in 2012.
O'Brien and Fitzgerald both praised Gress for his offseason transformation, and Gress gives the credit right back when discussing the progress he has made.
"My leg strength wasn't where it needed to be," Gress told ESPN.com. "But as Coach Fitz came in, clearly that changed a lot. I started putting up a lot more weight on squats and things like that. It transferred over to the field well."
Gress made clear gains in the winter program and felt considerably stronger before spring practice kicked off in March. But the practice sessions truly validated how far he'd come.
"The biggest difference seemed to be in my run blocking," he said. "Whenever I would come off of the ball, I was just more explosive. I was driving through guys instead of to them. Also, in pass protection, my punch improved a lot because a lot of the bench-press and upper-body work we've been doing.
"Once we actually got into pads, it was pretty evident. It felt good to finally feel a little more dominant on the field and feel like I was actually able to move guys around for a change."
Gress has appeared in six games in each of the past two seasons, mostly on the field goal unit. Like many of Penn State's linemen, Gress has the body to do damage, but he hadn't come close to blossoming.
He admits areas of his game weren't maximized before Fitzgerald arrived, and he can't outline specifics of his development because he didn't do Olympic-style lifting in the previous strength program.
"I hadn't really done squats," Gress said. "I don't really have anything to compare it to, but I feel stronger and I've gotten stronger since Coach Fitz came in."
The biggest endorsement for Gress and his line-mates didn't come from O'Brien or Fitzgerald, but from their teammates across the line of scrimmage. Penn State's defensive line typically has been one of the Big Ten's units, while the Lions' offensive line has been regarded as an underachieving group.
"This is unusual, but we've actually gotten a lot of positive comments from the defensive line," Gress said with a laugh. "They tell us we're playing better and we're giving them a little more competition. In previous years, it seemed like there were times when I stumbled against guys a lot. Sometimes on my punch during my pass set or during run blocking, it just seemed like I wasn't really able to finish my blocks."
Gress has carried over his momentum from the winter and spring into summer workouts. He and his fellow linemen work out four days a week and meet separately to discuss blocking schemes.
The complexity and newness of O'Brien's offense will place a heavy burden on top quarterback
Matthew McGloin
and the receivers and tight ends. A better-than-expected offensive line could help Penn State got a long way in the Leaders division.
"It's hard for me to speak for the other guys, but I know everyone has felt the same differences and same improvement in strength, and in the same areas," Gress said. "When I watch film, I can tell the way we run plays is more explosive. We push the D-line around a lot more than we used to."
May, 11, 2012
5/11/12
7:00
AM ET
2011 overall record:
9-4
2011 conference record:
6-2 (T-first, Leaders division)
Returning starters:
Offense: 5; defense: 4; kicker/punter: 2

Top returners
LB
Gerald Hodges
, DT
Jordan Hill
, LB
Michael Mauti
, S
Malcolm Willis
, CB
Stephon Morris
, RB
Silas Redd
, WR
Justin Brown
, C
Matt Stankiewitch
Key losses
DT Devon Still, DE Jack Crawford, S Nick Sukay, CB
Chaz Powell
, LB Nathan Stupar, T Quinn Barham, G Johnnie Troutman, WR Derek Moye, T
Chima Okoli
2011 statistical leaders
(*returners)
Rushing:
Silas Redd* (1,241 yards)
Passing:
Matthew McGloin
* (1,571 yards)
Receiving:
Derek Moye (654 yards)
Tackles:
Gerald Hodges* (106)
Sacks:
Jack Crawford (6.5)
Interceptions:
Nick Sukay (3)
Spring answers
1. Offensive line taking shape:
Penn State's offensive line has underachieved to varying degrees since 2008, and with only one starter back (Stankiewitch), there were concerns entering the spring. But after a strong winter in the new strength program -- no group benefited more than the offensive linemen -- the front five performed well during the spring session. Junior
Adam Gress
emerged as the answer at left tackle, and
John Urschel
locked up a starting spot at right guard.
2. Hodges primed for huge season:
After earning first-team All-Big Ten honors in 2011, linebacker Gerald Hodges made more strides this spring. He moved to the strongside position -- one he notes previous Lions stars have played as seniors -- and consistently looked like the best player on the field during practices. Penn State could have the Big Ten's top linebacking corps in 2012, and Hodges will be leading the charge.
3. Redd alert:
While Hodges and defensive tackle Jordan Hill are the defensive stars, junior running back Silas Redd will be the team's primary offensive weapon for the second consecutive season. Redd already has reinvented himself at Penn State, going from a small, shifty back to a bigger, workhorse type. His next step: "Combine those together -- when I need to stiff-arm a guy, when I need to make a guy miss, when I need to run through an arm tackle -- and become a more complete back," Redd told ESPN.com. He certainly looked like an All-Big Ten back this spring.
Fall questions
1. Quarterback, quarterback, quarterback:
Penn State entered the spring with a three-man race at quarterback and left the spring with very little resolved under center. New coach
Bill O'Brien
wants to reduce the candidate pool from three to two, but the competition will continue into the first part of camp. O'Brien is dealing with quarterbacks who are either unproven (
Paul Jones
) or needing improvement (Matthew McGloin,
Rob Bolden
). Add in the fact the quarterback are still absorbing O'Brien's complex offense and it means a lot of work must be done in August.
2. The Patriot Act:
Speaking of O'Brien's offense, it remains very much a work in progress as Penn State's players learn a system used by the New England Patriots in 2011. O'Brien's approach this spring was to throw a very dense playbook at his new team and see what sticks. It'll be important for Penn State to identify what it can run effectively during preseason camp and fine-tune those plays as much as possible before Sept. 1.
3. Filling out the secondary:
Penn State's defensive front seven will be the strength of the team in 2012, but the Lions lose all four starters in the secondary and need to build depth there. Some nice pieces return in safety Malcolm Willis and cornerback Stephon Morris, but Penn State will be looking for more from guys like
Adrian Amos
,
Stephen Obeng-Agyapong
and
Curtis Drake
, who moved from wide receiver to cornerback this spring. If the secondary can hold its own, Penn State's defense could be scary good this fall.