August, 31, 2013
8/31/13
3:25
PM ET
Cincinnati and Purdue entered Saturday's opener with two new coaches who had overseen quarterback competitions in recent weeks.
The similarities between the two teams pretty much end there.
Cincinnati found its quarterback (
Munchie Legaux
) and its swagger, continuing its winning ways under new boss Tommy Tuberville. Purdue, meanwhile, appears to be in disarray one game into the Darrell Hazell era.
Legaux led an opportunistic offense and Cincinnati pummeled a mistake-ridden Purdue team to
win 42-7
at Nippert Stadium. The Bearcats went 9-for-15 on third down and 3-for-4 on fourth down against a Boiler defense that couldn't get off of the field. Purdue surrendered 425 yards and 20 first downs.
The Boilers' problems were much worse on offense. Senior quarterback
Rob Henry
threw an interception on the game's first series and was pick-sixed by
Adrian Witty
midway through the third quarter as Cincinnati began to pull away. He threw off of his back foot and couldn't find a rhythm.The Boilers' only points in the first three quarters came after Cincinnati muffed a punt deep in its own territory.
Legaux accounted for 200 yards (145 pass, 55 rush) and two touchdowns as Cincinnati employed a balanced attack.
Brendon Kay
, who competed with Legaux throughout the preseason, fired a 51-yard touchdown strike on his first attempt. Cincinnati looks like a team that could soon enter the Top 25 and challenge Louisville in the American.
Tuberville has to be encouraged with Cincinnati's debut. It's a different story for Hazell, who stresses discipline but watched his team show little in the opener, as Purdue committed three turnovers and seven penalties.
Offensive coordinator John Shoop and Hazell have a lot to work on before next week's home opener against Indiana State. They kept Henry in the game despite his struggles rather than go to a freshman (
Austin Appleby
or
Danny Etling
). Is a change in order?
Purdue plays the Big Ten's toughest schedule, so things could get away from the Boilers in a hurry. Henry is a
popular veteran who has been through a lot
, but Hazell has to decide if the future (Etling) is now.
November, 3, 2010
11/03/10
1:40
PM ET
Big Ten teams have faced some major personnel challenges this season.
No team in America has been hit harder at key spots than Purdue, while other Big Ten squads like Wisconsin and Penn State also have lost key players.
But I can't remember a single position being ravaged more by both injuries and player departures than Michigan's cornerback spot.
The latest bit of bad news arrived Wednesday, as Wolverines coach Rich Rodriguez confirmed that
cornerback J.T. Floyd will miss the rest of the season
after suffering a "freak" ankle injury in practice Tuesday. Floyd's ankle isn't broken, but he suffered ligament damage and needs surgery that will keep him sidelined for a while.
The redshirt sophomore has started all eight games for Michigan and ranks third on the team in tackles with 66. Floyd also has an interception, a forced fumble and four pass breakups.
Michigan's struggles in the secondary are no secret, and this certainly doesn't make things easier.
Rodriguez said true freshman Courtney Avery will start Saturday against Illinois opposite senior James Rogers, the Wolverines' only non-freshman cornerback still available.
"We're pretty young in the secondary," Rodriguez told reporters on a conference call. "We're getting younger."
Yikes.
Remember these names?
Troy Woolfolk: Multiyear starter in the secondary suffered season-ending ankle/foot injury in camp.
Justin Turner: Decorated recruit was granted his release from the team in August.
Vlad Emilien: Young defensive back left the team in September.
Demar Dorsey: The Big Ten's top-rated recruit signed with Michigan in February but was denied admission in June.
Boubacar Cissoko: Blue chip recruit started the first four games in 2009, missed two games because of a suspension, returned for a game and then was dismissed for violating team rules. Cissoko is now in jail serving time for his role in multiple robberies.
Donovan Warren: First-team All-Big Ten selection in 2009 declared for the NFL as a junior but wasn't drafted in April.
Adrian Witty: Signed with Michigan in 2009 but never made it to Ann Arbor because of academic issues.
Michigan's defense has more issues than just one position, but the Wolverines certainly would be better with some of these guys on the field right now.
Rodriguez also said Wednesday that receiver
Martavious Odoms
(foot) and safety Mike Williams (concussions) likely won't return this season. Running back
Fitzgerald Toussaint
(shoulder) will miss Saturday's game.
Not good for a team that desperately needs a win.
August, 18, 2010
8/18/10
12:18
AM ET
If you asked me Tuesday morning to form a short list of players Michigan must have on the field this fall, Troy Woolfolk's name would be right at the top.
Woolfolk isn't Michigan's best player, nor is he the team's most talented. By most measures, he was an average Big Ten cornerback for the half season he spent there in 2009.
[+] Enlarge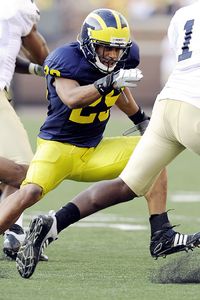 Eric Bronson/Icon SMITroy Woolfolk, who was in line to be Michigan's No. 1 cornerback, reportedly suffered a dislocated ankle and a broken bone in his leg in practice on Tuesday.
But Woolfolk brought leadership and experience to a secondary that severely lacks both. Plus, he eased some concern (not all) at a position that has gone through a major talent drain in the last 10 months.
That's why the news that
Woolfolk reportedly suffered a dislocated ankle and a broken bone in his leg
at Tuesday's practice is so painful for Michigan to endure. Head coach Rich Rodriguez hasn't said much about the situation, only that it was a lower body injury and that Woolfolk went to the hospital from practice.
But Woolfolk's high school coach, Jim Creech, told colleague Joe Schad that "it looks like [Woolfolk will] miss the season." Woolfolk was treated and released from University Hospital on Tuesday night, and his father told multiple media outlets that
a decision on surgery will be made later
.
Woolfolk posted on his
Twitter page
late Tuesday night: "Even though T-Woolf will be absent, Troy will be on sidelines coaching&cheering for Michigan till all air has vacated my lungs." T-Woolf, for those who don't know, is Woolfolk's alter ego.
Fortunately, Woolfolk has a redshirt season and could return in 2011, but his injury leaves Michigan young and thin at cornerback. Considering how well Michigan has recruited the cornerback spot in recent years, it's amazing to think that the program could get to this point.
Remember these guys?
Donovan Warren: First-team All-Big Ten selection in 2009 declared for the NFL as a junior but wasn't drafted in April.

Boubacar Cissoko: Blue chip recruit started the first four games in 2009, missed two games because of a suspension, returned for a game and then was dismissed for violating team rules. In a truly sad story, Cissoko is now in jail serving time for his role in multiple robberies.

Demar Dorsey: The Big Ten's top-rated recruit signed with Michigan in February but was denied admission in June, a decision that didn't sit well with the coaching staff. Dorsey is still waiting to see whether he gets admitted to Louisville.

Adrian Witty: Signed with Michigan in 2009 but never made it to Ann Arbor because of academic issues. He eventually landed at Cincinnati, where he has been impressive in training camp.

J.T. Turner: Decorated recruit was granted his release from the team last week and intends to transfer.
It's quite a list, and Michigan certainly could use the help this fall.
I wonder if Pacman Jones has any eligibility left. Or Charles Woodson.
Michigan feels good about J.T. Floyd at one corner spot, but the other spot is a mystery and the overall depth is very shaky. The Wolverines have been fighting a numbers game on defense since Rodriguez's arrival, and the situation at cornerback has exacerbated the problem.
One thing is clear: youth will be served in 2010, and freshmen like
Cullen Christian
and
Courtney Avery
had better grow up fast.
November, 24, 2009
11/24/09
12:04
PM ET
These links taste like turkey.
September, 7, 2009
9/07/09
1:10
PM ET

Posted by ESPN.com's Adam Rittenberg
Cornerback recruit Adrian Witty
won't be joining Michigan
this season after failing to be cleared by the NCAA clearinghouse.
"It doesn't appear Adrian will make it for this fall," head coach Rich Rodriguez said Monday. "We'll continue to recruit and follow his progress."
Witty attended the same high school as Wolverines freshman quarterback
Denard Robinson
, who dazzled in his debut Saturday. The 6-1 cornerback recently
retook the SAT exam
in hopes of getting cleared to play this fall.
August, 31, 2009
8/31/09
12:30
PM ET
Posted by ESPN.com's Adam Rittenberg
It's game week, and here's a quick look around the league.
August, 13, 2009
8/13/09
8:00
AM ET
Posted by ESPN.com's Adam Rittenberg
Two more players have boarded the transfer train out of Michigan, as linebacker Marell Evans and defensive tackle Vince Helmuth will depart the program and play elsewhere.
Evans, a junior, started one game last fall and appeared in 10 contests but played mainly on special teams. He recorded four tackles in 2008.
"I've had three defensive coordinators in three years and I like the coaches but I'm not sure I fit this system," Evans said. "The coaches didn't understand but I have to do what's best for my future."
The Richmond, Va., native hopes to transfer to an ACC or SEC school.
Helmuth, also a junior, appeared in 14 games at Michigan, mostly on special teams and as a fullback in 2007. He played sparingly last fall.
Though Evans and Helmuth depart, Michigan got some good news as cornerback recruit J.T. Turner has been academically cleared and will practice with the team Thursday. Turner was ranked as the nation's 21st best athlete in the 2009 class by ESPN's Scouts Inc. and could contribute early in his career.
"He wasn't here for summer school so he didn't get as much done as some of the other freshmen, so he's going to be a little bit behind," head coach Rich Rodriguez said. "But he's a skillful guy and with our lack of depth and the needs we have in the secondary, if he can learn quickly he can help us. But I probably won't know that for another week or two."
Michigan is still waiting on the eligibility status of safety recruit Adrian Witty. Rodriguez also could learn Thursday whether Jason Forcier, the one-time Wolverines quarterback and the older brother of freshman signal caller Tate Forcier, will be able to join the team this year.
February, 4, 2009
2/04/09
5:06
PM ET
Posted by ESPN.com's Adam Rittenberg
No two Big Ten teams experienced a more eventful signing day than Illinois and Michigan.
Both programs lost verbal commits and added some key signees. Both addressed some needs and came up short in other areas. There weren't many dull moments for head coaches Ron Zook and Rich Rodriguez and their assistants.
Illinois unveiled its class of 20, which can be found here. The day began with Illinois losing wide receiver commit Kraig Appelton to Wisconsin, but the Illini held on to Appleton's high school teammate, wideout Terry Hawthorne, who could make an immediate impact.
Quarterback Nathan Scheelhaase likely will be Illinois' quarterback of the future, and the team added key pieces on both lines and at defensive back. The ability to lure Justin Green from Ohio State should bolster Illinois' rushing attack and return game. Illinois did lose several commits in recent weeks and won't make the splash it made in 2007, but this seems like a solid class.
Michigan's class of 22 signees can be seen here. Signing day brought more good than bad for the Wolverines, who added quarterback Denard Robinson, wide receiver Je'Rel Stokes and cornerback Adrian Witty. They lost two defensive tackle commits but certainly upgraded the skill positions on both sides of the ball. Defensive end Craig Roh and defensive tackle William Campbell should be immediate contributors on a line that loses three starters. Robinson and Tate Forcier likely will be in the mix for the starting quarterback spot this fall.
Rodriguez's ties to Florida showed up in this class, which features eight players from the Sunshine State.
Here are some notes on Michigan's class from the official release:
(William) Campbell and [J.T.] Turner are the top-rated players in the state of Michigan and Ohio, respectively. This is the first time that the Wolverines had the top-ranked athletes from both states since 2002: Prescott Burgess (Ohio) and LaMarr Woodley (Michigan).

(Tate) Forcier's brother, Jason, played at Michigan during the 2005 and 2006 seasons before transferring to Stanford. Both of Tate's brothers play in the Pac-10: Jason (Stanford) and Chris (UCLA).
Six recruits are ranked among the ESPNU 150: Craig Roh (48), Quinton Washington (82), Isaiah Bell (92), Denard Robinson (102), Tate Forcier (145) and Taylor Lewan (149).
Defensive end Anthony LaLota was the No. 2 prospect in the state of New Jersey.
High school teammates Taylor Lewan and Craig Roh are listed as the fifth- and fourth-ranked players in the state of Arizona, respectively.

Michigan State had fewer surprises today, but Mark Dantonio unveiled a class of 23 that appears to be the program's best crop in recent memory. ESPN's Scouts Inc. ranks the Spartans' class at No. 21 nationally. Among the highlights are running backs Edwin Baker and Larry Caper, tight end Dion Sims and quarterback Andrew Maxwell.
The Spartans went local with 12 in-state players and only two from outside the Big Ten region (Floridians Denzel Drone and Jairus Jones). The class is heavy on offensive linemen (5), linebackers (5) and wide receivers/tight ends (5).
Michigan State's signing list and bios can be found here.
February, 4, 2009
2/04/09
12:16
PM ET
Posted by ESPN.com's Adam Rittenberg
Several significant bits of Big Ten recruiting news broke while I was over at SportsNation chatting away (too many SEC questions for my liking).
As expected, Michigan landed a much needed second quarterback as Denard Robinson of Deerfield Beach, Fla., announced he would play for the Wolverines. Robinson and high school teammate Adrian Witty both pledged to Michigan, continuing the team's late recruiting momentum.
After losing commits Kevin Newsome and Shavodrick Beaver, Michigan needed a second quarterback in this class alongside Tate Forcier. Both Forcier and Robinson will be in the mix for the starting job in spring practice, and both seem to fit head coach Rich Rodriguez's spread offense.
Illinois can breath a sigh of relief after wide receiver Terry Hawthorne of East St. Louis, Ill., sent in his letter of intent this morning. Hawthorne's verbal commitment to the Illini had been questioned in recent days, and the rumors only ramped up this morning after his high school teammate and fellow Illinois commit, wide receiver Kraig Appleton, picked Wisconsin over Illinois.
Hawthorne, ranked as the nation's 10th best wide receiver by Scouts Inc., could step in right away this season.
There is also a report out of Tennessee that top wide receiver prospect Marlon Brown will pick Ohio State this afternoon. Brown would be an excellent addition to a young and talented receiving corps.
Penn State was unable to land top linebacker Jelani Jenkins, who is headed to Florida.
Here is our updated signing list for the Big Ten.
February, 3, 2009
2/03/09
9:00
AM ET
Posted by ESPN.com's Adam Rittenberg
Recruiting has truly become the second season in college football, and it all culminates in less than 24 hours with national signing day.
Want to know where Ohio State's recruiting class stacked up with the best in the country? How did Michigan overcome poor on-field play with excellent recruiting? What does Michigan State's 2009 class mean for the future of Mark Dantonio's program?
Get those answers and much more on ESPNU, which will have nine hours of signing day coverage from 10 a.m.-7 p.m. ET. In addition to expert analysis, there will be live announcements from top recruits making their college choices, including linebacker Jelani Jenkins, who is considering Penn State, and wide receiver Marlon Brown, who is deciding between Ohio State and three SEC programs. Michigan is waiting to hear from high school teammates Denard Robinson and Adrian Witty.
There also will be interviews with coaches and top prospects like Matt Barkley and Russell Shepard.
ESPN2 will broadcast a special hour-long edition of College Football Live at 2 p.m. ET, and I will be chatting about signing day at 11:15 a.m. ET.
January, 30, 2009
1/30/09
11:37
AM ET
Posted by ESPN.com's Adam Rittenberg
When Minnesota head coach Tim Brewster checked into his hotel Tuesday morning in Shreveport, La., the woman working at the front desk spotted the Golden Gophers logo on his shirt and smiled.
"The coach from Michigan just left," she told him.
Both Minneapolis and Ann Arbor, Mich., are located more than 850 miles from Shreveport, making it an odd place for Brewster and one of his Michigan counterparts to cross paths. But these days, Big Ten coaches are just as likely to bump into one another in Shreveport, Atlanta, Fort Lauderdale, Fla. and Houston as they are in Chicago, St. Louis, Pittsburgh and Detroit.
When Purdue head coach Danny Hope called ESPN.com on Wednesday afternoon, he was navigating a road near Bay City, Fla. An hour earlier, Wisconsin defensive line coach Charlie Partridge phoned in from the Fort Lauderdale area.
The Big Ten recruiting range is expanding far beyond the Midwest, and coaches are spending much of their time in the fertile states of the south and southeast.
If one incoming recruit symbolizes the recruiting change in the Big Ten, it's a safety expected to sign Wednesday with Wisconsin.
His name: Dezmen Southward.
His hometown: Fort Lauderdale.
"There's certainly great, great players in the Midwest, but just in terms of numbers, all you have to do is look at Division I signing day and the number of kids who play Division I out of this region here," said Partridge, who has recruited the Florida area for Wisconsin, Pitt and Iowa State, among others. "You can come down and get two to three kids who can have an impact on your program.
"People are recognizing the value of recruiting down here."
January, 28, 2009
1/28/09
1:00
PM ET
Posted by ESPN.com's Adam Rittenberg
Most Big Ten teams have completed the bulk of their 2009 recruiting, and a few squads with smallish classes (Northwestern, Iowa) are essentially finished and looking ahead to 2010.
But national signing day on Wednesday will bring plenty of suspense for one Big Ten program.
Michigan is anxious to learn whether quarterback Denard Robinson and cornerback Adrian Witty, teammates at Deerfield Beach High School in Florida, choose to attend college in Ann Arbor. Robinson and Witty are scheduled to announce their college selections together on signing day.
According to the Detroit Free Press' Josh Helmholdt, Robinson and Witty "are good friends off the field and want to attend the same school together. Only Michigan and Kansas State have offered both. Florida is also a contender for Robinson, but this one looks like it will go in Michigan's favor."
Both Michigan and Illinois also remain in the mix for wide receiver Je'Ron Stokes, a Tennessee commit who appears extremely open to going elsewhere. Georgia is the latest team interested in landing Stokes, who visited Illinois last weekend.
Quarterback and cornerback both are key positions for Michigan heading into the 2009 season. The Wolverines had two quarterbacks decommit (Kevin Newsome and Shavodrick Beaver) and would love to have Robinson compete with Tate Forcier and holdovers Steven Threet and Nick Sheridan for the starting job.
Robinson ranks 102nd overall in the ESPNU 150.
Michigan loses starting corner Morgan Trent and could use another elite prep corner to join Justin Turner in the 2009 class.
BIG TEN SCOREBOARD
Saturday, 12/20
Monday, 12/22
Tuesday, 12/23
Wednesday, 12/24
Friday, 12/26
Saturday, 12/27
Monday, 12/29
Tuesday, 12/30
Wednesday, 12/31
Thursday, 1/1
Friday, 1/2
Saturday, 1/3
Sunday, 1/4
Monday, 1/12
Tweets from https://twitter.com/ESPNCFB/lists/b1g