January, 13, 2014
Jan 13
1:00
PM ET
Doug Nussmeier has worked as a quarterback coach and offensive coordinator with several talented groups and individuals over his career. Generally speaking, the offenses he has worked with have grown during his first season of tutelage.
But even more significant than the offenses, the quarterbacks he has worked with have gotten better in their first seasons with him. There is something to be said for an offseason and another year of growth in an offense for a QB, but with the obvious trend at many schools and programs, there's clearly a Nussmeier-factor as well.
Perhaps this has never been a bigger deal than it will be in the 2014 season at Michigan, where he'll be working with
Devin Gardner
. The Michigan quarterback is coming off a season in which some of the fan base called for him to be pulled. He struggled with his decision-making early in 2013 while working behind an inexperienced offensive line.
But as the season went on and the offensive line evolved, giving him better protection in the pocket, Gardner showed his prowess as a passer, throwing eight touchdown passes and zero interceptions in the final four games of the regular season. During that same time span, he accounted for 971 passing yards and a 61 percent completion rate.
Based on statistics, Gardner's numbers from 2013 aren't that far off from other first-year quarterbacks whom Nussmeier has worked with. Like his previous quarterbacks, Nussmeier plans to help the Michigan signal-callers grow by creating a hyper-competitive environment in practice.
"The biggest thing -- from a quarterback standpoint -- is trying to simulate a game-type environment for them Sunday through Friday," Nussmeier said. "Because when you get on the field on Saturday, things happen fast. And if you're not prepared you can get exposed very quickly. You never want to put a quarterback out on the field who's not prepared and the way you prepare them is trying to simulate, as much as you can, a game day experience Sunday through Friday."
One of the biggest issues Nussmeier must address is Gardner's decision-making and interceptions, both of which plagued him earlier this season.
The only quarterback whose touchdown-to-interception ratio didn't improve in their first season with Nussmeier was Tom Brandstater at Fresno State. Every other QB Nussmeier has worked with has gotten better in that category and it's necessary to note that as time has gotten on, that jump from pre-Nussmeier to the first season under Nussmeier has seen an even bigger growth.
Michigan State quarterback Jeff Smoker threw 13 touchdown passes and 10 interceptions in 2002, the season before Nussmeier joined the Spartans. In 2003, Smoker threw 21 touchdown passes and 14 interceptions. More recently, Alabama quarterback
AJ McCarron
's touchdown-to-interception ratio went from 3.2 to 10 in Nussmeier's first season as McCarron's position coach.
Last season Gardner threw two touchdown passes for every interception, which is actually better than what Smoker did in his first season under Nussmeier and exactly what Jake Locker did in his first season under Nussmeier at Washington. So if Nussmeier was able to help both of those quarterbacks grow in his first season, Gardner is likely to improve.
But Nussmeier knows it's not just going to be what he does with the quarterbacks Sunday through Friday. A big part of what fans see on the field next season, because of time constraints, is what Gardner and the other QBs do on their own time this offseason.
"The biggest thing is the amount of time spent together in that meeting room," Nussmeier said. "I think it's real important at that position that the players possess a quality of self determination, they have to be self starters, they have to be driven, because you have to do more on your own because we just don't have the time that you'd like with the NCAA rules. We'll prepare our quarterback to play and play successfully."
September, 2, 2012
9/02/12
3:20
AM ET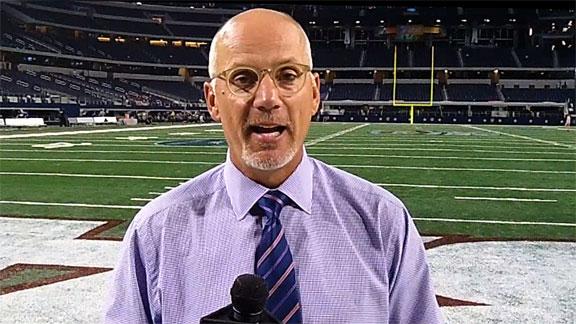 ARLINGTON, Texas. -- Let's pretend for a nanosecond that Michigan really was the No. 8 team in the country, and that
Denard Robinson
really was a Heisman Trophy candidate.
Then what does that say about No. 2 Alabama and the way it plucked the fur out of the Wolverines' season, strand by strand, Saturday evening at Cowboys Stadium? And if you're Western Kentucky, Bama's next opponent, aren't you thinking of calling in sick on Sept. 8?
The Crimson Tide didn't just beat the Wolverines, 41-14, it toyed with them. Embarrassed them. Treated them like an honorary cupcake. You didn't know if it were Michigan or DeVry Institute.
That's what Alabama can do to you. That's what happens when Bama coach Nick Saban has forever to prepare a game plan and a fish net for the previously confounding Robinson. The senior quarterback wasn't invisible, but he was inconsequential.
The Tide played like a team with a chip on its shoulder pads. Better yet, it played like it doesn't want to be a national championship one-and-done.
"We know we can play with anybody," said Bama quarterback
AJ McCarron
.
If Saturday night's game means anything, the Tide can play with and perhaps better than anybody. I'm not saying Saban should begin practicing how to raise a crystal football over his head, but Bama is more than capable of winning a second consecutive national title.
"Everybody's hungry," said senior linebacker
Nico Johnson
. "I think we're more hungry than we were last year coming into the season. We just want to go out and create an identity for this team."
Alabama isn't as good as Michigan made them out to be. But just to be clear: the Tide treated U of M like the Wolverines had insulted Bear Bryant and houndstooth. The rout was complete and indisputable.
For Gene Wojciechowski's full column, click
here
.
September, 1, 2012
9/01/12
11:39
PM ET
The bright lights and the big stage certainly didn't affect the focus of the defending champs, as No. 2 Alabama routed No. 8 Michigan
41-14
on Saturday inside Cowboys Stadium in Arlington, Texas.


Alabama's defense might be younger, but it didn't flinch against Michigan's flashy spread offense. The Tide's defense smothered the Wolverines, holding them to 268 total yards, forcing Michigan to go 3-of-12 on third downs and creating three turnovers.
Alabama's offense was equally impressive. The Tide showed tremendous balance, as quarterback
AJ McCarron
passed for 199 yards and two touchdowns, while true freshman running back
T.J. Yeldon
rushed for 111 yards and one touchdown on 11 carries.
It was over when:
This one got away from Michigan early, but you could really feel this one was officially out of hand after Alabama running back
Eddie Lacy
bullied his way into the end zone for a 9-yard touchdown to make it 21-0 with 1:24 left in the first quarter.
Game ball goes to:
Alabama defensive coordinator Kirby Smart called a near-perfect game against an offense many thought would give the Tide issues. Smart and his players were more than prepared against
Denard Robinson
and that spread. Robinson was all over the place with some of his early passes, and was pressured and contained by Alabama's front seven for most of the night, basically taking him out of the game.
Stat of the game:
Michigan didn't give up more than 40 points in any game last season. The Wolverines surrendered 41 points Saturday night and gave up 31 by halftime.
Unsung hero
: There was a lot of talk about what Alabama's defense would do, especially the secondary. That put a lot on the shoulders of senior cornerback
Dee Milliner
. But he made quite the statement Saturday. He showed lockdown ability, knocked passes away and came away with his own interception. He's certainly the leader of this group.
What it means for Alabama:
People wondered what the defending champs had in the tank with the pieces they lost on defense, and Alabama delivered a monstrous punch. It was only one game and SEC play hasn't started, but Alabama yet again looks very strong on both sides of the ball. That's a scary thought for the rest of the country ... and the SEC.
What it means for Michigan:
This wasn't Robinson's best game, and there were a few plays in the first half that should have been made. But the Wolverines likely won't play a defense as dominating as Alabama's from here on out. The other good news is that suspended
Fitzgerald Toussaint
and defensive end
Frank Clark
will return. This team can still make a run in the Big Ten.
August, 31, 2012
8/31/12
6:00
PM ET
By
ESPN.com staff
| ESPN.com


Michael Rothstein from WolverineNation and Alex Scarborough from TideNation break down what Michigan's defense will try to do to stop AJ McCarron, Eddie Lacy, and the Alabama offense.