May, 21, 2013
5/21/13
10:00
AM ET
Gerad Parker and his fellow Purdue assistants need no tutorial on what the state of Texas means to the Boilers' program.
They get a reminder every time they turn on the television every Sunday during the NFL season. Former Purdue coach Joe Tiller built his program largely on recruiting the Lone Star State, and the centerpiece of Tiller's efforts plays quarterback for the New Orleans Saints.
"We knew from what Coach Tiller was able to do here at Purdue," Parker, Purdue's recruiting coordinator and tight ends coach, recently told ESPN.com. "The players that came out of [Texas], the first one obviously being You Know Who in Mr. [Drew] Brees. Those guys did a good job in Texas."
[+] Enlarge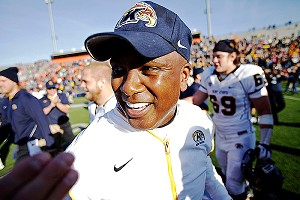 AP Photo/J.D. PooleyNew Purdue coach Darrell Hazell and his staff will be making recruiting talent out of Texas a priority.
Purdue's 2000 team that won the Big Ten and reached the Rose Bowl included 12 Texans on the roster, including Brees, first-team All-Big Ten linebacker Akin Ayodele, linebacker Landon Johnson and safety Ralph Turner. The Boilers currently have five Texans on the roster, including starting defensive end
Ryan Russell
.
Those numbers could increase under the new staff. Although head coach Darrell Hazell and several of his assistants have ties to the East Coast and, of course, to Ohio, Texas will be a priority for Purdue's recruiting in the coming years. Parker had two assistants each spend a week recruiting in Texas during the post-spring evaluation period.
Purdue's lone commitment so far for the 2014 -- wide receiver Trae Hart -- hails from Texas. The Boilers are
pursuing other Texas prospects
like quarterback David Blough, a Carrolton native recently selected for the Elite 11 finals. Blough learned he had made the finals when
Brees tweeted about it
.
"Texas is another state that has great football, great tradition, those kids grow up playing, they're well-coached" Parker said. "So we wanted to get back and put our feet in the ground and obviously get some kids from that area."
Purdue's previous coaching staff didn't hide its preference for Florida recruits, and there are 19 Floridians on the current roster and five in the incoming recruiting class. Although the team's recruiting map will spread out a little more under Hazell and his assistants, they aren't going to neglect the Sunshine State.
Three of Hazell's assistants -- offensive line coach Jim Bridge, defensive line coach Rubin Carter and secondary coach Jon Heacock -- all have recruited Florida for years and will continue to do so.
"We've got Florida still covered, there's no question about it," Parker said. "With the players we have currently, who are all pretty good players, we want to keep that tradition alive, and the only way you do that is continue to sign kids from that area."
May, 7, 2013
5/07/13
3:00
PM ET
WEST LAFAYETTE, Ind. -- Purdue's reputation for producing great quarterbacks is recognized throughout college football, as names like Brees, Griese, Herrmann, Dawson and Everett are linked to the program.
But there's another position where Purdue has put together a similar track record of excellence: defensive end. The Boilers' D-end tradition isn't as well-known as its quarterback heritage, but consider the names who have come through the program in the past two decades: Roosevelt Colvin, Chike Okeafor, Akin Ayodele, Shaun Phillips, Ray Edwards, Rob Ninkovich, Cliff Avril, Anthony Spencer and Ryan Kerrigan, the 2010 Big Ten Defensive Player of the Year and a unanimous All-American.
All nine players went on to the NFL, and several like Kerrigan and Spencer are in starring roles. Purdue has called itself the Cradle of Quarterbacks for years. It now also uses the label
Den of Defensive Ends
.
Boilers junior defensive end
Ryan Russell
needs no education on the subject.
[+] Enlarge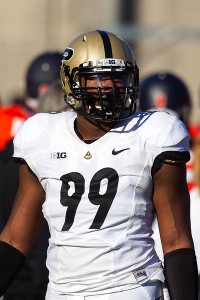 AP Photo/Damen Jackson via Triple Play New MediaRyan Russell hopes to be next in the long line of disruptive defensive linemen developed at Purdue.
"Very aware," Russell told ESPN.com. "A lot of those guys come back, Roosevelt Colvin, I had a chance to talk to Cliff Avril when we went to the Little Caesars [Pizza] Bowl in Detroit. I knew Ryan Kerrigan and he came back and talked to us.
"It's a big tradition, and I'm hoping definitely to uphold it."
After losing defensive tackle Kawann Short, a second-round pick in last month's NFL draft, Purdue is looking for the next star to emerge along a line that underperformed in 2012. The Boilers finished 78th nationally in both rush yards allowed (182.3 YPG) and sacks recorded (1.69 per game).
Along with veteran defensive tackle
Bruce Gaston
, Russell is viewed as a potential major contributor up front this fall. The 6-foot-5, 275-pound junior will enter his third season as a starter and his first under Purdue's new coaching staff. After recording 33 tackles and making 11 starts as a redshirt freshman in 2011, Russell had 37 tackles, including 8.5 for loss and four sacks, last season.
"He's got a power-to-speed ratio that's good for him to be a factor," defensive coordinator Greg Hudson said. "He can play the run, but he's got that end build and speed where he can also affect the passer.
"He's got that prototype look and ability."
Russell might look the part, but like many of his teammates, he needs to get stronger. His speed and lower-body strength are in good shape, and he has fully recovered from knee and ankle injuries, but his upper body "isn't really where I would like it to be."
After practicing alongside Kerrigan as a true freshman in 2010, Russell understands the gains he needs to make.
"Ryan Kerrigan was one of the strongest people I've ever met," Russell said, "so when that's the standard with the Big Ten, Purdue defensive linemen and defensive ends, we definitely and myself personally have a long way to go."
Kerrigan led the country in tackles for loss (26) in 2010, finished third in sacks (12.5) and tied for second in forced fumbles (5). Russell observed firsthand the relentless motor that drove the Boilers' star.
When one pass-rush move didn't work, Kerrigan would simply move to the next and the next until the whistle blew.
"Pass-rushing a lot of the time is a mentality, going 110 percent, outworking somebody all the time, every play," Russell said. "[Defensive line coach Rubin Carter] always says, 'If you're not going to make the play, they will.' So just always having that mentality that you're going to get there is a big thing.
"Your get-off and your motor is the engine that runs the train."
Russell is taking well to the new staff, the faster practice pace and the new defensive scheme under Hudson. He has worked extensively with Carter, a former longtime NFL assistant, on using his hands more effectively to fend off offensive linemen.
Hudson, who last season had a front-row seat for one of the nation's best defensive lines as a Florida State defensive assistant, shapes his system around Russell and the other down linemen.
"We will do things to turn him loose," Hudson said. "We cater to the D-line. We're going to make sure they know what's going on, there's no confusion and they're happy. And when the ball's snapped, we say, 'Take off, break off.'
"That's what we want them to do."
Russell continues to follow Kerrigan with the Washington Redskins, and he also studies the other Purdue greats he has met like Avril (Seattle Seahawks), Ninkovich (New England Patriots) and Spencer (Dallas Cowboys).
"You have a common ground," Russell said. "They started the same place you started, and what they're doing is the goal, so you're trying to see what they're doing to get to the goal you all share."
August, 11, 2010
8/11/10
10:00
AM ET
Purdue's recent struggles in defending the run just don't add up.
The Boilers have had their share of outstanding defenders the last two seasons, particularly in the front seven. Remember these names?
All-Big Ten end Ryan Kerrigan has recorded 20 sacks, 30 tackles for loss and nine forced fumbles in the last pwo seasons.
Tackle Mike Neal recorded 11.5 tackles for loss and 5.5 sacks last fall before becoming a second-round pick in the NFL draft by the Green Bay Packers.
Linebacker Jason Werner racked up 14.5 tackles for loss, 4.5 sacks and two forced fumbles last fall.
Safety Torri Williams recorded 167 tackles in his final two seasons as a Boilermaker.
Tackle Alex Magee was a third-round draft pick of the Kansas City Chiefs after finishing his Purdue career in 2008.
Another lineman who played in 2008, Ryan Baker, is now with the Miami Dolphins.
With so many individual standouts, how has Purdue finished last in the Big Ten in rushing defense in each of the past two seasons?
"It's everybody against the run," co-defensive coordinator/defensive line coach Gary Emanuel told me Tuesday night. "It's not just the front seven, it's not just the back end. It's everybody, together."
Purdue has struggled to find that cohesion on a consistent basis. Gaps haven't always been controlled. The line hasn't always fit where it's supposed to. And when opposing ball-carriers break through the first wall of defenders, tackles haven't always been made.
Enter Emanuel, a seasoned defensive line coach whose extensive résumé includes a previous stint at Purdue from 1997-2004. He worked alongside current Boilers head coach Danny Hope from 1997-2001 and mentored standout linemen like Anthony Spencer, Shaun Phillips and Akin Ayodele.
When Emanuel returned to West Lafayette, he saw a defense that had the parts but didn't always play well as a whole.
The best news?
"The biggest thing is we don't have guys with a bunch of egos," Emanuel said.
Kerrigan sets the tone for the group. He's one of the nation's best pass rushers, but you'd never guess it if you met him off the field.
Emanuel sees similarities between Kerrigan and the other stars he has coached, including Spencer, Phillips and former Boiler Rob Ninkovich.
"They loved football, they didn't have egos, they loved practicing, they loved to play, they were interested in learning and they wanted to be good," Emanuel said. "He's [Kerrigan] probably one of the more coachable big-time players I've been around. He has no ego at all."
Kerrigan and junior end Gerald Gooden have taken charge of the group, but Emanuel also likes his young linemen like Kawann Short, Brandon Taylor, Justin Kitchens and Bruce Gaston, a true freshman who should see the field this fall. He hopes the sum of the parts finally stuffs the run in 2010.
"You have to do some scheming, but it's basically fundamentals: emphasize tackling a little bit more, having a system of tackling, having a team that runs to the ball, emphasizing 11 hats to the ball," Emanuel said of his preseason plan. "It's a work in progress.
"It's not going to be fixed overnight, but it has to be."