February, 24, 2015
Feb 24
9:00
AM ET
Spring football starts Tuesday at Michigan, where temperatures are forecast to dip below zero each of the next three nights.
Why do I feel like everyone on Twitter is talking to Jim Harbaugh these days?
What do you call 65 degrees & sunshine in February at Stanford? Average. First day of #StanfordSpringBall! pic.twitter.com/Ix6AIFV49M

— Mike Eubanks (@maeubanks) February 24, 2015
The Wolverines will be warm and cozy at practice inside Al Glick Field House. Northwestern also starts this week. Maryland, Minnesota and Nebraska open drills next week, which makes now as good a time as any to review staff openings around the Big Ten.
Presumably, all 14 programs will get back to full strength for spring practice. For now, three teams remain down a man.
Since we last took a divisional look at offseason changes in the
East
and the
West
, Nebraska and Wisconsin lost assistant coaches. Brian Stewart left Maryland as defensive coordinator to take the opening at Nebraska.
And Purdue hired Terry Malone over the weekend to coach tight ends.
Malone made it to a
6 a.m. workout
Monday with the Boilermakers.
He is an intriguing hire for Purdue. Most recently the tight ends coach of the New Orleans Saints, where he was instrumental in the development of 2013 first-team All-Pro pick Jimmy Graham, Malone coordinated Michigan's offense from 2002-05 and also worked under Lloyd Carr as offensive line coach.
Michigan won five league crowns in Malone's nine seasons. He brings an NFL pedigree and a history of success in the Big Ten. Pretty good place to start for the Boilermakers, who have won one Big Ten game in two seasons under coach Darrell Hazell.
The imminent Stewart hire at Nebraska, to replace Charlton Warren as secondary coach, also makes sense for Mike Riley, who generally picks coaches that he or his assistants know. Stewart served a solid stint in 2007-08 with the Dallas Cowboys as defensive coordinator. Also on that Dallas staff was Bruce Read, Nebraska's special teams coach and a longtime Riley assistant.
Stewart is a San Diego native and coached the secondary for the Chargers before his stint in Dallas; Riley, former head coach of the Chargers, and his staff have numerous San Diego ties.
Of little relevance, Stewart, as the Cowboys coordinator, succeeded Mike Zimmer, who -- after the 2003 season -- interviewed for the Nebraska head-coaching job. It went to Bill Callahan, who spent 2012-14 with the Cowboys.
And of minor relevance, Stewart would be the only full-time member of the Nebraska staff to coach a game at Memorial Stadium. He spent three seasons at Missouri, losing to the Huskers in 1996 and 2000 in Lincoln and in 1999 at Mizzou.
Here's a rundown of the programs with open positions:
Illinois still has an opening after the January firing of two assistant coaches. The spot yet to be filled was vacated by special teams coach Tim Salem, though coach Tim Beckman might hire for a different position. Beckman said recently that he had interviewed internal candidates and likely would assign Alex Golesh, the Fighting Illini recruiting coordinator who worked last season with running backs and tight ends, to handle a heavy load on special teams next season.


Maryland needs an assistant to replace Stewart. Inside linebackers coach Keith Dudzinski was promoted to defensive coordinator.


Wisconsin must hire a running backs coach to replace Thomas Brown, who left for alma mater, Georgia. John Settle, who coached the position for the Badgers from 2006-10 and for Wisconsin coach Paul Chryst at Pittsburgh last season, has been mentioned in reports as a candidate.

Let's get to the links
:
February, 20, 2015
Feb 20
3:00
PM ET
The end has arrived in our weeklong
snapshot look at every Big Ten program
. For the past week, we've examined the coaching, win-loss trends, personnel, and recruiting of every team in the league.
The last school up is Illinois.
2014 record:
6-7 (3-5 Big Ten, fifth in West Division)
Three-year record:
12-25
Coaching situation:
Coach Tim Beckman, in his third season last fall after presiding over a nice turnaround at Toledo, appeared in a tenuous November spot before the Illini beat Penn State and Northwestern to gain bowl eligibility for the first time since 2011 under Ron Zook. The school rewarded Beckman with a contract extension, and he followed by retooling the defensive staff with the hire of Mike Phair as co-coordinator from the Tampa Bay Bucs. Offensively, Bill Cubit has earned respect as an offensive innovator. Beckman remains in search of a tight ends coach to replace Tim Salem.
Roster situation:
There are bright spots, but not enough to turn in Illinois into an overnight contender in the weaker of the Big Ten divisions. Start at receiver, where
Mike Dudek
returns after an excellent freshman season alongside
Geronimo Allison
and
Malik Turner
. Quarterback
Wes Lunt
, whose first season at the helm was disrupted by injuries then ineffectiveness, will be counted on for production in 2015, as will multi-talented back
Josh Ferguson
. Defensively, the Illini lose key players at every level in safety
Zane Petty
, linebacker
Earnest Thomas II
, and nose tackle
Austin Teitsma
. But linebacker
Mason Monheim
is back with All-Big Ten potential to lead a solid core that includes defensive end
Jihad Ward
,
T.J. Neal
at middle linebacker, cornerback
V'Angelo Bentley
, and safety
Taylor Barton
to anchor the back.
Recruiting situation:
The Illini were excited with the results this year, despite a class ranking of No. 64 nationally that ranked last in the Big Ten. To suggest that Illinois' recruiting is in poor shape, though, is not an accurate indication of the work accomplished by Alex Golesh in coordinating the Illini efforts. Illinois added nine early enrollees and scored big by keeping home ESPN 300 offensive tackle
Gabe Megginson
, who turned down the likes of Michigan State and Nebraska. But he was the only player in state's top 12 this year signed by Illinois. That must improve. Quarterback
Jimmy Fitzgerald
, homegrown in Champaign, stands tall in the pocket, and the Illini hit important areas in California, Texas, Florida and Georgia. A year ago, its 66th-ranked class included Ward out of junior college and all three top returning receivers.
Trajectory:
After the Heart of Dallas Bowl loss to Louisiana Tech, in which the Illini were outplayed from the start, a sense exists that Beckman has reached a crossroads. The Illini have improved from two wins to four to six under Beckman, and won three times as many league games last season as in his first two seasons. Illinois beat Minnesota last season and played Wisconsin close on the road, but it lost to Purdue in Champaign -- the Boilermakers' only Big Ten win of the past two seasons. Fact is, though, the two November wins might have saved Beckman's job. He's yet to produce a winning mark after Ron Zook was fired for getting there three times in seven seasons, including a Rose Bowl appearance.
Six junior-college transfers are set compete for jobs, an illustration of the urgency in place. So does Illinois sink from here or rise to challenge the top group in the West? It gets Wisconsin and Nebraska at home next season after a manageable non-conference slate that includes a winnable game at North Carolina. To push the needle up, the Illini need more cohesiveness on defense and leadership from Lunt.
August, 15, 2014
8/15/14
1:00
PM ET
Illinois isn't trying to be Kansas State. The Illini would love to replicate K-State's on-field results, but their recent influx of junior college players isn't an effort to model what Bill Snyder has done in the Little Apple.
It boils down to basic math and basic needs.
"We needed depth, man," coach Tim Beckman told ESPN.com. "We just needed a bunch of depth."
[+] Enlarge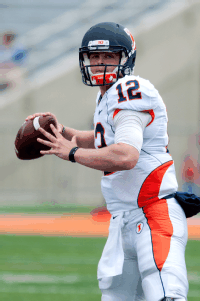 Bradley Leeb/USA TODAY SportsIllinois quarterback Wes Lunt isn't lacking major college football experience.
Illinois brought in six junior college players in 2013 and six more for the 2014 season. Add in quarterback
Wes Lunt
, who transferred from a four-year school (Oklahoma State) and will be eligible to play this fall, and the depth chart is filled with transfers in key roles. There are some non-transfer standouts, such as running back
Josh Ferguson
, but if you're studying up on the 2014 Illini, get to know the jucos -- wide receiver
Geronimo Allison
and defensive linemen
Jihad Ward
and
Carroll Phillips
, among others.
The program-building model isn't ideal, but if the transfers pan out, Illinois could get the bowl boost it sorely needs.
"Some people who feel like, 'We're building a program, we've got five, six years to do this,' they may not go that junior college route," said Alex Golesh, Illinois tight ends and running backs coach, and the team's recruiting coordinator. "We felt, 'Hey, we've got to get this thing going right now,' and this was our answer."
Beckman first realized the depth desperation after his first season, when the team reconvened for practice in March 2013. He and his staff had inherited a large senior class in 2012, but the subsequent two classes had atrophied. There were only about a dozen players left in each.
The coaches had a choice: start a bunch of freshmen and sophomores or look for immediate help elsewhere.
"You want to know how bad the number situation was here?" Beckman asked. "We didn't have enough defensive backs to be two deep."
So they picked up
Zane Petty
, a junior college safety from California who made seven starts last season. They added another California juco,
Eric Finney
, to play the Star position (safety/outside linebacker), and
Martize Barr
, a former New Mexico receiver/safety who landed at Iowa Western Community College. Barr originally was pegged for the secondary but moved to wide receiver.
The wide receiver and defensive line groups Illinois trots out this fall will reflect the junior college push. Barr and Allison should start, and
Tyrin Stone-Davis
, a Philadelphia native who played juco ball in California, will be in the rotation. The 6-foot-6, 295-pound Ward is expected to be a major contributor on the defensive line, along with Phillips at the Leo (rush end) and
Joe Fotu
and
Abe Cajuste
.
"This defensive line is like a different group," Golesh said. "Talk about dudes that look like they're supposed to look like and play like they're supposed to play."
Junior college recruiting isn't nearly as common in the Big Ten as it is in other leagues, but things are shifting. Teams that never used to bring in jucos, such as Wisconsin and Penn State, suddenly have a few on the roster.
Before initiating the push, Beckman consulted with Illinois' admissions office to gauge who could get into school. The coaches received transcripts from about 120 players, and the university identified who could make it academically. Only 25 to 30 players received the green light.
[+] Enlarge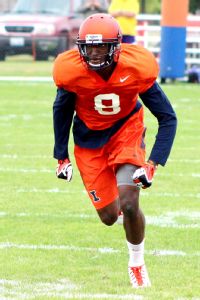 Courtesy University of Illinois AthleticsReceiver Geronimo Allison is one of 12 junior college players to transfer to Illinois in the past two seasons.
Golesh pinpointed which junior colleges had strong enough academic reputations and curriculums. Illinois almost only recruits junior colleges in California, Iowa (particularly Iowa Western in Council Bluffs, which regularly sends players to FBS programs) and a handful in state and in the Northeast.
The approach reduces the risk often attached to junior college players.
"We're recruiting a high-academic, junior college kid," Golesh said. "Those kids who are right on the border, we're not recruiting them because we can't get them in school. So there's one of your red flags that you cross off."
As Golesh dove deeper into junior college recruiting, he realized something else. Like Bill Snyder says about juco players:
The perception out there is something went wrong in his high school career. Young people are young people. What's the quality of their character?
"You go recruit the California junior colleges and it's amazing how many high school qualifiers are out there that were just overlooked because there are so many kids and the state is so big," Golesh said. "The misconception is the kid committed a crime or didn't qualify out of high school. That's not the case anymore."
Ward didn't qualify academically coming out of high school in Philadelphia, so he spent two years at Globe Institute of Technology, a junior college in New York. He connected with Illinois offensive coordinator Bill Cubit, a fellow Philly native, and signed with Illinois in February.
"For two years, I've been grinding," Ward said. "I always think the time is now. A lot of juco players, they're hungry. If you're not hungry, then I don't know what to say. We come here to eat."
Jucos arrive with ticking clocks, and Illinois coaches see the urgency in practice. Another benefit, according to Golesh, is how they push older players expecting to inherit, not earn, starting jobs.
The integration with the non-transfers seems to be going smoothly, too. Ward calls his new teammates "brothers for life."
"It's not a two-year thing," he added.
One challenge is leadership, especially for transfers in command positions. Like Ward, Lunt has blended well with his teammates since transferring from Oklahoma State.
But leading them "is a little harder," he said.
"To be a leader that everyone looks up to, you have to get on the field and play," Lunt said. "That's a big part of it."
Plenty of Illinois' transfers will play significant roles this fall on both sides of the ball. Asked how much Illinois will rely on the imports, Golesh replied, "A ton."
It won't always be this way. Beckman anticipates only one more year of heavy juco recruiting before Illinois will have the numbers it needs.
But to secure his future after two bowl-less seasons, Beckman needs the transfers to step up right now.
"They've come in ready to play, ready to try to give us some immediate impact," he said. "They've been unbelievable."
June, 3, 2013
6/03/13
12:00
PM ET
I'm a curious child with a full head of hair and a thriving business.
June, 27, 2012
6/27/12
4:00
PM ET
The book on Ron Zook when he got to Illinois read like this: phenomenal recruiter, average coach.
The description didn't change much
when Illinois canned Zook in November
following seven seasons. Zook signed several nationally elite recruiting classes, including the 2007 crop (headlined by Arrelious Benn and Martez Wilson), and he continued to recruit well until the on-field results took a dive. Illinois' recent NFL draft success -- the Illini have produced five first-round picks since 2008, more than any other Big Ten team during the span -- underscores the fact that Zook and his assistants knew where to find talent.

Tim Beckman arrived in Champaign with a similar recruiting profile to Zook's. He was known for his recruiting efforts at previous stops. Although the class Illinois signed in February didn't earn high marks regionally or nationally, it didn't seem fair to judge Beckman until he had more time to put his stamp on a class.
So far, the new coach is delivering.
Illinois has added four recruits in the past week as defensive end
Dawuane Smoot
gave
his pledge on Tuesday night
. The Illini already have 14 players committed for the 2013 class, the third highest total in the Big Ten behind national leader Michigan (22) and Iowa (15), which also has surged in recent days.
According to ESPN Recruiting, the Illini have two four-star recruits -- quarterback
Aaron Bailey
and cornerback
Darius Mosely
-- along with 10 three-star prospects.
I reached out to Jared Shanker,
ESPN's Midwest Recruiting Coordinator
, for some thoughts on the Illini's early recruiting success under Beckman.
"That is a little surprising," Shanker writes in an email. "For some, Illinois was their biggest offer at the time and they jumped on it, but the Illini have beat out some very good programs for a number of their commitments. Aaron Bailey was also high on Nebraska and Wisconsin, and Darius Mosely is a four-star corner who had offers from several BCS programs. The two four-star commits already on board is already half the number Illinois had in the previous three classes when they picked up only four.
"As for the three-star guys,
Jarrod Clements
was one of the top defensive line performers at the Columbus NFTC;
Caleb Day
is a versatile athlete the previous Ohio State staff was high on; and
Kenton Gibbs
was very good this spring competing at a few camps."
Beckman, who came to Illinois from Toledo and grew up in Berea, Ohio, not surprisingly has made his home state an emphasis in recruiting. Six Illini commits hail from Ohio.
"Beckman had a reputation for not being scared to compete with the BCS programs for recruits despite being at a MAC school," Shanker writes. "That mentality is going to serve him well at Illinois as the Illini are often considered a team in the bottom half of the Big Ten. A lot of the credit goes to recruiting coordinator Alex Golesh, who really worked the Ohio area hard."
Shanker added that while Illinois' class is shaping up well, the true test will be how well the staff scouted prospects who didn't receive much interest from the rest of the Big Ten. That's where the development component comes in.
"It won't matter who else offered them if they turn out to be as good as the Illini staff believes they are," Shanker writes, "and that is really all that matters."
January, 19, 2012
1/19/12
5:00
PM ET
The Big Ten had three head-coaching changes in recent weeks, and new leading men have stepped in at Ohio State, Illinois and Penn State. We will be sharing our thoughts on the three new coaching staffs as they become complete. First up is Illinois, as head coach Tim Beckman finalized his staff earlier this week with the
hiring of Tim Banks as defensive coordinator
.
Here's the new Illinois staff:
[+] Enlarge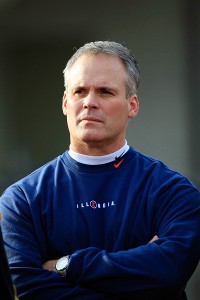 AP Photo/Marcio Jose SanchezNew Illinois coach Tim Beckman has high expectations for his team as it begins spring practices.
Tim Beckman -- head coach
Tim Banks -- defensive coordinator/safeties
Billy Gonzales -- co-offensive coordinator/receivers
Chris Beatty -- co-offensive coordinator/quarterbacks
Luke Butkus -- offensive line
Steve Clinkscale -- cornerbacks
Keith Gilmore -- defensive line
Alex Golesh -- tight ends/specialists/recruiting coordinator
Tim Salem -- running backs/special teams coordinator
Mike Ward -- linebackers
So
Today's Take Two topic is:
How did Beckman fare in putting together his staff at Illinois?
Take 1: Adam Rittenberg
There were a few bumps along the way, namely Jon Tenuta's hiring as defensive coordinator and subsequent change of heart, but Beckman eventually got his staff in place. The youth of the staff certainly stands out, as six of the nine assistants are 40 years old or younger. This certainly could help Illinois on the recruiting trail, and by all accounts Beckman has added some strong recruiters to the mix. He made a good move in retaining Gilmore, who helped defensive linemen Corey Liuget and Whitney Mercilus become stars the past two seasons. Banks also comes in with a strong background, especially after helping the Cincinnati defense lead the nation in tackles for loss and rank second in sacks during the 2011 season. Although Mercilus departs, Banks inherits talented defenders like linebacker Jonathan Brown who can pressure the quarterback. This isn't the most experienced offensive staff, and it will be interesting to see how Gonzales and Beatty fare as co-coordinators. Illinois' offense fell apart late in the 2011 season, and the coaches need to get quarterback Nathan Scheelhaase and others back on track. Butkus is a former Illinois player with a famous name, but he'll be taking on a key position group by himself for the first time in his career. Salem is certainly the veteran on the offensive side, and he looks like a strong addition to help the running backs and also Illinois' special teams, which really struggled in 2011. I felt defensive coordinator would be Beckman's most important hire after Illinois lost Vic Koenning to North Carolina. Banks looks like be a strong addition. I'm really interested to see if the offensive staff can prove itself in Year 1.
Take 2: Brian Bennett
Youth is definitely the buzzword on this staff. Banks and Beatty are in their late 30s, Gonzales is 40
,
Butkus is 32 and Golesh graduated from Ohio State less than six years ago.
They should be able to relate to the Illinois players and fare well on the recruiting trail. They should also bring a lot of energy, something that will be needed to keep up with the naturally caffeinated Beckman. While many of the assistants are young, they have some intriguing résumés. Gonzales worked for Urban Meyer at Florida and was part of two national title teams and nearly won another one this year at LSU. I know Beatty from my old beat on the Big East, and West Virginia people thought he was a promising up-and-coming young coach. Neither has called plays at the FBS level and will be asked to run Beckman's spread offense; even though Beckman has a defensive background, I'd expect him to be highly involved in the offense. Banks was a nice hire after turning around Cincinnati's defense in 2011. A lot of these assistants will have to prove themselves in some ways, whether it's in a new role or against tougher competition. Few seem to have strong connections or history in recruiting the state of Illinois, which will be a key for the program's long-term success. Beckman might not have brought in a lot of high-profile names, but a young, hungry staff might be just the thing to help him move the Illini forward.
December, 20, 2011
12/20/11
1:59
PM ET
New Illinois coach Tim Beckman has announced the addition of two assistants to his staff, and he's very familiar with both of them.

Alex Golesh and Mike Ward were both on the Toledo staff under Beckman, with Ward serving as assistant head coach and co-defensive coordinator and Golesh working with the tight ends coach as well as being the team's recruiting coordinator. Ward is not expected to be the Illini defensive coordinator, while Golesh should continue his role as recruiting coordinator for Beckman.

Beckman said he has filled out most of his staff already but won't announce it until all of the coaches he is hiring are done with their bowl games. Ward and Golesh won't coach in Toledo's Dec. 28 Military Bowl game against Air Force.

Beckman told ESPN.com on Monday night that Wyoming assistant and former Bowling Green coach Gregg Brandon will not be joining his staff, as had been rumored.