May, 25, 2010
5/25/10
4:00
PM ET
Michigan doesn't know if Rich Rodriguez is the right coach to restore its football program to national prominence.
More than enough evidence has surfaced in the past two plus years to create reasonable doubt.
There's no such doubt about the man Michigan has chosen to lead its athletic department. Dave Brandon is quickly proving himself as a shrewd and capable athletic director.
Brandon has been the lone bright spot for Michigan fans during an otherwise murky period for the athletic department and specifically the football program. He walked into this job and immediately faced a major obstacle, as the NCAA prepared to reveal the findings of its investigation into Rodriguez's program. And thus far, he has handled things in a thorough, professional, confident and authoritative manner, not looking like a guy who was running a pizza company six months ago.
His job title no longer reads CEO, but Brandon is still acting like one.
In February, Brandon took the lead in responding to the NCAA's Notice of Allegations, doing so before he had even officially started his new job (March 8). He spearheaded Michigan's response to the NCAA, which was sent Monday and
revealed publicly earlier Tuesday
.
Throughout the process, Brandon acknowledged mistakes and assigned blame, but he hasn't thrown anyone under the bus (aside from fired graduate assistant Alex Herron, sort of). He hasn't made this a Rodriguez issue and has gone out of his way to point out missteps by those who arrived at Michigan long before Rodriguez. He acknowledged that these are major violations but provided enough evidence for folks not to get too caught up in the word "major."
Asked earlier today who is ultimately to blame for the violations, Brandon replied, "I am. The reality is we had failures across the athletic department and I take full responsibility."
It's pretty hard to blame the guy who wasn't on the job when this stuff happened, but Brandon doesn't leave you with other choices. He's in total control.
Brandon's decision to be transparent with the NCAA situation is refreshing and, quite frankly, very un-Michigan-like. If you want to know how the school or its coach responded to the NCAA, it's all
right there for you
.
This won't be Brandon's only test as Michigan's AD. Heck, the NCAA could deem Tuesday's response too light and a little arrogant, and drop the hammer on Big Blue in August. And if the football team continues to struggle on the field this fall, Brandon will face constant questions about Rodriguez's job security.
But first impressions are important, especially for those in leadership positions. We want to see how these folks conduct themselves and handle challenges.
It's safe to say Brandon passed his first test.
May, 25, 2010
5/25/10
1:00
PM ET
Michigan athletic director Dave Brandon and head coach Rich Rodriguez addressed
their responses to the NCAA
with the media earlier Tuesday.
Both Brandon and Rodriguez reiterated much of what we saw in the reports, but several things stood out:
Brandon remains firmly in Rodriguez's corner, at least right now. If Michigan fires Rodriguez at any point in the near future, it won't be because of these violations. Like I've said from the beginning, Rodriguez's fate ultimately will be tied to wins and losses. The only "cause" for his dismissal will be losing more games. "These are major violations, we understand that," Brandon said. "They could be interpreted to trigger a dismissal cause in the coach's contract. We do not deem that appropriate in this situation."
Former graduate assistant Alex Herron is the only individual paying a major price in this investigation, as he was fired after Michigan received the NCAA's Notice of Allegations. Brandon said that beyond a letter of reprimand that will "memorialize" the mistakes made during the last two years, the seven individuals identified in Michigan's report, including Rodriguez, face no further discipline. "There were failures along the chain of command," Brandon said. "If there was one single person to be blamed for this, we'd be doing it. The blame spans a number of different areas and entities both in the football program and across the athletic department overall."
Brandon spent much of today's media session deflecting blame from Rodriguez, even taking ultimate responsibility for the situation himself even though he wasn't on the job when the violations took place. He also again pointed to mistakes from longtime Michigan staffers, trying to say this wasn't a Rodriguez problem, but a departmental problem. Although Brandon admitted that a new coaching staff probably didn't help matters, he added, "Most of the people involved in the administrative handling of this are people who have been around for a long time."
Both Brandon and Rodriguez once again walked a fine line regarding the violations themselves. They acknowledged that the violations were major but didn't meet the standard for loss of institutional control. Brandon also went out of his way to stress that he didn't believe the violations provided any sort of competitive advantage for Michigan (he could have cited Rodriguez's 8-16 record, too). Why didn't Michigan penalize itself with scholarship losses, loss of coaches or loss of postseason privileges? Because its crimes didn't fit the punishments.
Will the NCAA agree with Michigan's self-imposed penalties? No one knows yet, but Brandon sounds pretty confident, especially after enlisting experts to help with the response, including former Committee on Infractions chairman Gene Marsh. "The NCAA has the ultimate authority here," Brandon said. "We'll take our case to those folks and ultimately they will decide whether our self-imposed sanctions are appropriate or not."
Rodriguez doesn't think the NCAA situation will affect the team as it prepares for the season, even though he'll need to leave during preseason camp to attend the Committee on Infractions hearings Aug. 13-14 in Seattle. "It's going to be a relief to get this process over with," he said, "but I don't think anything will distract our guys."
Brandon strongly supported Rodriguez when it came to his dealings with Michigan's compliance department. "Our compliance group talks about this coach as being as open and as transparent as anyone they've ever worked with," Brandon said. "There was absolutely no intent by this coach or any of his assistant coaches to hide anything from compliance. We disagree, I disagree, that Rich failed to provide an atmosphere of compliance. Rich has a history of following the rules." Those are significant words, especially given the NCAA's recent examination of Rodriguez's tenure at West Virginia. Brandon added that compliance issues no longer will be handled by "people at the lower end of the communication chain." These are matters for senior-level staff, and both he and Rodriguez are having a lot of meetings with compliance going forward.
Remember Rodriguez's emotional news conference Aug. 31 in the wake of the media reports detailing the allegations from current and former players? He was most upset by the claim that the football staff neglected the welfare of their players. Michigan's response to the NCAA shows no wrongdoing in this area. "Our student-athletes never felt that there were any issues at all with their welfare," Rodriguez said, "and there never will be."
The last word, from Brandon: "There's nothing good about the word investigations, there's nothing good about the word violations, there's nothing good about the word probation. This is an unfortunate situation. But our history and our tradition and our value system is out there for the world to see. We'll let our brand and our integrity and our merit stand on our beliefs. We're accountable, and we're doing something about it."
May, 25, 2010
5/25/10
7:25
AM ET
Michigan begins its official response to the NCAA's Notice of Allegations with a sobering statement.
The University of Michigan ("the University"), which fielded its first football team in 1878, has won more football games than any institution, all without a major infractions case. After more than 130 years, the University's football program is before the Committee on Infractions for the first time. The University admits the violations in fact occurred. The University is disappointed that its history of no major infractions cases in its football program has ended.
It can't be easy for Michigan fans or anyone associated with the football program to read those words.
[+] Enlarge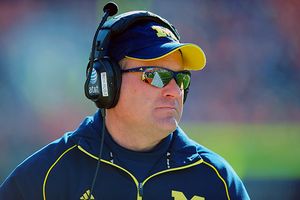 Andrew Weber/US PresswireRich Rodriguez's program will forfeit 130 hours of practice time during the next two years.
In its response, Michigan admits that four of the
NCAA's five allegations
against the program are true, including the "failure to adequately monitor its football program to ensure compliance" regarding the number, duties and activities of countable football coaches as well as time limits for CARA (countable athletically related activities).
While much of the language in the response is harsh, the self-imposed penalties aren't too severe.
Michigan reduced its quality staff by 40 percent -- from five to three -- and will prohibit it from attending practices, games or meetings for the rest of 2010. Despite a new NCAA rule that allows quality control staff to attend meetings, Michigan won't allow this to happen until 2011.

The football program will forfeit 130 hours of practice time during the next two years. The university found that the football program exceeded limits on football activities by a total of 65 hours in 2008 and 2009, so it simply doubled the total for its self-imposed penalty.

Michigan will issue letters of reprimand to seven people it deems responsible for the violations: Mike Barwis, Scott Draper, Brad Labadie, Joe Parker (senior associate athletic director, development/corporate relations), Rich Rodriguez, Judy Van Horn and Ann Vollano (assistant athletic director for compliance services).

The university also acknowledges the dismissal of former graduate assistant Alex Herron, named in one of the NCAA's allegations for "providing false and misleading information" to both NCAA and Michigan investigators. Herron was fired after Michigan received the NCAA's Notice of Allegations in February.

By admitting to major violations, Michigan knows it will go on NCAA probation for two years, which doesn't mean much unless more violations are committed.
No scholarship losses or loss of recruiting time for coaches to be found here. Will the NCAA deem this too light? We'll find out Aug. 13-14 in Seattle.
February, 23, 2010
2/23/10
3:52
PM ET
Michigan officials today addressed the NCAA's report that details
five allegations of violations
against the football program between January 2008 and September 2009.
The NCAA sent the notice Monday morning, and Michigan now has 90 days to respond. Michigan then will appear before the NCAA's Committee on Infractions at a hearing in August.
You can read the NCAA's report
here
, as well as a
letter sent to head football coach Rich Rodriguez
, who appeared alongside incoming athletics director David Brandon and university president Mary Sue Coleman at today's news conference.
Here's a summary of the five allegations:
1.
Five Michigan quality control staffers regularly engaged in both on-field and off-field coaching activities that are prohibited by NCAA rules. By engaging in these activities, Michigan exceeded the limit on number of coaches who can engage in these activities. Quality control personnel are alleged to have coached players two days a week in offseason workouts, warm-up activities during the season and film study, and they also attended meetings that involved coaching activities.
2.
Michigan violated NCAA rules by having football staff members "monitor and conduct voluntary summer workouts, conduct impermissible activities outside the playing season, require football student-athletes to participate in summer conditioning activities for disciplinary purposes [missing class], and exceed time limits for countable athletically related activities during and outside the playing season." This seems to be the most serious charge and the one that sparked the
Detroit Free Press report
and the investigation. Here are some of the specifics:
In two separate offseason periods in both 2008 and 2009, football players were sometimes required to participate in up to 10 hours of athletic activities or weight training/conditioning, which exceeds the limit of eight hours.
During the 2008 season, players were sometimes required to participate for up to five hours a day in "countable athletically related activities," exceeding the maximum of four hours. The staff exceeded the 20-hour-a-week limit by 20 minutes during the week of Oct. 19, 2008.
During September 2009, football players were required to participate in four and a half hours of activities per day, exceeding the NCAA limit by 30 minutes. The report identifies four dates in question: Sept. 7, Sept. 14, Sept. 21, Sept. 28.
3.
Graduate assistant Alex Herron is accused "providing false and misleading information" to both Michigan and the NCAA enforcement staff when asked about the allegations. He denied being present for 7-on-7 passing drills in the summers of 2008 and 2009 when he allegedly conducted the sessions.
4.
Because of the first two allegations (detailed above), Rodriguez is alleged to have "failed to promote an atmosphere of compliance within the football program and failed to adequately monitor the duties and activities of the quality control staff members, a graduate assistant coach and a student assistant coach, and the time limits for athletically related activities."
5.
Because of the first two allegations, Michigan's athletics department is alleged to have "failed to adequately monitor its football program to assure compliance." Compliance staff members became concerned about the duties of the quality control coaches in the winter of 2008 but didn't gather enough information to determine potential problems. The strength and conditioning staff didn't calculate time limits for offseason workouts or effectively communicate information to the compliance office. This resulted in the compliance office approving miscalculated activities and failing to follow its own policies for monitoring these activities. Athletics staff also failed to provide the forms showing countable activities to the compliance office.
So how serious are these allegations?
In the letter to Rodriguez, the NCAA writes that "all of the allegations charged in the notice of allegations are considered to be potential major violations of NCAA legislation, unless designated as secondary violations." In its response to the NCAA, Michigan has the right to point out why alleged violations should be considered secondary. You can bet Michigan will do so.
Brandon told reporters today that while Michigan takes any allegations seriously, "there was no charge of loss of institutional control, none whatsoever." We don't know yet whether these violations will be labeled as major, which has historical significance because Michigan has never been hit with major violations before. But "major violations" can sound worse than they actually are, and these allegations certainly don't fit into the same category of recruiting improprieties, paying players, etc.
Brandon reiterated that Rodriguez will be Michigan's head coach in 2010 and that he has seen nothing to indicate a change at the top is necessary.
Michigan could be termed a repeat violator of NCAA rules because these allegations occur within the five years since the school was sanctioned for much more serious violations involving its men's basketball program. It's unlikely Michigan gets nailed for this, but it's within the realm of possibility.
A few takeaways from the news conference:
Brandon and Rodriguez repeatedly stated they take the allegations seriously, which was the right move. But when the seriousness of the allegations keeps getting questioned, it probably means the repercussions won't be too bad for Michigan.
The investigations were all sparked by allegations from current and former players that Michigan had grossly exceeded NCAA time limits for practices, offseason workouts and other team activities. Going 20 minutes beyond the weekly limit or 30 minutes beyond the daily limit is hardly extreme. It happens everywhere. If anything, the NCAA report helps Rodriguez and Michigan on this issue.
Michigan's decision to put its CARA forms online -- logs sent from teams to the compliance office to monitor countable activities -- is much needed. Brandon acknowledged Michigan wasn't being diligent enough with these forms in the past.
Brandon declined to discuss personnel decisions, so it will be interesting to see if any heads roll. It's noteworthy that Adam Braithwaite, a quality control assistant named in the NCAA's report, recently was elevated to a full-time assistant coach position. The allegations against Herron certainly suggest some disciplinary action will be taken.
The size of coaching "staffs" is getting out of hand. Michigan's case should alert others to the potential problems of having so many quality control staffers.
Prediction:
Michigan will be hit with some penalties, and "major violations" are possible. But these allegations don't seem to be overly extreme, despite some harsh language in the report. Michigan could be hit with probation or scholarship losses, and it will need to be more careful on these issues going forward. I'll repeat what I've said all along: Rich Rodriguez's fate ultimately comes down to whether or not he wins games, not what the NCAA decides in August.