December, 19, 2014
Dec 19
11:00
AM ET
Stats don't lie, but they can be deceiving. Like the average number of rushing yards to the right side of the defense on night games in the month of October, some pieces of information simply don't matter.
That's why we're here.
In order to help preview the Allstate Sugar Bowl, ESPN's Austin Ward and Alex Scarborough teamed up to bring you three stats that matter most to Alabama and Ohio State as they prepare for their semifinal showdown in New Orleans.
Alabama stats that matter
-1:
Of the top 10 teams in the FBS in winning percentage, only three are negative in their turnover margin. One is Marshall, one is Florida State and the other is Alabama. That's what we like to call living on the edge. The last time Alabama finished the season on the wrong side of the turnover battle, Nick Saban wasn't the head coach. Ohio State, meanwhile, is plus-nine in turnovers and has created a whopping 118 points off of turnovers. It goes without saying that giving up free points isn't conducive to winning football games.
[+] Enlarge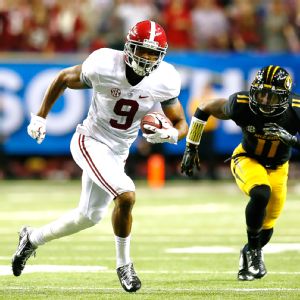 Kevin C. Cox/Getty ImagesAlabama's offense could be in danger of becoming too one-dimensional with Amari Cooper responsible for 42.9 percent of the receptions this season.
42.9:
The inequality of Alabama's passing game is dizzying.
Amari Cooper
not only has 42.9 percent of all catches this season, he has 45.3 percent of all receiving yards. He has 28 total receptions on third- and fourth-down plays that resulted in a first down or touchdown, compared to 14 from the next two closest receivers combined. While spotlighting your best weapon on offense is fine, there's something to be said for being too one-dimensional. Ohio State will have had roughly a month to prepare for Cooper come Jan. 1. If Urban Meyer and his coaching staff are able to divide a plan to slow him down, Alabama needs to have more options in the passing game to turn to.
4:
Thanks to
Blake Sims
' swift feet and the offensive line's stellar blocking, Alabama has allowed only four sacks in its last four games. Against the vaunted pass rush of Missouri, the Crimson Tide more than held their own. But Ohio State is not Missouri, and chances are it won't lose its best defensive end to ejection the way
Shane Ray
was tossed in Atlanta. No, the Buckeyes have a superb defensive line themselves, led by everyone's All-American,
Joey Bosa
. In Ohio State's last four games against Wisconsin, Michigan, Indiana and Minnesota, Bosa and the Buckeyes defense have racked up 15 sacks.
-- Scarborough
Ohio State stats that matter
21:
Picked on by opposing offenses during games and then ripped apart in press conferences by Urban Meyer a year ago, a rebuilt Ohio State secondary has gone from the team's biggest weakness to one of the most aggressive, successful units in the nation. Only three teams have nabbed more interceptions than the Buckeyes' 21 this season, with co-defensive coordinator Chris Ash having done a remarkable job getting the secondary to challenge receivers, break on balls and play without fear of being beat in the back end. It's hard to argue with the results, particularly since the Buckeyes aren't gambling for turnovers at the expense of yardage, ranking No. 17 in total passing yards allowed this year.
81.2:
For a team that didn't have its starter play a single snap this season and had to turn to two different guys without any previous first-team experience at the most important position on the field, Ohio State finishing second in the nation in raw QBR behind only Oregon without
Braxton Miller
is nothing short of remarkable.
J.T. Barrett
, of course, did the heavy lifting by starting every game in the regular season before breaking his ankle against Michigan, but
Cardale Jones
actually boosted the rating in his debut against one of the nation's best defenses in the Big Ten title game against Wisconsin, posting a sparkling 90.3 to clinch the spot in the Allstate Sugar Bowl. It certainly seems as if Urban Meyer and offensive coordinator Tom Herman know how to develop more that just one passer at a time.
51.5:
The Buckeyes can dial up the tempo and push the ball down the field in a hurry if they want to, but what makes them truly dangerous and perhaps unpredictable is their effectiveness at shifting gears and methodically moving the chains if need be. Only three teams in the country were more successful on third downs than Ohio State, which converted 85 of 165 chances -- or 51.5 percent -- to extend drives on those crucial snaps. The Buckeyes only played four games all season where their conversion percentage dropped lower than 50 percent, including the first two of the year with so many inexperienced players getting their feet wet -- and Jones' first start in the Big Ten title game, when it hardly made a difference in a 59-0 blowout.
-- Ward
December, 10, 2014
Dec 10
1:02
PM ET
By
Tobin Petitpas, ESPN Stats & Information
| ESPN.com
Wire photosNick Saban's Alabama team has areas of vulnerability Urban Meyer's Buckeyes can attack.
If
Ohio State
is looking for a weakness in its Sugar Bowl opponent, it might have trouble finding one.
Alabama
can win games with its defense. It has three wins in which it scored 25 or fewer points; only
Missouri
(four) has more this season. The Crimson Tide can also win with their offense. They have an SEC-high seven wins in which they scored more than 40 points, including
a 55-44 win
against
Auburn
in the Iron Bowl.
According to
ESPN's team efficiency rankings
, Alabama's offense ranks fourth in the nation and its defense is 12th.
TCU
is the only other team in the top 12 of the FBS in both stats.
Yet, as
its loss
to
Ole Miss
indicates, Alabama is not invincible. Below, we look at some areas in which the Crimson Tide excel and others were they might be vulnerable.
Offense
Under first-year offensive coordinator Lane Kiffin, Alabama is on pace to finish with its highest offensive efficiency in the eight years under coach Nick Saban. The Crimson Tide rank 10th in the FBS in yards per play and points per drive, even though they have played seven of the top 20 teams in defensive efficiency.
T.J. Yeldon
and
Derrick Henry
have led the way on the ground. Yeldon and Henry have both rushed for more than 800 yards, averaged more than 5.0 yards per carry and scored at least 10 rushing touchdowns. The only other FBS school with two such running backs this season is
Arkansas
with
Alex Collins
and
Jonathan Williams
.
Blake Sims
has been the facilitator for the passing game. He has posted an 88.4 Total QBR this season, second-best in the FBS behind
Oregon
's
Marcus Mariota
. Since 2004, two SEC players have had a higher Total QBR in a season than Sims (
Cam Newton
and
Johnny Manziel
). Both won the Heisman in those seasons.
As good as Sims has been,
Amari Cooper
has been better. Cooper leads the FBS in receiving yards (1,656) and receptions (115) and is tied for second in receiving touchdowns (14).
Yet, if the Buckeyes are able to take away Cooper, Alabama might be in trouble. Cooper has 100 more targets and 1,217 more receiving yards than any other player on the team.
DeAndrew White
is second on the team in receiving, and on one play – his 58-yard touchdown against Missouri – he gained more yards than he had in all but two games this season entering the SEC Championship.
When Sims is throwing to Cooper this season, he is completing 71.0 percent of his passes, averaging 10.2 yards per attempt and has 14 touchdowns and one interception. To put that into perspective, Mariota is the only other FBS quarterback averaging more than 10 yards per attempt this season. When Sims is not passing to Cooper, he completes 60.5 percent of his passes and averages 7.9 yards per attempt. The FBS averages are 60.0 percent and 7.3 yards per attempt.
Defense
Defense is where Alabama has always hung its hat under Saban. For instance, the Crimson Tide are allowing 16.6 points per game this season, fourth-fewest in the FBS. Yet, that is on pace to be the most they have allowed since 2007, Saban's first season in Tuscaloosa.
Led by defensive tackle Johnathan Allen and linebacker
Reggie Ragland
, Alabama is as good as it gets against the run. The Crimson Tide have allowed three rushing touchdowns, five fewer than any other FBS school. They really buckle down around the goal line. On goal-to-go rushes, their opponents have run for minus 16 yards and have scored a touchdown on two of 24 carries (8%). That is on pace to be the second-best percentage in the last 10 seasons, behind
Notre Dame
in 2012.
If there is one area in which Alabama has not been as strong on defense this season, it is against the pass, especially the last few games. The Crimson Tide are allowing 223.7 passing yards per game, on pace to be their most since they allowed 227.8 in 2003. Big plays have been a big issue. Opponents have 39 completions of 20 yards or more, the most Alabama has allowed in at least the last 10 seasons.
Downfield passes have been the main culprit of late. On passes thrown 25 yards or longer downfield, the Crimson Tide have allowed an SEC-high 16 completions. In their last three games, opponents were 12-of-21 on such throws, compared with 4-of-30 to start the season.
Special teams
Even though Alabama has 2014 first-team all-SEC punter
JK Scott
and 2013 SEC special teams player of the year
Christion Jones
on its roster, the Crimson Tide have been below average on special teams this season, ranking 101st in efficiency. How has special teams play affected Alabama this season? Look no further than its 23-17 loss to Ole Miss. In that game, Jones had a fumble in the fourth quarter on a kickoff, which set up the game-winning score, and kicker
Adam Griffith
missed 46-yard and 51-yard attempts. This season, Alabama has made 64 percent of its field goal tries this season, 93rd in the FBS. Dating to the start of the 2011 season, Alabama has lost five games. In those five games, its kickers are 5-of-16 on field goals, including 2-of-11 from 40 yards or longer.
Combining offense, defense and special teams efficiency, Alabama ranks second behind Oregon in overall efficiency. There are holes, as noted above, that Ohio State can exploit. The Buckeyes, with
Cardale Jones
at quarterback, scored three touchdowns on passes thrown 25 yards or longer in the Big Ten Championship Game, their most in a game this season. On special teams, they rank second in average starting field position and lead the nation in opponents' average starting field position. If Ohio State can continue to play well in these areas during the Sugar Bowl, it may well be the difference in the Buckeyes pulling off the upset of No. 1 Alabama.
November, 25, 2014
Nov 25
8:30
AM ET
Let's just get this out of the way: Last week in college football was kind of dull.
Unless, that is, you're into watching the single-game FBS
rushing record fall
for the second straight Saturday. (So who breaks it this week?) Yes, last week was dull, unless, of course, you're into Florida State's
weekly high-wire act
, re-awakenings at
Arkansas
and
Minnesota
or UCLA's
continued stranglehold on Los Angeles
.
My point is, the latest set of games didn't significantly impact the College Football Playoff picture -- at least in comparison to the past few weeks. Barring some craziness at the selection-committee table, the top four on Tuesday night is going to look no different than last week's edition.
But Week 13 was simply the calm before the storm. Not so sure? Check out first nine paragraphs Gene Wojciechowski's
BMOC column
. The rocky road to Dec. 9 is enough to make a fan of any playoff contender choke on his or her turkey dinner.
And it starts in two days.
October, 30, 2014
Oct 30
1:00
PM ET
Rod Oden still remembers pacing his kitchen more than a year ago, as he listened to Michigan State wideout
Tony Lippett
express his mounting frustration.
I haven't done anything wrong. Why am I not playing? I'm at the point where I don't even need to shower after games; I don't even get the chance to go off.
[+] Enlarge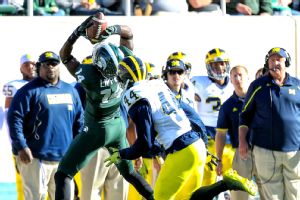 Mike Carter/USA TODAY SportsA change in Tony Lippett's confidence was sparked by a conversation he had with his high school coach.
Oden listened intently in September of 2013 as he wandered "all throughout the house." Neither Lippett nor Oden, his mentor and former high school coach, knew Lippett would be heralded
as the Big Ten's best
just one season later. Or that his turnaround would be sparked not by the weight room, the field or the film room -- but by this very telephone call.
"He was reminding me I was one of the most dynamic players he ever coached and that I could go out and play this game at a high level, if I had the heart and desire," Lippett said. "He told me to build a bridge with my coach out here, Coach [Terrence] Samuel, and do the things they wanted to see out of me day in and day out."
At the time, Lippett had caught just four passes in his first four games. He
officially
received no starts during that stretch. So, at Oden's insistence, the introverted Lippett reached out to his position coach soon thereafter. They shared breakfast, and Samuel challenged him around the bye week: Go watch film on MSU greats Plaxico Burress and Charles Rogers; then go look at film of yourself.
Lippett said he was forced to "look in the mirror and stop looking at everybody else." He sat in the film room and studied Burress' arm extension, he stared at Rogers' hips and feet, and he marveled at their vision. Then the cut-ups were replaced with a player similar in stature but who was slow in his transitions and didn't get off the press nearly as well. It was him.
Lippett again phoned Oden to let him know he took his advice to heart and to update him on the film review.
"He said, 'I got to work,' " Oden remembered. "I told him, 'Work starts today.' "
The transformation was slow -- but immediate. Lippett would linger after practice to chat with his position coach. He'd sit closer to Samuel on the flights, as opposed to several rows back. He'd hit the film room harder, gazing at defensive backs' feet and scribbling down notes.
With the help of Oden and Samuel, his confidence grew in lockstep with the offense's improvement. He started in 10 games after that phone call. And, in the final six games of 2013, he accounted for at least 62 receiving yards in every contest and saved his best for the Rose Bowl, where he caught the game-winning touchdown.
Looking back, even Mark Dantonio didn't need to pause long when asked when the transformation started.
"I do think it flipped on, it flipped right after the Notre Dame game," Dantonio said earlier this month, alluding to September of last season. "He started catching the ball very well, and he's such a confident player right now."
That change might not have come without that phone call, or without Lippett's relationship with Oden. The two still talk several times a week -- sometimes, Lippett will even phone during a Friday night halftime -- and Lippett still returns about a dozen times a year to train on mismatched barbells and an uneven track to chat in-person with his old coach.
They never seem to talk about how far he's come -- but about how far he has to go. Even now, as Lippett leads the conference with 111.1 receiving yards per game and nine touchdowns, he's not satisfied. He'll acknowledge this is a good year but, in the same breath, he'll wax poetic on how Alabama's
Amari Cooper
has dominated.
But, every week since September of 2013, he's also grown more determined that he can reach that level. He's more focused. And, above all, thanks to Oden, more confident.
"I feel like me playing confident is the biggest intangible I've improved upon because I'm still the same size, probably
a little
faster," he said. "But heart and desire and confidence has risen in me a lot. And that's what really shows."
October, 3, 2014
Oct 3
5:00
PM ET
An outstanding national lineup of Week 6 games is already underway, with implications in the Big Ten. Let's get to the mailbag:
@mitchsherman With Oregon's loss and Nebraska's win tomorrow, does that put Ameer the Heisman front-runner? #GBR

— Daniel Thompson (@bighuskerdan) Oct. 3, 2014
Mitch Sherman:
A bit presumptuous, Dan, but I like your confidence.
Marcus Mariota
's Heisman candidacy took a big hit on Thursday night. He doesn't play defense for the Ducks, but when given his chance to drive the field at the end to win or force overtime, Mariota fumbled. Losses hurt quarterbacks much more in the Heisman race more than running backs or receivers. With a big game against Michigan State, win or lose,
Ameer Abdullah
can continue to move up the board. Our
Heisman Watch
had him at No. 4 this week, behind
Todd Gurley
, Mariota and
Amari Cooper
. After Oregon's loss, Gurley is likely the most popular pick.
---
Terry writes:
Seeing what happened last night to Oregon, it proves that predicting who will be in the playoff in the first week of October is ludicrous. With that stated, let's say no team goes undefeated. Will late-season losses or early-season losses have a bigger impact on a team's chance to get in? Say Nebraska loses to MSU but rolls the rest of the way and wins in Indy. Would that get it high enough? Or say MSU rolls all the way through but with its loss in the second week of the season. Can the Spartans make up ground? Or will we just see the top four teams from the SEC in the playoff, and everything else is just for naught?
Sherman:
All good thoughts, Terry. I agree that we're seeing now exactly why the selection committee has decided to stay quiet until late October. All of the analysis and predictions are fun, but nothing more. The committee won't consider any of this speculation when its members get together in Dallas. I think late-season losses would potentially hurt teams more than a defeat in September, simply because the committee wants the four best teams at the end of the season. Teams improve and decline as the year progresses. A one-loss Big Ten team looks like a long shot to me, but two months remain and a lot can change. As for the SEC, it's good, especially the West, but I'll go on record today that it won't claim all four spots in the playoff. Bold, huh?
---
@mitchsherman do Michigan fans wish Rich Rodriguez was still their coach?

— Nick Hlebichuk (@NickHlebichuk) Oct. 3, 2014
Sherman:
No, though he did dump a big handful of salt into the Wolverines' wound by winning at Oregon. Rich Rod is an excellent coach; just look at his record before and after Michigan. At Arizona, he's working wonders this year with redshirt freshman QB
Anu Solomon
. And remember, the Wildcats thumped Oregon last season, too. Michigan would love a taste of that success. But Rodriguez was not a fit in Ann Arbor -- not in 2010 and not now. Michigan fans don't want him. Many of them don't want Brady Hoke. They want Jim or John Harbaugh or Les Miles. Problem is, they may not get who they want. So then what?
---
Mark writes:
Can the BIG teams that are not a national brand or don't have a fertile high school recruiting territory in their home state ever compete for enough four- and five-star recruits to win a national championship?
Sherman:
It's not all about the stars, but talent is extremely important. If you're asking if Purdue or Minnesota can win a national championship, I'd say it's unlikely under the current structure and recruiting culture in college football. The lack of a fertile recruiting base, though, should not be used as an excuse for Big Ten teams like Nebraska or Wisconsin. They can appeal to players nationally and build championship-caliber programs through a mix of talent evaluation and player development.
BIG TEN SCOREBOARD
Saturday, 12/20
Monday, 12/22
Tuesday, 12/23
Wednesday, 12/24
Friday, 12/26
Saturday, 12/27
Monday, 12/29
Tuesday, 12/30
Wednesday, 12/31
Thursday, 1/1
Friday, 1/2
Saturday, 1/3
Sunday, 1/4
Monday, 1/12
Tweets from https://twitter.com/ESPNCFB/lists/b1g