January, 2, 2012
1/02/12
4:18
PM ET
Urban Meyer's old team beat his new team in the TaxSlayer.com Gator Bowl, as Florida used huge special-teams play, stout defense and just enough offense
to beat Ohio State
. The Gators end Will Muschamp's first season on a good note, while the Buckeyes can't wait to start the Meyer era.


How the game was won:
For the second consecutive year, Florida used superior special teams and opportunistic play to beat a Big Ten opponent in a bowl. Two of the Gators' three touchdowns came in the kicking game, as
Andre Debose
had a 99-yard kickoff return and Graham Stewart scored following
Chris Rainey
's blocked punt. Neither offense was overly impressive, but the Gators limited Ohio State's rushing attack and forced a pair of turnovers, including a
DeVier Posey
fumble in Florida territory. The Gators responded to every Buckeyes surge and nearly kept Ohio State off of the scoreboard in the second half.
Player of the game:
Florida running back Chris Rainey. He has made a habit out of blocking punts and got another one, smothering Ben Buchanan early in the third quarter. The Gators recovered and scored to extend their lead to 21-10. Rainey also had 71 rush yards, 31 receiving yards and 31 return yards in the game.
Stat of the game:
The Gators came in ranked 112th nationally in third-down conversions at only 30.6 percent. But they converted 6 of 13 attempts against the Buckeyes to keep drives alive.
Record-setting:
Ohio State finishes 6-7 to suffer its first seven-loss season since 1897, when it went 1-7-1. The Buckeyes had the longest stretch without a seven-loss season in the FBS by 78 years. The next-longest stretch had been Florida State (1975). Ohio State also has its first four-game losing streak since 1943.
What it means for Florida:
The Gators ended a mediocre year on a positive note and claimed their fourth consecutive postseason victory and second straight against the Big Ten. Quarterback
John Brantley
made some mistakes but still completed 12 of 16 passes for 132 yards. The Gators are strong enough on defense and special teams to make noise in the SEC East next season, but the offense will be the top priority for Muschamp and his staff during the offseason.
What it means for Ohio State:
The Buckeyes struggled in their final bowl appearance until the 2013 season, and some of the problems that surfaced all season showed up in the bowl. A mostly conservative offensive game plan produced only 17 points and 299 yards, although Ohio State held edges on Florida in both yards and first downs (20-14). Buckeyes fans won't be sorry to see offensive coordinator Jim Bollman go. Strong special teams had been a staple of the Jim Tressel era, and Ohio State had been better this year than it was in 2010 -- until the bowl breakdowns. It's all about Meyer now and moving things forward. Meyer inherits a mostly young and talented roster, but he and his staff have a lot to do in the offseason.
January, 2, 2012
1/02/12
2:38
PM ET
Halftime has arrived in Orlando, Tampa and Jacksonville.
Let's take a look at how the Big Ten teams are faring in the Florida bowls so far.
Nebraska-South Carolina, Capital One:
A really good half for Nebraska ended in disaster, as the Huskers allowed a 51-yard Hail Mary touchdown pass to South Carolina's
Alshon Jeffery
on the final play. Rather than leading 13-9, the Huskers go to the locker room down 16-13 -- and Bo Pelini has to be beside himself. His defense simply couldn't let a star like Jeffery get in position to make a play. Nebraska should have been leading by more had
Ameer Abdullah
not fumbled in the South Carolina red zone. Credit Nebraska's defense for preventing disaster after a long Jeffery reception set South Carolina up to completely change the game. The Huskers' defense forced a field goal try inside their own 10-yard line, and South Carolina missed. The offense has been balanced so far and has found some room against a very good South Carolina defense.
Taylor Martinez
and
Rex Burkhead
both are making plays, and until the final seconds, the Blackshirts did a decent job against
Connor Shaw
and the Gamecocks' passing attack.
Michigan State-Georgia, Outback:
The Spartans' defense actually played a phenomenal half but had little to show for it, as an anemic offense has hurt Michigan State against an SEC opponent in a bowl for the second straight year. A special-teams breakdown capped a horrendous second quarter, as Georgia leads 16-0 at the break. Michigan State fell behind 2-0 after a questionable swing pass from inside its own end zone resulted in a safety. The defense kept the score that way until late in the half, when Georgia's
Tavarres King
beat Michigan State safety Trenton Robinson for an 80-yard touchdown. After the offense stalled yet again, Michigan State allowed a 92-yard punt return for a touchdown.
Kirk Cousins
and the Spartans' offense must get something going soon after recording only two first downs and 72 total yards in the opening half. Georgia's defense looks faster and more physical, and Michigan State's play calling has been unimpressive. The Spartans are staring at another humbling bowl performance.
Ohio State-Florida, TaxSlayer.com Gator:
Buckeyes fans won't be sorry to see offensive coordinator Jim Bollman go. Ohio State didn't pass the ball in the first quarter -- it took one sack -- even though freshman quarterback
Braxton Miller
threw the ball well in a Nov. 26 loss at Michigan. Things opened up a bit in the second quarter, and Miller finished the half 4-for-6 passing for 53 yards and a touchdown. Florida leads 14-10 thanks to a 99-yard kick return touchdown by
Andre Debose
. Ohio State entered the game ranked 10th nationally in kick coverage. The Buckeyes' defense has been so-so, letting Florida quarterback
John Brantley
get a bit too comfortable but forcing a pair of turnovers. Ohio State must get better on third down, as Florida has converted 4 of 6 opportunities. These teams are evenly matched, and Ohio State should have a shot to win if it can limit the major breakdowns.
December, 28, 2011
12/28/11
5:00
PM ET
Publicly, the Gators aren't sweating the Urban Meyer drama surrounding the Taxslayer.com Gator Bowl.
Sure, the man who led Florida to two national championships and three SEC title games in six years will soon be manning the Ohio State team the Gators are pitted against at Everbank Field in Jacksonville, Fla., but Florida players aren't concerning themselves with the iconic figure that left the program a year ago.
[+] Enlarge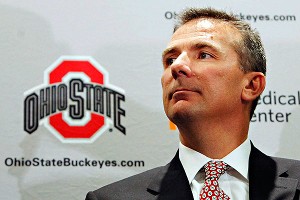 AP Photo/Terry GilliamFlorida Gator players aren't saying much about Urban Meyer.
"We talk about it a little bit, but it's just the same old game," Florida safety Josh Evans said. "We're just getting ready for them, nothing's changed. I'm pretty sure there are some people that probably feel some type of way about it, but we don't really discuss it as much."
It probably helps that Meyer won't be in town for the game.
There's no doubt some Florida players are steaming over Meyer's decision to head back into coaching a year after leaving Florida. When Meyer said he was stepping down to be closer with his family and tend to his health, players surely supported him.
A year later, you'd have to be na´ve to think that some of those same players don't have some ill will toward Meyer.
And that's natural. It's a part of a sport where coaches create very close bonds with young athletes. Some players, like wide receiver
Andre Debose
, head to a university just because of the head coach.
"Coach Meyer was the reason I came to Florida," Debose said. "Point blank. He was the reason."
Debose said he wasn't upset with Meyer's decision and could understand reasons why he would take a job so soon after stepping down.
"I've learned over the years since I've been in college that it's a business, and it's all about money," he said. "So I mean, I wouldn't turn down whatever he was offered. So I'm happy for him. He went to the money. It's a business. I'm happy for him."
There were a handful of "no comments" spouted by Gator players when they were first asked about Meyer taking the Ohio State job, and sophomore safety Matt Elam, whose relationship with Meyer stems back to when his older brother was recruited by Meyer to Notre Dame, tweeted about how he couldn't wait to play Ohio State shortly after the Meyer news broke.
Defensive tackle Sharrif Floyd didn't hesitate to say that he's pretty motivated to play the Buckeyes -- but it has nothing to do with Meyer.
Floyd is pumped to play Ohio State because the Buckeyes were second to Florida on his recruiting list.
"I think that's what I'm more excited about getting to play my second choice," Floyd said. "I'm not really looking at it like playing coach Meyer's school, I'm just looking at it as playing my second choice. I can't wait."
The pre-bowl drama everyone wanted from the Florida side of this thing just isn't there. Maybe you'll see a little more trash talk during the actual game. Maybe some hits will be delivered a little harder, and maybe some runs will administered a little tougher.
Whether the Gators are being sincere about Meyer is up for debate, but what is clear is that players are killing this distraction with kindness.
"He's going to do what's best for him and his family -- no hard feelings over here," Floyd said. "If I seen the guy today, I would still shake his hand and talk to him with a normal conversation. That's the name of the game, it can happen anywhere. So I say congrats and good luck to him."
BIG TEN SCOREBOARD
Wednesday, 12/24
Saturday, 12/20
Monday, 12/22
Tuesday, 12/23
Friday, 12/26
Saturday, 12/27
Monday, 12/29
Tuesday, 12/30
Wednesday, 12/31
Thursday, 1/1
Friday, 1/2
Saturday, 1/3
Sunday, 1/4
Monday, 1/12
Tweets from https://twitter.com/ESPNCFB/lists/b1g