March, 7, 2011
3/07/11
1:53
PM ET
I come in peace.
Adam left me strict orders not to stir it up on his blog while he's out sailing around the world (only the Big Ten blogger could afford such a vacation), so I'm here solely to help while he's away. There are no hidden agendas. In other words, you're not going to hear me asking if the Big Ten is ever going to win another national championship or hear me dredging up Ohio State's record versus the SEC in bowl games.
Nope, I'm merely here to provide a few links, and here goes:
August, 6, 2010
8/06/10
5:00
PM ET
Schedule:
Ohio State's first preseason practice takes place today in Columbus.
What's new:
Not that much. Jim Tressel's staff remains intact, and Ohio State returns 16 starters, including 10 on offense. The only spot that sees a decent amount of turnover is safety, as the Buckeyes lose both Kurt Coleman and Anderson Russell. They also will have a new look along the defensive line, although Cameron Heyward is a familiar face, one opposing offensive linemen won't be happy to see.
Sidelined:
Ohio State is healthy entering camp, although the Buckeyes are down a running back as
Jermil Martin
will transfer. The Scarlet and Gray will have incoming freshman running back Rod Smith on the field after Smith met his academic requirements.
Key battle:
Let's start at kicker, a position that always means a lot to a Tressel-coached team. Aaron Pettrey departs, and Devin Barclay needs to rebound after struggling at times this spring. Punter Ben Buchanan and freshman Drew Basil are possibilities if Barclay can't hold down the top job. The other key battle takes place at left tackle, as junior Mike Adams tries to lock up a starting spot ahead of Andrew Miller and others.
New on the scene:
Ohio State isn't deep at wide receiver and could find room for James Louis and Corey Brown. Defensive back Christian Bryant will have a chance in the secondary, and linebacker David Durham also might make an early impact. Carlos Hyde could work his way into a crowded mix at running back after enrolling a year later than expected. Basil will be a factor on special teams.
Back in the fold:
Tyler Moeller is cleared for full contact after suffering a head injury last summer as an assault victim. Moeller played linebacker early in his career, but was on track for a possible starting job at safety in the spring of 2009. As Ohio State looks to replace Coleman, Moeller might be the answer.
Breaking out:
Everyone is raving about sophomore defensive lineman
John Simon
, a
weight-room superstar
who saw some action last season. There also was some buzz this spring about linebacker Etienne Sabino, who should join Ross Homan and Brian Rolle in the starting lineup. Ohio State needs a No. 3 wide receiver, and watch out for redshirt freshman
Chris Fields
.
Quotable:
"We're a very capable team. I think we should be a team that's being targeted. I know we'll be a team that's being targeted. And we'll always get everyone's best shot. And with that in mind, we better make sure our best shot's ready each Saturday. But it's just part of the deal."
-- head coach Jim Tressel
May, 5, 2010
5/05/10
7:30
AM ET
2009 overall record:
11-2

2009 conference record:
7-1 (1st)
Returning starters
Offense: 10, defense: 5, kicker/punter: 0
Top returners
QB
Terrelle Pryor
, RB
Brandon Saine
, RB Dan Herron, WR
DeVier Posey
, LG Justin Boren, C Michael Brewster, DL Cameron Heyward, LB Ross Homan, LB Brian Rolle, DE
John Simon
Key losses
OL Jim Cordle, DE Thaddeus Gibson, DT Doug Worthington, LB Austin Spitler, S Kurt Coleman, S Anderson Russell, PK Aaron Pettrey, P Jon Thoma
2009 statistical leaders
(*-returners)
Rushing:
Pryor* (779 yards)
Passing:
Pryor* (2,094 yards)
Receiving:
Posey* (828 yards)
Tackles:
Ross Homan* (108)
Sacks:
Cameron Heyward* (6.5)
Interceptions:
Ross Homan* and Kurt Coleman (5)
Spring answers
1. Pryor ready for expanded offense:
Ohio State fans have wanted the offense to open up, and they finally should get their wish this fall. Pryor built on his Rose Bowl performance with a solid spring, displaying improved footwork and rebounding nicely from some struggles in the jersey scrimmage to complete 8 of 12 passes for 108 yards and a touchdown in the spring game.
2. Sabino steps up:
Ohio State returns two All-Big Ten linebackers in Ross Homan and Brian Rolle, but it needed a third player to step up and Etienne Sabino answered the call this spring. He spent the entire session with the first-team defense and finished things off with a game-high seven tackles and a forced fumble in the spring game.
3. Guiton provides insurance at QB:
Pryor played through pain toward the end of last season and has proven to be durable at quarterback, but every team needs a backup plan and Ohio State might have found one with Kenny Guiton. He wasn't the Buckeyes' first choice for the 2009 recruiting class, but Guiton showed some promise in the spring game by tossing two touchdowns. Guiton certainly will push
Joe Bauserman
for the backup quarterback spot.
Fall questions
1. The kicking game:
It seems sacrilegious to question the specialists on a Jim Tressel-coached team, but Ohio State has some legitimate concerns here. Devin Barclay couldn't separate from freshman Drew Basil, and the place-kicker competition will continue in fall camp. Ben Buchanan should lock up the starting punter spot, but he struggled a bit in the spring game.
2. Left tackle:
Ohio State opened up the competition this spring and seemed to narrow it down to Mike Adams and Andrew Miller, with Adams as the frontrunner entering the summer. The competition will continue for some time, but the hope is the gifted Adams can finally step up and lock down a starting spot. Ohio State returns its other four starters up front and likely would rather have J.B. Shugarts stay at right tackle.
3. No. 3 pass-catching option:
Some folks don't think this is a big deal in Tressel's offense, but if Ohio State really wants to open things up, Pryor needs a third target after Posey and
Dane Sanzenbacher
. Wideout
Taurian Washington
made a good case in the spring game with 83 receiving yards and a touchdown, and he'll compete with
Chris Fields
and most likely
Duron Carter
this summer. Tight end
Jake Stoneburner
also should be a much bigger part of the passing attack this season.
4. Running back rotation:
I couldn't resist and had to toss in a fourth question for the fall. Brandon Saine and Boom Herron are two proven options, but Ohio State has plenty of depth and only one football to go around. Can
Jaamal Berry
,
Jordan Hall
or Carlos Hyde challenge the top two?
April, 26, 2010
4/26/10
3:00
PM ET
Before the Rose Bowl, Ohio State quarterback
Terrelle Pryor
and head coach Jim Tressel met and discussed how the game marked the halfway point of Pryor's career.
[+] Enlarge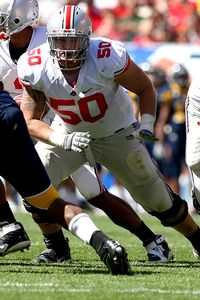 Aaron Josefczyk/Icon SMIMichael Brewster has started the last 23 games at center for the Buckeyes and should be a Rimington Trophy candidate this season.
It was a midterm exam, in front of 92,000 proctors. And
Pryor aced it
.
But Pryor isn't the only member of Ohio State's decorated 2008 recruiting class to reach halftime in Columbus.
As Pryor delayed his college decision on national signing day in 2008, much of the buzz at Ohio State swirled around three decorated offensive line prospects: Michael Brewster, Mike Adams and J.B. Shugarts. All three players were ESPNU 150 selections. ESPN recruiting ranked Brewster and Shugarts as the nation's
No. 2 and No. 3 offensive tackle prospects
, while Adams ranked No. 8.
All three are now preparing for their junior seasons at Ohio State.
"They're at the midpoint of their careers, not unlike Terrelle," head coach Jim Tressel said. "You'd like to think that they can be real good leaders and good veterans."
Pryor's development in the second half of his career likely will determine whether Ohio State wins a national title for the first time since 2002, but equally as important, if not more so, is the progression of his classmates on the offensive line.
"Adams, Brewster and Shugarts have now all gotten their feet more than wet now for a couple years," offensive coordinator/offensive line coach Jim Bollman said. "Going into their third year, now it's time for them to really start kicking it in."
Brewster certainly has done so, having started the last 23 games at center for the Buckeyes. The 6-5, 293-pound junior from Orlando will contend for the Rimington Trophy this fall and serve as one of the line's leaders along with guards Justin Boren and Bryant Browning.
Shugarts also saw the field as a true freshman but missed six games with a shoulder injury that required surgery. He earned the starting right tackle spot in 2009 and will start at either right tackle or left tackle this season.
Adams has battled injuries and spotty play his first two seasons, but enters the summer with a decent to strong chance of landing the starting left tackle spot.
"Those guys work extremely hard, those three," Browning said. "They've got kind of a brotherhood. You see those guys in the weight room together, watching extra film together, and I feel like they're close on and off the field. They're doing anything they can to be great offensive linemen."
Since Brewster is a proven player at center and Shugarts took a step in that direction last fall, Adams found himself in the spotlight this spring. Adams failed to grab the starting left tackle spot last year, forcing Ohio State to shift versatile veteran Jim Cordle to protect Pryor's blind side.
The Dublin, Ohio, native has been an enigma early in his college career. One look at the 6-8, 300-pound Adams reveals the obvious physical gifts he possesses, but entering spring practice, he had yet to produce consistent results on the field. Adams missed Ohio State's first two games last year -- sources said he was suspended for a violation of team rules, though Tressel never confirmed it -- and didn't see much action during Big Ten Play.
"There's competition at his position right now," Browning said, "but he's working hard, doing whatever it takes so he can get a chance to get out there."
This spring, the Buckeyes opened the competition at left tackle, as Adams, Andrew Miller, Marcus Hall and Shugarts all saw time. Adams seemed to make strides toward the end of the session and
drew praise for his performance
in Saturday's spring game.
Ohio State star defensive lineman Cameron Heyward is doing all he can to help linemen like Adams, Shugarts and Brewster take the next step.
"It's a work in progress, it's not going to happen right away," Heyward said. "They'll have good days, and they'll also have bad days. And our guys are pushing them. We're not just going to let them sit back and enjoy it because it's going to be a rough battle.
"They were highly touted offensive linemen coming in, and they really want to step up and be great this year."
October, 15, 2009
10/15/09
5:12
PM ET
Posted by ESPN.com's Adam Rittenberg
If Ohio State ever needed a huge performance from Brandon Saine, Saturday's game at Purdue would be the ideal time.
Running backs Dan Herron (ankle) and Jaamal Berry (hamstring) both
will stay back in Columbus this weekend
, while backup Jordan Hall missed practices Monday and Tuesday with the flu. Though head coach Jim Tressel doesn't sound concerned about Hall, the freshman might not be 100 percent Saturday (Big Ten Network, noon ET). Jermil Martin could play a bigger role as a reserve for the Buckeyes.
No matter what, Saine needs a good outing against a Purdue defense that ranks 10th in the league against the run (167.3 ypg).
Other items:
Tressel said Thursday that tackle Jim Cordle will be back for the game and spell Mike Adams and J.B. Shugarts, though Andrew Miller won't be used much, if at all, after losing 18 pounds during a battle with the flu.
Defensive tackle Dexter Larimore likely will miss the rest of the month with a sprained knee.
October, 13, 2009
10/13/09
4:12
PM ET

Posted by ESPN.com's Adam Rittenberg
Running back depth could be an issue for No. 7 Ohio State on Saturday at Purdue (Big Ten Network, noon ET), but offensive line depth won't be.
The Buckeyes
will be without
sophomore running back
Dan Herron
, who reaggravated a left ankle injury against Wisconsin after carrying the ball only two times for eight yards. Herron originally hurt his ankle Sept. 26 against Illinois and sat out the next week at Indiana.
Head coach Jim Tressel said Tuesday Herron "probably got set back a week or two." Junior
Brandon Saine
will make his third consecutive start at running back, and freshman
Jordan Hall
will serve as Saine's backup. Tressel wants to get
Jermil Martin
more involved as well.
Meanwhile, the
Jaamal Berry
watch continues for Ohio State, which must decide soon whether to redshirt the heralded recruit, who has battled hamstring problems this season.
"I keep waiting for Jamaal Berry to be healthy because when he's been healthy he's been very, very good, but right now it's Brandon and Jordan," Tressel said. "But Jamaal Berry has been back, got a lot of reps."
Saine had a quiet game against Wisconsin (14 carries, 55 yards), but he should be able to handle the load.
Ohio State is getting healthier on the offensive line as tackles Andrew Miller (flu) and Jim Cordle (ankle) are expected to return this week. Miller and Cordle began the season as the starters, though sophomores J.B. Shugarts and Mike Adams have started the last few games.
It will be interesting to see what type of rotation the Buckeyes use at tackle or even guard, where Cordle has played before.
Bottom line: The Buckeyes offense needs a spark at Purdue after slipping to 10th in the Big Ten in total offense (338.3 yards per game) and last in pass offense (166.2 ypg).
October, 13, 2009
10/13/09
2:00
PM ET

Posted by ESPN.com's Adam Rittenberg
More good questions over the weekend. Keep 'em coming.
Jeremy from Tecumseh, Mich., writes:
Adam, Certianly Jim Tressel is going to be in a difficult situation in the next coming weeks with Jim Cordle coming back from injury and his sophomore tackles playing good. Does he run the risk of messing up whatever chemistry the line is developing by inserting cordle back in the starting lineup or should he let his young tackles start and work cordle in the game at different situations?
Adam Rittenberg: That's a great question, Jeremy, and one I'm sure the Ohio State coaches are debating right now. Tackles Mike Adams and J.B. Shugarts are the future of the Ohio State offensive line, but Jim Cordle's experience shouldn't go to waste. The advantage with Cordle is he can play pretty much any position on the line, so you could move him around a bit. No one is mistaking Ohio State's offense for Texas' right now, so the coaches shouldn't be afraid to make a move. I would keep Adams and Shugarts as the starting tackles and work in Cordle when necessary at either tackle or right guard. If Andrew Miller misses more time with the flu, Ohio State will need a third tackle.
---
Zach from Des Moines, Iowa, writes:
Adam, are you under contract with ESPN as far as your power rankings go? I have to assume you are because after a year and a half of blogging, not once have you disagreed with the AP poll when ranking Big Ten teams. I just find it funny that your Big Ten rankings are perfectly correlated to the AP poll. Do you really believe that week after week or are you obligated to not break "form"? Be truthful.
Adam Rittenberg: Uh, Zach, you obviously missed the power rankings from Week 2, when I ranked Michigan ahead of Ohio State. So I'm not obligated to anything, and I don't vote in the AP Poll. I've actually ripped the AP voters more than any of my fellow bloggers this season. Given your address, I'm guessing you're upset that Iowa isn't ranked ahead of Ohio State in this week's rankings. When I look at Ohio State and Iowa, I see two very good defenses, two very good special teams groups and two questionable offenses. The difference is Ohio State's defense has been stingier when it comes to points allowed, and Iowa's offense has made more major mistakes than the Buckeyes. The majority of impartial observers would agree that at this point, Ohio State gets an edge against Iowa. But things certainly can change before Nov. 14.
---
Chris from Hastings, Minn., writes:
Adam, should Minnesota consider a switch at QB and start the freshman Marqueis Gray or do you think the coaching staff is doing the right thing by bringing Gray in sporadically.
Adam Rittenberg: I don't think MarQueis Gray is fully ready to run the offense, and I'm not certain that the pro-style system Minnesota switched to for the season best suits Gray's talents. He seems like more of a spread offense QB. That said, Minnesota should continue to find ways to work Gray into games. He can really be a weapon for a unit that has endured some ups and downs this season. The Gophers' top priority right now is the run game, which definitely looks like the right approach. But quarterback Adam Weber has been a bit shaky this season, so using Gray as a change-up isn't a bad idea at all.
---
October, 8, 2009
10/08/09
3:55
PM ET
Posted by ESPN.com's Adam Rittenberg
Ohio State isn't one of the three Big Ten teams to issue official injury reports each week, but head coach Jim Tressel's always provides health updates at his weekly Thursday media briefing. Today's session was no exception, as Tressel addressed the status of several players heading into Saturday's game against Wisconsin (ABC, 3:30 p.m. ET).
Offensive tackle Andrew Miller will miss his second consecutive game because of the flu. Sophomore Mike Adams will get the start at left tackle against the Badgers. There was some talk earlier in the week that Adams also had been affected by the flu, but Tressel on Thursday called it a false alarm. The hope is Miller will return to practice by Tuesday.
Other players who missed Wednesday's practice with the flu included starting left guard Justin Boren, starting tight end Jake Ballard and reserve safety Nate Oliver.
Running back Dan Herron is close to 100 percent after missing last week's game with an ankle injury. Expect Brandon Saine to make his second straight, but Herron should see time as well.
Guard Jim Cordle is making good progress with his ankle injury and participated in part of Wednesday's practice, which surprised Tressel. "I don't think we would put him in the game," Tressel said, "but he may be back a week earlier than we thought, which would be tremendous for us."
September, 17, 2009
9/17/09
1:30
PM ET

Posted by ESPN.com's Adam Rittenberg
Ohio State's much maligned offensive line will be without its most experienced member for the next 3-4 weeks, as starting right tackle
Jim Cordle is out with an ankle injury
.
Cordle actually sustained the injury last week in practice, but he started and played against USC and returned to practice this week. But the ankle got progressively worse and Cordle underwent an MRI on Wednesday.
Sophomores J.B. Shugarts and Mike Adams, two heralded recruits who have yet to play major roles yet, will get more work in the coming weeks. Shugarts will make his first career start at right tackle Saturday against Toledo, while Adams will be the backup at both tackle spots. Junior Andy Miller remains the starter at left tacke.
Adams is active for the game after missing the first two weeks. Sources told me Adams had been suspended, though head coach Jim Tressel never acknowledged it.
Cordle has played all three offensive line positions and made 28 career starts. He started at center in 2007 and for part of 2008 before moving to guard. He switched to right tackle before this season.
Cordle's loss is a blow for Ohio State, though the team has recruited extremely well to the offensive line. It's time for coordinator/line coach Jim Bollman to get the most out of the group as the Buckeyes' entire offense has come under fire after the USC loss.
August, 31, 2009
8/31/09
4:13
PM ET

Posted by ESPN.com's Adam Rittenberg
The competition at left tackle has been one of the top preseason storylines at Ohio State, which loses Alex Boone from an offensive front that needs better results this season.
Ohio State's Week 1
depth chart
(page 7) is out, and it looks like junior Andrew Miller, not heralded sophomores J.B. Shugarts or Mike Adams, will protect Terrelle Pryor's blind side when the team opens the season Saturday against Navy. Miller is listed as the starter opposite senior Jim Cordle at right tackle. Guards Justin Boren and Bryant Browning and center Mike Brewster round out the starting five.
Other notable items from the Buckeyes' two deep:
Ray Small might be the team's No. 2 returning receiver with 18 catches last year, but the senior comes in third on the depth chart at wideout behind starter DeVier Posey and backup Duron Carter, a true freshman. Small still could be in the dog house after academic issues delayed his arrival to camp, but it's hard not to believe he'll play more than your average third-stringer.
The offense features only two seniors in starting roles (Cordle and tight end Jake Ballard), while five freshmen or sophomores are projected to start. Three true freshmen are listed as backups on offense -- Carter, center Jack Mewhort and left guard Corey Linsley.
Senior Andre Amos gets the starting nod over junior Devon Torrence at the hotly contested cornerback spot opposite Chimdi Chekwa.
The defensive line is simply stacked with experience, as players like Lawrence Wilson and Todd Denlinger aren't even listed as starters.
Small and Posey are listed as the primary punt return men, while the team's top two running backs, Dan Herron and Brandon Saine, will handle kickoff returns along with sophomore wideout Lamaar Thomas.
August, 31, 2009
8/31/09
9:00
AM ET
Posted by ESPN.com's Adam Rittenberg
Big Ten football is here!
If you could see me right now, I'd be doing my happy dance. On second thought, it's probably better you don't see me.
Anyway, after this Sahara of an offseason, I'm excited to start blogging about actual games again.
Here's a quick rundown of what's on tap for the opening weekend in the Big Ten:
THURSDAY
Eastern Kentucky at Indiana, 8 p.m. ET, Big Ten Network
Indiana debuts the pistol offense against FCS Eastern Kentucky, a team that enjoyed good success under current Purdue head coach Danny Hope from 2003-07. Keep an eye on the Hoosiers' running back race, as three or four backs, including dynamic redshirt freshman Darius Willis, are expected to get carries. Coming off a 3-9 season, Indiana needs a strong start from its defense, who will face Colonels quarterback Cody Watts, a converted wide receiver who led the team in touchdown receptions (5) last season.
SATURDAY
Towson at Northwestern, noon ET, Big Ten Network
The Wildcats shouldn't have much trouble with Towson, a team that went 3-9 last season and still hasn't decided on its starting quarterback. But this will be a chance for Northwestern senior quarterback Mike Kafka and a new crop of starting skill players to get comfortable and gain confidence. Star defensive end Corey Wootton returns to the field after recovering from a torn ACL, and true freshman running back Arby Fields likely will see a lot of work.
Montana State at Michigan State, noon ET, Big Ten Network
All eyes will be on the Spartans' offensive backfield, where position battles at both quarterback and running back have intensified. Quarterbacks Kirk Cousins and Keith Nichol both are expected to play a lot, but who creates separation will be key. Michigan State coaches told ESPN.com last week that running backs Caulton Ray, Larry Caper and Edwin Baker likely will enter the season as the top ball carriers. Montana State also remains unsettled at quarterback with Mark Iddins and Cody Kempt competing for the top spot.
Navy at No. 6 Ohio State, noon ET, ESPN
Before a much anticipated rematch with USC, Ohio State must get past Navy, which always provides a challenge but doesn't appear to be as strong as it is in most years. Terrelle Pryor's progress from Year 1 to Year 2 will be interesting to watch, and I'm also very curious about the left tackle position. Will Andrew Miller or J.B. Shugarts emerge as the answer to protect Pryor's blind side?
Akron at No. 9 Penn State, noon ET, Big Ten Network
Whether it's fair or not, everyone expects a blowout here, and Penn State needs to deliver. The Lions' schedule forces the team not only to win, but win in very impressive fashion. Penn State can build confidence at wide receiver and offensive line against Akron, which ranked 90th nationally in total defense last fall. Akron quarterback Chris Jacquemain is pretty solid and will provide a good test for a new-look Penn State secondary.
Minnesota at Syracuse, noon ET, ESPN2
What is it about Minnesota and dome stadiums? The Golden Gophers thought they had rid themselves of domes for good by moving out of the Metrodome last fall, but they head indoors again to face Syracuse. Emotions will be high in the Carrier Dome as the Doug Marrone era begins and former Duke basketball player Greg Paulus starts at quarterback. Minnesota is the better team here, and as long as the Gophers keep their composure and don't struggle too much with their new pro-style offense, they should be fine.
Toledo at Purdue, noon ET, Big Ten Network
The Danny Hope era begins in West Lafayette as Purdue takes on Toledo, which also welcomes in a new coach (Tim Beckman). It will be interesting to watch how much the Boilers offense has changed under coordinator Gary Nord. Running back is arguably Purdue's deepest position, and backs like Jaycen Taylor, Ralph Bolden and Frank Halliburton all should get work. Boilers quarterback Joey Elliott needs to be aware of Toledo star safety Barry Church, a Nagurski Award candidate.
Northern Iowa at No. 22 Iowa, noon ET, Big Ten Network
This isn't your run-of-the-mill FBS vs. FCS beatdown. It could turn out that way, but Northern Iowa is pretty good and Iowa has some issues at running back. Former walk-on Paki O'Meara likely will get the start at running back for the Hawkeyes. Former Wisconsin linebacker Elijah Hodge, whose brother Abdul starred for Iowa, is making his debut with Northern Iowa at Kinnick Stadium. Iowa has won the last 14 meetings in the series stretching back to 1898.
Western Michigan at Michigan, 3:30 p.m. ET, ABC
There's plenty of intrigue here, and I'll be on hand to watch it. Michigan tries to win its first opener since 2006 and close the book on a disastrous 2008 season. The Wolverines could use three quarterbacks (Nick Sheridan, Tate Forcier and Denard Robinson) in the game, and they must try to contain a really good signal-caller (Tim Hiller) on the other side. Perhaps the biggest question is how Michigan will come out after the allegations from players about NCAA rule violations within the program. Can Michigan keep it together for a critical opener?
Illinois vs. Missouri (at St. Louis), 3:40 p.m. ET, ESPN
Easily the best matchup of a pretty bland opening weekend, Illinois and Missouri meet in what is usually an extremely entertaining game. Illinois returns more experience on offense and really needs a win to start a tough opening stretch. A key matchup pairs Illini quarterback Juice Williams and Missouri star linebacker Sean Weatherspoon, who recently Tweeted he'd "squeeze the pulp out of Juice." Williams set the total offense record at Edward Jones Dome in his last appearance against Missouri and needs a repeat performance.
Northern Illinois at Wisconsin, 7 p.m. ET, Big Ten Network
Week 1 wraps up with a night game at Camp Randall Stadium, where Wisconsin's surprise starting backfield of Scott Tolzien and Zach Brown takes on Northern Illinois. The Badgers likely will play both Tolzien and redshirt freshman Curt Phillips at quarterback, but Tolzien will have the first chance to create some separation. Versatile NIU quarterback Chandler Harnish provides a good challenge for a Wisconsin defense replacing five starters in the front seven.
August, 25, 2009
8/25/09
12:00
PM ET
Posted by ESPN.com's Adam Rittenberg


Thomas from Dublin, Ohio, writes: Through reports and the one televised practice this summer, it's deduced that the defensive line of Ohio State may be the team's strength.In Saturday's jersey scrimmage, the defensive line seemed to have its way with the offense, leading to the defense keeping the Scarlet jerseys. At this point, is the defensive line so good that it's making the offensive line look bad? The offensive line seems to be having a lot of troubles and I personally cannot tell if it's OSU's defensive line that's causing these problems.


Adam Rittenberg: I'm extremely impressed with the Buckeyes' defensive line heading into the fall, but their strong play in Saturday's scrimmage shouldn't be overblown. The offensive line played without arguably its best piece, guard Justin Boren, who looks to be recovering well from a knee injury. Also, the left tackle position remains very much in flux, with Andrew Miller and J.B. Shugarts competing there. You've also got guys like Bryant Browning and Jim Cordle in different spots, so it's going to take a while for that group to jell.

Adam from Terre Haute, Ind., writes: I don't know what to make of the badgers running back situation. I know zach brown is a very good back but were talking about JOHN CLAY! He just flashed so much potenia last year. Why do you think they moved him back to back up? Is it to motivate him or to make him work harder? Because I can't see any other back starting other than JoHn Clay next season. What should I make of this?


Adam Rittenberg: It surprised me, too, but Wisconsin's decisions might have more to do with Brown's production than any regression from Clay. Brown was kind of the forgotten man last year behind P.J. Hill and Clay, but he clearly has elevated his play in camp. The coaches will play the best player, but you're right about the motivation factor for Clay. After being hyped as the team's No. 1 offensive option all summer, he's suddenly the backup. You can bet he'll be fired up for the season. Wisconsin should benefit from the variety Clay and Brown provide. They're obviously different physically and stylistically, so offensive coordinator Paul Chryst will be able to use them in different situations.

Nick from Tuscaloosa, Ala., writes: What do you think about Minnesota working in the Wildcat...or rather Wild Gopher package into their offense this season? Will it be successful in helping establish a running game?



Adam Rittenberg: Gopher fan in Bama country? Nice. Minnesota has so many athletes, especially on the offensive side, so the Wildcat package makes a lot of sense. You've got a guy like Troy Stoudermire, who was tremendous on kickoff returns last year and played some quarterback in high school. He hasn't played much wide receiver at the college level, but he's dangerous with the ball in his hands and seems like a perfect fit to run the Wildcat.

Matt from NYC writes: Adam,You and others have said the Big Ten needs to win the Rose Bowl to regain its reputation. I've also seen talk that our problems stem from the fact tha we constantly get two
teams in the BCS so all of our teams have to play up in competition. Really, I think our problems stem from USC getting screwed out of the championship game every year. Let someone else play them and the Big Ten can take on number two in the Pac 10. I think you'd see the Big Ten do just fine then. It's not like I see any SEC schools chomping at the bit to play the Trojans. Lord knows those guys will schedule anyone, where as Florida won't leave the state of Florida.



Adam Rittenberg: Good assessment, Matt. No team in the country wants to play USC in a meaningful game, and the Big Ten has seen the Trojans four times in the Rose Bowl this decade. I can't imagine the Big Ten's Rose Bowl losing streak would be what it is had the opponent been Oregon, Cal or Oregon State. Having only one BCS team would improve the league's overall bowl prospects, but the Big Ten wants its teams on the biggest stages with the biggest payouts. Two BCS victories after the 2005 season certainly helped, and the Big Ten could make a similar breakthrough this year, if the matchups fall right.


Craig from Peoria, Ill., writes: Adam:I'm a native from Peoria, IL. However, I am NOT a U of I fan in any shape or form. I developed a love for NU football during the mid 90s while I was playing football in highschool. I feel like the only guy in this area who is a NU fan. I know that NU football has been around a long time, so why is it that the citizens of Chicago do not fill Ryan Field with thousands of fans, yet the U of I can be packed on any given saturday?



Adam Rittenberg: There are several factors involved, namely the number of sporting options in Chicago. Northwestern isn't the only show in town like many Big Ten programs, and the team doesn't have that historical bond with the Chicago sports fan. Things could change with the program's decent run since 1995 and head coach Pat Fitzgerald's popularity, but not enough people in the Chicago area connect to the program. Northwestern's alumni base in Chicago pales in comparison to those of other Big Ten schools (Michigan, Indiana, Iowa, Wisconsin). So it's an uphill battle, but things should pick up if the team keeps winning and schedules better nonconference matchups.
April, 16, 2009
4/16/09
6:57
PM ET
Posted by ESPN.com's Adam Rittenberg
COLUMBUS, Ohio -- I won't be making it out to Purdue this spring, but I experienced the next best thing Thursday at Ohio State's practice. During each practice, the Buckeyes simulate a Big Ten road environment, and Purdue served as Thursday's theme.
Right before every snap during team drills, an official blared a giant horn that resembled the train signal at Ross-Ade Stadium. It also reminded me of the horn at hockey games (go Blackhawks). Standing about 10 feet from the contraption, I'm sure I sustained some degree of hearing loss.
It was a gorgeous day, and 100-200 people gathered around the two turf practice fields behind the Woody Hayes Athletic Center. For a second, I thought I was at USC. The open practices are a nice touch at normally close-to-the-sweater-vest Ohio State.
Onto the practice observations:
The first-team offense: Quarterback Terrelle Pryor (who's he?), running backs Brandon Saine and Dan "Boom" Herron (rotated), wide receiver Ray Small, wide receiver DeVier Posey, wide receiver Lamaar Thomas, tight end Jake Ballard, left tackle Andrew Miller, left guard Justin Boren, center Mike Brewster, right guard Bryant Browning, right tackle Jim Cordle.

The first-team defense: Safety Anderson Russell, safety Kurt Coleman, cornerback Chimdi Chekwa, cornerback Devon Torrence, linebacker Etienne Sabino, linebacker Brian Rolle, linebacker Austin Spitler, defensive end Thaddeus Gibson, defensive end Cameron Heyward, defensive tackle Doug Worthington, defensive tackle Dexter Larimore. Ross Homan, a projected starter at linebacker, is out with a hamstring injury.
Several of Boren's teammates talked about the nastiness he brings to the offensive line. The Michigan transfer showcased his strength during 1-on-1 drills, manhandling Larimore and Garrett Goebel.
Thomas worked as first-team wide receiver because of a high ankle sprain sustained by Dane Sanzenbacher. He made several catches on short passes (quick outs, middle screens) and seems to bring explosiveness to the offense.

Sophomore tackle Mike Adams is freakishly huge, one of the bigger linemen I've seen this spring. But his toughness has been questioned and challenged a bit, and he worked exclusively with the second-team offense Thursday. He has been rotating at first-team left tackle with Miller, a converted tight end.
Pryor looked decent on short passes, but he underthrew Posey on a deep post and Torrence batted down the pass. He also overthrew Small but hit Thomas, Saine and Ballard on some nice throws. With only three quarterbacks on the roster this spring, Pryor took snaps with both the first- and second-team offenses.
Head coach Jim Tressel has repeatedly praised the spring progress of backup tight end Jake Stoneburner, a converted wide receiver. The 6-foot-5, 230-pound redshirt freshman certainly passes the eye test and made a nice grab on a hitch route.
Backup quarterback Joe Bauserman, who played three seasons in minor league baseball, showed off a strong throwing arm during individual drills.

Saine will be a critical component on the offense this year, and the junior showed some explosiveness at practice. He had a big run up the middle during team drills and caught several screen passes. Health is always the issue for Saine, but he looked good Thursday.
Defensive back Rocco Pentello had an impressive practice. He forced a Herron fumble that cornerback Donnie Evege recovered, and after a bad snap on a field goal attempt, he returned the ball for a touchdown.
Spitler and reserve backer Andrew Sweat both delivered huge hits during team drills. Small was able to hang onto a pass despite getting rocked by Spitler.
One of the day's more exciting plays came on a bad snap to Pryor, as Rolle scooped up the ball and raced down field, only to be caught from behind by Saine. I guess a running back should track down a linebacker, but it was impressive on both ends.

After watching James Laurinaitis for all these years, it was funny to see a running back wearing No. 33. Fifth-year senior Joe Gantz had a long touchdown run during red zone drills and also got rocked by Dexter Larimore.