January, 1, 2014
1/01/14
9:00
AM ET
The 100th edition of the Rose Bowl Game presented by VIZIO kicks off later today. Here's a look at 10 reasons why No. 4 Michigan State could beat No. 5 Stanford in Pasadena.
[+] Enlarge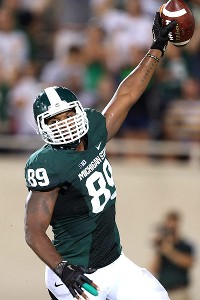 Mike Carter/USA TODAY SportsMichigan State will send Shilique Calhoun, and many other defenders, at Stanford's offense.
1. MSU can match Stanford's physicality:
Stanford's only two losses this season came against teams with big, physical players, especially up front. The Cardinal can simply overpower most of their Pac-12 foes, but Michigan State can match them along the line of scrimmage. Even without middle linebacker
Max Bullough
, the Spartans defense should be able to contain a traditional offense like Stanford's. Spread teams give the "Spartan Dawgs" slightly more trouble, but Stanford isn't one of them.
2. The kicking game:
No one is talking enough about MSU's edge in special teams. Stanford's
Ty Montgomery
is an exceptional return man, but Michigan State has arguably the nation's best punter in
Mike Sadler
and a superior kicker in
Michael Geiger
, who has connected on 14 of 15 field-goal attempts. MSU also has been brilliant in executing special-teams fakes and has had nearly a month to brainstorm some for the bowl.
3. Shilique Calhoun:
Michigan State's improved pass rush has made an already elite defense even better this season, and Calhoun is the biggest reason why. He has 7.5 sacks and 14 tackles for loss and can pressure Stanford quarterback
Kevin Hogan
in obvious passing situations. Calhoun will be challenged by Stanford mammoth left tackle
Andrus Peat
in what should be one of the game's best individual matchups.
4. Big-play receivers:
This item would have been laughed at a year ago, but MSU's receiving corps turned things around early this season. Players such as
Bennie Fowler
,
Keith Mumphery
,
Tony Lippett
and
Macgarett Kings
can stretch defenses, and the group has repeatedly helped out quarterback
Connor Cook
with tough catches. Coordinator Dave Warner said the upgrade at receiver play has been the biggest difference with this year's offense.
5. No-fly zone:
MSU undoubtedly will miss Bullough's run-stopping ability, but it has the luxury of committing more defenders to the run than most teams, especially against offenses like Stanford's. Cornerbacks
Darqueze Dennard
and
Trae Waynes
are talented enough to be left on their own against a Stanford team that features only one player (Montgomery) with more than 27 receptions. Dennard also could help against the rush.
6. The magic man:
There's no doubt Cook has had the magic touch during Michigan State's nine-game win streak, making tough throws into traffic and on the move. He has gotten away with mistakes, some of which have turned into big plays for the Spartans. Will the magic run out against Stanford? It's possible, but Cook had his first career 300-yard passing performance in the Big Ten championship. The bigger the stage, the better he seems to play.
7. Sparta West:
Big Ten fans love to complain that the league's bowl games are essentially road games. Well, the Rose Bowl will feel like Spartan Stadium as Michigan State fans have traveled here in large numbers. At least half of the stadium will be green, and MSU should feed off of the crowd after going 7-0 at home this season. The ideal weather conditions likely favor Stanford, but the overall environment gives MSU an edge.
8. Langford in the fourth quarter:
Michigan State has won its past nine games by double digits and often finishes off its opponents with strong fourth quarters. The Spartans have outscored their opponents 105-27 in the final 15 minutes this season, and running back
Jeremy Langford
has delivered several long scoring runs down the stretch. Stanford has been outscored 85-82 in the fourth quarter this fall.
9. Extra prep time for coaches:
This could be an edge for both teams as both coaching staffs are excellent, but Mark Dantonio and his assistants have been excellent in their preparation throughout the season. Defensive coordinator Pat Narduzzi has had ample time to study Stanford's offense and its line combinations, and the offense could incorporate some new wrinkles in the pass game. Definitely expect a PG-named fake or two from Dantonio.
10. Sparty:
Michigan State has the coolest non-live-animal mascot in the country in
Sparty
, a chiseled warrior with a glare that intimidates anyone he encounters. Stanford's mascot looks like a 6-year-old's art project, with big googly eyes and a stupid grin on its face. Sparty will crush the tree and inspire Michigan State's players to do the same to Stanford. And yes, I grew up in Berkeley, Calif.
September, 9, 2013
9/09/13
5:15
PM ET
LINCOLN, Neb. -- Buzzwords around Nebraska football tell a story representative of the program's progression over the past decade and a half.
There was dominance in the mid-to-late 1990s.
Chaos followed, from about 2002 until Bo Pelini arrived to coach in 2008.
Now, it's relevance -- or a lack thereof.
Nebraska last finished a football season ranked in the top 10 in 2001, the same year it most recently played in a BCS bowl game. And while Pelini's record is impressive -- he sits among four first-time coaches to win nine games in each of his first five seasons -- the Huskers finished outside of the top 15 in four of those years.
Nebraska is not moving the meter nationally. It is not connecting consistently with elite recruits. It rates as an afterthought outside of its conference and, often, outside of its state.
The Huskers over the past few years have failed on the big stage. In three conference title games, Nebraska lost heartbreakers to Texas in 2009 and Oklahoma a year later before Wisconsin ran it out of Lucas Oil Stadium last December.
The same Badgers welcomed Nebraska rudely to the Big Ten two years ago in a top-10 showdown.
[+] Enlarge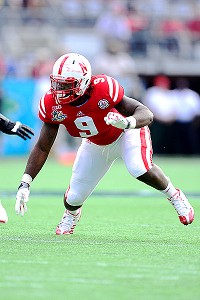 AP Photo/Scott A. MillerSenior Jason Ankrah said he didn't even know where Nebraska was before he was recruited.
And really, that's it. As a borderline elite program, chances to vault into the national conversation arrive rarely. At every chance of late, save for perhaps a 10-3 win over 20th-ranked Oklahoma in 2009, Nebraska found a way to stay out of sight, out of mind.
The next opportunity comes Saturday at noon ET. The Huskers dropped in the Associated Press poll after each of their two wins to open this season. A victory over 16th-ranked UCLA won't entirely fix Nebraska's image, but it's the only way the Huskers can stay relevant until November.
With South Dakota State on deck and a soft opening set of Big Ten games that include Illinois, Purdue and Minnesota, the Huskers won't make any noise if they're 6-1 when Northwestern visits on Nov. 2.
Not until a Nov. 9 trip to Michigan would Nebraska demand more than a passing glance on the national landscape.
Unless, that is, it wins on Saturday.
The road back to relevance goes through Michigan. Until then, UCLA offers Nebraska its only ticket to the big show.
Senior defensive end
Jason Ankrah
said he understood the "sense of urgency."
It's time to make a statement, he said.
"We set our goals to do certain things this year," Ankrah said, "and they're just another team in our way."
That said, the Huskers wanted UCLA on their schedule this year, according to Ankrah, after the Bruins beat Nebraska 36-30 last year at the Rose Bowl.
"We're in the same boat as a lot of other teams," linebacker
Michael Rose
said. "We're a program trying to re-establish ourselves. We've got the right players and the right coaches. I don't think there's a lack of respect at other places for Nebraska."
No, but Rose got to know a pair of high-profile recruits two years ago after he committed to Nebraska. The Huskers made the final two for
Devin Fuller
out of New Jersey and
Andrus Peat
of Arizona.
Fuller is now a top receiving target for UCLA quarterback
Brett Hundley
. Peat starts at left tackle for Stanford. Maybe a couple of conference titles this century would have provided an edge for the Huskers.
Senior center
Cole Pensick
grew up around this program. His dad, Dan, played defensive tackle for former coach Tom Osborne. Cole attended Lincoln Northeast High School. To him, relevance was never the issue. Friends of his father surrounded Cole as a kid. He lived through the championship era of the '90s and heard stories about the significance of Nebraska football to a worldwide fan base.
"It's kind of giving me chills right now just thinking about it," Pensick said, "how many people out there love Nebraska."
I-back
Ameer Abdullah
came to Lincoln from Homewood, Ala., learning quickly of the tradition.
Abdullah, discussing the importance of Nebraska's relevance, rattled off a few stats -- the Huskers have won more games than any other program over the past 50 years. They've sold out every home game since 1962.
The list continues.
Nebraska's notable tradition and passionate fan base, at some point, provide a crutch: The Huskers have fought for a decade to regain their edge, but hey, no program can claim more victories since 1970.
Ankrah grew up in Maryland. He graduated high school in 2009. Before Nebraska began to recruit him, Ankrah said, he knew little about the Huskers.
"I'm not going to lie," Ankrah said. "I did not know where Nebraska was."
That's relevance for you. Irrelevance, more precisely.
UCLA is coming to Lincoln. Opportunity awaits.
February, 6, 2012
2/06/12
11:00
AM ET
The Big Ten recruiting classes are signed and sealed, and although a few more recruits could come aboard, we have a good idea of what the rosters will look like heading into the 2012 season.
That means it's Power Rankings time. Again.
We're taking a post-signing day look at where the league stacks up. There aren't too many changes from our
previous rundown
, but some teams received a bump from strong recruiting classes.
As they say on Twitter, #legooo.

1. Michigan State:
The Spartans' recruiting class didn't crack ESPN's top 25, but it features several strong prospects and is loaded up at wide receiver and defensive back. Mark Dantonio tells us he can't remember recruiting 10 athletes like the ones Michigan State added in the class. Michigan State already is one of the Big Ten's most athletic teams, so this bodes well for the Spartans as they look for another big season.
2. Michigan:
Brady Hoke and his staff rode a fast start to 2012 recruiting and finalized a class ranked No. 7 nationally. The Wolverines started three freshmen on defense in 2011 and added several more who can contribute early in their careers, including linebacker Joe Bolden, cornerback Terry Richardson and defensive tackle Ondre "Pee Wee" Pipkins. If Michigan can maintain its momentum on defense after losing several stud linemen, it will be very tough to beat in 2012.
3. Ohio State:
Urban Meyer announced himself with a superb recruiting class featuring arguably the nation's best crop of defensive line prospects. Ohio State would have been an improved team in 2012 after its first seven-loss season since 1897, but the recruiting class boosts the Buckeyes even more. The defensive front seven should be a deeper and stronger unit, and players like Noah Spence, the Big Ten's top-rated recruit, have a chance to contribute immediately.
4. Nebraska:
The Huskers missed on their top signing day target (offensive lineman Andrus Peat) but still inked a solid class that should help at positions like linebacker, where Big Red lacked size and depth. Linebacker Michael Rose could contribute early in his career. Nebraska also addressed the departure of standout cornerback Alfonzo Dennard with talented juco addition Mohammed Seisay.
5. Wisconsin:
Quality not quantity was the theme for Wisconsin, which signed only 12 players, the Big Ten's smallest class by five recruits. The Badgers lost two offensive line commits to other schools but added a decorated quarterback in Bart Houston and some solid players to the defensive back seven, including linebacker Vince Biegel. This is the type of season that will test Wisconsin's ability to reload and provide a true gauge of the program's progress under Bret Bielema.
6. Penn State:
New coach Bill O'Brien and his staff had to scramble to keep the class together, and the 2012 recruiting haul didn't quite match what Penn State adds in most seasons. The coaches were able to keep some good prospects and fulfilled a need at wide receiver with Eugene Lewis and others. It'll be interesting to see how quarterback Steven Bench turns out after Penn State lost verbal commit Skyler Mornhinweg to Florida.
7. Purdue:
The Boilers added speed in their 2012 class, and they loaded up on quarterback prospects for the future with four signal-callers. But Purdue also beefed up along the offensive line with Jordan Roos and others. With coaching changes and personnel changes throughout the Leaders Division -- not to mention Ohio State's bowl ban -- Purdue has an excellent chance to make some noise in 2012.
8. Iowa:
The big story in Iowa City isn't so much the recent recruiting class but the seismic changes going on in one of the nation's more stable programs. After having the same coordinators for the past 13 seasons, Kirk Ferentz must replace both Norm Parker and Ken O'Keefe, who left late last week for a post on the Miami Dolphins' staff. Iowa will have new leadership on both sides of the ball, creating some uncertainty but also some excitement. The Hawkeyes added some nice pieces in the 2012 class, such as running back Greg Garmon and defensive end Faith Ekakitie.
9. Northwestern:
Although the Wildcats' class didn't crack the national rankings, it looks like the best haul in Pat Fitzgerald's tenure as head coach. Northwestern picked up a potential difference-maker on defense in defensive end/linebacker Ifeadi Odenigbo. Malin Jones could be the team's answer at running back, a spot that has suffered during Fitzgerald's tenure. The Wildcats also added the league's top transfer in former USC receiver Kyle Prater.
10. Illinois:
It might take a year for Tim Beckman and his staff to make a big splash on the recruiting scene. Illinois' 2012 haul didn't receive great reviews, but the Illini are pursuing several nationally elite 2013 prospects from within the state. Linebacker recruits Tajarvis Fuller and Tyrone Neal should help Illinois in the defensive back seven. There's enough talent on the squad to get back to a decent bowl, but Beckman and his staff have plenty of work ahead.
11. Minnesota:
The Gophers inked a class that drew good reviews from ESPN's analysts. Jerry Kill and his staff retained several top in-state prospects, including offensive lineman Isaac Hayes, wide receiver Andre McDonald and quarterback Philip Nelson. McDonald and fellow wideout Jamel Harbison could be immediate contributors for an offense that needs more options. But defense must be the top offseason focal point for Minnesota, which added several juco defenders.
12. Indiana:
Although the Hoosiers remain at the bottom, we liked their recruiting class, which should first and foremost provide immediate help on defense. Junior college defenders like Tregg Waters and Jacarri Alexander likely will step in right away for a struggling unit. Indiana also will increase the competition at quarterback with heralded prep prospect Nate Sudfeld and juco addition Cameron Coffman.
February, 2, 2012
2/02/12
12:00
PM ET
You want a prediction about the weather? You're asking the wrong Phil. I'll give you a winter prediction: It's gonna be cold, it's gonna be gray, and it's gonna last you for the rest of your life.
February, 2, 2012
2/02/12
9:00
AM ET
The most relevant day of the year for outdated fax machines has come and gone. The ink is dry on those letters of intent, and -- with a few notable exceptions -- the recruiting classes of 2012 are complete.
There were a few surprises in the Big Ten on national signing day, but things went mostly as expected. That meant banner days in Columbus and Ann Arbor, as Ohio State and Michigan brought home what every analyst agrees were the league's top two classes. But final judgments on these recruiting efforts won't be passed until a few years from now, when the blue-chippers and the under-the-radar guys prove themselves on the field.
For now, though, we look back and hand out some awards for the Big Ten's big recruiting day:

Top class:
Ohio State
Michigan put together a terrific crew, too, but the Buckeyes take top honors. Urban Meyer secured the services of five ESPNU 150 players and 12 prospects rated at least four stars by ESPN. It's a class loaded with potential stars on the defensive and offensive lines, which should form the foundation of Meyer's program. Ohio State got pledges from six players who were originally committed to another Big Ten school, meaning Meyer weakened other teams while strengthening his own. Add in the fact that he got a late start on recruiting after his November hire, and this looks like one of the more impressive efforts in recent league history.

Player you'll see next season: Michigan LB Joe Bolden
In our recruiting roundtable discussion on Tuesday, all three ESPN.com experts picked Bolden as someone who could make an immediate impact. While Bolden just made the cut for the ESPNU 150, checking in at No. 142, he's got excellent size (6-foot-2, 225 pounds) and instincts for the game already. And Michigan will likely have playing time available as it searches for more playmakers at the linebacker spot.

Biggest surprise: Nebraska missing out on Andrus Peat
While the Huskers were never a lock to land this Top 10 overall prospect, Nebraska fans felt good about their chances with the star offensive tackle. Understandably so, since his older brother, Todd, is a defensive lineman for Bo Pelini. But the younger Peat went his own way and chose Stanford, a choice that would have seemed inconceivable 10 years ago. Nebraska still had a good signing day as defensive tackle
Aaron Curry
and athlete
Alonzo Moore
made last-minute choices to come to Lincoln. But Peat was the one who got away.

Wildest signing day: Iowa
There were few dull moments for Iowa on signing day. The Hawkeyes made some late offers and made some late additions like wide receiver
George Kittle
, whose father, Bruce, played offensive line at Iowa. There was also buzz about defensive back
Dinero Moss
switching his commitment from Minnesota to Iowa, and offensive line target
Alex Kozan
didn't show up at a signing day ceremony at his high school. Another recruiting target said
Iowa didn't have a scholarship for him
after telling him not to worry. What a day in Hawkeye Country.

Future award winner: Ohio State DE Noah Spence
The 6-foot-4, 245-pound Spence was rated as the No. 4 overall prospect in this class by ESPN.com and was the only five-star recruit to sign with a Big Ten school. He'll have a lot of competition on a now-stacked defensive line in Columbus, but Spence has all the tools to be a future star as an athletic pass-rusher for the Buckeyes.

Program on the rise: Minnesota
We're not predicting Big Ten titles in the Gophers' immediate future, but there's little question that second-year coach Jerry Kill has improved the overall talent and depth of his roster with his first full recruiting class. Minnesota needed offensive playmakers and appears to have addressed that with receivers
Jamel Harbison
and
Andre McDonald
. Four of the team's six junior-college transfers should provide some immediate help to a defense in desperate need of bodies. Kill might have found his quarterback of the future with in-state star
Philip Nelson
and a potential offensive line anchor in blue-chipper
Isaac Hayes
. This 31-man class won't rocket the Gophers to the top of the Legends Division, but it should lead to better things than 3-win seasons.

Big-splash recruit: Northwestern LB Ifeadi Odenigbo
Northwestern has landed some solid offensive recruits in recent years, but Pat Fitzgerald hadn't made a big splash on the defensive side until now. Odenigbo is an ESPNU 150 prospect who brings speed and play-making ability to the edge, where Northwestern needs a lot of help in pressuring opposing quarterbacks. The Wildcats need some game-changers on defense to take the next step, and Odenigbo helps in the process.
February, 1, 2012
2/01/12
2:05
PM ET
What had been a good national signing day for Nebraska took a disappointing turn as coveted offensive tackle prospect
Andrus Peat
picked Stanford ahead of the Huskers.
Peat, ranked as the nation's No. 9 overall prospect by ESPN Recruiting, picked the Cardinal rather than join his brother Todd, a Huskers defensive tackle, in Lincoln. Nebraska received pledges from
Aaron Curry
and
Alonzo Moore
earlier in the day, but Peat, from Tempe, Ariz., was definitely the team's biggest prize on the board.
"It was really tough," Peat said on ESPNU after making the announcement. "Me and Todd, we've had a really strong relationships. I have a lot of respect for coach [Bo] Pelini and what they're doing over there. I just thought Stanford was the best fit for me."
Nebraska's class includes only two offensive linemen, led by four-star prospect
Paul Thurston
.
January, 26, 2012
1/26/12
4:30
PM ET
Big Ten teams are making the final push toward national signing day, and several of the nation's top recruits remain uncommitted.
ESPN's recruiting experts have made
predictions on where several coveted uncommitted prospects will end up
signing on Wednesday. If they prove to be correct, some Big Ten fan bases will be pleased.
Let's take a look:
Athlete Davonte Neal (No. 8 in ESPNU 150): Five of seven experts predict Ohio State
OT Andrus Peat (No. 9 in ESPNU 150): Three of seven experts predict Nebraska
Athlete Stefon Diggs (No. 13 in ESPNU 150: One of seven experts predicts Ohio State
OT Joshua Garnett (No. 44 in ESPNU 150): Three of seven experts predict Michigan
OT Jordan Diamond No. 94 in ESPNU 150): Six of seven experts predict Michigan
DE Jamal Marcus: Five of seven experts predict Ohio State
S Trae Elston: Two of seven experts predict Penn State
WR Monty Madaris: Five of seven experts predict Michigan State
WR Andre McDonald: Four experts predict Minnesota, one predicts Illinois
Athlete Demetrious Cox: Four experts predict Michigan State, two predict Penn State, one predicts Ohio State
G Alex Kozan: Four experts predict Iowa, two predict Michigan
RB Imani Cross: One expert predicts Nebraska
It'll be interesting to see how these predictions turn out.