July, 12, 2013
7/12/13
9:00
AM ET
Your B1G and Pac-12 bloggers have been grinding away on their respective leagues' nonconference primer series. Here's
the Big Ten series
, and here's
the Pac-12 series
. Part of the fun is learning about other teams in other conferences and what they bring to the table. The Pac-12 and Big Ten face each other five times during the regular season. The Pac-12 got the better of the matchups last year. Will this year be different? Brian Bennett and Kevin Gemmell decided to talk it over.
Brian Bennett
: The first thing I look at for Big Ten-Pac-12 matchups in any given season is where the games are staged. Big Ten teams don't seem to think the West Coast is the Best Coast; they are just 5-20 in true road games against the Pac-12 since 2000, and that includes an 0-3 mark on the road versus the Pac-12 last year. (The league also has just one win in its past 10 Rose Bowls, but not all of those games came against the Pac-12.)
[+] Enlarge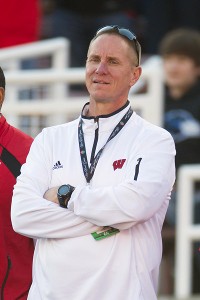 AP Photo/David StlukaNew coach Gary Andersen and the Badgers will have their hands full at ASU this season.
So it's not good news for the league that I cover that three of these five matchups are located far left of the Midwest. If there's any reason for optimism, it's that the Big Ten teams should be substantial favorites in two of the road games -- Northwestern at Cal in the opener and Ohio State against those same Bears in Week 3. Cal is intriguing because of new coach Sonny Dykes, but Northwestern and Ohio State are both legitimate Top 20 teams with conference-title aspirations; if they can shake off the jet lag and contain the Bears' passing attack, they should take care of business.
The two most interesting games -- and what look like virtual toss-ups -- are Wisconsin at Arizona State, and UCLA at Nebraska. The Badgers have a lot of returning talent, but a new head coach and different schemes on both sides of the ball. It's also going to be a clash of styles, with the Badgers' power running game going up against Arizona State's spread offense. Will Gary Andersen's team have its new systems figured out by then, and is Wisconsin's defense -- particularly its inexperienced secondary -- fast enough to handle the Sun Devils?
UCLA-Nebraska is probably not getting enough attention as a must-watch game this year. Last year's shootout in Pasadena, Calif., featured nonstop pingpong action, and both teams figure to have topflight offenses again. The Cornhuskers have a perilously young defense, but Bo Pelini's teams usually defend much better at home than on the road. Quarterback
Taylor Martinez
-- who grew up a Bruins fan but was recruited by them as a defensive back -- will be highly motivated to beat UCLA his senior year. This is Nebraska's only major test in the first seven games, and it's one I think the Huskers have to find a way to win.
Finally, there's Washington at Illinois. The Illini get the benefit of home turf, sort of, as the game will be played at Soldier Field in Chicago. We'll see if Tim Beckman's crew will inspire enough fans to show up by Week 3. While Washington has been mediocre for what seems like forever, I can't confidently pick Illinois to beat any half-decent power conference opponent at this point.
In the end, I say the Big Ten manages a winning record this time around against the Pac-12, taking the two games in Berkeley, Calif., and the one in Lincoln, Neb. A 3-2 mark sounds about right, though if Wisconsin can pull off the win in the desert, that could be a good sign for both the Badgers and the league as a whole.
Kevin Gemmell
: I'm going 3-2 also, but in favor of the Pac-12. After all, if we were in total agreement, it would make for a pretty boring Take 2. So I'll play the contrarian when it comes to UCLA-Nebraska.
[+] Enlarge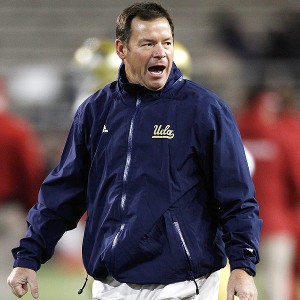 William Mancebo/Getty ImagesCoach Jim Mora and UCLA allowed just six points in the second half of last year's win against Nebraska.
We agree on the Cal games versus Northwestern and Ohio State -- though I think Cal is going to give both of those teams a better run than they are banking on. I like what Andy Buh is doing with a defense that could be sneaky good. And the Bears have
some explosive depth at wide receiver.
But ultimately it's a rookie quarterback -- whomever Dykes chooses among
Zach Kline
,
Jared Goff
and
Austin Hinder
-- and a team that will still have some growing pains as new systems are installed on both sides of the ball. Like you with Illinois, I'm not ready to give the Bears the green light yet. However, last year's game in Columbus, a 35-28 win for Ohio State, should serve as a reminder not to take Cal lightly. No doubt, the Buckeyes will remember
Brendan Bigelow
and his four carries, 160 yards and two touchdowns.
Both halves of the Pac-12 blog have been saying we believe Washington is going to get over that seven-win hump this year after three straight seasons of mediocrity. The Huskies have a lot of pieces in place with a returning quarterback, a 1,400-yard rusher, good receivers, a good line and the top tight end in the country. Their defense made huge strides last season in the first year under Justin Wilcox, and we're expecting another leap forward in 2013. What scares me is Washington's inconsistent play on the road the past few seasons. During the Huskies' trio of 7-6 seasons, they are 14-5 in Seattle (last year they played at CenturyLink Field) and 6-11 on the road. The past two years they are 11-2 at home and 3-8 on the road (0-2 in their bowl games at neutral sites). If the Huskies want to have a breakout year, they are going to have to win away from home. Steve Sarkisian actually talked about this
in a Q&A we did back in April
. But they certainly have the talent to win this game.
The ASU-Wisconsin game is really a critical one for the Sun Devils. It kicks off a four-game stretch (with no bye weeks) that also includes Stanford, USC and Notre Dame. ASU is another team looking for some national credibility, and this is its first opportunity to get some. You're right to talk about the ASU offense, but that defense -- which ranked first nationally in tackles for a loss and second in sacks last season -- is going to be crazy good with
Will Sutton
and
Carl Bradford
leading the attack. I'm banking on a good game, but ultimately one ASU wins at home.
That brings us to UCLA-Nebraska, a game I'm also surprised more people aren't geeked up about outside of the respective fan bases. This should be a fantastic showcase for both leagues.
Brett Hundley
impressed in his freshman campaign, and I think this game is going to be a spotlight for two of the country's most athletic quarterbacks. I was in Pasadena for the game last season, and what actually stood out to me was UCLA's defense -- particularly in the second half. The Bruins allowed only six points, and kept Martinez to 11 yards rushing and the Huskers to 106 total yards in the final 30 minutes. They should be improved in Year 2 under Jim Mora and Lou Spanos. If the Bruins pull this one off, it's going to be because of what they can do defensively.
December, 17, 2012
12/17/12
9:00
AM ET
Wisconsin athletic director/interim football coach
Barry Alvarez met with local reporters Sunday
after practice and discussed his search for a new head coach.
Alvarez said he has one more coaching candidate to meet with before deciding "on the best person." He reportedly has met with two candidates -- Jacksonville Jaguars defensive coordinator Mel Tucker and
recently named South Florida coach Willie Taggart
. Tucker said early last week that
he's not interested
in the position, although
his name keeps coming up
. It seems unlikely Taggart would make another move after accepting the USF job on Dec. 7.
[+] Enlarge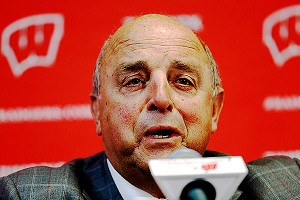 AP Photo/Morry Gash"For those that are panicking, don't panic. We'll take care of business here and this program will be in excellent hands," AD Barry Alvarez said.
Would Alvarez consider returning to the sideline on a permanent basis? He said Sunday that he thought about the possibility for "like a day" last week, noting that he felt badly for some of the assistant coaches he wants retain but who received offers elsewhere and tight deadlines to decide their futures.
"I was thinking of doing it myself just to keep them," he said. "But if I did it for a year we'd be in the same situation next year."
(Alvarez could coach for a year and name a coach-in-waiting to stabilize recruiting. Say, former assistant and ace recruiter Joe Rudolph? Just sayin' ...)
Alvarez acknowledged that several potential candidates on his short list already had been hired by other programs, while other coaches he had interest in are remaining loyal to their respective programs. Although he didn't mention any names, potential targets like Pitt's Paul Chryst, Miami's Al Golden and Oregon State's Mike Riley all are staying put.
Although angst is building among Wisconsin fans the longer the program is without a head coach, Alvarez doesn't sound worried. He noted that university policies prevent him from hiring anyone until later this week (Thursday specifically). He also pointed out that it's a dead period in recruiting at the moment and that Wisconsin's verbal commits for 2013 appear to be on board.
"We're spoiled here because we were probably one of the most stable programs in the country with me being here 16 years and elevating an assistant [Bret Bielema] for seven years," he said. "This happens around the country. I'll hire a good coach. This program will continue being very good. For those that are panicking, don't panic. We'll take care of business here and this program will be in excellent hands."
Alvarez expressed some frustration at the quick deadlines given to assistant coaches for other jobs. Wisconsin has lost five assistants from Bielema's staff -- defensive coordinator Chris Ash, co-defensive coordinator/defensive line coach Charlie Partridge, offensive coordinator Matt Canada, wide receivers coach Zach Azzanni and linebackers coach Andy Buh. Both Ash and Partridge joined Bielema's new staff at Arkansas, and Wisconsin running backs coach Thomas Hammock reportedly also has an offer from Bielema.
All the assistants will remain with the team through the Rose Bowl, and there's some talk Ash could be in the mix for Wisconsin's top job.
"I'd like for them to stay, but they had to protect their families," Alvarez said. "A coach says you've got 24 hours to make this decision or the job isn't there, they have to do something. I couldn't promise them that the next coach would retain them. ... I couldn't have sped the process up. I have to get to the people that I want to talk to. I just have to do it right. I feel bad for losing some very, very good coaches."
Alvarez didn't rule out the possibility of Wisconsin trying to bring back some of the assistants it will lose after the head coach is named.
Several of the departing assistants also spoke Sunday, including Canada, who sounded particularly peeved at how things have played out.
"There is some frustration with the way all this went down," Canada told reporters. "... I came here with the intention of being here for a long, long time. That's what we came here for. That was the plan. Sometimes plans change and you have to trust that and move forward."
December, 16, 2012
12/16/12
12:50
PM ET
Wisconsin's coaching staff will have a dramatically different look for the second consecutive year. Depending on the next head coach, it could have a completely different look.
There are more staff departures to report as co-defensive coordinator/defensive line coach
Charlie Partridge rejoined former boss Bret Bielema at Arkansas
. Partridge spent the past five seasons in Madison, mentored stars such as J.J. Watt and spearheaded Wisconsin's recruiting efforts in Florida. He's a significant loss but not a surprising one as the Badgers have yet to name a head coach.
Linebackers coach
Andy Buh is leaving to become Cal's defensive coordinator
. And the Milwaukee Journal Sentinel reports that Badgers running backs coach Thomas Hammock is weighing an offer to join Bielema at Arkansas. Hammock would join former Bielema aides Partridge and defensive coordinator Chris Ash. Buh also had an offer from Bielema, according to the Journal Sentinel.
Wide receivers coach Zach Azzanni has accepted the same job at Tennessee, reuniting with former boss Butch Jones. Both Azzanni and Buh are in their first seasons at Wisconsin.
Here's the list of Wisconsin assistants who have accepted other jobs:
Defensive coordinator Chris Ash -- Arkansas
Offensive coordinator/quarterbacks Matt Canada -- NC State
Co-defensive coordinator/defensive line Charlie Partridge -- Arkansas
Wide receivers coach Zach Azzanni -- Tennessee
Linebackers coach Andy Buh -- Cal
That leaves Hammock, tight ends coach Eddie Faulkner, offensive line coach Bart Miller and secondary coach Ben Strickland.
December, 15, 2012
12/15/12
11:50
AM ET
Wisconsin's search for a head coach remains somewhat mysterious at the end of its second week, but there is some news about the school's assistant coaches.

Defensive coordinator Chris Ash recently accepted the same position on Bret Bielema's staff at Arkansas, but reports surfaced Friday that Ash is
considering applying for Wisconsin's head-coaching vacancy
. Although athletic director/interim coach Barry Alvarez said he planned to target sitting head coaches for the job, he didn't rule out qualified coordinators. Ash has done a nice job in his three seasons on Wisconsin's staff, the past two as defensive coordinator.
Wisconsin reportedly will
lose wide receivers coach Zach Azzanni to Tennessee
, where he'll rejoin former boss Butch Jones with the Vols.
Two other top Badgers aides,
offensive coordinator Matt Canada
and co-defensive coordinator/defensive line coach Charlie Partridge, are reportedly weighing offers from other programs. Both men appear to want to wait for Wisconsin's head coach search to play out before making their decisions.
The Milwaukee Journal Sentinel also reports that
Wisconsin linebackers coach Andy Buh has interviewed
for the defensive coordinator job at Cal.
It's not surprising that the assistants have other offers, and it's likely others will leave. But it's also notable that several assistants want to wait on the Wisconsin search, indicating their desire to stay.
Coaches like Miami's Al Golden and Oregon State's Mike Riley aren't candidates for Wisconsin's vacancy, and Jacksonville Jaguars defensive coordinator Mel Tucker said he spoke with Alvarez but isn't interested in the job. Is Toledo's Matt Campbell a candidate? We could find out after Toledo's bowl game today.
One possibility I wouldn't dismiss is Alvarez naming himself coach for a year and bringing in a coach-in-waiting, which could help stabilize recruiting. It's probably not the first option, but I've heard all week that this isn't out of the question.
March, 2, 2012
3/02/12
3:50
PM ET
Wisconsin assistant Thomas Hammock interviewed for a job with the St. Louis Rams recently. But he ended up staying with the Badgers, and now Hammock has an added responsibility on Bret Bielema's staff.
The running backs coach will serve as Wisconsin's recruiting coordinator, according to a
story by Mike Lucas on the school's website
. Former assistant Joe Rudolph, who left to join Paul Chryst's staff at Pittsburgh, used to have that title. Bielema told the website that he was impressed with how Hammock performed on the recruiting trail in January, when the Badgers were a little shorthanded after several assistants left for other jobs.
Hammock, 30, is in his second year as a Badgers coach. He played at Northern Illinois, rushing for more than 1,000 yards in 2000. He also spent four seasons on Minnesota's staff.
Bielema also told the Badgers site that the program would explore some new recruiting areas based on the backgrounds of their new assistants. Linebackers coach Andy Buh will work in the St. Louis area and in Texas. New secondary coach Ben Strickland will handle in-state recruiting as well as Atlanta. Wide receivers coach Zach Azzanni will have most of Ohio, offensive line coach Mike Markuson will have Minnesota and tight ends coach Eddie Faulkner will take Indiana, Michigan and Cleveland. New offensive coordinator Matt Canada will recruit around the Midwest and specifically handle all quarterbacks.
January, 25, 2012
1/25/12
2:20
PM ET
Wisconsin's revamped coaching staff is taking shape, as head coach Bret Bielema announced Wednesday that he has hired Nevada defensive coordinator Andy Buh as linebackers coach.

Buh (pronounced "Boo") spent the past two seasons with the Wolf Pack, where he also coached linebackers while running the defense. Before that, he served as co-defensive coordinator at Stanford.

"I've known about Andy for several years and had the chance to visit with him at the coaches' convention in San Antonio recently," Bielema said in a statement from the school. "I came away very impressed with his teaching ability, his passion and his personality. He brings tremendous experience, being a coordinator at both Nevada and Stanford, and is a dynamic personality. With his wife being an Indiana native, this is chance for his family to get back to the Midwest."

Buh replaces Dave Huxtable, who left to join Paul Chryst's staff at Pittsburgh. Like Buh, Huxtable was also a defensive coordinator -- at Central Florida -- who accepted a position coach job for the Badgers.

"Today is a great day," Buh said in a release. "I'm very excited and enthused about joining the University of Wisconsin's football staff. I'm thrilled with this opportunity and can't wait to hit the field running. Coach Bielema has given me the opportunity of a lifetime and I'm humbled to be a part of his staff. I look forward to every part of this experience and can't wait to get working."

In addition to Nevada and Stanford, Buh has worked at Fresno State and San Diego State. He played at Nevada.

He'll take over a position that's well-stocked for 2012, as Wisconsin linebackers Mike Taylor and Chris Borland are among the best in the Big Ten.
January, 23, 2012
1/23/12
12:00
PM ET
We had a special, Joe Paterno edition of the links earlier. Here are links to other stories happening around the Big Ten:
January, 21, 2012
1/21/12
11:53
AM ET
Wisconsin on Saturday announced the hiring of Mike Markuson as offensive line coach.
Markuson, who has coached Mississippi's offensive line since 2008, replaces Bob Bostad, who left earlier this month to become Pitt's offensive coordinator. Markuson has spent the past 14 seasons coaching offensive line in the SEC at Mississippi and Arkansas, but he's a Minnesota native who worked with former Wisconsin coach Barry Alvarez at Notre Dame in 1989.
"Mike brings experience of having success at the highest levels of college football," Bielema said in a statement. "The production of his offensive line units and the offenses he has been associated with is very impressive. He has coached a number of players who have earned national honors and gone on to the NFL. Being from Minnesota, he brings the Midwest values that we're looking for and he's very excited about the opportunity to be the offensive line coach at the University of Wisconsin."
Bielema told me Thursday his four new offensive assistants would come from different regions of the country. New coordinator Matt Canada comes to Wisconsin from Northern Illinois, while receivers coach Zach Azzanni comes from Western Kentucky. All three new offensive assistants have been coordinators or co-coordinators, as Markuson held the title at Mississippi, Boise State and Alabama A&M.
Despite Mississippi's struggles in 2011, Markuson brings a strong track record to Wisconsin. Arkansas ran the ball well during his tenure, and Mississippi also had success from 2008-10.
"I'm very thankful to two people, Coach Bielema and Coach Alvarez," Markuson said in a statement. "I go back with Coach Alvarez to 1989 when I was a graduate assistant at Notre Dame and when I was interested in the job, I had Coach [Houston] Nutt call him and that really got the ball rolling. Coach Bielema has taken the reigns from Coach Alvarez and really continued the tradition of success at Wisconsin and I'm just so excited to be a part of it."
Although Wisconsin has officially announced three new coaches, another is on the way as Nevada defensive coordinator Andy Buh will become the Badgers' new linebackers coach. Nevada head coach
Chris Ault confirmed Buh's departure
to the Reno Gazette-Journal.
January, 19, 2012
1/19/12
1:00
PM ET
When Wisconsin offensive coordinator
Matt Canada met with reporters Wednesday
, he didn't mask his excitement about his new gig.
"This isn't recruiting talk," Canada told reporters. "This is a place -- you can call my best friends, you can call anybody you want -- I wanted to be."
[+] Enlarge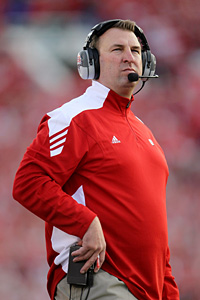 Jeff Gross/Getty ImagesWisconsin coach Bret Bielema will try to win a third straight Big Ten title in 2012 with a new-look coaching staff.
That's good news for the Badgers, especially since some are questioning how appealing it is to work for Wisconsin right now.
DeMontie Cross on Thursday became the sixth assistant coach from Bret Bielema's staff to leave Wisconsin in the past few weeks. Cross, who spent the 2011 season as Wisconsin's safeties coach/special teams coordinator, is leaving to coach linebackers on Charlie Weis' staff at Kansas.
What should we make of all the coaching departures from Madison?
When viewed individually, most if not all the departures make sense. Offensive coordinator Paul Chryst left for a head-coaching job (Pitt). Offensive line coach Bob Bostad and linebackers coach Dave Huxtable left to become coordinators for Chryst. Tight ends coach Joe Rudolph became Chryst's assistant head coach and returns to his native Pennsylvania. Wide receivers coach DelVaughn Alexander made a lateral move to Arizona State, but he's a Los Angeles native who spent much of his career on the West Coast.
Cross is leaving to coach a position (linebacker) he oversaw from 2007-10 with the NFL's Buffalo Bills. He's a St. Louis native who played at Missouri, so he'll be closer to home at KU. He also has been a bit of a job-hopper lately, spending a few weeks on Purdue's staff last winter before taking the Wisconsin job.
So you can make good cases why each coach left Wisconsin. But the entirety of it -- six coaches leaving a team that has won back-to-back Big Ten titles and reached back-to-back Rose Bowls -- is highly unusual.
Usually when six coaches are departing a staff in the same year, the head coach is part of the group. Bielema, meanwhile, is extremely secure in Madison, having built Wisconsin into a new Big Ten power.
Assistants typically want stability (i.e. Penn State) and would rather remain with a proven winner.
Bielema has hired two offensive assistants (Canada and receivers coach Zach Azzanni) and reportedly has found Huxtable's replacement (Nevada's Andy Buh). He now needs to add three more assistants to his 2012 staff.
Although coaches like to see their assistants succeed elsewhere, they also value continuity, which usually translates into success. Penn State and Iowa have had few changes until this year, and Mark Dantonio has kept his staff together for the most part at Michigan State.
Bielema might just be unlucky to lose so many assistants at once, but so much staff turnover often has consequences, at least in the short term. As Bielema continues to interview assistants, he needs to look for guys who can coach, who can recruit and who want to be in Madison for a little while.
January, 19, 2012
1/19/12
12:00
PM ET
I'm sorry but you know I have two weakness: children cursing and old people rapping!