January, 1, 2011
1/01/11
7:25
PM ET
PASADENA, Calif. -- Wisconsin has reached TCU's territory on all but one of its six possessions.
And only scored 13 points.
That's not good enough against TCU star quarterback
Andy Dalton
and his many weapons, who are making it tough for Wisconsin's defense in the second half.
It's hard to put a finger on the Badgers' inability to finish drives. Linebacker Tank Carder and the Frogs certainly are putting more pressure on
Scott Tolzien
, and Wisconsin hasn't hit on a big play in quite some time. Still, Wisconsin seems to be running the ball well, but are the Badgers committed enough to their ground game?
It sounds crazy to suggest that, but Wisconsin's decision to pass on first down from its end zone surprised me. The Badgers are getting into too many obvious passing situations, which allows TCU's front seven to pin their ears back.
Wisconsin needs a big fourth quarter to turn this around.
January, 1, 2011
1/01/11
6:30
PM ET
PASADENA, Calif. -- Halftime thoughts from the Rose Bowl Game presented by VIZIO, where TCU leads Wisconsin by the smallest of margins.
Turning point:
Both defenses settled down after a record-setting first quarter, and Wisconsin stopped TCU's momentum by forcing the only punt of the first half. The Badgers then executed their second fake punt of the season to keep a drive alive and kicked a field goal as time expired. Brad Nortman's tough run kept the momentum on Wisconsin's side.
Stat of the half:
Wisconsin followed its blueprint to dominate time of possession (21:28) and rush the ball (128 yards), but the Badgers have only one touchdown despite making trips inside TCU territory on each of their four first-half possessions.
Stat of the half II:
The teams combined for 375 yards, 18 first downs, 27 points and only one punt.
Best player in the half:
TCU quarterback
Andy Dalton
was outstanding, completing 7 of 10 passes for 109 yards and a touchdown and adding 31 rush yards and a touchdown on seven attempts. Wisconsin running back
Montee Ball
also was very good with 101 rush yards on 13 carries, including a 40-yard run on the first play from scrimmage.
January, 1, 2011
1/01/11
6:03
PM ET
PASADENA, Calif. -- I'm still not sure TCU can stop Wisconsin, but the Badgers still have only one touchdown despite consistently moving the ball.
Special teams has hurt Wisconsin a bit as Philip Welch just missed a field goal, and the defense has looked overmatched against
Andy Dalton
and TCU. The Badgers' defense is the one non-elite unit in this game. If it doesn't meet the challenge against Dalton and his weapons, Wisconsin will be in major trouble.
I still really like the offensive game plan, and if Wisconsin can stay out of third-and-long, it should score enough. But Dalton has looked unstoppable so far, and someone needs to make a play on the Badgers' defense.
Wisconsin trails 14-10
midway through the second quarter.
January, 1, 2011
1/01/11
5:34
PM ET
PASADENA, Calif. -- Defensive coordinator Dave Doeren told me this week that his unit made its biggest strides against the pass this fall.
The stats back it up, but Wisconsin's secondary really has its hands full against TCU.
The Frogs boast arguably the best receiving corps Wisconsin has seen all season, and it showed on a 10-play, 77-yard scoring drive. TCU twice converted third-and-long situations rather easily and scored on a 23-yards touchdown strike to
Bart Johnson
. Wisconsin was only average in third-down defense this season, ranking 57th nationally.
If Wisconsin can't start generating pressure on
Andy Dalton
, this could be a very long day for the defense. Not sure Wisconsin has the skill in the secondary to match these TCU receivers.
January, 1, 2011
1/01/11
4:00
PM ET
PASADENA, Calif. -- Greetings from the greatest setting in all of college sports, the Rose Bowl.
After
a ton of coverage this week
, it's time to get down to business as No. 5 Wisconsin takes on No. 3 TCU in the Rose Bowl Game presented by VIZIO.
The weather is perfect right now, just a few scattered clouds and barely any wind on the field. Rain isn't expected until later this evening, so it shouldn't impact the game at all.
Wisconsin definitely will have more fans, but it will be interesting to see the breakdown. TCU traveled well to California, but Badger fans are literally everywhere. I expect a very strong showing.
My big curiosity for Wisconsin is how the offense responds from the layoff. We've seen spread offenses struggle to find their rhythm in bowls and Wisconsin's system is based more around power, but the Badgers were so hot down the stretch of the regular season, scoring 201 points in their final three games.
This is a big moment for the Badgers' defense, the one non-elite unit on the field. TCU isn't overly flashy on offense, but
Andy Dalton
knows how to get it done. Wisconsin needs to be sound in its tackling and fundamentals.
In case you missed them, some Rose Bowl links from the week:
We'll have much more from the Rose Bowl, so don't go anywhere.
December, 31, 2010
12/31/10
10:00
AM ET
The Granddaddy is almost here. Wisconsin aims for its fourth consecutive Rose Bowl championship against a TCU team striving for a perfect season.
Compelling stuff.
Let's examine the Badgers-Horned Frogs matchup in the Rose Bowl Game presented by VIZIO.


WHO TO WATCH:
Wisconsin running back
John Clay
. The beefy junior says he's 100 percent recovered from knee problems that cropped up toward the end of the regular season. If Clay returns at top form and can wear down TCU's defense with his size and between-the-tackles running, it could open things up for fellow backs
James White
and
Montee Ball
. Clay, the 2009 Big Ten Offensive Player of the Year, had a decent season but looks for a signature performance in what could be his final game in college. Clay needs 64 rushing yards to reach 1,000 for the season.
WHAT TO WATCH:
Outstanding individual matchups throughout the field. Let's start off at the line of scrimmage, as standout defensive ends J.J. Watt (Wisconsin) and Wayne Daniels (TCU) go up against stout offensive tackles Marcus Cannon (TCU) and Gabe Carimi (Wisconsin). The Badgers send All-Big Ten cornerback Antonio Fenelus to stop TCU speedy receiver
Jeremy Kerley
. And while quarterbacks
Scott Tolzien
(Wisconsin) and
Andy Dalton
(TCU) don't directly face one another, they boast similar styles and strong track records, so comparisons will be made in the game.
WHY TO WATCH:
Colleague
Brian Bennett
and I have given you about 1,000 reasons this week, but this is a can't-miss game. These are two really good teams with outstanding individual players, and both squads are looking to prove something in the Rose Bowl. TCU wants to show it belongs in the national championship discussion with Boise State as a truly elite program from a non-AQ league. Wisconsin is carrying the banner for the Big Ten Conference, which needs a second consecutive strong bowl showing to bolster its national reputation.
PREDICTION:
Wisconsin 30, TCU 27. Another tough one to call, and I originally had the Horned Frogs winning when the pairing first came out. But Wisconsin provides a look that TCU simply can't simulate playing in the Mountain West, and while the Frogs boast so many dynamic defenders, they'll wear down in the second half against the Badgers' power backs. Dalton will have TCU right there at the end, but Wisconsin uses a strong fourth quarter to secure the victory.
December, 31, 2010
12/31/10
9:30
AM ET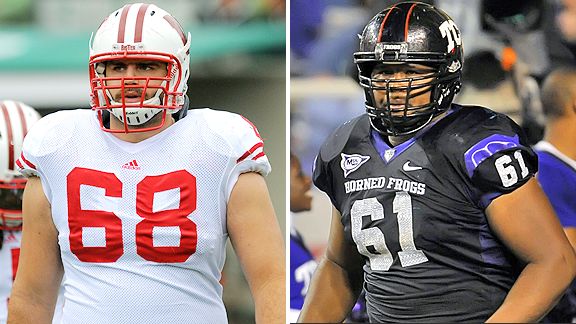 Getty Images, Icon SMIWhich left tackle will have a bigger impact: Wisconsin's Gabe Carimi or TCU's Marcus Cannon?
LOS ANGELES -- The Grandaddy of Them All has something to entertain the whole family this year. The matchup between No. 3 TCU and No. 5 Wisconsin features many fascinating subplots, intriguing individual matchups and -- to take the macro view -- two really, really good teams. Bloggers Adam Rittenberg and Brian Bennett are ready for their close-up in this Rose Bowl Game presented by VIZIO debate:
Brian Bennett:
OK, Adam. Time for you to take a break from getting starlets' phone numbers and shopping on Rodeo Drive. Let's talk about a very interesting Rose Bowl. Wisconsin has won the eyeball test this week and may have cracked the foundation of the Los Angeles Downtown Marriott on Media Day with all that bulk in one place. But TCU has seemed focused and has a ton of athletes. Of all the contrasts and matchups in this game, which one do you think is most important to the outcome?
[+] Enlarge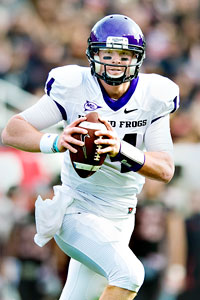 Douglas C. Pizac/US PresswireTCU's offensive line has kept Andy Dalton's jersey pretty clean this season, allowing just nine sacks.
Adam Rittenberg:
Easy, Bennett, don't tell my wife. Actually, I was planning to meet up with Suge Knight later. You know how I roll. I think this game comes down to the line of scrimmage, an area where there might be more similarities than differences. Both teams have outstanding left tackles (Wisconsin's Gabe Carimi, TCU's Marcus Cannon) and outstanding defensive ends (Wisconsin's J.J. Watt, TCU's Wayne Daniels). TCU's size along its offensive line is overlooked next to Wisconsin's, and Wisconsin's speed along its defensive line is overlooked next to TCU's. The team that controls the line of scrimmage wins the game. Can TCU's defense endure Wisconsin's power game? Can Wisconsin's defense find a way to get to Horned Frogs veteran quarterback
Andy Dalton
?
BB:
The line of scrimmage will be critical, but I think TCU's defensive linemen are good enough to hold their own. I wonder about the safeties who will need to help out against the run. They're going to be physically outmatched by linemen, tight ends and
John Clay
. They had better tackle well and be extremely sound in their technique, though the Horned Frogs excel at that. And then of course you worry about play-action if you're Gary Patterson and Dick Bumpas.
On the other side, TCU's offensive line has given up just nine sacks all year. Watt versus Cannon is going to be fun to watch, but I think Dalton will stay pretty clean. I wouldn't expect Wisconsin to come after him too hard because of the threat of the zone-read and the Horned Frogs' tendency to throw those underneath routes. I would think Dave Doeren would want to keep his linebackers covering those areas against speedsters like
Jeremy Kerley
and
Jimmy Young
.
Another question I have is how the layoff will affect these teams. We've seen some spread teams struggle with timing in bowls. That might bother TCU, which never found its rhythm last year in the Fiesta Bowl, more than a ground-based attack like Wisconsin. Agree?
AR:
It could, Brian, but Wisconsin was so hot at the end of the regular season, scoring 201 points in its final three games. It might take some time to re-establish the confidence and the rhythm, which could prove costly against a defense like TCU's. The Badgers really tried to maintain the intensity in bowl practice, having the first-team offense and first-team defense practice a lot against one another. But I would expect a little lull on game day. Wisconsin will benefit from having running back John Clay at near 100 percent for the game. Tackling Clay isn't a lot of fun, and he might be able to wear down TCU's defense and create lanes for
James White
and
Montee Ball
.
One area that really intrigues me about this game is special teams. Both teams have strong returners, especially TCU with Kerley. How big of a factor will the kicking game be for the Frogs?
BB:
Well, Frogs fans surely understand the importance of special teams after last year's Fiesta Bowl loss, in which a Boise State fake punt made the difference. Kerley is electrifying and could single-handedly change the game; Wisconsin did surrender a punt return touchdown in its only loss, against Michigan State. TCU's punting is mediocre, and kicker Ross Evans has made only one field goal longer than 40 yards this season.
Another hidden area could be red-zone efficiency. Both teams were great at punching it in during the year, and in a potentially close game between two high-scoring teams, a red-zone stop could be huge. Any other under-the-radar factors jump out at you?
[+] Enlarge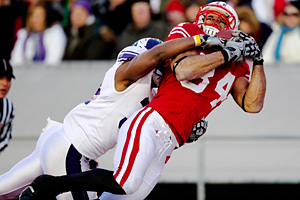 Jeff Hanisch/US PRESSWIREWisconsin tight end Lance Kendricks (39 catches for 627 yards and 5 TDs) is a future NFL prospect.
AR:
Great call on the red-zone effectiveness. Wisconsin is tied for fifth nationally in red-zone offense, while TCU is tied for 16th. TCU is much better than the Badgers in red-zone defense, though (51st nationally vs. 95th). One area I've thought a lot about is the play-action game for both teams. TCU is an extremely disciplined defense, but
Scott Tolzien
runs the play-action very well and usually has tight end
Lance Kendricks
or a wide receiver open for a pass. Kendricks is a future NFL prospect, and receiver
Nick Toon
might be as well. Wisconsin needs its linebackers to tackle well in this game, but the Badgers can't lose sight of Dalton, who has underrated mobility and can attack down the field.
OK, Bennett, prediction time. You first.
BB:
Wisconsin is awfully good, and I fear that TCU will eventually succumb to all that size. But these Horned Frogs know how to win, and I get the feeling they're very motivated to prove something on this stage. The TCU defense comes up with some key turnovers, speed trumps strength and the Horned Frogs make the Rose Bowl a non-AQ house, 30-27.
AR:
This should be a great game, and it could go either way. I just don't think TCU has seen anything like Wisconsin this season. The Badgers' power and style of play is unique in college football, and ultimately, Wisconsin will wear down the frogs. Dalton keeps TCU in the game and makes several big plays with both his arm and his feet, but Wisconsin uses a big fourth quarter to secure the win. Badgers 30, Frogs 27.
December, 6, 2010
12/06/10
1:12
AM ET
Wisconsin Badgers (11-1) vs. TCU Horned Frogs (12-0)
Jan. 1, 5 p.m. ET (ESPN)

Wisconsin take by Big Ten blogger Adam Rittenberg:
Wisconsin evolved into one of the nation's most dominating teams down the stretch, and the Badgers were rewarded with their first trip to Pasadena in 11 seasons as they face TCU in the Rose Bowl Game presented by VIZIO.
Bret Bielema's team won its final seven regular-season games and destroyed everything in its path, averaging 48.3 points during the streak and combining for 201 points in its final three games. A veteran and talented offensive line led the way, creating room for backs
James White
,
Montee Ball
and
John Clay
and buying time for quarterback
Scott Tolzien
to attack downfield with the play-action game. Arguably the only downside for red-hot Wisconsin is the five-week layoff between the end of the regular season and the Rose Bowl.
The Badgers' offense likely faces its toughest test of the season in a TCU defense that leads the nation in fewest points allowed and ranks third against the run. If TCU can contain Wisconsin on first and second downs and force Tolzien into some obvious passing situations, the Badgers could be in trouble. As good as Tolzien has been, he hasn't faced the type of pressure TCU might provide on Jan. 1.
Wisconsin's defense isn't dominant like TCU's, but the Badgers are opportunistic, recording 23 takeaways. TCU hasn't faced a defensive end as disruptive as Wisconsin's J.J. Watt, who made more impact plays than any Big Ten defender and needs to heat up Horned Frogs star quarterback
Andy Dalton
.
---

TCU take by nation blogger Andrea Adelson:
Well, the Horned Frogs really, really wanted to be that first non-AQ to get into a BCS national championship game, but hey, playing in the Rose Bowl is not exactly settling. They are making their second straight BCS appearance after a second straight undefeated regular season, a tremendous accomplishment under coach Gary Patterson. A big reason TCU is back on the big stage: experience. TCU returned a majority of their starters, including Andy Dalton, selected Mountain West Offensive Player of the Year. But if TCU has any shot to win, he is going to have to have a better game than the one he had last year against Boise State in the Fiesta Bowl. Dalton threw three interceptions in that game, including one that was returned for a touchdown, and the offense could manage little in the way of production.
They are better at running back this season with the tandem of
Ed Wesley
and
Matthew Tucker
, and
Jeremy Kerley
is one of the best all-purpose players in the country. TCU has the No. 1 ranked defense in the country for the third straight season, and that is impressive considering the Horned Frogs lost their two best players in Jerry Hughes and Daryl Washington. The heart of the defense is with linebackers Tank Carder and Tanner Brock, but the leader is safety Tejay Johnson. Runners beware against this defensive front.