Big Ten:

Anthony Gonzalez
April, 8, 2014
4/08/14
1:00
PM ET
Darrell Hazell's job requires him to evaluate all of Purdue's players, but he knows some position groups better than others.
Before taking his first head-coaching position at Kent State after the 2010 season, Hazell coached wide receivers at five different schools: Eastern Illinois, Western Michigan, Army, Rutgers and Ohio State, where he worked with the Buckeyes' wideouts from 2004-2010. Hazell also was an all-conference wide receiver at Muskingum University, where he still holds team records for career receptions (132) and receiving yards (1,966).
After coaching standouts such as Santonio Holmes, DeVier Posey and Anthony Gonzalez, Hazell can spot a potentially great receiver faster than most. He sees one in
DeAngelo Yancey
.
"He's the guy in the room that's different from everyone else," Hazell recently told ESPN.com. "We need to get him to play different than everyone else. He can be a very special guy."
Yancey had a somewhat special freshman year despite Purdue's struggles. He led the Boilers with 546 receiving yards, 206 more than any teammate. Yancey twice eclipsed 100 receiving yards in Big Ten games and was responsible for two of Purdue's three longest plays from scrimmage before the offense ignited in the finale against Indiana.
Only six other FBS freshmen averaged more receiving yards than Yancey in 2013. But he can do so much more.
"He's arguably one of the best players on the field every single time he's out there," Purdue quarterback
Austin Appleby
said. "He's just got to play like it every single time. That speaks to his maturation. He's still very young, but that doesn't matter.
"We all know how talented he is."
[+] Enlarge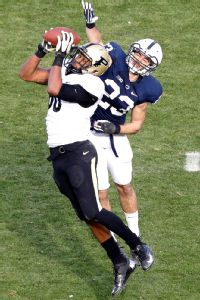 AP Photo/Gene J PuskarDeAngelo Yancey led Purdue in receiving yards as a freshman.
Yancey recognizes what others see in him. He knows he has to bring it out more this season for a Purdue offense that ranked last in the Big Ten in points and yards (119th nationally in both categories).
Several weeks ago, Hazell gave Yancey some practice tape from Hazell's time at Ohio State. Yancey watched players such as Posey and Ted Ginn go through the same drills and work on the same concepts as he is this spring.
Hazell doesn't often bring up his time at Ohio State, so there was a purpose when he did.
"He sent those guys to the league," Yancey said, "and ultimately that's where I want to go."
Hazell thinks Yancey is similar to some of his former Buckeyes wideouts.
"He's got size, he's got speed, he's got quickness, he's got the ability to catch around people," Hazell said.
An Atlanta native, Yancey initially committed to Kentucky but switched to Purdue last January
after feeling unwanted by the new UK coaching staff
. The 6-foot-2 wideout showed up to campus at around 200 pounds but quickly added 20 to his frame.
It took time to adjust to the extra weight, but Yancey felt comfortable running by the end of the season. It also took time to adjust to the responsibility placed on his shoulders.
"I was [surprised] early during the season, but once the season started progressing on, I embraced the role," he said. "When the big plays were needed, I took it upon myself to try and make them."
Yancey's Year 2 goals include more yards after the catch and being a leader.
"When I first came here, I wouldn't say stuff, or I would think they already have that leader position," he said. "But we've established if you're going to be a leader, make sure you're doing leader things, no matter what year you are."
One of those things is film study, which Yancey is doing more of this offseason. Hazell wants the rising sophomore to gain greater confidence against press coverage.
"We can do things structurally and schematically to help him," Hazell said, "but you'd rather have him figure it out first, how to beat man-to-man coverage, whether you're stuck in the boundary, whether you're to the field."
When he figures it out, look out.
"You'll see as time goes on, he's going to be huge for us," Appleby said. "We've just got to keep working every single day to get that killer mindset, that killer instinct to go get it. Because it's going to be one on one when the game is on the line, and everybody in the stadium is going to know who's getting the ball, and he's got to make a play."
September, 2, 2011
9/02/11
4:08
PM ET
Former Ohio State coach
Jim Tressel is heading to the NFL
-- at least for now.
The Indianapolis Colts have hired Tressel as a game-day consultant. According to Colts coach Jim Caldwell, Tressel will focus primarily on replays, which will prevent the coaches from worrying about potential replay reviews.
Sounds like a pretty cushy gig for The Vest, and not a bad way to spend Sundays. He will, however, be judged by how the Colts' replay challenges go.
Caldwell, an Iowa alum, and Tressel both served as Big Ten assistant coaches in the 1980s and have known one another for some time. The Colts' roster features one player Tressel coached at Ohio State: wide receiver Anthony Gonzalez.
It's hard to say if this move suggests Tressel eventually will settle in the NFL in a much bigger role. A lot depends on what penalties he could face from the NCAA. Tressel has spent his entire coaching career in college, but visited the Cleveland Browns training camp last month and now has latched on with the Colts.
October, 28, 2010
10/28/10
1:30
PM ET
When
Dane Sanzenbacher
speaks before games, he senses the electricity in the Ohio State locker room.
Sanzenbacher, one of six Buckeyes co-captains this season, impels his teammates to carry over their energy onto the field. But he also tells them to leave something behind.
"It's an emotional game, there's a lot riding on everything, but you can't play with fear," Sanzenbacher says. "Fearlessness is probably one of the most important aspects of trying to be a good player. Nerves can be fine before a game or other emotions, but when it turns into fear, your opponent already has the upper hand."
[+] Enlarge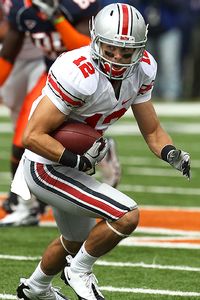 Jonathan Daniel/Getty ImagesOhio State's Dane Sanzenbacher isn't afraid to put his body on the line to make a catch.
Sanzenbacher's message might sound hollow if he didn't go out and back it up. Fortunately for Ohio State, there probably isn't a more fearless wide receiver in college football than No. 12.
Sanzenbacher's evolution as one of the Big Ten's best receivers has taken place in the middle of the field, usually surrounded by defensive backs and linebackers itching for a kill shot.
It has been a painful progression at times: Sanzenbacher suffered concussions in each of his first two seasons and has absorbed more than a few massive body blows, usually in midair. But the 5-foot-10, 180-pound senior wouldn't have it any other way.
"When the ball's in the air, you jump up to get it," Sanzenbacher said. "Yeah, in the back of your mind, you think, 'My legs might get taken out, I'm probably going to get hit on the end of this,' but you have to make the catch. It's the game we signed up for, so might as well play it."
Sanzenbacher has played it extremely well this season. He leads the Big Ten and ranks 26th nationally in total receiving yards (591). He's fourth in the Big Ten in receiving yards average (73.9), sixth in receptions (4.6 rpg) and, before last week, led the league in touchdown receptions.
Sanzenbacher has caught eight touchdown passes -- one or more in five of Ohio State's first eight contests -- to match his total from his first three seasons.
Although the touchdown catches are nice, Sanzenbacher is best known for the plays he makes outside of the end zone. He made several gutsy grabs in Ohio State's Oct. 16 loss at Wisconsin, including
this one
, when he flipped over after a hit from Badgers safety Aaron Henry, but still hung on to the ball for a first down. After the game, members of the
sideline crew found Sanzenbacher's father and congratulated him
on Dane's gritty performance.
"He is fearless," Buckeyes coach Jim Tressel said. "My reaction is great when he comes up with those catches, and I cringe a little bit when I see people storming over there to take a good shot at him. But Dane can take care of himself."
Sanzenbacher downplays the punishment he appears to take on some of his more acrobatic catches.
"A lot of times, film can be deceiving," he said. "Sometimes I'll watch it on film, it'll look bad and I'm like, 'Wow, it really didn't feel that bad.' And sometimes you'll look at hits that hurt a lot and they didn't look that bad. So you can never really tell."
Sanzenbacher isn't the first Ohio State receiver to build his reputation on the most dangerous area of the field. After Sanzenbacher caught four touchdown passes in a Week 4 rout of Eastern Michigan, Buckeyes quarterback
Terrelle Pryor
called him a "slick little sneaky guy" and likened him to former Buckeyes Brian Hartline and Anthony Gonzalez.
It's a good comparison, as both Hartline and Gonzalez shined in the slot receiver role for the Buckeyes.
"The majority of the guys who have played this position before me, or had inside roles here, haven't been afraid to go across the middle," Sanzenbacher said. "It's probably a characteristic that gets you on the field. You wouldn't be playing the position otherwise."
February, 2, 2010
2/02/10
10:30
AM ET
It's Super Bowl week, and here in Chicago, we're celebrating the
hiring of Mike Martz
as Bears offensive coordinator after a month-long search. Hope
Jay Cutler
has a life insurance policy.
OK, moving on to less depressing topics, like the Big Ten and Super Bowl XLIV.
Once again, the Big Ten has plenty of connections to the game, including 20 former players on the two teams, more than any other conference.
All 11 member schools will be represented by a player and/or coach participating in the game. Michigan has the highest number of former players (four), followed by Ohio State (three) and then six teams -- Illinois, Indiana, Iowa, Northwestern, Purdue and Wisconsin -- each with two former players. Penn State and Minnesota will have former coaches on the sideline Sunday.
Both head coaches have Big Ten roots, as the Colts' Jim Caldwell played at Iowa and served as an assistant at Iowa, Northwestern and Penn State. The Saints' Sean Payton had a one-year stint as an Illinois assistant in 1996.
Here's the full lineup of Big Ten links to Super Bowl XLIV, courtesy of the league office:
INDIANAPOLIS COLTS
Players
Kelvin Hayden
, DB, Illinois
Dallas Clark
, TE, Iowa
Bob Sanders
*, DB, Iowa
Mike Hart
, RB, Michigan
Marlin Jackson
*, DB, Michigan
Ervin Baldwin
, DE, Michigan State
John Gill
, DL, Northwestern
Anthony Gonzalez
*, WR, Ohio State
Curtis Painter
, QB, Purdue
Jim Sorgi
*, QB, Wisconsin
Coaches
Jim Caldwell, Head Coach (Played at Iowa from 1973-76; Assistant at Iowa in 1977, Northwestern in 1981 and Penn State from 1986-92)
Larry Coyer, Defensive Coordinator (Assistant at Iowa from 1974-77 and Ohio State from 1991-92)
Gene Huey, Running Backs (Assistant at Ohio State from 1988-91)
Tom Moore, Offensive Coordinator (Played at Iowa from 1957-60; Assistant at Iowa from 1961-62 and Minnesota from 1972-73 and 1975-76)
Ray Rychleski, Special Teams (Assistant at Penn State in 1991)
Bill Teerlinck, Defensive Assistant (Assistant at Indiana from 2003-04)
John Teerlinck, Defensive Line (Assistant at Illinois from 1980-82)
NEW ORLEANS SAINTS
Players
Pierre Thomas
, RB, Illinois
Tracy Porter
, CB, Indiana
Courtney Roby
, WR, Indiana
Adrian Arrington
, WR, Michigan
Jonathan Goodwin
, C, Michigan
Zach Strief
, OT, Northwestern
Malcolm Jenkins
, CB, Ohio State
Will Smith
, DE, Ohio State
Drew Brees
, QB, Purdue
Jonathan Casillas
, LB, Wisconsin
Coaches
Sean Payton, Head Coach (Assistant at Illinois in 1996)
Greg McMahon, Special Teams (Assistant at Minnesota from 1983-84 and Illinois from 1992-2004)
Bret Ingalls, Running Backs (Assistant at Northwestern from 2006-08)
Aaron Kromer, Offensive Line/Running Game (Assistant at Northwestern from 1999-2000)
Mike Mallory, Assistant Special Teams (Played at Michigan from 1982-85; Assistant at Indiana from 1986-87 and Illinois from 2001-05)
Terry Malone, Tight Ends (Assistant at Michigan from 1997-2005)
*-Injured reserve
August, 23, 2008
8/23/08
4:52
PM ET
Posted by ESPN.com's Adam Rittenberg
COLUMBUS, Ohio -- What began as a benign comment quickly turned into a playful shouting match of slams across the Ohio State media room.
Sitting at the main interview table Friday afternoon, Buckeyes wide receiver Brian Hartline was asked to liken his skills to those of Ohio State's other Brian, senior wideout Brian Robiskie.
"Anything I can do, he can do," Hartline said, "and anything he can do, I can do."
When informed of Hartline's claim, Robiskie, sitting in the corner, shook his head.
"He can't do what I do," Robiskie said quietly, looking at his teammate.
"He cannot do what I can do!" Robiskie repeated, hoping to get Hartline's attention. "He can't do it! It can't happen!"
Hartline never heard him. When a messenger -- OK, it was me -- relayed Robiskie's assertion, Hartline immediately countered.
"Robo, what can you do?" Hartline asked loudly.
"Huh? Robiskie replied. "What can I do? I can be on the sidelines."
"Yeah, you can stay on the sidelines, hurt," Hartline chirped, referring to a shoulder injury that has kept Robiskie out of portions of the preseason. "I can't do that.
Robiskie said his shoulder is fine, and when Ohio State opens the season Aug. 30 against Youngstown State, the dynamic receiver tandem known as the Brians will be fully intact. The team's two top wideouts combined for 107 receptions, 1,629 receiving yards and 17 touchdowns last season, their first as full-time starters.
Both players are 6-foot-3, both joined the team in 2005 and both can punish defenses down the field, but there's some debate about how similar they really are.
Robiskie, a member of Ohio State's 4x100 relay team in track, plays outside receiver and hooked up with quarterback Todd Boeckman for several plays of 50 yards or longer last season. Hartline brings an intrepid attitude to the slot receiver spot, taking punishment and dishing it back when he goes over the middle.
"We've played with each other so much, worked with each other so much that there's not too many things that really differ in our games, said Robiskie, who led Ohio State with 935 receiving yards and 11 touchdowns last year. "The only thing that might jump out at me is that he plays inside in the slot where I might play a lot outside. That's not to say that he couldn't come outside and play.
Hartline isn't so sure about Robiskie's versatility.
"He definitely couldn't play the slot," Hartline said. "I can. I can play on the outside, too. It's fun, though. We're pretty fun-loving guys. I think I've rubbed off on him enough so that he'll stay a little loosened up."
Robiskie was Boeckman's top big play option last season, but Hartline should be more of a threat this fall after a strong preseason. Hartline often gets compared to former Ohio State wideout Anthony Gonzalez, who was overshadowed by Santonio Holmes and Ted Ginn in 2005 before nearly matching Ginn's production in 2006.

"It's a pretty fair comparison," Hartline said. "Gonzo got better, [quarterback] Troy [Smith] got better, I'm getting better, Todd's getting better. Once I start making some plays for [Boeckman], he'll trust me even more. ... The same plays we ran with Troy and Gonzo are the same plays we're running now."
Hartline might make a bigger name for himself this fall, but odds are he'll always be mentioned with Robiskie, much like Buckeyes linebackers James Laurinaitis and Marcus Freeman on the defensive side. But the wideouts don't mind getting grouped together.
As they showed Friday, it's hard to keep them separated.
So how different are they?
"They're completely different players, completely different attitudes, completely different personalities," wide receivers coach Darrell Hazell said. "The only thing the same is their name."