June, 13, 2014
Jun 13
4:00
PM ET
I'm off next week, so the next mailblog comes at you June 24. Have a great weekend.
Follow us
on Twitter
and send us questions there.

Michael from New York writes:
Regarding the Penn State/Georgia State camp; If the SEC relaxes their rules on this issue, do you foresee a series of tit-for-tat battles ensuing? For example, UG retaliates by scheduling something with East Stroudsburg U. in Pennsylvania. And to play this situation out, would small schools in Pennsylvania resist overtures such as the one above for fear of antagonizing big brother PSU?
Adam Rittenberg:
I absolutely think the SEC coaches would start guest-coaching in other regions, and they should. Setting up something with
James Franklin
's alma mater would be a pretty bold move, but why should those small schools shy away from having these big-time coaches at their camps? Georgia State and Stetson
welcomed Franklin and his staff
, and I'd expect Northern schools to do the same if SEC coaches expressed interest.
---
John from Plainfield, Ill., writes:
I can't believe the only questions you get about the Illini are about Tim Beckman's job security but that seems to be the only thing you print about the beloved. How about a real football question: Will the Illini offense be so good with
Wes Lunt
and it being the second year of Bill Cubit, that we'll flat outscore a lot of teams on our schedule? I think it will be but we'll run into trouble against the top teams in the league and finish at 8-4.

Adam Rittenberg:
Love the optimism, John! I print what I get and I don't hear nearly enough from Illinois fans. Illinois' defense should be better than last year, but the team undoubtedly will rely on the offense, which made major strides and retains some good pieces, namely a line featuring four returning starters.
I saw Lunt practice in Chicago and he has a big arm that should allow Illinois to stretch the field. How does Illinois get to 8-4? It starts by winning at home, as the schedule at Memorial Stadium is pretty manageable. Illinois' road slate -- Washington, Nebraska, Wisconsin, Ohio State and Northwestern -- is very tough.
---

Brian from Brighton, Mich., writes:
I'm a Michigan State alumnus and believe that MSU could have beaten any team in the country last season. If the playoff system had been in place last year, do you think Michigan State would have been included over Stanford, or would they have been left out because the Pac-12 was perceived to be a stronger conference and Alabama lost late after being No. 1 all year?
Adam Rittenberg:
Brian, it's hard to know for sure, but I think Michigan State would have been the fourth team in the playoff, behind Florida State, Auburn and Alabama. The Pac-12 had a stronger national perception than the Big Ten, and Stanford had a very good team, but the Cardinal lost to a mediocre Utah team and a USC squad that lingered on the fringes of the Top 25. The Big Ten might have been down, but Michigan State won all nine of its league contests by double digits. Its only loss came at Notre Dame in a game with some controversial calls. Bottom line: the Spartans deserved to make the playoff ahead of a two-loss Pac-12 champion.
---
Ken from Fishers, Ind., writes:
In order to have game-winning drives in the fourth quarter or overtime, your team has to be in position to allow that to happen. I don't see Maryland or Indiana being in enough games at that point this year for that to happen for them. I do not see Iowa as likely, either. That leaves Michigan State and Penn State. Both schools are likely to be in positions where they are down by less than a score with time ticking off the clock throughout the year. Of the two, I'm going with the QB who has the largest upside between the two --
Christian Hackenberg
.
Adam Rittenberg:
Hackenberg is a good choice, although I worry about Penn State's protection issues with so little proven depth on the offensive line. I disagree with you about Iowa. The Hawkeyes' track record shows a ton of close games and quite a few come-from-behind wins late in those contests. The opportunities will be there for
Jake Rudock
to be the hero.
---

Sons of Jack Mollenkopf from Empty Ross-Ade Stadium writes:
Purdue football has not been the same since
Kyle Orton
fumbled a totally unnecessary head-first bootleg vs. Wisconsin in 2004. There has been marginal success for a few games vs. ND, Michigan and Ohio State, but for the last 10 years it has proven to be not only disappointing football, but other teams from the bottom of the Big Ten, 12, 14 or whatever we are calling ourselves have clearly outpaced the Boilers. What are three things Purdue can do to re-claim some footing and begin to compete again? We can't seem to attract top talent, we have trouble attracting fans, we haven't been to a BCS game, and we seem to striving for mediocrity. Am I missing something that is right around the corner?
Adam Rittenberg:
As ESPN2 play-by-play man Mark Jones said of
Scott Starks
'
fumble return
, "What a turnaround! A cataclysmic turn of events!" Unfortunately for Purdue, those words proved true as the program hasn't found that level of success again. There have been very good players in the program --
Ryan Kerrigan
,
Kawann Short
,
Anthony Spencer
-- but the team has struggled to turn a corner and compete for league titles. Purdue is a tough job, and the fan apathy has made it tougher. What Joe Tiller did there is still pretty remarkable.
How can Purdue regain its footing? It starts with recruiting and finding certain pipelines, like the one Tiller had to Texas, and Darrell Hazell and his staff are working hard to do that. Purdue has a great quarterback tradition that must be maximized. The recent QB recruiting has been very strong. Another step is line play, especially on the offensive side. Purdue needs to get stronger, more athletic linemen to be able to do more with the offense.
May, 7, 2013
5/07/13
3:00
PM ET
WEST LAFAYETTE, Ind. -- Purdue's reputation for producing great quarterbacks is recognized throughout college football, as names like Brees, Griese, Herrmann, Dawson and Everett are linked to the program.
But there's another position where Purdue has put together a similar track record of excellence: defensive end. The Boilers' D-end tradition isn't as well-known as its quarterback heritage, but consider the names who have come through the program in the past two decades: Roosevelt Colvin, Chike Okeafor, Akin Ayodele, Shaun Phillips, Ray Edwards, Rob Ninkovich, Cliff Avril, Anthony Spencer and Ryan Kerrigan, the 2010 Big Ten Defensive Player of the Year and a unanimous All-American.
All nine players went on to the NFL, and several like Kerrigan and Spencer are in starring roles. Purdue has called itself the Cradle of Quarterbacks for years. It now also uses the label
Den of Defensive Ends
.
Boilers junior defensive end
Ryan Russell
needs no education on the subject.
[+] Enlarge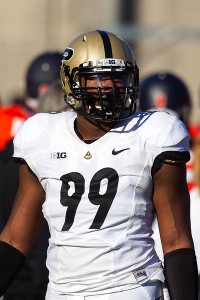 AP Photo/Damen Jackson via Triple Play New MediaRyan Russell hopes to be next in the long line of disruptive defensive linemen developed at Purdue.
"Very aware," Russell told ESPN.com. "A lot of those guys come back, Roosevelt Colvin, I had a chance to talk to Cliff Avril when we went to the Little Caesars [Pizza] Bowl in Detroit. I knew Ryan Kerrigan and he came back and talked to us.
"It's a big tradition, and I'm hoping definitely to uphold it."
After losing defensive tackle Kawann Short, a second-round pick in last month's NFL draft, Purdue is looking for the next star to emerge along a line that underperformed in 2012. The Boilers finished 78th nationally in both rush yards allowed (182.3 YPG) and sacks recorded (1.69 per game).
Along with veteran defensive tackle
Bruce Gaston
, Russell is viewed as a potential major contributor up front this fall. The 6-foot-5, 275-pound junior will enter his third season as a starter and his first under Purdue's new coaching staff. After recording 33 tackles and making 11 starts as a redshirt freshman in 2011, Russell had 37 tackles, including 8.5 for loss and four sacks, last season.
"He's got a power-to-speed ratio that's good for him to be a factor," defensive coordinator Greg Hudson said. "He can play the run, but he's got that end build and speed where he can also affect the passer.
"He's got that prototype look and ability."
Russell might look the part, but like many of his teammates, he needs to get stronger. His speed and lower-body strength are in good shape, and he has fully recovered from knee and ankle injuries, but his upper body "isn't really where I would like it to be."
After practicing alongside Kerrigan as a true freshman in 2010, Russell understands the gains he needs to make.
"Ryan Kerrigan was one of the strongest people I've ever met," Russell said, "so when that's the standard with the Big Ten, Purdue defensive linemen and defensive ends, we definitely and myself personally have a long way to go."
Kerrigan led the country in tackles for loss (26) in 2010, finished third in sacks (12.5) and tied for second in forced fumbles (5). Russell observed firsthand the relentless motor that drove the Boilers' star.
When one pass-rush move didn't work, Kerrigan would simply move to the next and the next until the whistle blew.
"Pass-rushing a lot of the time is a mentality, going 110 percent, outworking somebody all the time, every play," Russell said. "[Defensive line coach Rubin Carter] always says, 'If you're not going to make the play, they will.' So just always having that mentality that you're going to get there is a big thing.
"Your get-off and your motor is the engine that runs the train."
Russell is taking well to the new staff, the faster practice pace and the new defensive scheme under Hudson. He has worked extensively with Carter, a former longtime NFL assistant, on using his hands more effectively to fend off offensive linemen.
Hudson, who last season had a front-row seat for one of the nation's best defensive lines as a Florida State defensive assistant, shapes his system around Russell and the other down linemen.
"We will do things to turn him loose," Hudson said. "We cater to the D-line. We're going to make sure they know what's going on, there's no confusion and they're happy. And when the ball's snapped, we say, 'Take off, break off.'
"That's what we want them to do."
Russell continues to follow Kerrigan with the Washington Redskins, and he also studies the other Purdue greats he has met like Avril (Seattle Seahawks), Ninkovich (New England Patriots) and Spencer (Dallas Cowboys).
"You have a common ground," Russell said. "They started the same place you started, and what they're doing is the goal, so you're trying to see what they're doing to get to the goal you all share."
November, 12, 2012
11/12/12
4:00
PM ET
It hasn't been the easiest season for Purdue defensive tackle
Kawann Short
or his team, which stumbled to an 0-5 start in Big Ten play. But Short and the Boilers rebounded nicely Saturday against Iowa, and the senior is the pick for Big Ten Player of the Week.

Short bypassed the NFL draft this year and returned for his senior season, aiming to boost his draft stock. He certainly did Saturday at Kinnick Stadium, recording a career-best four tackles for loss, including a sack, as Purdue outlasted Iowa 27-24 for its first win at Kinnick Stadium since 1992. Short anchored a defensive line that held Iowa to 74 rush yards (2.4 ypc) and 264 total yards. He earned Big Ten Defensive Player of the Week honors for the first time this season and for the third time in his career.
Short leads the Big Ten in tackles for loss (13), ranking 27th nationally, and is tied for fourth in the Big Ten in sacks (5). He's third nationally among active FBS players in career tackles for loss (46.5) and tied for 15th in career sacks (17.5).
Colleague Todd McShay has
Short at No. 27
on his latest list of the nation's top 32 NFL draft prospects, and Short's stock should rise after Saturday's game. Purdue has produced a series of strong NFL defensive linemen -- Cliff Avril, Anthony Spencer, Ryan Kerrigan, Mike Neal -- and Short looks like he'll continue the tradition.
August, 11, 2010
8/11/10
10:00
AM ET
Purdue's recent struggles in defending the run just don't add up.
The Boilers have had their share of outstanding defenders the last two seasons, particularly in the front seven. Remember these names?
All-Big Ten end Ryan Kerrigan has recorded 20 sacks, 30 tackles for loss and nine forced fumbles in the last pwo seasons.
Tackle Mike Neal recorded 11.5 tackles for loss and 5.5 sacks last fall before becoming a second-round pick in the NFL draft by the Green Bay Packers.
Linebacker Jason Werner racked up 14.5 tackles for loss, 4.5 sacks and two forced fumbles last fall.
Safety Torri Williams recorded 167 tackles in his final two seasons as a Boilermaker.
Tackle Alex Magee was a third-round draft pick of the Kansas City Chiefs after finishing his Purdue career in 2008.
Another lineman who played in 2008, Ryan Baker, is now with the Miami Dolphins.
With so many individual standouts, how has Purdue finished last in the Big Ten in rushing defense in each of the past two seasons?
"It's everybody against the run," co-defensive coordinator/defensive line coach Gary Emanuel told me Tuesday night. "It's not just the front seven, it's not just the back end. It's everybody, together."
Purdue has struggled to find that cohesion on a consistent basis. Gaps haven't always been controlled. The line hasn't always fit where it's supposed to. And when opposing ball-carriers break through the first wall of defenders, tackles haven't always been made.
Enter Emanuel, a seasoned defensive line coach whose extensive résumé includes a previous stint at Purdue from 1997-2004. He worked alongside current Boilers head coach Danny Hope from 1997-2001 and mentored standout linemen like Anthony Spencer, Shaun Phillips and Akin Ayodele.
When Emanuel returned to West Lafayette, he saw a defense that had the parts but didn't always play well as a whole.
The best news?
"The biggest thing is we don't have guys with a bunch of egos," Emanuel said.
Kerrigan sets the tone for the group. He's one of the nation's best pass rushers, but you'd never guess it if you met him off the field.
Emanuel sees similarities between Kerrigan and the other stars he has coached, including Spencer, Phillips and former Boiler Rob Ninkovich.
"They loved football, they didn't have egos, they loved practicing, they loved to play, they were interested in learning and they wanted to be good," Emanuel said. "He's [Kerrigan] probably one of the more coachable big-time players I've been around. He has no ego at all."
Kerrigan and junior end Gerald Gooden have taken charge of the group, but Emanuel also likes his young linemen like Kawann Short, Brandon Taylor, Justin Kitchens and Bruce Gaston, a true freshman who should see the field this fall. He hopes the sum of the parts finally stuffs the run in 2010.
"You have to do some scheming, but it's basically fundamentals: emphasize tackling a little bit more, having a system of tackling, having a team that runs to the ball, emphasizing 11 hats to the ball," Emanuel said of his preseason plan. "It's a work in progress.
"It's not going to be fixed overnight, but it has to be."
February, 1, 2010
2/01/10
10:08
AM ET
Purdue defensive line coach Terrell Williams is leaving his post to join Texas A&M's staff, Purdue confirmed Monday morning.
An official announcement from Texas A&M is expected soon.
Williams spent the past four seasons with the Boilermakers, coaching the entire D-line in 2006, 2007 and 2009, and only the defensive ends in 2008. He has overseen the development of standout linemen like Anthony Spencer, Cliff Avril, Alex Magee and, most recently, Ryan Kerrigan and Mike Neal.
It's obviously not ideal to lose a position coach so late in hiring season -- and so close to national signing day -- and head coach Danny Hope has an important decision in front of him. Williams, like every Purdue assistant, helped recruit the state of Florida. He wasn't the primary recruiter for defensive end commit Bruce Gaston, though
Gaston praised Williams
for his role in the recruiting process.
Purdue's next D-line coach will inherit one of the Big Ten's top pass-rushers in Kerrigan, as well as promising young players like Gerald Gooden and Kawann Short. The new coach's primary task will be finding ways to improve the Boilers' run defense, which has ranked last in the Big Ten in each of the past two seasons.