November, 5, 2012
11/05/12
3:05
PM ET
Some key personnel notes from around the Big Ten entering Week 11.
Let's go ...
MICHIGAN
Quarterback
Denard Robinson
(elbow) made improvement in practice Sunday, but his status for the Northwestern game
will be determined later in the week
.
Devin Gardner
, who started for Robinson and played well in the Minnesota win, will share snaps with Robinson in practice. Gardner has moved into the No. 2 role on the depth chart, ahead of
Russell Bellomy
, whose playing status coach Brady Hoke declined to address Monday.
Robinson's injury likely won't last the rest of the season, Hoke said, and if he's healthy enough, he'll start against the 24th-ranked Wildcats. Gardner, who has played wide receiver most of this season, will move back to quarterback for the 2013 campaign, which was the plan all along.
Hoke is optimistic DE
Mario Ojemudia
will play against Northwestern after missing the Minnesota game. Ojemudia didn't travel to Minnesota.
WISCONSIN
Danny O'Brien
or
Curt Phillips
? Head coach Bret Bielema says he knows which quarterback will start for him this week, but -- like he did earlier this season before
Joel Stave
became the starter -- Bielema isn't telling. Bielema said he will inform the team Tuesday who the starter is, but both quarterbacks will be off limits to the media and no announcement will be made before Saturday. Bielema did say that both quarterbacks practiced well during the bye week and that he expected to go with one guy on Saturday instead of playing both O'Brien and Phillips.
Starting left tackle Ricky Wagner, who has been out since the Purdue game with a right knee injury, practiced in full last week and is expected to be fully ready for this week's game at Indiana.
Ryan Groy
, who has been starting in Wagner, can slide back into his customary guard spot.
NORTHWESTERN
Top cornerback
Nick VanHoose
(shoulder) and backup cornerback
Quinn Evans
(leg) both likely will return for the Wildcats on Saturday against Michigan. Both men were injured in an Oct. 20 game against Nebraska and sat out the following week against Iowa. VanHoose is listed as a starter on this week's depth chart.
NEBRASKA
RB
Rex Burkhead
(knee) continues to make progress, but he won't return to the field until he's 100 percent, coach Bo Pelini said. Burkhead has missed Nebraska's past two games after aggravating the knee early in an Oct. 20 game at Northwestern.
Junior cornerback
Antonio Bell
is off the team for an unspecified violation of team rules, Pelini said. Bell, who has played special teams most of his career, has three tackles in four games this fall.
Quarterback
Taylor Martinez
said Monday he's still a bit bothered by an ankle injury. Then again, he rushed for 205 yards Saturday against Michigan State.
ILLINOIS
Running back
Josh Ferguson
(hip) is expected to return this week against Minnesota after not traveling to Saturday's game at Ohio State. Coach Tim Beckman said Ferguson is working out with the team.
Starting linebacker
Jonathan Brown
(shoulder) will be evaluated today after leaving the Ohio State game. Beckman will know more Tuesday about Brown's status for Minnesota.
MINNESOTA
The Gophers could be without top wide receiver
A.J. Barker
for another week after he aggravated his injured right ankle in warmups before Saturday's contest against Michigan. Coach Jerry Kill said Sunday that Barker will attempt to practice this week after missing most of the workouts last week. Left tackle
Ed Olson
(ankle) is getting closer to a return but won't be out there until he's 100 percent, Kill said.
PURDUE
One change on the
depth chart
for Iowa is that junior cornerback
Ricardo Allen
, in his third season as a starter, is listed as a co-starter with redshirt freshman
Frankie Williams
. Allen had a rough performance Saturday against Penn State's receiving corps.
April, 3, 2012
4/03/12
5:30
PM ET
LINCOLN, Neb. -- They can't be called pop quizzes because they happen every day.
When safety
P.J. Smith
and his fellow Nebraska defensive backs enter their meeting room each day, they know exactly what's coming.
"This is the first time we've ever taken tests," Smith told ESPN.com. "Since the season ended, we had a test every week. And now, since [defensive backs coach Terry Joseph] is here, we have a test every single day we get in the meeting room."
Joseph's exams typically contain three questions, which require short written responses. The players have two minutes to complete their choices, which is 119 seconds longer than they have during games in the fall. The players with the lowest grades at week's end typically have to clean the secondary room.
"He tries to put pressure on us," Smith said.
Pressure is one word to describe the theme of Nebraska's offseason, particularly on the defensive side. Details is another. So is accountability.
[+] Enlarge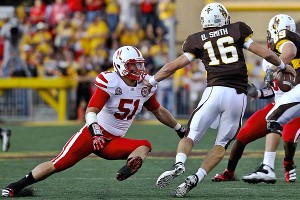 Troy Babbitt/US PresswireWith star LB Lavonte David gone, Nebraska will look to Will Compton to make an impact at the position.
The team ended the 2011 season with a thud, falling 30-13 to South Carolina in the Capital One Bowl. A defense that had entered the fall with a star-studded lineup -- tackle
Jared Crick
, linebacker
Lavonte David
and cornerback
Alfonzo Dennard
were the headliners -- finished 42nd nationally in points allowed and 37th in yards allowed, significant drops in both categories from the previous season (ninth in points allowed, 11th in yards allowed). The Huskers' D received some A-level performances from David and Dennard, but the overall unit, aside from a few exceptions, wasn't exceptional.
Nebraska didn't generate enough pressure (84th in sacks, 112th in tackles for loss) and didn't really have a hallmark.
"Generally, we didn't make a ton of busts a year ago," said defensive coordinator John Papuchis, who coached the defensive line in 2011. "But it's the small details within each defense that make the difference between being a good defense and a great defense. At times, we showed signs of being a very good defense. And at other times, we didn't live up to the standard we have set for ourselves.
"And I think what held us back more than anything came into those details."
Papuchis and the other defensive assistants have spent the offseason stressing concepts rather than pure memorization. The how and the why became more important than the what and the who.
They "went back to square one," even with older players, and worked on terminology as an entire unit. Crick and other Nebraska players talked before last season about the uniqueness of their defense, how
the scheme would help set the Huskers apart
in a new league.
"There's not one defense that's comparable to ours," Crick said. "Very complex, and that's what makes it unique. As a defensive lineman, I have five responsibilities, where other defensive linemen, all they've got to do is shoot their gap. We want it that way."
And it
is
different, as Nebraska uses a two-gap system not employed by most college teams. But because of several reasons -- the coaches point mainly to attention to detail -- the Huskers didn't enjoy a major schematic advantage.
"Our defense is kind of like learning how to study math," Papuchis said. "If you don't have a foundation, everything else after that won't make sense."
One issue Papuchis noticed with Nebraska's youngish secondary in 2011 was alignment. Players knew their responsibilities, but they would line up inside when they needed to be outside, or vice versa.
"What doesn't seem like a big deal, six inches one way or the other, makes all the difference in the world if they convert third-and-6," he said.
It's why Joseph tests them every day. Mistakes happen, Smith said, but Joseph wants the DBs to "make a new mistake. Don't make the same mistake."
Nebraska should have a more seasoned secondary in 2012, and Papuchis has been pleased this spring with
Daimion Stafford
,
Ciante Evans
,
Andrew Green
and
Antonio Bell
, among others. Linebacker
Will Compton
said the secondary is receiving extra attention this spring from both Papuchis and head coach Bo Pelini.
"We're getting back to some of the multiplicity we've had in the past," Pelini said. "I'm excited. I think we have a chance to be pretty good on defense."
There are different challenges for the other two groups on defense. The linebackers begin life without David, one of the nation's most productive defenders the past two seasons. Compton will lead the group, but depth is still a concern and will be for the next few years.
"We'll have guys very capable," Compton said. "It's about being a successful Will linebacker, not about being the next Lavonte David."
Nebraska has good depth at defensive end with
Cameron Meredith
,
Jason Ankrah
,
Eric Martin
and Joe Carter. And while the scheme stresses the need to prevent offensive linemen from reaching the second level, pass rushers could be turned loose more as Nebraska tries to generate more pressure.
New line coach Rick Kaczenski has brought an attacking style.
"Last year, we were a little bit passive," Meredith said. "Now offensive linemen at practice are telling us, 'You guys attack a lot more.'"
The linemen also are stressing accountability. If anyone is late for a meeting or another activity, the whole group runs or does
Turkish get-ups
.
"Everybody had a sour taste in how we finished up the season," Pelini said. "I said, 'Either you can talk about it or do something about it.' I think everybody around here has taken the attitude to raise their level of accountability.
"To get over the top, we've got to have a little bit more attention to detail, raise our standards that much more, raise our accountability that much more."
August, 22, 2011
8/22/11
9:30
AM ET
They typically met around 1 p.m., after class, in the Nebraska football complex.
Cornerbacks Alfonzo Dennard, Ciante Evans and Antonio Bell found a film room, slipped inside and closed the door. They grabbed notepads and pens, flipped on the television and didn't come out for the next two hours.
With 11 new opponents on the 2011 schedule, including eight teams in their new league, the Big Ten, the Nebraska players had no time to waste.
[+] Enlarge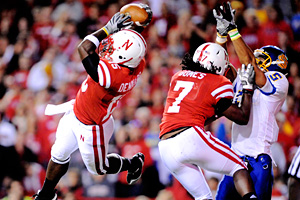 AP Photo/Dave WeaverAlfonzo Dennard, left, and his Husker teammates put in some extra time in the film room to prepare for their first season in the Big Ten.
"We went in there every day," Dennard said. "We had to watch a lot of tape on the Big Ten because we never played against them. In the Big 12, we knew what to expect and who to look out for. But the Big Ten, we really don't know anything."
Offseason film review is part of every team's regimen, but Nebraska players and coaches might be more bleary-eyed than most when September rolls around. Aside from Week 3 opponent Washington, a team Nebraska faced twice in 2010 (with very different results), it's a whole new world for Big Red this season.
The preparation process began in February, and players and coaches studied at different speeds. Defensive coordinator
Carl Pelini finished reviewing Big Ten offenses
by the start of spring practice, while others hadn't gone quite as in depth.
"I feel great about the preparation we've had," head coach Bo Pelini said. "We put a lot of work in."
Dennard, Evans and Bell organized their study by examining Nebraska's new opponents in order. They started with Chattanooga, which Nebraska hosts Sept. 3 in the season opener. To get a good gauge on the Mocs, they studied a game against a strong opponent -- in Chattanooga's case, Appalachian State.
Down the list they went until the first Big Ten opponent, Wisconsin, a team Nebraska faces Oct. 1 in Madison.
"They'll try to run the ball to lull you to sleep, and then they'll hit you with a play-action," Dennard said "So you've got to stay focused and on top of their receivers because they have a pretty good receiver,
Nick Toon
."
The Huskers cornerbacks took notes on each new team.
"We'll write down, 'First down, they'll run the ball. Second down, they'll probably play-action,'" Dennard said.
The perceived stylistic differences between the Big Ten and Big 12 have been brought up throughout Nebraska's transition. Most see the Huskers moving from a finesse league filled with spread offenses and speed to a conference with more traditional schemes and power, particularly along the line of scrimmage. That might be simplifying things a bit.
When Huskers defensive tackle Jared Crick watched tape this offseason, the differences between the Big 12 and the Big Ten didn't jump out as much as the differences between Nebraska and every other team in America.
"Especially watching the Big Ten, offense and defense, it's nothing like ours," Crick said. "They play completely different. ... It's tough sometimes watching game film, when you're trying to see what they plan on running at you because no one plays like you. It's kind of up in the air. You have an idea, but you don't know [for sure]."
Crick and Carl Pelini both noted that while Nebraska might have a larger volume of prep work for the season, the other Big Ten teams will be surprised when they turn on tape of the Huskers. Nebraska is introducing a new offensive system this year under Tim Beck, but the real curveball could come from the Blackshirts defense.
"I expect them to run their base stuff at us to try and punch us in the mouth with what they do best," Crick said, "but honestly, I haven't seen a defense anywhere that's like ours. Ours is the most unique defense in the nation, so they're going to have to tweak some things for us, tweak their whole offensive game plan altogether.
"Our defense is unlike any others, not only in scheme but in personnel."
The prep work will continue on both sides for the next few weeks, but Dennard knows it's all about making adjustments on game day.
"They'll probably change everything up," he said, "so you can't be set for what they're going to do because of what they did last year.
"It's a process, but we know what to look for now."
August, 15, 2011
8/15/11
12:00
PM ET
Hope everybody had a great weekend. Only a couple more of those left without football.
BIG TEN SCOREBOARD
Saturday, 12/20
Monday, 12/22
Tuesday, 12/23
Wednesday, 12/24
Friday, 12/26
Saturday, 12/27
Monday, 12/29
Tuesday, 12/30
Wednesday, 12/31
Thursday, 1/1
Friday, 1/2
Saturday, 1/3
Sunday, 1/4
Monday, 1/12
Tweets from https://twitter.com/ESPNCFB/lists/b1g