August, 30, 2012
8/30/12
11:47
AM ET

Purdue coach Danny Hope really had only one choice after linebacker Dwayne Beckford was arrested again. And Hope did what had to be done,
dismissing the senior
from the team on Wednesday evening.
Beckford's latest legal problem was an arrest on charges involving drug paraphernalia and synthetic drug possession. It was his fourth arrest since June 2011, which included a DUI that kept him out of the Little Caesars Bowl and suspended from the team this spring.
He simply had to go after failing to stay out of trouble. The bad news for the Boilermakers is that Beckford is the team's best and most experienced linebacker, a position that already looked like the weak spot for an otherwise solid defense. Hope said on Tuesday that the team would still be fine with
Antwon Higgs
,
Joe Gilliam
and former quarterback
Sean Robinson
taking Beckford's place.
Purdue will miss Beckford's talent. It will not miss his off-the-field shenanigans.
August, 28, 2012
8/28/12
4:00
PM ET
It's time for the second half of our Big Ten personnel roundup entering season-opening weekend. In case you missed Part I, which featured most of the Week 1 depth charts, be sure and
check it out
.
Michigan State released its depth chart, so we'll start there. Minnesota and Nebraska will release theirs later this week.

MICHIGAN STATE
Depth chart
There are two unsettled positions on defense as Michigan State lists co-starters at defensive tackle (Micajah Reynolds and Tyler Hoover) and at free safety (Jairus Jones and Kurtis Drummond). Head coach Mark Dantonio called the Reynolds-Hoover competition "a flip of the coin" and praised Reynolds' progress during fall camp. Reynolds has a 33-inch vertical leap and bench-presses more than 400 pounds. Hoover, a converted defensive end, missed all but one game last season with a fractured rib.
Linebacker Darien Harris and defensive end Lawrence Thomas both don't appear on the depth chart because of injuries but will be contributors this season. Harris could see the field early Friday night against Boise State. Sophomore Skyler Burkland is listed as the backup left tackle but likely won't play because of a hand injury.
Junior Bennie Fowler and sophomores Keith Mumphery and Tony Lippett are listed as Michigan State's top receivers. Tennessee transfer DeAnthony Arnett, who had 24 receptions last season for the Vols, appears as Fowler's backup.
Here are some other personnel notes from around the league ...

IOWA
Running back is the big question mark for the Hawkeyes after another summer of attrition. Iowa enters Saturday's opener with three primary backs --
Damon Bullock
,
Greg Garmon
and Michael Malloy -- as well as two fullbacks in
Brad Rogers
and
Mark Weisman
.
Bullock, who had 10 carries for 20 yards, likely will get the start against Northern Illinois, although Garmon, a heralded true freshman, should get plenty of work as well. Rogers is a familiar name, and coach Kirk Ferentz praised Weisman's progress during camp.
"You play the cards that are dealt," Ferentz said. "The running back position is one where we've had a lot of players playing. The good news is they've performed pretty well."
Sophomore
Jordan Canzeri
, who
suffered a torn ACL in spring practice
, has returned to practice, but Ferentz said it's "weeks or months before we talk about him entering contact or anything live at all." Iowa has been cautious about live tackling involving its running backs in practice, particularly those who have game experience.

PURDUE
Boilers coach Danny Hope didn't sound too concerned about playing without top middle linebacker Dwayne Beckford, indefinitely suspended Monday following his latest arrest. Purdue practiced without Beckford during spring ball -- he was working his way back from another legal issue -- and rotated several players at middle linebacker. Senior
Antwon Higgs
appears to be the next man in, and converted quarterback
Sean Robinson
is behind him.
Sophomore
Joe Gilliam
, who recorded seven tackles last year and made one start, should be a bigger part of the plan as well.
"I thought in the recruiting process he was one of the top players in our state," Hope said of Gilliam. "I thought Joe was probably the next guy in line [behind the starters]."

INDIANA
Not surprisingly, Tre Roberson has emerged as Indiana's starting quarterback after taking over the top spot as a true freshman in 2011. Roberson beat out junior college arrival Cam Coffman and freshman Nate Sudfeld for the job. Coffman will serve as Roberson's backup. Although Roberson struggled in Tuesday's morning workout, coach Kevin Wilson has been pleased with the sophomore. "He's embraced the challenge," Wilson said. "He definitely can make some plays as a bit of a dual-threat guy. He's embraced the competition. He has been by far our most consistent quarterback."
Roberson will be passing the ball more in 2012, and he'll have a deeper group of wide receivers at his disposal. How deep? Wilson said that veterans Kofi Hughes and Duwyce Wilson enter the season as the team's No. 5 and No. 6 receivers (Hughes is suspended for the opener against Indiana State). Kevin Wilson had high praise for sophomore Cody Latimer, limited by a sports hernia injury last season. Speedster Nick Stoner also should be a bigger part of the mix at receiver. "It's not because they've [Hughes and Duwyce Wilson] fallen off but because we've got some good players," the coach said. "We've got some competition, we've got some depth, we've got some young speed and I just think we're close to having a more complete unit there. We're not great at receiver, but we do have more playmakers."

ILLINOIS
Illinois' secondary isn't anywhere near full strength as it prepares to face Western Michigan and talented quarterback Alex Carder. The team's top two safeties, Steve Hull and Supo Sanni, both are nursing injuries and didn't appear on Monday's depth chart. Also, top cornerback Terry Hawthorne has a sprained ankle that will limit him only to defense for the first few games. Illinois wanted to use the athletic Hawthorne as another option at receiver, a position with little proven depth. The bigger question is how much the ankle will limit the senior with his primary cornerback responsibilities.
Although the Illini will rotate plenty at running back, receiver and tight end on Saturday, they won't employ a two-quarterback system, which had been rumored during camp. Co-offensive coordinator Chris Beatty said Tuesday that he's not a big believer in rotating quarterbacks, so junior Nathan Scheelhaase will take most or all of the snaps.

OHIO STATE
Urban Meyer expects "six seconds of great effort" from Ohio State's freshmen in Saturday's opener against Miami (Ohio). Asked which freshman he was most curious to see, Meyer identified defensive back Devan Bogard as well as freshman linebacker David Perkins, who "really exploded the last couple of days."
Meyer said freshman Bri'onte Dunn and sophomore Rod Smith are "very close" for the No. 2 running back spot behind Carlos Hyde. Dunn has been a bit more consistent in camp and has a slight edge.
Meyer said Storm Klein's role going forward is yet to be determined and that recently reinstated linebacker is still "making up a bunch of stuff" after missing almost all of fall camp. Meyer based his decision to reinstate Klein on a domestic violence charge being dismissed against the senior, who pleaded guilty to misdemeanor disorderly conduct.

NORTHWESTERN
Coach Pat Fitzgerald acknowledged that it has been easier to go through the preseason this year as opposed to 2011, when talk of quarterback Dan Persa's health dominated fall camp. Although Northwestern knew all along that Persa wouldn't play in the first few games and
Kain Colter
would start, it has been easier for Colter this time around.
"Unfortunately, Danny had to go through that tough offseason," Fitzgerald said. "That was not fun. Kain handled the opportunity really well a year ago. ... You could definitely tell it was his first start in college football Now he's settled down, he's settled into the role."
August, 28, 2012
8/28/12
8:20
AM ET
Purdue fans who went to bed Monday night feeling hopeful about the 2012 team and a potential breakthrough season woke up to some bad news Tuesday.

Starting middle linebacker
Dwayne Beckford
has been
indefinitely suspended
following an arrest Monday night, his latest brush with the law. Beckford is the Boilers' leading returning tackler with 91 stops in 2011, his second season as a starter.
"It's unfortunate that Dwayne allegedly violated some of the terms of his probationary status," Boilers head coach Danny Hope said in a prepared statement released late Monday. "Once we examine all the details that led to today's development, we will make a decision on his long-term status with the team."
From
The (Lafayette) Journal and Courier
:
Tippecanoe County court records show that Beckford was arrested by the West Lafayette Police Department. Details of what led to his arrest were not immediately available Monday night, but Beckford has already been charged in Tippecanoe Superior Court 4 with possession of paraphernalia and possession of a synthetic drug. The possession of paraphernalia charge is a Class D felony because Beckford has at least one other prior conviction for it, from August 2011 in Tippecanoe County.

As of midnight, Beckford was being held on three separate "no bond" warrants. That's because the Tippecanoe County prosecutor's office filed paperwork to revoke his probation for a still-open possession of marijuana case, also filed in Superior Court 4. Judge Gregory Donat granted the prosecutor's request.
Translation: Beckford is in big trouble. And he has run out of chances at Purdue.
He has been arrested four times since June 2011. Beckford was suspended for the Little Caesars Pizza Bowl in December and had his scholarship revoked. He missed spring ball
before being reinstated in May
.
There's only one decision for Hope to make here. Beckford can't stay out of trouble, and an arrest six days before the season opener against Eastern Kentucky is simply inexcusable. You can't have that from your starting middle linebacker. He has got to go.
Linebacker is Purdue's weakest position on defense, and Beckford's absence accentuates the team's depth issues.
Will Lucas
and
Robert Maci
occupy the other two starting spots. Senior
Antwon Higgs
likely will replace Beckford in the starting lineup, but
Sean Robinson
, a converted quarterback, is the third stringer at middle linebacker.
Purdue has had quite a few off-field issues this year, although most are relatively minor and have been resolved. Beckford's situation is different. He has run out of chances, and Purdue must now move forward without him.
June, 25, 2012
6/25/12
9:00
AM ET
Our series continues looking at a player or a group of players from each Big Ten team who needs a home run type of summer before preseason camp begins. Who needs to hit it out of the park in preparation for the season?
For previous entries, click
here
.

In the batter's box:
Purdue
Who needs to step it up:
The linebackers
Danny Hope could have his best team at Purdue this fall. The Boilermakers have good depth and experience, and Hope particularly likes what he's got to work with on his defensive line and in the secondary. But the linebacker spot has a few question marks. Leading tackler Joe Holland graduated. The return of
Dwayne Beckford
from a DUI-related suspension following spring practice should help a lot, and
Will Lucas
also comes back after making 82 tackles a year ago. The new defense installed by coordinator Tim Tibesar reportedly will have some 3-4 looks, which means the Boilers will need to identify some dependable players to go along with Beckford and Lucas. Purdue moved former quarterback
Sean Robinson
to linebacker in the spring for more depth and just signed junior-college linebacker Ruben Ibarra last week for some immediate help. Senior
Antwon Higgs
adds experience to a group that was not among the elite units in the Big Ten next year. Hopefully, Beckford will use his second chance wisely and take charge of the position this summer. If Purdue can make major gains at linebacker, it has a chance to field one of the better defenses in the league.
March, 12, 2012
3/12/12
10:30
AM ET
Purdue is getting a little bit of a buzz as a sleeper team for 2012 after breaking through with a bowl game (and win) in 2011. The Boilermakers opened spring practice last week and went for a couple of days straight before taking off for spring break. I had a chance to catch up with Purdue head coach Danny Hope to talk about how things are going in his program and the areas of concentration this spring.
Did you sense any different attitude this offseason after getting to that bowl game last year?
[+] Enlarge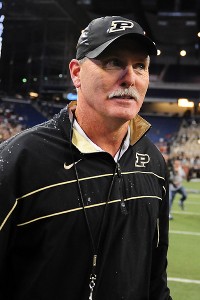 Andrew Weber/US PresswireCoach Danny Hope said the momentum from boilermakers' bowl win last season has carried over into the spring.
Danny Hope:
I think we ended the season on a high note and with some momentum, and I think it carried over into the offseason. I think we're really hitting on all cylinders with our new director of sports performance, whom we hired last year about this time. It's the first time since I've been the head coach at Purdue that we're going into spring with a quarterback that's healthy that's played any football.
Caleb TerBush
wasn't penciled in as the No. 1 [quarterback], but he became No. 1 about a week before the opener. He had to get his feet wet and learn throughout the course of the season, but by the end of the season he was playing pretty good. That momentum carried right over into the bowl preparation and the win carried right into the weight training offseason and that carried into spring practices. And having experienced quarterbacks is important. It's the first time since I've been here we've been able to do something as simple as getting signals in early in spring. It's a little different tempo out there right now as a result. We've got some good players back and we've got some confidence as a football team.
You have quite a few experienced quarterbacks now, in fact. How are you splitting up the reps for them this spring?
DH:
Well,
Sean Robinson
is playing on defense right now. It's hard to get four quarterbacks ready in spring ball, and he wasn't going to get as many reps as he needed to. So we're going to try him some at the linebacker position. That leaves TerBush and
Robert Marve
, who's finally healthy. I think Robert did some good things last year, but I think he's in position to take some big steps in his development because this is the first time since he's been here that he's been able to get a lot of reps without concern about an injury or an eligibility situation. Then
Rob Henry
is back. He's a little bit limited right now because he's coming off knee surgery, but I'm really pleased with where his recovery is, and most of the time when he's out there right now you can't tell much of a difference. But you have to limit his reps a little just because you don't want to overdo it and create a swelling issue. So the numbers are kind of taking care of themselves in some ways. We went into the spring with TerBush as No. 1 and all those other guys are competing.
Your leading rusher, Ralph Bolden, tore his ACL again, but you have two pretty good running backs in Akeem Shavers and Akeem Hunt. How do you feel about the depth at running back this spring?
DH:
We had a real strong running attack last year. We were fifth in the Big Ten in rushing. The past couple of years, we've been able to establish a strong running game. I like the progress that we've made and having good running backs is a big part of that, and any more, having a couple of running backs you can play is a big part of it. We had a lot of different guys rush for us last year, probably 10 different guys who were utilized as ball carriers. We really like Akeem Shavers. He's a fast, physical back who finishes runs. Akeem Hunt is an excellent sprinter who's a member of our track team and was a state champion track performer in Georgia. So he's a class sprinter in a lot of ways for a football player.
We've also got a kid we redshirted last year in
Doug Gentry
, and he's a skilled player. We have
Gavin Roberts
, who has good size but was injured last year. He's a big back we can utilize in the backfield. Then we've got a couple fullbacks in
Derek Jackson
, who weighs about 240 pounds, and
Kurt Freytag
. So we've got some guys still in the stable even though Ralph is out. And we've utilized
Antavian Edison
and
Raheem Mostert
some as ball carriers out of their slot position, and both those guys are really skilled players. So we've got some athletes who can tote the mail, and we spread the wealth out around here.
Were you upset about the new kickoff rules because you have such a weapon at kick returner in Raheem Mostert?
DH:
Well, we all play by the same rules. You'll have to make decisions about bringing some out, so the return man is going to have to be a good decision-maker. From a kickoff standpoint it might change some things. You can kick them all deep and try to force the touchback if you want to, but you're going to be giving the opponent the ball at the 25. Or you can kick the ball high and deep and try to pin them down and do a great job covering. So there's going to be some game planning and schemes involved. I think it will all even out. ... I don't think it's going to shut down all kick returns, but I think there will be about 25 percent less, is my guess.
August, 17, 2011
8/17/11
12:00
PM ET
Did the sun rise in Miami today?
April, 11, 2011
4/11/11
11:00
AM ET
Purdue wrapped up spring practice Saturday with the Black and Gold Game, the first spring game in the Big Ten this year. The Gold team prevailed 14-3 behind touchdown receptions by
Justin Siller
and Normando Harris.
Let's take a closer look at the game.

Game coverage:
Here
and
here
and
here
.
Quotable:
"We're not going to have great talent sitting on the sideline.
Rob Henry
is a great talent.
Robert Marve
is a great talent and
Caleb TerBush
is a great talent. We're going to find a way for all three of those guys to help us win, regardless of how it shakes down on the depth chart." -- coach Danny Hope on his quarterbacks
Highlights
Top quarterback Rob Henry had a decent day for the Gold squad, completing 8 of 12 passes for 76 yards with a touchdown and an interception, and adding 27 rush yards. Caleb TerBush called signals for both teams and completed 16 of 27 passes for 172 yards with a score and an interception. Receiver Antavian Edison capped a strong spring with five receptions and two rushes for 26 yards.
Purdue's defense was the more dominant unit for much of the scrimmage. Linebacker Antwon Higgs and safeties Logan Link and Jarrett Dieudonne all recorded interceptions, and the teams combined for seven "sacks," including two apiece by defensive ends Robert Maci and Ryan Russell (Black team).
It's rare when a kicker steals the show at a spring game, but Carson Wiggs isn't your typical specialist. The bionic-legged Wiggs, who kicked the nation's longest field goal (59 yards) last season, put on a display just before halftime. He kicked five field goals, including a 67-yarder that would have been good from 75. Wiggs also connected from 57, 52, 47 and 42 yards and missed from 62. That's called range, people.
Purdue on Friday announced six team captains for 2011: Henry, Wiggs, defensive tackle Kawann Short, offensive tackle Dennis Kelly and linebackers Joe Holland and Chris Carlino. The most significant selection is Henry, just a sophomore. Although Purdue's quarterback race isn't over as Robert Marve will rejoin the mix this summer, Henry separated himself this spring and clearly has the support of his teammates. It'll be an interesting decision for Hope, who has a lot invested in Marve but has repeatedly praised Henry's progress.
May, 12, 2010
5/12/10
11:00
AM ET
Purdue offensive coordinator Gary Nord probably has a big smile on his face today. Boilers quarterback
Robert Marve
, too.
Nord and Marve will have another weapon at their disposal this season, as
former starting quarterback Justin Siller
will be back on the field.
Siller, dismissed last March for violating university academic policy, has been reinstated after a year away from the school and the football team. He spent the last year taking classes at Ivy Tech Community College and was able to come back following Purdue's 2009-10 academic term.
According to a news release from the team, Siller will be an option at all the offensive skill positions this season.
"We are thrilled that Justin is back in our football family," Purdue head coach Danny Hope said in a statement. "We said when he was dismissed from school that he would always be welcomed back. It is a credit to Justin that he did what he had to do to make himself eligible for reinstatement, and I am confident he learned from his mistake."
Earlier this spring, Hope was optimistic that Siller would return for 2010. Nord told me in March that
Siller would be too far behind the other quarterbacks
to compete for playing time there, but he'll be a factor at running back or wide receiver.
Siller began the 2008 season as a running back before switching to quarterback.
"It feels great to be back," Siller said in a statement. "My goal all along was to come back. Even though I was away from the team, I always felt as though I was still part of the program. It was tough sitting out last season, but I learned a valuable lesson. I am proud of the way my teammates overcame some tough early losses last season and won some big games. I am so excited to get back on the field and learn the offense."
It will be interesting to see where Siller ultimately ends up playing. Purdue clearly has a need at running back following
Ralph Bolden
's knee injury this spring, but at 6-4 and 220 pounds, Siller would seem to fit better as a wide receiver or a tight end.
Siller has two years of eligibility remaining. He'll wear jersey No. 2 this season after previously wearing No. 5, now worn by running back
Al-Terek McBurse
and linebacker Antwon Higgs.
January, 20, 2010
1/20/10
11:43
AM ET
National Signing Day is right around the corner, and Big Ten teams will look to add depth and identify a few immediate contributors in the upcoming recruiting classes. What do these squads need the most?
Here's a look:
ILLINOIS
Offensive line:
The line hasn't been great the last two seasons, and Illinois loses standout Jon Asamoah and center Eric Block. Illinois looks strong at running back in 2010, but someone needs to create rushing lanes.
Safety:
The Illini defense hasn't been the same since the departures of safeties
Kevin Mitchell
and Justin Harrison following the 2007 season. Ron Zook could really use a safety or two who could step in and contribute right away against the run and in coverage.
INDIANA
Defensive end:
The Hoosiers lose two multiyear starters at end: Jammie Kirlew, a two-time All-Big Ten selection, and Greg Middleton, who led the nation in sacks in 2007. Indiana's pass rush will suffer unless it builds depth at end and throughout the line.
Secondary:
Indiana loses starting safeties Austin Thomas and Nick Polk as well as its top cornerback, Ray Fisher. Expect the Hoosiers to go very heavy with defensive back recruits as they try to shore up an area that has been problematic during the last decade.
Offensive line:
The situation on the line certainly is better than it was a year ago, but the departure of talented left tackle Rodger Saffold creates a void. Indiana is the type of team that always could use more depth up front so the drop-off between starters and backups isn't so dramatic.
IOWA
Offensive line:
Iowa loses four linemen who started most or all of its games last year, including All-Big Ten performers Bryan Bulaga and Dace Richardson. The Hawkeyes can't expect freshmen to come in and start right away up front, but they need some insurance if injuries crop up.
Linebacker:
Standouts Pat Angerer and A.J. Edds depart, and while Iowa has some guys ready to step in, it can always use depth in the defensive midsection. The Hawkeyes defensive line should sizzle in 2010, but they need sure tacklers at linebacker, too.
MICHIGAN
Secondary:
There's no mystery here, as the Wolverines really struggled with breakdowns in the back four and lose standout cornerback Donovan Warren to the NFL draft. Michigan needs to bolster its talent level at both cornerback and safety to have improved results in 2010.
Linebacker:
The Wolverines linebackers struggled in 2009, and there are opportunities for young players to step in here and contribute. Obi Ezeh and Jonas Mouton are back, but it's obvious this is another area Michigan must upgrade this coming season.
Specialists:
Michigan loses both of its starting specialists, including All-Big Ten punter Zoltan Mesko, a Ray Guy Award finalist. This is always an area where a strong true freshman can step in and contribute immediately.
MICHIGAN STATE
Trenches:
Line play was a weakness for the Spartans in 2009, and they'll be looking to upgrade on both sides of the ball. They lose top pass rusher Trevor Anderson as well as left tackle Rocco Cironi, center Joel Nitchman and guard Brendon Moss on the offensive line.
Secondary:
This unit turned out to be a major disappointment, considering the preseason expectations. Michigan State loses safety Danny Fortener and corners Ross Weaver and Jeremy Ware, and there should be ample opportunities for freshmen to step in and play.
Linebacker:
Probably not a critical need, but Michigan State needs to start preparing for life after Greg Jones. The Spartans also lose Adam Decker and Brandon Denson from the 2009 team, and Eric Gordon will depart with Jones after 2010.
MINNESOTA
Cornerback:
The Gophers lose both of their starters, Traye Simmons and Marcus Sherels, and will be looking to build depth behind Michael Carter in 2010. I'm very excited about what Minnesota returns at safety, but the situation at corner seems a bit unsettled.
Offensive line:
Minnesota will stick with the pro-style offense no matter who becomes its next coordinator, but for the system to truly click, the Gophers really need to upgrade their line. The team returns quite a few linemen for 2010, but it'll look for improved depth up front.
Running back:
After finishing last in the Big Ten in rushing each of the last two seasons, Minnesota certainly will look to get better here.
Kevin Whaley
's departure creates a spot for a newcomer to compete with
Duane Bennett
and
DeLeon Eskridge
for carries.
NORTHWESTERN
Secondary:
The Wildcats lose three multiyear starters in the secondary, including All-Big Ten honorees Sherrick McManis and Brad Phillips. They'll need to build depth around safety Brian Peters and corner Jordan Mabin to avoid a major drop-off.
Defensive line:
Corey Wootton's departure leaves NU without a proven pass rusher who can command double teams. The Wildcats also will look to build depth at defensive tackle after losing Adam Hahn and Marshall Thomas.
OHIO STATE
Safety:
This is one of few spots where Ohio State loses two long-time contributors in Kurt Coleman, a first-team All-Big Ten selection, and Anderson Russell. Though Jermale Hines played a lot in 2009, the Buckeyes want to build depth around him.
Wide receiver:
If the Buckeyes' offense builds off of its Rose Bowl performance, the wideouts figure to be more involved. Ohio State should be fine for 2010 with
DeVier Posey
and
Dane Sanzenbacher
, but it could lose both after the season and needs to start grooming replacements. These recruits also could help the return game, where Ohio State loses
Ray Small
and
Lamaar Thomas
.
PENN STATE
Quarterback:
Two-year starter
Daryll Clark
is gone and
Pat Devlin
transferred following the 2008 season, creating a wide open competition at quarterback heading into 2010.
Kevin Newsome
and Matt McGloin will compete, but Penn State always wants others in the mix there.
Linebacker:
Penn State rarely has trouble reloading here, but it loses all three starters, including back-to-back first-team All-Big Ten selection Navorro Bowman. The Lions will look to build depth and identify an early contributor or two for the 2010 season.
Tight end/wideout:
The Lions lose both
Andrew Quarless
and
Mickey Shuler
, so expect them to add a tight end or two in the incoming class. Quarless was a major part of the passing attack and Shuler hauled in two touchdowns, so Penn State won't neglect this position.
PURDUE
Secondary:
A no-brainer here, as Purdue loses all four starters in the secondary, which has ranked in the upper half of the league against the pass. The Boilers likely need a newcomer or two to contribute right away in 2010.
Linebacker:
Jason Werner hopes to return for a sixth year, but Purdue can't take any chances with a position that has struggled a bit the last two seasons. Danny Hope likes his young linebackers (Antwon Higgs, Dwayne Beckford), but he's looking for more.
Wide receiver/tight end:
Purdue can never have enough pass receivers, and Hope will look to build around All-Big Ten performer
Keith Smith
in 2010. The Boilers lose No. 2 wideout
Aaron Valentin
, and Smith and tight end
Kyle Adams
depart after 2010.
WISCONSIN
Defensive line:
All-Big Ten defensive end O'Brien Schofield departs, and the Badgers will be pretty young up front in 2010. It's important that Wisconsin builds depth behind players like J.J. Watt and Jordan Kohout.
Tight end:
Lance Kendricks
certainly eased concerns about this spot in the Champs Sports Bowl, but Wisconsin still loses All-Big Ten selection
Garrett Graham
as well as reserve
Mickey Turner
. No team in the Big Ten features the tight end spot as much as Wisconsin, so it'll be important to find a few recruits.
August, 27, 2009
8/27/09
6:09
PM ET
Posted by ESPN.com's Adam Rittenberg

The Big Ten's only new head coach enters the league with an air of mystery around him and his team. Danny Hope knows Purdue, having coached the Boilermakers' offensive line under Joe Tiller from 1997-2001 and again last year as the head coach in-waiting. But the Big Ten doesn't really know him. He comes from off-the-radar Eastern Kentucky, an FCS program that experienced pretty good success in his five seasons at the helm (35-22).

Hope made some news in February when he signed a recruiting class that included 14 players from Florida and none from Indiana. He inherits a team replacing most of its skill players on offense, but loaded in the secondary. He also brings in two new coordinators in Gary Nord (offense) and Donn Landholm (defense).

So what's the deal at Purdue? I sat down with Hope last week to find out.


Outside the program, there's a lot of curiosity, not knowing exactly what to expect from this team. Do you understand that? Is it just part of the deal with all the new things?


Danny Hope: I'm indifferent to it. It doesn't have anything to do with what we're doing getting ready to play. I'm indifferent about the perception on the outside, the preseason rankings, the expectations, any of that. We know where we're at as a football team. We're a very close football team, and we communicate on a regular basis. We know what our expectation levels are for the season. We're focused on us and not necessarily what's on the peripheral.


Is there any curiosity on your part? Now Joey [Elliott] will be in a major role. Now Keith [Smith] may be the No. 1 wide receiver, or another guy might be in a bigger role than he's ever been before. Are you interested to see how they'll react?


DH: We don't have a choice on how to react to that. We're going to get ready to play and we're going to play well with the players we have. We have a lot of confidence in them. It's the same thing every year. There's always new guys coming onto the scene. I don't care where you're at. We have a few more than others, but it's no different. It's business as usual, in reality.


Joey seems to have the mental makeup you want as a quarterback in knowing the game and the knowledge. What area on the field has he made the most progress?


DH: Right now as a football team, we're becoming more sure every day. Sure about our assignments and our alignments and everything it takes to be a winning football team. I see that with him as well. He's getting the ball out of his hand faster, but a lot of it has to do with the receivers are running sharper routes now. It's a cumulative effect, but he's getting better. I like the way he's getting the ball out of his hand, playing faster.


This program's known for passing the ball, but everyone is talking about the running back position this offseason. What have you seen from that group and the depth you have there?


DH: The seniors coming on strong have really impacted our whole running back pool. Frank Halliburton's a fine football player. He's a 250-pound back. They're a very aggressive group, and that's not always the case with running backs. They run hard, they finish their runs, they block hard, they have a great work ethic. We have three or four guys at the running back spot that could be starters for us. With Frank coming on strong and Jaycen Taylor coming back and looking like he can make a difference to our football team, it has really enhanced our stable of running backs. That's good for the running game, but it's good for the passing game, too. We're a multiple formation offense, and we have more playmakers right now than we had this time last year and way more playmakers than what we had in the spring.


Is that partly because of the older guys or the freshmen being in there, too?


DH: It's the new guys, and the older guys getting their chance. Frank Halliburton, a year ago, he was a big back. Now he's a really good big back. He's a playmaker. He's a really good receiver out of the backfield. [Ralph] Bolden is really fast. Ralph's probably a 10.5 100-meter guy. He's had several times the last couple weeks where he's ran off and left everybody else in the defense from a footrace standpoint. He wasn't really ready to play [last year, due to injury]. And then obviously Jaycen Taylor coming back, he wasn't there last year, and he's a playmaker. And then we added some more speed and skill on the pe
rimeter from a receiving standpoint. Four of our top eight receivers were not with us in the spring, and they're all athletic guys, long jumpers and track guys.


Do you expect to be more multiple on offense than Purdue has been in the past?


DH: They've been awful multiple. I've been around Purdue and Purdue offense, and they've had a million great plays in the last 12 years. But I like the potential of our running backs, I like the potential of our tight ends and we're much better at receiver than we were in the spring. And we're a team that throws the ball, so yes, we'll be multiple.


The guys on defense said when Donn came in, he didn't change the terminology there. You mentioned how Purdue's always been multiple on offense. Are people going to notice major scheme changes when you take the field?


DH: Here's what most people don't realize. There's a play-calling system in every offense and every defense, and the system hasn't change. I don't want to ever be in a situation where the coordinator leaves and I don't understand the system, where we can't keep that intact and continue moving on without those coordinators. I've been a head coach before and had a system and one time got outside of the system when the coordinator left and next thing I know, I wasn't quite exactly what we had in and didn't have in. So we have a certain system in, and the play-caller can pick anything out of that system, any plays he wants, as long as they can be manufactured within the system. I took the Purdue offense to Eastern Kentucky, put it in verbatim, and then a couple years later, some of that was the Purdue offense and some was some other stuff. And there were some signs of that here when I came back here [in 2008]. It wasn't exactly the Purdue offense that I had in place after I left here after the 2001 season. Coach Nord has the liberty to call any of the plays he wants, as long as they fit within the system. He's a creative coach and does a great job of keeping the defense off balance. I think our fans will really enjoy his play-calling. I sure do in practice.


How important is your freshman class toward what you want to accomplish this season?


DH: Really important because of the need we had at wide receiver and also the depth at linebacker. We had two freshman linebackers come in at mid-year with [Dwayne] Beckford and [Antwon] Higgs, which has been huge. They've been through a spring ball and a summer and now camp. And then with the receiver position, we're eight receivers shy off the depth chart from a year ago. Those new guys, they're the guys now. It's been a lot of growth and a lot of effort. It's coming together. It really is.
April, 9, 2009
4/09/09
1:36
PM ET
Posted by ESPN.com's Adam Rittenberg
These are coming in a bit late -- got tied up with Northwestern practice this morning -- but here's your daily look around the league.
February, 6, 2009
2/06/09
3:07
PM ET
Posted by ESPN.com's Adam Rittenberg
Head coach Danny Hope's first recruiting class at Purdue is up next on the rundown.

Number of recruits: 20
Key needs: Wide receiver, running back, defensive line, defensive back
Highest-rated player (Scouts Inc.): Eric McDaniel (No. 26 nationally among defensive tackles)
The quote: "We believe this class is coming to Purdue with a purpose and will bring a swagger. Those guys down there in South Florida play with a swagger. Football's the most important thing to many of them, and it'll be nice to have some of that around here." -- Head coach Danny Hope, on his Florida-centric recruiting class
Quick take: This class likely will go one of two ways. Purdue's team speed and athleticism could be significantly upgraded by an influx of recruits (14) from Florida, a state that mass-produces game-changing skill players. Hope's ties to the Sunshine State could pay off with several immediate contributors like running back Al-Terek McBurse, linebacker Antwon Higgs and wide receiver Eric Williams. On the flip side, Purdue might be stuck with second-rate talent from a talent-rich state, and its newest players could struggle to adjust to Big Ten football and/or attending college so far from home. The class ranked near the bottom of the Big Ten, and it's up to Hope and his assistants to prove themselves as talent evaluators and developers. Purdue seemed to address a need at wide receiver with three additions, and defensive tackle prospects like McDaniel, Brandon Taylor and Cody Davis could play early in their careers.
December, 19, 2008
12/19/08
10:20
AM ET
Posted by ESPN.com's Adam Rittenberg
It's hardly uncommon for teams located outside Florida to raid the state for top prep talent. Every SEC head coach does it, and so do their colleagues from the ACC, Big East and even Big Ten.
But Purdue? The Boilermakers haven't had much Florida flavor in recent years.
That's about to change.
Purdue picked up its 15th verbal commitment for the 2009 class on Thursday, as linebacker Antwon Higgs said he was coming to West Lafayette. Higgs, a native of Pompano Beach, Fla., is the 11th player from the Sunshine State to pick Purdue and new coach Danny Hope, a Miami native who has recruited Florida for decades. Earlier this week, Hope landed another Floridian, heralded running back Al-Terek McBurse.
Hope told me before the season that he was looking to bring different types of players to Purdue. Speed would be a bigger priority than size, and Florida would become a major recruiting base.
You have some ties in Florida. I know you've already gotten a couple of commitments from the state. How important are those ties for the future?

Danny Hope: It will be a factor that'll impact the program and make a difference in the future of Purdue football. No question in my mind. When I was at Eastern Kentucky as a head coach, we had 18 guys on our football team [who grew up] within an hour and a half away from Orlando International Airport, and we only had 63 scholarships. There's a lot of guys that are good enough to play. But we're trying to find people that can come in and make a difference. We'll start off with that.
Though it's not surprising that he has looked to Florida for talent, the sheer number of Floridians in Hope's first class is staggering.