November, 16, 2014
Nov 16
12:50
AM ET
SOUTH BEND, Ind. -- His hair was a little thinner. The outside temperature was a lot lower. He was the one reining in his exuberant players this time around, not the one whom, he would say later Saturday, did not "have a clue" what was going on 19 years ago.
And yet after Northwestern pulled off another South Bend shocker, this one a
43-40 overtime victory
that extended Notre Dame's late-season misery while resuscitating its own campaign, Pat Fitzgerald had a confession to make.
"I think it's much more enjoyable today," the ninth-year Wildcats coach said.
[+] Enlarge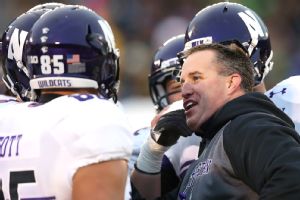 Jonathan Daniel/Getty ImagesPat Fitzgerald's Wildcats pulled off another big win over the Irish on Saturday.
He had entered the postgame press conference later than normal, the rare visiting coach who got to speak last in this building. Fitzgerald and Northwestern had waited 19 years for another shot at Notre Dame, its like-minded rival some 100 miles east. They came here in 1995 to open the season -- sun-baked, four-touchdown underdogs who would go on to do the unthinkable, recording the first of many upsets en route to a Big Ten title and a Rose Bowl trip.
No trophies or bowl games were clinched this time around, but a 4-6 team now finds itself in position to extend its season to a bowl game after pulling off the improbable here once again.
"[I] talked to them on Tuesday about a playoff mentality going back to high school: You get to November, the weather gets nasty, and that's when champions are crowned," Fitzgerald said. "We're not going to win a Big Ten championship, we understand that. We can still achieve our goals, but we have to have our back against the wall, playoff-type mentality and win and advance. We've advanced to another week to keep this team alive for postseason play."
Northwestern football, he said, is in a totally different place now than it was the last time these Cats took the field here. All-Americans like himself -- All-Americans who grew up on Chicago's South Side bleeding blue and gold, yet somehow ended up in Evanston -- undertook a massive culture change, one that led to three Big Ten titles, and one that now sheds the weight of a season that had been cast in a negative light.
Fitzgerald can thank himself for that, too, as the man just a few weeks shy of his 40th birthday can get Northwestern to its sixth bowl game in its past seven seasons with just two more wins, over Purdue and Illinois.
Those might look like child's play compared to what his players pulled off here on the third Saturday of November, sizing up an Irish team just a week removed from the College Football Playoff picture and delivering it another gut punch.
There was a blocked extra-point try on Notre Dame's second touchdown, which
Nick VanHoose
returned all the way and made what should have been a 14-7 game a 13-9 one.
There was the fallout of those Irish special-teams miscues: Coach Brian Kelly's questionable decision to go for two after the Irish's final touchdown, an incomplete pass that kept it a 40-29 Irish lead instead of putting Northwestern in a position where it would have to score two touchdowns.
Then, of course, there was the fumble -- the fourth, final and most costly Irish turnover, this from sure-handed captain
Cam McDaniel
, which gave Northwestern the ball back with a three-point deficit and 1 minute, 28 seconds to work with.
"They're giving us a shot, guys," Northwestern quarterback
Trevor Siemian
said in the huddle. "Just let it rip."
Jack Mitchell
's 45-yard field goal sent the game to overtime. His 41-yard kick -- which came after another Irish special-teams miscue, a missed 42-yard try in overtime -- set off a party nearly two decades in the making for the large contingent dressed in purple.
Said running back
Justin Jackson
, who could not bear to watch the game-winning kick: "First of all, that fumble was unbelievable, how we got that ball back. And then the drive, the field goal, and then for them to miss the field goal and for us to make a field goal -- it's a storybook ending to a crazy game. So it was really fun."
Fun for cornerback
Matthew Harris
, who was on the ledge of the stands celebrating with traveling fans long after the team had sung the alma mater. Fun for those traveling fans -- one of whom waved a purple T-shirt bearing a Chicago Sun-Times cover from 1995 that read: NU 17, ND 15. And fun for the man who had 11 tackles in that '95 meeting and sold this group on the belief that lightning could strike twice.
Fitzgerald held Siemian in a long embrace after the game. He made references to iPhones and Instagrams, luxuries and pitfalls of today's youth that will grant his players more attention than he ever received. He mentioned conversations with Ara Parseghian, the legendary former Northwestern and Notre Dame coach with whom he speaks regularly. He said boardrooms across Fortune 500 companies will feature more purple than usual Monday, as proud alumni revel in another victory at Notre Dame.
Nineteen years later, and here Fitzgerald was in a familiar position, at home once again after winning over a few more non-believers.
"I wouldn't want to play for anybody else in the country," Siemian said. "He's awesome. That's it. I just wouldn't want to play for anybody else."
April, 23, 2012
4/23/12
3:00
PM ET
COLUMBUS, Ohio -- From his 10th floor office across the street, Ohio State athletic director Gene Smith has an excellent view of the football practice fields next to the Woody Hayes Athletic Center.
Smith only attended three practices this spring -- a busier-than-normal schedule, highlighted by the men's basketball team's run to the Final Four, kept him occupied -- but he occasionally used his binoculars to check in on the team. When the Buckeyes resume workouts in August, he'll be a regular fixture on the sideline.
"I see things," Smith told ESPN.com. "And the players talk to me. Because of my background [Smith played defensive end at Notre Dame], they come and talk to me. I know when something's out of whack in that regard."
[+] Enlarge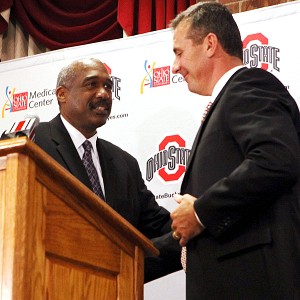 AP Photo/Terry GilliamOhio State AD Gene Smith, left, said he has "a great deal of trust" in Urban Meyer's football program.
But Smith doesn't expect any issues to surface. He has full confidence in the way new head coach Urban Meyer manages his players.
Smith took notice of the recent
Sporting News investigation
alleging, among other things, that Meyer coddled star players, oversaw a program filled with drug use among players and let character issues get out of control during his time as Florida's coach. Smith encouraged Meyer to respond to the reporter, Matt Hayes, which Meyer did.
The report "disturbed" Smith because of its timing, not its content.
"It bothers me that there's a continued attack on him about something that happened supposedly two, three years ago," Smith said. "Where are we? I just don't get that. Those are things Urban and I talked about in the hiring process."
Smith addressed the number of Florida players arrested during Meyer's six-year tenure, which varied in media reports.
"There were reports of everywhere from 41 to 26 arrests," Smith said. "I never could figure it out, so I said, 'Urban, where are we at? What's the number?' We actually talked about the issues he had at Florida, talked about the behavioral issues he had at Florida.
"But he talked about his system. He has a system like you and I deal with. As an employee, we get rewarded when we do well. We get bad reviews when we do poorly."
Meyer acknowledges he gives preferential treatment to players who earn it through their commitment to the program both on and off the field. He plans to operate the same way at Ohio State.
"It reminds me of Ara Parseghian a little bit," said Smith, who played for Parseghian at Notre Dame, "in that he's rewarding the guys that ultimately commit themselves. Whether you're a 4.0 student or a 2.2 student, it doesn't matter. If 2.2 is your capacity, that's you, you still get rewarded. We had a long conversation about it, and I like it."
Most Ohio State fans could not care less about the allegations during Meyer's time at Florida, and there haven't been any major player-management incidents during his time with the Buckeyes. Yet the lone connection between the allegations and Ohio State is an important one. Many say Ohio State's recent NCAA maelstrom stemmed from the head coach (Jim Tressel) failing to rein in a key player (Terrelle Pryor).
While Ohio State has put measures in place to prevent problems, Smith reiterates he has full faith in Meyer and his staff.
"We have a compliance officer in the [football complex] now," Smith said. "He's in the building, right next to Urban's office. So that changes things a little bit. We continually talk about how we treat kids, not just in football but all sports. So I don't feel the need to micromanage that.
"I really have a great deal of trust in what they're doing."
December, 9, 2011
12/09/11
3:20
PM ET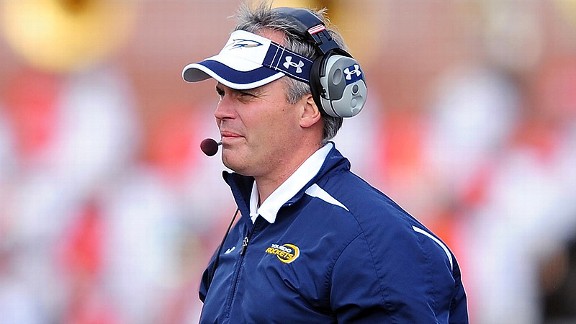 Andrew Weber/US Presswire Tim Beckman must change the culture at Illinois and bring consistency to the program.
The next time a Big Ten fan base gets excited about a MAC coach likely will be the first.
Big Ten fans want big names, even if they're more hyped than proven. There's a sense that Big Ten programs should be able to reach further than the MAC, even though the MAC has produced some excellent major-conference coaches, many of whom have done well in the Big Ten. Some are known only by their first names: Woody, Bo and Ara. All three succeeded at Big Ten programs after coming from a MAC school, Miami (Ohio).
Still, coaching searches are often the time when fan perception meets program reality. It happened this week at Illinois.
The rumor mill began buzzing Tuesday that Illinois was close to a deal with Houston coach Kevin Sumlin. Regarded as a rising star in coaching, Sumlin is one of those names that gets fans excited, even if his track record doesn't quite match the hype around him. He runs an exciting offense at Houston, led by quarterback
Case Keenum
. He's a Big Ten guy (Purdue product) who had great success as a Big 12 assistant. Perhaps most important, he's wanted by others.
I never bought the Sumlin-to-Illinois talk. With a vacancy at Texas A&M, it makes too much sense for Sumlin to eventually move up the road to College Station. Illinois wanted him, but he didn't want Illinois. Predictably, the Sumlin buzz died down and Toledo's Tim Beckman became the target for Illinois first-year athletic director Mike Thomas.
Beckman will be
introduced as Illinois' coach at a 4 p.m. ET news conference
Friday in Champaign, Ill. He comes to the Illini after recording a 21-16 record in three seasons with Toledo.
There's a lot to like about Beckman. He's an Ohio native who knows the Big Ten and has recruited well, particularly in his home state. He has worked for successful programs (Oklahoma State, Ohio State and Bowling Green) and for successful head coaches (Mike Gundy, Jim Tressel, Urban Meyer). He took over a Toledo program dealing with a point-shaving scandal and led the Rockets to 8-win seasons in each of the past two years. He's known as a tireless worker with a fiery personality.
I have a feeling Illinois fans will feel better about the hire after Friday's news conference.
But some still will only see "MAC coach." And that's fine. Beckman will have to win them over by winning. If he mirrors what former Toledo coach Gary Pinkel has done at Missouri, or what former Toledo coach Nick Saban did at Michigan State, or what Bo, Woody and Ara did at Michigan, Ohio State and Northwestern, respectively, no one will remember where he came from.
When Thomas announced Ron Zook's firing, he noted that
his track record shows he hires coaches with previous experience
leading programs. He didn't add that he hires them from the MAC, as he brought both Brian Kelly and Butch Jones to Cincinnati from Central Michigan. Kelly had historic success at Cincinnati before moving onto Notre Dame, while Jones has the Bearcats at 9-3 this season. The Beckman hire follows the pattern for Thomas, who also reportedly expressed interest in two other MAC head-coaches: Eastern Michigan's Ron English and Temple's Steve Addazio.
If Beckman succeeds at Illinois, Thomas will be hailed as strong evaluator of under-the-radar coaches. If Beckman fails, Thomas will be seen as an AD who couldn't reel in the big fish. While Illinois reportedly was
willing to spend big bucks for Sumlin
, Beckman likely comes as a bargain, as he made $400,000 at Toledo.
Beckman inherits some talent at Illinois. Talent never was the problem for Zook, who recruited well. But Beckman will need to develop players better than his predecessor.
There are some potential concerns with Beckman, namely that he's a defensive coach whose defenses didn't exactly rank among the nation's best.
Here's a look:
2011 (Toledo):
76th in total defense, 89th in scoring defense
2010 (Toledo):
56th in total defense, 73rd in scoring defense
2009 (Toledo):
95th in total defense, 116th in scoring defense
2008 (Oklahoma State):
93rd in total defense, 73rd in scoring defense
2007 (Oklahoma State):
101st in total defense, 79th in scoring defense
To be fair, fielding a decent defense in the MAC is no easy task. But Toledo also surrendered 63 points in back-to-back games, including a 63-60 loss to Northern Illinois in which Beckman's timeout decisions came under heavy scrutiny.
Beckman could win points with many Illini fans by retaining Vic Koenning as his defensive coordinator. Koenning has done a masterful job with Illinois' defense, which boasts an All-American in defensive end Whitney Mercilus and ranked No. 7 nationally in yards allowed, No. 4 against the pass, No. 5 in tackles for loss and No. 9 in sacks. Whether their defensive philosophies match remains to be seen, but Beckman certainly should consider keeping Koenning.
His bigger task will be establishing consistency with an Illinois program that hasn't seen nearly enough in the past two decades. Although Illinois has reached back-to-back bowl games for the first time since 1991-92, the team has too often been a tease, arguably never more so than this season when it started 6-0 and finished 0-6. The talent has been in Champaign, but Illinois has been too fragile of a team. Beckman must change the culture.
Some coaches create buzz just by showing up (see: Meyer, Urban). Others create it by what they do on the field.
Beckman must show he can do the latter at Illinois.
January, 13, 2011
1/13/11
10:00
AM ET
Many think Pat Fitzgerald's departure from Northwestern is a foregone conclusion.
Why would a coach with so much upside stick around a program with limited tradition and resources? Northwestern rarely has been able to retain its most successful coaches -- Ara Parseghian and Gary Barnett are two who left -- and Fitzgerald is projected to fall in line with the others.
It might be time for folks to adjust their thinking.
The Chicago Tribune's Teddy Greenstein reports that
Northwestern is putting together another significant contract extension
for Fitzgerald, who received a seven-year contract through the 2015 season in June 2009. It's the school's latest proactive move to keep Fitzgerald at his alma mater for as long as he'd like.
While Fitzgerald hasn't expressed serious interest in leaving Northwestern, other programs are expressing interest in him.
Last week, he declined a chance to discuss Michigan's head-coaching vacancy with UM representatives.
Just how serious was Michigan about Fitzgerald?
The reality is that Michigan's interest in Fitzgerald was so sincere, representatives of the school laid out salary parameters, according to sources. ... Had negotiations ensued, Michigan likely would have offered around $3 million, according to sources.
As a private school, Northwestern doesn't release Fitzgerald's salary, but I've heard he earns around $1.25 million a year. So leaving for Michigan would have come with a significant salary increase.
Northwestern officials had concern about Notre Dame pursuing Fitzgerald for its vacancy last year. And according to league sources, Penn State has serious interest in Fitzgerald as a candidate to replace Joe Paterno when the time comes.
Greenstein reports that the Michigan situation caused Northwestern athletic director Jim Phillips to ask Fitzgerald to shorten a recruiting trip and return to Evanston. Fitzgerald met with Phillips and university president Morton Schapiro last Thursday.
To show their commitment, Phillips and Schapiro asked Fitzgerald about his priorities. According to sources, topics included beefing up the recruiting budget, boosting the salary pool for assistant coaches and relaxing an NU rule that limits official recruiting visits to prospects who have either been admitted or on track to be admitted to school. ... The result of those discussions -- and the pending extension -- give Phillips the hope and belief that Fitzgerald will become NU's Paterno.
Northwestern is trying to avoid a Parseghian redux with Fitzgerald, and it's hard to fault the school for being so aggressive.
Fitzgerald grades well in a lot of the external factors programs want in a head coach. He brings youth, energy, intensity, an academic focus and an athletic background as a College Football Hall of Famer that makes him a good recruiter and a strong public representative for a program. He still has a long way to go as a game coach, which showed up in several contests this season, and he has yet to field a legit Big Ten title contender. Northwestern's victories total has dropped in each of the past two seasons.
Northwestern is probably overextending itself a bit to cater to Fitzgerald, whose loyalty to the school runs deep.
But for a school that has wavered on its commitment to athletics in the past, this isn't a bad strategy.
October, 24, 2010
10/24/10
3:00
PM ET
EVANSTON, Ill. -- Like most college football fans, Ara Parseghian watched the Michigan State-Notre Dame game in Week 3 from the edge of his seat.
As the Spartans lined up for the potential tying field goal in overtime, Parseghian thought the Spartans probably were toast. It was a long kick, 46 yards, and a ton of pressure for a first-year starter (Dan Conroy). But would Michigan State go and ahead and kick? Of course it would.
[+] Enlarge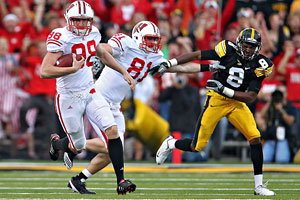 Stephen/Icon SMIWisconsin's fake punt set up the game-winning score in the Badgers' 31-30 win over Iowa.
Until the Spartans didn't.
Parseghian, the Hall of Fame coach, was as surprised as anyone when Michigan State ran a fake field goal labeled "Little Giants" and scored the winning touchdown.
"That was a gutsy call," said Parseghian, the former Notre Dame, Northwestern and Miami University coach who returned to Northwestern as an honorary captain. "I tell you, I've never seen a gutsier one than that."
The 87-year-old might have revised his statement after Week 8 of Big Ten action.
The league known for percentage plays and conventional coaching has been overtaken by unlikely gamblers. Terms like "Little Giants," "Mousetrap" and "Chain" have become part of the Big Ten vernacular, thanks to coaches who went all-in and hit the jackpot.
Parseghian had a front-row seat for Michigan State's latest wager: a fake punt pass into the wind with a 10-point deficit in the fourth quarter on the road.
It's called "Mousetrap" because, as coach Mark Dantonio explained, "We had to get them to take the cheese."
Michigan State fooled Northwestern, and punter Aaron Bates found redshirt freshman receiver
Bennie Fowler
for a 23-yard completion. The Spartans scored on the next play and went on to win 35-27, preserving their perfect record while improving to 8-0.
Bates, who also made the unforgettable pass on "Little Giants," now boasts a passer rating of 475.
"I just felt like we had to take the shot," said Dantonio, who returned to the field Saturday for the first time since calling "Little Giants."
Michigan State had installed the play specifically for the Northwestern game, and although the situation to use it was far from ideal, players such as receiver
Keith Nichol
knew Dantonio would pull the trigger.
"It gives us that motivation to go out there, that extra yard, that extra inch, make that big play," Nichol said, "knowing that he's going to trust us to make another big play. It gives our whole team a lot more confidence when the coach does something like that."
Wisconsin knows the feeling after coach Bret Bielema took the biggest gamble of his coaching career. The Badgers trailed 30-24 at Iowa's Kinnick Stadium and faced fourth-and-4 from their own 26-yard line with about six minutes left in the game.
"Once we saw the personnel out on the field, it was game on," Bielema said.
Bielema called for "Chain," a play installed only days earlier, and designed to -- you guessed it -- move the chains. Punter Brad Nortman followed second-string guard Ryan Groy and raced up the gut for 17 yards.
Eleven plays later,
Montee Ball
scored the winning touchdown. Wisconsin notched back-to-back signature wins and kept its hopes for a BCS bowl very much alive.
"Great execution," Bielema said. "Great faith."
October, 23, 2010
10/23/10
11:37
AM ET
EVANSTON, Ill. -- The wind is blowing to the northeast, and the heavy rain is supposed to hit soon here at Ryan Field.
A couple of pregame notes:
Northwestern junior superback Drake Dunsmore went through warm-ups after tweaking his ankle in practice this week.
Michigan State coach Mark Dantonio was on the field pregame, and he might try to coach from the field today, despite the weather.
Legendary coach Ara Parseghian is back at Northwestern today as the team's honorary captain. Parseghian spent eight seasons as Northwestern's coach, compiling a 36-35-1 record, before moving on to Notre Dame. The 87-year-old addressed Northwestern players Friday during the walk-through.
I'll have plenty more from Evanston, and I'll be monitoring the other three early Big Ten games as well.
October, 18, 2010
10/18/10
12:00
PM ET
Happy birthday to my little sister, who has no interest in college football and attends a school with a
mollusk for a mascot
.
August, 17, 2009
8/17/09
9:00
AM ET
Posted by ESPN.com's Adam Rittenberg
There's enough hero worship in college football these days. Let's talk about the villains.
Which player, coach or opponent haunts your favorite Big Ten team like none other? Some Penn State fans might still have Richard Nixon dartboards in their homes. Jim Tressel has become a modern-day villain for Michigan fans, but who holds the all-time title?
Here are my picks for Big Ten villains, current and all-time. But as always, I want to hear from you as well. Send me your top villains, current and all-time, and I'll have a post Tuesday with the responses.
ILLINOIS FIGHTING ILLINI

Current villain: Iowa. Until last year, the Hawkeyes had won five straight against the Illini, and even though Iowa is off the schedule until 2011, Illinois star wideout Arrelious Benn still hates the black and gold.
All-time villain: Missouri. The rivalry might be bigger in hoops, but Missouri accounted for Illinois' only regular-season loss in 1983. Illinois began its 2007 Rose Bowl run with a loss to Mizzou and has dropped 10 of the last 13 meetings.
INDIANA HOOSIERS
Current villain: Purdue. The hate for the Boilers always runs deep, and Indiana still seethes from the 62-10 loss at Ross-Ade Stadium that ended the 2008 season and the coaching career of Purdue's Joe Tiller, who went 10-2 against IU.
All-time villain: Basketball. The sport is king in the state and especially in Bloomington, thanks to Bob Knight. Football always will play second fiddle to hoops, which makes things tough to compete in the Big Ten.
IOWA HAWKEYES
Current villain: Bret Bielema. The former Iowa defensive lineman now coaches at rival Wisconsin, despite still having a Hawkeye logo tattooed on his leg. Bielema has won two of his first three games against his alma mater.
All-time villain: Eric Ball. The UCLA freshman rushed for 227 yards and four touchdowns against Iowa in the 1986 Rose Bowl, leading the Bruins to a 45-28 victory and preventing Iowa from a No. 2 finish behind Oklahoma.
MICHIGAN WOLVERINES
Current villain: Jim Tressel. The Vest has dominated Michigan since his arrival as Ohio State coach, going 7-1 and claiming the last five games.
All-time villain: Woody Hayes. The legendary Ohio State coach stoked the rivalry against "That school up North" whenever he could and dominated the series with Michigan in the 1960s, going 7-3.
MICHIGAN STATE SPARTANS
Current villain: Mike Hart. Hart no longer plays for Michigan, but his "little brother" reference after the Wolverines' 2007 win at Michigan State still angers Spartans fans, who point to head coach Mark Dantonio's comeback: "Pride comes before the fall."
All-time villain: Ara Parseghian. The Notre Dame coach went for the tie in the 1966 "Game of the Century," and the Fighting Irish finished ahead of Michigan State in the final polls (the schools shared the national title).
MINNESOTA GOLDEN GOPHERS
Current villain: The Little Brown Jug. Minnesota should implode this thing after losing 39 of its last 42 games against Michigan.
All-time villain: The Metrodome. A former national powerhouse, Minnesota became largely irrelevant after moving inside the dome in 1982. The Gophers won more than eight games just once in 27 years indoors, endured 15 losing seasons, never beat Michigan at the dome and ended things with a 55-0 loss to archrival Iowa.
NORTHWESTERN WILDCATS
Current villain: Ohio State. Northwestern has beaten the Buckeyes just once since 1971 and dropped its last four meetings by a combined score of 205-34. Ouch.

All-time villain: The streak. Northwestern's NCAA-record 34-game losing streak still haunts the program as it strives for national respect.
OHIO STATE BUCKEYES
Current villain: The SEC. Whether it's Urban Meyer, Les Miles or Albert E. Gator, the Buckeyes can't stand anyone or anything associated with the SEC, which handed Ohio State losses in consecutive national title games.
All-time villain: Bo Schembechler. Buckeyes fans have no love lost for Bo, who worked for Hayes at Ohio State and earned his Master's degree in Columbus before coaching archrival Michigan. Schembechler's Wolverines upset Ohio State in 1969, and he held a 5-4-1 edge in the Ten-Year War.
PENN STATE NITTANY LIONS
Current villain: Terrelle Pryor. The nation's No. 1 recruit spurned his home-state school for Ohio State and didn't make many friends in State College by calling it "too country" for him. Penn State won Round 1 against Pryor last year and will face him at least two more times.
All-time villain: Richard Nixon. The president declared Texas the national champion in 1969 before the poll voters had cast their final ballots, depriving an undefeated Penn State team of the crown.
PURDUE BOILERMAKERS
Current villain: The Top 25. Purdue simply can't get over the hump against ranked opponents, failing to beat a Top 25 team since Nov. 8, 2003. Longtime coach Joe Tiller went just 12-38 against ranked teams.
All-time villains: Ted Provost and Jack Tatum. The Ohio State defensive backs starred in a win against No. 1 Purdue in 1968, and the Buckeyes went on to the national title while Purdue didn't make a bowl game with one of its best teams ever.
WISCONSIN BADGERS
Current villain: Michigan. Despite Wisconsin's renaissance since 1990, the Badgers have struggled against the Maize and Blue, dropping 31 of their last 36 meetings. Michigan handed Wisconsin its only loss in 2006 and started the Badgers' four-game losing streak last season with an upset in Ann Arbor.
All-time villain: John Coatta and Don Morton. The former Badgers coaches share the tag after combining to go 9-53-1 as Wisconsin became largely irrelevant from 1967, Coatta's first year, until program savior Barry Alvarez took over.
June, 23, 2009
6/23/09
1:19
PM ET
Posted by ESPN.com's Adam Rittenberg
Pat Fitzgerald has changed the face of Northwestern football, and, in the process, has become the face of the Wildcats program.
Northwestern took a big step toward keeping the face in place Tuesday, rewarding Fitzgerald with a seven-year contract extension through the 2015 season.
| | |
| --- | --- |
| | |
| | AP Photo/Charlie Neibergall |
| | Pat Fitzgerald received a contract extension, keeping him at Northwestern. |

"This has been one of our top priorities the past few months," Northwestern athletic director Jim Phillips said in a prepared statement. "There is no doubt that Pat is the right individual to lead Northwestern's football program well into the future. In three years, Pat has quickly developed into one of the nation's top young head coaches. He bleeds purple and has tremendous passion for Northwestern."
Phillips wanted to get a contract done by the start of the summer and nearly reached his goal. Northwestern has improved its wins total in each of Fitzgerald's past two seasons, finishing 9-4 last fall and reaching the Alamo Bowl.
Fitzgerald stepped into a very difficult situation in 2006, taking over as the nation's youngest head coach just a week after the sudden death of program stabilizer Randy Walker. The 31-year-old showed his age at points during a very shaky first season in which the Wildcats stumbled to 4-8.
He began to find himself as a head coach after the 2007 campaign, blending competition into every element of the team's offseason program. He made the Big Ten's best coaching hire in defensive coordinator Mike Hankwitz, who transformed a sorry unit into a group that reflects Fitzgerald, a former two-time National Defensive Player of the Year at Northwestern. The result with a nine-win team that amazingly included only one All-Big Ten selection (defensive end Corey Wootton).
But with success comes speculation, especially at a place like Northwestern. With Notre Dame head coach Charlie Weis on the hot seat late last fall, many tabbed Fitzgerald as a potential successor. It seemed like a perfect fit: An Irish kid from Chicago's south suburbs coaching the Fighting Irish.
Don't hold your breath on that one.
Fitzgerald is extremely happy at Northwestern. He played there. He got his degree from there. He loves Evanston and living near his family and his wife's family in Chicago's south suburbs. He has three sons who he'd love to send to Northwestern. He loves the Big Ten.
And if he did decide to leave, I highly, highly doubt it would be for Notre Dame.
"It's no secret that I want to be the head football coach at Northwestern for many years to come," Fitzgerald said in a statement. "Our football program is succeeding both on and off the field, and we're proud of our recent accomplishments. We have greater aspirations, however, and I'm thankful to our administration for helping us support that vision."
The idea that someone would want to stay at Northwestern for the long haul seems unlikely, and the school has lost successful coaches like Ara Parseghian and Gary Barnett to more prestigious programs (Notre Dame and Colorado). But Fitzgerald's roots run much deeper at the school, and as long as he continues to receive support from the administration -- not just salary but program support -- he should stay put.
You never know what happens in the coaching business, but with Fitzgerald's age (34), he could have a Joe Paterno-like run at Northwestern.
April, 17, 2009
4/17/09
1:15
PM ET
Posted by ESPN.com's Adam Rittenberg
Most outsiders view Northwestern as a stepping stone, the type of place an up-and-coming young coach would leave as soon as a better opportunity presented itself.
History supports the belief.
Ara Parseghian left Northwestern for Notre Dame after upgrading the Wildcats program in the 1960s. After years of flirtation with other schools, program restorer Gary Barnett left for Colorado following the 1998 season. Lynn "Pappy" Waldorf was named national coach of the year at Northwestern in 1946 and coached Otto Graham before moving on to Cal.
If Pat Fitzgerald continues to win in Evanston -- his victories total has increased from four to six to nine in his first three seasons as a head coach -- the big debate will not be if, but when he leaves for another job. It already started last fall among the Chicago media, especially as Notre Dame considered whether to retain Charlie Weis.
Given his last name and his hometown -- Orland Park, Ill., an Irish-Catholic area and Notre Dame hub in Chicago's south suburbs -- Fitzgerald will have a hard time convincing anyone that he wouldn't be a good fit in South Bend.
Just like he would have a hard time convincing anyone that Northwestern could be a destination job.
"Obviously, those people didn't play here," he told ESPN.com on Monday. "They didn't experience what Northwestern football means, and I did. This is a dream come true for me to be here. This is where I decided to come as a student-athlete, the success we had on the field.
"I want to be here for a long, long time. Stacy and I love raising our boys here. I love the young men that we get to coach, and obviously the support from the administration and from [athletic director Jim Phillips], I couldn't ask for anything more."
Phillips said last week that talks are already under way on a contract extension for Fitzgerald, who took over as coach after the sudden death of Randy Walker in 2006. A deal should be announced before the start of preseason camp.
Money could be an obstacle, as it has been in the past. Barnett has publicly questioned Northwestern's ability to pay top dollar, and he remains close to Fitzgerald, his former player. Northwestern doesn't have as many deep-pocketed boosters as most of its Big Ten competitors.
Paying and retaining assistant coaches was a struggle for Walker, who lost top offensive assistants Kevin Wilson and James Patton to Oklahoma. But Fitzgerald kept all but one of his assistants from 2008, and the school has made some facilities upgrades, including a new FieldTurf surface for its indoor practice facility.
Fitzgerald Watch will continue as long as Northwestern keeps progressing, but the 34-year-old doesn't get caught up in it.
"It's not an element of my life," Fitzgerald said. "The most important thing for us here is for our program to keep going in the right direction. We have a program in place now that the guys understand what we want and how we want it done. I've got a lot of confidence that we're going to continue to improve, if we can continue to recruit the right fit."

October, 11, 2008
10/11/08
11:12
AM ET
Posted by ESPN.com's Adam Rittenberg
The game day reading begins with an excellent story I read over breakfast this morning.
Josh Oglesby and John Clay were blue-chip recruits who elected to stay in their home state and attend Wisconsin. Both redshirt freshmen will play major roles tonight as Wisconsin tries to end its slide and upset sixth-ranked Penn State (ESPN, 8 p.m. ET), Tom Mulhern writes in the Wisconsin State Journal.
Other must-reads before kickoff:
September, 25, 2008
9/25/08
5:34
PM ET
Posted by ESPN.com's Adam Rittenberg
The real losers in Iowa's handling of the alleged sexual assault case involving two former football players appear to be two dismissed officials and Sally Mason's pocketbook. Mason, the university president, won't get a raise in her base salary because the school mishandled its response to the case, the state Board of Regents said Thursday. Mason's performance evaluation before the Board had been delayed so an independent review of the university's response could be completed. Mason, who apologized to the alleged victims for the missteps today, can still earn $30,000 in incentives.
Iowa athletic officials, including athletic director Gary Barta and head football coach Kirk Ferentz, appear to be off the hook. The lead investigator for the independent review of the university's response told the Iowa City Press-Citizen: "Probably the only bias, a subconscious one, was against athletics. To the extent that we found there was no athletic cover-up was a surprise to the (investigators)."
A few other items around the league:
BIG TEN SCOREBOARD
Saturday, 12/20
Monday, 12/22
Tuesday, 12/23
Wednesday, 12/24
Friday, 12/26
Saturday, 12/27
Monday, 12/29
Tuesday, 12/30
Wednesday, 12/31
Thursday, 1/1
Friday, 1/2
Saturday, 1/3
Sunday, 1/4
Monday, 1/12
Tweets from https://twitter.com/ESPNCFB/lists/b1g