September, 9, 2010
9/09/10
1:40
PM ET
Michigan defensive end
Ryan Van Bergen
enjoyed the
Denard Robinson
Show as much as anyone.
[+] Enlarge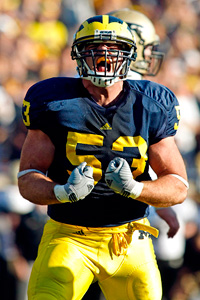 AP Photo/Tony DingDefensive end Ryan Van Bergen calls the Michigan defense "a work in progress."
Watching Robinson and the Wolverines offense go up and down the field last week against Connecticut also served as motivation for Van Bergen and the defense.
"Definitely feel like we're strides behind the offense in getting everything down," Van Bergen told ESPN.com this week. "We had some glimpses Saturday, and I think we'll be able to seal some things up and hopefully keep improving.
"We'll get to that level eventually."
Led by Robinson's record-setting performance, the Michigan offense overshadowed a pretty solid defensive effort against Connecticut.
The Wolverines allowed only one touchdown and held UConn scoreless in the second half. Take away a juggling 47-yard reception by
Michael Smith
, and Connecticut had only 296 yards in the game.
To be fair, the Huskies missed several opportunities to attack Michigan's young secondary, particularly in the first half. Connecticut had its moments, but so did Michigan's defense, none bigger than J.T. Floyd's forced fumble and Obi Ezeh's recovery near the Wolverines' goal line late in the third quarter.
"We're certainly still a work in progress, but I was really pleased to be able to limit UConn to 10 points," coach Rich Rodriguez said. "We played pretty well assignment-wise, we tackled pretty solidly. We gave up a couple big plays, but we also made a couple big plays defensively."
And the defense could have made more.
"We had two interceptions hit guys right in the hands," Van Bergen said. "There were some plays Saturday that if we sealed up, our numbers on defense would have spoken even bigger."
The challenge for Michigan's defense should get tougher Saturday at Notre Dame (NBC, 3:30 p.m. ET). Although Michigan beat the Irish last year
38-34
, the defense had little to do with it.
Jimmy Clausen, Golden Tate,
Michael Floyd
and Armando Allen pretty much had their way with Michigan, piling up 490 yards and 27 first downs.
Clausen and Tate are gone to the NFL, but Floyd and Allen are back, along with tight end
Kyle Rudolph
, one of the frontrunners for the Mackey Award. They're operating in a new spread offense under first-year coach Brian Kelly, and a new quarterback,
Dayne Crist
, will be calling the signals.
"I would call this team significantly different," Van Bergen said. "Notre Dame did a lot more drop-back, seven-man protection for Clausen with two guys in routes. This is a bit more of a spread attack, using more receivers.
"They have a developed quick game, and it's something we'll have to prepare for."
Both Van Bergen and Rodriguez identified tackling as an area Michigan must improve after Week 1. With so many young players, especially in the secondary, Michigan allowed "some leaky yardage," Van Bergen said.
That can't happen against Notre Dame, which operates at a rapid pace and makes it tough to reach Crist.
"They like to up-tempo you," Rodriguez said. "They're going to put it out in space, whether it's to their tight end or their backs or their receivers, and we've got to get them on the ground quickly. Because if not, they'll go up and down the field on you.
"We had a hard time stopping them last year, and even though it's a different scheme, this scheme may be even more difficult to stop."
One way to do it is control the line of scrimmage. Michigan failed to record a sack last week, but end-linebacker Craig Roh and others applied pressure to quarterback
Zach Frazer
.
Notre Dame's offensive line is supposedly better, but Michigan boasts more experience up front with Van Bergen, Mike Martin and others.
"Having our experience won't hurt us," Van Bergen said, "and their youth, they might be more inclined to get frustrated if things start not going their way. It'll be interesting to see how that develops."
September, 9, 2010
9/09/10
1:00
PM ET
Two of college football's storied programs meet Saturday at Notre Dame Stadium, but the only thing historic about these teams are their helmets. Two spread offenses and two coaches known for their offensive creativity match wits. Both Michigan and Notre Dame recorded critical wins in their season openers, and bloggers Brian Bennett and Adam Rittenberg take a closer look at this week's matchup.
Adam Rittenberg:
So, Bennett, we meet again. Good starts for both the Irish and the Wolverines on Saturday, and it should be a great one in South Bend. Let's talk offense. What do you think Knute Rockne and Fielding Yost would say about these two systems matching up?
[+] Enlarge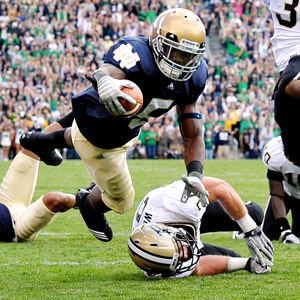 Matt Cashore/US PresswireArmando Allen gained 93 yards on 18 carries and scored a TD against Purdue.
Brian Bennett:
I think both coaches would have spit in a leather helmet in disgust. What's the over/under on total number of snaps under center on Saturday? Five?
Yet, for all the talk of the spread offense, Notre Dame stuck to an old staple to beat Purdue: the running game. Running backs
Armando Allen
and
Cierre Wood
together averaged better than six yards per carry, and the Irish were happy to hand off and stick to the short passing game as the Boilermakers defense played Cover 2 and protected against the deep ball. I don't think Michigan will attack Notre Dame the same way, and the bubble wrap will have to come off quarterback
Dayne Crist
in Week 2.
As for the Wolverines,
Denard Robinson
was incredible. But I didn't see a whole lot out of the backs and receivers, and now it looks like
Roy Roundtree
won't play. Is Michigan a one-man offense, and can it win on Saturday that way?
AR:
Good point about the Irish run game, and I think the matchup between Michigan's defensive line and Notre Dame's offensive front could decide the game. Despite the loss of Brandon Graham, Michigan boasts good experience and talent up front with Mike Martin, Greg Banks, Ryan Van Bergan and dynamic sophomore Craig Roh. They'll try to take advantage of a young Notre Dame line that, despite all the talk about weight room progress, remains unproven in my eyes.
Robinson was ridiculous against Connecticut, and you can't expect him to duplicate the performance in South Bend. Then again, the guy only needs about a foot of daylight to break through the line, and then, good luck trying to bring him down.
Vincent Smith
and
Michael Shaw
both scored touchdowns in the opener, but they'll need to be more effective out of the backfield against the Irish. Roundtree would be a big loss, but wideouts
Darryl Stonum
and
Kelvin Grady
, and tight end
Kevin Koger
all are good targets for Robinson, who also hooked up with
Terrence Robinson
for a 43-yard gain.
In many ways, Michigan won the UConn game at the line of scrimmage. How do you see the two groups matching up on Saturday?
BB:
The Irish played well in the trenches against Purdue, but Michigan presents a tougher challenge. With the way Brian Kelly runs the spread, the ball is out of the quarterback's hand quickly, so that neutralizes the pass rush to some degree. The key in my mind is whether the Notre Dame line can open running lanes when the Wolverines drop men into coverage.
Defensively, the front three for Notre Dame proved stout against Purdue, and surprisingly the backups gave them a solid rotation. Ian Williams looks like a perfect fit as nose tackle in a 3-4, and Kapron Lewis-Moore and Ethan Johnson can make plays off the edge. I think the pressure is on the Irish linebackers to make plays in this game. Manti Te'o should be a stud and the perfect antidote to Robinson, but he missed a lot of tackles in Week 1. Darius Fleming is their hybrid guy, and he was stuck on the sidelines with cramps for most of the Purdue game. Once Robinson gets through the first line of defense, can the Irish contain him in the open field?
How about the Michigan pass defense? Connecticut missed some opportunities there, but the Huskies don't have guys like
Michael Floyd
and
Kyle Rudolph
at their disposal.
AR:
Totally agree about Connecticut missing some major opportunities to attack downfield, especially in the first two and a half quarters. Michigan is extremely young in the secondary and likely will be down another starter, as linebacker-safety Carvin Johnson sprained his knee in the opener. Michael Floyd absolutely shredded this defense a year ago, so you can bet Notre Dame will try to get him the ball a lot on Saturday. We'll likely see a lot of Floyd vs. Floyd, as Michigan's J.T. Floyd as emerged as the team's top cornerback and forced a big fumble against UConn. Cue the Pink Floyd music.
I'm interested to see how Michigan approaches Rudolph, a matchup problem for pretty much any team he faces. Linebackers Jonas Mouton and Obi Ezeh played well in the opener, but they'll certainly be tested by No. 9. Roh brought a ton of heat against UConn, but he might have to drop back more in this game.
OK, Bennett, you're on the spot. Your Michigan-UConn pick didn't work out so great, and some of my new friends in Ann Arbor were calling you nasty names Friday night. Who wins Saturday and what's the biggest key to the game?
BB:
Well, I'm happy to play the villain in Ann Arbor as long as they still let me in the bars there. I have little doubt this will be a close game, possibly as exciting as last year's shootout. Notre Dame will have its hands full with Robinson, but I think the Irish have a more well-rounded offensive attack. And they will take advantage of that young secondary while making just enough plays of their own defensively. A special-teams play might be the difference. Brian Kelly gets his first big win as the Irish squeak by.
Now tell me why I'm wrong.
AR:
You're always welcome in Ann Arbor. Just tell them you know me.
It'll definitely be a close game, and like last year, we should have a dramatic finish. Michigan's young secondary concerns me, and Crist will make plays downfield to both Floyd and Rudolph. But I also have my doubts about Notre Dame's line play and the overall toughness of that team. Robinson is certainly the X-factor here, and while Michigan can't run him 29 times again, he'll make some big plays. If special teams makes the difference, Michigan could be in trouble. Notre Dame jumps ahead, but D-Rob leads the Wolverines back in the fourth quarter for a narrow win and continues to grow his legend in Ann Arbor.
September, 26, 2009
9/26/09
9:49
PM ET

Posted by ESPN.com's Adam Rittenberg
After a quick start against Notre Dame, Purdue's season-long struggles against the run are starting to show up.
Notre Dame leads
17-7
at halftime despite playing without its best wide receiver (
Michael Floyd
) and with quarterback
Jimmy Clausen
fighting turf toe. Running back
Armando Allen
also is banged up, but the Fighting Irish are finding running room with several players, namely wideout
Golden Tate
and burly back
Robert Hughes
.
Purdue couldn't stop the run in 2008, and it doesn't appear like much has changed this year. Northern Illinois ran wild on the Boilers last week, and Notre Dame has 138 rush yards in the opening half. Boilers quarterback
Joey Elliott
tossed a 36-yard touchdown pass to
Aaron Valentin
early on, but the air attack hasn't done much since the opening minutes. Penalties are really hurting Purdue, which has been flagged eight times in the opening half.
The Boilers need some more big plays on offense and more importantly, they need to stuff Notre Dame's rushing attack to have any shot in this one.
September, 14, 2009
9/14/09
10:04
AM ET

Posted by ESPN.com's Adam Rittenberg
For a guy who starts off an answer by saying, "I have to be careful when I say this, I have Big Ten officials coming in this week again [for the Michigan State game]," Notre Dame head coach Charlie Weis seems to have a tough time holding his tongue.
Anyone who watched the Notre Dame-Michigan game Saturday could see Weis wasn't pleased with the men in stripes. And when asked about the officiating at his Sunday news conference, Weis couldn't help but criticize several calls.
| | |
| --- | --- |
| | |
| | Matt Cashore/US Presswire |
| | Charlie Weis was less than thrilled with some of the officiating in Saturday's loss. |
"That game left a lot to be desired," he said.
Weis started off by addressing an out-of-bounds ruling on a screen pass to
Armando Allen
that cost Notre Dame a touchdown.
"I still haven't heard anyone tell me there's any evidence of Armando stepping out of bounds," Weis said. "The way I thought the rule is supposed to be, it's supposed to be conclusive evidence. I'm perturbed at that call."
Weis also took issue with a holding call against Fighting Irish tackle Sam Young.
"It's one of those tic-tac calls that I'm talking about," Weis said." But what happened, on the play, the defensive end, we chip defensive ends, so we chipped him. I'm not sure it was with an extra tight end or a fullback, but we chipped him and knocked him inside of Sam. So when he knocked him inside of Sam, Sam now has him. He goes to throw him to the ground. If he just pushes him to the ground, they probably don't call it. Hands in the air, throws him to the ground, that's what they called."
There was also a timing issue after Michigan scored the game-winning touchdown.
Weis thought there should have been 11 seconds remaining in the game, but the clock went down to 9 seconds after a kickoff that went through the end zone.
"First it went from 11 to 10," he said. "Then I complained it went to 9. It went from 11 to 10 to 11 to 9. Maybe I shouldn't have said anything. Maybe we'd have one more second, throw a Hail Mary. Their answer to me was they thought that Theo [Riddick] tipped the ball in the field of play on the kick which would then start the clock. If he did, which I couldn't really tell whether he did or he didn't, so I'm going to take their word for it that that happened."
Weis said he sent in several plays to the Big Ten office but didn't file a formal complaint against the officials (he never does). He also seemed perturbed that the sideline officials didn't help get him get the referee's attention when he needed it.
Since Notre Dame is an independent, Weis won't face any discipline for his comments. But as he mentioned at the start, another crew of Big Ten officials is coming to South Bend this weekend.
You can bet they read this.
A Big Ten spokesman told me the league had no response to Weis' comments.
"Am I happy with the officiating? No," he said. "But you certainly don't want to do that, because then you're saying, 'The only reason why we lost is because they blew these couple of calls.' Most Notre Dame fans would say, 'I can't believe they made those calls. I can understand why they made 'em.' That being said, that's a never ending problem you're talking about.
"We're an independent so we're not really in a conference. We're affiliated with Big East officials. When you're playing interconference matchups, I'm not the guy who sets the rules. Whatever they are, they are."
September, 29, 2008
9/29/08
12:49
PM ET
Posted by ESPN.com's Adam Rittenberg
I feel a bit like a head coach who can't get his offense and defense to play well at the same time. The record (3-3) wasn't good for Week 5, but scores were. Last week, a 7-1 record was a bit diluted by several not-in-the-ballpark score predictions. Either way, things will get a lot tougher from here on out as the Big Ten appears to be a league with one potentially great team (Penn State), some solid teams and no clear-cut bottom-feeder.
Here's a look back at the picks:
MICHIGAN STATE-INDIANA
My pick: Michigan State 30, Indiana 21
Game result: Michigan State 42, Indiana 29

20-20 hindsight: Javon Ringer had another big day (career-high 44 carries, 198 rush yards), and quarterback Brian Hoyer stepped up in an important game after a shaky start to the season. Hoyer took advantage of a Hoosiers secondary missing three starters and tossed two touchdown passes. This one got a little wilder than originally forecasted, as Indiana's creative offense moved the ball well against a Spartans defense that shut down Notre Dame in Week 4.

MINNESOTA-OHIO STATE
My pick: Ohio State 35, Minnesota 17
Game result: Ohio State 34, Minnesota 21
20-20 hindsight: Running back Chris "Beanie" Wells provided the lift Ohio State needed on offense, and this one played out pretty much as expected. Minnesota didn't show much of a pulse on offense until mop-up time, and three turnovers are a concern after such a disciplined start. But the timing was off for a Gophers' upset, while Ohio State has some momentum heading to Madison.

NORTHWESTERN-IOWA
My pick: Iowa 20, Northwestern 17

Game result: Northwestern 22, Iowa 17

20-20 hindsight: If only I'd switched the teams. Oh, well. This one was going to be close, and Northwestern's opportunistic play paid off. Iowa found its quarterback in Ricky Stanzi and continued to see great things from running back Shonn Greene, but five turnovers always gets you beat. Northwestern quarterback C.J. Bacher and his receivers regained confidence and head into a bye week with some momentum.

WISCONSIN-MICHIGAN
My pick: Wisconsin 27, Michigan 17
Game result: Michigan 27, Wisconsin 25
20-20 hindsight: At halftime, I was worried that Michigan wouldn't get anywhere near 17 points and the score prediction would be way off. But the Wolverines ignited behind a stingy defense and quarterback Steven Threet, who established a rhythm in the third quarter after finishing with minus-7 pass yards in the first half. Few saw this one coming, and at halftime, Michigan coach Rich Rodriguez was among them.

PURDUE-NOTRE DAME
My pick: Purdue 27, Notre Dame 24
Game result: Notre Dame 38, Purdue 21

20-20 hindsight: The worst prediction of the week overestimated Purdue's defensive upgrade and underrated a Notre Dame run game that had really showed no signs of getting better. The Boilermakers really need speedy linebacker Jason Werner in the mix again after allowing Armando Allen to run wild (134 yards). Curtis Painter's second trip to Notre Dame Stadium resembled his first, as he put up big numbers (359 pass yards) but not enough points.

ILLINOIS-PENN STATE
My pick: Penn State 38, Illinois 24
Game result: Penn State 38, Illinois 24
20-20 hindsight: Saved the best for last here as the Nittany Lions and Fighting Illini made me look smarter than I am. Illinois provided the early adversity Penn State needed to face, but senior wideout/return man Derrick Williams came through with a big night. Arrelious Benn answered coach Ron Zook's challenge and stepped up for Illinois, but the Illini didn't have enough to keep up with the Big Ten's best team.

Byes: None
Season record: 38-7
September, 20, 2008
9/20/08
9:33
PM ET
Posted by ESPN.com's Adam Rittenberg
| | |
| --- | --- |
| | |
| | AP Photo/Carlos Osorio |
| | Jimmy Clausen was 24-of-41 for 242 yards with a touchdown and two interceptions in Notre Dame's 23-7 loss to Michigan State. |
EAST LANSING, Mich. -- The wackiness of the Michigan State-Notre Dame rivalry often leaves the losing team feeling bitter and angry.
Notre Dame was steamed after an overtime loss in 2005, and Michigan State never recovered after blowing a big lead against the Fighting Irish the next year.
Notre Dame's 23-7 loss on Saturday at Spartan Stadium stirred different emotions. The defeat was definitive, and though the Irish had their share of chances, there were fewer "what-ifs" and widespread disappointment.
"We didn't deserve to win," head coach Charlie Weis said. "We had a chance to win the game, but we didn't deserve to win."
Teams that deserve to win run the ball effectively. Notre Dame didn't. Teams that deserve to win stop the run. Notre Dame didn't stop Javon Ringer enough.
Teams that deserve to win convert in the red zone. Notre Dame failed on its only two chances.
"Across the board in that locker room there were a lot of people that felt accountable," said Weis, who stood the entire game on the sideline in obvious pain after tearing two ligaments in his left knee last week. "Really, it all starts with accountability. If the players feel they're part of the problem, usually you can fix it. But they have to feel they're part of the problem. They weren't guys that were in the tank. They were guys that were really, really disappointed."
Notre Dame came here 2-0 largely because of its opportunistic play. The Irish converted Michigan's miscues into points and emerged with a heartening win last week.
But many of the same problems that plagued the team last season surfaced Saturday. The offensive line allowed its first three sacks of the season and quarterback Jimmy Clausen was under constant pressure.
Remove a 24-yard end around by dynamic wide receiver Golden Tate and Notre Dame finished with minus-8 net rushing yards. Running backs James Aldridge, Robert Hughes and Armando Allen combined for just 30 rush yards on 15 carries.
"They shut us off up front and we just weren't able to get anything going," tackle Sam Young said.

Notre Dame essentially abandoned the run after halftime, operating mainly from the shotgun with no backs and four or five wide receivers. The strategy clicked at times as Clausen found a groove with Tate (5 catches, 83 yards) and promising freshman wideout Michael Floyd (7 catches, 86 yards, TD).
But repeated mistakes plagued the unit, which didn't score until the first play of the fourth quarter.
"We always talk about, 'Make a team one-dimensional,'" Michigan State defensive coordinator Pat Narduzzi said. "Well, they came out and tried to establish the run game against us early in the game. And the second half, [Notre Dame had] probably three or four rushes on draws on third down and 12, and I could care less if they gain 11, to be honest with you.
"If you're an offense and you've got to throw it every down, you're in trouble."
The Irish showed signs of promise, especially from Tate, who made the play of the game in the fourth quarter when he took a hit from cornerback Ross Weaver, kept his knee off the turf and then cut back to convert a third-and-18.
Floyd had a crucial fumble but displayed tremendous athleticism, and the defense got solid play from linebacker Brian Smith (10 tackles, TFL, forced fumble).
"We fought today," Tate said. "I don't think we ever gave up. They just came out and played a little harder than we did."
August, 4, 2008
8/04/08
1:51
PM ET
Posted by ESPN.com's Adam Rittenberg
ANN ARBOR, Mich. -- This probably needs a disclaimer, so here it is.
Michigan won't go 3-9. Michigan won't have the nation's worst rushing offense for most of the season. Michigan won't go three plus games without scoring an offensive touchdown. Michigan won't allow a nation-high 58 sacks.
But from a pure personnel standpoint on offense, there are some obvious parallels between what Michigan lost after last season and what Notre Dame lost following 2006. And unlike the Fighting Irish, the Wolverines are adjusting to a new coach (Rich Rodriguez) and a new system. That should be a good thing, given the conservative play-calling and wasted talent of recent seasons, but it's still something to consider.
Here's a position-by-position look at the two offenses, who was lost and who returned.
MICHIGAN 2008
Quarterback
Who's gone

Chad Henne: Four-year starter, school's career passing leader, last fall went 162-for-279 passing, 1,938 yards, 17 TDs, 9 INTs, 130.5 rating
Ryan Mallett: Started three games last season, completed 61 of 141 passes, 892 yards, 7 TDs, 5 INTs, 105.7 rating. Transferred to Arkansas.

Up next

Steven Threet, Fr.: No statistics in college, Georgia Tech transfer sat out last season as per NCAA rules.
Nick Sheridan, So.: Appeared in two games last season, did not attempt a pass, served as backup holder.
Justin Feagin, Fr.: Dual-threat combined for 44 touchdowns (25 rushing, 19 passing) as a high school senior.

Running back
Who's gone

Mike Hart: Four-year starter, school's career rushing leader, last season had 265 carries, 1,361 rushing yards, 14 TDs.

Up next

Brandon Minor, Jr.: Appeared in 12 games last season, had 90 carries for 385 yards, 1 TD.
Carlos Brown, Jr.: Started three games last season, 75 carries for 381 yards (5.1 ypc average), 4 TDs.
Kevin Grady, Jr.: Currently suspended after DUI arrest, missed 2007 season with knee injury, had 187 rushing yards on 55 carries in 2006.

Wide receiver/tight end
Who's gone

Mario Manningham: Three-year contributor had team-high 72 catches for 1,174 yards (16.3 ypr) and 12 touchdowns last season.
Adrian Arrington: Second-leading receiver with 67 catches for 882 yards and eight touchdowns.

Up next

Greg Mathews, Jr.: Third-leading receiver last season with 39 receptions for 366 yards, 3 TDs.
Carson Butler, Jr.: Tight end started six of final seven games, had 20 catches for 246 yards, 2 TDs.
Mike Massey, Sr.: Tight end started four games, caught four passes for 38 yards.
Junior Hemmingway, So.: Caught four passes for 37 yards in 10 games last season.
LaTerryal Savor, Jr.: Had one catch for nine yards last season.
Darryl Stonum, Fr.: Freshman had 1,910 receiving yards and 26 touchdowns in prep career.

Offensive line
Who's gone

Jake Long: All-American left tackle went No. 1 overall in the NFL draft
Adam Kraus: All-conference left guard made 35 starts.
Justin Boren: Yep, he's definitely gone after starting the first eight games at center last fall.

Jeremy Ciulla: Started five games at right guard last season.
Alex Mitchell: Started five games at right guard last season.

Up next

Stephen Schilling, So.: Only returning starter primarily played right tackle with two starts at right guard last season.
Mark Ortmann, Jr.: Projected left tackle made two starts at right tackle in 2007.
Tim McAvoy, Jr.: Made only start at right guard last season.
David Moosman, Jr.: Backup center has appeared in seven career games.
Cory Zirbel, Jr.: Has appeared in 21 career games, played all offensive line positions except center.
NOTRE DAME 2007
Quarterback
Who's gone

Brady Quinn: Four-year starter, school's career passing leader, in 2006 completed 289 of 467 passes for 3,426 yards, 37 TDs, 7 INTs, 146.7 rating.

Up next

Jimmy Clausen, Fr.: True freshman ranked as nation's No. 1 recruit after passing for

3,428 yards and 49 touchdowns as a prep senior.



Evan Sharpley, So.: Had two collegiate pass attempts as Quinn's backup in 2006.
Demetrius Jones Fr.: Second-year player considered dual threat after racking up big numbers in high school.

Running back
Who's gone

Darius Walker: Three-year starter, in 2006 had 255 carries for 1,267 yards, 7 touchdowns.


Up next

Travis Thomas, Sr.: Former reserve running back switched to linebacker in 2006 before returning to offense.
James Aldridge, So.: Team's second-leading rusher with 142 yards on 37 carries.

Armando Allen, Fr.: True freshman missed senior season in high school with injury.
Robert Hughes, Fr.: True freshman had 1,780 rushing yards and 22 touchdowns as a high school senior.

Wide receiver/tight end
Who's gone

Jeff Samardzija: School's career receiving leader had 78 receptions for 1,017 yards and 12 touchdowns in 2006.
Rhema McKnight: Four-year starter had 67 receptions for 907 yards and a team-high 15 touchdowns in 2006.
Darius Walker: Running back ranked third on the team in receptions (56) for 391 yards.
Marcus Freeman: Backup tight end had nine receptions for 98 yards and two touchdowns.

Up next

David Grimes, Jr.: Ranked fourth on the team in receptions (27) and receiving yards (224) as a sophomore.
John Carlson, Sr.: Mackey Award finalist in 2006 ranked third on the team with 634 receiving yards, scored four touchdowns.
George West, So.: Had two receptions for 14 yards and scored on an 11-yard run as a freshman.
Robby Parris, So.: Appeared in seven games and caught one pass in 2006.


Offensive line
Who's gone

Ryan Harris: Mainstay at left tackle started all four seasons.
Dan Santucci: Two-year starter at guard.

Bob Morton: Multiyear starter at both center and guard.

Up next

John Sullivan, Sr.: Started the final two and a half seasons at center.
Sam Young, So.: Started as a true freshman at right tackle before moving to the left side.
Paul Duncan, Jr.: Appeared in 12 games as a reserve in 2006.
Mike Turkovich, Jr.: Played sparingly in nine games as a sophomore, limited by neck injury.
Eric Olsen, So.: Appeared in eight games as a backup guard in 2006.

WHY MICHIGAN WILL BE BETTER
Michigan returns more at running back and should be able to field a stronger group of wide receivers to help the new starting quarterback. The biggest key for the Wolverines will be developing the offensive line. Notre Dame's primary error in 2007 was not emphasizing physical play up front in the preseason. Michigan has made strength and conditioning the focus of the winter, spring and summer. The Wolverines should see it pay off this fall. Though both teams lost record-setting playmakers and Rich Rodriguez historically struggles in his first season at a new school, Michigan should adjust easier.