Big Ten:

Austin Kafentzis
June, 18, 2014
Jun 18
2:00
PM ET
This is the time of year when recruiting starts to heat up, especially as prospects show off their stuff at various camps. With commitments pouring in, it's time to take another look at
the recruiting scorecard
for the 2015 class in the Big Ten.
Penn State continues to lead the way, as coach James Franklin has already piled up 16 commitments for 2015. The Nittany Lions' seven ESPN 300 recruits are tied for fourth most in the country. The numbers are starting to add up for other Big Ten squads as well. The usual caveat here applies -- signing day is not until February, and a whole lot of things can change between now and then -- but here's a closer look at how recruiting stands in the league in mid-June.

PENN STATE
2015 verbal commitments:
16
ESPN 300 prospects:
8
Highest-rated recruit (according to ESPN.com):
QB-DT
Brandon Wimbush
Spotlight:
When offensive tackle
Sterling Jenkins
committed to Franklin over the phone, Franklin was at a Penn State caravan in Hershey. Franklin held his cell phone out to the crowd and got a "We Are ..." chant started. It was only the start of the good news, as Wimbush committed the same day.

WISCONSIN
2015 verbal commitments:
13
ESPN 300 prospects:
0
Highest-rated recruit:
Quarterback
Austin Kafentzis
Spotlight:
Gary Anderson's staff has been on a roll, picking up nine commitments in the past six weeks, including seven in the past 11 days.
Sam Madden
was the latest of three offensive tackles to give his pledge, and at 6-foot-7 and 340 pounds, he's bringing a whole lot of beef to Madison.

NORTHWESTERN
2015 verbal commitments:
12
ESPN 300 prospects
: 0
Highest-rated recruit:
Athlete
David Dowell
Spotlight:
The Wildcats' latest commitment came this month when New Jersey offensive lineman
Andrew Otterman
told Pat Fitzgerald yes. He was an under-the-radar recruit who was being pursued by Ivy League schools, and he plans on being a pre-med major.

RUTGERS
2015 verbal commitments:
11
ESPN 300 prospects:
0
Highest-rated recruit:
TE-H
Nakia Griffin
Spotlight:
Kyle Flood has added three commitments in the past week. The highest-rated one was 6-6, 280-pound
Blake Camper
of Virginia, who will likely play offensive tackle for the Scarlet Knights.

NEBRASKA
2015 verbal commitments:
10
ESPN 300 prospects:
1
Highest-rated recruit:
Cornerback
Eric Lee
Spotlight:
The Huskers have held steady, with their last commitment coming on May 15. That was from Atlanta safety
Aaron Williams
. He wasn't really getting recruited by SEC schools, but new secondary coach Charlton Warren, who's from Atlanta, obviously saw something he liked.

IOWA
2015 verbal commitments:
9
ESPN 300 prospects:
0
Highest-rated recruit:
Athlete
Drew Cook
Spotlight:
The Hawkeyes grabbed their first eight commitments early, then added offensive lineman
Brett Waechter
last week. He sounds like the typical Kirk Ferentz project: a player from a small school in Iowa (Hartley) whom the recruiting services don't know much about. At around 6-5 and 265 pounds, he's got a nice baseline for that Hawkeyes development program to use.

MARYLAND
2015 verbal commitments:
9
ESPN 300 prospects:
0
Highest-rated recruit:
Cornerback
Kareem Ali, Jr.
Spotlight:
After being quiet on the trail for months, the Terrapins picked up eight commitments in the past 25 days. That includes Ali, who chose Maryland over offers from Penn State, Michigan State, Florida, Rutgers and others.

MICHIGAN
2015 verbal commitments:
7
ESPN 300 prospects:
4
Highest-rated recruit:
Cornerback
Garrett Taylor
Spotlight:
Offensive tackle
Grant Newsome
gave the Wolverines a boost last week, picking Brady Hoke's team over Penn State. The 6-7, 290-pounder also reportedly had offers from Alabama, LSU, Georgia, Notre Dame and loads of others. Given Michigan's recent struggles on the O-line, this came as particularly good news.

OHIO STATE
2015 verbal commitments:
7
ESPN 300 prospects:
2
Highest-rated recruit:
Athlete
Eric Glover-Williams
Spotlight:
Buckeyes fans who were getting nervous about the slow start to recruiting were reassured when five players committed between May 27 and June 10. One of those is a long snapper --
Liam McCullough
from Columbus. Long snappers don't often get scholarship offers, but McCullough had them from Michigan State and Wisconsin and is rated No. 2 nationally at his position. If he plays and you never hear his name again, the scholarship was well worth it.

ILLINOIS
2015 verbal commitments:
6
ESPN 300 prospects:
1
Highest-rated recruit:
Offensive tackle
Gabe Megginson
Spotlight:
The Illini saw something in Washington D.C. running back
Reggie Corbin
, whose only other major offer was from Washington State. Since Tim Beckman missed out on USC transfer
Ty Isaac
, Corbin could get some early playing time in the backfield.

MICHIGAN STATE
2015 verbal commitments:
5
ESPN 300 prospects:
2
Highest-rated recruit:
Offensive tackle
Kyonta Stallworth
Spotlight:
Quarterback
Jayru Campbell
, who pleaded guilty to a misdemeanor after being charged with assaulting a school security officer,
decommitted from the Spartans
, which was likely a two-way street. Michigan State had already found another quarterback in this class in
Brian Lewerke
from Phoenix. Running back
Khari Willis
committed over the weekend.

PURDUE
2015 verbal commitments:
5
ESPN 300 prospects:
0
Highest-rated recruit:
Quarterback
Elijah Sindelar
Spotlight
: Darrell Hazell picked up four commitments in the past week, including three-star running back
Robert Ennis
from Millville, N.J. Purdue joined Ohio State in offering a scholarship to a long snapper,
Ben Makowski
, which inspired
this post
.

INDIANA
2015 verbal commitments:
4
ESPN 300 prospects
: 0
Highest-rated recruit:
Wide receiver
Leon Thornton
Spotlight:
The Hoosiers have added two recruits this month, including sought-after quarterback
Tommy Stevens
. With
Tre Roberson
transferring, Kevin Wilson needs to add a quarterback in this class.

MINNESOTA
2015 verbal commitments:
3
ESPN 300 prospects:
0
Highest-rated recruit:
Safety
Jacob Huff
Spotlight:
All three of Minnesota's commits have come since May 30, and none have been rated yet by ESPN.com. Two of the three are twins, as defensive back Jacob Huff and linebacker
Julian Huff
each gave their pledge on June 5. Twin Cities, indeed.
October, 3, 2013
10/03/13
12:00
PM ET
July, 16, 2013
7/16/13
4:20
PM ET
The recruiting folks at ESPN.com have released their first-ever ESPN Junior 300, or the list of the
300 best prospects in the 2015 class
. It's early to be talking about these guys -- these are, after all, players who only recently finished their sophomore years of high school -- but as Tom Luginbill writes, the
recruiting process has become so accelerated
that it's almost never too soon to discuss prospects. You'd better believe that college coaching staffs know all about them.
Not surprisingly, there are only a handful of players in the 2015 class who have already committed. The lone Big Ten representative so far on the list is Utah quarterback
Austin Kafentzis
, who has given his pledge to Wisconsin. Kafentzis is ranked No. 227 overall on the list and the No. 6 dual-threat quarterback.
It's also notable that the No. 1 prospect on the list, defensive end
Jashon Cornell
, hails from St. Paul, Minn. It's hard to get more Big Ten country than that, and you know that Minnesota is doing everything it can to get Cornell to stay at home in the Twin Cities. But Jerry Kill and the Gophers have all kinds of competition, including just about every other league school and many of the top programs in the nation. It's going to be tough for Minnesota to battle those teams, just as it was when Seantrel Henderson -- who went to the same high school as Cornell -- was considered the top recruit in the nation and ended up at Miami (via USC).
Other top prospects in the Big Ten footprint include defensive end
Terry Beckner Jr
. from East St. Louis, Ill. (No. 9), defensive tackle
Hjalte Froholdt
from Warren, Ohio (No. 14), athlete
Eric Glover-Williams
from Canton, Ohio (No. 29), athlete
Shaun Crawford
from Lakewood, Ohio (No. 49) and defensive tackle
Joshua Alabi
from Detroit (No. 50). We should also include cornerback
Minkah Fitzpatrick
from Jersey City, N.J. (No. 38), since the addition of Rutgers makes that Big Ten country, too.
There's a long way to go before these guys step onto campus, and perhaps even longer before many contribute to a college team. The rankings will change a lot between now and then. But schools are already in hot pursuit.
July, 10, 2013
7/10/13
3:18
PM ET
It's no real secret that new Wisconsin head coach Gary Andersen likes mobile quarterbacks. He put them to use at Utah State and has expressed his preference for guys who can extend plays and make things happen with their feet.
But if there were any remaining doubts about which direction the Badgers are headed under center, Andersen's recent recruitment should tell you everything you need to know.
Earlier this week, Wisconsin gained a commitment from
D.J. Gillins
, a four-star quarterback prospect from Jacksonville, Fla. ESPN.com ranks Gillins as the No. 13 dual-threat signal-caller in the 2014 class, and though he did miss last year with a torn ACL, the 6-foot-3, 185-pounder is known for having great quickness and escapability.
[+] Enlarge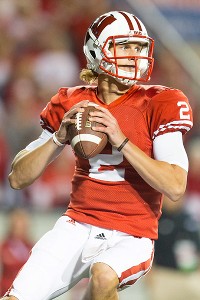 Jeff Hanisch/US PresswireQuarterback Joel Stave, who might have the inside track on the starting job for 2013, does not possess a lot of mobility.
Earlier this offseason, the Badgers landed a verbal pledge from 2015 quarterback
Austin Kafentzis
, from Sandy, Utah. Kafentzis, who measures in at 6-foot-1 and 200 pounds, threw for 2,860 yards and ran for 1,689 yards last year as a high school sophomore. He ran for 1,377 yards as a freshman.
And, of course, Andersen brought in junior college transfer Tanner McEvoy back in February. McEvoy is a rangy 6-foot-5 athlete who can make things happen outside of the pocket. Some viewed him as the top dual-threat junior college quarterback last year. He'll compete for the starting job this August.
If you think the Badgers' quarterback picture is crowded now -- and it is -- just wait a couple of years.
Joel Stave
, who might have the inside track on the starting job for 2013, is just a redshirt sophomore, as is McEvoy.
Bart Houston
, the once highly touted prospect, is a redshirt freshman. Gillins will be a freshman in 2014, while Kafentzis will enter in 2015. Teams often like to pick up a quarterback in each class, so it makes sense, and with potential redshirts and unforeseen injuries, the spacing may work out. Yet it's hard to see how Stave, McEvoy and Houston will all co-exist going forward.
And you wonder if Stave, who does not possess a lot of mobility, will be the type of quarterback Andersen wants going forward. At Utah State the past two years, he started
Chuckie Keeton
after handing him the reins as a true freshman. Keeton ran for 618 yards and eight touchdowns last year for the Aggies.
Andersen had this to say last month when I asked him about McEvoy:
"He has the ability to hurt you with his arm, his mind and his legs, and that's important. Coming from a defensive background, I know that when a quarterback has all three of those, it's much more difficult to defend than if he only has one of the three or two of the three. It becomes a pretty vicious weapon."
It seems clear that Andersen wants guys who can do all three of those things. Don't expect any Denard Robinson-types or even the 2012 version of
Braxton Miller
at Wisconsin. Andersen has pledged to keep the Badgers' tradition of the power run game strong, and offensive coordinator Andy Ludwig has a pro-style philosophy. What adding a mobile quarterback will do is give the Wisconsin offense an added wrinkle.
Andersen also isn't bringing in players who are just athletes standing in the shotgun. McEvoy completed 67.3 percent of his passes last year at Arizona Western. Gillins and Kafentzis have also been known for their accuracy. At Utah State, Keeton connected on 67.6 percent of his passes.
This new wave of Badgers quarterbacks could, in a perfect world, look like a version of Russell Wilson: players with great ability to get out of trouble and still find receivers down the field outside of the pocket. Wilson didn't run the ball all that much at Wisconsin, a product of both his unbelievable acumen in keeping his eyes downfield for the open man and the team's utter lack of depth behind him. A plethora of athletic options could allow Andersen to call more designed quarterback runs in the near future.
While many fans may think of Wisconsin as the land of huge offensive linemen, great running backs and game-managers at quarterback, this wouldn't be the first time in recent memory that the Badgers have had mobile quarterbacks. There was Wilson, of course. Tyler Donovan was a scrambler, and Brooks Bollinger allowed the team to run some option. Current sixth-year senior
Curt Phillips
, another candidate to start in 2013, was ticketed as a big-time dual-threat quarterback before multiple knee injuries robbed him of his speed.
In the future, a lot of Wisconsin's quarterbacks could look like what Phillips was supposed to become.