April, 14, 2014
Apr 14
9:00
AM ET
All but four Big Ten teams wrapped up spring practice on Saturday, and we're looking at what happened with each squad. If you missed them, check out what we learned from spring games at
Ohio State
,
Penn State
and
Nebraska
.
[+] Enlarge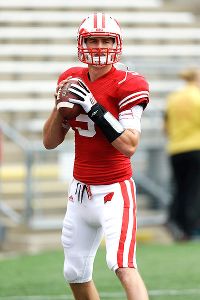 Mike McGinnis/Getty ImagesAfter a solid spring, Tanner McEvoy is in prime position to push Joel Stave for the starting QB job.
Wisconsin
completed its second spring under coach Gary Andersen with the spring game Saturday at Camp Randall Stadium. The Badgers held a controlled scrimmage for a half and then began a game with several notables sitting out (including quarterback
Joel Stave
and running backs
Melvin Gordon
and
Corey Clement
). The Cardinal team ended up recording a
6-0 win
against the White team, thanks to two
Jack Russell
field goals, before an announced crowd of 8,204.
Check out more coverage of the game
here
and
here
and
here
.
Star of the game:
Fullback
Austin Ramesh
. There weren't many standouts in the game portion of the day, but Ramesh capitalized on his opportunity with both Gordon and Clement out. He recorded 71 yards on 12 carries and added a 4-yard reception for the victorious Cardinal team.
How it went down:
The controlled scrimmage featured more offensive highlights than the actual game, as quarterback
Tanner McEvoy
connected with wideout
Kenzel Doe
on a 27-yard touchdown pass and both McEvoy and Clement added rushing touchdowns. The defenses dominated the actual game portion, as the White squad recorded only 49 net yards (35 pass, 14 rush) while the Cardinal had just 54 pass yards.
McEvoy completed 4 of 10 pass attempts with no touchdowns or interceptions in the game, but both he and Andersen were pleased with his performance throughout the spring. Andersen said afterward that McEvoy and Stave will receive the bulk of the first-team reps in preseason camp. It doesn't appear
Bart Houston
is in Wisconsin's future plans, but
Houston doesn't plan to transfer
.
The offense still needs a lot of work, especially in the pass game, but one takeaway from the spring is that McEvoy is in prime position to push Stave for the starting job.
"He walks up to the huddle, he looks more comfortable," Andersen said of McEvoy. "The football team is more comfortable around him, similar to how they were with Joel walking in and saying, 'Hey, this guy can get it done for us.'"
Defensive notables Saturday included safety
Austin Hudson
, an early enrollee who capped a solid spring with five tackles. Two young ends,
Alec James
and
Chikwe Obasih
, both showed promise during the scrimmage/game. Cornerback
Sojourn Shelton
had two tackles and two pass breakups.
Wisconsin fans shouldn't draw too much from Saturday given the injuries and other limitations. But this Badger team is much more of a work in progress than last season's senior-laden squad. A critical summer awaits.
March, 19, 2014
Mar 19
5:00
PM ET
Take your nose out of the brackets for a second and dive into this latest Big Ten mailbag.
Joe F. from Wrightsville, Pa., writes:
Top three Big Ten games for 2014? Bottom three? How soon will PSU play into Big Ten title talk?
Brian Bennett:
We'll probably do a list at some point of our best and worst games of 2014, but after going through the
ultimate road trip
exercise, this is a topic fresh in my mind. My top three games for 2014:
1. Ohio State at Michigan State, Week 11:
This one's fairly obvious. It's the rematch of last year's Big Ten title game, and both teams should be ranked in the top 10 to start the season as the clear league favorites.
2. Michigan State at Oregon, Week 2:
This is the most exciting Big Ten nonconference game in years, in my opinion. Sure, we had Michigan-Alabama a couple seasons ago, but most people didn't think the Wolverines were ready to compete with the Tide (and they were right). These two teams are not only legitimate national title contenders, but the extreme contrast in styles -- the Ducks' quick-strike offense against the Spartans' ferocious D -- is incredibly compelling.
3. Nebraska at Wisconsin, Week 12:
The third choice could fluctuate between now and the start of the season. Wisconsin-LSU is really interesting, Michigan-Ohio State is always must-see and Iowa's last two games of the season could be huge if the Hawkeyes come through early on. That's just to name a few. But for now, I'll take what looks like the key showdown for the West Division title.
As for the three worst, I'm always going to pick terrible nonconference games for those. And my three snooze-fests right now would be Western Michigan (1-11 last year) at Purdue in Week 1, along with Week 2 weaklings Howard at Rutgers and Western Illinois (4-8 in '13) at Wisconsin.
Lastly -- and very sneaky of you to get three questions in, Joe -- I've been pretty consistent in saying 2016 is my pick for Penn State to contend for the Big Ten title. It's potentially
Christian Hackenberg
's senior season, and all of the sanctions will be gone. It wouldn't shock me if James Franklin moved that timeline up to 2015, however.
---
Taylor from North Platte, Neb., writes:
Brian, love the blog! Question I ask people in "The Good Life" a lot is, would you rather see Nebraska play Wisconsin at the end of the year instead of Iowa? Many agree, the Iowa rivalry is forced (I personally cheer for Iowa over ISU in the Cy-Hawk Game) for Nebraskans, and many people have a bad taste in their mouth when talking about Wisconsin, just because the whippings they have given the Huskers two out of three times Nebraska has played them. Just wanted your thoughts on that.
Brian Bennett:
The Nebraska-Iowa rivalry is forced, to a large degree. But I think the fact that the Hawkeyes won last year in Lincoln should help the Heroes Game grow, and it's possible the two teams could be playing for a division title on the final weekend in 2014. I believe the Nebraska-Wisconsin rivalry will grow now that the two teams are in the same division, but there really has only been one good game between them so far (the Huskers' home win in 2012). And I prefer having Wisconsin and Minnesota continue college football's oldest rivalry on the final weekend.
---

Tim from Raleigh, N.C., writes:
I just read
your article
about the running game at Wisconsin with
Melvin Gordon
and
Corey Clement
. In the article, you mention that there isn't depth besides those two. I agree that there isn't any "proven" depth, but that hasn't stopped Wisconsin recently. Just like every other year, Wisconsin starts the season with two good running backs and questionable depth. But the No. 3 RB always proves that the depth is there. White, Gordon and Clement all proved to be great players while only being third on the depth chart. I wouldn't be surprised to see
Taiwan Deal
or maybe
Vonte Jackson
(I know he has moved to safety, but want to see him at RB) provide the depth for the Badgers.
Brian Bennett:
Tim, the depth situation is really more the concern of Gary Andersen this spring, which is why he's holding Gordon and Clement out of contact. There's a very good chance that Deal becomes that No. 3 back in the mold of Gordon in 2012 or Clement in 2013, but remember that he's not on campus yet. The only other scholarship tailbacks right now are senior
Jeff Lewis
and redshirt freshman
Austin Ramesh
. Andersen doesn't want to risk Gordon and Clement getting hurt this spring, and there's really no reason to have them get tackled right now.
---

Joelfr from South Brunswick, N.J., writes:
Do you think that Rutgers will stick with experienced but inconsistent QB
Gary Nova
this coming season as Big Ten action starts, or will they go with one of their young QBs who have never started a game?
Brian Bennett:
We'll start to get some answers when the Scarlet Knights open practice Monday, but I'd say every option is on the table right now, especially with new offensive coordinator Ralph Friedgen. Youngsters
Mike Bimonte
,
Blake Rankin
and
Chris Laviano
have a lot to prove, as none of them has taken a college snap. But Nova has thrown 39 interceptions in parts of three seasons, which helped lead to his benching last season. He has a huge experience edge, but it might be time to start over in Piscataway. The good news is that if anyone can fix Nova, it's probably Friedgen. If not, then one of the young guys will get a shot.
---

Andrew from Fremont, Ind., writes:
Brian, as a Purdue fan, the 2013-14 athletic season was horrible, bottom of the league in both major sports. I believe things are going to be better in 2014-15. To find a ray of hope, I decided to look back at the Big Ten's worst since the turn of the century. The records obviously point to the Hoosiers being the worst (surprise!). IU has only had one season where they have finished at .500 since 2000, and in only six of those years has it won more than one conference game. Aside from Illinois, no one in the Big Ten has even been close to being that bad. Despite surprise trips to the Rose and Sugar Bowls, Illinois has done their best to match IU's level of awfulness with three zero-win Big Ten seasons during that time. As bad as Purdue was this season, history seems to favor that a crummy IU team or the Fighting Illini are destined to reclaim the basement. Which Big Ten team gets your honor in the preseason as the Big Ten's worst?
Brian Bennett:
Andrew, I feel your pain. What a rough go of it this has been for Boilers fans. I actually wrote back in November about
the worst Big Ten teams
in recent years, and the 2013 Purdue squad ranked among the worst of the worst. And that was before the Boilermakers lost to Illinois and Indiana (by 20 points) to finish out a 1-11 campaign. Purdue lost by an average of 23.1 points per game last year and ranked at or very close to the bottom nationally in virtually every major statistical category. While I believe Darrell Hazell will eventually turn things around and that the schedule should help the Boilers improve a little this season, there's no doubt that they begin the year as the worst team in the league again, especially as Illinois and Indiana look capable of competing for a bowl bid.