May, 30, 2012
5/30/12
9:00
AM ET
Johnathan Hankins
has the least creative and most appropriate nickname on Ohio State's team: Big Hank.
The term big has followed Hankins from the moment he set (big) foot on Ohio State's campus. Even though Hankins has slimmed down significantly during his Buckeyes career -- he now checks in at 6-foot-3, 320 pounds -- the junior defensive tackle has a tough time escaping talk about his size. He's a big man with big-time skills.
Entering the 2012 season, he also has big expectations placed on his ... very big shoulders.
[+] Enlarge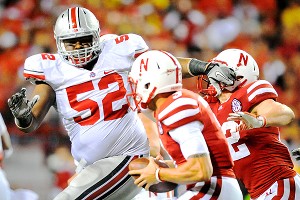 Eric Francis/Getty ImagesOhio State defensive tackle Johnathan Hankins, 52, has the potential to be an elite NFL prospect.
When ESPN's Mel Kiper Jr., issued his
first Big Board for the 2013 NFL draft
, Hankins was the first Big Ten player listed, at the No. 11 overall selection. Although Hankins has started just one season for the Buckeyes and didn't earn first- or second-team All-Big Ten honors in 2011, his next-level potential is obvious, even to more decorated members of Ohio State's defensive line.
"His ceiling's through the roof," Buckeyes defensive lineman
John Simon
told ESPN.com. "He's a playmaker for us, a big-time player. You're going to need two guys to take him up. With his ability and his size and how quick he moves for his size, he's a dual threat."
Hankins is flattered by the lofty draft projections from Kiper and others, saying, "it's a big deal to see how far I came from high school."
The NFL is certainly on his radar, although he told reporters last week in Columbus that
he wants to win a national title with Ohio State as a senior in 2013
.
Time will tell if Hankins' plans change, but he's well aware of the increased burden he'll bear for the Buckeyes this coming season.
"I think I'm ready," Hankins told ESPN.com "With the seniors we have on defense and with [Simon], I feel like I've reached a level of being a leader. The more that I play, people follow me. That's one way I lead."
Hankins couldn't have a better model than the man he lines up next to, Simon. The undisputed leader of Ohio State's defense returns for his third season as a starter, and undoubtedly his second as a captain after earning first-team All-Big Ten honors and third-team AP All-America honors in 2011.
Last fall, Simon and Hankins combined for 27 tackles for loss and 10 sacks. Hankins led all Buckeyes defensive linemen and finished fourth on the team in tackles (67), and he and Simon were the only players to record double digits in TFLs. They combined for six tackles for loss in a win against Illinois, and Hankins racked up nine TFLs against Big Ten competition.
"He's a major help for me," Hankins said. "I'm just trying to take the characteristics he has and add them to myself so I can become a leader and be a model for the young guys. Become a true Buckeye."
Simon noted that going through a season of starting alongside Hankins helped them improve their communication skills. Hankins' ability to stay on the field -- he set a goal of 60 snaps per game in 2011 -- also helped.
"He's changed a lot of the habits, body-wise," Ohio State defensive coordinator Luke Fickell said of Hankins. "He's always been a heck of a football player, but his ability to become stronger, his ability to get his weight in a good position where he can play 60 snaps at 100 percent has been good to see."
Asked if he has a snaps-per-game goal for 2012, Hankins replied, "Until they take me out."
Hankins spent spring practice working with a new line coach, Mike Vrabel, who previously had coached Ohio State's linebackers. Although Vrabel played linebacker in the NFL, he starred as a defensive end for Ohio State, becoming the first player in Big Ten history to twice earn the league's defensive lineman of the year award (1995 and 1996). Hankins called it an "honor" to work with Vrabel and said Vrabel has talked to him a lot about one of Vrabel's former
New England Patriots
teammates, 325-pound nose tackle
Vince Wilfork
.
"I watch him, I watch
[Haloti] Ngata
from Baltimore, I watch
B.J. Raji
and
Ndamukong Suh
," Hankins said. "I try to take some of their game and put it into my game."
All four men have met the big expectations that go along with their big frames.
This fall, Hankins hopes to do the same.
October, 25, 2011
10/25/11
3:00
PM ET
The number most often associated with Ohio State defensive tackle Johnathan Hankins is 335.
At 335 pounds, Hankins is one of the biggest men in the Big Ten. He's among the largest defensive players in the nation and easy to spot in the heart of Ohio State's defensive line.
[+] Enlarge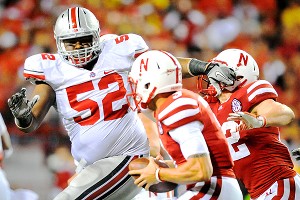 Eric Francis/Getty ImagesAt 335 pounds, Ohio State defensive lineman Johnathan Hankins is easy to spot.
Every time "Big Hank" blows up a double team or drops a running back in the backfield, the number 335 is bound to be mentioned, whether it's on the television broadcast, the radio broadcast, Twitter or by fans in the stands. Hankins' size makes him stand out.
But Hankins spent the offseason focused on a different number: 60.
Ohio State's defense averaged 60.7 plays per game in 2010. Hankins wanted to make he'd be on the field for all of them in 2011.
"Last year he probably averaged 15 snaps a game, maybe a few more later in the season, 20 snaps," Buckeyes coach Luke Fickell said. "The question was, a guy his size, can he play 60, 65 snaps in a game? He's done a very good job of showing us that he can."
Hankins not only has stayed on the field longer but made his presence known. The sophomore leads Ohio State's defensive linemen with 36 tackles, a total that ranks second on the team behind linebacker Andrew Sweat. He also ranks second in tackles for loss (6.5) and tied for second in sacks (2).
The big man also seems to be getting stronger with each game. He opened Big Ten play with six tackles and a sack against Nebraska, and followed it up Oct. 15 with arguably his best performance as a Buckeye, recording a team-high nine tackles, including two for loss, in a defense-driven 17-7 win at Illinois.
"This summer, I worked on my conditioning, eating right and just losing a few pounds," Hankins said. "It's helping me this year. That's been a major part."
Hankins shed about 15 pounds from his frame, which he calls "a good amount." While he remains as big or bigger than most offensive lineman he faces, Hankins feels lighter on his feet and generally more in shape.
"My first year, I would get tired after like one or two series," he said. "Right now, I feel like I can just play the whole game. Most of the time, I'm not really going to come out of the game.
"With my conditioning being where it's at right now, it's taken my game to another level."
Hankins showed some promise as a true freshman, appearing in all 13 games and recording 16 tackles, including a sack. Although he couldn't log many snaps, Ohio State only needed him to spell starters Cameron Heyward, a first-round pick in April's NFL draft, and veteran Dexter Larimore.
But the departures of Heyward and Larimore left Ohio State thin at tackle. The Buckeyes needed contributors to complement veteran John Simon up front.
"Coming into this year, I knew we were going to be pretty young," Hankins said. "I knew there were going to be roles and spots that needed to be filled. The coaches were going to be counting on me. The defense was going to be counting on me."
Hankins and Simon form a terrific defensive tackle tandem, combining for 14 tackles for loss and five sacks. They both stood out against Illinois, ranking as Ohio State's top two tacklers and accounting for six tackles for loss.
Ohio State will lean on the pair this week as it faces the Big Ten's top offense in No. 15 Wisconsin.
"It's awesome when you've got two big guys like that are getting after it and affecting quarterbacks and running backs," Buckeyes offensive tackle Mike Adams said.
Hankins, who hails from Detroit, has enjoyed watching former Nebraska star Ndamukong Suh star for the NFL's Lions. Another pro defensive tackle Hankins likes to scout is Green Bay Packers standout B.J. Raji.
Like Hankins, Raji is a guy who can't avoid references to his size. He's listed at 337 pounds.
"He's kind of a guy like me, a two- or three-down player," Hankins said. "He's a big guy, but good with his feet."
Does Hankins see himself in Raji?
"I don't think I'm as big as him," he said.
Not anymore, at least.
"He didn't want to be as heavy as he was last year," Fickell said of Hankins. "He knew he was going to have to play more, and he was going to have to get his weight down in order to do that.
"He's well-conditioned for his size, and I've been impressed with his ability to play over 60 snaps a game."
April, 4, 2009
4/04/09
5:12
PM ET
Posted by ESPN.com's Adam Rittenberg
The agent for former Illinois cornerback Vontae Davis today denied a report that Davis and two other players tested positive for marijuana at the NFL combine.
NFLdraftbible.com cited sources in a report Friday that Davis, Florida wide receiver Percy Harvin and Boston College defensive tackle B.J. Raji all tested positive for marijuana.
"Neither Vontae nor our office has received any notification of any positive test whether for marijuana or any other banned substance," agent Todd France said in a statement. "In addition, we have been informed by several of our NFL contacts that they have not been notified of any drug testing results from the combine."
Davis, a first-team All-Big Ten selection last fall, is projected to be one of the first cornerbacks selected in the draft. He ran the 40-yard dash in 4.4 seconds at the NFL combine and registered a 37.5-inch vertical leap at Illinois' pro day workout.
The younger brother of San Francisco 49ers tight end Vernon Davis recorded 78 tackles, three forced fumbles, two interceptions and 10 pass deflections last season for the Illini.