Big Ten:

B1G numbers 2014
May, 22, 2014
May 22
9:00
AM ET
After taking a look at the most recent
database of revenues and expenses in college sports
, we're putting the Big Ten under the microscope. Our four-part series -- the rest of which can be found here -- concludes with a look at recruiting expenses and why they've grown.
Penn State defensive coordinator Bob Shoop can still remember sifting through thick stacks of manila recruiting folders in the mid-90s and reaching for a shelf of VHS tapes hanging above his desk.
There were no real recruiting support staffs to speak of. He'd pop a recruit's game tape into a VCR and then ready himself with a notepad.
Fast forward, fast forward.
There's the recruit.
Fast forward, fast forward.
[+] Enlarge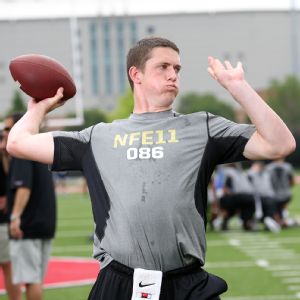 Tom Hauck for Student SportsDigital and online technologies are helping schools discover prospects like Clayton Thorson earlier and make more educated scholarship offers.
"Recruiting's changed a lot," Shoop told ESPN.com. "Our recruiting staff, they'll cut up tapes for me now. I don't have to sift through hours of recruiting tape anymore. Our interns will hand me 10 clips for a 2016 safety or something like that. You're investing to recruit good people."
As technology has evolved, so has recruiting -- and recruiting budgets. In just the past six seasons, according to a recent analysis from "Outside the Lines," recruiting budgets encompassing all sports have increased at 13 of 14 Big Ten schools and risen by at least 30 percent at eight of those. Higher gas prices, increased postage and other variables have undoubtedly played a role but several coaches and athletic directors also stressed how bigger staffs -- a result of newer technology -- have inflated those numbers.
At Penn State, Shoop can now rely on two full-time staff members, two graduate assistants and a team of 30 students/interns to help with recruiting. At Northwestern, the recruiting staff has tripled in just the last six to eight years. And, at Ohio State, one full-time position was recently added, in part, to help with recruiting presentations.
"Our technology has increased quite a bit," OSU athletic director Gene Smith said. "That's a big number for us."
That technology, such as online game film, has placed a bigger focus on immediacy. In an age where a top prospect's highlights can be filmed today and broken down by college coaches tomorrow, staffs can no longer wait until the offseason to evaluate players. And they can't drop everything on a Friday night in October, either, to give up game plan tweaks in favor of digesting film from a high school junior.
"Your coaches are doing this thing in the football season called coaching," said Chris Bowers, Northwestern's director of player personnel. "The time allocation a position coach would spend in March, he's not going to allocate that same amount of time in December or October. He can't. So, yes, there's been an increase in staff for sure.
"I would say at most universities -- I can't speak for everyone -- the recruiting staff is probably two to three times bigger than it was in '06."
In September of 2012, the Wildcats were able to jump early on the
Clayton Thorson
bandwagon because of that extra staff and technology. The ESPN 300 quarterback, who signed with Northwestern in February, hadn't started under center prior to 2012.
So, when he was due in Evanston, Ill., for a Saturday night game, Bowers noticed his high school coach uploaded his film to the Hudl website that Friday evening. Bowers contacted a GA, requested he cut-up some highlights -- and then forwarded the finished product to the coaching staff. Thorson received an offer that Saturday, partially based on something that was filmed less than 24 hours before.
And if this had all happened just a few years before, then how long would it have taken to make that same judgment call? Months?
"

You're investing to recruit good people.

"

-- Penn State defensive coordinator Bob Shoop
"Yes!" Bowers said. "… Even if you were an aggressive recruiting staff, the high school coaches would still need to bring you a DVD or mail it to you -- and they might not do it until the end of the season."
Nationally, recruiting budgets have risen across the board, so it's hardly limited to the Big Ten. Still, the conference seems to be outpacing the competition. Between 2008 and 2012, Big Ten teams placed within the top-10 nationally in recruiting spending on just five occasions. In 2013, four conference teams (Michigan, Ohio State, Nebraska, Penn State) placed within the top 10 -- and Illinois wasn't far behind at No. 12.
But coaches and athletic directors were slow to label last season a turning point. After all, it's not as if the staffs had all doubled overnight. Instead, they cautioned, there were other variables that needed to be taken into account. At Wisconsin, for example, the budget is artificially low because the Badgers are provided a private plane and don't need to charter flights as much. At Iowa, a booster donation wasn't included in the recruiting numbers until a few years ago -- which could account for part of the jump. And at Minnesota, due to the campus location, increased flight and hotel expenses impacted the budget more than schools elsewhere.
"We can't drive as much as others," Gophers athletic director Norwood Teague added. "So we've got to keep building the budget and being aggressive."
Regardless, the trend of spending more on recruiting each season appears to be a difficult one to stop. Whether it's an increased staff or costs elsewhere, few universities take a step back in spending.
But, on the bright side, it could be worse -- at least the era of "Be kind; please rewind" is long gone.
"That required a significant amount of manpower hours," Shoop said with a laugh. "And in some ways, now, it's a pro model. It's not like you have an entire scouting department, but I'm sure we're getting closer to that model now than ever before now, as far as people whose sole responsibility is player evaluation. ... It's incredible how the process has accelerated."
May, 21, 2014
May 21
9:00
AM ET
After taking a look at the most recent
database of revenues and expenses in college sports
, we're putting the Big Ten under the microscope. Our four-part series continues today with a look at the revenue generated through branding initiatives like licensing and sponsorships.
It's fitting that the University of Michigan's athletic director has the word "brand" in his last name. In the Big Ten, there's no bigger brand than Michigan.
Ticket sales, donations and television dollars are the biggest revenue-drivers for college programs. But one of the more revealing categories in the recent "Outside the Lines" database encompasses revenue from licensing, sponsorships, advertising and royalties. It all adds up to branding, and in the Big Ten, Michigan is king.
Only Texas generates more money from licensing, sponsorships, advertising and royalties than Michigan, which has ranked second among public schools in the category for the past five fiscal years (2008-09 through 2012-13). Michigan's reported intake spiked from $11,087,101 in fiscal year 2007-08 to $22,473,192 in 2012-13. Although there's a substantial gap between Texas ($33,421518) and Michigan, there's also a financial canyon between Michigan and third-place Oklahoma ($12,805,600), Ohio State ($12,714,758) and Nebraska ($11,895,378).
"We really think of ourselves as a global brand," Michigan athletic director Dave Brandon told ESPN.com. "In my previous life, I ran a company [Domino's Pizza] that at the time was doing business in about 65 countries. I never visited a country where I didn't see at least one symbol of the University of Michigan. There was at least one kid wearing a jersey, some guy wearing a hat, some Michigan shirt, some 'Go Blue' thing.
"It's remarkable how our brand is way beyond a domestic brand. I'm not sure if other programs necessarily enjoy that recognition."
Many Big Ten schools have massive alumni bases. But Michigan's alumni distribution, combined with the school's academic reputation and athletic tradition, has created a branding giant.
Brandon attributes the revenue differential mainly to the makeup of Michigan's alumni. Another driver is the way Michigan markets its athletes.
"You could even trace it back to the early '90s and the
Fab Five
, you could trace it to Desmond Howard and Charles Woodson," said Manish Tripathy, a marketing professor at Emory University who helps manage the
Emory Sports Marketing Analytics project
. "Some of these large figures and personalities have contributed to people who are not alumni still identifying with the Michigan brand."
The revenue from licensing, sponsorships, advertising and royalties accounts for a small percentage of Michigan's overall athletic revenue, which Brandon pegs at about $150 million for the 2013-14 fiscal year. It's the same for other Big Ten schools.
But Brandon sees potential in these areas, especially licensing, which he thinks can grow "much faster" than the rate of inflation.
"I'd like to build that more," Minnesota athletic director Norwood Teague said of licensing. "I know we're going to do an aggressive job. Part of that also is winning at a higher level in football and basketball. When I was at [North] Carolina, we were No. 1 [in licensing] my whole entire six years working there, and I was the liaison, so I saw how we built it. But it wasn't built overnight."
Minnesota has excelled in revenue through licensing/sponsorships/advertising/royalties, ranking fourth among Big Ten schools for the past six fiscal years and in the top 15 nationally each year. Minnesota associate athletic director Chris Werle said the school's long-term agreements with Coca-Cola, Dairy Queen and Learfield Sports, its media rights holder, bring in escalating revenues.
Like Minnesota, Iowa has been in the top 20 in licensing/sponsorships/advertising/royalties since 2007-08. Associate athletic director Rick Klatt said Iowa has tremendous local support and national brand recognition with its
Tiger Hawk logo
, but must push to broaden its reach.
"It's gaining shelf space in nontraditional markets," Klatt said. "When we can gain some kind of marketing presence in a sports store in San Antonio when you're down there for the Alamo Bowl, if we can find a little niche for the Iowa Hawkeyes to be next to Michigan, Texas and USC, we'e making some headway. That's a victory."
Klatt knows Iowa can't become Michigan overnight, but with the right success on the field and strategies off of it, the brand can expand.
"It's a quantity thing, a history thing, a tradition thing," Klatt said. "Michigan, Penn State -- they have some numbers that work in their favor. But that doesn't mean we can't compete."
Most Big Ten schools have seen gradual revenue increases in licensing/sponsorships/advertising/royalties, and most have been fairly steady in the national rankings. But there are some exceptions: Ohio State went from 24th in 2007-08 to fourth in 2012-13. Illinois' revenue has flat-lined, and the school has gone from 25th in 2007-08 to 36th in 2012-13.
Penn State saw a significant drop from fiscal year 2010-11 ($5,984,967) to 2011-12 ($4,444,416) -- the year of the Jerry Sandusky child sex abuse scandal -- before rebounding in 2012-13 ($5,086,773).
"Locally, the support is still there; people are still paying to go watch the team," Tripathi said, "but on a national level, there has been a bit of a hit on the brand. That's manifesting in the decline in sales of merchandise."
[+] Enlarge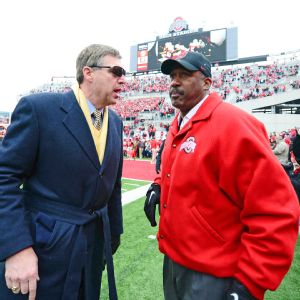 Andrew Weber/USA TODAY SportsMichigan athletic director Dave Brandon and Ohio State athletic director Gene Smith preside over marquee brands in the national scope.
Schools approach licensing and sponsorships in different ways, but consolidation is a common trait. All but four Big Ten members use the
Collegiate Licensing Company
, a division of IMG, to represent them in licensing agreements.
About a decade ago, Michigan significantly reduced the number of licenses it awarded to produce products. Kristen Ablauf, the school's director of trademark licensing, said Michigan used to have about 70 licensees for headwear, some of which weren't producing merchandise. Now there are only five national licensees -- LIDS and Dick's Sporting Goods among them -- as well as 12 local licensees.
"That has really helped increase revenues because we're targeting specific categories and channels as opposed to just licensing anybody," Ablauf said. "Along with our licensing agency, we work to put specific retailer programs together to make sure Michigan does maintain its status as a national school."
The Big Ten wants to become a more national conference as it expands to the East Coast with Rutgers and Maryland. The move should help Rutgers, which has generated the lowest revenues in licensing/sponsorships/advertising/royalties.
It also creates new branding opportunities for existing league members.
"The retail industry will take a look at and say, 'We need to have a presence in our store to satisfy the Big Ten consumer,'" Klatt said. "Our challenge will be, when they start choosing which schools to give presence to, they're clearly going to give some to Michigan, Ohio State, Penn State. But that next tier, we have to make sure we're in that."
May, 20, 2014
May 20
9:00
AM ET
After taking a look at the most recent
database of revenues and expenses in college sports
, we're putting the Big Ten under the microscope. Our four-part series continues today with a look at the money Big Ten teams have paid to opponents over the years.
[+] Enlarge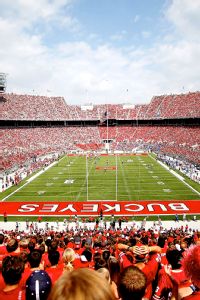 Kirk Irwin/Getty Images Ohio State is the league's largest athletic program with 36 varsity sports and a massive, often sold-out football stadium.
Michigan State athletic director Mark Hollis was scheduled to meet with reporters during the lunch break of Wednesday's Big Ten administrators' meetings, but he showed up earlier than expected.
He jokingly offered a possible reason for his escape.
"It seems like every vote we take," Hollis said, "costs us $100,000."
Expenses are rising for major-conference schools, especially with the welfare of college athletes in the national spotlight. One area that continues to get more expensive is the cost of home games, and the prices will continue to rise.
While Big Ten schools make millions from football games in their campus stadiums, they also are paying large guarantees for opponents to show up and play. According to recent analysis from "Outside the Lines," Big Ten teams paid nearly $42 million to visiting teams in all sports during the 2012-13 season (this includes Rutgers and Maryland, but not Northwestern, a private institution that doesn't report figures). The Big Ten, with its big football stadiums and broad-based athletic programs, paid more to opponents than any other conference. It's not a surprise considering many Big Ten teams make more than $3 million per football home game.
In 2012-13, Ohio State led the nation in money paid to opponents ($7,999,881), followed by Minnesota ($4,799,383) and Wisconsin ($3,987,864). Two other Big Ten teams -- Michigan State ($3,650,864) and Indiana ($3,375,562) -- finished in the top 10, and 10 schools finished in the top 25.
Ohio State has spent more on visiting teams in each of the past six years, averaging $7.4 million per year. Its total spent since 2007-08 ($44,418,002) is more than double that of the next Big Ten school, Indiana ($21,576,798). The simple explanation for the disparity: Ohio State is the league's largest athletic program with 36 varsity sports, and with a massive, often sold-out football stadium, it spends because it can.
"We'll net north of about $7 million off of each [home football] game," Ohio State athletic director Gene Smith told ESPN.com. "That's why we can afford to pay that guarantee. If you're over 100,000 seats -- you look at Michigan, us, Penn State, Tennessee -- you have to look at their average ticket price, which is typically north of $75. Then, you're probably looking at $5-7 million that those stadiums are netting individually.
"So when you take out a $1-million, $1.2-million, $1.3-million guarantee, you can handle it."
According to the Associated Press,
Ohio State will pay more than $2 million
in guarantee money to its three home nonconference opponents this season (Virginia Tech, Cincinnati and Kent State). The Buckeyes also will receive an $850,000 guarantee for playing Navy in Baltimore.
These fees aren't new to college football. Many major-conference schools with big stadiums have been
spending $800,000 or more on guarantees
since the latter part of the last decade. In 2008, both Ohio State and Michigan State paid more than $5.5 million to road teams, finishing first and second nationally, respectively.
"We're in the market, we're part of that market because we're a large stadium," Smith said. "It's just what you have to do today to get the mix."
The problem going forward is inventory, a word used by several Big Ten athletic directors at last week's meetings. Although the Big Ten moves to a nine-game league schedule in 2016, which reduces the number of nonconference games to schedule, the demand for nonleague home games remains high, if not higher. Big Ten teams will have five conference road games every other year, so to get the seven home games most need to meet budgets, all three nonleague games must be at home.
The Big Ten also has placed a moratorium on scheduling FCS opponents, a route many Big Ten teams have taken because FCS schools don't require return games and have relatively lower guarantee fees. So Big Ten teams in many cases must find FBS teams willing to play on the road without requiring a return.
"The issue with nine is inventory," Wisconsin athletic director Barry Alvarez said. "You're trying to schedule all [FBS] schools. The inventory becomes questionable. People don't want to go home-and-home. You try to stay at seven games at home, it's very difficult to do that in the year that you have four Big Ten games at home. So there are some issues."
One of them is cost.
"As the supply shrinks," Hollis said, "those that are in the window of who you want to play have the ability to ask for more."
Like many college football observers, Smith had hoped both the SEC and ACC would join the Pac-12, Big 12 and, soon, the Big Ten in adopting nine-game league schedules. But he didn't see it as a competitive balance issue.
The problem: inventory.
"If they'd gone to nine, obviously there's a lot more inventory out there because they would only schedule three [nonleague games]," Smith said. "Everyone is trying to schedule the same types of nonconference games in the same window of time, September. It's challenging."
Big Ten commissioner Jim Delany, while reiterating the need to avoid scheduling FCS opponents, says he will assist member schools with the scheduling dilemma. Some schools are exploring neutral-site games, which are lucrative and have gained greater popularity in recent years. Penn State AD Dave Joyner, who will watch the Nittany Lions open the 2014 season in Ireland, said, "It's almost like having a home game."
But Big Ten ADs also have been resistant to move games -- and the money they generate -- away from local markets.
"I don't know about the neutral-site thing," Minnesota AD Norwood Teague said. "We just built a stadium on campus, a beautiful new 50,000-seat facility. That was built for a purpose, and $150 million of that stadium was paid for by taxpayer dollars."
Hollis also has stiff-armed the neutral-site trend, but he acknowledged last week that MSU and longtime rival Notre Dame are discussing a neutral-site contest, possibly in Chicago.
"Some of us aren't traditional thinkers," he said. "You can come up with some creative ways that make sense for student-athletes, fans and … that you can meet your financial challenges."
May, 19, 2014
May 19
9:00
AM ET
After taking a look a the most recent
database of revenues and expenses in college sports
, we're putting the Big Ten under the microscope. Our four-part series kicks off today with revenues and expenses.
The ability of athletic departments to survive and thrive amid the nation's economic downturn rings true within the Big Ten. A closer look at the numbers bears that out.
[+] Enlarge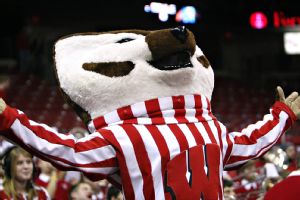 Mary Langenfeld/USA TODAY SportsThe Wisconsin athletic department generated huge revenue thanks to large donations.
The collective revenue of Big Ten programs in the past six years has increased by nearly 30 percent, just shy of the FBS average of 32 percent during that span. And many of the conference's schools find themselves near the top nationally.
In 2012-13, Wisconsin was No. 2 nationally among public schools in both revenue generated ($149 million) and expenses ($146.7 million). Michigan was No. 4 and No. 3 in the same two categories, generating $143.5 million and spending $131 million, while Ohio State checked in at No. 5 in both, raking in $140 million and spending $116 million.
That $24 million profit for the Buckeyes in 2012-13 put them atop the national list, but it's actually the rival Wolverines who have ended up with far and away the most money among their conference peers during the past six years. Using the analysis from "Outside The Lines" earlier this month, Michigan has netted a total profit of $90,243,483 from 2007-08 to 2012-13. That's an average annual profit of more than $15 million, nearly double the amount of the next-closest Big Ten school, Penn State, which netted an annual average of more than $8.8 million, slightly more than Ohio State ($8.755 million)
The money, of course, comes from more than simple ticket sales or conference payouts for bowl games and NCAA tournaments. Wisconsin's big financial windfall last year was thanks in large part to nearly $59 million in contributions and donations, more than $10 million clear of anyone else nationally. It's a big reason why the Badgers' one-year revenue increased by more than $45 million from 2011-12 to 2012-13, from 11th nationally to second nationally. Their surplus, however, was just $2.48 million, more than a $1 million less than the $3.78 million they made in 2010, with much less revenue ($96 million).
And where that money goes is now more widespread than ever.
"I think it was about 2000, our budget was right around $25 million and today it's $94 million," Michigan State athletic director Mark Hollis said. "And it's real easy to take a quick look on where the allocation of those funds have gone, and so much of it — there is the coaching salary component that kind of stands out. But there's a much larger chunk that has gone to escalation of scholarships and services provided.
"When I was a basketball manager … I know how those student-athletes were treated, and I know how student-athletes today have opportunities from travel, where they stay, how they travel, where they eat, what they eat, how often they eat, what medical services, psychological services, strength and training. We've really become a specialized industry where we have people on our staff that provide the smallest component of service to a student-athlete. It used to be a coach and a trainer kind of handled everything. Well now there's somebody to teach you how to cook, there's somebody on some campuses that do the cooking, that show you how to shop. It's incredible, the opportunities that student-athletes have on those campuses, provided that they take it. That comes with a very high cost."
The Big Ten's Eastern-most schools, meanwhile, have been among the league's smallest money-makers as of late. Penn State had been the Big Ten's first- or second-most profitable program for four straight years before 2012, when it saw its profits dip to $863,023 from more than $14 million the year before. In 2013, the Nittany Lions lost $5,985,736 — a likely byproduct of the turmoil caused by the Jerry Sandusky child sex abuse scandal. Conference newcomers Maryland and Rutgers, meanwhile, were the only league members to average less than $1 million per year in profit.
The NCAA legislative council's voting in April to eliminate all previous restrictions on food for athletes could present one more opportunity for athletic departments in their ever-growing arms race. The idea of food-only facility is intriguing to Iowa athletic director Gary Barta.
"We don't have to count snacks or meals, so we can open that up," Barta said. "And so in the short-run that's definitely a part of our plan, and long-run we'll look at taking the current center that we have and maybe moving it and creating a bigger one."
With members of the Big Ten and the other four power-five conferences furthering their push for autonomy, the reins on the estate may only tighten, with spending likely to increase.
"I'm biased, but I think it's the best-run conference in the country, from a business and a financial standpoint," Penn State athletic director Dave Joyner said. "And so we're going to hopefully have some advantages as we go forward, and what we want to do with this autonomy is be able to spend it on our student-athletes. And be smart."