Big Ten:

B1G spring meetings 14
May, 15, 2014
May 15
11:10
AM ET
ROSEMONT, Ill. -- If you've listened to Jim Delany lately, you undoubtedly have heard the Big Ten commissioner talk about living on the East Coast, not just visiting.
It's all part of the Big Ten's push to be a bi-regional conference with the additions of new members Rutgers and Maryland on July 1. The league has
partnered with the Big East
for the Gavitt Tipoff Games in men's basketball and moved the 2017 men's basketball tournament
to the Verizon Center in Washington D.C
. The football championship game, which will remain in Indianapolis at least through 2015, likely will
stay in the center of the league
.
[+] Enlarge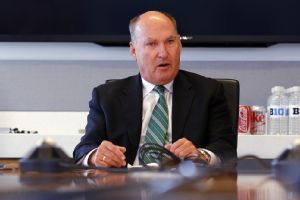 AP Photo/Nam Y. HuhJim Delany knows the Big Ten has to walk a fine line between building the Big Ten's presence out East while not forgetting its Midwest roots.
Delany, a New Jersey native and the driving force behind the Maryland and Rutgers additions, is not surprisingly devoting much of his time and energy to all things East Coast.
"The challenge will be living in two regions," Delany said Wednesday after the league's athletic directors met. "All the major conferences are doing it. Nobody has done it before. That will require a real concerted effort to build, make friends, become relevant and build relationships. That's what we're in the process of doing.
"But the other side of it is that 80 percent of our historic fan base and our alums aren't in this region."
In some ways,
that's
the real challenge for Delany and the Big Ten: building the brand in a new, competitive region, without forgetting where you came from and what made you who you are.
"I want to get a better sense of what our landscape is going to look like in the conference with the Eastern push," Michigan State athletic director Mark Hollis said. "It's an extremely important component for the conference. It's important for Michigan State because of the donors we have there. But you don't want to leave the Midwest in the wake of an Eastern push.
"Our conference is founded in the Midwest, and it's important we continue to understand those roots. While excited to have this new frontier, our foundation is in Chicago and Indianapolis and Detroit and other areas. I just want to make sure we protect our homeland while flanking out to a very important East Coast."
Hollis is absolutely right. While time, money and some events should be devoted to the new territory, the Big Ten can't alienate its base, a large chunk of which remains miffed about the new additions. But the Big Ten's latest expansion always was less about the specific schools than their locations.
If the ACC hadn't added Pitt and Syracuse -- infringing on the eastern edge of the Big Ten's current footprint, because of Penn State -- there might not have been a need to get bigger than 12. But the Big Ten felt it needed to protect Penn State and enhance its footprint, especially with a new TV contract on the horizon.
"That's the new Big Ten," Wisconsin AD Barry Alvarez said. "We all have to accept it, our fans have to accept it. We want to welcome our two new members in Rutgers and Maryland, and we want a presence in the East. We want to take advantage."
It's Delany's job to capitalize on those advantages, while not turning his back on the region that defines the league.
"You're going to see a rotation [of events] and a respect for both regions," Delany said. "You're going to see a representation in both regions with our competitions, our championships, our television network and our alumni base."
May, 14, 2014
May 14
6:30
PM ET
ROSEMONT, Ill. -- The Big Ten spring administrators' meetings wrapped up Wednesday with more discussion about the proposed NCAA governance changes,
nonconference scheduling
, athlete welfare and other topics.
Here are some notes from Day 2:
COST OF ATTENDANCE
Big Ten schools are in agreement that increasing the value of athletic scholarships to federal cost-of-attendance figures needs to happen. They've felt this way for years.

But the increase means different things for different institutions and different leagues, as some, like the Big Ten, sponsor more sports than others. The Big Ten ADs spent much of their meetings discussing the details.
"It varies from $1,200-$4,900 [per scholarship] just in our league," Wisconsin athletic director Barry Alvarez said. "I think ours is in the $3,000-$4,000 range, so we're probably talking about another $1 million to $1.5 million just on cost of attendance. I'm very supportive of that. I've always been supportive of whatever we can do for the student-athletes."
Such a large gap, however, could allow some programs to use their more valuable scholarships as advantages in recruiting. Michigan State AD Mark Hollis, who said the cost-of-attendance plan would be about $1 million for the school, thinks there needs to be a "firewall" between athletic departments and financial aid offices in how numbers are calculated.
"Every school tends to take whatever information they have available and try to make it to their advantage," Hollis said. "It'd be a bad situation to use cost-of-attendance as a recruiting advantage, but the likelihood is that will come into play."
FUTURE FOOTBALL CHAMPIONSHIP GAME SITES
[+] Enlarge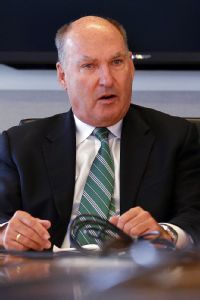 AP Photo/Nam Y. HuhJim Delany expects the Big Ten football title game to remain in the Midwest.
The Big Ten expects to finalize future sites for football championship games and basketball tournaments after the league's presidents and chancellors meet in early June. Indianapolis has hosted the first three football title games and is contracted to host the 2014 and 2015 games.
Although the men's basketball tournament heads to Washington, D.C., in 2017 and likely will make other future appearances on the East Coast, the football championship isn't expected to leave the Midwest.
"A central location would be the presumption," commissioner Jim Delany said of future sites.
DEFENDING THE COLLEGIATE MODEL
Delany said the Big Ten would "aggressively" defend itself against several antitrust lawsuits challenging the collegiate model, even if the cases go all the way to the U.S. Supreme Court. He said polls show most people don't want unions with college sports, pay-for-play systems or some type of minor-league system.
"There's a tremendous public interest in what we do," Delany said, "and some of what we do could be improved upon. I think people are just saying to us, 'Get it right, get it balanced.'"
Delany sees that as a three-step process: restructure and reform; defend themselves against litigation and advocate for all college athletes. How they address cost-of-attendance, athlete time demands, health coverage and other topics will be under the microscope.
The commissioner reiterated the need to set up a
voting model
to push through change.
"We're going to have a scorecard," Delany said, "and the question is going to be, what did you accomplish?"
TIME SPENT ON SPORTS
Athlete welfare was a big topic here this week, including increased amount of time they devote to their sports. Delany, who
brought up the issue last summer
, wants to consult athletes and coaches about how to strike a better balance with time.
The major conferences could implement "dead periods" after seasons or in the summer. Delany mentioned study abroad programs and internships, two opportunities many students enjoy but most athletes cannot, as areas that should be explored.
"We need to really inspect the experience," Delany said, "talk to the athlete, talk to the coach, and come up with a template is that is more flexible and more balanced."
ODDS AND ENDS
Iowa was not offered a night game this season and will not appear in prime time for the second straight year, but athletic director Gary Barta doesn't think it suggests the school has second-class status in the league. "At the end of the day, we'd love to have one or two night games a year," Barta said. "We don't have one this year. That's not going to affect the way we go into the season. We're going to be excited and play the games."

Purdue athletic director Morgan Burke reiterated that athletes need more power in shaping the decisions that affect their experiences. He also thinks recently graduated athletes could be involved in the discussion because they can devote more time. "You want to make sure the voice is not a token thing," Burke said. "I've found that if you engage people at the earliest possible time on all the facts you have, the chances of having wide disagreements dissipates. You drive yourself closer together."

Alvarez, a member of the playoff selection committee, is concerned about the rising cost of travel with an expanded football postseason. He saw it firsthand this spring as Wisconsin's men's basketball team made the Final Four. "We have to be sensitive about [ticket] pricing," Alvarez said. "It's been brought up."

It wouldn't be a Big Ten meeting if the expansion question didn't come up. But Hollis doesn't think the league is looking to increase beyond 14 members. "We're going to 22," he joked. "We're settled at the number that we have. Expansion is always done for strategic reasons. Sometimes it's reactionary to what's being done on the national landscape, but it was extremely important to the Big Ten to ensure that Eastern corridor was protected as other conferences had rubbed into some of our traditional markets. The new Big Ten logo is not a B-1-6. It's actually a B-one-G.
May, 14, 2014
May 14
5:00
PM ET
ROSEMONT, Ill. -- The SEC and ACC think eight is great, but the Big Ten has no plans to go back on its move to nine league games beginning in the 2016 season.
The Big Ten isn't ignoring the upcoming college football playoff and the potential paths to the field of four, but its reasoning for the move -- namely, to play one another more often in an expanded conference -- hasn't changed.
"Fans like Big Ten games," league commissioner Jim Delany said Wednesday. "If you look at Big Ten attendance around Big Ten games, it tends to be better than the average nonconference game. Also, the commissioners have been clear about strength of schedule and winning championships in conference as the tiebreakers in the college football playoff.

"That's an additional reason for us to do that."
But the move to nine league games doesn't mitigate the challenge of nonconference scheduling. In fact, the unbalanced home-road ratio, combined with a league-wide initiative to stop scheduling FCS opponents, has created new issues to navigate.
Several Big Ten athletic directors this week talked about a smaller inventory of nonleague opponents. This drives up the cost for Big Ten teams to schedule home games that aren't returned (guarantee games). Most Big Ten teams require seven home football games per year to meet budget demands.
"Where are the guarantees going to go as far as the demand and the supply of the opponents to come in and play you?" Michigan State AD Mark Hollis said. "You only have three nonconference [games]. You can have one home-and-home situation and then have to buy two games to get to your seven.
"If the net on those games becomes a level where the visiting team's making more than the home team, then you have to start looking at other options."
Hollis has been reluctant to explore neutral-site games, and while some Big Ten teams have them scheduled -- Wisconsin opens the next three seasons against SEC opponents at neutral sites -- most want to keep games on campus. The Big Ten is working with its schools on scheduling for the 2016, 2017, 2018 seasons and beyond. Hollis thinks more scheduling agreements will happen in the short term rather than games 10-15 years in advance.
One idea discussed this week at both
ACC
and Big Ten meetings is league members scheduling one another in games that don't count in the conference standings. Michigan and Minnesota considered
scheduling a nonleague game in 2010,
a season where the longtime rivals weren't on each other's slates.
Iowa and Penn State last season scheduled a
nonleague wrestling meet
and will continue to do when the teams don't match up on the Big Ten schedule.
"We put together our own parameters in terms of the cost," Iowa AD Gary Barta said, "so I could see some of that happening potentially in other sports."
Michigan State on Tuesday announced a home-and-home series with Arizona State, which Hollis called a "blessing" because of the quality of the opponent and the location. The Spartans play longtime rival Notre Dame in 2016 and 2017, and Hollis told local reporters that MSU and Notre Dame have a
verbal agreement for a home-and-home series
in 2026-27, as well as a possible neutral-site game in Chicago in 2023.
The SEC's and ACC's schedule decisions sparked strong reaction because the five major conferences, competing for four playoff spots, won't have a standardized schedule model. But Big Ten leaders don't seem concerned about the differences.
"I could conceive of somebody playing eight conference games and four very strong nonconference games, and having a stronger strength of schedule than somebody who played nine conference games and three weak nonconference games," Delany said. "So we've tried to address it with more conference games, one major game against an opponent from a group-of-five conference, and that we're not playing [FCS] teams."
May, 14, 2014
May 14
3:20
PM ET
ROSEMONT, Ill. -- Arguably no major-conference school has
generated more negative headlines
in the past 14 months than Rutgers, leading to a common question among fans and media members: Does the Big Ten regret inviting the State University of New Jersey into the league?
[+] Enlarge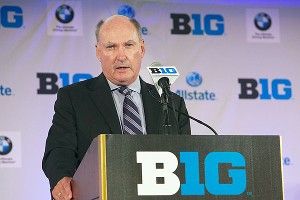 AP Photo/Ting ShenBig Ten commissioner Jim Delany is firmly behind Rutgers, which joins the league on July 1.
Big Ten commissioner Jim Delany makes it clear he's firmly behind Rutgers.
"No buyer's remorse at all," Delany said Wednesday after the Big Ten administrators' meetings. "When I go to Jersey, I go to New York, I go to support, not to judge. Boards of trustees, they're fully capable of handling personnel matters. The Big Ten really does not get involved in personnel matters at the athletic director, coach, presidential level."
All three of those positions at Rutgers -- from new AD Julie Hermann to former basketball coach Mike Rice to president Robert Barchi -- have faced heavy criticism in the past year. Hermann declined several requests to speak with reporters this week.
Delany is spending much of his time on the East Coast promoting both Rutgers and Maryland before the two schools officially join the Big Ten on July 1. He mentions the Big Ten living in two regions at every media opportunity.
Athletic directors discussed the integration of both Rutgers and Maryland this week. Purdue's Morgan Burke, the Big Ten's longest-tenured AD, said the league has improved in assisting new programs with the transition since some missteps with Penn State in the early 1990s.
Michigan State athletic director Mark Hollis hasn't heard much negative reaction from Spartans fans about Rutgers, but he has heard some questions.
"When the Big Ten Network was discussed, there were many more negative comments about the Big Ten Network than there were about expansion to the East," Hollis said. "There's a good understanding of why we're there. [Rutgers and Maryland] can prove themselves to be great members of this conference that will take us to a new frontier.
"I look forward to making them, like all of us, a stronger member of the conference."
May, 13, 2014
May 13
6:20
PM ET
ROSEMONT, Ill. -- Big Ten athletic directors began their annual spring meetings Tuesday and discussed the proposed NCAA governance changes, scheduling,
athlete welfare
and other items.
Here are some notes from Day 1:
[+] Enlarge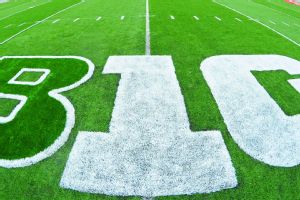 David Dermer/Diamond Images/Getty ImagesThe Big Ten athletic directors will wrap up their annual spring meetings on Wednesday.
ATHLETIC SCHOLARSHIPS
Although increasing athletic scholarships to federal cost of attendance figures isn't a new topic in the Big Ten -- the league
first proposed it three years ago
-- it generated plenty of discussion Tuesday as change is finally on the horizon. There are details that must be worked out concerning Title IX and how overall athletic budgets will be affected.
Illinois athletic director Mike Thomas said a full cost-of-attendance plan for all Illini athletes would cost approximately $1 million per year. But the numbers vary by institution.
"You're going to have to have a standard formula all schools are going to have to adhere to," Thomas said, "knowing that the numbers might still look different."
Added Nebraska AD Shawn Eichorst: "Over time, each institution is sharing how financial aid works on their campus and how they see a possible opportunity to put more resources in the system to cover the gap."
The ADs also discussed how to improve travel for players, whether it's getting them home or getting their families to events.
"Is it two trips? Is it three? Is it just going home a certain time of the year? Or is it bowls? Or families visiting?" Penn State athletic director Dave Joyner said. "Those details are yet to be worked out I think, and how does that factor into the full cost of attendance?"
FOOTBALL SCHEDULING
Despite a move to nine league games in 2016, non-league scheduling remains a challenge for the ADs, especially with the Big Ten prohibiting contests with FCS opponents. Thomas admits the inventory of opponents is smaller, which can increase costs of bringing in opponents that don't require return games. He added that a nine-game league schedule makes it harder to play neutral-site games because of the demand for seven home games every year.
"It's hard for us to move off campus and take a game away from our stadium, that's my biggest issue," Minnesota AD Norwood Teague said. "That was built for a purpose, and $150 million of that stadium was paid for by taxpayer dollars. You've got to serve the people."
[+] Enlarge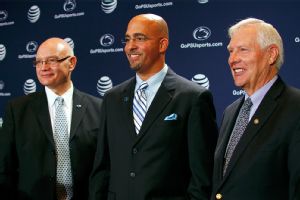 Justin K. Aller/Getty ImagesPenn State athletic director Dave Joyner (left) praised new football coach James Franklin (center) on Tuesday.
Joyner said there has been some talk about Big Ten teams scheduling other league opponents in non-league games, something former Michigan athletic director Bill Martin brought up years ago. "That's a unique concept we could talk about more," Joyner said. "That's a possibility."
Despite the SEC and ACC announcing recently that they would keep an eight-game league schedule, the Big Ten has no plans to ditch its move to nine.
ODDS AND ENDS
Joyner said new Penn State coach James Franklin has been "everything I thought he was an more, in a positive way," during his first four months on the job. "He's high energy, he's high ethics, he's high competitiveness," Joyner said.

Eichorst said he has had nothing to do with the improving public image of coach Bo Pelini, who has boosted his popularity since his blowups both during and after last season's loss to Iowa. "Bo's the same guy that I met when I arrived on campus," Eichorst said. "I see those sort of qualities from him on a day-to-day basis. What's out there in the community and the perception and all that other sort of stuff is certainly hard to control. He's a good ball coach, a good person. He's serious about his craft and very disciplined in his approach and we're lucky to have him at Nebraska."

Teague said the upcoming College Football Playoff generated little to no discussion Tuesday. Big Ten commissioner Jim Delany and Wisconsin AD Barry Alvarez, a member of the selection committee, likely will address the group before the meetings end Wednesday.
More to come Wednesday as the meetings finish. Delany will address the media around 3 p.m. ET.
May, 13, 2014
May 13
5:40
PM ET
ROSEMONT, Ill. -- The Minnesota state legislature approved alcohol sales at TCF Bank Stadium
more than two years ago
, making Minnesota the first Big Ten school to allow beer in one of its facilities.
Minnesota remains the only Big Ten school with such a policy, but it might not be alone for long. There's some momentum at Maryland
to allow alcohol sales at athletic events
. There are alcohol sales at other major-conference programs such as West Virginia, and LSU athletic director Joe Alleva said this week that while the SEC prohibits in-stadium alcohol sales, he thinks
the policy will change eventually
.
[+] Enlarge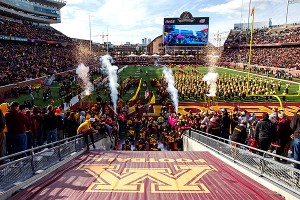 Brace Hemmelgarn/USA TODAY SportsMinnesota's TCF Bank Stadium is the only football venue in the Big Ten that allows alcohol sales.
Minnesota athletic director Norwood Teague, speaking Tuesday at the Big Ten meetings, said more of his AD colleagues are asking him about Minnesota's alcohol-sales policy.
"Now vs. last year or the year before, it's become more of an issue," Teague said. "Some are considering it."
Big Ten athletic directors are
concerned about football attendance
and particularly student attendance, which has declined nationally in recent years. Illinois AD Mike Thomas admits that the link between alcohol sales and student attendance, while not a top discussion point, is generating some attention.
"We have a lot of 11 [a.m.] football games and I go to our campus town area and I always stop at Starbucks around 8:30 or 9 o'clock before I show up at the stadium," Thomas said. "There's already a line out most of our student bars. I'm not sure that's a great field test, but ..."
Thomas came to Illinois from Cincinnati, which permits alcohol sales at football and men's basketball games.
"It's a topic that comes up," he said, "but more often than not, it's tied to the student piece."
Although Minnesota actually
lost money in its first year of alcohol sales
at TCF Bank Stadium, Teague said the number of alcohol-related incidents in the stadium has dropped, possibly because fans know they can drink during games rather than loading up beforehand.
Minnesota allows beer sales in a specific area of the stadium from an hour before kickoff until halftime.
"It's really been pretty darn smooth," Teague said.
Other Big Ten programs are more hesitant about the possibility of alcohol sales, in part because of geography.
"We're 100 miles from anything," Penn State athletic director Dave Joyner said. "And so people are driving farther. ... We love night games, but we're very sensitive about our 8 o'clock games because you're driving longer; we have people with that traffic out of State College not getting home til 3 or 4 in the morning, and I guess the argument is, 'How long does it take you to consume too much?'"
Most Big Ten schools remain in Penn State's camp, but if attendance trends continue and students continue to stay away, they might need to shift their approach.
May, 13, 2014
May 13
3:30
PM ET
ROSEMONT, Ill. -- College athletes' welfare is top of mind for athletic directors across the country, and one Big Ten school remains at the center of the debate about whether players are receiving enough for what they provide between the lines.
"Everybody's curious," Northwestern athletic director Jim Phillips said.
Phillips on Tuesday
addressed the unionization effort
by the Wildcats football team in depth for the first time since it launched in January. During a break at the Big Ten ADs meetings, he outlined why he opposes a union but also praised the Northwestern players for raising issues that need to be addressed in a collegiate model that has been too resistant to change.
He's proud of the issues players have raised and not upset by the attention brought on Northwestern's program.
"I know [unionization] is not the right mechanism for change nationally, but areas of welfare and health and safety, those are the right things for us to be talking about," Phillips said. "There are some real positive residuals that have occurred from the conversation about unionization."
Phillips thinks players deserve not only a voice, but voting power on major issues that affect them. Players had been consulted in an advisory role in the past, but it's not enough.
"No one is living the experience like they are," he said. "We can do that in a way that makes sense, and it's necessary. I'm excited about it, and you're going to see some of the movement, like the unlimited meals. You're going to see some things on cost of attendance that we have to get our arms around.
"We have to make sure we're providing the necessary resources."
Northwestern is awaiting a decision on its appeal of the decision by the Chicago regional director of the National Labor Relations Board that its football players are employees of the school. Players voted April 25 on whether to form a union, but the ballots have been sealed and not counted, pending the outcome of the appeal.
Phillips opposes a union for several reasons:
College sports are not the minor leagues, and the college model doesn't include an employee-employer relationship. Phillips noted that more than 98 percent of all college athletes don't go on to play professionally.
Third parties shouldn't come between players and their coaches/administrators.
It would hurt the accessibility and affordability of higher education.
"Accessibility and affordability are the two things college athletics has provided for a number of years," Phillips said. "It's given a population in our world, certainly in our country, the opportunity to use sport to access great education."
But what about all the money major-conference schools are generating, and the even bigger projected revenues in the near future? Phillips pointed to the low percentage of athletic departments that operate in the black.
"If we want to ignore broad-based programming and we want to ignore equality and doing things equitable, you're going to get a completely different collegiate model," he said. "I'm not in favor of that. Maybe some people are.
"Are there more things we can and should be thinking about for our student-athletes? Yes. But it needs to be done in a way that really is prudent and equitable and doesn't just pay attention to one sport."
May, 13, 2014
May 13
9:00
AM ET
ROSEMONT, Ill. -- When Big Ten athletic directors and administrators gather each spring, they normally look in the mirror and explore internal issues.
In 2010
, expansion buzz consumed the league's meetings in Chicago; weeks later,
Nebraska
became the conference's 12th member.
In 2011
, the athletic directors and coaches discussed the new football divisions and heard pitches from both Chicago and Indianapolis to host future football championship games. The
2012 meetings
brought more national discussion, particularly about a potential college football playoff.
Last year's gathering
featured presentations about the Big Ten's new bowl lineup and its format for assigning teams to certain locations.
Athletic directors -- along with senior woman administrators and faculty representatives who form the Big Ten's joint group -- gather Tuesday and Wednesday at the Big Ten's swanky office just east of O'Hare Airport. Although this year's meeting site is more private -- previous meetings had been held at Chicago hotels -- the participants will spend most of their time looking beyond the Big Ten's walls and exploring national issues, particularly the
proposed NCAA governance changes
that would give more autonomy to five major conferences (Big Ten, ACC, Big 12, Pac-12 and SEC).
[+] Enlarge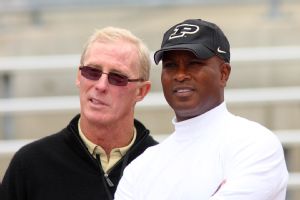 Patrick S Blood/Icon SMIPurdue athletic director Morgan Burke, left, will brief the league on discussions about the likely big changes coming to the NCAA.
"The biggest discussion will center around the NCAA governance," Purdue athletic director Morgan Burke told ESPN.com.
Burke and his Missouri counterpart, Mike Alden, have represented the 351 Division I ADs in discussions with the NCAA about the likely seismic changes in how business is done. The movement to improve conditions for college athletes has gained unprecedented momentum in recent months, spurred not only by the unionization push at Northwestern but by
several antitrust lawsuits
filed
against the NCAA
, the Big Ten and other major conferences.
Big Ten attorneys will brief the ADs this week.
"There are some things where autonomy makes a lot of sense if you're being attacked," Burke said. "Right now, you've got to have some freedom to try to address the issues."
One of those issues is increasing the value of scholarships up to federal cost-of-attendance figures. The Big Ten discussed a cost-of-attendance proposal
three springs ago at its meetings
, but the plan never was approved nationally as schools with smaller budgets, but equal voting power, voted it down.
"That's a very significant issue that needs to be resolved," Burke said.
Big Ten commissioner
Jim Delany has proposed a voting model
that would make it easier for the major conferences to approve major changes. If three of the five conferences approve a proposal, 60 percent of all schools (39 of 65) would need to vote yes for an item to go through. If four of five conferences approve, only a simple majority would be needed.
Delany believes a stricter voting bar -- two-thirds or three-fourths required for approval -- would be "damaging to all of us."
He likely won't get opposition from Big Ten ADs this week.
"We've been pretty good about that as a conference, trying to make sure we have solidarity," Ohio State athletic director Gene Smith said. "Sometimes we may have some differences on different pieces of legislation, but on this one, we've been pretty aligned all along. So I think we'll come out of there with some recommendations, probably on the voting, probably on the autonomy legislation."
The ADs also will discuss the final steps with integrating new members Maryland and Rutgers, who officially join the league July 1. Last week, the Big Ten announced basketball initiatives in both
New York
and
Washington, D.C.
Delany will spend much of the next six weeks on the East Coast promoting the new arrivals.
While leagues like the
SEC
and
ACC
recently announced football schedule models -- both are staying at eight conference games -- the Big Ten last year
approved a nine-game league schedule beginning in 2016
.
"I don't see us backing up on that," Burke said.
The ADs will discuss the upcoming four-team playoff and hear from Delany, who attended an FBS commissioners meeting last week in Texas. Both Delany and Wisconsin athletic director Barry Alvarez, a member of the playoff selection committee, can provide more details to the group.
"We've been more interested in how is it going to work," Smith said. "If you're playing in the first game, who's coordinating a lot of the logistics? Are they scheduling the flights for you? How are the tickets going to work for families? All that type of stuff, nobody's really talking about."
The ADs also will discuss football non-league scheduling, which remains a challenge despite the selection committee stating it will value schedule strength in picking the top four. They also will be briefed on the league's new bowl selection process, which
uses a tiered system
rather than a traditional order and gives the league more power to determine who goes where.
Although past spring meetings have produced some newsy items, this week's get-together could be quiet.
"I don't see any real major issues," Smith said. "This might be a pretty boring meeting."