Big Ten:

B1G summer QB 13
July, 3, 2013
7/03/13
3:00
PM ET
We've been taking a look at the truly open quarterback competitions around the Big Ten, where they stand and what direction they might be heading as fall camp creeps upon us. We wrap up the series today with an examination of Michigan State's situation under center.
The candidates:
Andrew Maxwell
, 6-foot-3, 209 pounds, senior;
Connor Cook
, 6-4, 215, sophomore;
Tyler O'Connor
, 6-3, 212, redshirt freshman; Damion Terry, 6-4, 220, incoming freshman.
Statistics:
Maxwell started all 13 games for the Spartans last year, completing 52.5 percent of his passes for 2,606 yards and 13 touchdowns, with nine interceptions. Cook appeared in only three contests but led the game-winning drive at the end of the Buffalo Wild Wings Bowl against TCU. He was 4-of-11 for 47 yards and a touchdown in that game, his most significant action of the season.
[+] Enlarge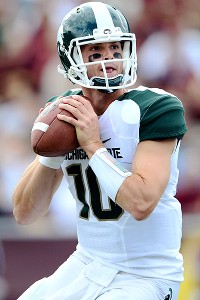 Andrew Weber/US PresswireAndrew Maxwell threw for 2,606 yards and 13 touchdowns last season.
Where things stand:
Head coach Mark Dantonio has said many times this offseason that Maxwell remains his No. 1 quarterback for now. But Cook is pushing him hard and had the better spring game of the two. Meanwhile, Terry will offer an intriguing blend of skills that the coaches are anxious to see next month in practice. The Spartans have talked about playing multiple quarterbacks and having specific packages for their more mobile guys (Terry and Cook).
Summer buzz:
In the closing minutes of the Spartans' final game of the 2012 season, with Maxwell on the sideline and Cook sparking the offense, it appeared as if a changing of the guard were taking place.
Not so fast. Maxwell, who drew his share of detractors with his uneven play last season, still has a big edge in experience and looks like the guy who will take the first snap of the 2013 season.
"He did a nice job this spring of being more decisive and more accurate," quarterbacks coach Brad Salem told ESPN.com, "and really just growing as a quarterback."
If you polled most Michigan State fans, however, they'd probably rather see Cook under center. The sophomore continues to breathe down Maxwell's neck and has shown more ability to make plays on the move.
"He is a guy who can extend things," Salem said. "You saw it in the bowl game. You see it around the country -- those are qualities people are looking for in the recruiting process. When things break down, can you make something happen? He has those abilities.
"For him, it's just about commanding the offense, being a leader, his decision making. He needs to continue working on his footwork, his mechanics and his fundamentals, and he's been working diligently on it this offseason and this summer."
O'Connor is clearly No. 3 in the race and "showed a little bit at times that he's a freshman" during the spring, Salem said. But he's got a strong arm and will give Michigan State much more depth than it had at the quarterback spot a year ago at this time.
The wild card is Terry, a much different kind of quarterback than Dantonio has had during his time in East Lansing with his combination of running and passing skills. If he has a role in 2013, it will likely come in special situational use. But you never know.
"Whether you're a senior or a redshirt freshman, you're going to have equal opportunity, and if you're the best player, you will play," Dantonio told reporters late last month. "I think that's a lot to ask for a young player; I've never had a freshman quarterback and this will be my 10th year coaching. [But] Terry is extremely talented."
Dantonio has said he will play more than one quarterback at least early in the season if for no other reason than to get someone ready for 2014, after Maxwell graduates. He thinks Maxwell was hurt by not playing more in 2011, the same way Kirk Cousins suffered from a lack of experience in 2009.
Maxwell almost certainly will get the first crack at the starting job. But Salem said all of the quarterbacks have similar work ethics and have shown good leadership this summer. The Spartans feel like they're in much better shape than they were heading into last season.
"At least we've got two guys who have been there and played in games," Salem said. "That comfort level and experience is really immeasurable."
More summer QB checkup:
June, 26, 2013
6/26/13
1:00
PM ET
Quarterback competitions
took center stage around the Big Ten this spring
and will continue to do so when preseason camps kick off in August. As camp approaches, we're examining each of the unsettled signal-caller races in the league, where they stand and what needs to be done in the all important summer months.
Penn State is in the spotlight today.
The candidates:
Tyler Ferguson
, 6-foot-3, 213 pounds, sophomore; Christian Hackenberg, 6-foot-3, 215 pounds, freshman
Statistics:
Neither candidate has played in an FBS game. Ferguson passed for 2,614 yards and 22 touchdowns in 10 games for College of the Sequoias in Visalia, Calif., before transferring to Penn State; Hackenberg passed for 2,144 yards and 24 touchdowns and added 436 rush yards and three scores for Fork Union Military Academy.
Where things stand:
Ferguson and Hackenberg are listed as co-starters on
Penn State's summer depth chart
entering camp, which kicks off Aug. 5. Ferguson competed with
Steven Bench
throughout spring practice and created a bit of separation, as
Bench opted to transfer
after being informed he wouldn't be in the mix for the starting job in preseason camp. Hackenberg comes to Penn State as a decorated recruit, the nation's No. 1 quarterback in the 2012 class according to RecruitingNation. Although he could be a redshirt candidate if Ferguson wins the job, he'll have every opportunity to become Penn State's starter right away.
[+] Enlarge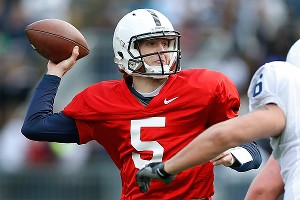 AP Photo/Keith SrakocicTyler Ferguson has the edge in Penn State's QB battle, but will he hold off Christian Hackenberg?
Summer buzz:
Matt McGloin showed last spring and summer that despite the complexities of Bill O'Brien's NFL-style offense, a quarterback can absorb enough of the system in a relatively short timespan. McGloin surprised many by leading the Big Ten in passing yards (3,266) and passing touchdowns (24), as he helped Penn State win eight of its final 10 games.
It's up to Ferguson and Hackenberg to follow a similar path.
Penn State's safest bet in terms of offense system knowledge would have been Bench, who backed up McGloin last year and went through all of spring practice. But O'Brien clearly saw more potential with Ferguson and Hackenberg even though neither has taken a snap in an FBS game.
Ferguson impressed O'Brien with his accuracy, instincts and field vision this spring. He graded well when tested on the offense, although O'Brien hopes to see a McGloin-like jump during the summer, when players must work on their own.
"What gives you confidence is not only your own skill set but your competency in the system," O'Brien told ESPN.com "When you know it like the back of your hand, it becomes easier to go out there and perform and take advantage of the things that you do well, which is throw the ball and have good vision on the field. [Ferguson] improved every week, every day. At the end, from where he started, I felt like he had picked it up pretty well. Does he know everything? No, of course not. That would be an unfair expectation.
"Last year, Matt McGloin made a lot of strides during the summer. That's what Tyler needed to do."
Some might argue it's an unfair expectation for Hackenberg to absorb the offense in a matter of weeks, but O'Brien thinks it can be done. Hackenberg, after all, isn't a typical incoming freshman. He impressed O'Brien throughout the recruiting process, from sticking with his pledge to Penn State despite the heavy sanctions imposed on the program, to handling the media spotlight as a nationally elite prospect.
Hackenberg's maturity carries over to the field.
"When you would talk to him over the phone or in person, you could talk football with him," O'Brien said. "He understood what Cover 2 was, Cover 1, Cover 3. He understood what a one-back formation was and a three-by-one formation. There's some things I noticed during the recruiting process that I think will carry over to college.
"Christian has some really good attributes coming in the door."
O'Brien has no strict timetable on when he'll name a starter or when more of the practice reps will be directed to one quarterback. Each quarterback learns in his own way, O'Brien said, and while the staff knows what Ferguson can handle, it will be important to assess Hackenberg early in camp.
"Certainly we can't throw the kitchen sink at either one of them early on," O'Brien said. "We've got to make sure they can go out there and function. We've got to do a great job of that early on in training camp, and give them the offense bit by bit and let them grow. We do a lot of 11-on-11 drills, seven-on-seven drills during training camp, so we'll have a good idea of where they stand a few weeks into training camp."
O'Brien is focused more on the new quarterbacks absorbing the system than establishing themselves as team leaders. Despite losing a special senior class, Penn State boasts strong leadership throughout its roster, and Ferguson and Hackenberg will have plenty of "good mentors" at their disposal.
"It's hard to assume a leadership role when you're basically a rookie quarterback," O'Brien said. "You have to come in and work hard in the weight room, which I believe Tyler has done. You have to go out on the practice field and perform and work hard and gain the respect of your teammates. Those are difficult things, and that'll come as time goes on."
The redshirt debate surrounding Hackenberg continues among Penn State fans, and a good case can be made that sitting him out this year is best for the program's future, especially with three more years of postseason sanctions. But O'Brien is focused on the moment.
"Whatever decision I make is always in the best interest of the football team," he said, "not what's good for the individual kid or the individual coach or what have you. I don't know when that'll happen. We've got to let it play out."
More summer QB checkup:
June, 24, 2013
6/24/13
9:00
AM ET
Quarterback competitions
took center stage around the Big Ten this spring
and will continue to do so when preseason camps kick off in August. As camp approaches, we're examining each of the unsettled signal-caller races in the league, where they stand and what needs to be done in the all important summer months.
In the spotlight today: Wisconsin
The candidates:
Joel Stave
, 6-foot-5, 227 pounds, redshirt sophomore;
Curt Phillips
, 6-3, 215, sixth-year senior; Tanner McEvoy, 6-6, 215, redshirt sophomore (junior college transfer).
Statistics:
Stave took over the starting job from
Danny O'Brien
in Week 4 last season, throwing for 1,104 yards, six touchdowns and three interceptions in six games before suffering a broken collarbone against Michigan State. Phillips then assumed command of the offense for the rest of the season, passing for 540 yards, five touchdowns and two interceptions in the Badgers' final five contests. Stave completed 58.8 percent of his attempts, compared to 56.8 for Phillips. McEvoy originally signed with South Carolina before playing one season at Arizona Western, where he completed 68.1 percent of his passes for 1,813 yards, with 25 touchdowns and four interceptions.
[+] Enlarge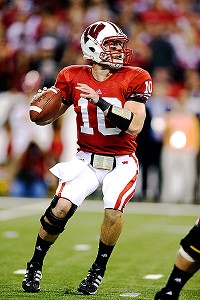 AP Photo/David StlukaDespite starting five games for the Badgers in 2012, Curt Phillips finds himself competing with two others for the starting quarterback job.
Where things stand:
Stave and Phillips emerged as 1A and 1B from a pack of contenders this spring that included O'Brien and redshirt freshman
Bart Houston
; O'Brien has since announced his plans to transfer, while Houston -- who was injured much of last year -- appears destined to serve this season as an understudy. McEvoy arrived on campus a few weeks ago and will be given a chance to win the job before the season kicks off.
Summer buzz:
After fielding a series of questions about his quarterback derby, Wisconsin coach Gary Andersen lets out a little chuckle. That's because he remembers hearing about almost all of them in the 2011 preseason when he was at Utah State.
You coach long enough, and you've seen just about everything before. Still, the Badgers have a very interesting -- if not totally unprecedented -- situation at the most important position. They've got two guys who started large chunks of last season but are almost like rookies in a new system. And then there's the talented newcomer who could usurp them both.
If the season started today, either Stave or Phillips would get the call. Each has his strengths. Here's Andersen on Phillips, who battled back from a series of knee injuries to lead Wisconsin to the Big Ten championship last year:
"He's a very savvy, cagey veteran. He's very smart and understands his talent. He's a good leader -- kids respect him for what he's gone through in fighting through injuries. He leads by example with his work ethic, toughness and, frankly, his want-to to play football."
Andersen on Stave:
"Joel is a very talented young player who has some starts underneath his belt. The challenge for him is to continually grow and develop and absorb the offense. He throws the ball well. He looks like a quarterback. He walks in a room and you're gonna say, yep, that's a quarterback. It's harder for a young kid to come in and develop that leadership role, but he worked on it this spring."
Andersen likes what he has in both Phillips and Stave, and says the two just have to keep learning new offensive coordinator Andy Ludwig's system this summer so that they can play without thinking in preseason camp. The wild card this August will be McEvoy.
The only quarterback on the roster that Andersen recruited, McEvoy will have to play some serious catchup this summer in order to be at the same level as Stave and Phillips in the preseason. But he's got obvious physical tools.
"Tanner has a very impressive skill set," Andersen said. "He has the ability to hurt you with his arm, his mind and his legs, and that's important. Coming from a defensive background, I know that when a quarterback has all three of those, it's much more difficult to defend than if he only has one of the three or two of the three. It becomes a pretty vicious weapon."
Andersen says McEvoy will be given a chance to win the starting job, and all three quarterbacks will take first-team reps in training camp. He said the Badgers have enough depth at other positions that they could run two pass skeleton drills at the same time during practice, ensuring everyone is getting enough work.
As for a timetable on naming a starter? Andersen says there isn't one.
"We'll see how it goes through camp," he said. "When it happens, I believe it will happen. I've been through this a couple of times, and coach Ludwig has been through this a number of times. So we'll let it filter out, and I think it will be a pretty clear process."
For now, Andersen can't even say whether he'd be willing to play more than one quarterback this season.
"We'll really cross that bridge when we come to it," he said. "I would like to have a quarterback, yes, but I also want to make sure we have two quarterbacks ready to roll within our scheme."
Andersen has gone an unconventional route before, choosing true freshman
Chuckie Keeton
as his starter in that 2011 derby at Utah State. He'll keep an open mind during this latest competition.
"All three guys are going to compete," he said, "and may the best man win."
More summer QB checkup:
June, 18, 2013
6/18/13
2:30
PM ET
Quarterback competitions
took center stage around the Big Ten this spring
and will continue to do so when preseason camps kick off in August. As camp approaches, we're examining each of the unsettled signal-caller races in the league, where they stand and what needs to be done in the all important summer months.
Up next, Indiana.
The candidates:
Tre Roberson
, 6-foot, 200, redshirt sophomore;
Cameron Coffman
, 6-2, 203, junior;
Nate Sudfeld
, 6-5, 234, sophomore
Statistics:
Roberson was Indiana's opening-day starter in 2012 and completed 33 of 50 passes for 368 yards and two touchdowns with an interception, to go along with 133 rush yards and three touchdowns, before suffering a season-ending leg injury in Week 2. He started for the Hoosiers as a freshman in 2011 and had 937 pass yards, 426 rush yards and five touchdowns (3 pass, 2 rush). Coffman completed 247 of 407 attempts for 2,734 yards with 15 touchdowns and 11 interceptions in relief of Roberson in 2012. Sudfeld completed 51 of 82 passes for 632 yards with seven touchdowns and one interception last season.
[+] Enlarge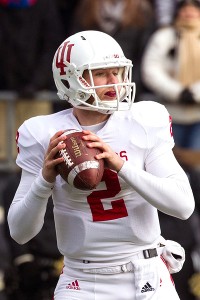 AP Photo/Damen Jackson via Triple Play New MediaCameron Coffman got the most playing time last season of any of the 2013 starting QB contenders.
Where things stand:
It's a
true dead heat
after the spring, as all three quarterbacks worked with the first-team offense. Coffman and Sudfeld both stood out during the spring game, as Coffman completed 17 of 23 passes for 174 yards and two touchdowns, while Sudfeld completed 14 of 16 passes for 181 yards and a touchdown.
Summer buzz:
Hoosiers offensive coordinator Seth Littrell knows decision day is coming. Indiana eventually will have to reduce its candidate pool from three to two and, eventually, to a starter for the Aug. 29 season opener against Indiana State.
But there's not a huge rush, and Littrell doesn't sound anxious at all about the group.
"All three of those guys have repped so much with our core group," Littrell recently told ESPN.com. "Some offenses have to replace a bunch of guys, and it's a little bit more important to build that continuity earlier than maybe with our group. It's a little bit more important [to make a decision] when you have a bunch of different guys coming back and you don't have that continuity."
The coaches charted every competitive drill the quarterbacks went through in spring practice, and according to Littrell, "it's not hard to tell who's winning the day." Each quarterback got a taste of victory this spring.
"All three of those guys competed at a high level," Littrell said. "Someone's obviously going to set themselves apart. Someone's going to win the job. But we don't have a date set. We're just feeling it out, seeing how it goes. Our offense believes in all three of those guys. They've all helped us."
The intrigue at Indiana surrounds Roberson, who won the quarterback competition last summer and looked good, albeit against weak competition, in the first two games of the season before breaking his leg against Massachusetts. Roberson made a speedy recovery but
admittedly was a bit rusty with his passing rhythm this spring
, a sentiment Littrell echoed.
The coaches know what Roberson can do as a runner, but they've encouraged him to fight the natural instinct to take off and stand tall in the pocket and make throws. Indiana led the Big Ten in passing last season and returns arguably the league's best group of receivers and tight ends. Although the quarterback run will be a bigger part of the offense if Roberson again wins the job, Indiana also wants to protect the sophomore.
"When he's on point, he's good," Littrell said. "He throws the ball as well as any of them, but he's been out of it a little bit [longer]. Growing up, he was a spread-quarterback-run-game guy, so he didn't throw it as much. So especially early on, he hasn't been as comfortable. Some of those habits revert back. Early last fall when we went with him as the starting quarterback for Game 1, he really got pretty comfortable with that role. He just needs to relax in the pocket and again, get the timing back down.
"I think he's ahead of where he was last fall right now."
The difference is that both Coffman and Sudfeld also are much better after logging significant field time, especially Coffman, against Big Ten defenses in 2012. Both Coffman and Sudfeld are pass-first quarterbacks who can effectively run Indiana's up-tempo, high-percentage-pass driven offense, but each has his unique style.
"Nate's a bigger, taller, rangier guy," Littrell said. "It's not hard for him to see over the line because he's a big 6-5 kid. He can stand back in the pocket. He's pretty good at throwing on a rhythm, and he's not going to flee as fast. And Cam's one of those baller guys. The thing about Cam is he just goes out and makes plays. He can do a little bit of both. He slings it around pretty good, but at the same time, he can hurt you with some quarterback run."
All three quarterback are familiar with the scheme, the other personnel on offense and the challenges the Big Ten poses. Although each has areas to improve, leadership is the unifying focus for the summer. Head coach
Kevin Wilson is looking for a winner at quarterback
, and Littrell has encouraged the signal-callers to experiment with plays and formations during summer workouts and then report back to the coaches what worked.
"After the spring, it doesn't stop," Littrell said. "It's all year round. We can't be with 'em, we can't coach 'em, we can't tell 'em what to do. But that's where leadership comes in."
More summer QB checkup:
June, 13, 2013
6/13/13
10:00
AM ET
Quarterback competitions
took center stage around the Big Ten this spring
and will continue to do so when preseason camps kick off in August. As camp approaches, we're examining each of the unsettled signal caller races in the league, where they stand and what needs to be done in the all important summer months.
Next up, Iowa.
The candidates:
Jake Rudock
, 6-3, 205, sophomore;
Cody Sokol
, 6-2, 215, junior;
C.J. Beathard
, 6-2, 195, redshirt freshman
[+] Enlarge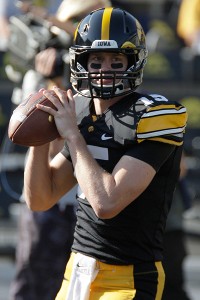 AP Photo/Matt QuinnanJake Rudock emerged from the spring with a slight edge in Iowa's wide-open QB competition.
Statistics:
Rudock didn't see any game action in 2012 despite being the primary backup to Hawkeyes starter
James Vandenberg
. Sokol redshirted at Iowa last season after passing for 3,807 yards and 43 touchdowns as a sophomore, and 2,443 yards and 24 touchdowns as a freshman at Scottsdale (Ariz.) Community College. Beathard has yet to see action in a collegiate game.
Where things stand:
Rudock emerged from the spring with a slight edge, and head coach Kirk Ferentz said last month that
if the season started immediately, Rudock would be the starter
. But the race remains fairly close, and while Rudock and Sokol have a bit more experience, Beathard can catch up with a strong summer.
Rudock looked the best in the two open scrimmages
Iowa held this spring, but Sokol wasn't far behind and Beathard also had his moments.
Summer buzz:
Iowa lacks a quarterback who has taken a snap in an FBS game, so not surprisingly, Ferentz didn't expect to make any big decisions coming out of the spring.
Rudock and Sokol practiced with the second-team offense in 2012, while Beathard spent those workouts running the scout team. Spring practice provided a platform for all three to finally work with the team's top receivers, tight ends, backs and linemen. Ferentz achieved his goal of an equal and fair competition in the spring, but he expects all three quarterbacks to look different when the team reconvenes in August.
"It's fair to say that Jake and Cody were at a little different plane than C.J.," Ferentz recently told ESPN.com, "but the biggest thing now after going through 15 days of spring practice that this is where they have an opportunity to go back and look at that tape in a more sterile environment and see what they can pull from it. And, as they work with their teammates over the course of the summer, hopefully sharpen their skills a little bit.
"Ultimately, it's what they do in August that's going to determine how this thing shakes out."
Ferentz is seeking proficiency, decision-making, accuracy, ball protection and the ability to move the offense in the quarterback who starts for Iowa in 2013. Although all three quarterbacks have what Ferentz called a "workable" knowledge of the offense, which sputtered under first-year coordinator Greg Davis last season, they all must make strides during the summer.
Inexperience is the common denominator, and all three candidates have the needed throwing ability and mobility, Ferentz said. But there are some differences with each, which is nothing new at Iowa.
"We've had all kinds of quarterbacks play here historically," Ferentz said. "Brad Banks is a very different quarterback from Nathan Chandler, and Drew Tate was a very different quarterback from those guys. And then [Ricky] Stanzi came along later and certainly was different than all three of those guys. We don't have the luxury of being locked in, because we don't always get the first choice. If you're able to draft in the first round every time, you can figure out, 'Hey, this is what we're looking for.'
"But we try to find the guy who we think is best in every recruiting class, and as they come along, we'll try to bend toward their skill set."
Rudock and Sokol have a slight leg up entering camp, but Beathard isn't "miles behind," Ferentz said.
"He's just not quite as knowledgeable right now, for obvious reasons," Ferentz said. "But I could also argue that he's got the best opportunity to gain ground and change more than the other guys, because this is a time where, if a summer is done right for a college player, they can improve at any position. The less experienced a guy is, the more opportunity there is to look more significantly different than a guy who has played three years."
Ferentz doesn't have a rigid timetable for determining the starter in camp, noting that if separation doesn't take place naturally, he'll need to make some decisions and divide the reps differently. At some point in August, "you've got to let a guy work with the first team and prepare to be the starter," he said.
What is done now, while the quarterbacks work with teammates away from the coaches, likely will shape who emerges.
"All three need to take what they learned in the spring," Ferentz said. "The challenge now is to push their game forward."
June, 11, 2013
6/11/13
2:30
PM ET
Quarterback competitions
took center stage around the Big Ten this spring
and will continue to do so when preseason camps kick off in August. As camp approaches, we're examining each of the unsettled signal caller races in the league, where they stand and what needs to be done in the all important summer months.
First up, Purdue.
The candidates:
Rob Henry
, 6-2, 200, senior; Danny Etling, 6-3, 215, freshman;
Austin Appleby
, 6-5, 235, redshirt freshman
Statistics:
Henry started seven games at quarterback in 2010 and passed for 996 yards with eight touchdowns and seven interceptions. He added 547 rush yards and four touchdowns on 104 attempts. Henry missed the 2011 season because of injury and completed 21 of 38 passes as a reserve in 2012. Neither Etling nor Appleby has appeared in a college game.
[+] Enlarge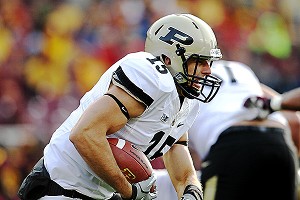 Brace Hemmelgarn/USA TODAY SportsKnown for his running ability, Purdue QB Rob Henry has impressed coach Darrell Hazell with his passing during the offseason.
Where things stand:
Henry and Etling separated themselves toward the end of the spring as both men seemed to pick up the new offense under coordinator John Shoop and head coach Darrell Hazell. Appleby was with the lead group for part of the spring but seemed to fall off toward the end.
Summer buzz:
Unlike some coaches overseeing quarterback races, Hazell is clear about what he has seen, what he's looking for when camp begins and the timetable to select a starter for Purdue's opener Aug. 31 at Cincinnati.
Henry and Etling are certainly the frontrunners right now, but Appleby still has some time to catch up.
"We had two guys really step out and battle -- that would be Robert Henry and Danny Etling," Hazell told ESPN.com. "Those two emerged a little bit. Austin Appleby was a little bit up and down, but those two guys did the best job of taking care of the ball and understanding what we were trying to do.
"They're probably 75 percent of job knowledge and system knowledge, where Austin might be a little bit behind, not much. When it's all said and done, they'll both be closer to 90 percent, 95 percent thinking like the coaches think."
Henry impressed Hazell with his passing. Hazell had heard Henry's first instinct had been to run and use his athleticism, but Henry "stood in there and made some tough throws with people in his face."
Etling, a decorated high school recruit and an Elite 11 finalist, came to Purdue with few questions about his arm strength and other skills. But as a freshman early enrollee, he had to show he could quickly grasp a college offense.
"For a guy that's supposed to be at his prom a couple weeks ago, he was extremely mature," Hazell said. "I think it has a lot to do with his preparation. He's in the office at 6 o'clock in the morning studying film and trying to understand what we're trying to do. He's pretty poised for a young guy."
Hazell places a premium on ball security, the area where Appleby struggled a bit this spring. But Appleby hasn't been written off and will have "a lot of opportunities" to impress the staff in camp. He'll have to act quickly, though, as Henry and Etling will take most of the first-team reps when practices begin.
"We've got to get down to a clear two within the first 10-12 days [of camp]," Hazell said. "You've got to go from there and get these guys a lot of reps, and then you decide which one you want to go with."
Hazell plans to pick a starter two weeks before the opener. All three quarterbacks have areas to upgrade in the summer, whether it's field vision for Etling, pocket passing for Henry or ball security for Appleby.
"They have to have their best summer ever," Hazell said. "Just keep getting better, that's the whole key."