July, 1, 2014
7/01/14
10:30
AM ET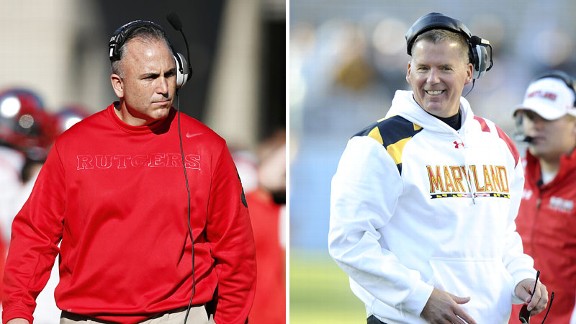 Getty ImagesRutgers' Kyle Flood and Maryland's Randy Edsall say the rewards of joining the B1G trump the risks.
Maryland coach Randy Edsall can still remember that first call.
More than a year ago, as he sat behind his desk mired in day-to-day football operations, his phone buzzed while flashing the number of athletic director Kevin Anderson. "If we have the opportunity to go to the Big Ten," Anderson asked him, "what would you think about that?"
Edsall was well aware of the Terrapins' history as a 1953 charter member of the ACC. Having guided UConn from the FCS to the FBS, he knew all too well the difficulty of such a transition. And in that brief pause, while Anderson waited for an answer, Edsall still wasn't quite certain about fans' potential reaction. But he didn't hesitate.
"I told him if we had the opportunity, we should jump at it," Edsall told ESPN.com, before letting out a laugh. "And if we don't -- then I told him they ought to fire him."
Nearly 200 miles away, in Piscataway, New Jersey, Rutgers head coach Kyle Flood felt similarly. There was no need to weigh the pros and cons of moving up to the Big Ten. The answer was simple: If they invite us, accept the invitation.
"With all the movement that was going on in the world of college football, it was kind of like musical chairs -- and you knew there weren't enough chairs for everyone," Flood said. "We were excited because the Big Ten was our first choice; it was our destination conference."
Neither head coach was particularly forthcoming about when that first call came in, but they both said there was no hesitation on their part. The Big Ten offered more national exposure, increased finances and more prestige. It was a no-brainer.
So on Tuesday, 19 months after officially accepting their invitations, Edsall and Flood have seen those phone calls come full circle. Rutgers and Maryland are now officially members of the Big Ten. And both coaches are hoping to carry this change -- and the accompanying excitement -- and parlay it into a renaissance for their respective programs.
Maryland already watched its
ticket sales climb 35 percent
. Rutgers sold nearly
1,900 more season tickets
by May, and it's already planning to set up an auxiliary press box for its conference opener against Penn State. Neither team has played a conference game -- they technically haven't even been members for 12 hours -- but both coaches have already experienced a positive recruiting impact.
Even the schools' most recent recruiting classes admitted as much, days before reporting to their respective programs.
"I don't want to say it sold me on Maryland, but it was something that was critical to have in the back of my mind during the decision-making process," Maryland freshman defensive end
Jesse Aniebonam
said. "It definitely motivated me to be more excited and more pumped to be joining Maryland's team."
Added Rutgers tailback
Rob Martin
: "Most definitely, being in the Big Ten helped a lot."
That's not to say the moves are without risks. Sure, there are plenty of positives -- but there is no guarantee of success. Will Rutgers become the whipping boy of the East? Can Maryland hold its own in a division with Ohio State, Michigan, Michigan State and Penn State?
Edsall and Flood know those questions are out there. They know this season will set the tone for the futures of their programs, that they are transitioning to a conference with a reputation for physical teams and hard-nosed running games. They know they will have to prove they belong.
"We're the new kid on the block, and you got to go out and earn your stripes," Edsall said. "We do know that. And we've been working very, very hard to make sure we put forth our best effort when we line up this fall."
In the meantime, before that first game, both football staffs will spend an inordinate number of hours in the film room and with cut-ups downloaded to their laptops. Edsall said his staff is doing everything they can to prepare for 10 new opponents on this season's schedule. Flood said his staff took laptops on the road in May, a month before they usually break down opponents, so they could get a jump-start.
But, to both coaches, the thought of spending twice as much time on preparation this season -- after all, those schedules are entirely different -- is worth the work.
"What this [conference move] does is it gives you a pathway to the national championship," Flood said. "It's hard to foresee an undefeated or one-loss Big Ten champion not in the final four. So now you're in one of the five power conferences and you have the opportunity, in the right kind of season, to play for it all.
"Everyone wants that kind of opportunity."
July, 1, 2014
7/01/14
10:15
AM ET
Maryland and Rutgers are entering their first season as members of the Big Ten Conference, and there are plenty of challenges ahead of both programs on the field. Joining the conference also means there will be new roadblocks on the recruiting trail.

Both programs have dealt with Big Ten schools invading their home states, but now that they are conference foes it becomes imperative they land their in-state recruiting targets.

Being able to fight off the competition means knowing who the competition is and the landscape for both programs. Here is a look at what Maryland and Rutgers are up against.


July, 1, 2014
7/01/14
10:00
AM ET
Maryland and Rutgers officially made the leap on Tuesday. In less than two months, they'll be playing football as members of the Big Ten.
We've been talking about this moment since November 2012. Rarely, have the Terrapins and Scarlet Knights been mentioned as contenders in their new league. But change comes fast in college football.
It could happen here, too. On this historic day as the Big Ten goes from 12 to 14, here are six reasons to believe that Maryland and Rutgers, as a pair and individually, can experience success in the Big Ten:
The Big Ten just isn't that good. You've heard about this, right? The league last played for a national championship seven years ago and hasn't won a title since January 2003. It has performed poorly of late against the major-conference competition and went 2-5 in bowls last season, though Michigan State did win the Rose Bowl – the Big Ten's second triumph in Pasadena since New Year's Day 2000. How does any of this impact Maryland and Rutgers, expected by many to finish 6-7 in the Big Ten East Division? It means no conference foe is unbeatable. It means there's hope.
For a while, at least, they're going to get noticed. Rutgers has long operated in the shadow of pro sports in its region, while Maryland football played second fiddle amid the ACC basketball buzz. The Big Ten figures to change some of that. The Terps have already benefited in recruiting from the move. Rutgers needs to capitalize on the attention to make a dent in a deep pool of New Jersey prep talent. You want excitement? Check out Rutgers' Big Ten opener, Sept. 13, when Penn State visits for the first meeting in the series since 1995. Expect Maryland's first Big Ten home game, three weeks later against Ohio State, to equally move the needle.
The Terps are trending up. Coach Randy Edsall took Maryland from a two-win team in 2011 to six in 2012 and seven last year. The Terrapins remained an average program in the ACC, but Edsall and his staff have begun to stack the pieces in place, notably on offense, to make a move in the Big Ten. For quarterback C.J. Brown, the time is now to make a mark in the new league. Brown, from Cranberry Township, Pennsylvania, is a dual threat who knows the Big Ten style. He works well with coordinator Mike Locksley, an innovative offensive mind. Meanwhile, Maryland's incoming class, bolstered by the impending move, ranked 50th nationally, featuring home grown star Damian Prince at offensive tackle.
Deon Long and Stefon Diggs are healthy. Diggs, a junior, and the senior Long form perhaps the best receiving duo in the Big Ten. Both wideouts suffered leg fractures on Oct. 19 in the Terps' 34-10 loss at Wake Forest. Long broke the fibula and tibia in his right leg; Diggs broke the fibula in his right leg, triggering a stretch of four Maryland losses in five games before a regular season-ending win at North Carolina State. Long and Diggs returned for spring practice and appear on track to torment even the best of secondaries in the Big Ten this fall.
Gary Nova is back at the helm. This could go either way, depending on whom you ask at Rutgers. But we say it's good for the Scarlet Knights to go through a transformation such as this in with a steady hand at quarterback. Nova has started 28 games and ranks third in school history with 51 touchdown throws. He was benched in favor of Chas Dodd after winning five of 10 starts in 2013, but Nova has won consistently, dating to his unbeaten days as a starter at Don Bosco Prep. To help his cause, Rutgers returns five starters on the offensive line and its top four rushers.
There's new energy on the Rutgers defense and strength up the middle. Joe Rossi, the 35-year Rutgers defensive coordinator promoted this offseason from special teams coach, offers a new start for a unit that endured struggles last season. Its strength comes against the run, which figures to suit Rutgers better in the Big Ten than it did in the AAC. And through the core of its defense, tackle Darius Hamilton, middle linebacker Kevin Snyder -- who switched spots with linebacker Steve Longa -- and safety Lorenzo Waters form a backbone of veteran leadership.
July, 1, 2014
7/01/14
8:00
AM ET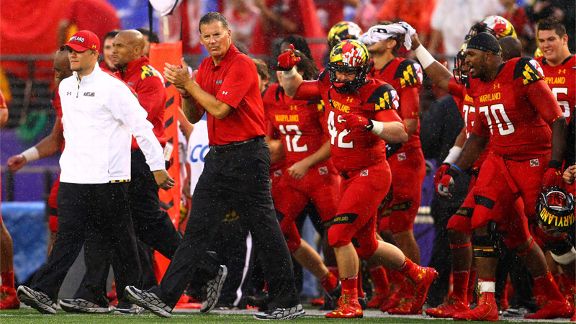 Tony Quinn/Icon SMIThere's no easy winning formula for Randy Edsall and Maryland as they transition to the Big Ten.
Utah coach Kyle Whittingham knew exactly what to expect -- and where to focus -- when his Utes moved from the Mountain West in 2011 to the Pac-12: Recruit better prospects. Upgrade the facilities. Break down new opponents.
But that didn't make the transition any easier.
The Utes made a big splash that first season and finished 8-5, before dropping to 5-7 in the two seasons thereafter. Whittingham knew a drop-off like that was possible -- a move into one of the Power Five carries with it certain risks -- but that doesn't mean any challenges caught the 54-year-old head coach off guard.
"No real surprises," Whittingham told ESPN.com. "Nothing blind-sided us from a football perspective. It was exactly as anticipated. ... The bottom line is it's just a process transitioning. We're not making excuses -- people don't care; we have to win -- but it takes time to ramp up."
With three programs set to officially join a new power conference Tuesday -- Louisville to the ACC; Maryland and Rutgers to the Big Ten -- that process will play out once again. New members know they'll have to adjust, improve and upgrade before taking a step forward in their new conferences. But that doesn't make the task any easier.
Since 2000, a dozen other football programs have transitioned into one of the Power Five conferences. And, in their first seasons, only three teams improved upon their previous year's record -- with just two watching their win total increase by more than one. For most teams, the acclimation has been gradual.
"There are no shortcuts," Whittingham added. "But I don't think there's anything that's undiscovered or a secret. It's pretty simple and pretty plain."
In one interview after another, five coaches told ESPN.com the same three keys for transitioning successfully: improve recruiting, upgrade facilities and figure out those new teams. That really shouldn't come as a shock, as those tips are useful for any team in any circumstance. But when it comes to transitioning, several coaches said, those priorities are magnified.
All of a sudden, during that conference transition, Utah's great facilities in the Mountain West didn't quite pass muster with USC's 110,000-square-foot sports facility or Oregon's $68 million football building. So it unveiled its
own new facility last fall
. In 2004, Virginia Tech's old Big East recruiting footprint wasn't enough to dominate long-term in the ACC. So the staff immediately sought out prospects in Georgia and the Carolinas. And, in 2005, Boston College's staff was forced to scout nine new opponents on a schedule that ballooned from No. 74 in terms of strength to No. 22. So, even during "off time," some coaches stared at their laptop screens morning to night.
Each team needed to improve in that area immediately or risk falling behind their conference foes. Transitioning is a constant arms race, after all, a game where teams that tread water end up sinking. There's no such thing as being stationary in college football, especially during such a transition. Especially during that first season.
"It's definitely more of a burden that first season, for sure. No doubt," said former Boston College assistant Jerry Petercuskie, who helped oversee the Eagles' transition to the ACC and currently coaches at FCS Elon. "But there's no magic in it. It's just getting your players to play and adapting to the enemy."
Truthfully, several coaches said, there's not much they can do to quicken that Year 1 transition. Payoffs in recruiting and facility upgrades aren't immediate; the main short-term advances come from locking yourself in the film room and studying up on new opponents.
In other words, the recipe for such immediate success isn't a big secret either. Of the three teams that did improve their record that first season, they all returned solid teams that boasted solid quarterbacks. Texas A&M had Heisman winner Johnny Manziel (7-6 record to 11-2), Virginia Tech started first-team All-ACC QB Bryan Randall (8-5 to 10-3), and Pitt had NFL draft pick Tom Savage under center (6-7 to 7-6).
So, until that increased recruiting focus starts to yield changes on the field, most coaches during the transition spend a considerably higher amount of time figuring out opposing schemes, opponents and situations.
"When you're away from the office, every coach is looking at the opponent. You need to figure out that new enemy," Petercuskie said. "[Coaches] are a paranoid group of people. We don't want to go out on a Saturday afternoon in front of a national TV audience and get embarrassed. So we're going to do whatever we have to do."
Added Tom Bradley, who coached at Penn State during its move to the Big Ten and is currently the senior associate head coach at WVU: "I would say it took a couple of years for us to really get a beat on teams -- to understand the fans and feel comfortable with the climate you're entering. What do they like to do in certain situations? Not knowing that definitely made it harder."
No one can say for sure exactly how Louisville, Rutgers and Maryland will fare in their new conferences: Virginia Tech assistant Charley Wiles believes the Terrapins are already a bowl-caliber team; Temple assistant Ed Foley thinks Rutgers will wind up in the middle of the pack. But everyone knows what these teams have to do to succeed.
They can't win in Year 1 without a solid group of returners. They have to upgrade their facilities to stay competitive. And above all -- Whittingham said this was 80 percent of the transition – they need to recruit well. Do all that, and the wins will roll in faster than the fans' question marks.
Transitioning successfully is as simple -- and as difficult -- as that.
June, 30, 2014
6/30/14
2:35
PM ET
Whether you're ready or not, Maryland and Rutgers officially become Big Ten members on Tuesday.
And the league is welcoming its two newest schools with a pair of celebrations in the East, which is now a Big Ten region.
Festivities began for Maryland on Monday with the official launch of the Terrapins' new Big Ten inaugural season apparel at the Under Armour Brand House in Baltimore. Big Ten commissioner Jim Delany attended the ceremony, along with Maryland athletic director Kevin Anderson and other Terrapins coaches and staff. Delany showed off some of the new gear in this photo:
The first official piece of Maryland @bigtenconf apparel presented to @kbaterp and Commissioner Jim Delany! pic.twitter.com/zHpA2Nul6X

— Maryland Athletics (@umterps) June 30, 2014
The celebration was set to continue Monday night at Nationals Park, where Maryland and the Big Ten Network will host a block party before the Washington Nationals take on the Colorado Rockies. The league mascots also were on the loose in Washington D.C., leading to some fun pictures like this one:
Love, the #B1G mascots #B1GWelcome pic.twitter.com/40znA8G0uM

— Big Ten Conference (@bigtenconf) June 30, 2014
And this one:
Where's the vertical, @UWBuckyBadger?!? (photo: @bigtenconf) pic.twitter.com/h6aMwWIQyp

— Brent Yarina (@BTNBrentYarina) June 30, 2014
And, OK, one more, because who can get enough mascot pictures?
This is fun: @bigtenconf mascots are on the loose in D.C., and they're chronicling it all - http://t.co/XwZBgaqPn1. pic.twitter.com/hiqQBmtfeR

— Brent Yarina (@BTNBrentYarina) June 30, 2014
Maryland will continue to recognize its entry into the Big Ten with an on-campus party at Mitchell Field from noon to 1:30 p.m on Tuesday. The event will include the unveiling of a special Big Ten ice cream.
Rutgers gets its day in the sun on Tuesday, as Delany will visit the campus for the "R B1G Party" at High Point Solutions Stadium. The event begins at 7 p.m. and is free for fans to attend. A fireworks display will begin around 9 p.m.
So, yeah, this is all happening. We'll have more on the official Big Ten entrance of Rutgers and Maryland in the blog on Tuesday.