December, 31, 2012
12/31/12
1:30
PM ET
Ohio State posted one of the great "What might have been?" seasons in the history of college football this year.
Just imagine what might have happened had the unbeaten Buckeyes, say, anticipated oncoming NCAA sanctions and self-imposed a bowl ban last year, so they would have finished 6-6 instead of 6-7, thereby matching the most losses in school history.
[+] Enlarge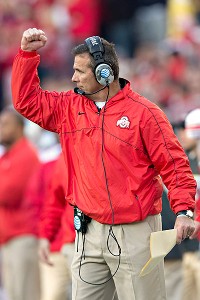 AP Photo/Cal Sport MediaUrban Meyer remembers clearly and fondly a win at Northwestern while at Bowling Green
That might have completely transformed the 2012-13 postseason. It certainly would have made for a much better Rose Bowl, however things played out.
Consider:
It's possible 12-0 Ohio State would be playing Notre Dame for the national title, instead of once-beaten Alabama. That would have ended the SEC's national title streak at six.

If the Buckeyes were headed to South Florida, the Rose Bowl would have had first pick among the remaining BCS bowl eligible teams. That probably would have given us a scintillating Florida-Stanford, SEC-Pac-12 matchup -- No. 3 vs. No. 6 -- instead of the Cardinal vs. five-loss, unranked Wisconsin.

Or, if the BCS standings still had Alabama ahead of Ohio State, which would have been highly controversial, Ohio State-Stanford would have been a classic Big Ten-Pac-12 matchup between elite, highly rated teams.
Of course, this speculation includes the assumption that the NCAA would have been satisfied with the Buckeyes just sitting out the 2011 postseason. It rarely pays to assume what the NCAA will do. Based on wanting to make an example out of Ohio State for a scandal that included extra benefits violations involving memorabilia, tattoos and cash, as well as a cover-up by former coach Jim Tressel, the NCAA quite possibly still could have banned the Buckeyes from the 2012 postseason.
But you never know.
That is the excruciating discussion Ohio State fans have had among themselves all season as the wins piled up in coach Urban Meyer's first campaign. Many have dumped the blame on athletic director Gene Smith, who was admittedly -- and curiously -- surprised when the NCAA opted to ban the Buckeyes from the 2012 postseason.
It's apparently a sore subject around Columbus. Ohio State declined an interview request for this story, with spokesman Jerry Emig saying "A would of, should of, could of, wouldn't read well."
It probably would have read better than the Badgers' record, which features more losses than five other Big Ten teams.
Of course, the Rose Bowl and its participants are trying to grin through the curious circumstances that created a less-than-thrilling matchup. As could be expected, Stanford folks are going out of their way to not slight Wisconsin. The Cardinal, said coach David Shaw, won't take the Badgers lightly.
"We're not built like that," he said. "Our guys aren't built like that. We talk a lot about respecting the game. The game deserves our respect. Our opponent deserves our respect. We can't change how we play based on who we play. How we play never changes. We're going to play fast, we're going to play physical, we're going to play our style of football, and we don't take our foot off the gas pedal. Never, ever anyway. We're going to respect these guys. These guys have earned our respect. Watch the film, look at the scoreboard, and watch the film, and these guys will get your respect."
There is good news here, for Ohio State, for the Rose Bowl and for the Pac-12.
While the Big Ten has been on an extended swoon in terms of national perception, and one of its top teams, Penn State, has been wiped off the map by NCAA sanctions, Ohio State is clearly rising under Meyer. The Buckeyes will be national title contenders next fall. Or, failing that, they could become a worthy Rose Bowl foe.
As college football moves forward in 2014 with a four-team playoff, the Pac-12 needs the Big Ten to produce elite teams -- and vice versa -- or the continuing and evolving Rose Bowl partnership will suffer.
This "What Might Have Been Season" for Ohio State, which has broadly affected teams coast-to-coast, is almost certainly an anomaly.
That might not salve the immediate pain for the Buckeyes, or help make this year's Rose Bowl any better, but a hopeful glance toward the horizon is all we have for you.
January, 5, 2012
1/05/12
4:01
PM ET
Has something seemed odd to you about the BCS bowls this year? Does it seem like ... oh wait, West Virginia just scored again.
Does it seem like ... wait, there goes
De'Anthony Thomas
. Don't think he'll get caught from behind.
Does it seem like ... wait, would somebody please tackle
Justin Blackmon
?
Does it seem like there have been a lot of points this bowl season?
It's not just you. There have been a lot of points. More points than ever before. And by huge quantities.
So far, BCS bowl teams have averaged a total of 77 points in the Rose, Fiesta, Orange and Sugar bowls. That, folks, is nearly 26 points more than last year (51.6). And it's nearly 11 points better than the previous high of 66.3 from 2001-02.
Perhaps pairing two SEC teams in the title game has created a black hole sucking all defensive stinginess into the LSU-Alabama rematch, which you might recall went 9-6 with no touchdowns in their first meeting. West Virginia scored 10 touchdowns -- 10! -- against Clemson. Alabama gave up 12 TDs all season.
Speaking of Clemson: ACC. Well, well, well.
After the Tigers ingloriously fell 70-33 to the Mountaineers, we got our second story from the BCS bowl season: The ACC's insistence on throwing up on itself in BCS bowl games.
The conference that was once expected to challenge the SEC is now 2-13 in BCS bowl games. That's hard to do. You'd think in 15 BCS bowls the conference could get lucky at least five or six times. But no, it insists on making ACC blogger Heather Dinich, a genuinely nice person, into some sort of Grim Reaper
every bowl season
.
Heck, the Big East has won seven BCS bowls -- second fewest among AQ conferences -- but it's 7-7.
Of course, this all ties together, and we're here to bring out a bow, but first a warning: If you don't want to read about how good the SEC is for the 56,314th time this year, then stop reading. I'd recommend an episode of "South Park" or perhaps a John le Carré thriller as an alternative for passing the time.
We can all agree the SEC plays great defense right? Alabama and LSU will play for the title Monday with the nation's top-two defenses. Do you think perhaps that it's not a coincidence that the conference that is 16-7 in BCS bowl games plays great defense?
The only other AQ conference with a winning record in BCS bowl games is the Pac-12, which is 11-7. The Pac-12 isn't known for defense, either, but USC was when it won the conference's last national title in 2004.
The only team to win a BCS national title without an elite defense was Auburn in 2010, but the Tigers' defense seemed to find itself late in the season. Since 1999, eight national champions had a top-10 defense. Other than Auburn, the lowest-rated defense to win a BCS national title was Ohio State in 2002. It ranked 23rd in the nation in total defense.
Three of the four BCS bowl games have been thrillers. Two went to overtime. We've seen big plays all over the field in the passing game and running game. Yet, if things go according to script in the title game, we'll see none of that. We might not see more than a couple of plays that go for more than 20 yards. We might not see any.
Some might call that boring. It might seem that both offenses are so paranoid of making a mistake that they are stuck in mud, both in game plan and execution.
But, snoozefest or not, when the clock strikes zero a team from the SEC will hoist the crystal football for a sixth consecutive time.
That might say something about playing better defense.
December, 4, 2011
12/04/11
10:00
AM ET
Three lessons from Big Ten championship week.
1. The championship game is a welcome addition:
The Big Ten might lack an elite team this season, but the league produced more exciting games than any other conference. It culminated Saturday night in the inaugural Big Ten championship game, which will be very hard to top. For the second time this season, Michigan State and Wisconsin provided incredible drama, momentum swings and outstanding performances. Although the matchup didn't attract national attention before kickoff, the game itself drew the nation's eyes to the Big Ten. For four hours, the league became relevant in early December, and the buzz should help heading into the bowls and possibly into next season. The championship will be a bigger deal when there are national title implications, but Saturday night was a heck of a start.
2. Michigan State still has a hurdle to clear:
Mark Dantonio has done a terrific job of building Michigan State into what looks like an annual contender in the Big Ten. But the Spartans still haven't quite crossed the finish line. It was unlucky for them that division play started this year, since they were the only Big Ten team to have fewer than two conference losses this season, and they were forced to try to beat a powerful Wisconsin team for a second time in six weeks in the league title game. Michigan State outplayed the Badgers for most of the night in the rematch and should have had a chance to go in for another game-winning drive. But Isaiah Lewis' running-into-the-punter penalty denied
Kirk Cousins
and the offense a chance to get the ball back. It was another disappointment for a program that has come close but fallen short often in its history. Dantonio should continue to have the Spartans in position to break a 24-year Rose Bowl dry spell, but at some point they need to break through and get it done. Getting the first bowl victory under Dantonio now becomes the focus.
3. Michigan is in good shape for an at-large berth:
After falling in last week's BCS standings, Michigan should move up in the final lineup released tonight. The Wolverines benefited from Houston's blowout loss in the Conference USA title game, Georgia's blowout loss in the SEC title game and Oklahoma's blowout loss in the Bedlam game. Michigan could move past all three squads and into the top 14, which would virtually assure Brady Hoke's crew of an at-large berth. Although Baylor could jump Michigan and TCU appears likely to take a BCS bowl spot following Houston's loss, the Wolverines should be able to get the BCS standings bump they need, which is all that matters.
December, 4, 2011
12/04/11
2:38
AM ET
INDIANAPOLIS -- There would have been no qualifiers this time for Michigan State.
No talk of Hail Marys or fortunate breaks or uncharacteristic mistakes from the opponent everyone assumed was better and more talented. The win wouldn't have been chalked up to the home crowd or questionable timeout choices or a few good bounces or the lack of penalty flags on the turf.
Had Michigan State held on to beat Wisconsin in the Big Ten championship game, the Spartans would have earned every bit of the victory. For most of the night, they had been the better team, the more dominant team, the better prepared team, the more energized team. Their offense was seemingly unstoppable, racking up 23 first downs and 471 total yards. After a rough start, their defense made more plays than Wisconsin's, receiving a huge performance from linebacker Denicos Allen (3 sacks, 4 tackles for loss) and others.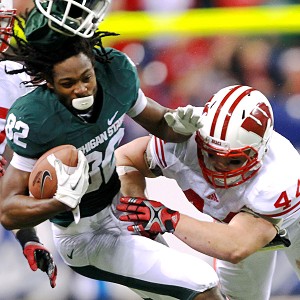 Michael Hickey/US PresswireThere were no last-minute Hail Marys or miracles this time as Keshawn Martin and the Spartans fell to the Badgers in the Big Ten championship game.
Michigan State would be heading to the Rose Bowl for the first time in 24 years, and no one would be questioning whether the Spartans were the Big Ten's best team. The Spartans might have finally grasped the thing that eluded them despite another 10-win season: respect.
But what seemed so inevitable throughout Saturday night didn't come to pass. A handful of plays and a handful of mistakes kept the Spartans from putting roses between their teeth and celebrating with their large contingent of fans.
What if Isaiah Lewis never touches Wisconsin punter Brad Nortman? What if coach Mark Dantonio doesn't go for the punt block? What if quarterback
Kirk Cousins
takes off and runs on third-and-8 rather than attempt a tough throw to
Keshawn Martin
?
"It's tough," said Cousins, who was brilliant Saturday night with 281 pass yards and three touchdowns. "Came close two years in a row. It's tough."
In 2010, the BCS standings kept Michigan State from Pasadena even though the Spartans had beaten Wisconsin, which received the Big Ten's automatic berth. While the Spartans had a legitimate gripe, Dantonio noted that they didn't look BCS-worthy in a blowout loss to Alabama in the Capital One Bowl.
Saturday night, they looked the part, which might be the most painful element of the loss. Michigan State looked better than Wisconsin and had the edge in first downs (23-16), rushing yards (190-126) and total yards (471-345).
"We felt like we were having our way offensively all game long," Cousins said.
Offensive coordinator Dan Roushar called an excellent game, employing swing passes to capitalize on the Spartans' superior speed on the edge.
The defense recovered from a 21-point first quarter to allow minus-4 yards in the second quarter. Wisconsin quarterback
Russell Wilson
had only 30 passing yards in the first half. Badgers running back
Montee Ball
had only 32 rushing yards on 14 carries in the final three quarters.
"It's tough to deal with it," Dantonio said, "because you're going to replay a lot of things in your mind because you are so close. It could be one little thing, one little inch here or there and we could have won the football game."
Michigan State's loss likely takes the Spartans out of BCS at-large contention, while their rival Michigan, a team the Spartans beat on Oct. 15, could reach a BCS bowl. Dantonio made one final plea for his team.
"I do think the two best teams in the Big Ten played today," he said. "I do think we're worthy to compete and play at a BCS level, but you've got to get the votes to do that. I do believe we're a BCS-type football team."
The Spartans performed like one for much of the night. And while their Rose Bowl drought will reach a quarter-century, the program is getting closer and closer to its ultimate goal.
"Very difficult, the end of the football game, the way it all went down," Dantonio said. "But we'll rise again."
June, 2, 2009
6/02/09
9:00
AM ET
Posted by ESPN.com's Adam Rittenberg
When the new BCS contract begins during the 2010 season, there's a chance you could see a team like Boise State, Utah or TCU in The Granddaddy of Them All.
As first reported by the Atlanta Journal Constitution and confirmed to ESPN.com by BCS administrator Bill Hancock, the Rose Bowl will be required to take an eligible non-BCS team if it loses the Big Ten champion or Pac-10 champion to the national title game. This policy would only take effect once during the four-year BCS bowl cycle.
Here's how the policy change works. Let's say USC is selected for the national championship game following the 2010 season. Rather than selecting another Pac-10 team, the Rose Bowl would have to take a non-BCS team if that team is eligible for BCS bowl selection and not headed to the national championship game. So you could have the Big Ten champion against a team from the Mountain West, WAC, Conference USA, MAC or Sun Belt.
No teams from those leagues have ever appeared in the Rose Bowl.
"It's only going to happen once if it happens at all," Hancock said.
The change will open up more opportunities for non-BCS teams to play in these big-time bowls. It also will prevent, at least temporarily, teams that don't necessarily deserve BCS berths from appearing in these games simply because of their conference affiliation.
I can't imagine the Big Ten is too pleased about the change. The league has sent more teams to BCS bowls than any other conference, and the Rose Bowl tie-in is a big reason why. When the Big Ten lost Ohio State to the national title game in 2006 and 2007, it still sent a representative to the Rose Bowl.
It's a pretty good bet a 9-3 Illinois team wouldn't go to Pasadena under the new policy, as it did in 2007.
I'm a big fan of the non-BCS teams and enjoy seeing Utah, Boise State and others routinely go against the big boys. On the other hand, there's not a more tradition-rich game in the country than the Rose Bowl.
Though the game has featured three Big 12 teams this decade -- Nebraska in 2002, Oklahoma in 2003, Texas in 2004 and 2005 -- as well as Miami in 2002, it would be odd to see a Mountain West or a WAC team in Pasadena. I could get used to it every once in a while, though I doubt Big Ten commissioner Jim Delany could.
It would be interesting to see how a non-BCS team would affect attendance and ratings for the Rose Bowl, which continues to thrive in both areas.
December, 10, 2008
12/10/08
5:06
PM ET
Posted by ESPN.com's Adam Rittenberg
Jim Delany has seen the point spreads, and he knows the odds are against his league this postseason. The Big Ten commissioner also doesn't downplay the significance of the seven bowls that will feature Big Ten teams (Iowa is the only Big Ten squad favored to win).
After going 0-4 in BCS games the last two seasons, the Big Ten has taken its lumps nationally. Ohio State's selection to the Tostitos Fiesta Bowl elicited grumbling from those who were thoroughly unentertained by the Buckeyes in the last two BCS title games. But as Delany knows, public perception can change quickly, and Big Ten victories in the Rose and Fiesta bowls could put the league back among the nation's best.
I caught up with Delany this afternoon as he was driving from New York to New Jersey to visit family. Here's the first of my two-part interview with the Big Ten commissioner.
What was your initial reaction when the Big Ten bowl pairings were announced?
Jim Delany: We're fortunate that everybody that's bowl eligible has a good game, a challenging game. The matchups are great. I noticed we're not favored to win many, but that's sort of the nature of what we do. You've got to play the best, whether it's Southern Cal or the SEC or the best in the BCS. So it will be a challenging schedule but one that we could have some success. But it's big stage, big risk, big reward. If we do well, we'll get due credit. If not, we'll probably take some criticism because we've had a couple years where we haven't performed well on the big stage. If we do do well, that will go a long way. A few years, we were 8-5 in the BCS and we were leading the way. And after going 0-4, we're in a different situation. The only thing that's going to cure that is winning games.
You mention high risk, high reward. Is this a critical bowl season for the Big Ten?
JD: I think it is, more than normal. If you're on a four-game winning streak, nobody really mentions much. And when you're not, it's mentioned often.
For a team like Ohio State, do you see this as a big opportunity for the Buckeyes after being criticized heavily the last couple years?
JD: They're kind of in line with the conference because they won a national championship in 2002, they won two Fiesta Bowls, they handily took care of Kansas State and Notre Dame. They were swimming along like we were as a conference, which was more than holding our own at the top of the heap from 2000-05. The last two years have been tough for us. It's not we haven't won games. We have won big games. But at the highest level, we haven't been as competitive as the coaches want, the players want and the fans want. So whenever you're not competing at the level you want to, all you can do is go compete harder [laughs]. There's nothing else you can do. You don't stop competing.
As someone who covered the league, I felt that this fall, Penn State in some ways paid the price for the league's BCS failures the last couple years in terms of getting national respect, BCS rankings, et cetera. How did you view that situation?
JD: I don't know, I'm sure there's some spillover, but it would have been interesting to see how it would have played out [had Penn State gone undefeated]. They were clearly third [in the BCS standings]. I would say that because we haven't won big the last two years, there are certain impacts on other teams. If you look at Penn State, they've won three bowl games in a row. They defeated Oregon State handily. They had a good, competitive game with Ohio State. You'd have to ask the people who are voting whether or not there's spillover. Maybe they just thought they were the eighth-best team in the country.
Does the league's bowl performance shape the next season going into it, as far as hype?
JD: It does because voters, especially in the Coaches' Poll -- not so much in the Harris Poll because it comes out [five] weeks into the season -- there's no doubt that the teams that win national championships, if you looked at Michigan in '97 or Ohio State, any of those polls, when you have a poll that occurs before you play a game, what else do you have but past performance? So we've got four, five games at the top of our ledger. The coaches get it, fans get it, players get it. The only people who walk away feeling good are the guys who win. The other guys just go back and work harder and compete harder.
A lot of people saw this as a transition year for Michigan, but from a league perspective, how important is it for Michigan to be good, just for the way the league is looked at nationally?

JD: They've been to 33 straight bowl games. They've won X number of football games, a very winning program. So there is a level of measurement [for the league], but when I look around the country during that timeframe, I've seen USC way down. It doesn't mean the Pac-10 couldn't execute. I've seen Oklahoma way down, Texas way down, Notre Dame way down, Alabama way down, Florida way down. So if you're a reasonable person looking at the Big Ten or any of those conference and you see a program like Michigan that has never been down -- they've had one season since they lost to BYU in '84 where they won fewer than eight games -- I think they'll bounce back. It's a great program, great tradition, great history. They lost four or five players to the NFL off the offensive side, changed systems. They had transfers. I expect [improvement] if not next year, the following year. I don't expect Michigan to be without players, and I know that [Rich] Rodriguez is a very good football coach. He's proven that over a decade. I don't expect [the struggles] to be long lived.
August, 15, 2008
8/15/08
4:42
PM ET
Posted by ESPN.com's Adam Rittenberg
I probably don't mention this enough, but I really appreciate all the e-mail, both the positive and the negative. I always knew Big Ten fans were passionate about their football, and the last few weeks have only reinforced that belief. Keep 'em coming!
Jan from Washington, D.C., writes: Your Plax posting re Nick "$aban" made me wonder about the attitude of Plax and Co. from the 1999 team toward [Mark] Dantonio, and thus Dantonio's relationship toward his former boss Saban. I know Joe Rexrode (LSJ) has repeatedly said that Saban was not liked by his players, but Dantonio, who was on Saban's staff as secondary coach, has invited those players, including Plax, back to campus and they have journeyed back. It begs the question: does Dantonio respect/get along with/have any nostalgia for his old boss? It's a fine line, because Dantonio wants to be associated with that 1999 winning team, but apparently not the part where Saban was mean to the players/untrustworthy.
Adam Rittenberg writes: Most coaches are extremely loyal to the guys they work for, and Dantonio seems no different. I'm sure he respects Saban -- looking at Saban's record, how can you not? -- and values the time he spent with him. He could disagree about the way Saban left MSU, but he probably knows the guy and the situation a lot better than most people. As I alluded to earlier in the week, Dantonio really gets it as far as understanding the place where he's coaching. Reaching out to former players, particularly NFL guys like Plax, is a critical component of maintaining a strong tradition. Michigan State, despite underachieving for much of the last few decades, still produces a bunch of NFL players. Reconnecting with those guys is key. I doubt Dantonio will make too many Nick Saban references in news conferences or player meetings, but I think he walks that fine line quite well.
---
B.J. in Boardman, Ohio, writes: I'm an Ohio State fan and I'm definitely psyched for the (mostly) positive media attention OSU has received during the offseason, but with that being said I don't understand why Kellen Lewis has been so under the radar in terms of All-Big Ten honors and coverage in general. What gives? The guy's stats are incredible and it seems like no one has him as All-Big Ten. Is it because of the suspension?
Adam Rittenberg writes: First off, I'm psyched there's actually a place called Boardman, Ohio. I used to think that was the infinite realm where all my readers lived. OK, back to the question. I agree that Lewis is underappreciated, but certainly not here, as I ranked him as the Big Ten's top quarterback. Lewis is a tremendous athlete who has blossomed as a passer. He'll reclaim his starting job soon enough after the suspension and should be a natural in the no-huddle offense. As far as the lack of buzz, the fact that Lewis plays for Indiana probably has more to do with it than the suspension. If IU capitalizes on its schedule, goes back to a bowl and wins, he'll get plenty of ink.
July, 31, 2008
7/31/08
4:44
PM ET
Posted by ESPN.com's Adam Rittenberg
PARK RIDGE, Ill. -- For Carol Iwaoka, the system of governance in college sports isn't that different from the one in Washington. There are representatives at different levels -- campus, conference and NCAA -- and a drawn-out system for approving legislation.
Iwaoka, who has been with the Big Ten since 1990, oversees it all as the league's associate commissioner for governance. She monitors proposals, corresponds regularly with the NCAA and works with the Big Ten's athletic administrators and faculty representatives. Since proposals are always coming up around the country, Iwaoka collaborates frequently with other conferences, particularly the five BCS leagues.
Here's how the proposal process works:
Coaches or schools submit proposals, which are discussed and voted on at meetings during the year.

Approved proposals go to the Big Ten's joint group, which includes the athletic director, the senior woman administrator and the faculty representative from each member school.

The joint group meets once a year and votes on whether or not to forward the proposals to the school presidents and/or the NCAA. Not every proposal approved by the joint committee must go to the presidents, but the presidents hold veto power. Iwaoka is responsible for preparing the joint group members for their annual meeting.
The NCAA Division I Management Council then reviews the proposals.

Some recent Big Ten-initiated proposals that went into action include instant replay for football and the universal start date for baseball. The Big Ten football coaches have approved a proposal to add a two-week "dead" period to the summer recruiting calendar. The proposal could go to the NCAA.
July, 31, 2008
7/31/08
10:26
AM ET
Posted by ESPN.com's Adam Rittenberg
| | |
| --- | --- |
| | |
| | AP photo/Janet Hostetter |
| | Jim Delany says the Big Ten Network project isn't done until there's "full distribution." |
PARK RIDGE, Ill. -- Some consider him the most powerful man in college athletics. Others label him the biggest obstacle to a college football playoff system. Big Ten commissioner Jim Delany might be both, but his influence in college football is undeniable.
Only the fifth commissioner in Big Ten history, Delany enters his 20th year in the job. He has seen the league add an 11th member, negotiated several new TV contracts and helped establish the Big Ten Network, a massive project that generated both excitement and criticism. A long-anticipated agreement between the Big Ten Network and Comcast was reached this summer, but some Big Ten fans still don't have access to the programming. After a nasty bout with an illness last week, Delany sat down with me Wednesday at the Big Ten offices. You can only get to so many topics in a 15-minute interview, but Delany discussed the Big Ten Network, the BCS/playoff debate, nonconference scheduling and his own future.
You mentioned last week [at Big Ten media days] that two of your peers, [Pac-10 commissioner] Tom Hansen and [Big East commissioner] Mike Tranghese are retiring. Have you thought about how much longer you'll do this job?
Jim Delany: Yeah. I'm still enjoying what I'm doing. I expect that I'll be here for an indefinite period of time. I don't think I'm going to work as long as [former SEC commissioner Roy] Kramer did or maybe [current SEC commissioner Michael] Slive or even Hansen, but I think I'll be here for the next five years or so. That's my horizon.
Have you thought at all about what your legacy might be?
JD: Not really. To be honest, I feel like I go from cycle to cycle, cycles of bowl games and cycles of television agreements. At different times you have different challenges. One might be incorporating Penn State, another might be trying to incorporate the Big Ten Network, another one might be, 'Hey, we've got an initiative on sportsmanship. We're trying to raise academic standards.' I sort of get involved in a lot of projects. But I'm obviously conscious of, did we start a men's [basketball] tournament? How's it going? Are we able to re-establish the Rose Bowl within the BCS? So I'm very much aware of trying to have an incline, a gradual improvement in bowls, bowl access, making the championship game a better game, continuing to grow our postseason tournament.
I've always been pleased to see the level of commitment our schools have to [gender] equity. At one time we were 71 percent male, and today we're near 50-50. And also the exposure. For many decades, we were considered the big two and the little eight. Now with bowl opportunities and television opportunities and the resources that we have, there's just a lot more parity. We've had seven different teams go to the Final Four in the last 15 or 20 years. We've had eight or nine different teams win or share Big Ten [football] championships. So the notion of having great traditional programs, whether it's Michigan or Ohio State or whoever, but also having the ability of everybody to have a chance and keep hope in the programs, that's what makes it special.
The Big Ten Network was obviously a major project. What's the next big thing on your schedule?
JD: I don't consider the Big Ten Network to be completed until we have full distribution. Until we've got distribution in Iowa and Wisconsin and Ohio, to the same level we have in the other five states, it's a work in progress. We didn't expect it to be easy. Obviously, you're judged on the progress you make. We've made some, but obviously you're not all the way there. Once you get there with distribution, the pictures were great, the HD pictures were great and the games were good, the talent was good.
Then you start really trying to build the brand of the schools, the brand of the teams and the brand of the conference by working on programming that supports the schools and the teams and the athletes. One of the things we were surprised by is we had so much promotional time because it wasn't fully distributed. As a result, we didn't have all the advertisers. So we had a lot of time to promote, to blow our own horn, but we didn't really have the inventory and the creative behind it. So we're much better positioned going into Year 2 to do that. In Year 3, we'll be in an even better position.
In terms of the negotiations with Mediacom and other companies, where are those right now? What's holding it up?
JD: They're just discussions. I'm not at the table. I'm going to let them play out. I think we have to be patient, to some extent. At the same time, we've got to be able to communicate with fans and right now, everybody's just working hard to see whether or not there's a resolution.
So for the Iowa fans who want to see that Iowa State game [Sept. 13], is it still up in the air?
JD: Yeah, there's not much I can say to them other than we're in discussions and I'm not at the table. There's not much to add to that.
I asked you last week about the BCS and the playoff argument. As commissioners, you obviously have to do your jobs but also pay attention to what the fans want. You mentioned they're voting by going to the games.
JD: What I meant by that was not that they're voting for the BCS with their feet. They're voting for the meaningfulness of the games that are occurring during the regular season, which, in my view, is related to the power and the contribution of the BCS and the system. You could agree or disagree about the BCS, but anybody who says the regular season isn't more alive in its Technicolors, 3-D, compared to what it was a decade ago -- and I attribute a lot of that to the BCS. I don't mean they're voting for the BCS. I mean they're voting for a healthy regular season.
If the movement for a playoff increases, will we see a playoff in the next 10, 15 years?
JD: When I was 30, I saw the next 10 years pretty clearly, and at 60, I don't see the next five years as clearly. Maybe that's why there's a visionary out there who can tell you what's going to be there in 15 years. Fundamentally, college football is different than a lot of other sports. It's been a one-semester sport. The regular season [games are] not a commodity, there aren't 30 of them, there are 12 or 13 of them. We've done a pretty good job historically, because the Auburn-Alabama game has meaning and the Army-Navy game, UCLA-USC, all those games, through television, have become national games. At one time, they were regional. And now, as a result of the BCS and the rivalries, other games that have been sort of lower down the food chain -- important, but not as important -- have got new meaning. I'd even go so far as to say we've created new value at Boise and Hawaii, and it does drive some people crazy when they don't get to go to the BCS, but it also makes their fans even more interested the following y
ear.
BIG TEN SCOREBOARD
Saturday, 12/20
Monday, 12/22
Tuesday, 12/23
Wednesday, 12/24
Friday, 12/26
Saturday, 12/27
Monday, 12/29
Tuesday, 12/30
Wednesday, 12/31
Thursday, 1/1
Friday, 1/2
Saturday, 1/3
Sunday, 1/4
Monday, 1/12
Tweets from https://twitter.com/ESPNCFB/lists/b1g