December, 29, 2013
12/29/13
5:00
PM ET
LOS ANGELES -- Michigan State's defense is preparing vigorously for Stanford's offense as well as for life without its leader, middle linebacker
Max Bullough
.
Despite Bullough's shocking suspension, the standards haven't changed for the "Spartan Dawgs," who, as linebacker
Denicos Allen
noted Sunday, want to show everyone why they're the nation's No. 1 defense.
[+] Enlarge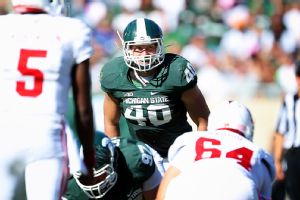 Mike Carter/USA TODAY SportsHow will Michigan State's defense adjust without Max Bullough?
But before the Rose Bowl Game presented by VIZIO, MSU's defenders might want to set aside some time to examine Stanford's defense, specifically the way the unit adjusted without one of its best players. The Cardinal lost defensive end
Ben Gardner
to a season-ending torn pectoral muscle in late October.
Like Bullough, Gardner is a captain and one of the defense's top performers, racking up 4.5 sacks, 7.5 tackles for loss and eight quarterback hits, the most on the team at the time. He's so good that he earned first-team All-Pac-12 honors despite missing Stanford's final five games.
Twelve days after Gardner's injury, Stanford held Oregon's dynamic offense scoreless for three quarters in a 26-20 win. The Cardinal surrendered just 62 rush yards and 312 total yards and recorded three sacks.
Stanford's defensive statistics without Gardner weren't dramatically different than they were with Gardner. The Cardinal allowed less than 75 rush yards in four of the final five games and finished with an outstanding effort against Arizona State's explosive offense in the Pac-12 championship. Arizona State had just 14 points and 311 yards, well below its season averages (41.0 ppg, 460.8 ypg).
"You feel for your teammates, but at the same time, you have to keep your vision on what the team goal is," Stanford linebacker
Shayne Skov
said. "You recognize that, unfortunately, somebody is gone, is no longer an active participant, but you have to keep moving forward.
"Whenever you lose someone as talented and as important a leader and integrated into your team, as I'm sure Max was and Ben [are], you have to find ways to, not replace them, but work and make an adaptation."
The circumstances of the losses are different -- Gardner was injured and remains with his teammates for the Rose Bowl; Bullough was suspended right before the team left for California and will not attend the game. But the realities are the same: There's shock and disappointment, and then there's another tough game to play.
"I kept a coldblooded approach," Stanford linebacker
Trent Murphy
said, "and kept moving forward and knew there were still games to be played and work to be done. Then, at the senior banquet, [Gardner] spoke and got everyone choked up a little bit and then it was like, oh man.
"Other than that, I kept moving forward."
Stanford benefited from replacing Garnder with
Henry Anderson
, a senior who had earned second-team All-Pac-12 honors in 2012. Anderson suffered a knee injury in September but returned for the Oregon showdown, Stanford's first game without Gardner.
Michigan State's
Kyler Elsworth
isn't as decorated as Anderson, but the fifth-year senior who could start in Bullough's place brings experience and familiarity to the role. He's not Bullough in terms of system knowledge and communication -- no one is -- but he understands the scheme and the personnel around him.
"We've won because of chemistry here," Spartans coach Mark Dantonio said Sunday. "There's an opportunity for somebody else to lead."
Elsworth, primarily a special-teams player during his career, embraces that opportunity "ten-fold."
"[Stanford] lost a player, and that's an adverse situation, that's something you've got to overcome," Elsworth said. "Our team has been doing that for a while now."
He mentioned safety
RJ Williamson
stepping in for safety
Isaiah Lewis
because of injury and a targeting ejection against Northwestern, and the way the coaching staff handled Dantonio's health-related absence during the 2010 season.
"There's countless times where our team has rallied around everybody," Elsworth said, "stepped up and came into the game with the mind-set that, 'Hey, no matter what is thrown at us, we can handle it.'
"This is no different. It's another curveball. Guys have stepped up their leadership, I'm stepping up my leadership, and we're very prepared for this game."
October, 31, 2013
10/31/13
5:00
AM ET
1. Michigan's feuds with Ohio State and Notre Dame always drew more attention than its games with Michigan State. But that has changed, and not, Wolverines coach Brady Hoke said Wednesday on the
ESPNU College Football Podcast
, because the Spartans won four in a row from 2008-11. "I think some of the changes with the divisional races puts a little more emphasis on this football game," Hoke said. "But from a passion standpoint … it's always been a very physical game. It's always a game that been played through the whistle. The intensity of the rivalry is there. It's real."
2. Florida Atlantic head coach Carl Pelini and defensive coordinator Pete Rekstis resigned, a source told my colleague Brett McMurphy, because they attended a party where people used marijuana. I guess the coaches picked the wrong state in which to attend the party. According to Governing magazine, 21 states and the District of Columbia have legalized some form of marijuana usage. No, Florida is not one of them. But still this story, in 2013, is a stunner. Maybe FAU wanted Pelini (5-15 in two seasons) out?
3. Stanford senior defensive end and team captain
Ben Gardner's
season-ending pectoral injury means that the Cardinal will have started only two games with their preseason starting defensive line. Senior
Henry Anderson
hurt his knee in the second game against Army. That the line has remained a strength for the Cardinal is a credit to fifth-year senior
Josh Mauro
, who pretty much turned Anderson into Wally Pipp. But it's a shame that the three seniors will have played together so little in their final season.
December, 31, 2012
12/31/12
2:00
PM ET
LOS ANGELES -- When he first got into coaching, Jim Harbaugh used to talk about conversations he had with his former Michigan coach, Bo Schembechler, regarding how he wanted to run an offense. How would he use the tight end, Schembechler would ask. Would he use double tights? Would the fullback and tight end work in conjunction? The answers were: A lot, yes and yes. It was vintage Big Ten thinking through and through.
True, the 2012 edition of Stanford that will take the field Tuesday against Wisconsin in the Rose Bowl Game presented by Vizio might have a healthy dusting of a classic Big Ten team; run the football, stop the run. In the offense-happy Pac-12, that breaks the mold a bit. But just because you want to run the ball and stop the run first and foremost doesn't mean you fall into into any stereotypical classification.
"That's just football," Wisconsin coach Barry Alvarez said. "I don't know if that's a traditional Big Ten team or not. To me, that's just how you play football."
Spoken like a veteran Big Ten coach.
[+] Enlarge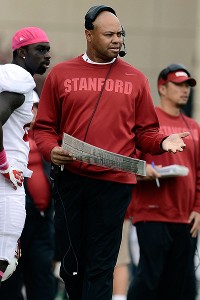 Ron Chenoy/US PresswireStanford coach David Shaw said the Cougars were one of the most physical team the Cardinal faced last year and he expects more of the same when they meet on Saturday.
The Cardinal play a brand of ball that does seem better suited for the Schembechler days than the modern spread, chuck-it-around game. But it works for them -- as evidenced by their third straight appearance in a BCS bowl game and 2012 Pac-12 championship. And that's all that matters.
"Growing up and watching a lot of Big Ten football, it's run the football, defend the run and do everything else after that," Stanford defensive end and Wisconsin native
Ben Gardner
said. "That's basically what we do. It's what we've done for the last few years. It's a little different now without Andrew Luck playing quarterback. But we still feel like we've got the playmakers on offense to have a passing game and add that dimension. The basis of what we do is run the football and stop the run and that's always what we do here.
"That's what makes this a great matchup because that's what Wisconsin does, too. And that's been the style of football in the Big Ten. Coming from the Midwest I love it. It's the kind of game I want to play and it's the kind of game our defense wants to play. We couldn't be more excited about it."
When Harbaugh and current Stanford head coach David Shaw left the University of San Diego for The Farm, they started mapping out what they wanted the team to look like. Not just in 2007, but in 2012, '13 and beyond.
"He asked me about [former coach] Denny Green," Shaw recalled. "I said, well my dad was defensive coordinator. We played great defense. We had great athletes on offense that we moved to defense and we had Tommy Vardell on the offensive side and Ed McCaffrey. So at the time we had the biggest offensive line in college football in the early '90s and that was Jim's mentality. I told him it has worked at Stanford before.
"We talked about how it came with recruiting and it seemed like a perfect fit. When everybody else was running sideways in the conference, we started running north and south with really big guys and physical guys like Toby Gerhart, Jimmy Dray blocking on the right side. There were just so many things that fit perfectly and we've been able to continue to recruit to what we want to do."
But there are limitations to just how "Big Ten" Stanford can really be. Because it doesn't play in the Big Ten. It plays in the Pac-12, where stud wide receivers are plentiful, quarterbacks are slingers and half the teams have a 1,000-yard rusher. So simply stopping the run isn't good enough.
"I think it's a fair comparison [to the Big Ten] when you talk about the style of ball," Stanford defensive coordinator Derek Mason said. "Defensively we're predicated on stopping the run. Most of the Big Ten is predicated on stopping the run. But I think the comparison probably stops there. We still generally have to defend the pass because everybody in our conference, when you talk about SC or UCLA or talk about Arizona, when you talk about Washington State and what [Mike] Leach is doing up there in Washington, there is not a team in the Pac-12 that doesn't have a receiver that can go get them in the distance.
"…It is blue collar, and that's what we want to be," Mason continued. "We try to recruit to who we are. We can't be like the rest of the other teams in the Pac-12. Don't want to be. Coach Shaw made that clear when he took over. We're going to be us and continue to do what we do and I think that served us well. So we're going to stay in our mold, and hopefully that continues to be a great brand of football."
December, 24, 2012
12/24/12
3:00
PM ET
Our snapshots of each bowl game featuring a Big Ten team continues.
ROSE BOWL GAME PRESENTED BY VIZIO
Wisconsin (8-5) vs. Stanford (11-2)


Where:
Rose Bowl; Pasadena, Calif.
When:
Jan. 1, 5 p.m. ET (2 p.m. PT)
TV:
ESPN
About Wisconsin:
The Badgers' road to the Rose Bowl has been anything but smooth. They had a shaky start that led to a change at both offensive line coach (Mike Markuson to Bart Miller) and starting quarterback (
Danny O'Brien
to
Joel Stave
). They had another quarterback change midway through Big Ten play (Stave to
Curt Phillips
), lost five games by a total of 19 points (three in overtime) and endured the loss of head coach Bret Bielema to Arkansas three days after a dominant performance in the Big Ten championship. This team isn't as strong as the previous two Badgers squads that played in Pasadena, but its resilience has been impressive. Hall of Famer Barry Alvarez will lead the Badgers after being asked to coach the team following Bielema's exit. Alvarez led Wisconsin to three Rose Bowl wins in his tenure and was inducted into the Rose Bowl Hall of Fame in 2009. Although the Badger offense has been inconsistent, it put up 70 points in the Big Ten championship and boasts a three-headed rushing attack of
Montee Ball
,
James White
and
Melvin Gordon
. An underrated defense kept Wisconsin in every game and ranks in the top 20 in both points allowed and yards allowed.
About Stanford:
Arguably no FBS team finished the season playing better than Stanford, which won its final seven games following a controversial overtime loss at Notre Dame on Oct. 13. The Cardinal stunned recent nemesis Oregon in Eugene on Nov. 17 and punched their ticket to Pasadena with back-to-back wins against UCLA. An aggressive and physical defense fueled Stanford in its first season without Andrew Luck, as the unit led the nation in both sacks and tackles for loss, ranked third against the run and ranked 14th in points allowed. First-team All-Pac-12 linebackers
Chase Thomas
and
Trent Murphy
led the way for the defense, which allowed 17 points or fewer in nine games. The offense endured some predictable ups and downs without Luck, although redshirt freshman quarterback
Kevin Hogan
showed promise down the stretch.
Key players, Wisconsin:
Ball didn't quite replicate his historic 2011 season, but he still performed extremely well in Big Ten play and earned the Doak Walker Award as the nation's top running back. The senior finished seventh nationally in rushing average (133.1 ypg) and scored 21 touchdowns, becoming the NCAA's all-time touchdowns king. The speedy White gives Wisconsin another excellent ball-carrying option, and Gordon had a breakout performance in the Big Ten title game (216 yards on nine touches). All-Big Ten linebackers
Chris Borland
and
Mike Taylor
combined for 215 tackles, 25 tackles for loss and 7.5 sacks to trigger the defense.
Key players, Stanford:
Thomas and Murphy fuel Stanford's aggressive 3-4 defense, combining for 17.5 sacks and 32.5 tackles for loss. Veteran linemen
Henry Anderson
and
Ben Gardner
add to the rush with a combined 27.5 tackles for loss. First-team All-Pac-12 safety
Ed Reynolds
has six interceptions on the season, while fellow safety
Jordan Richards
has three picks and 12 pass breakups. Running back
Stepfan Taylor
earned second-team All-Pac-12 honors after finishing 20th nationally in rushing (110.9 ypg). Senior tight end
Zach Ertz
, a
John Mackey
Award finalist, is the team's top receiver with 66 receptions for 837 yards and six touchdowns.
Did you know:
Wisconsin is the first five-loss team ever to play in the Rose Bowl. The Badgers are the third Big Ten program to play in three consecutive Rose Bowl games, joining Ohio State (1973-76) and Michigan (1977-79). Alvarez is the only Big Ten coach to win Rose Bowls in consecutive years (1999, 2000). ... Stanford is making a team-record fourth consecutive bowl appearance, reaching a BCS bowl for the third straight year. The Cardinal have recorded 11 wins in three straight seasons for the first time. Wisconsin is making its fifth appearance in a BCS bowl game. Only six teams have made more: Ohio State (9), Oklahoma (8), Florida State (7), Florida (7), USC (7) and Virginia Tech (6). ... Stanford is 5-6-1 in 12 previous appearances in the Rose Bowl Game, including a 17-9 loss to Wisconsin in its last appearance in 2000. ... Alvarez becomes the fourth member of the College Football Hall of Fame to be inducted as an FBS coach and then coach a game after his induction, joining Chris Ault (Nevada), Bobby Bowden (Florida State) and Joe Paterno (Penn State). Alvarez will join Ault as the only Hall of Famers to come out of retirement to coach a game (Bowden and Paterno were inducted as active coaches).
BIG TEN SCOREBOARD
Saturday, 12/20
Monday, 12/22
Tuesday, 12/23
Wednesday, 12/24
Friday, 12/26
Saturday, 12/27
Monday, 12/29
Tuesday, 12/30
Wednesday, 12/31
Thursday, 1/1
Friday, 1/2
Saturday, 1/3
Sunday, 1/4
Monday, 1/12
Tweets from https://twitter.com/ESPNCFB/lists/b1g