July, 16, 2013
7/16/13
2:45
PM ET
Last week, I caught up with Minnesota defensive coordinator Tracy Claeys and wrote about
the Gophers' linebacker situation
. Claeys had other interesting things to say about the defense as a whole, and here they are in Q&A form:
What were your general thoughts on the defense coming out of spring practice?
Tracy Claeys:
I think by far it was our best spring. I look forward to getting back with them in fall camp, and hopefully that carries over. I'd be disappointed if we don't play better than we did a year ago.
It appears as if more of your players pass the "look test" on that side of the ball, though that doesn't always translate into results. But you seem to have better athletes. Would you agree with that?
[+] Enlarge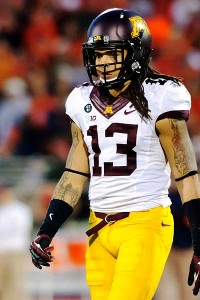 Bradley Leeb/USA TODAY SportsDerrick Wells will move to cornerback this season for the Gophers.
TC:
Yeah, and I think that was the main thing. When you're the University of Minnesota, it takes developing some kids. We've taken some kids who were a little bit smaller but who could run. Now they've had a couple of years in the weight room, and they've put on some weight. So I think all that's going well. We felt like we needed to run better with the spread offenses and the hurry-up stuff people are doing. I do think we've improved athletically, and now having had a couple of years in the weight room, I think our size is getting better. We're still not where we need to be, but I think we can make up for a little bit of that size with the strength and toughness we've added.
How did Derrick Wells' transition from safety back to corner go?
TC:
Good. I think that is his natural position. He played well at safety, but with his size that's something that will help us on the edge. He runs well enough to do it, and we have enough depth at safety that I think it balances everything out a lot better and gives us a chance to be consistent. I've been very pleased with the secondary and where we're at there.
You've got some taller guys in the defensive backfield. Is that part of your philosophy, or is it just how things have worked out?
TC:
Well, you've got to be able to run -- that's the number one thing. And playing in the Big Ten with some of the running game things people are doing, you've got to have guys who can tackle. Then the receivers are getting bigger -- everybody is putting those bigger receivers out there. I don't think you'll ever see a defense go with 6-foot-4 corners out there, but at least if you have some 6-1 guys with some strength and some length to them, you've got a chance on some of those jump balls and things that offenses are throwing up.
We always look at athletic ability first. It's important to be able to run. We've been able to develop a few kids and put some size on them -- Derrick was only 155, 160 pounds when he got here and has really benefited from the weight room. You go back and wish you could have redshirted some of them. Derrick is going to be a senior next year and so is [safety] Cedric [Thompson]; we just weren't in a situation where we able to redshirt those kids, and really their bodies, you see them just now developing as they should. They really should be redshirt sophomores with three years to play, but that's part of the situation we were in. We feel we have great kids who have worked hard to get to where they are without redshirting.
I guess the flip side to that is, they've gotten a lot of experience.
TC:
That's true, and that's part of why we changed about five years ago on secondary kids. We said, 'Hey, if they can help, we might as well play them.' Because there's a lot of space out there, and everybody is spreading the field. And then they get a lot more comfortable.
Eric Murray
, he's going to be the one this year at corner. We played him a little bit last year, and now he knows what it's like to go out in a big stadium and play in front of people. I think a lot of times [experience] does outweigh the benefit of redshirting as long as you can recruit and replace those kids.
How do you feel about the defensive end position going into the fall and your ability to rush the passer?
TC:
Theiren Cockran
continues to get bigger and had a good spring.
Alex Keith
is another guy I wish we could have redshirted, but he has good pass-rushing ability and has improved in the weight room. Michael [Amaefula] is coming back, and
Ben Perry
. So I feel really good about the defensive line. I feel the best about it since I've been here. I think we're going to have depth up there. I'm really looking forward to seeing those guys teeing it up on gameday.
It all seems to start with stopping the run in the Big Ten, and you guys have had your ups and downs there. How do you feel about your ability to do that this season?
TC:
I think sometimes our front four has taken a little too much heat. Our first year, we didn't play well in the front four. Last year, we played awfully well there, and the kids continue to get better. Our run issues were another part besides just the front four. So I think we're getting closer to getting that corrected. We're better up front than what we were a year ago and we have more depth. And I still think that's where games are won or lost up front, especially when you can keep kids healthy and get them through the 11th or 12th game.
We haven't changed a lot scheme-wise and we're not going to change a lot, just make little adjustments here and there. They're getting more comfortable, and then the more comfortable you get, the quicker you get off the ball and the more plays you make.
You should have some good competition for playing time in the front seven when training camp opens next month. How do you think that will affect the overall development?
TC:
It can help you, but you can also get some kids who are afraid of competition, make excuses and don't perform as well. When you start winning ball games is when you have kids who compete to play and don't make excuses. That's how we continue to improve as a football team. Right now, I think we've got kids who like to compete. One thing we've done since we've been here and where we've been before is, if you don't play well in the game, then the next week your spot is up for grabs. And we're going to play the people who most consistently work hard and give us the best chance to win each week. Plus, when you play as many kids as we play, then kids go through practice knowing they're going to have an opportunity to play in the game; it's just a matter of whether you take advantage of it or not. I think we do have a group of kids who like to compete and when you have competition, it keeps everybody on their toes.
You've got three experienced senior starters in Brock Vereen, Aaron Hill and Ra'Shede Hageman. Are they your obvious leaders, or have others emerged?
TC:
You're as good as your seniors. I believe that. You've got to have playmakers on the field, and they don't always have to be seniors, but the better the leadership comes from seniors, the better football team you've got. What's good about those three is that they all work their butts off -- they don't take days off in the weight room or stuff like that. I think that's the main thing for a leader. You've got to be somebody who puts in the time to be successful, and all three of those kids have. And with that, they're developing other ones. Maybe sometimes younger kids don't always know how to work the best when they get here, but then they see those seniors working hard, it puts that work ethic in everybody.
May, 3, 2013
5/03/13
9:00
AM ET
2012 record:
6-7
2012 conference record:
2-6 (tied for fifth in Legends Division)
Returning starters
: Offense: 10; defense: 6; kicker/punter: 1
Top returners

QB
Philip Nelson
, RB
Donnell Kirkwood
, DT
Ra'Shede Hageman
, S
Brock Vereen
, DB
Derrick Wells
, LT
Ed Olson
, DE
Michael Amaefula
Key losses
QB/WR
MarQueis Gray
, CB
Michael Carter
, CB
Troy Stoudermire
, DE
D.L. Wilhite
, LB
Mike Rallis
, LB
Keanon Cooper
2012 statistical leaders (*returners)
Rushing:
Donnell Kirkwood* (926 yards)
Passing:
Philip Nelson* (873 yards)
Receiving:
A.J. Barker
(577 yards)
Tackles:
Troy Stoudermire (82)
Sacks:
D.L. Wilhite (8.5)
Interceptions:
Michael Carter (4)
Spring answers
1. Identity verified:
The Gophers figured out who they wanted to be on offense and were able to start implementing that during bowl practice last December: a physical, run-first team. It worked in the Meineke Car Care Bowl and carried over into this spring, with an offensive line that's developing a nasty streak and two power backs in Donnell Kirkwood and Rodrick Williams Jr. The Gophers will look to bring that hard-nosed approach into this fall.
2. Phil the one:
Philip Nelson took over as the team's starting quarterback as a true freshman at midseason last year, but he wasn't guaranteed the starting job this offseason. Despite getting good competition from
Mitch Leidner
and Chris Streveler, Nelson played well enough this spring that head coach Jerry Kill says it's his spot to lose. Leidner also impressed at times and is a great athlete, so Minnesota has options at the position this year.
3. Turning the corner:
The Gophers had to replace two standout seniors at cornerback in Michael Carter and Troy Stoudermire. They feel good about at least one of those spots after Derrick Wells moved from safety to corner this offseason and handled the position nicely. Wells made some big plays at safety last year, and the hope is he can do the same at his new spot. There's not a lot of proven options at the other corner role, but three players who transferred from junior college last year are pushing for time, while the safety position has good depth and is led by Brock Vereen.
Fall questions
1. Linebacker holes:
The Gophers lost most of their contributors at linebacker from last year, with
Aaron Hill
the only leftover starter. It's why they signed five linebackers in this year's recruiting class. Junior college transfer Damien Wilson lived up to advance billing, and Kill is expecting big things out of another incoming juco, De'Vondre Campbell. But anytime you're relying on newcomers and players arriving in the summer, nothing is for certain.
2. Downfield passing:
The passing game was shaky at best for the Gophers in 2012, and things didn't exactly get better when leading receiver A.J. Barker transferred. Minnesota doesn't have anyone who eclipsed 375 receiving yards a year ago. Kill is hoping to see improvement from
Derrick Engel
,
Isaac Fruechte
,
Devin Crawford-Tufts
and a healthy
Jamel Harbison
. But those guys must prove they can make plays when it counts.
3. Rushing the passer:
D.L. Wilhite and his team-leading 8.5 sacks from a year ago are gone. Defensive tackle Ra'Shede Hageman looked like a beast this spring, but no other returnee had more than two sacks a year ago. The Gophers need players who can get after the quarterback off the edge, and they're hoping Theiren Cockran, Michael Amaefula and
Ben Perry
make the same kind of strides Wilhite and Hageman did a year ago. But again, they have to prove it.
March, 26, 2013
3/26/13
9:00
AM ET
Minnesota coach Jerry Kill guided the team to a bowl game during his second season in Minneapolis despite some depth and injury problems in 2012. What's in store for Year 3 of the Kill era? I recently caught up with him to get his outlook for the Gophers' spring practice, which opens today.
How has the offseason gone for you guys so far?
Jerry Kill:
Well, I think the bowl game, even though we lost, the kids played very hard and well. We got healthy, for one, before we went to the bowl, and we had a great month with our kids and a great experience. And coming into the offseason, I think there was a lot of confidence gained. All our kids' strength and testing numbers went up. I guess I can use
Ra'Shede Hageman
as an example, He benched 450 pounds, squatted well over 500 and cleaned 350, with a 38-inch vertical. So kids like that got a lot better.
We feel up front and on the defensive line, we've gotten stronger. I think we've added some depth to the defensive line, and secondary-wise, we played several freshmen in that game against Texas Tech. We've got the flexibility to play
Derrick Wells
at corner and safety. I think the biggest question mark we've got going in is, we lost five scholarship linebackers. It's like a year ago when we lost seven secondary players and kind of hit the jackpot in recruiting. Damien Wilson, a junior college transfer, has had a great spring, and I'm looking forward to seeing him on the field. The guys who need the reps this spring are
James Manuel
,
Aaron Hill
,
Lamonte Edwards
, and young men we redshirted named
Jack Lynn
and
Nick Rallis
. And then we've got four other kids coming when fall camp starts. Our secondary a year ago had a lot of questions and really played well. I think, this year, linebacker is where we need to step up on defense.
And then on offense, I feel we'll be a much better football team than we were a year ago because we get everybody back except for
Brandon Green
and Q [
MarQueis Gray
], really. So I think that unit will be much improved.
[+] Enlarge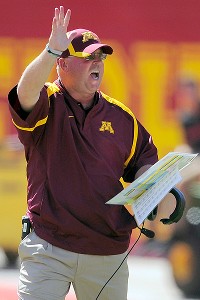 AP Photo/Mark J. TerrillJerry Kill begins his third season as head coach of the Gophers.
You showed off a good power running game in that bowl game. Is that what we should expect from your offense going forward?
JK:
Yeah, that's what we were at Northern Illinois. We could run the power at you, but then we were athletic enough to turn and run the zone read with the quarterback. Both [Chandler] Harnisch and [Jordan] Lynch, when we needed to throw it, we completed it. But we still made our living on running the football. It was the first time, in the bowl game, that we had the same offensive line that we had at the beginning of the seaon. We had so many people get experience there. But that's what we want to be -- a team that gives you a lot of different looks, shifting and motion and different personnel grouping. But you've still got to be able to run the football, and certainly in the Big Ten.
Speaking of that offensive line, after a lot of injuries there last year, how is the position looking this spring?
JK:
Well, we've got a lot of depth, no question. Eddie Olson, he won't go through the spring, but he had a good year a year ago. If we can get his foot healed up and done right, it kind of works out. He'll continue to get stronger. We redshirted
Jonah Pirsig
, who's a 6-foot-8, 6-9, 320 pound tackle,
Ben Lauer
, who's 6-7 and probably 305, and
Isaac Hayes
, who is a 6-2, 300-pound offensive guard. So those kids, I'm anxious to see them in the spring.
We've got
Zac Epping
,
Jon Christenson
and
Caleb Bak
-- in the weight room, he benched 350, squatted 550, so he's gotten stronger.
Josh Campion
is a strong kid; he benches well over 400 pounds. So the same guys who when I first got here were getting pushed around have gotten stronger. And then we've added these young kids that have come in.
Marek Lenkiewicz
is up to 290 pounds,
Tommy Olson
is healthy again and
Brian Bobek
, who transferred from Ohio State and had great credentials when he went to Ohio State, he's another one who's very physically strong. Then there's
Foster Bush
and
Joe Bjorklund
. They're all young kids, but they've gotten physically stronger.
When we got here, I think we had about seven or eight offensive linemen. So we've built it through walk-ons and kind of did it the hard way. But I feel good about that position, along with our tight ends, quarterbacks and receivers. Our defense improved tremendously from one year to the next. For us to be competitive in the Big Ten -- which I think we can be -- our offense has to take the steps our defense did a year ago. And I think we can.
Philip Nelson finished the season for you at quarterback and had a nice bowl game, but you also have some talented young guys there. Is it his job to lose this spring or a more open competition?
JK:
We took the redshirt off Philip last year, and he did some good things and had some things he struggled with, as you'd expect for a freshman. He did some great things in the bowl game. When we go into camp, somebody is going to have to go in there and beat him out. But the thing that's good about that is the competition.
Mitch Leidner
and Chris Streveler are great athletes who can play another position if needed, but they both want to play quarterback and they're very capable of giving someone a run for their money. I can tell you, our defense is very high on Leidner. Mitch is probably close to 6-5 and 230, and he is a 4.6, 4.65 guy [in the 40-yard dash]. And very strong. And then Streveler is quicker than that. He came in during the second semester, and I think he's the third-fastest guy on our team. When we had him in camp, he played receiver also.
So all three of those guys are great kids, students of the game, and the type of kids you want playing quarterback leadership-wise. We'll let it work out. Leidner and Streveler are the type of kids who would say, "Coach, if it helps the team if you move me, I'll do that." But in the spring we're going to let them compete and make sure we're solid at that position. If you look at last year, it was kind of a miracle we got to a bowl game, because we had three different quarterbacks and three different centers. Not many people can win doing that.
September, 13, 2012
9/13/12
3:40
PM ET
Jerry Kill never hides the fact that he's building a program at Minnesota, which makes him somewhat hesitant to heap praise or draw conclusions after limited on-field success.
But Kill is willing to acknowledge what seems abundantly clear after the first two weeks: Minnesota's defensive line is better.
After three unproductive seasons, the Gophers' front four is disrupting offenses and making plays in the backfield. Minnesota is tied for 23rd nationally in sacks with six, and tied for 31st nationally in tackles for loss with 15. If those patterns continue throughout the regular season, the Gophers will finish with 36 sacks and 90 tackles for loss.
Minnesota had 39 sacks in the past three seasons, including an FBS-low eight in 2010.
"If I'd say there's a vast improvement on our football team through the first two games, our defensive line is much more athletic than it was a year ago," Kill said. "We're getting a lot of pressure on the quarterback. We've probably have had more hits on the quarterbacks and more pressure than we had most of the year [in 2011]."
Junior defensive tackle
Ra'Shede Hageman
and senior defensive end
D.L. Wilhite
have accounted for 5.5 of the six sacks, but other linemen are contributing, whether through tackles for loss, quarterback hurries or knockdowns. Tracy Claeys, the team's defensive coordinator and line coach, can use an eight- or nine-man rotation, which includes younger players like
Michael Amaefula
and
Ben Perry
, or newcomers like
Roland Johnson
, and not take a step back.
Hageman, pegged for a monster season by Kill and others, is tied for the Big Ten lead in sacks and tied for fourth with Wilhite in tackles for loss.
"Certainly Ra'Shede has played very, very well in the first two games," Kill said. "He's got to continue to get his pad level down because he's such a tall guy inside, but he's got so much power and has done a good job. D.L. Wilhite has played his best football since we have been here."
The sample size is small and the competition level hasn't been very good (UNLV, New Hampshire). The challenges get tougher the rest of the way, beginning Saturday with Western Michigan.
But the early signs are promising for a defense that has been waiting for a boost up front.
"As a group, overall, they've all had their moments and done well," Kill said, "but we've got to continue to get better."
August, 31, 2012
8/31/12
2:59
AM ET
It took three overtimes to bring out the best in
MarQueis Gray
and the
Minnesota Golden Gophers
.


After a sloppy performance, particularly from their senior quarterback, Minnesota made enough plays in all three phases in the extra sessions to
beat UNLV 30-27
and survive a major scare on the road. The Gophers avoided losing to a Rebels squad coming off of a 2-10 season and gave coach Jerry Kill his first road win at the helm.
Before getting to Gray's odd night, some props for Minnesota's defense. The unit rescued the Gophers multiple times and showed tangible improvement. First, a line that has been largely ineffective for the past three seasons turned up the heat, as
Ra'Shede Hageman
,
D.L. Wilhite
,
Ben Perry
and others got involved. The secondary stepped up late, no one more so than sophomore safety
Derrick Wells
, who recorded two interceptions, including one in the end zone in the third overtime. Senior
Jordan Wettstein
, who had missed a short field-goal attempt early, connected from 32 yards out for the win.
Gray finished with a nice stat line (17-for-30 passing 268 yards, 2 TDs, 1 INT), but he had a nightmarish performance in regulation. The senior struggled with his accuracy and missed at least three wide-open receivers for touchdowns. Despite a boost from
Donnell Kirkwood
(81 yards) and
James Gillum
(51 yards, TD) in the run game, Minnesota's offense stalled after getting next to nothing from its leader.
But to Gray's credit, he didn't quit and came alive in overtime with two touchdown strikes to tight end
John Rabe
. Wide receiver
A.J. Barker
also had a breakout performance (three receptions, 101 yards).
Minnesota made numerous mistakes, including 11 penalties and a muffed punt by
Troy Stoudermire
that led to a UNLV score.
This wasn't a masterpiece, and for the most part, the Gophers should hope what happened in Vegas stays there. They won't win many more games playing like this.
But it's always easier to build off of a victory, and Minnesota's flight home will be a happy one.
July, 30, 2012
7/30/12
3:04
PM ET
With media days in our rearview mirror, we jump back into our preseason Big Ten position rankings. Last week we unveiled our rankings for
individual defensive linemen
. Now it's time to look at the defensive line units as a whole.
Remember, these rankings are based heavily on last year's performance and who returns to the fold, with potential considered as well. Let's get to the guys up front who make the entire defense go.
[+] Enlarge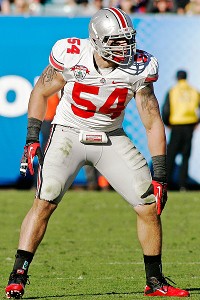 Phil Sears/US PresswireJohn Simon leads one of the Big Ten's best defensive fronts.
1. Ohio State:
The Buckeyes have a chance to field one of the top defensive lines in the country.
John Simon
is a beast, while
Johnathan Hankins
has as much potential to dominate his position as any Big Ten player.
Nathan Williams
could be a big contributor coming back from knee surgery. This group is already really deep, and with standout freshmen like Noah Spence, Adolphus Washington and Se'Von Pittman coming in, it could be scary good.
2. Michigan State:
The Spartans will rival Ohio State for the league's top defensive front. You know all about end
William Gholston
and his unlimited potential.
Marcus Rush
gets overshadowed at the other end spot, but he put up an outstanding freshmen season.
Anthony Rashad White
should be an anchor inside. The big question is who replaces Jerel Worthy, but the team is flush with candidates. This is another very deep defensive line.
3. Purdue:
Don't be surprised by this high ranking.
Kawann Short
might be the top defensive lineman in the league, and is poised for a monster senior season.
Bruce Gaston
gives him a veteran running mate. Defensive end
Ryan Russell
is coming on and might be due for a major breakout this season. This should be the strength of Danny Hope's defense.
4. Penn State:
Devon Still is gone, but the Nittany Lions should continue to be strong up front.
Jordan Hill
looks to follow Still's lead and become a superstar as a senior.
Sean Stanley
is a speedy rusher off the edge, and
Pete Massaro
returns from a knee injury.
DaQuan Jones
and
Deion Barnes
could become bigger contributors.
5. Illinois:
Star power lifts the Illini to this high ranking, as defensive end
Michael Buchanan
and tackle
Akeem Spence
should be among the very best at their positions in the league. It's just a matter of finding out how the others -- like end
Justin Staples
and tackle
Glenn Foster
-- raise their games around them to help make up for the loss of sack master Whitney Mercilus.
6. Nebraska:
Too low for the Huskers? Perhaps. They do bring back several veterans, like Cam Meredith,
Chase Rome
and
Baker Steinkuhler
, while expecting more from
Eric Martin
. Still, this group did not dominate enough for my taste last season, and seems to lack the one true pass-rushing stud. But Nebraska has the potential to have a very stout line.
7. Michigan:
It's probably wrong to doubt a line overseen by Brady Hoke and Greg Mattison. Yet this unit lost three starters from a year ago, including stars Mike Martin and Ryan Van Bergen. A lot depends on how Will Campbell performs as a senior, and whether
Craig Roh
can take his game to the next level. There isn't much experience at all behind the starters.
8. Wisconsin:
Can
David Gilbert
stay healthy and emerge as a fearsome pass-rusher? That's the key to the Badgers' defensive line, without a doubt. Tackles
Beau Allen
and
Ethan Hemer
are rock solid, though the loss of
Jordan Kohout
hurts the depth inside.
Brendan Kelly
should be good against the run. But Wisconsin needs a fast player on the perimeter, and that's where Gilbert comes in.
9. Iowa:
This is a frighteningly young and inexperienced group heading into the season for Iowa, though that doesn't mean it lacks talent.
Steve Bigach
is the closest thing to a seasoned veteran. The Hawkeyes will need a lot of players to raise their performance, including
Dominic Alvis
and
Carl Davis
.
10. Northwestern:
This has been a trouble spot for the Wildcats, and could be again in 2012 with the loss of both starting tackles.
Tyler Scott
and Quetin Williams are back at end, and expectations are high for redshirt freshman
Deonte Gibson
. Can
Will Hampton
and Brian Arnfeldt hold the fort down inside the tackles?
11. Indiana:
Defensive line is one of the few places where the Hoosiers have experienced veterans. Seniors
Adam Replogle
and
Larry Black
lead the way at tackle.
Bobby Richardson
and
Ryan Phillis
showed some things as freshmen pass-rushers last season. Still, this group must play better overall.
12. Minnesota:
The Gophers have had trouble putting consistent pressure on quarterbacks for the past couple of seasons, and now they're replacing both interior linemen. Jerry Kill has talked highly of 6-foot-6, 300-pound junior
Ra'Shede Hageman
's offseason, and
Roland Johnson
comes over from junior college to help out.
D.L. Wilhite
and
Ben Perry
will bring speed, but not much bulk to the defensive end spots.
April, 16, 2012
4/16/12
12:30
PM ET
D.L. Wilhite
has been at Minnesota long enough to remember Willie VanDeSteeg.
Wilhite's first season with the Gophers, in 2008, was VanDeSteeg's last. Although Wilhite redshirted that fall, he worked alongside VanDeSteeg at practice, and VanDeSteeg took him under his wing. That season, VanDeSteeg recorded 10.5 sacks, tied for second in the league, and 19 tackles for loss en route to earning first-team All-Big Ten honors from the media.
But since VanDeSteeg's departure, Minnesota hasn't had a pass rusher close to his caliber. The team hasn't had a player record more than four sacks in each of the past three seasons. Minnesota's sacks leaders had just three sacks in both 2009 and 2010, while the late
Gary Tinsley
, a linebacker, led the team with four last year.
After finishing 24th nationally in sacks in 2008, largely thanks to VanDeSteeg, Minnesota slipped to 78th in 2009, 120th (last in FBS) in 2010 and 86th last season.
[+] Enlarge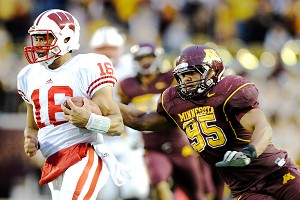 AP Photo/Cal Sport MediaD.L. Wilhite knows Minnesota's pass-rush has to help the young secondary.
"Coming up, Willie was my role model," Wilhite told ESPN.com. "He was the one I looked up to. When he left, I looked Willie in the eye and told him I was going to be better than him, and I feel like I haven't shown that up until this point."
Wilhite has one last chance to ensure his promise to VanDeSteeg. And what a boost he could provide to a defense sorely needing one from the front four in 2012.
He leads a group of young defensive ends who have made the pass rush their peak priority this spring. Gophers defensive coordinator Tracy Claeys is open to turning his linemen loose, but they have to show they can finish in the backfield.
Ben Perry
, who started all 12 games as a redshirt freshman in 2011, feels the line is getting closer and points to the season finale against Illinois, where Minnesota recorded a season-high five sacks in a 27-7 victory. But the group needs to upgrade its fundamentals, which are being stressed this spring.
"We can't be taking inefficient moves," said Perry, who recorded 15 tackles and a sack last season. "We've got to keep our hips toward the quarterback, stay low and keep leverage. We do drills, making sure we stay under the chute and keeping not just our pad level low but our legs bent."
Minnesota's defensive linemen recognize the urgency to upgrade their play, not just for the team but in a league like the Big Ten. The Gophers return most of their linebackers and should be solid there, but they once again have question marks in the secondary after finishing 11th in the league and 107th nationally in pass defense in 2011.
"If we're getting pressure, it alleviates stress on a lot of different people," said Wilhite, who had three sacks and a forced fumble last season. "The DBs aren't having to cover as long, the linebackers aren't having to cover as long. We're not having to bring people to blitz, so we can drop more people off in coverage."
The team's declining pass rush is more pronounced in a league like the Big Ten, which regularly boasts four or five top 20 defenses. The league produces many more elite NFL draft prospects from the defensive line than from any other position.
"Year in and year out, the team that's going to win the Big Ten championship probably is going to have the best D-line," Wilhite said. "In the past years, Iowa's had great D-lines, Ohio State's had great D-lines. So if we want to win, it has to start with us."
Although Wilhite is a fifth-year senior with 20 starts the past two seasons, Minnesota remains fairly young at defensive end. Perry is a redshirt sophomore, while
Michael Amaefula
, a true sophomore, made four starts last fall.
Thieren Cockran
, who redshirted last fall, should be in the rotation this year.
Wilhite singled out Amaefula's play this spring, noting that they try to mimic each other's pass-rush moves. Perry also is showing more confidence on the practice field.
"You learn so much more in a game than you ever could in a practice, just stepping on that field each play," he said. "The experience, it's incomparable."
Wilhite's college experience won't be complete without a big senior season. As the leader of the defensive ends, he still plans to fulfill his pledge to VanDeSteeg, who attends one or two Minnesota games per season.
"I want to see him one more time," Wilhite said, "and be like, 'OK, Willie, you had 10 sacks your senior year, but I had 11.'"
December, 13, 2011
12/13/11
10:15
AM ET
Earlier today, we revealed a handful of our top freshmen from 2011. Now it's time to unveil the entire Big Ten All-Freshman team from the season.
Some positions were easier to find players than others, but this crew should be worth watching in years to come. Both
true freshmen
and
redshirt freshmen
were considered for the team.
Without further ado ...
OFFENSE
QB:
Braxton Miller
, Ohio State
RB:
Donovonn Young
, Illinois
RB:
Ameer Abdullah
, Nebraska
WR:
Kenny Bell
, Nebraska
WR:
Kevonte Martin-Manley
, Iowa
TE:
Jon Davis
, Illinois
OL:
Travis Jackson, Michigan State
OL:
Bernard Taylor, Indiana
OL:
Michael Heitz, Illinois
OL:
Brandon Vitabile, Northwestern
OL:
Tyler Moore, Nebraska
DEFENSE
DL:
Marcus Rush, Michigan State
DL:
Ryan Russell, Purdue
DL:
Michael Bennett, Ohio State
DL:
Ben Perry, Minnesota
LB:
Ryan Shazier, Ohio State
LB:
Jake Ryan, Michigan
LB:
Desmond Morgan, Michigan
CB:
Bradley Roby, Ohio State
CB:
Blake Countess, Michigan
S:
Mark Murphy, Indiana
S:
Ibraheim Campbell, Northwestern
SPECIAL TEAMS
K:
Matt Wile, Michigan
P:
Mike Sadler, Michigan State
KR:
Raheem Mostert
, Purdue
PR:
Ameer Abdullah, Nebraska
There were some tough choices, and several positions had more candidates than others. Cornerback, for example, featured several promising freshmen contributors. Michigan State's Tony Lippett and Penn State's Adrian Amos were close to making the cut. Indiana quarterback
Tre Roberson
is another player meriting mention, although Miller deserved the nod at quarterback.
Not surprisingly, it was a struggle to fill out the offensive line as most freshmen linemen don't see the field. Like we did with the general All-Big Ten team, we didn't assign positions for the O-line and simply picked the best five players. It also was a bit unusual not to have a full-time freshman place-kicker. Michigan's Wile handled kickoffs and some punting, but Brendan Gibbons kicked field goals for the Wolverines.
August, 30, 2011
8/30/11
9:00
AM ET
Two more Big Ten teams have produced their depth charts for Week 1. Let's take a look at Illinois' depth chart for the opener against Arkansas State, and Minnesota's depth chart for its opener at USC.
ILLINOIS
Depth chart
(Page 10)
As expected, redshirt freshman Michael Heitz has earned the starting strong-side offensive tackle spot. Scott McDowell and Simon Cvijanovic will serve as backups at tackle.
Sophomore receiver Darius Millines earned a starting spot with a very strong performance in preseason camp. Classmate Spencer Harris also is listed as a starter at receiver alongside veteran A.J. Jenkins. Ryan Lankford, who had a strong spring, is listed as a backup to Jenkins.
Senior Jason Ford is the No. 1 running back, while three players -- senior Troy Pollard and true freshmen Donovonn Young and Josh Ferguson -- are listed as co-backups. Don't be surprised if Young gets significant playing time behind Ford.
Interesting to see Justin Green and Terry Hawthorne listed as co-starters at cornerback opposite senior Tavon Wilson. Hawthorne has been pretty impressive when healthy, but Green is right there in the mix.
After starting last season at safety, Trulon Henry is listed as the starting strong-side linebacker. Sophomore Jonathan Brown enters the season as the top weak-side linebacker ahead of redshirt freshman Houston Bates.
Sophomore Miles Osei and freshman Reilly O'Toole are listed as co-backups at quarterback behind Nathan Scheelhaase.
No major surprises on the starting defensive line, as senior Craig Wilson steps into the tackle spot vacated by first-round draft pick Corey Liuget.
Hawthorne is the team's No. 1 punt returner, while Pollard and Millines are the top two men on kickoff returns.
Illinois has a good number of true freshmen and redshirt freshmen on the depth chart, including tight end Jon Davis, and defensive tackles Austin Teitsma and Jake Howe.
MINNESOTA
Depth chart
(Page 22)
Junior college transfer Malcolm Moulton has made quite an impression. Moulton is listed as the starter at two receiver positions (the "Z" and "V"); freshman Marcus Jones is the backup at both spots. Senior Collin McGarry is listed as another starting receiver alongside All-Big Ten candidate Da'Jon McKnight.
Ryan Wynn and Zach Mottla are listed as co-starters at center, the result of Wynn battling a sprained ankle during preseason camp.
Although Minnesota's interior offensive line might feature three senior starters, the top tackles are a sophomore (Ed Olson) and a redshirt freshman (Jimmy Gjere). Two other freshmen, Sean Ferguson and Foster Bush, are listed as Gjere's backups.
The depth chart includes another redshirt freshman starter in defensive end Ben Perry. Minnesota is very young along the D-line, as tackles Anthony Jacobs and Brandon Kirksey are the only seniors listed among the top three players at each position.
Freshman quarterback Max Shortell has won the backup job behind MarQueis Gray.
Not many surprises among the linebackers, although Florida transfer Brendan Beal is just a co-backup with junior Ryan Grant at middle linebacker.
Eric Lair, who stood out at tight end for Minnesota in 2010, is listed as the team's starting H-back/fullback.
Sophomore Brock Vereen appears as the team's No. 1 cornerback opposite senior Troy Stoudermire. Shady Salamon and Kim Royston are the starting safeties.
Not surprisingly, freshmen and redshirt freshmen fill coach Jerry Kill's Week 1 depth chart. Quite a few young players will get their college football baptism Saturday afternoon at the L.A. Coliseum.
August, 23, 2011
8/23/11
5:00
PM ET
Jerry Kill is in the middle of another reclamation project. After bolstering programs at Northern Illinois, Southern Illinois and other stops along the way, Kill has brought his turnaround tactics to the Twin Cities. He takes over a Minnesota program that went 3-9 last year and has suffered some roster attrition. Most project the Gophers to finish at the bottom of the Legends division this season.
Unlike his predecessor, Tim Brewster, Kill isn't one to make bold preseason predictions. He's trying to build a program "on concrete, not sand," and the process could take some time.
I checked in with the first-year Gophers coach Tuesday to get his thoughts on preseason prep.
What has been your top priority in camp?
Jerry Kill:
The biggest thing is when you take over a new team, you go through spring ball, but they haven't been through two-a-day camp with you. They're not familiar with what you do and how you do things. So getting everybody into a routine and familiar with the way we approach things, it's been a challenge but the kids have handled it pretty well.
Do you feel like you're still starting over?
[+] Enlarge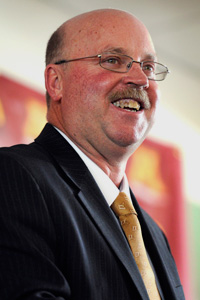 AP Photo/Craig LassigJerry Kill opened up practice for a few weeks because he believes players work harder in public.
JK:
It's a new coaching staff, and we haven't been through it. Until we go through a full year, people aren't going to understand what you expect or what you want. You can't get to know somebody in three or four months. It takes time, and trials and errors, so we are starting over. It is what it is. We've never been through two-a-day camp together, we've never been through the first game together, we've never been through a season together. Once you go through it for a year, you can get all the things figured out. That's just the way it is. And you hope you win some games along the way.
You've had quite a few open practices and scrimmages this month. What has the atmosphere been like?
JK:
I remember asking Bobby Ross, back when I was coaching Saginaw Valley State and the Detroit Lions were having training camp and Coach Ross was in charge. They had the open practices. I asked him why he did that and he said because players will practice harder. I don't think there's any question about that. So we opened up our first two weeks, it's closed now, but we had 200 people at probably every practice at least. So it's a good atmosphere for the kids to practice. They don't want to be embarrassed when there's people around, so I thought it was a good deal.
You were pleased with MarQueis Gray coming out of the spring. How has he looked to you so far this camp?
JK:
He's still going through the learning process, and he will for a while. He's never been in a game at quarterback. He has played some Wildcat or whatever, but he has never been a true quarterback in a game. There's learning going on every game, and it's certainly different from spring ball to two-a-day camp because we're getting closer to game day, and there's a lot more to do at that position. But he's working his tail end off to do something that's pretty darn near impossible, to go from a wide receiver to a quarterback.
He's worked hard at it, we're making progress. Will we be real complicated early in the year? We can't be. We've basically got four freshmen quarterbacks. So we'll have to simplify things. He's athletic enough to do some special things once we get him in the right position. He's what you look for in a quarterback and he's got the skill set to do it, but the other people around him have got to do a good job also.
How many young players do you anticipate playing, true freshmen and redshirt freshmen?
JK:
Too many. It is what it is. We've got a situation where we've got one recruiting class that only has five players left. There's a reason things are open. We've got one senior running back [
Duane Bennett
] and four freshmen, whether they're redshirt or true freshmen. We've got one senior wide receiver [
Da'Jon McKnight
] and the rest are freshmen and a junior college player. Offensive line, we've got three seniors and the rest of them are freshmen and redshirt freshmen, a couple sophomores sprinkled in there. So it's a young football team.