Big Ten:

Bennie Oosterbaan
September, 6, 2012
9/06/12
12:00
PM ET
Two days till Big Ten football, three days till Bearmageddon in Chicago.
July, 9, 2012
7/09/12
9:00
AM ET
Joe Paterno has become a polarizing figure in recent months, but all parties would agree that he defines Penn State football.
Paterno was affiliated with the Nittany Lions program for 62 years of its 125-year existence. He served as Nittany Lions coach for nearly 46 seasons before being fired in November. And his impact is particularly significant in the program's victories total.
[+] Enlarge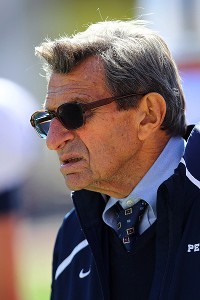 Michael Hickey/US PresswireAccounting for nearly 50 percent of the program's wins, Joe Paterno was the face of Penn State.
Of Penn State's 827 all-time victories in football, Paterno coached the team for 409, the most of any coach in Division I history. Other than former Florida State coach Bobby Bowden, who accounts for an astounding 64 percent of the Seminoles' all-time wins (304 of 475), Paterno's percentage of Penn State's wins (49.4) places him in select company. Only Air Force's Fisher DeBerry (49.1 percent) and BYU's LaVell Edwards (49.2 percent) have accounted for a similar chunk of program wins -- among FBS programs that have been around for more than 30 years -- as Paterno has at Penn State.
ESPN.com is taking a closer look at coaches this week, and today's topic examines which programs are defined by one coach. Penn State fits the description because of Paterno's long and successful career. Penn State also is unique because its program has been around so long, and while there was success before JoePa -- eight undefeated seasons between 1894-1947, a Rose Bowl appearance in 1923 -- almost all of the program's significant achievements (two national titles, 24 bowl wins) occurred on Paterno's watch.
What about the other Big Ten teams?
In terms of winningest coaches, here's how they look:
Illinois:
Robert Zuppke, 131 of program's 580 wins (22.6 percent)
Indiana:
Bill Mallory, 69 of 449 (15.3 percent)
Iowa:
Hayden Fry, 143 of 593 (24.1 percent)
Michigan:
Bo Schembechler, 194 of 895 (21.7 percent)
Michigan State:
Duffy Daugherty, 109 of 638 (17.1 percent)
Minnesota:
Henry Williams, 136 of 646 (21.1 percent)
Nebraska:
Tom Osborne, 255 of 846 (30.1 percent)
Northwestern:
Lynn Waldorf, 49 of 488 (10.04 percent)
Ohio State:
Woody Hayes, 205 of 837 (24.5 percent)
Purdue:
Joe Tiller, 87 of 586 (14.8 percent)
Wisconsin:
Barry Alvarez, 118 of 635 (18.6 percent)
As you can see, no coach comes close to Paterno in terms of percentage of his program's wins. But this ratio is just one gauge of a program-defining coach.
Another important factor is a team's history both before and after a coach took the job. Look at Wisconsin before Alvarez arrived in 1990. The program had endured five consecutive losing seasons and had just six winning seasons since 1963. Wisconsin's previous two coaches, Don Morton and Jim Hilles, had gone a combined 9-36 at the helm.
Alvarez transformed Wisconsin into an upper-tier Big Ten program, leading the Badgers to three Big Ten titles and three Rose Bowl championships. His hand-picked successor, Bret Bielema, has carried on Wisconsin's momentum, but Alvarez fostered the change. He is Wisconsin football, period.
Two iconic coaches regarded by many the faces of their respective programs are Ohio State's Hayes and Michigan's Schembechler. They tied for the most Big Ten championships with 13. Hayes won the most Big Ten games (152 to Schembechler's 143), while Schembechler owns the record for best winning percentage in conference games (.850).
But both men led programs that had success under other coaches. Michigan was a national superpower under the likes of Fielding Yost (.888 career win percentage), Harry Kipke, Fritz Crisler and Bennie Oosterbaan, while Schembechler never won a consensus national title. The Wolverines boast six coaches who have served 10 or more years, most recently Lloyd Carr (1995-2007).
Ohio State carved a place among the nation's elite under shorter-tenured coaches like Francis Schmidt and Paul Brown, while Jim Tressel won a national title and more than 81 percent of his games during his 10 years in Columbus.
Are Michigan and Ohio State defined by Schembechler and Hayes, respectively? Depends on your perspective. My take: both are iconic, but Hayes is more defining.
Iowa's Fry fills a similar role to Alvarez. He took over a program on the downturn for several decades and put it in the Big Ten's top half. Fry is the coach people think of when Iowa comes to mind, although his successor, Kirk Ferentz, has put his own stamp with a solid run since 1999.
Other Big Ten programs seem to fit into different categories.
Programs with two great coaches:
Nebraska -- Osborne (255-49-3) and Bob Devaney (101-20-2)

Purdue -- Tiller (87-62) and Jack Mollenkopf (84-39-9)
Programs that had its most successful coaches many years ago
Illinois -- Zuppke (131-81-13 from 1913-41); Arthur Hall (27-10-3 from 1907-12)

Minnesota -- Williams (136-33-11 from 1900-21; Bernie Bierman (93-35-6 from 1932-41 and 1945-50)

Michigan State -- Daugherty (109-69-5 from 1954-72); Biggie Munn (54-9-2 from 1947-53); Charles Bachman (70-34-10 from 1933-46); Chester Brewer (58-23-7 from 1903-10, 1917, 1919)
Historically weak programs with a lot of coaching turnover
Indiana -- No coach with career winning record since Bo McMillin (1934-47), no coach with 70 or more wins at school

Northwestern -- No coach with 50 or more wins at school, only one coach with tenure longer than 10 years
You could argue Zuppke remains Illinois' defining coach, even though he hasn't coached in more than 70 years. Osborne is undoubtedly the face of Nebraska's program, but is he the Huskers' defining coach? Tough to say that after looking at what Devaney did (two national titles, eight Big Eight titles).
Could any current Big Ten coach end up being a program-defining figure? None will occupy his job as long as Paterno did at Penn State. Northwestern's Pat Fitzgerald is just nine wins shy of Waldorf's victories mark, and he turned 37 in December. Fitzgerald's strong ties to the program, plus Northwestern's poor history and absence of coaching greats, create an opportunity should Fitzgerald have success for a long period.
What are your thoughts? Which Big Ten programs are defined by a coach, and which are not? Share them
here
.
June, 13, 2012
6/13/12
8:15
AM ET
Michigan announced late Tuesday night that in addition to unretiring the No. 48 worn by former President Gerald Ford, it
will unretire two other jersey numbers
.
The team will unretire the No. 47 worn by Bennie Oosterbaan and the No. 87 won by Ron Kramer. Both men played end for the Wolverines, while Ford played center from 1932-34. All three men will be "honored in perpetuity" by having their names on a patch on the jerseys worn by future Michigan players, beginning this season. Michigan's coaching staff has yet to determine who will wear Nos. 47, 48 or 87 this season.
"The success and acceptance of the Desmond Howard Legend recognition led to conversations with the family members who had retired jerseys, several of whom were never recognized or celebrated in the appropriate manner," Michigan athletic director Dave Brandon said in a prepared statement. "The Ford, Kramer and Oosterbaan families want to see their family member honored in this way. We have yet to have any discussions with the Wistert or Harmon families. This program is about tradition and legacy and this is a unique way to recognize these great Wolverines."
Michigan honored Howard, the 1991 Heisman Trophy winner, during its historic night game against Notre Dame last season. Howard's No. 21 jersey will be worn by
Roy Roundtree
this year. Michigan is tentatively scheduled to honor Oosterbaan during its Sept. 8 game against Air Force, Kramer during its Sept. 15 game against Massachusetts and Ford during its Oct. 13 game against Illinois.
The lockers assigned to the three jersey numbers at both Michigan Stadium and Michigan's practice facility will reflect the fact that Ford, Oosterbaan and Kramer donned those numbers.
Michigan still will have retired jerseys for Tom Harmon's No. 98 and Francis, Albert and Alvin Wistert's No. 11, at least for now.
October, 14, 2011
10/14/11
2:30
PM ET
Thanks to ESPN Stats & Info for these nuggets on Big Ten games featuring Top 25 teams on Saturday ...
Brady Hoke is trying to do something that Bo Schembechler and Lloyd Carr couldn't do, beat Michigan State in his first year as head coach. No first-year Michigan coach has beaten MSU since Bennie Oosterbaan in 1948. Hoke's 6-0 start is the best for a first-year Michigan coach since Oosterbaan. Oosterbaan's 1948 team finished 9-0 and won the national championship.
Ohio State has won eight straight road games against Illinois. The last time the Buckeyes lost at Illinois was 20 years ago (1991), a 10-7 loss. Illinois has beaten Ohio State five times since then, all on the road.
Michigan QB Denard Robinson leads the FBS with 77 rushes of 10 or more yards since the start of last season. Robinson has had at least one such run every game over the past two seasons, including seven games with at least five such runs.
Wisconsin has scored at least 35 points in each game and has won all five games by at least 31 points this season. Dating back to last season, the Badgers' last nine wins have been by at least 20 points. The Badgers also have tremendous balance on offense. They're the only FBS team to average at least 240 pass yards and at least 240 rush yards.
This is the first time a ranked Illinois team is playing an unranked Ohio State team since 1989. That year, Illinois won 34-14.
Michigan State QB Kirk Cousins is completing 31.6 percent of his throws of 20 yards or more this season, down eight percentage points from 2010. One reason why is the departure of Mark Dell. Dell was the only Michigan State receiver last season to whom Cousins completed over 50 percent of these passes. With Dell gone, B.J. Cunningham has been Cousins' best downfield option. Cousins has targeted Cunningham 12 times on throws of 20 yards or more, and other players only seven times.
Indiana has lost 13 straight games against teams ranked in the AP Poll. The Hoosiers' last win against a ranked team was in 2006 against No. 15 Iowa.
February, 24, 2009
2/24/09
2:30
PM ET
Posted by ESPN.com's Adam Rittenberg
Some Rushmore leftovers and the like.
Aaron from Iowa City, Iowa, writes: Hey Adam, what are your thoughts of the new tiebreaker rules? I personally don't like anything that puts more power into the voter's hands, so I am completely against them adding the BCS standings. I also liked teams being eliminated for playing an FCS team. It credits teams like Michigan State who didn't just take the easy way out and only play 11 real games in a season
Adam Rittenberg: It certainly could be a dangerous move by the Big Ten, Aaron, especially considering what happened to the Big 12 last season. But with only one division, a history of getting multiple teams to BCS games and the built-in annual rivalries like Michigan-Ohio State and Penn State-Ohio State, I don't see the BCS standings tiebreaker coming into play too much (I hope). In most seasons, two Big Ten teams with a shot for the national title game will face one another.
I definitely agree with getting rid of the old "last team to the Rose Bowl doesn't get to go" rule, and I think the BCS standings would only be used in rare cases. Now, if the Big Ten adds a team and goes to two divisions -- again, very unlikely -- any time soon, then the tiebreaker rules need to be reexamined. As far as the FCS rule, there are too many Big Ten teams that want home games at all costs, so they're going to continue to schedule FCS opponents with no return game. It's just a fact of the business when you have huge stadiums like the ones in the Big Ten. No one wants to go on the road, and the league isn't going to stand in the way.
---
Paul from Johnstown, Pa., writes: Adam, Let me be the first to say, I loathe the Wolverines...but even I have to give it up for one man you totally dissed on the Michigan Rushmore...no Gerald Ford? All he did was help win 2 national titles, earn team MVP honors, and HAVE HIS JERSEY RETIRED!! Also, I may have forgot to mention that he was the leader of the free world. You don't even have him on the short-list. For goodness sakes, isn't the real Rushmore made up of former presidents?
Adam Rittenberg: Paul, you've got to read the fine print. President Ford was considered for Michigan's Rushmore, but the team had four stronger candidates. I don't know how you can have Michigan's Rushmore without Bo Schembechler, Fielding Yost and Tom Harmon. And Charles Woodson was arguably the best defensive player in college football in the last 25 years. Look at some of the other guys who didn't make Michigan's list -- Bennie Oosterbaan, AC (Anthony Carter), Fritz Crisler. You can make a case for Ford no doubt, but I can make a stronger one for the guys I included.
---
Zach from Chicago writes: Hey Adam, I know there are some questions at Illinois for this upcoming season but it seems like noone is even giving them a chance this year. With Juice, Benn, Jenkins, Dufrene, Ford, Hoomanawanui all returning on offense and the addition of Terry Hawthorne, I see this as being not only the most potent offense in the Big Ten, but one of the better offenses in the country, even with Locksley gone. Mike Schultz did an excellent job down at TCU. I think even if the Illini defense is not that great, they will have the ability to win a lot of games simply by putting up a lot of points on the board. They kind of remind me of a big 12 south team this year. I just wanted to get your opinion on their chances.
Adam Rittenberg: If Illinois fills some holes and gets better on the offensive line, there's no reason why it can't be among the nation's top offenses in 2009. A new coordinator could bring some growing pains, but Juice Williams was terrific the first half of last season and returns almost all of his weapons. I would still like for a featured back to emerge -- either Jason Ford or Daniel Dufrene -- and stabilize the run game outside of Juice. But there's no reason to think Illinois can't average 32-plus points and 430-plus yards of offense per game in 2009.
My biggest concerns with the Illini are defense and team chemistry. This clearly was a bit of a fractured team in 2008 to underachieve as badly as it did. And I would be extremely hesitant to buy into the philosophy that Illinois should simply outscore its opponents. The talent is there on defense, but the coaches need to get more out of that group this fall.
February, 20, 2009
2/20/09
3:34
PM ET
Posted by ESPN.com's Adam Rittenberg

This is another Rushmore list that can't be completely on target or totally off base. Michigan has won too much and produced too many stars to fit on one mountain.
The Wolverines boast 18 multiple All-Americans, including three-time selections Bennie Oosterbaan and Anthony Carter, neither of whom made the final list. The winningest program in FBS history has several iconic coaches, 15 Big Ten MVPs, three Heisman Trophy winners and two Maxwell Award winners. Michigan's Rushmore could easily be made up of four coaches, but I couldn't shut out the guys who made it happen on the field.
Here's the list for the Wolverines.
Bo Schembechler -- He will always remain an icon at Michigan and in the Big Ten as one of the most recognizable coaches in college football history. Schemechler's teams at Michigan won or shared 13 Big Ten titles, reached 10 Rose Bowls and never had a losing season. He went 194-48-5 in 21 seasons at Michigan and later served as the school's athletic director. No figure meant more to Michigan athletics in the modern era than Schembechler.
Fielding Yost -- Yost laid the groundwork for Michigan's success as head coach for 25 years. His teams won six national championships, including four straight from 1901-04. Michigan went 56 games without a loss, and 20 of Yost's players earned All-America honors. He later served as Michigan's athletic director from 1921-41.
Tom Harmon -- Harmon won Michigan's first Heisman Trophy in 1940 and starred for Fritz Crisler's teams as a do-it-all star. He ran, threw and kicked the ball, scoring 237 points in his career. Harmon finished second in the Heisman voting in 1939 and won Big Ten MVP honors and the Maxwell Award the next season.
Charles Woodson -- It probably took several dynamic punt returns to secure the Heisman Trophy, but Woodson is undoubtedly one of the best defensive players in college football history. The Wolverines star cornerback is the only predominantly defensive player to win the Heisman, intercepting eight passes in 1997. The two-time All-American swept the national awards as a junior and finished his career with 18 interceptions.
Needless to say, there were a ton of others considered for Michigan's Rushmore, including: Oosterbaan, Carter, Desmond Howard, Gerald Ford, Fritz Crisler, Dan Dierdorf and Rick Leach.
August, 6, 2008
8/06/08
4:25
PM ET
Posted by ESPN.com's Adam Rittenberg
I had hoped to post this earlier in the week during my trek through the state of Michigan but got bogged down with practices, interviews, tours and the like.
E-mailer Steven from Phoenix brings up an interesting note about the Michigan-Michigan State rivalry.
Steven writes:
Hi Adam: I read your predictions on the Big Ten Rival football games this fall. As a Wolverine fan, I hope you're right on the Michigan/Michigan State game because there's an interesting historical note to this series. First year coaches don't typically win in this series. The last coach to win in his first try was Nick Saban for MSU in 1995. But something had to give because he was going up against first year coach Lloyd Carr in the game. Saban is the first coach to win in his first try in at least the last ten MSU coaches. At Michigan, the last coach to win in his first try against MSU was Bennie Oosterbaan in 1948. Bump Elliott, Bo Schembechler, Gary Moeller and Lloyd Carr all failed in their first attempt at beating Michigan State. On another note, first year Michigan coaches are nearly perfect against Ohio State in their first try. Just a couple of notes I thought I'd pass along for future use in case you're interested. You can check out the records to see what I mean. Keep up the good work. Steve
Let's check out the history of first-year coaches in the series since the first rookie coach faced the opposing team in 1911:
First-year coaches in the UM-MSU series
Year
New coach
Team
Game result
2007
Mark Dantonio
Michigan State
Michigan 28, Michigan State 24
2003
John L. Smith
Michigan State
Michigan 27, Michigan State 20
2000
Bobby Williams
Michigan State
Michigan 14, Michigan State 0
1995
Nick Saban
Michigan State
Michigan State 28, Michigan 25
Lloyd Carr
Michigan
1990
Gary Moeller
Michigan
Michigan State 28, Michigan 27
1983
George Perles
Michigan State
Michigan 42, Michigan State 0
1980
Frank Waters
Michigan State
Michigan 27, Michigan State 23
1976
Darryl Rogers
Michigan State
Michigan 42, Michigan State 10
1973
Denny Stolz
Michigan State
Michigan 31, Michigan State 0
1969
Bo Schembechler
Michigan
Michigan State 23, Michigan 12
1959
Bump Elliott
Michigan
Michigan State 34, Michigan 8
1954
Duffy Daugherty
Michigan State
Michigan 33, Michigan State 7
1948
Bennie Oosterbaan
Michigan
Michigan 13, Michigan State 7
1947
Clarence Munn
Michigan State
Michigan 55, Michigan State 0
1938
Fritz Crisler
Michigan
Michigan 14, Michigan State 0
1933
Charlie Bachman
Michigan State
Michigan 20, Michigan State 6
1929
Harry Kipke
Michigan
Michigan 17, Michigan State 0
Jim Crowley
Michigan State
1928
Harry Kipke
Michigan State
Michigan 3, Michigan State 0
1927
Tad Wieman
Michigan
Michigan 21, Michigan State 0
1923
Ralph Young
Michigan State
Michigan 37, Michigan State 0
1921
Albert Barron
Michigan State
Michigan 30, Michigan State 0
1920
George Clark
Michigan State
Michigan 35, Michigan State 0
1918
George Gauthier
Michigan State
Michigan 21, Michigan State 6
1916
Frank Sommers
Michigan State
Michigan 9, Michigan State 0
1911
John Macklin
Michigan State
Michigan 15, Michigan State 3
The history obviously doesn't bode well for Michigan coach Rich Rodriguez, who gets his first taste of the rivalry Oct. 25 at Michigan Stadium. Then again, more first-year Michigan coaches have won their first games in the series than their Michigan State counterparts. And it was interesting to see that even though Schembechler and Moeller lost their first games against State, both coaches guided Michigan to Big Ten championships those seasons.
The best debut? Oosterbaan, whose team beat Michigan State in the season opener before running the table and winning the 1948 national title. A quick note: Michigan coach Fielding Yost didn't face Michigan State in his first season of 1901 even though the series began in 1898.
As for first-year coaches in the Michigan-Ohio State series, the last six Wolverines first-year coaches have won their initial matchup with the Buckeyes. In contrast, four of the last six Ohio State first-year coaches dropped their first game against Michigan.