Big Ten:

big ten pac-12 partnership
December, 28, 2011
12/28/11
6:00
PM ET
Big Ten commissioner Jim Delany and Pac-12 commissioner Larry Scott just finished a conference call with reporters. Here are some notes and nuggets from that call:
Both commissioners acknowledged that adding a difficult nonconference game against BCS opponents could create an impediment to their teams reaching the BCS title game. That's especially a concern in the Pac-12, which is pledging for now to keep its nine-game league schedule. But both say the benefits outweigh the risks.
[+] Enlarge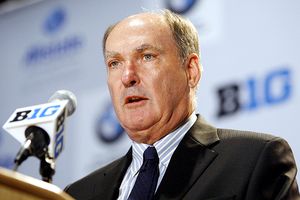 Jerry Lai/US PresswireBig Ten commissioner Jim Delany said his league won't be seeking any scheduling partnerships outside the one with the Pac-12.
"It seems counter-intuitive to make it tougher to make a bowl game, to make it tougher in the current BCS construct to go undefeated and get to the national championship game," Scott said. "In a time where there's an intrinsic pressure to kind of dumb down interconference schedules, here we are kind of reinvesting in regular-season college football and getting higher-caliber, tougher competition.
"But I think in our conference -- and the Big Ten feels the same way -- it's a broader, more holistic view about the benefits of a high-quality regular-season schedule. It's not just about how easy can you make it to qualify for a bowl and make the BCS championship game."
I asked Delany if this would make it harder for Big Ten teams to get to the national title game.
"I think it probably does," he said. "[But] in an overall, holistic way, I think it helps our football programs. I think it will engage fans, help our recruiting, help in the presentation of television. If fans follow it, our partners will be rewarded and we will ultimately be rewarded.
"We all agreed that the 12th game was kind of a 'buy game' too often for our conference and a game that was not as compelling maybe as we would like. This is a step that's for the fan, for the player and for recruitment. Clearly, for coaches used to having four [nonconference] home games, it makes it more challenging. But that's just one aspect."
Much remains to be ironed out on which teams will play whom. But Delany said he'd like "to have competitive equity play a significant part" in determining the matchups. Which raises the possibility, if two strong teams meet in the regular season, that they could have a rematch in the Rose Bowl. Would that water down the Rose Bowl?
"It's obviously a possibility," Scott said. "We do have to set these schedules somewhat in advance, and I don't think you can perfectly calibrate or choreograph matchups. I would underscore, however, that these games would be taking place early in the season. In the unlikely but possible scenario where a rematch would occur, it would be a rematch from right at the beginning of the season, not at the end of the season."
Of course, the Big Ten already does an interconference dance with the ACC in basketball. Would the Pac-12/Big Ten football games get treated like the Big Ten/ACC challenge? Delany said they would be different in that the matchups would likely occur over three-to-four weeks, not in a couple of days like the basketball challenge.
"Whether or not it's branded that way, I think people will measure and count," Delany said. "That's the nature of competition."
Delany said the Rose Bowl is the only thing that's really sacrosanct between the two leagues, and everything else right now is "a blank canvass." The two conferences can come up with all kinds of creative events, mini-tournaments, whatever. Delany called it "not a five-year or 10-year deal, but an indefinite collaboration."
Some of the creative events could take place at NFL stadiums or at the Rose Bowl, in and out of the leagues' footprints. Delany mentioned Yankee Stadium, Atlanta and Texas as possibilities for some neutral-site games. But he said the majority of the football contests would likely be held on campuses.
Both Scott and Delany said this was not the first step toward any kind of real merger between the leagues. And Delany said don't look for similar collaborations between the Big Ten and other conferences.
"We have a common DNA but a tremendous recognition that 90 percent, 80 percent of what we do is in our region," he said. "Those who think regional rivalries and local rivalries don't mean anything any more, I think that's erroneous. It's wonderful if you can have that and this. Our goal is to build something new here on a very strong foundation of history."
December, 28, 2011
12/28/11
5:44
PM ET
By
ESPN.com staff
| ESPN.com
Michael Rothstein writes

: Michigan athletic director Dave Brandon sees only positives for the Wolverines in the new scheduling partnership with the Pac-12.
Tom VanHaaren writes

: The Big Ten-Pac-12 scheduling agreement will likely have an effect on recruiting for both conferences, particularly the Big Ten.
December, 28, 2011
12/28/11
4:41
PM ET
I had a chance to speak with Big Ten commissioner Jim Delany earlier this afternoon about
the league's new scheduling and branding partnership with the Pac-12 Conference
, set to begin in 2017 for football.
Here are some of the topics we discussed:


CONFERENCE SCHEDULES
The scheduling partnership means the Big Ten won't be moving from eight conference games to nine beginning in the 2017 season. The league had
announced the increase in August
.
"If it's not off the board, it's coming off the board," Delany said. "When this opportunity was raised, it's pretty much the understanding that it's in lieu of."
The lingering concern with nine-game conference schedules was the 5-4 split with home and road games, which would create inequities every season. The nine-game league slates also ensured the Big Ten of six more losses each season. With the Pac-12 agreement, "you might have less [losses], you might have more, but they'll all be home and away and they'll all be intersectional."
Delany reiterated a point he has made for months in quashing expansion rumors: that Big Ten teams want to play each other more often than less. While that won't happen with this announcement, the Pac-12 opportunity provides the type of nonconference scheduling enhancement, much like the ACC-Big Ten Challenge in basketball, that couldn't be passed up.
"We have a chance to do some things, through this coordination, in neutral markets and major cities and large arenas that we otherwise couldn't do," Delany said. "... We've really taken that concept of the nonconference games and expanded it to another conference that we have a lot of shared history with and a lot of shared vision with. It really increases the scope and reach of both conferences in a national way in a way that hasn't been done before."
OTHER NONCONFERENCE SERIES
One concern with the Pac-12 scheduling partnership is how it would impact other longstanding Big Ten nonconfernence series such as Michigan-Notre Dame and Iowa-Iowa State.
The answer: not much if at all.
While Delany said the Big Ten has no position on how its schools schedule outside the conference, his hope is that the venture won't impact historic rivalries. The decision to stick with eight conference games makes this a lot easier. Athletic directors like Dave Brandon (Michigan) and Gary Barta (Iowa) already have stated that their historic series with Notre Dame and Iowa State, respectively, will continue as scheduled.
DETERMINING THE MATCHUPS
One difference between the Big Ten-Pac-12 football scheduling and the ACC-Big Ten challenge in basketball is that television will have a decreased role in determining the matchups. The football games will be scheduled collaboratively by the two leagues and its members.
"We haven't involved television and I don't expect we would," Delany said. "We may ask an opinion, but like the ACC-Big Ten Challenge, television is integral to putting that together. ... Most importantly, it will be home-away-neutral, and I think there will be movement of games and opponents. But the notion of competitive equity would probably be the No. 1 aspect."
We could see six home-and-away series in 2017 and 2018 and then the matchups would shift. Another possibility is creating three pods of eight teams, four from each league, where each team would play the four from the other conference. These pods could be determined by teams' track record.
Delany said the games likely would take place in the second, third and fourth weeks of the season, although he didn't rule out having them during the opening weekend.
The two leagues already have quite a few games scheduled for the next three seasons. The idea is to increase that number in 2015 and 2016 with the goal of having 12 matchups in 2017. Some of the already finalized series could be rolled into the new partnership.
NATIONAL APPEAL
The Big Ten and Pac-12 noted that the partnership is an alternative to the expansions done by other conferences. But the venture also enhances both leagues' profiles -- especially because of the impact on both the Big Ten and Pac-12 television networks -- and in turn makes them more attractive to expansion candidates.
Quite a few folks have already commented that the move makes the Big Ten more appealing to a school like Notre Dame, which plays nearly half of its football games against Big Ten or Pac-12 schools.
Asked about becoming more attractive to expansion candidates, Delany said, "I don't know about that. You're always trying to become more attractive, whether it's the games or television or the collegiality, whether you're doing bowl tie-ins or ACC challenges or expansion, you're always trying to become more attractive. ... That probably has benefits in terms of television down the road, growth of the network."
The Big Ten's current TV deal expires in 2016.
THE PROCESS
Former Illinois athletic director Ron Guenther, now a consultant to the Big Ten, played an integral role in brainstorming the partnership. With further expansion unlikely, Delany asked Guenther and others to think about ways the Big Ten still could grow its brand.
An agreement with the Pac-12 seemed like a natural move.
"He said, 'This is a group that's got a lot of commonality, a lot of history,'" Delany said. "They go from the Canadian border to Mexico, and from the Pacific to Colorado. We go right up to Colorado, take it out to Pennsylvania. We have 12, they have 12, broad-based programs.
"I challenged Ron with, 'Hey, what's the next thing?' I didn't have in mind this."
Athletic directors from both conferences met in New York on Dec. 7. Another group of ADs and conference officials then met in Denver, while some university presidents from both leagues met in San Francisco. Delany and Pac-12 commissioner Larry Scott then met with their respective presidents before finalizing the agreement.
"Everybody is good in terms of the concept," Delany said. "Now we have got to execute over time, but we have that time."
December, 28, 2011
12/28/11
1:49
PM ET
Huge news today
as the Big Ten and Pac-12 have decided to take their longstanding Rose Bowl partnership to the next level.
The two leagues will begin playing each other and sharing some TV coverage in what amounts to as close to a merger between the conferences as we might ever see.
The significance for football, and it is big, is this: Starting in 2017, the Pac-12 and Big Ten plan to have a full 12-game schedule between the leagues, meaning each Big Ten team would have one Pac-12 team on its schedule every year.
"Rather than go down the road of just trying to add members, we thought this was a way to keep who we were and an increase value for everybody," Big Ten commissioner Jim Delany told ESPN.com's Gene Wojciechowski. "It doesn't mean you can't expand one day. It seems to us this is an intelligent way to get stronger and do so with zero collateral damage."
That will have enormous impact, of course, on scheduling practices, strength-of-schedule rankings and quite possibly access to the BCS national title game. The Big Ten had previously announced its intentions to go to a nine-game conference schedule beginning in 2017; if it were to stick with that plan and add a Pac-12 opponent to every team's schedule, then each Big Ten school would have only two open dates on its regular-season slate. That could have a major effect on longstanding rivalries such as Purdue-Notre Dame, Iowa-Iowa State and even Michigan-Notre Dame, as many programs would not want to load up that many difficult games each year when they could instead schedule more winnable home dates.
But Delany told USA Today that the Big Ten likely will rethink its decision to go to nine conference games. The Pac-12 plans to keep its nine-game conference schedule.
The two leagues could stage big events at places like the Rose Bowl, Soldier Field, Staples Center and Ford Field. They will also cross-promote each other on their league-run cable networks; the Pac-12 is set to launch its own network this spring.
Some big questions remain, such as whether this arrangement could help entice Notre Dame to join the Big Ten. Will the tougher schedules make it harder for either league to reach the BCS title game? Does this make it more or less likely that the Pac-12 and Big Ten would support an expansion of the BCS system to something like the plus-one model? Or will they become even more entrenched to simply owning the Rose Bowl?
Officials from both conferences will speak about the arrangement later this afternoon, and we'll have more coverage and reaction. Stay tuned.