Big Ten:

big ten postseason position rankings
March, 8, 2012
3/08/12
2:30
PM ET
Over the past several weeks, we presented you our postseason rankings for each position group in the Big Ten, a series that ended on Wednesday with a look at special teams.

I thought it might be interesting to tally up all those rankings and see what it might tell us about the strength of the teams in the league in 2011. This is not a highly scientific process, and it doesn't take into account things like coaching, schedules, turnovers, intangibles, etc. But the teams with the best and worst position groups ought to shake out that way in the conference standings, right?

Here's how I did this: I added up each position ranking for each team, assigning a corresponding point to their ranking. So if a team were to rank No. 1 in all eight categories -- QB, RB, WR/TE, OL, DL, LB and specialists -- its score would be 7 points. The lower, the better, in this case.

The results look like this:

1. Wisconsin: (25 points)

Highest ranking: No. 1 in quarterbacks, running backs and offensive line
Lowest ranking: No. 6 in linebackers and special teams

2. Michigan State (26)

Highest ranking: No. 1 in wide receivers, defensive line and defensive backs
Lowest ranking: No. 8 in running backs

3. Michigan (34)

Highest ranking: No. 2 in offensive line and defensive line
Lowest ranking: No. 7 in linebackers and special teams

4. Nebraska (37)

Highest ranking: No. 1 in special teams
Lowest ranking: No. 9 in wide receivers/tight ends

5. Penn State (39)

Highest ranking: No. 1 in linebackers
Lowest ranking: No. 12 in quarterbacks

T-6. Iowa (55)

Highest ranking: No. 4 in wide receivers/tight ends and offensive line
Lowest ranking: No. 9 in defensive line and defensive backs

T-6. Ohio State (55)

Highest ranking: No. 3 in running backs
Lowest ranking: No. 12 in wide receivers

T-6. Purdue (55)

Highest ranking: No. 2 in special teams
Lowest ranking: No. 9 in linebackers

9. Illinois (58)

Highest ranking: No. 3 in defensive backs
Lowest ranking: No. 12 in special teams

10. Northwestern (67)

Highest ranking: No. 3 in wide receivers/tight ends
Lowest ranking: No. 11 in running backs and linebackers

11. Indiana (86)

Highest ranking: No. 9 in offensive line
Lowest ranking: No. 12 in defensive line and linebackers

12. Minnesota (87)

Highest ranking: No. 9 in special teams
Lowest ranking: No. 12 in running backs, offensive line and defensive backs

Some thoughts:

This actually lines up pretty well with how the teams finished. I doubt you'd get too many arguments that Wisconsin, Michigan State and Michigan were the three best teams in the league. The Spartans and Badgers are separated by the thinnest of margins, just as they were in their two meetings last season.

The rankings can actually tell you quite a bit about the teams. Penn State ranked very high in defensive categories but was last in quarterbacks, telling you everything you need to know about why the Lions didn't win the Big Ten. Iowa, Purdue and Ohio State all finished middle of the pack and were mediocre in most of the rankings; that's exactly how their seasons went, too.

A mild surprise for me was Indiana ranking ahead of Minnesota, as the Gophers won two more games than the Hoosiers. Neither team enjoyed many high rankings in the position groups.
March, 7, 2012
3/07/12
4:00
PM ET
Our series ranking each position group from the 2011 Big Ten season comes to a close today with the final group, and one that is often overlooked but is always important: special teams.
Special teams is a broad spectrum, so we're combining performances in punting, kickoffs and field goals to come up with each team's position on this list.
And away we go:
1. Nebraska:
Boy, did we mess this up in the preseason by ranking the Huskers 11th out of 12. Though we wrote at the time that Nebraska would almost certainly outperform its low rankings, we thought replacing star punter/kicker Alex Henery would be tough. Not really, as
Brett Maher
was one of the best punters and kickers in the league and the country. Freshman
Ameer Abdullah
was a star in kick returns, finishing ninth nationally in that category. So just remove one of the ones from that preseason number, and then we've got it right.
[+] Enlarge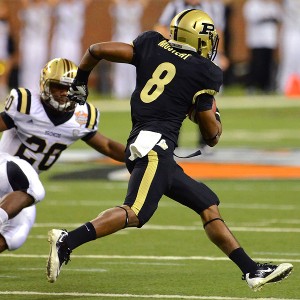 Mark Cunningham/Getty ImagesRaheem Mostert took a kickoff return back 99 yards for a score in the Little Caesars Pizza Bowl.
2. Purdue:
The Boilermakers were mostly mediocre on offense and defense but did some great work on special teams. Freshman
Raheem Mostert
led the nation in kickoff returns
,
while sophomore
Cody Webster
finished second in punting. The strong-legged
Carson Wiggs
tied Maher for most field goals made in the league, though he still needs to improve his accuracy. Blocked kicks helped secure wins over Middle Tennessee and Ohio State, but Purdue lost on a blocked field goal try at Rice.
3. Penn State:
When
Anthony Fera
returned from suspension and took over field goal duties, the Nittany Lions' special teams became truly special. Fera hit 14 of 17 field goals after Penn State had looked very shaky in that area early in the year, and he was also one of the league's top punters.
Chaz Powell
and
Justin Brown
were dangerous return men.
4. Ohio State:
The Buckeyes ranked among the top third of Big Ten teams in just about every special-teams category. Field goal kicker
Drew Basil
made a dozen in a row at one point, and
Ben Buchanan
was solid at punter.
Jordan Hall
added some big returns.
5. Michigan State:
We ranked the Spartans No. 1 in the preseason, and they came up with some game-changing plays, particularly in the first game against Wisconsin and in the Outback Bowl win over Georgia. But statistically speaking, Michigan State was average in most aspects of the kicking game. But
Mike Sadler
had some big moments punting, and
Keshawn Martin
did excellent work on punt returns.
6. Wisconsin:
A tough team to rank, as there was both good and bad here.
Jared Abbrederis
led the nation in punt return average at 15.8 yards per attempt.
Brad Nortman
was a very reliable punter, while
Philip Welch
made five of his six attempts at field goals, something the Badgers didn't need very much with
Montee Ball
assaulting the end zone. But we can't ignore the big special-teams breakdowns against Michigan State and Ohio State that had as much as anything to do with ruining a potential undefeated season.
7. Michigan:
The Wolverines weren't outstanding at any one area on special teams, but they proved much better than the No. 12 ranking we saddled them with in the preseason.
Brendan Gibbons
solidified what looked like a scary place-kicker situation and played a large role (along with brunette girls) in the Sugar Bowl victory. Michigan was also strong in punt returns and kick coverage, though its punting and kickoff returns left much to be desired.
8. Iowa:
The good news first: Iowa led the league in net punting, thanks to a strong showing by senior
Eric Guthrie
in his first year starting. Now the bad: The Hawkeyes ranked second-to-last in kickoff coverage, and
Mike Meyer
missed six of his 20 field goal attempts, including both tries in the humbling loss to Minnesota.
9. Minnesota:
Even without premier return man Troy Stoudermire, who missed most of the year with an injury, the Gophers ranked fifth in the league in kickoff returns, and they led the league in kickoff coverage. But a team that punted as much as Minnesota did in 2011 needed to do better than 11th in the conference in that category. Bonus point for the perfectly executed onside kick in the Iowa win.
10. Northwestern:
The Wildcats' defense got the brunt of the blame in Northwestern's losses, but special teams didn't hold up its end of the bargain, either. Northwestern made only six field goals all year and ranked near the bottom of the conference in most categories. The bright spot was a league-best punt return unit.
11. Indiana:
Mitch Ewald
went 13-of-16 on field goals, but the Hoosiers weren't very good in most other areas. They returned more kickoffs than anyone in the Big Ten -- a product of a crummy defense -- but didn't do enough with them in finishing 108th nationally in that stat.
12. Illinois:
Ron Zook didn't help his case to be retained as head coach through the performance of his special teams, a part of the game that was supposed to be his field of expertise. Illinois was simply dreadful in creating advantageous field position, finishing last in the nation in kickoff returns and third-to-last in punt returns. The Illini also weren't very good at kickoff coverage, though at least
Derek Dimke
made 10 of 12 field goals. Even that was marred by his missed 42-yarder at the end of a 10-7 loss at Penn State.
February, 27, 2012
2/27/12
3:45
PM ET
The postseason position rankings are hitting the home stretch, and today we take a look at the Big Ten secondaries. It's a little tricky to evaluate secondary play from 2011. While seven Big Ten teams ranked in the top 18 nationally in pass defense, only two squads ranked in the top 29 in pass efficiency defense.
Nebraska cornerback
Alfonzo Dennard
was the lone Big Ten defensive back to appear on both the coaches' and media's first-team all-conference squad, so there was some disagreement.
[+] Enlarge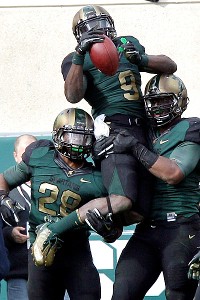 AP Photo/Carlos OsorioIsaiah Lewis' interception against Michigan helped the Spartans beat their in-state rival and propel Michigan State's secondary to elite status in the Big Ten.
The top seven units are solid, while the bottom three are among the worst in the FBS.
Michigan State once again tops a defensive chart, but the top four or five squads here were all strong in the secondary. Be sure and check out our
preseason secondary rankings
.
Let's get to the rundown:
1. Michigan State:
The Spartans had three of four starting defensive backs — safety
Trenton Robinson
, cornerback
Johnny Adams
and safety
Isaiah Lewis
— selected first-team or second-team All-Big Ten, illustrating the depth coach Mark Dantonio has built in recent years. Michigan State's secondary also continued to be a playmaking unit, recording a league-best 18 interceptions, returning four for touchdowns. The Spartans had five defensive backs record two or more interceptions. Adams will enter the 2012 season pegged as the league's top cornerback.
2. Penn State
: Like the other defensive units, Penn State's secondary shouldered a heavy burden because the team's offense struggled for so much of the season. The Lions had veteran leadership with
D'Anton Lynn
,
Nick Sukay
and
Drew Astorino
, and they led the Big Ten and ranked sixth nationally in pass efficiency defense (107.2 rating). Penn State finished third in the league in interceptions (14) and tied with Michigan for the fewest passing touchdowns allowed (12). Sukay earned second-team All-Big Ten honors.
3. Illinois
: Although Illinois' strength on defense could be found in the front seven, the secondary held its own as well. The Illini ranked third nationally in pass defense (162.3 ypg), and opposing teams completed just 54.9 percent of their passes against the Orange and Blue. Illinois finished 30th nationally in pass efficiency defense. Although the safety play looked spotty at times, Illinois boasted a strong cornerback tandem in
Terry Hawthorne
and
Tavon Wilson
.
4. Michigan:
Arguably no single position group in the Big Ten made more dramatic strides than Michigan's secondary, a lightning rod for criticism the previous three seasons. The Wolverines finished 16th nationally in pass defense and 36th in pass efficiency defense. Although they didn't record many interceptions, they tied for the league low in passing touchdowns allowed (12). Safety
Jordan Kovacs
emerged as an effective blitzer and playmaker and cornerback
J.T. Floyd
blossomed with two interceptions, eight pass breakups and a forced fumble. Corner
Blake Countess
is an exciting young talent.
5. Nebraska:
The Huskers had the Big Ten's best defensive back in Dennard, who shut down arguably the league's top two receivers (
Marvin McNutt
,
B.J. Cunningham
) in Nebraska victories. But the group's overall performance was a bit underwhelming, as opposing teams attacked the deep middle and caused some personnel shuffling. Opposing teams completed just 53.2 percent of their passes against Nebraska, the lowest number in the Big Ten. Hard-hitting safety
Daimion Stafford
emerged for a group that loses Dennard and veteran safety
Austin Cassidy
.
6. Wisconsin:
For the second straight season Wisconsin displayed good playmaking ability in the secondary, finishing second in the Big Ten with 16 interceptions. Safety
Aaron Henry
(coaches) and cornerback
Antonio Fenelus
(media) both received first-team All-Big Ten recognition. The Badgers also played most of the season without one of their starting cornerbacks,
Devin Smith
. But the unit also had some high-profile lapses at the end of games. Speed also became an issue in the Big Ten title game against Michigan State and in the Rose Bowl against Oregon.
7. Ohio State:
The numbers aren't bad -- Ohio State ranked 14th in pass defense and 53rd in pass efficiency defense -- but the Buckeyes seemed to be missing something in the secondary, and throughout their entire defense, for that matter. There were some bright spots, like freshman cornerback
Bradley Roby
, and some hard hits delivered by safety
C.J. Barnett
and others. But Ohio State finished just eighth in the league (53rd nationally) in pass efficiency defense, as opposing teams completed more than 60 percent of their pass attempts against the Scarlet and Gray.
8. Purdue:
We had high hopes for a group that returned all four starters, headlined by All-Big Ten candidate
Ricardo Allen
at cornerback. At times, Purdue's secondary looked solid, but the unit's overall performance fell in line with the team's average theme for 2011. Allen struggled to contain some elite wideouts but still finished the season with 81 tackles (62 solo), three interceptions, four pass breakups, a blocked kick and a forced fumble. He and
Josh Johnson
form an exciting cornerback tandem entering the 2012 campaign.
9. Iowa:
Much like Ohio State, Iowa didn't have a typical season on defense, and the secondary had its share of struggles. Iowa had average numbers (58th in pass yards allowed, 72nd in efficiency), and allowed opposing teams to complete 62 percent of their passes. The Hawkeyes saw a big drop-off in playmaking, as they recorded only 10 interceptions and allowed 21 touchdown passes. Safety
Micah Hyde
earned second-team All-Big Ten honors from the media, while cornerback
Shaun Prater
didn't have the huge senior season some expected.
10. Northwestern:
The Wildcats would finish last in some leagues, but they're the best of a bad bunch at the bottom of the rankings. Despite an All-Big Ten safety (
Brian Peters
) and a four-year starter at cornerback (
Jordan Mabin
), Northwestern suffered breakdowns in both scheme and execution. The Wildcats endured a particularly bad stretch to begin Big Ten play, as they couldn't stop Illinois receiver
A.J. Jenkins
, admittedly got confused against Iowa and let Penn State quarterback
Matthew McGloin
go off. The secondary has to be a huge priority for Pat Fitzgerald and his staff during the offseason.
11. Minnesota:
It's a close call for the last spot, but Minnesota avoids the basement, thanks in large part to safety
Kim Royston
, who made the most of his sixth season with a team-high 123 tackles. But Royston was the lone bright spot for Minnesota's secondary, which stung from the loss of cornerback Troy Stoudermire to a broken arm. The Gophers recorded the fewest interceptions in the Big Ten (4), and allowed opponents to complete 67.7 percent of their passes, the highest total in the league. Minnesota finished 107th nationally in pass efficiency defense.
12. Indiana:
The Hoosiers' historic struggles in the secondary continued in 2011, as they surrendered a league-high 26 passing touchdowns and finished 116th out of 120 FBS teams in pass efficiency defense. Opponents averaged 8.5 yards per completion against an Indiana team that played more freshmen than any squad in the FBS. There's some hope with players like safety-linebacker
Mark Murphy
and cornerback
Greg Heban
, and Indiana brings in two junior college defensive backs for 2012.
February, 23, 2012
2/23/12
3:30
PM ET
We continue our postseason position rankings today as we move on to the linebackers.
Not surprisingly, Linebacker U takes the top spot, though it was a very close call. Depth helped the top two teams on this list, while star power marked spots Nos. 3 through 5. After that, it's a bit of a dropoff.
Away we go ...
[+] Enlarge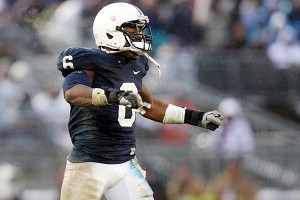 Rob Christy/US PresswireGerald Hodges led a deep group of Penn State linebackers this past season.
1. Penn State:
We thought this group could be the deepest linebacking corps in the league this past season, and that depth proved both true and invaluable when starter
Michael Mauti
went out in the fourth game of the season. Even without him, the Nittany Lions' linebackers played great, led by first team All-Big Ten performer
Gerald Hodges
, who had a breakout campaign. Nate Stupar filled in nicely for Mauti, and
Glenn Carson
was solid in his first year as a starter in the middle.
2. Michigan State:
We wondered in the preseason how the Spartans would replace stars Greg Jones and Eric Gordon. The answer: very nicely, thank you. Sophomores
Denicos Allen
and
Max Bullough
emerged as fierce playmakers, especially on the blitz, and
Chris Norman
provided steady play on the weak side. All three return in 2012 to give Penn State a run for its money as the best group in the league.
3. Wisconsin:
Mike Taylor
and
Chris Borland
were finally healthy in the same season, and what a difference that made. They were a terrific pair, combining for 293 tackles and becoming the only Big Ten duo to average more than 10 tackles per game each. Taylor in particular made great strides.
Kevin Claxton
was overshadowed a bit as the third Badgers linebacker, but that's understandable given the amount of plays Borland and Taylor made.
4. Illinois:
The emergence of Jonathan Brown (108 tackles, 19.5 for loss) as fire-breathing pass-rusher made this unit better than we projected in the preseason.
Ian Thomas
also had a good season at the position with 85 tackles, and
Trulon Henry
rounded out a strong crew before he missed time late following a shooting incident. The Illini defense stayed consistent throughout the team's struggles.
5. Nebraska:
Depth was not a strong suit for the Huskers by any means, but there was no better linebacker in the league and few better in the nation than All-American
Lavonte David
. He had 133 tackles and countless big plays.
Will Compton
came on as the season wore along to provide a good complement to David. Finding consistent play elsewhere at the position was a challenge for Nebraska.
6. Ohio State:
We pegged the Buckeyes at No. 3 in our preseason linebacker rankings, but it wasn't a vintage year for a group that struggled down the stretch drive.
Andrew Sweat
led the way with 72 tackles despite missing two games because of injury, and
Etienne Sabino
had a decent season (62 tackles, 6.5 for loss) if not the breakout season many had predicted. Freshman
Ryan Shazier
announced himself late in the year as a potential star in the making.
7. Michigan:
The Wolverines' defense surprised everyone in 2011, though the defensive line was clearly the vanguard on that side of the ball.
Kenny Demens
led the team with 94 tackles, while freshmen
Desmond Morgan
and Jake Ryan made an immediate impact as starters. This wasn't an overwhelming group, but it was one that mostly did its job.
8. Iowa:
The Hawkeyes had a hard time keeping everybody healthy and consistent, but this spot might have been the best part of their defense.
James Morris
and
Christian Kirksey
tied for the team lead with 110 tackles each, while
Tyler Nielsen
added 73 stops while battling some nagging injuries. The Iowa defense overall was disappointing, however.
9. Purdue:
Danny Hope usually knew what to expect from week to week out of his linebackers: solid, consistent play.
Joe Holland
,
Dwayne Beckford
and
Will Lucas
each had between 82 and 94 stops as the top three tacklers on the team. Lucas and Holland also recorded double-digit tackles for loss. The chief complaint here is that the Boilermakers gave up some big point totals during the season.
10. Minnesota:
The Gophers struggled up front and in the secondary, but linebacker was their most experienced and reliable defensive position, as expected. Veterans
Gary Tinsley
,
Mike Rallis
and
Keanon Cooper
played in every game, and were among the most consistent players on the team. Tinsley led the way with four sacks. Florida transfer
Brendan Beal
was expected to make an impact, but missed the season with a knee injury.
11. Northwestern:
It wasn't a very good year overall for the Wildcats' defense, and linebacker was no exception.
David Nwabuisi
ranked third on the team with 84 tackles, while
Bryce McNaul
was right behind with 76. But Northwestern's starting trio combined for just 2.5 sacks and didn't come up with enough difference-making plays throughout the season.
12. Indiana:
The good news for the Hoosiers was that
Jeff Thomas
was the best player on defense in 2011, finishing with 80 tackles, including 10.5 for loss. The bad news is that he was a senior. Besides Thomas, Indiana was forced to go young at the position, playing freshmen
Chase Hoobler
,
Mike Replogle
and
Mark Murphy
, a safety/linebacker hybrid, at times during the season. Kevin Wilson hopes the experience makes them better in '12, but this is yet another position that needs vast improvement going forward.
February, 15, 2012
2/15/12
9:00
AM ET
We covered all the offensive position groups in our postseason rankings series
here
,
here
,
here
and
here
. Now it's time to turn our attention to the defensive side of the ball.
Defensive tackle was the strongest position in the league in 2011, so that makes this a competitive situation. There are some major changes from
our preseason order
as well. Remember this is about overall production, and depth matters along with star power. The top four on this list are really, really strong.
Here we go:
[+] Enlarge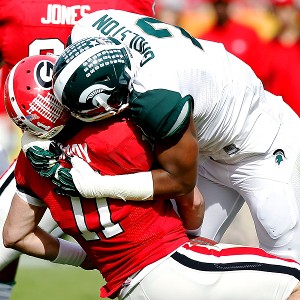 J. Meric/Getty ImagesWilliam Gholston and the Spartans' defensive line helped key a Michigan State win over Georgia in the Outback Bowl.
1. Michigan State:
The Spartans finished with the top total defense in the Big Ten and one of the best in the nation, and it all started with a dominant front. All-American tackle
Jerel Worthy
commanded extra attention inside and was joined by
Kevin Pickelman
and
Anthony Rashad White
as forces inside.
William Gholston
was brilliant at times, never more so than in the Outback Bowl win over Georgia. And freshman
Marcus Rush
turned in an outstanding season at the other defensive end spot. The Spartans had no weaknesses at this position in 2011.
2. Michigan:
We projected the Wolverines would make a significant leap in '11, but the amount of improvement still surprised us. The combination of head coach Brady Hoke and defensive coordinator Greg Mattison, both defensive line coaches at heart, and valuable seniors
Mike Martin
and
Ryan Van Bergen
made this the backbone of Michigan's Sugar Bowl run. The Wolverines were especially tough in short-yardage situations because their defensive front was so stout.
3. Penn State:
Big Ten defensive player of the year
Devon Still
wrecked just about everybody's game plan with a huge senior campaign.
Jordan Hill
had a solid, underrated year next to him inside.
Jack Crawford
stayed healthy and contributed 6.5 sacks, while
Eric Latimore
and
Sean Stanley
combined for another 7.5 quarterback takedowns.
4. Illinois:
Defensive end
Whitney Mercilus
was a consensus first-team All-American who led the nation in sacks and forced fumbles. Nobody saw that coming. He had good company along the line as well, with guys like
Akeem Spence
inside and
Michael Buchanan
at the other end spot. The Illini may have faltered down the stretch as a team, but the D-line stayed strong throughout the year.
5. Wisconsin:
The Badgers didn't have many household names on the defensive line, and certainly no one stood out like J.J. Watt the year before. But Bret Bielema relied on a solid group of veterans that helped the team finish third in the league in total defense and fifth in sacks.
Patrick Butrym
,
Louis Nzegwu
,
Brendan Kelly
and
Ethan Hemer
were part of a group that played better than the sum of its parts.
6. Ohio State:
The Buckeyes had one of the best defensive players in the league in
John Simon
, who had 16 tackles for loss and seven sacks in a breakout season. Tackle
Johnathan Hankins
emerged as a disrupter at 335 pounds. But Ohio State didn't get its usual production elsewhere on the line, got beat up as the season went along and lacked depth, which is one reason why Urban Meyer went out and signed so many pass rushers in his first recruiting class.
7. Nebraska:
The biggest disappointment from the preseason, as the Huskers tumbled from their No. 1 ranking last summer.
Jared Crick
's season-ending injury hurt the production, but he was not putting up huge numbers before he tore his pectoral muscle.
Cameron Meredith
,
Baker Steinkuhler
and
Eric Martin
had some nice moments, but Nebraska wasn't nearly as fierce up front as we thought it might be.
8. Purdue:
Kawann Short
turned in his best season, with 17 tackles for loss and 6.5 sacks from his interior spot, while
Bruce Gaston
and
Gerald Gooden
provided solid support. But the Boilermakers' pass rush off the edge lacked explosiveness until freshman
Ryan Russell
started to come on late in the season. Everyone except Gooden returns, and with a new position coach Purdue hopes this unit can go from decent to great in 2012.
9. Iowa:
Another disappointing crew, as the Hawkeyes proved it's not easy to replace three draft picks off the defensive line and simply reload.
Mike Daniels
and
Broderick Binns
were the senior anchors, but Iowa's pass rush was sluggish until late in the season. And there wasn't a whole lot of depth behind them. This group loses three starters and will be extremely young in 2012.
10. Northwestern:
We ranked the Wildcats 10th in the preseason as well, but we still expected better things out of this group. Northwestern generated very little pressure on opposing quarterbacks and ranked last in the Big Ten in sacks.
Vince Browne
, a projected all-conference pick in the summer, had a subpar season with only 3.5 tackles for loss after putting up 15.5 in 2010. It's clear this group needs to get better for Northwestern to take the next step.
11. Minnesota:
The Gophers weren't as terrible on the defensive front as they were in 2010, when they finished last in the nation with only nine sacks. In fact, they more than doubled that total with 19 last season. Still, it was a mostly anonymous crew that gave quarterbacks too much time to carve up the secondary in the passing game. Jerry Kill still needs to find more playmakers at this position.
12. Indiana:
The Hoosiers had problems all over the defense, and the line was no exception.
Adam Replogle
and
Larry Black
gave the unit some veteran leadership in the middle, but Indiana resorted to playing a lot of kids at the defensive end spots. The results were about what you'd expect.
February, 8, 2012
2/08/12
1:08
PM ET
The postseason position rankings march on with the offensive lines. No position group is evaluated more as a collective unit, and the Big Ten had a mix of strong offensive lines and shaky ones. There were some individual standouts, such as Michigan center
David Molk
, the Rimington Trophy winner, and Wisconsin center
Peter Konz
and
Kevin Zeitler
, who earned AP All-America honors.
It was important to consider quarterback rushing when evaluating the offensive lines, as most Big Ten teams had signal callers who could take off and run. The ones who didn't paid the price in some statistical categories, even though the line play wasn't too bad.
Let's get to the list:
[+] Enlarge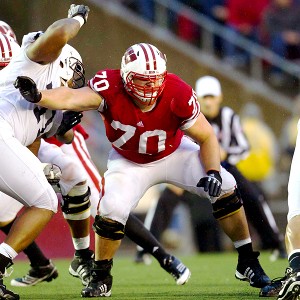 Jeff Hanisch/US PresswireAll-American Kevin Zeitler was a member of an O-line that helped Wisconsin lead the Big Ten in scoring.
1. Wisconsin:
No surprise here as the Thick Red Line keeps steamrolling the opposition. Despite losing three starters and two All-Americans from the 2010 unit, Wisconsin's offensive line once again delivered as the unit put up huge numbers once again. The Badgers led the Big Ten in scoring, rushing and total offense. Although pass protection was an issue at times, and the unit missed Konz down the stretch, there's little to complain about. Four starters earned league or national honors.
2. Michigan:
Although the defensive line got more attention for its boost under Brady Hoke, Michigan's offensive line turned in a strong 2011 campaign. Molk led the charge at center as Michigan finished second in the league in both scoring and rushing and third in total offense. The Wolverines also allowed just 18 sacks, the third-lowest total in the Big Ten. Michigan's linemen seemed to embrace the transition to a more pro-style, downhill offense.
3. Nebraska:
Despite injuries and inexperience, the Huskers' line held together pretty well in 2011, especially when you consider they operated in a new offensive system. Nebraska finished third in the league in rushing, as the front five paved a path for
Rex Burkhead
and
Taylor Martinez
. Nebraska did a decent job limiting sacks and tackles for loss and kept Martinez healthy for the season.
4. Iowa:
It's tough to know what to make of Iowa's offensive line in 2011. The Hawkeyes had a future top-10 NFL draft pick at left tackle in
Riley Reiff
, who surprised no one in January by forgoing his senior season to turn pro. Iowa also had some solid pieces in
Adam Gettis
,
Markus Zusevics
and
James Ferentz
. The big knock is that Iowa ranked last in the Big Ten in rushing, although the team had a nearly 1,400-yard rusher in Marcus Coker. Iowa allowed 29 sacks but only 59 tackles for loss, and the team passed the ball well. Still, it's fair to expect more from this group.
5. Penn State:
The Lions' line has taken a lot of heat in recent years, and the offense's overall struggles in 2011 would seem to suggest another rough season. But we believe Penn State's biggest problems occurred immediately behind the line rather than along it. The line helped sophomore running back
Silas Redd
turn in a strong season. Penn State allowed the fewest sacks (14) and fewest tackles for loss (49) in the league.
6. Michigan State:
The Spartans had a similar profile to Iowa, which isn't surprising as neither team had a rushing threat at quarterback. Michigan State ranked last in the Big Ten in rushing for much of the year and ended up 11th, ahead of only Iowa. But the Spartans protected
Kirk Cousins
well, allowing only 16 sacks, and they finished 34th nationally in tackles for loss allowed with 72. And while All-Big Ten guard
Joel Foreman
led the way, Michigan State dealt with injuries and inexperience for most of the season.
7. Purdue:
Danny Hope branded the offensive line as the team's strongest unit entering the season, and at times it looked that way. Purdue used multiple running backs and finished fifth in the league in rushing. The Boilers ranked sixth in passing, and the line finished in the middle of the pack in sacks allowed. Purdue had too many negative-yardage plays overall, finishing 101st nationally in tackles for loss allowed (89).
8. Northwestern:
One of the nation's most experienced offensive lines once again showed it can excel in pass blocking and struggles to generate push in the run game. Although Northwestern finished in the middle of the league in rushing offense, the unit remained passing-centric. The Wildcats allowed 43 sacks, and while some could be attributed to a quarterback (
Dan Persa
) who wasn't 100 percent and held the ball too long, it's still too many. The line had its moments, like the Nebraska win, but looked leaky at times.
9. Indiana:
The Hoosiers might not have been dominant up front in 2011, but they improved as the season went along. After a rough start to Big Ten play, Indiana racked up 200 rush yards or more in four of its final six contests. The line looked strong against both Iowa and Northwestern, although the team lost both games. Indiana allowed too many negative-yardage plays and needs to be more consistent with its run-blocking going forward.
10. Ohio State:
This unit undoubtedly would be higher had left tackle
Mike Adams
been eligible all season. Adams sparked the Buckeyes after returning from suspension and earned second-team All-Big Ten honors from both the coaches and the media despite missing the first five games. Things were brutal up front early on, especially in losses to Miami and Michigan State. Ohio State surrendered a league-high 46 sacks and 90 tackles for loss, which ranked 104th nationally.
11. Illinois:
It was a disappointing season for an Illinois line that entered the year with high hopes. While many are to blame for the offense's decline in the second half of the year, the struggles up front seemed to be the most surprising. Illinois eclipsed 200 rush yards in four of the first six games and then failed to do so the rest of the season. The Illini surrendered 36 sacks and 89 tackles for loss. Despite some talented individuals like tackle
Jeff Allen
, the line as a whole fell short of expectations.
12. Minnesota:
The Gophers simply need to get a lot better at a position where they've thrived for much of their history. Minnesota scored a league-low 14 rush touchdowns, four fewer than any other Big Ten squad, and finished last in the league in both scoring and total offense. The Gophers did a nice job limiting negative-yardage plays, but they need to move the ball forward with greater efficiency. The good news is several promising young linemen return in 2012.
February, 6, 2012
2/06/12
4:15
PM ET
Our postseason rankings of each position group from the 2011 Big Ten season took a short hiatus last week as signing day madness placed its grip on all of us.
Never fear, though, as the rankings are back in full force today, moving on to the receivers and tight ends as we round out our offensive skill positions.
We're looking for depth and not solely star power at the top here. This is how the
preseason rankings looked
. Some of these groups were undoubtedly hurt by inexperienced or underachieving quarterbacks, so we had to figure out how to weigh their performances in that light. Let's see how the list shakes out after the year ended:
1. Michigan State:
The Spartans had the best combo at wideout with seniors
B.J. Cunningham
, a physical deep threat and No. 1 receiver, and
Keshawn Martin
, a speedster who could do all sorts of different things in the offense. Together, they combined for 2,083 receiving yards and 16 touchdown catches.
Keith Nichol
provided a solid third option who made the catch of the year in the Big Ten, if not all of college football, against Wisconsin. Tight end
Brian Linthicum
had 364 yards receiving and played a key role in the Outback Bowl win over Georgia.
2. Wisconsin:
Depth? Hardly. But the Badgers got the most out of their front-line players. Starting wideouts
Nick Toon
and
Jared Abbrederis
combined for 1,859 yards yard and 18 touchdowns. Eight of tight end
Jacob Pedersen
's 30 catches went for touchdowns. And don't underestimate the importance of the receivers and tight ends in the Wisconsin running game.
3. Northwestern:
The Wildcats' wideouts likely would have put up better numbers if
Dan Persa
had stayed healthy all season. As it stood, Northwestern still got another outstanding year out of
Jeremy Ebert
(75 catches, 1,060 yards, 11 TDs).
Kain Colter
, when he wasn't playing quarterback or running the ball, managed 466 receiving yards.
Demetrius Fields
and
Christian Jones
were among the other contributors. First-team All-Big Ten tight end
Drake Dunsmore
was the team's No. 2 pass-catcher with 455 yards and six scores.
4. Iowa:
Marvin McNutt
was good enough to elevate this entire group. He led the Big Ten in receiving yards, finishing with 82 catches for 1,315 yards and 12 scores.
Keenan Davis
contributed 50 catches for 713 yards. But Davis and
Kevonte Martin-Manley
didn't help enough after strong starts to the season. Iowa didn't get a lot of production in the passing game out of its tight ends, either, with
C.J. Fiedorowicz
leading the way at 16 catches.
5. Michigan:
The Wolverines didn't have any receivers finish in the top 10 in the league in the key categories, but what they had was a fairly deep group that knew how to go up and get
Denard Robinson
's throws. Though
Roy Roundtree
's numbers went way down from 2010,
Junior Hemingway
(699 receiving yards) emerged as a big-time playmaker.
Jeremy Gallon
came up with some key plays in huge spots as well. Tight end
Kevin Koger
gave Robinson a reliable safety valve and was a key cog in the offense.
6. Illinois:
At first glance,
A.J. Jenkins
' tremendous numbers (90 catches, 1,276 yards, eight TDs) would make you think the Illini deserve to be ranked higher. But Jenkins did most of his work in the first half of the season; like the rest of the Illinois offense, his stats fell off a cliff in the second half. And he didn't have much assistance, as
Spencer Harris
and
Darius Millines
combined to record only half his number of catches.
Jon Davis
was the team's third-leading pass-catcher at tight end.
7. Purdue:
It was quantity over star power for the Boilermakers, whose top four pass catchers —
Justin Siller
,
Antavian Edison
,
O.J. Ross
and
Gary Bush
— all had at least 29 receptions and 300 yards. Edison led the way with 584 yards. Tight ends
Crosby Wright
and
Gabe Holmes
combined for 29 catches. Purdue needs more playmaking ability from the tight end spot, something the team tried to address in this recruiting class.
8. Penn State:
Evaluating the Nittany Lions receivers is tricky because the quarterback play was so inconsistent.
Derek Moye
was once again one of the most dangerous deep threats in the league, but a foot injury and an overall inability to get him the ball limited his production to 654 yards and only three scores.
Justin Brown
, who will likely be the team's go-to guy in 2012, put up good stats, while
Devon Smith
got a chance to flash his speed and averaged 16.1 yards per catch. The tight ends were rarely used in the passing game; expect that and a whole lot more to change under Bill O'Brien.
9. Nebraska:
The Huskers must improve their overall passing game to take the next step as a program, and that includes a receivers group that had an up-and-down season in 2011. The good news is that
Kenny Bell
emerged as a potential star as a redshirt freshman. But
Brandon Kinnie
and tight end
Kyler Reed
failed to build on strong 2010 campaigns and were invisible for large stretches. Nebraska must hope
Quincy Enunwa
and
Jamal Turner
develop to go along with Bell.
10. Indiana:
No one was more disappointing at this position in 2011 than the Hoosiers, whom we had pegged at No. 4 in our preseason list.
DaMarlo Belcher
, who led the league in receptions in '10, got himself booted off the team in midseason. Injuries hit the group hard as well.
Kofi Hughes
paced the group with 536 yards and found the end zone three times. Tight end
Ted Bolser
made only 14 receptions. We expected more from a Kevin Wilson offense.
11. Minnesota:
Jerry Kill made finding playmakers at receiver a top priority in this recruiting class, and it's easy to see why.
Da'Jon McKnight
had a decent season (51, 760 and 4). After that, though, things dropped off quickly and the Gophers lacked players who could stretch the field. Tight end
Eric Lair
managed fewer than one-third the amount of catches he had in 2010.
12. Ohio State:
Injuries, inexperience and suspensions combined to make this a difficult year for Buckeyes' receivers. No one had more than 14 catches all season, and no one topped 300 receiving yards. Things would have gone better if
DeVier Posey
hadn't been suspended for all but two regular-season games.
Devin Smith
showed potential as a true freshman, including his game-winning grab against Wisconsin. Tight end
Jake Stoneburner
scored seven times, but most of those came early in the year.
January, 27, 2012
1/27/12
9:00
AM ET
The Big Ten postseason position rankings march on with the running backs. The running back rankings evaluate the entire position group, although superstar players affected the placement, too. Certain groups of running backs ran behind better offensive lines than others, and we took that into account when compiling the rankings.
Check out the
preseason running back rankings here
.
Onto the rundown ...
1. Wisconsin:
Heisman Trophy finalist
Montee Ball
built on a strong finish to 2010 and took his game to another level in 2011. The Big Ten offensive player of the year headlined a Wisconsin rushing attack that led the Big Ten and ranked 11th nationally. While
James White
had a reduced role this past season, he still averaged 5.1 yards a carry and racked up 713 rush yards and six touchdowns. Ball also contributed in the passing game with 24 receptions, six of which went for touchdowns.
[+] Enlarge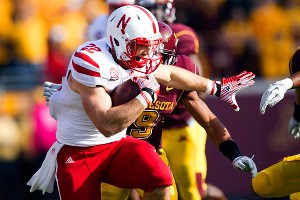 Jesse Johnson/US PresswireRunning back Rex Burkhead proved to be a workhorse for Nebraska this past season.
2. Nebraska:
Rex Burkhead
wore an "N" on his helmet, but it might as well have been an "S" on his chest. The player nicknamed "Superman" triggered a Nebraska rushing attack that ranked 15th nationally. Burkhead racked up 284 carries for 1,357 rush yards and 13 touchdowns. Although the Huskers didn't show a ton of depth at the position, young players like
Ameer Abdullah
have bright futures.
3. Ohio State:
Although a quarterback (
Braxton Miller
) led the pass-averse Buckeyes in rushing, Ohio State had several capable ball carriers this past season.
Carlos Hyde
contributed early in the season and finished with 566 rush yards and six touchdowns on 106 carries.
Dan Herron
provided a spark after returning from suspension, averaging five yards a carry.
Jordan Hall
also tallied 100 carries and averaged more than four yards per rush.
4. Michigan:
The coaches entered the season looking for a featured back and got one as
Fitzgerald Toussaint
emerged midway through the season. Toussaint racked up 120 yards or more in four of Michigan's final five regular-season games and displayed superstar potential at times. Although Toussaint and quarterback
Denard Robinson
had the bulk of the carries, reserves
Vincent Smith
and
Michael Shaw
both averaged more than six yards per carry.
5. Penn State:
Much like Ohio State, Penn State relied heavily on its ground game to account for a shaky passing attack. Sophomore
Silas Redd
shouldered the burden, particularly during the month of October, when he led the FBS with 703 rush yards, including five 100-yard games. Redd finished with 1,241 yards and seven touchdowns, and
Stephfon Green
stepped up later in the season and had six rushing scores. Burly sophomore
Curtis Dukes
averaged 5.8 yards a carry.
6. Purdue:
The Boilers had a featured back in
Ralph Bolden
but also had very good depth at the position. It showed up in the Little Caesars Pizza Bowl, which Bolden missed with a torn ACL.
Akeem Shavers
led the way and others contributed, too. Purdue finished the season with two 500-yard rushers in Bolden and Shavers, while freshman speedster
Akeem Hunt
averaged 8.7 yards on 33 carries.
7. Iowa:
The Hawkeyes were a bit of a dichotomy in 2011, as they finished last in the Big Ten in rushing but had the league's top rusher for part of the season in Marcus Coker. Despite being suspended for the Insight Bowl, Coker finished second in the Big Ten in rushing yards (1,384) and 15th nationally in rushing average (115.3 ypg). He had 281 carries, while no other running back had more than 31, so it was a one-man show for Iowa in 2011.
8. Michigan State:
The Spartans' rushing production went down in 2011, as Michigan State went from 64th nationally in rushing to 78th. MSU ranked last in the Big Ten in rushing for much of the season and finished 11th. But the team's struggles had more to do with a new-look offensive line than the running backs.
Le'Veon Bell
came on strong late in the season and rushed for 948 yards and 13 touchdowns.
Edwin Baker
's numbers went down, but he added 665 rush yards and five scores.
9. Illinois:
Here's another team that had a quarterback (
Nathan Scheelhaase
) as its leading rusher, but Illinois also featured multiple options at running back. Although
Jason Ford
had an up-and-down season,
Troy Pollard
and
Donovonn Young
proved to be capable ball carriers. Young averaged 5.2 yards a carry and scored seven touchdowns, while Pollard averaged 7.2 yards a carry and had 488 rush yards and two scores.
10. Indiana:
Although the Hoosiers have plenty of issues to address going forward, the running back spot appears solid.
Stephen Houston
started the final eight games and established himself as the featured back with 802 yards and eight touchdowns on 151 carries (5.3 ypc). Houston was productive in Big Ten play and a nice complement to quarterback
Tre Roberson
.
D'Angelo Roberts
and
Matt Perez
both added four touchdowns.
11. Northwestern:
Echoing a common theme, Northwestern's top rusher was a quarterback (
Kain Colter
). While the offense has been productive the past few years, the Wildcats haven't found an elite featured back since Tyrell Sutton graduated.
Jacob Schmidt
was solid for stretches, and young backs
Treyvon Green
and
Adonis Smith
contributed at times.
Mike Trumpy
might still be the best of the bunch, but his season was cut short by a knee injury.
12. Minnesota:
Although quarterback MarQueis Gray ran the ball well (966 rush yards, 6 TDs), Minnesota needs more from the running back spot going forward.
Duane Bennett
and
Donnell Kirkwood
both averaged less than four yards per carry, and the Gophers had only two 100-yard rushing performances from a running back.
January, 25, 2012
1/25/12
2:30
PM ET
Before the season began, we ranked every Big Ten position group from No. 1 through 12. That was based on projections and assumptions, but now we have a full season's worth of data.
So it's time to go back and assign a final 2011 ranking to each position in the league. We'll start, as usual, with the quarterbacks. You can take a look back and see how we ranked this group in the preseason
here
. Depth will matter more at other positions, but for this one, we're mostly concerned how the main guy fared this past season.
Let's kick it: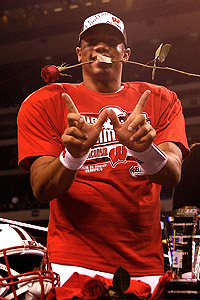 Brian Spurlock/US PresswireDespite losing in the Rose Bowl, Russell Wilson transformed the Badgers' offense this season.
1. Wisconsin:
When we did this list in June, we didn't know yet if
Russell Wilson
would transfer to the Badgers. That's why we ranked Wisconsin No. 11 at the time. That seems ludicrous now. Wilson broke the NCAA single-season record for pass efficiency (191.8), finishing ahead of Heisman Trophy winner
Robert Griffin III
. He completed 72.8 percent of his passes for 3,175 yards and had 33 touchdowns and only four interceptions. If that's not enough to qualify for the top spot, I don't know what is.
2. Michigan State:
I'm not sure if
Kirk Cousins
' 2011 season was properly appreciated nationally. Cousins led the Big Ten in passing yards with 3,316 while completing 63.7 percent of his passes and throwing 25 touchdowns. He was especially good down the stretch as the Spartans' offense took off and remained one of the best leaders in college football. And Cousins didn't get nearly the same amount of support from the running game that Wilson did.
3. Michigan:
Denard Robinson
's numbers declined in several key areas from 2010, including his rushing yardage, passing yardage and completion percentage. Meanwhile, his interceptions went up and there was little doubt he struggled at times. Yet Robinson also had two of the most spectacular individual efforts of the season in wins against Notre Dame and Ohio State, and he still led the Big Ten in total offense per game. And in the end, it's pretty hard to argue against an 11-2 record and Sugar Bowl title.
4. Northwestern:
A lingering Achilles' tendon injury and an awful defense helped obscure the fact that
Dan Persa
had another outstanding year when healthy. He completed 73.4 percent of his throws and actually averaged more passing yards per game (237.6) than any other Big Ten quarterback. Persa's mobility, however, was limited and that made him much less of a running threat.
Kain Colter
fulfilled that role and did a nice job stepping in for Persa, including his heroics in an upset win at Nebraska.
5. Nebraska:
Taylor Martinez
's improvement wasn't easy to measure in statistics. His completion percentage dipped to 56.3 in 2011, and he had far less of an impact running the ball over the last half of the season — he failed to run for more than 56 yards and did not have a rushing touchdown in the final seven games. But Martinez got better as a game manager and leader and remained a dual threat defenses had to account for. And he learned to protect the ball better, throwing just three interceptions in his final eight games.
6. Iowa:
James Vandenberg
put up some good numbers in his first year as a full-time starter, throwing for 3,022 yards and 25 touchdowns. But he compiled a lot of his stats against bad defenses like Pitt, Louisiana-Monroe, Indiana
and Northwestern. He wasn't nearly as good in losses to Nebraska, Michigan State and Penn State. Vandenberg has the potential to be the best pure passer in the Big Ten, but he needs to become more consistent.
7. Ohio State:
The Buckeyes would have ranked at or near the bottom of this list after the first half of the season, after initial starter
Joe Bauserman
was benched and freshman
Braxton Miller
went through some early growing pains. While Miller's passing was often reigned in, he was extremely effective as a runner, rushing for for at least 90 yards five times. Miller showed the whole package in an impressive performance against Michigan to end the regular season. With Urban Meyer's tutelage, Miller could put the Buckeyes at the top of this list in the near future.
8. Purdue:
The Boilermakers' quarterback situation looked bleak to start the year, as projected starter
Rob Henry
went down with an ACL injury and backup
Robert Marve
was slow to recover from his own knee problems. But while Purdue wasn't flashy at the position, it got decent production from
Caleb TerBush
and from Marve later in the year. Combined, they passed for over 2,500 yards and 17 touchdowns, and TerBush was the team's fourth leading rusher.
9. Illinois:
Nathan Scheelhaase
looked like he'd claim a spot as one of the Big Ten's best quarterbacks with a solid start to the season, including a 426-yard, four-touchdown showing in a win over Northwestern. But like the rest of the Illini offense, his production fell off a cliff in the second half of the season, and the sophomore appeared to lose his confidence along the way. Freshman
Reilly O'Toole
came in for certain situations and looked close to usurping the starting job. Scheelhaase bounced back with a nice second half in the bowl win against UCLA. Now he'll have to adjust to new coach Tim Beckman's spread offense.
10. Minnesota:
Early in the season, it was hard to tell if
MarQueis Gray
or freshman
Max Shortell
would win coach Jerry Kill's favor and seize control of the offense. Neither was particularly effective. But Gray, who made the transition from wide receiver, started to find a groove late in the year. He led the upset against Iowa and ran for 327 yards in the final two games. The 6-foot-4, 240-pounder is hard to stop when he takes off running, but he must improve on his 50-percent completion rate.
11. Indiana:
The Hoosiers played quarterback roulette for the first half of the season, rotating between
Ed Wright-Baker
and
Dusty Kiel
. But when they finally settled on freshman
Tre Roberson
, they found their signal-caller of the present and future. Roberson is still a bit raw but has tremendous athleticism and instincts. He ran for 121 yards and threw for 169 against Northwestern, showing that he could be yet another dangerous dual threat quarterback in this league going forward.
12. Penn State:
The Nittany Lions' handling of the quarterback situation was baffling and counterproductive in 2011. Penn State continued to trot out
Rob Bolden
as the starter for much of the year even though
Matt McGloin
was clearly the better option. McGloin did the heavy lifting off the bench, but he was not exactly a world-beater either, completing just 54 percent of his passes with eight touchdowns and five interceptions. The Nittany Lions beat Ohio State mostly because they put a couple of receivers in the Wildcat formation, and when McGloin couldn't play in the TicketCity Bowl, Bolden struggled. New coach Bill O'Brien will quickly learn that Tom Brady isn't walking through that door in 2012.