Big Ten:

bigten-qa-091412
September, 14, 2012
9/14/12
3:00
PM ET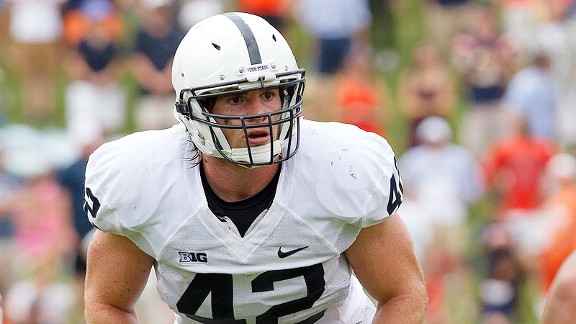 Lee Coleman/Icon SMIMichael Mauti's leadership on and off the field has never been more important for the Nittany Lions.
Michael Mauti
became one of the faces of Penn State football this summer with
his outspoken defense
of the program in the wake of heavy NCAA sanctions. The fifth-year-senior has also said a lot with his play so far this season for the 0-2 Nittany Lions. Recovered from yet another knee injury, Mauti ranks third in the Big Ten in tackles with 21, including a big game last week at Virginia. I caught up with the talented linebacker this week for our Friday Q&A segment.
First all, how are you guys holding up?
Michael Mauti:
I'd say the team is holding up pretty well. Most guys have put their heads down and continued to work and want to get better as a team. We obviously wanted to win the first two games, but we've been getting better each week and we're going to continue to do that. That's been our focus.
How is the defense feeling after giving up some plays to Ohio in the opener but playing pretty well most of the way against Virginia?
MM:
Coming off a game where we forced four turnovers, I know our defense is feeling pretty good right now as far as our ability to make things happen. We're just going to continue to get better. What we'll focus on and emphasize, especially this week with Navy, is the ability to stay tough throughout the whole game and to stay disciplined.
How tough is it to turn around and play against an option offense this week against Navy?
MM:
This is a little bit different, and we've kind of had our eye on this game for a while. All summer, we put a big emphasis on countering cut blocks and really just staying disciplined, everybody just staying on their man in the option responsibility. That's really going to be the big key for us.
Seems like cut blocks would be no fun to go against. How much do you dislike seeing that?
MM:
Yeah, well in all honesty, it's hard for the scout team to replicate the speed in which they play at and the intensity with which they throw their bodies at your legs. But those guys have really been doing a good job of trying to get that done. Cut blocks are a pain in the [expletive]. I mean, they really are a nuisance. But it will test our ability to get off blocks, to continue to fight through the play. If you get knocked down, get up and play off those kinds of blocks and make a play on the ball. So it's difficult, but I think our guys are up to the challenge.
As a guy who has had some major knee problems, do you worry at all about those kinds of low blocks coming at you?
MM:
No, I've never had an issue with that. It's one thing if our own team is cutting in scrimmages or something. We try to stay off our own legs. But that's part of the game. You've got to keep your hands in front of you and play off blocks. It's never been an issue for me.
You had a big game last week against Virginia and look as good as you ever have. How healthy do you feel and how do you think you've played so far?
MM:
I feel great being out there, first of all. Really just having a lot of fun. I like the way our defense is flying around out there. We're going to go through our struggles early on, but I think we're going to just continue to get better as the year goes on. And really, personally, I feel great.