Big Ten:

bigten-qa-110912
November, 9, 2012
11/09/12
3:00
PM ET
Micah Hyde
is a three-year starter in the secondary for Iowa, where he has played in every game since his freshman year. He's also developed into one of the top cornerbacks in the Big Ten and a team leader for the Hawkeyes. After a midseason arrest on misdemeanor charges, Hyde was briefly stripped of his captaincy but had that status reinstated this week. I recently caught up with the senior, who ranks fourth in the league in passes defended, for this week's Friday Q&A segment:
How is the mood of the team after the three-game losing streak?
Micah Hyde:
Like you said, it's been tough the last couple of weeks with those losses, but to be honest we're just looking forward and excited to get out there against Purdue. They're going to come in and be ready to go, and the game is at Kinnick [Stadium] so of course we'll be up for that game and ready to protect the home turf. We're not really looking in the past. We're just looking for our new opportunity in the future.
You're 4-5 and need two more wins to get back to another bowl game. How big of a motivational factor is that, especially for seniors like yourself?
[+] Enlarge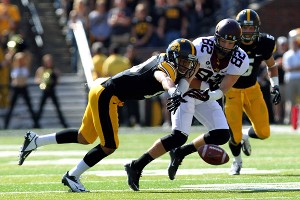 Reese Strickland/US PresswireMicah Hyde and the Hawkeyes need to win two of their final three games to become bowl eligible.
MH:
We know we still have an opportunity to go to a bowl game. That's a big thing. But it's one of those things you really can't pay attention to the next couple of weeks. You've kind of just got to focus on this week and winning this one, or your grasp is just going to keep slipping until it's out of your hands.
The defense has been pretty solid most of the year, and your former position coach, Phil Parker, is in his first year as defensive coordinator. How would you evaluate how the transition has gone under him this year?
MH:
I think he's done a great job. I've been with him in the past and I know he's a go-getter, and he has brought that to the whole defense. We've had some very good defensive games where we watched film on Sunday and thought we could have done this or that better but were very proud of our performance. But we've also had some games where we've watched film and been like, "Wow, what was going on out there? We could have played much better." That's what happens when you play in the Big Ten. You might have some good games and then bounce back and have a horrible game. It's all how you deal with adversity, and hopefully this Saturday we can bounce back from last Saturday at Indiana and as a defense play well.
I want to take you back to a couple of weeks ago, when you chased down Northwestern's Venric Mark from behind for a tackle. That surprised a lot of people. Take us through how that happened.
MH:
It was just one of those moments in a game. We had a good punt and had them pinned in, and then he made a good play to just bust through. Coach [Kirk Ferentz] and Coach Parker always talk about high-effort plays, and turning a negative into a positive, so I just ... ran. That's all it came down to. People always joke around with me and say my 40 time might not be the best. But I've always told people that I'm "field fast." I don't really pay attention to the numbers on the clock. When I get on the field I feel like I'm a lot faster.
Northwestern coach Pat Fitzgerald said you made some NFL money with that play.
MH:
[Laughs]. I don't really pay attention to that stuff. That stuff will work itself out pretty well. Like I said, I was just trying to make a positive out of a negative.
Kirk Ferentz said after that play that he has considered putting you at receiver because of your speed, but that he needs you too much at cornerback. Have you ever had serious discussions about flipping over to the offense, if even just for a play or two?
MH:
Nah, the majority of time it's just been joking around. I always talk junk to the receivers and even the quarterbacks, saying I could throw better than them. It's just me being a competitor out there and just trying to get my guys going. But I'll do whatever the coach asks me to do, and if it was at receiver, I'd love to do that and catch some balls. But right now he has me at corner where I've been pretty much my whole career, so I'm trying to make the best of it.
How does a guy from Ohio end up at Iowa?
MH:
We have a couple of coaches from Ohio who know the area very well. For me, after meeting the coaches they were there every week, whether it was being at the school or calling my cell phone. They were always getting a hold of me. They set up a real connection, a real family atmosphere. And we do have a lot of Ohio guys on the team, so maybe that's what brought them in, too.