April, 2, 2013
4/02/13
12:15
PM ET
The Michigan State spring practice live blog kicks off at 1 p.m. ET -- be sure and follow along throughout the afternoon -- so the mailblog comes to you a little early.
To your emails ...
Ben from Chicago writes:
I personally love the idea of an East/West division split. In my book, even if the divisions are not perfectly balanced in terms of competition from top to bottom. The best team from the West in any given year, be it Wisconsin, Iowa, Nebraska, or anyone else, is still going to be pretty good, enough to provide an entertaining championship game match up, and if the divisions are really as unequal as people fear, the runner up in the East will still get the at large BCS appearance.
Adam Rittenberg:
Ben, you make a really interesting point about the at-large BCS bowl berth. History has shown that the loser of league championship games almost always strikes out in the BCS, while a second-team place in one of the divisions often gets an at-large invite. Michigan benefited from this in 2011, when it went to the Sugar Bowl as an at-large selection even though it had lost to Michigan State, the Legends division champ and a team that fell just short in the Big Ten championship. I understand the arguments that the proposed divisions place too much power in the East, but there's also a case to be made to let things play out. I expect Nebraska to be challenged by Wisconsin, and in some years Northwestern and Iowa. Illinois won a Big Ten title in 2001 and reached a Rose Bowl in 2007, so there's some history there. And Minnesota seems to be headed in the right direction under Jerry Kill. I agree with you that in most seasons, the Big Ten title game will remain entertaining.
---
Eric from Ramer, Tenn., writes:
Adam, SEC country coming at you with a B1G question. Will
Rob Henry
finally be "The Man" to lead Purdue at the QB position this year? Or is it a Hope(less) endeavor with the new coaching regime?
Adam Rittenberg:
Is there an official end date for the "Hope" puns now that Danny Hope and Purdue have parted ways? I guess we can let it go a little bit longer. Henry could win the starting job and brings more experience to the position than any other candidate. Remember, he would have been the starter in 2011 if he hadn't torn his ACL weeks before the season opener. We don't know much about the other candidates --
Austin Appleby
, Danny Etling and
Bilal Marshall
-- because they're so young. There's a lot of buzz around Appleby, and he and Henry could be the top two candidates. But the competition should spill into preseason camp, so there's a long way to go.
---
E.J. from Big Red Nation writes:
I question your selection for coach on the hot seat in the Big Ten in the "smoke and fire" video posted by ESPN. As much as Beckman had a disappointing season this past year I think the coach on the biggest hot seat is Bo Pelini. Pelini has (as we all have heard many times) not been able to get over the 9 or 10 win seasons. His seasons have been a failure since after the 2009 season. His last year in the Big 12 had high hopes of a conference championship only to be ruined by a stunning Washington rematch loss and no conference championship. First season in the Big Ten most of us husker fans felt winning our division was essential and that never happened. This past year a conference championship was the goal at least in mid-season play, but once most of us were so sure this was the year to win the conference championship we got demolished in the big game. If he doesn't get 11 wins he's gotta be shown the door right? Your thoughts (and thanks in advance)?
Adam Rittenberg:
E.J., while I believe 2013 is a crucial year for Bo Pelini, his seat isn't anywhere near as hot as Beckman's at Illinois. Although Beckman enters just his second season in Champaign, he has to show tangible progress or athletic director Mike Thomas will face considerable pressure to make a change. Thomas faced some pressure from donors/fans after Year 1 of the Beckman regime, but couldn't pull the trigger so soon. Attendance is dropping and despite Beckman's obvious enthusiasm, many fans are skeptical at best about the program. They need to see results and Beckman must deliver this fall.
While I understand the criticism for Pelini, whose teams have been good, but not great, at Nebraska, the guy still has reached the conference title game in three of the past four years and averaged 9.6 wins in Lincoln. Although Pelini must impress his new boss (Shawn Eichorst), I'd be surprised to see a change unless Nebraska takes a substantial step backward this season. Yes, the schedule is favorable and Nebraska will be a popular pick to win the Legends division. Pelini must show he can take the next step with Big Red. But after the Frank Solich situation, I don't think the decision-makers at Nebraska will be too keen to part with a coach who has won as much as Pelini has. Remember, it can always get worse.
---
Rob from Amherst, Mass., writes:
Hello Adam, You had mentioned that Ohio State would be a more natural rival for Penn State than Maryland. Maryland is more than 100 miles closer to PSU than OSU. There is also a history between Maryland and Penn State that could be resurrected. I do remember (from the Rip Engle and early JoPa days) when PSU regularly played Pitt, WVU, Syracuse and Maryland as well as JoPa's efforts to form an Eastern Conference long before the Big East formed.
Adam Rittenberg:
What I actually mentioned is that while I think Ohio State will always be Penn State's top Big Ten rival, there's potential to have Penn State and Maryland play on Rivalry Saturday (final Saturday of the regular season), when Ohio State obviously will be playing Michigan every year. The proximity and history between Penn State and Maryland lend itself to an end-of-season series, although, as many have pointed out, Penn State has dominated the series in football (35-1-1 edge for the Lions). Maryland's football program doesn't come close to Penn State's in terms of success. Ohio State is a much better comparison there. But in discussing end-of-year possibilities for Penn State -- when Ohio State is already locked in to the Michigan series -- Maryland seems to make a lot of sense.
---
rtXC1 from Denison, Texas, writes:
Hey Adam! With the success of the Chic-fil-a Kickoff and Cowboys Classic, along with the emergence of the Texas Kickoff Classic and New York's College Classic, do you think we'll see even more of these games pop up? I'm not suggesting it will expand to 35 games like the postseason, but 8-12 of these could work well (and also provide Big Ten country with some opportunities).
Adam Rittenberg:
I absolutely think we'll see more and more of these games. They allow marquee teams to play one another without giving up a home game that meets the increasing budgetary demands. If the college football playoff selection committee values strength of schedule, as we expect it will, teams will look to upgrade their schedules without always playing home-and-homes. Some athletic directors don't like the neutral-site games, but I see an increasing number warming toward them. Wisconsin AD Barry Alvarez recently told me about the benefits he sees in neutral-site games. The next day, Wisconsin announced
its game against Alabama
in Arlington, Texas. You bring up a good point about other venues getting involved, and it would be nice to see some of these season-opening blockbuster games in Big Ten territory. Weather isn't a factor in late August or early September, and there are some great indoor venues as well (Lucas Oil, Ford Field) that could put on a good show. If Dallas and Atlanta are the only sites for these games, they'll feel more like a road environment than a neutral site for Big Tens squads.
---
Ben from Iowa City, Iowa, writes:
It seems to me that within different fanbases, there is a disconnect as to what constitutes a rivalry, and that is what causes a lot of the divisional disagreements. To many fans, the most important aspect of a rivalry is tradition and history, and the level of competition in the rivalry is secondary. Also inter-regional hate, that extends beyond just football, is very important. This is why Paul Bunyan's Axe and Floyd of Rosedale will always be so important to their fanbases, even if its lopsided. On the flip side, some fans (many Husker fans for example) want to see a high level of competition above all else, which is why there is such a disagreement about what is most important in creating new divisions.
Adam Rittenberg:
Ben, some excellent thoughts here. I couldn't agree more with how different fan bases view certain rivalries. In some cases, history and regional hate, as you put it, really makes records or recent history irrelevant. In other cases, it's all about the level of competition. I look at how Nebraska fans reacted to the Huskers'
Colorado schedule announcement
(with a collective shrug) versus the
Oklahoma schedule announcement
(euphoria). Although the Huskers have history with both programs (much more with OU, obviously) the excitement about facing Oklahoma, a nationally elite program, is much greater than it is for Colorado, which has backslid considerably in recent years. It's also important to note that Nebraska is still forming rivalries in the Big Ten and lacks much recent history with its new league brethren. There's regional distate with Iowa, but that series needs a jolt in a near future. I can understand Nebraska fans wanting to face Michigan, Ohio State and Penn State on a regular basis because they identify more with those programs.
---
David from East Lansing, Mich., writes:
Do you think the former rivalry between MSU and Penn State had anything to do with the decision to place MSU in the East division? Because not only would MSU have the Michigan rivaly but we would have back the Penn state rivalry. Will the battle for the Land Grant Trophy come back with MSU and Penn State in the same division? The trophy sitting in the MSU Skandalaris Football Center as we speak.
Adam Rittenberg:
The Land Grant Trophy will be at stake whenever Penn State and Michigan State next meet, whether or not it's in the same division. Grouping the Lions and Spartans together allows the Land Grant series to once again become annual, but it's not a driving force behind the proposed divisions. A bigger issue in my mind is if Michigan State moved to the West, the Big Ten would have to use a protected crossover for both MSU and Michigan because that game has to take place every year. The downside of that, for the Big Ten at least, is both schools would have a weaker crossover rotation than the other 10 schools. There would be fewer showcase type games between Michigan and Nebraska, etc. It's a little easier to have Purdue-Indiana as the only protected crossover because the Big Ten doesn't lose as much if those teams have a weaker overall crossover rotation.
March, 22, 2013
3/22/13
1:00
PM ET
New Purdue offensive coordinator John Shoop has a hard time explaining exactly how the Boilermakers' attack will look this fall. Not because Shoop is being evasive or indecisive. It's just that one major question mark still needs answering first.
"Basically, it all starts with your quarterback, and then you do what your quarterback is best at," Shoop told ESPN.com. "We're trying to figure out who that is going to be."
Indeed, Purdue has one of the most interesting quarterback battles in the Big Ten this spring, as Shoop and first-year head coach Darrell Hazell have to choose from four candidates. Only one,
Rob Henry
, has any game experience, and he spent most of last year playing positions other than quarterback. The other three --
Austin Appleby
,
Bilal Marshall
and Danny Etling -- are all freshmen; Appleby and Marshall redshirted a year ago, while Ettling enrolled in January.
[+] Enlarge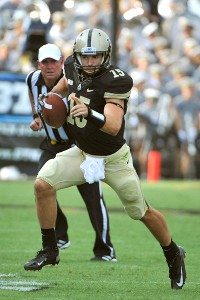 Sandra Dukes/USA TODAY SportsRob Henry, the only Boilermakers quarterback with any collegiate experience, played sparingly last season, making just 38 pass attempts.
The Boilers have had only two spring practices thus far and are giving first-team reps to all four players in an attempt to sort things out.
"It's a very even, wide-open race, and the best guy is going to emerge," Appleby said. "We're all competing our tails off right now."
The situation presents a challenge, but Shoop -- who was out of football last year after previously leading the offense at North Carolina from 2007-2011 -- is excited about the possibilities. Each quarterback brings a little something different to the table.
Henry is athletic enough that he's played receiver and tailback at times, while Marshall is also a speedster, if a little thin. Shoop says Etling is unusually poised for a true freshman, while the 6-foot-5 Appleby has the look of a prototypical pocket passer.
"I think I have the ability to make every throw on the field," Appleby said. "And I would say my best attribute would be my brain. My preparation, being cerebral, understanding what's going on and getting my guys lined up. I'm not the fastest guy, but I make up for it with my decision-making and efficiency."
Those are traits that Shoop is looking for in all four of his quarterbacks. He has continually stressed accuracy since coming to West Lafayette.
"Our quarterback has got to be smart and unbelievably accurate," Shoop said. "If he lives the completion-driven life, then I think we've got a shot. He has to have a knack for throwing completions."
That attitude has filtered down into the contenders.
"We have the expectation in our quarterback group that the ball should never hit the ground," Appleby said.
Both Shoop's offense at North Carolina and Hazell's attack at Kent State last season were known for strong rushing games. Shoop said Purdue fans can expect a physical team that will be able to run the ball and set up the play-action passes. He likes what he's seen from
Akeem Hunt
, who has sprinter's speed and is a guy who "if you give it to him in space, he can turn something little into something big." He thinks redshirt freshman
Robert Gregory
can complement Hunt as a power back. There is also plenty of competition at receiver.
But the pieces won't really click together until Purdue settles on its starting quarterback. Shoop said he'd like to have a starter in mind by the end of spring but won't lock himself into any timetable.
"I believe this with all my heart: players make decisions on who's going to play," he said.
That decision should define what the Boilers' offense looks like in 2013.
March, 15, 2013
3/15/13
4:30
PM ET
Wishing you a great St. Patrick's Day weekend ...
Adam from Austin, Texas, writes:
Adam,Looking over Michigan's 2010 recruiting class, of the original Rich Rodriguez-recruited 27 members, only six recruits remain on the Wolverine squad, including
Will Hagerup
, whose days with the team may be numbered. That's nearly 80% of the 2010 class gone. How do these attrition numbers compare with other B1G programs? Will there be a senior leadership-void for the 2013 squad? And with a few stable, higher-quality recruiting classes under Hoke's belt, should Wolverine Nation's expectations be tempered at conference championships, or beyond?
Adam Rittenberg:
Our calculations (thanks to colleague Mike Rothstein) have 11 players from the 2010 class remaining with Michigan, but there has been a good deal of attrition. You see some with every coaching change, but not usually to this degree. Minnesota had some turnover between Tim Brewster and Jerry Kill. The senior-leadership question is a fair one, but Michigan got a big lift in that department when
Taylor Lewan
decided to return for his final season. Lewan will provide excellent leadership, and he really embodies the Michigan Man ideal Brady Hoke preaches. It will be interesting to see who joins Lewan in that capacity, but I'd expect
Devin Gardner
to claim a larger leadership role as the starting quarterback. He's more established now. I'm interested to see who replaces
Jordan Kovacs
as the leader on defense. Linebacker
Jake Ryan
seems like a good choice. End
Jibreel Black
also could step up there.
---
AJ from Madison, Wis., writes:
Hi Adam! Two similar questions: 1. Why isn't
Rob Havenstein
being talked about at all for the left tackle consideration? I keep hearing about all these other possible candidates, but he seems ideal after a very solid year last year. 2. Do you think T.J. Woods has the ability to maintain the elite legacy of Wisconsin o-linemen? He has BIG shoes to fill.
Adam Rittenberg:
AJ, sometimes it makes sense to move an experienced right tackle to the more glamorous left side when there's a vacancy. But Havenstein might be more suited to the right tackle spot, where he has had some success. Perhaps more important, he could be more comfortable there. You don't want to disrupt two positions. I'll try to get some answers for you when I'm in Madison next week. I agree T.J. Woods has big shoes to fill -- Bob Bostad's more than Bart Miller's, although Miller did a nice job -- and I think he'll continue the tradition Wisconsin has had with its line. Woods did a good job with Utah State's line and reportedly is a lot like Miller/Bostad. The adjustment for the linemen this year doesn't seem to be nearly as dramatic as it was last spring with Mike Markuson.
---
Jed from West Lafayette, Ind., writes:
Adam, I just got done reading your post about the most interesting QB race in the B1G this spring and was stunned to not see Purdue in that category. You have Indiana ahead of Purdue which seems slightly odd considering Kevin Wilson has said publicly that
Tre Roberson
is their QB as long as he is healthy. Purdue has 3 different QB's (4 if you count
Bilal Marshall
) in Henry, Etling, and Appleby and with a new coaching staff and what has gone on in the past (the carnival ride QB position last year and Purdue as the Cradle of QB's) that it would be ahead of IU in that Roberson is already an established QB with the full support from his HC?In all honesty, I agree with all of your other picks but in all honesty Purdue or even NU will have more interesting QB battles than IU.
Adam Rittenberg:
Jed, I went back after the post published and realized I should have subbed out Penn State for Purdue. I agree Purdue has a very intriguing quarterback race because we know so little about what these candidates can do. There's a lot of buzz about
Austin Appleby
and Danny Etling, and I'm excited to see what both can do on the practice field this spring. That said, I think you're wrong about Indiana. Although Tre Roberson claimed the starting job last year, he's coming off of a pretty major injury and has to re-establish himself as the top option when two others --
Cameron Coffman
and
Nate Sudfeld
-- played a lot last season. If you read my
spring Q&A with Indiana coach Kevin Wilson
, he didn't sound like a guy who had settled on a starter. "Guys are pushing guys to be on the field," he said. "We've got a lot of guys back who have been second-teamers and the first-teamer [ahead of them] is back. Now how do you push that first-teamer and beat him him out? A great example is at quarterback." So both quarterback races should be interesting, and in hindsight, I should have included both in the poll.
---
Brian from Atlanta writes:
Adam, why should the B10 agree to travel 2000+ miles for another lower tier bowl when there plenty of equivalent bowls east of the Rockies? We already play in Pasadena and Tempe. How about the P12 treks east to play the B10 for once instead?
Adam Rittenberg:
Brian, the Pac-12 would never go for it because its fans don't travel. It's a huge difference between the two leagues. Big Ten fans are famous for being willing to escape the deep freeze for warm-weather destinations in late December or early January, whether they're in the East, West or South. Pac-12 fans, meanwhile, have a tough time leaving their states for games. Texas is probably their limit as far as bowl distance. But it's bad business for Pac-12 commissioner Larry Scott to tie into bowl games on the East Coast. It's risky business for him to tie into games outside the Pac-12 footprint.
---
Austin from Ames, Iowa, writes:
Hey Adam,Long time reader of the blog. I am a Buckeye here in Cyclone Nation and I am a little confused. Why hasn't there been any talk about adding Iowa State? It makes sense geographically, culturally, and academically as ISU has been a member of the AAU since 1958. Not to mention they are a program on the rise with Paul Rhodes trying to turn things around. What do you think?
Adam Rittenberg:
Austin, it actually doesn't make sense geographically. Follow my logic here, but the Big Ten is trying to expand its footprint, not solidify areas it already has. Look at the recent expansions around college sports. Every league is looking to bring in new markets and literally expand its reach. The Big Ten already has a strong presence in Iowa with the University of Iowa and Nebraska just to the West. Iowa State does absolutely nothing for the Big Ten in terms of demographics, the word league commissioner Jim Delany used repeatedly when discussing the last expansions. Iowa State has many of the right components for a Big Ten expansion candidate, but its location is a killer.
---
Jack from Omaha writes:
Hey Adam, big fan of the B1G blog and for whatever reason I have never sent in a question to my favorite part of the blog, the mailbag. Anyways I was hoping you could do something a little different and right an article about a video game, the game that
Denard Robinson
will be on the cover of. I realize the blog has announced this news but my buddy brought up some good points that I was hoping you could answer/discus. My buddy said that being on the cover not only helps Denard/Michigan but also allows the rest of the B1G to receive important spotlight, I disagree and was wondering if you see the cover benefiting the rest of the B1G? He also says the cover will help Michigan in future recruiting, although they may gain a few more fans I seriously doubt this help them land a top prospect. What are your thoughts on these ideas?
Adam Rittenberg:
Jack, I won't do another video game story, but I'm happy to respond to your question. I think it's a much bigger deal for Denard than it is for Michigan or the Big Ten, but it certainly can't hurt the Maize and Blue to have one of its players on the cover. High school football players, like college players and pro players, love video games and will see Denard every time they play "NCAA Football." Will it make a difference with elite recruits? Probably not. But it's definitely not a negative. It's a big positive for Denard, though, as it helps him build his brand as he enters the great unknown of the NFL. He's one of the most recognizable Big Ten players in recent memory, but his future brand is a big question mark because no one knows where he fits into the NFL. So I would say it doesn't really impact the Big Ten one way or the other. It helps Michigan a little and Denard a lot.
March, 8, 2013
3/08/13
9:00
AM ET
The early morning
tire-flipping and wheelbarrow races
are winding down in West Lafayette. After a spirited winter program, Purdue is set to return to the practice field March 19 for its first workout under new head coach Darrell Hazell. There are plenty of question marks on the roster, none bigger than quarterback, where several players (
Austin Appleby
,
Rob Henry
,
Bilal Marshall
,
Danny Etling
) will compete this spring. Purdue also is looking to replace key starters at defensive tackle, cornerback, running back and wide receiver. Hazell recently completed his coaching staff -- for the second time -- with
the hiring of offensive line coach Jim Bridge
.
The new Boiler boss checked in with ESPN.com earlier this week.
What have been some of the big themes of your offseason, and what would you like to see when the guys get out there in practice?
[+] Enlarge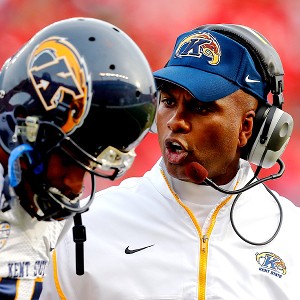 Jim O'Connor/USA TODAY SportsNew Purdue coach Darrell Hazell has emphasized being a smart football team, ball security and toughness early on.
Darrell Hazell:
We have three goals I want to really concentrate on. One is I want to make sure we become a smart football team, understand the whys and the reasons we're doing things. That's critically important for us, so I want to convey that we need to study the game and understand where all of our help is coming from. The second thing is we've got to make sure they understand the importance of ball security. We'll preach that day in and day out. We've got to get across the point of playing phenomenal special teams. And the last thing, I'm looking for a team that's going to be very tough and battle no matter what the situation is, and win those close games.
How has the toughness element been so far? It seems like it was a big part of the winter program.
DH:
I thought the first couple days, their eyes were wide open. But I think they're starting to settle in a little bit and understand what we're demanding out of them and why it is so tough on them right now. Because they're going to be in a lot of close football games, and you can't allow that to ever leave you.
I know you guys are wearing the "5%" T-shirts in workouts. What's the story behind those?
DH:
That was the goal and the emphasis for the 6 a.m. workouts. Five percent better in the last rep, five percent better than the last day, five percent tougher. My coaches are willing to demand five more percent than what they were giving the previous rep. It's all about improvement, and that's probably the biggest point to try and get across. If we're getting five percent better on each rep, on each day, we're going to continually get better.
What are the big keys for the players to understand what you want to do schematically this spring?
DH:
There's definitely a learning curve. You're talking about different languages, and you're talking about different schemes. It's going to take them a couple, three weeks to really understand exactly. A lot of times, they'll know where to line up, but what is your actual assignment when you line up there? Those things are sometimes taken for granted, but those things are very important.
Offensively, what are some of the things you and Coach [John] Shoop want to stress this spring, especially with the quarterback?
DH:
We're trying to figure out who our guy is going to be. A couple criteria, one obviously is you've got to take care of the football. Two, are you confident enough to stand in there and make those hard throws in those tough situations, and three, can you get us into the right play? Don't have us run a bad football play. Can you get us into the right situations that helps the team get a couple yards?
February, 28, 2013
2/28/13
10:00
AM ET
Spring practice is under way in the Big Ten, so let's take a look at what's on tap for the six teams in the Leaders Division.

ILLINOIS
Spring start:
March 5
Spring game:
April 12
What to watch:
1. Coaching staff makeover:
Illinois players are used to coaching changes, and Tim Beckman's staff received a significant overhaul during the winter as five assistants departed the program (four voluntarily). The biggest change comes at offensive coordinator, as former Western Michigan head coach Bill Cubit takes over. Cubit has to implement his system and identify more playmakers with a unit that finished last in the Big Ten in both scoring and total offense last season.
2. Lines in limbo:
The Illini not only lost significant pieces on both the offensive and defensive lines, but they have new position coaches at both spots as well. Defensive line has been Illinois' strongest spot, but the team must replace two future NFLers in
Michael Buchanan
and
Akeem Spence
.
Glenn Foster
is also gone, so the front four will have a very different look. The offensive line struggled mightily in 2012 and needs young players such as
Michael Heitz
and
Ted Karras
to take steps this spring.
3. Getting healthy:
Illinois
lost so many starters to injury in 2012
that it became difficult to get an accurate gauge on what Beckman could do with a healthy roster. Although linebacker
Jonathan Brown
and receiver
Darius Millines
will be limited this spring, the rest of the team is ready to go and Illinois added several potential big contributors from the junior college ranks. If Illinois has any chance of taking a major step in 2013, its best players must stay on the field this spring and allow the coaches a chance to evaluate and scheme for the season.

INDIANA
Spring start:
March 2
Spring game:
April 13
What to watch:
1. Quarterback cluster:
While some Big Ten teams (Penn State, Purdue) have hardly any experience at quarterback, Indiana has three signal-callers who have logged significant field time.
Tre Roberson
, who started the 2012 season before suffering a broken leg in Week 2, returns this spring, and it will be interesting to see how he looks and whether he outperforms
Cameron Coffman
and
Nate Sudfeld
. Coffman started the final 10 games last fall and passed for 2,734 yards and 15 touchdowns, while Sudfield added 632 passing yards and seven TDs. Indiana's quarterback depth is a good problem to have, but it would be good to see some separation this spring.
2. Defensive leadership:
Fielding a Big Ten-level defense remains Indiana's top priority, and the Hoosiers need leaders to develop this spring. Top linemen
Adam Replogle
and
Larry Black Jr.
depart, and Indiana needs to build depth up front after allowing a league-worst 231.3 rush yards per game in 2012. Linebacker is another spot IU must upgrade, and
David Cooper
should be ready to take the reins after recording 86 tackles in 12 starts a year ago. Like Illinois, Indiana also welcomes several junior college defenders, including tackle
Jordan Heiderman
.
3. Secondary surge:
All the question marks in Indiana's defensive front seven make it even more important for the secondary to make strides this spring. The Hoosiers have no shortage of experience in the back four with players such as
Greg Heban
,
Mark Murphy
,
Brian Williams
(12 starts last season) and
Antonio Marshall
(started final seven games). There's potential for the secondary to be a strength for IU in 2013, but the group must make more plays after recording a league-low seven interceptions last fall.

OHIO STATE
Spring start:
March 5
Spring game:
April 13 (at Paul Brown Stadium, Cincinnati)
What to watch:
1. Taking a pass:
The highest-scoring offense in the Big Ten returns every starter but two, and all that experience, talent and familiarity with the spread attack heading into Urban Meyer's second season with the Buckeyes figures to make them even more dangerous. The key will be how much more efficient
Braxton Miller
can become as a passer.
2. Getting defensive:
For all the pieces the offense retains, the defense is a completely different story heading into spring camp. The Buckeyes have to replace the entire defensive line after losing three seniors and junior
Johnathan Hankins
to the draft, two starting linebackers are gone and the graduation of cornerback
Travis Howard
leaves an additional hole in the safety. There will be no shortage of competition for first-team reps.
3. Looking for leaders:
Meyer and the senior class that has since departed quickly forged a deep bond, and he has gone out of his way to praise those players' leadership as integral in the unbeaten season that started his tenure with the Buckeyes. Now he needs a new wave of emotional speakers and relentless workers to take the torch from the likes of
John Simon
and
Zach Boren
, and Meyer will be making a point to identify his best candidates over the 15 workouts leading into the summer.
-- Austin Ward, BuckeyeNation

PENN STATE
Spring start:
March 18
Spring game:
April 20
What to watch:
1. Quarterback competition:
With the departure of fifth-year senior
Matt McGloin
, quarterback is now the biggest question mark on this team. Sophomore
Steven Bench
has a head start and will compete against juco early enrollee
Tyler Ferguson
.
Christian Hackenberg
won't join the team until summer. Can this no-huddle offense be as effective?
2. Replacing LBs Michael Mauti and Gerald Hodges:
Mike Hull
, who usually played inside, will have to make some adjustments as one of the expected replacements for the All-Big Ten linebacker tandem. The other spot is up for grabs, and fans should expect to see a battle between
Ben Kline
and
Nyeem Wartman
.
3. New faces at WR, TE:
Redshirt freshman
Eugene Lewis
, the headliner of PSU's 2012 class, could challenge
Brandon Moseby-Felder
as the No. 2 WR target.
Adam Breneman
, the No. 1 tight end recruit in the country, is also hoping to be recovered from a torn anterior cruciate ligament in time for the Blue-White Game. Both could be stars down the road for PSU.
-- Josh Moyer, NittanyNation

PURDUE
Spring start:
March 18
Spring game:
April 13
What to watch:
1. Behind these Hazell eyes:
Yes, I'll justifiably take the abuse for the Kelly Clarkson reference, but new Purdue coach Darrell Hazell has his first chance to evaluate his team on the field this spring. Hazell brings a completely new coaching staff and a new approach to Purdue, which fell short of expectations in 2012 and has significant questions on both sides of the ball. He seems to be getting good buy-in from the players so far, but it'll be interesting to see how things progress during the 15 workouts this spring.
2. Quarterback race:
If you like mysteries, you'll enjoy Purdue's quarterback competition this spring. The combination of a new coaching staff and unproven but talented candidates makes the race
virtually impossible to predict
. Hazell and new offensive coordinator John Shoop will study redshirt freshman
Austin Appleby
, who could have a slight edge to win the job, along with redshirt freshman
Bilal Marshall
and early enrollee
Danny Etling
, a decorated recruit. Don't forget about
Rob Henry
, who started in 2010 and would have been the top quarterback in 2011 if not for an ACL injury weeks before the season.
3. Short stopper:
Purdue has to find a replacement for standout defensive tackle
Kawann Short
, the centerpiece of the defensive line the past few seasons.
Bruce Gaston Jr.
will continue to occupy the other top tackle spot, but there will be plenty of competition to join him in the starting lineup. Purdue's defensive line underachieved in 2012, and while Gaston and ends
Ryan Russell
and
Ryan Isaac
all return, the Boilers will really miss Short's production if they don't build more depth up the middle.

WISCONSIN
Spring start:
March 9
Spring game:
April 20
What to watch:
1. New era dawns:
Consistency is the norm at Wisconsin, but players will have to adjust to a dramatically different coaching staff for the second consecutive season. This time, it includes a new leading man in Gary Andersen, who gets his first chance to work with the players on the practice field. Andersen doesn't plan to overhaul the schemes, but he and his coaches will put their spin on things and see what works. He'll also bring a different personality to practice but one that athletic director Barry Alvarez thinks will fit the program's culture.
2. Intrigue at quarterback:
Arguably no team in America has a more interesting quarterback race than the Badgers do this spring. They have three players with starting experience --
Joel Stave
,
Curt Phillips
and
Danny O'Brien
-- plus a talented redshirt freshman (
Bart Houston
) who arrived as a decorated recruit and a junior college addition (
Tanner McEvoy
) brought in by the new coaches. Add in a new system under coordinator Andy Ludwig, and it's anyone's guess who will separate himself this spring. Be sure to tune in.
3. Secondary in the spotlight:
The Badgers lose three of four starters in the secondary from the 2012 squad, including top cornerbacks
Devin Smith
and
Marcus Cromartie
. The new staff is aware of the numbers issue and signed junior college All-American
Donnell Vercher
earlier this month. Other players who will compete for starting spots include cornerbacks
Darius Hillary
and
Peniel Jean
and safeties
Michael Trotter
and
Michael Caputo
. Wisconsin hopes to have some answers in the back four by the end of the spring.
February, 25, 2013
2/25/13
10:00
AM ET
With spring practice rapidly approaching, we're taking a closer look at the quarterback battles looming for several Big Ten teams. They're guaranteed to get plenty of attention from fans during the 15 spring practice sessions and throughout the summer.
The third installment of our series shifts its focus to West Lafayette and the
Purdue Boilermakers
:

Incumbent (2012 stats):
None. Departed seniors
Robert Marve
(1,734 pass yards, 15 touchdowns, five interceptions, 65.6 percent completions) and
Caleb TerBush
(1,150, 12, 8 and 57.1 percent) split starting duties last year.
Spring contenders:
Rob Henry
, senior;
Austin Appleby
, redshirt freshman;
Bilal Marshall
, redshirt freshman; Danny Etling, true freshman.
Summer contender:
None
The skinny:
If you like your quarterback battles of the wide-open variety, keep a close eye on Purdue this spring.
The Boilermakers have only one quarterback with significant game experience in Henry, who started the 2010 season before missing all of 2011 with a torn ACL. Henry is a great leader who may be more of an all-around athlete than a pure quarterback; he threw only 38 passes for 216 yards last season while appearing at running back and receiver.
If new head coach Darrell Hazell wants someone who's been around a while, Henry would be the choice. But though the Purdue depth chart is short on experience, it appears to be long on potential.
Appleby already looks the part at 6-foot-5 and 235 pounds. He spent last year getting his feet wet as a redshirt. Here's part of what ESPN's 2012 scouting report on Appleby as a recruit had to say:
"Appleby is a big, strong armed pocket passer that has demonstrated he can make every throw on the field. He is the right fit for the multiple set, pro-style attack with a heavy dose of play action pass to come off and throw the deep and intermediate passing game outside of the numbers. He is a very good ball handler with good footwork, drop speed, balance and timing in the drop-back passing game. ... Drives the ball with power and authority and routinely makes throws outside the numbers from the opposite hash. ... He has good feet, but is not going to be a terrific athlete in the pocket."
Marshall was also part of the class of 2012 for Purdue and was well-regarded enough to be recruited by Baylor and Auburn, among others. He brings some speed to the position as a dual-threat guy, but he was listed at just 170 pounds on his 6-foot-3 frame last year while redshirting.
Etling enrolled in January and will go through spring practice, giving him a shot at some immediate playing time. He was the Boilers' highest-rated prospect in this class, according to ESPN.com, which had this to say about the 6-foot-3, 212-pounder:
"Etling is a pocket passer with very good size and growth potential for the next level. He works almost exclusively from under center in the three- and five-step passing game, but is also in a fairly conservative scheme with limited reps in the passing game, especially to intermediate and deep levels. He is a confident passer, makes quick decisions, has a good feel for reading coverages and shows good footwork and set-up quicks. ... Has a good, not great, arm, but overall is an accurate passer. He gets adequate zip on underneath throws and puts good touch on downfield passes."
Prediction:
This may be the hardest QB race to predict in the league, both because of the lack of game experience by most of the contenders but also because Purdue has a new head coach and offensive staff. Hazell wasn't the original recruiter on any of these guys. so he'll look at all of them with fresh eyes. Appleby would appear to have the leg up here, given his physical attributes and his extra year of seasoning over Etling, while Henry and Marshall seem like natural candidates to fill holes at other positions if they don't win the job outright. But everyone is basically starting fresh with a new offensive system. We'd put our money on Appleby for now but wouldn't be surprised by anything in this race.
February, 6, 2012
2/06/12
10:20
AM ET
Purdue coach Danny Hope isn't shy about playing multiple quarterbacks, as the past two seasons have shown.
He made sure the Boilers have plenty of options under center with the 2012 recruiting class.

Chicago product
Robert Gregory
announced
Friday night that he had signed with Purdue
, giving the Boilers
four
quarterbacks in their recruiting haul. Signal callers
Austin Appleby
,
Aloyis Gray
and
Bilal Marshall
all signed with the team Wednesday.
It's not uncommon for a team to take a quarterback in every recruiting class, and some classes will feature two signal callers. But three quarterbacks in one class is unusual and four is extremely rare.
Purdue rotated
Caleb TerBush
and
Robert Marve
at quarterbacks in 2011 and had to go deep on its depth chart in 2010 because of injury. TerBush and Marve will compete with
Rob Henry
, who returns from an ACL injury, for the starting job in spring camp. The Boilers lose both Marve and TerBush after the season, leaving Henry and
Sean Robinson
as the top options heading into 2013.
Hope said Wednesday that all of the freshmen will have opportunities to compete at quarterback. Three of the four signal callers — Gregory, Marshall and Gray — are dual-threat types with the potential to play elsewhere, while Appleby is more of a pro-style passer.
"The last couple of years out of necessity we've had to incorporate some dual quarterback systems and plans, if you will," Hope said. "We can kind of hold true to that with these guys because they're very athletic. So we'll give them every opportunity to compete at the quarterback position."
Purdue evaluated Gray as a wide receiver, the position he played as a junior, and Hope acknowledged he hasn't seen Gray throw a pass. Hope said Marshall, who "has sprinter's speed," reminds him of Henry, who nearly switched to defensive back in the spring of 2010 before being used at quarterback.
Gregory received strong marks during the recruiting process. He originally committed to Arkansas but backed up because the Hogs didn't want him to play quarterback.
Bottom line: Purdue is recruiting different types of quarterbacks under Hope, and the team now has plenty of options for the future.
"I like the idea of having a dual-threat quarterback who we can develop," Hope said. "... It fits right along the lines of what we've been trying to do the last couple of years."